Things To Do In Oslo, Norway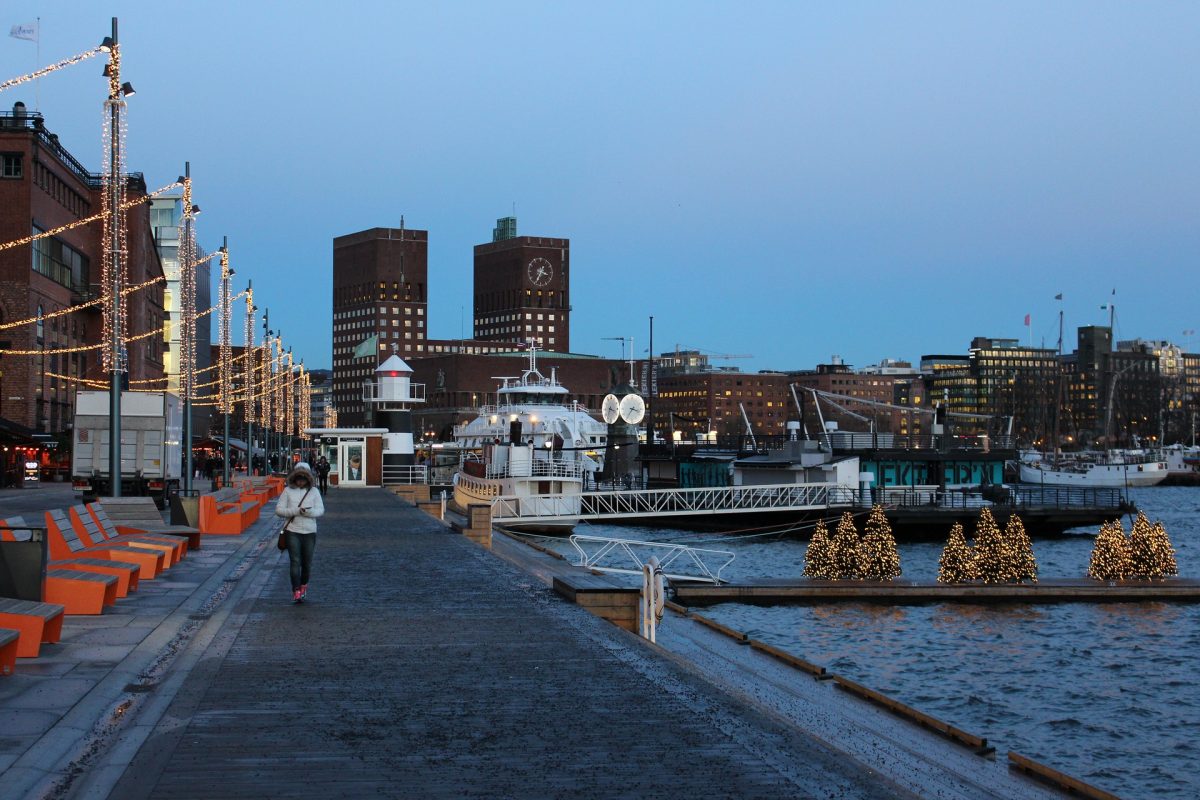 Travelling to Norway is literally a breath of fresh air. The country is surrounded by clear lakes and crisp pine trees, all untouched by human development. For the best of both worlds, the capital city Oslo offers a lively arts scene with an abundance of famous museums and is just a stone's throw away from nature.
So, if you're looking for the perfect travel destination to unwind and yet still be able to enjoy the comforts of city living, it's time to book your flight to Oslo, Norway! We present to you a guide on some of the best travel landmarks in Oslo.
What better way to kickstart our guide than a visit to Oslo's Botanical Garden. The garden is home to 5,500 plant species and is categorised into various thematic gardens. Among them, the Viking Garden stands out as the most popular.

The attraction stands out for its Viking Age arrangement, telling the story of Viking cultural history with great visuals. Upon entering the Viking Garden, you are immediately greeted by a 33m-long Viking ship. Beyond that are foliage beautifully arranged to showcase nature during this important period of Scandinavian history.
The greenhouses are also well-received by visitors. Marvel at the giant lily pads floating along the lake as you walk past the many other tropical plants that can be found in this area. It is definitely a great way to destress from the hustle and bustle of life!
We highly recommend that you visit Oslo's University Botanical Garden during spring as the flowers are ready to bloom. The garden is open 7 days a week from 7am to 9pm and entry is free.
You cannot say that you've been to Norway without visiting the Fram Museum. The Oslo-based museum was named after its flagship exhibit, the polar ship Fram. Built in 1892 for polar expeditions, the Fram is the most firm wooden ship ever built. Its record for sailing the furthest into the Arctic and Antarctic still remains unbroken to this very day.
At the Fram Museum, you have the chance to board this very ship and see for yourself its interior. The museum is also built with a polar simulator where visitors are able to experience the harsh arctic cold. What awaits you is an in-depth look into the history of polar explorations that occurred more than a century ago.
The Fram Museum's opening hours are from 10am to 6pm. Ticket prices are also relatively affordable at 120 NOK for adults and 50 NOK for children. If you are travelling as a family, be sure to get the family package as it only costs 240 NOK.

When travelling to Europe, it is almost customary to visit a castle. Akershus Fortress is the place to go on your Norwegian trip. The medieval castle was built in 1300 as a stronghold against invaders during that era.
Today, this grand structure is a major venue for musical performances. It is also an iconic tourist landmark. During the summer, there are tours of Oslo's Akershus Fortress, which is highly recommended for those who wish to learn more about Norway's history.
Even if you are not a history buff, the scenery from this venue is splendid and with free entry to the fortress, Akershus Fortress should definitely be on top of your Norway travel list. It is open seven days a week from 6 in the morning to 9 in the evening.

The Oslo Opera House is worth a visit just to view its award-winning architecture alone. The building's wave-like exterior as proposed by architecture firm Snøhetta was chosen as the winning design among 350 other entries. Besides that, the surrounding sea-view is also pretty awesome!
The Oslo Opera House also offers group guided tours in Norwegian, English or German. Be sure that you pre-book your tickets though as it can get fully booked quickly. Tickets cost 120 NOK per adult and 70 NOK for youths.
For those who are into theatrical performances, there are regular opera and ballet events held at this venue as well. You can book tickets from the official website or from the box office.

Amid the abundant choices of museums to visit in Oslo, most tourists will add the Norwegian National Museum to their travel plans. Why? Because Norway's National Museum is home to The Scream, one of the most widely-known paintings in the world.
Besides Edvard Munch's works of art, the museum's painting collection also consists of art works from other acclaimed Norwegian artists. The National Museum is said to house the largest art collection in Norway.
Note: As of writing, the National Museum is closed and will reopen again sometime in 2020.
One of the most beautiful places to be in Norway, Nordmarka is just a half an hour tram ride away from the city centre. What is so stunning about Nordmarka is that its scenery is equally gorgeous during all four seasons.
Muse at the dark green pine trees as you hike along the many trails of Nordmarka during spring and summer. If you are going in the winter months, there are plenty of ski lodges in the area for a fun day of skiing and sledding.
Whether you are a nature lover or not, we highly recommend that you pay a visit to Nordmarka as the untouched nature here truly captures the beauty of Norway.
Isn't it cool to enter a palace currently inhabited by royalty? You can do so in Norway! Oslo's Royal Palace is open to the public during the summer. During that time, guided tours are available that will take visitors through the important parts of the palace. The guided tour lasts an hour and costs 110 NOK and 140 NOK for children and adults respectively.
Even if you're just planning a brief stopover at the palace gates, be sure to arrive before 1:30pm as that is when the Change of Guard ceremony takes place daily. The event is a popular sight for tourists and even the locals. To have the best vantage point, make your way to Karl Johans Gate.
Wouldn't you agree that a trip to an amusement park sounds like fun? If you think so too, then Norway's biggest amusement park awaits you! With more than 30 rides on display, you'll certainly need an entire day to get the full Tusenfryd experience.
The amusement park is family-friendly as it has attractions suitable for all ages. Cool off from the sizzling summer heat at the various water rides such as Badefrydelven and Ragnarok. There are also plenty of F&B outlets on site, so don't worry about being hungry!
Before you make plans, it is important to know that Tusenfryd amusement park is only open in the months of April to October. Ticket prices range from 329 to 399 NOK for those taller than 120cm and 269 to 329 NOK for those 120cm or shorter.
For the art buffs looking for cultural destinations in Oslo, the Tjuvholmen Sculpture Park offers many hours of exploration. Situated just outside Astrup Fearnley Museum, the abstract forms of the wide array of sculptures present unlimited interpretations for visitors. These wondrous pieces of art are created by modern artists from all over the world.
Also overlooking the Atlantic Ocean, Tjuvholmen Sculpture Park has a pretty awesome view of the waterfront. In fact, there is a beach right next to the park which is free for public use. Besides that, the location provides great views of other popular tourist destinations such as the Akershus Fortress.
This massive fjord stretching 100km in distance is touted by Norwegians as the "scenic gem of Norway". Offering water sports and majestic sights, Oslofjord's islands are always bustling with activity during the summer.
If you're travelling to Oslo just to escape the hustle and bustle of city life, then a trip to Oslofjord is the perfect remedy. Indulge in canoeing, fishing, or even take up a certified diving class! Even if you aren't an active person, there are plenty of beaches available for you to just soak in the sun with a good book and long island ice tea in hand.
Looking to make Oslofjord the primary highlight of your trip? The Thon Hotel Oslofjord offers the best accommodations just a stone's throw away from the action. The hotel is often fully booked though, so be sure to pre-book your accommodation early!
What's a holiday to Oslo like without discovering Norway's rich cultural history? The Norwegian folk museum is set in an open air landscape and consists of houses back from the 19th century. It is one of the world's oldest open-air cultural history museums. Among the more prominent structures is a stave church that is said to be from the 1200s! Aside from that, the cultural centre also has indoor exhibits showcasing traditional Nordic garments, tools and decorative crafts.
Get set for an eye-opening experience as you learn about how the Scandinavians lived centuries ago. Norsk Folkemuseum is open daily from 10 in the morning to 5 in the evening. Tickets are priced at 160 NOK for adults and 40 NOK for children aged 6 to 15. For those visiting the Norwegian folk museum as a family, the family ticket only costs 320 NOK.
Norway's most popular tourist landmark, Frogner Park is the largest in the city and visiting it is a must. Here is where the majestic Vigeland sculpture museum lies. With over 200 statues on display, it is the biggest statue park on Earth. Many of Gustav Vigeland's quirky statues found at Frogner Park represent some of the most abstract and wonderful works of art that are certainly worth a look in person!
Besides Vigeland's cultural attraction, the 45-hectare park is open to the public for a casual stroll, picnic or just enjoying the park's extensive rose collection. Oslo's Frogner Park is free to use 24/7 and ideal for a sunny day out during the summer.
Foodies out there, Oslo's Mathallen Food Hall is European food heaven and much more! With more than 30 eateries and cafes on site, your stomach and tastebuds are going to thank you for the glorious experience.
The indoor food market is not limited to local cuisine, it is host to food from all over the world. Andorinha serves the most delectable Portuguese dishes and wine found in Norway. Craving for Italian food? Pizzavino offers exciting pizza choices and other delicacies to go with it.
Mathallen Food Hall is closed every Mondays. For the rest of the week, the foodie heaven opening hours is from 10am to 8pm, except on Sundays when it opens a little later at 11am. Perfect for brunch! There isn't an entry fee to the place but we do recommend that you bring enough cash to sample all the goodies on display.
Viking ships are a symbol of exploration and bravery during the Viking Age. On display at The Viking Ship Museum are some of the land's most finest Viking ships every built. Ever wondered what sort of treasures were plundered by these ancient Nordic warriors? Finds from Viking voyages of the past are also on showcase at the museum.
If you are looking for souvenirs that truly represents Nordic culture, the museum shop sells a wide selection of gifts that are sure to delight your family and friends back home.
The Oslo-based museum is open to all visitors seven days a week from 9am to 6pm. Tickets to The Viking Ship Museum costs 100 KOR per adult, while it is free entry to youths under 18 years old. Guided tours are also available for a minimum of 10 people for 50 KOR per pax.
This famous Oslo pier is lined with upscale shops and waterfront dining options serving Scandinavian and French cuisine. Tourists who are seeking authentic Nordic cuisine, wine and sunshine will be right at home at the Aker Brugge wharf.
Olivia Aker Brygge, one of the most well-received restaurants in the area, is known for its Italian cuisine and serves classics such as pasta and pizzas. The bistro first opened its doors at this very place and has since expanded to other cities in Norway and Sweden.
Aker Brygge is also the location where ferries depart for Oslofjord, a major scenic destination in Oslo.
Oslo is a beautiful city steep in cultural history and scenic locations. It's no wonder that Norway has consistently ranked in the top 10 when it comes to standard of living. Exploring the wonders of Europe makes for a wonderful holiday and Oslo ranks as one of the top destinations in the continent. What is your favourite European destination?