Things To Do In Melbourne, Australia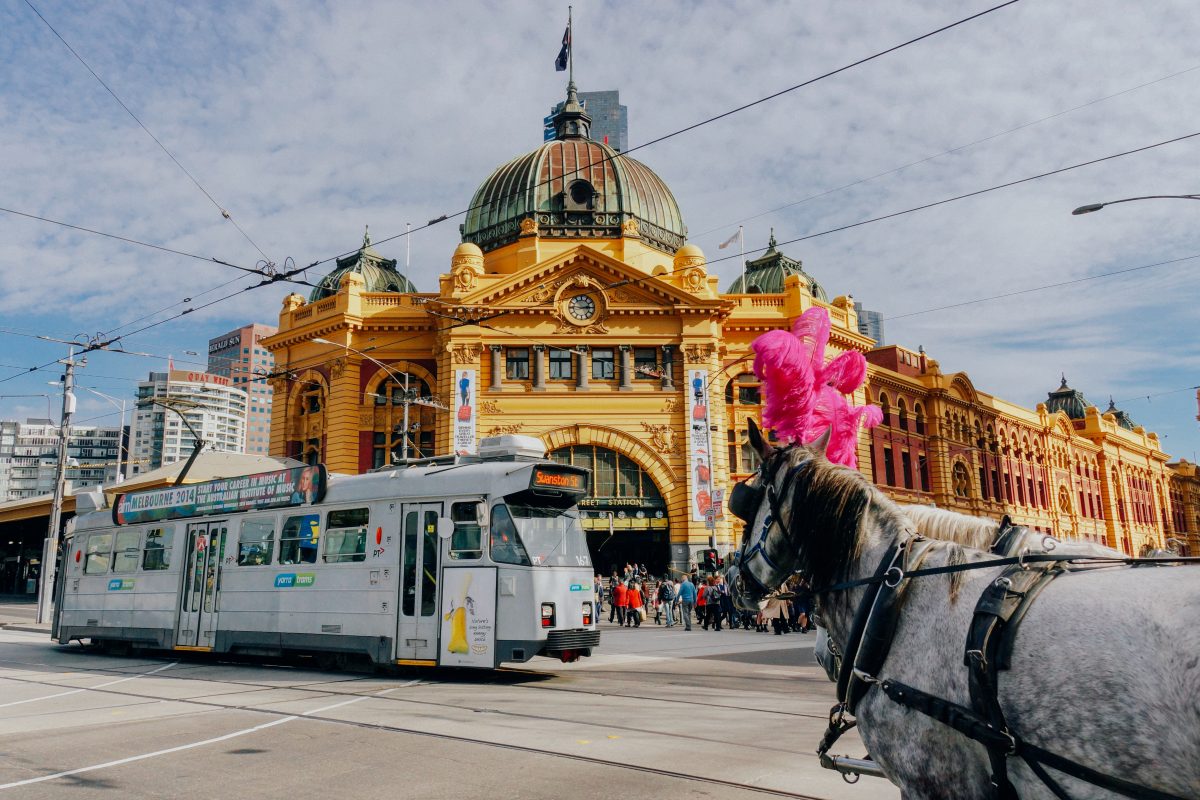 Many may know Australia for its dazzling Sydney Opera House. On the South Eastern coast of Australia lies a capital city of state Victoria— Melbourne. Particularly famous for its energetic metropolis, bohemian vibes and unique street art, Melbourne city offers a unique love at first sights experience for many travellers.


Disregard the stunning juxtaposition of old and new architecture across the city, Melbourne is also a paradise for food lovers. Don't be surprised by the hectic atmosphere in Melbourne. Especially during the day can be quite significantly different from the night. Let's quit beating around the bush and get right into all the fun things you can possibly do in Melbourne.
1.
Explore Fitzroy Melbourne
If you want an authentic hipster taste of these trendy suburbs of Melbourne, trust us, there's nowhere you rather be than in Fitzroy. Here, you can sit back and appreciate that the more things change, the more they stay the same. Despite the inevitable inner-city gentrification, Melbourne's classic Boho 'burb retains its classic originality. Besides, explore the graffiti painted alleyways and eat your way through the Fitzroy's buzzy cafes, and various eateries. Don't leave without sampling the authentic Australian speciality coffee at 'Industry Beans' and get a taste of Australia's best gelato at 'Messina.'
Pro Tips: Come during the weekend for the Rose Street Artists Market that tucked away just off Brunswick Street. These lively rendezvous share their space with small art galleries to hand-made pieces of jewellery too. If you're tired, we recommend having a taste of the Australian cheesy jaffle. It's as Australian as it can be.
2.
Enjoy the view of 12 Apostles along Great Ocean Road
Rising majestically from the Southern Ocean along Melbourne's dramatic coastline, Melbourne's 12 Apostles are a must see that cannot aptly be described. Take a break from the city skyline 3 hours drive away from Melbourne CBD. The spectacular sights along the Great Ocean Road will never cease to amaze you. Of all the things you can do here, the best things you can possibly do here is by immersing yourself in the rugged cliffs carved from the sea over the sapphire waters. Wander along the coastline for the majestic sandstone sculptures created by nature, appreciate the different appeal when seen against the backdrop of Melbourne's unique sunsets or sunrises. Don't be surprised that even though it's called the 12 Apostles, there are only 8 of them left. Mainly caused by the roaring ocean storms and salty water as time goes by.
Pro Tips: The 12 Apostles is best to view from above. Enjoy a bird's eye view and join a helicopter tour for the breathtaking scenery and you won't regret it.
3.
Wander around St Kilda
Located just a short tram ride away from Melbourne's CBD, St Kilda is home to a variety of Melbourne's festivals, events and stunning beaches. Besides the lively music atmosphere sprawling around St Kilda, if you're lucky, you can catch a glimpse of the little penguins on St Kilda breakwater every night of the year.
Unlike its rugged early days, St Kilda now enjoys a rebirth with many attractions worth visiting. These include the Acland Street, St Kilda Botanic Gardens, Upper and Lower Esplanade. Offering a wide range of activities, in summer, Luna Park St Kilda is swamped with visitors from all over the world for its world-class roller coasters. While the foreshore is a summer activity hub as joggers and rollerbladers race by. Try spotting the kitesurfers, windsurfers and swimmers make the waters as their playground. However, in winter, local markets can be seen stretching out the Esplanades accompany by music filling the air.
4.
Take a day trip to Philip Island
Never seen a real penguin in your life before? You're in luck! Lies just off Australia's southern coast, Philip Island is a perfect day trip getaway from Melbourne, particularly for its penguins. Don't miss the daily penguin parades and get a chance to be up-close with those endearing penguins.

Apart from that, Philip Island's offerings are as diverse as they are plentiful. Be a farmer for a day at Churchill Island Heritage Farm, spot seals on a cruise. Pump up your adrenaline to pop-a-wheelie, or better still watch someone else do it, at the Motorcycle Grand Prix Circuit; step back in time at the National Vietnam Veterans Museum. Or simply chill out on the beach and then slip into an evening of tall cold-ones and song at a winery or local brewery.
5.
Visit the National Gallery of Victoria
The National Gallery of Victoria (NGV) is the oldest and most visited gallery in Australia. Situated over two splendid buildings— NGV International and NGV Australia host a wide variety of international and local artists, exhibitions, programs and events. Ranging from contemporary art to major international historic exhibitions, fashion and design, architecture, sound and dance.

Founded since 1861, National Gallery of Victoria still holds the most noteworthy collection of art in the region. Explore a vast treasury of more than 70,000 works spanning over thousands of years and a wealth of ideas, disciplines and styles. One of Australia's greatest museums, it opens daily from 10 am to 5 pm, and admission is free.
6.
Take a break at State Library of Victoria
The State Library of Victoria is an iconic Melbourne landmark and an important community resource. In addition, this building spans an entire city block and is worth exploring for its heritage architecture alone. Architecturally, Melbourne's pride boasts tiled floors, grand marble staircases, stained glass and bluestone walls. Join free-guided tours that allow visitors a look at the library's spectacular domed-ceiling and Redmond Barry Reading Rooms as well as the permanent and temporary exhibitions that are held in the library's three galleries. Tired of reading? Take a library break on the lush green porch of State Library Victoria. You'll be surprised many travellers simply just sit and watch the busy pedestrians wandering around the Melbourne streets here too.
Pro Tips: Melbourne library hours are Monday to Thursday from 10 am until 9 pm and Friday to Sunday until 6 pm. Its open for public and you can just pop-in to do some readings without any registrations needed.
7.
Eat your way through Queen Victoria Market
Queen Victoria Market, also known as 'Vic Market' is Melbourne's leading farmers market. Established in 1878, this market is home to Melbourne's finest food fare. Grab a bite to eat, do your weekly shopping, and browse for souvenirs and handcrafts all in one place.
Food lovers can embark on a foodie tour and experience the cuisine of Queen Victoria Market, sampling Melbourne's culinary delights. We recommend the Cream Cheese Rolls (AUD $3) on a go. Wrapped in your choice of smoked salmon or prosciutto ham, the cream cheese is a subtle accompaniment to the savoury cured meats. Don't worry if you got lost, a visitor information desk is there to inform you about tours and events. Plus, free Wi-Fi is available throughout the market. Not to mention, this market is wheelchair friendly too. Located just a short walk from Flagstaff and Melbourne Central stations, set within the Free Tram Zone, making your way to this market has never been easier.
Pro Tips: The market offers a series of seasonal activities as such, live music, artisan treats and local arts. We recommend visiting this market in the morning as fresh produces run out pretty quick even if it's on a weekday.
8.
Traverse the Royal Botanic Gardens
Founded in 1846, the Royal Botanic Gardens have been and still are the perfect break away from the bustling Melbourne city centre. This 36-hectare park is home to more than 8,500 plant species, tranquil lakes, and lush lawns. The Royal Botanic Gardens Victoria are just as ideal for the botany enthusiast as for the spontaneous traveller looking to escape the Melbourne streets. Stroll around the garden, otherwise, take a gondola-like tour of the Gardens for the water perspective. However, if you're craving for a richer cultural experience, take an Aboriginal Heritage Walk. You'll earn how these tribes use the plants as food and medicine and even experience a traditional smoking ceremony.

Wondering how to get there? The Royal Botanic Gardens is situated in Birdwood Aven, a 15-minute walk from Flinders Street Station. Many trams run up and down St. Kilda Road to the various garden entrances which are conveniently located within the city's Free Tram Zone.

Pro Tips: The gardens are open daily from 7:30 am until sunset. Spring being the best time to visit as this is when all the plants are in full bloom.
9.
Enjoy the stunning view at Melbourne's Southbank
Southbank is Melbourne's leading culture destination, where you will find many iconic landmarks in the city. These include the National Gallery of Victoria, Melbourne Recital Centre, Arts Centre Melbourne, the Australian Centre for Contemporary Art, and more.

Despite its dazzling surroundings, Melbourne's Southbank is also home to the famous Crown Melbourne a.k.a. the largest casino complex in the Southern Hemisphere. Perching from the dense skyscrapers, the Eureka Tower offers visitors an opportunity to catch a glimpse of Melbourne's stunning skyline from its observation deck on the 88th floor known as Eureka Skydeck 88. However, for thrill seekers, head down to The Edge, featuring a green-screen offering an unsettling illusion of falling off the building.
Federation Square (locally and fondly referred to as Fed Square) is the cultural core of Melbourne. Particularly for its daily colourful, vibrant, exciting events, festivals, screenings and more. Federation Square never ceases to amaze locals and tourists alike.

Here, you'll experience true Melbourne culture through its bustling cultural food festivals, relaxing cinema screenings, inspirational art setups, and thrilling live performances. Don't miss the major popular attractions including the captivating art at the Ian Potter Centre, the National Gallery of Victoria (NGV), Melbourne's limited-edition reproduction of the famous "Fearless Girl", and the Australian Centre for the Moving Image (ACMI).
Wherever your interests lie, Federation Square has something for you. Federation Square is across the road from Melbourne's major public transport hub, Flinders Street Station, and falls within Melbourne's free tram zone, where tram travel is free. Fed Square is open daily 24/7 leaving visitors no excuse to stopover and experience this spectacular cultural hub.
11.
Hop on the City Circle Tram
The City Circle is by far the most cost-effective and ideal way to see the major attractions of central Melbourne. So, let's ditch the expensive cab fare for the city view through the city's historic W-Class trams. The best part, City Circle Tram is free for all. Unlike any trams in the world, an audio commentary gives you the opportunity to hear all about the city landmarks and major attractions. Now you don't need to wander around the city knowing nothing about the famous landmarks like the City Museum, Parliament House, Docklands, Federation Square, Princess Theatre and etc.
Pro Tips: Trams operate in both directions roughly every 30 minutes between 10 am- 6 pm from Sunday to Wednesday, and between 10 am- 9 pm every Thursday, Friday and Saturday. City Circle Trams do not run on Christmas Day and Good Friday.
12.
Join the Escape Room in Flemington
Seeking for fun and exciting things to do in Melbourne? Fear not, we got you covered! Gather your friends and family for the Melbourne's Escape Room where you'll be trapped inside a room, solving a series of cryptic puzzles to ensure a safe escape. Devised by a pair of ingenious and entrepreneurial psychology PhD students, willing prisoners have seventy minutes to solve the mystery with more than enough enigmas to crack, incorporating some six locations around Melbourne. The opportunities to investigate include discovering the reasons behind an apartment in Flemington being abandoned, exploring unusual activity in a mine in South Melbourne, and uncovering the reality of many shadowy disappearances at a Burlesque club in Oakleigh. The group dynamics edge also uses lingual, physical, visual, spatial, mathematical, and lateral brainteasers to alleviate the challenges. So, be prepared for the dynamic challenges.
13.
Enjoy a Yarra River cruise in Melbourne
Melbourne city is accessible through land and waters. Boat cruising along Yarra River is another way of appreciating the Melbourne city. Starting nearly 250km North-east of Melbourne and winds down the valleys before reaching to Melbourne, cruising along the river is a must-do thing in Melbourne. If you don't fancy any regular boat tours, there are multiple river cruises available. Ranges from a party, educational to dinner cruises for you to choose from.
Enjoy a relaxing tour accompanied by delectable meals and the stunning view of Melbourne by choosing the evening cruise. Whether you're here as a family or to surprise your date, an extravagant dinner on the river is a wise choice to create unforgettable moments. In addition, cruising along Yarra River is a great way to kill sometimes touring around Melbourne too.
Pro Tips: We recommend making your bookings in advance as the cruise tours. Don't hesitate to specify your requirements if you have.
Melbourne city is a wonder on earth. Besides its stunning coastlines, this city offers a wide array of things to do. Enjoy a stroll around the Yarra River and meander the lanes and alleyways of Melbourne. People watch off Degraves Street, window shop the boutique stores on and about Flinders street, and simply absorb the Melbourne street art all around you. Believe it or not, this city never fails to amaze anyone!
Written By: Lara Baines