Things To Do In Cincinnati, US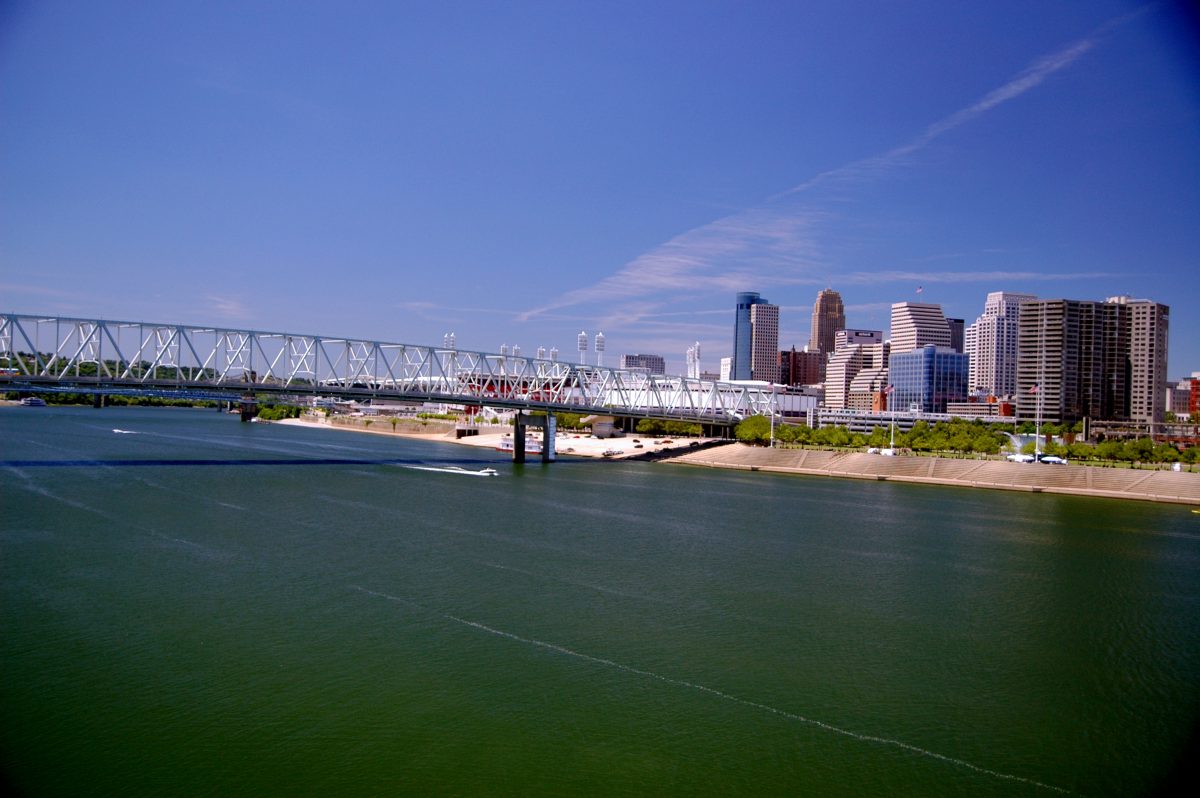 Settled in 1788, Cincinnati is the third-largest city in Ohio. It is located at the northern side of the confluence of the Licking and Ohio rivers. As an American boomtown, Cincinnati is the fastest growing economic power in the Midwestern United States. Nevertheless, thanks to its rapid growth, Cincinnati holds a nickname "The Queen City".
Whether you are planning a road trip with friends and a romantic weekend away, Cincinnati is a great destination. It has something for every traveler. For example, baseball fans will enjoy a game at the Great American Ball Park. Food-lovers will be delighted with the variety of cuisines. History and art enthusiasts will enjoy visiting Cincinnati museums.
The list of things to do in Cincinnati might be endless, but we bring you a must-do list to make your planning less stressful.
1.
Feed The Animals At The Cincinnati Zoo And Botanical Garden
The University district of Cincinnati is a proud home of the Cincinnati Zoo. This Zoo is well-known in the world since it's dedicated to preserving many endangered species. For instance, the great lowland gorilla of the Congo found its new home there.
Even though it's much smaller than zoos in some other cities, it still feels spacious. Over 2000 amazing and exotic animals wander around. Therefore, visitors can truly enjoy seeing some rare species such as California sea lions, Malayan tigers, a pygmy chimpanzee.
On the other hand, they can also participate in educational programs and fund-raising activities to protect nature and animals.
2.
Have A Relaxing Afternoon In The Scenic Eden Park
Once you are in the modern Mount Adams neighborhood, you mustn't miss Eden Park. You can spend a relaxing afternoon strolling across the park, enjoying magnolia trees and lakes.
Whether you decide to spend time in the park during the day or at night, you will love the stunning city views. What's more, you can have a nice picnic in the park in May or June to enjoy the park's botanical peak. The beauty of Eden Park truly speaks for itself.
3.
Discover Over 3500 Plant Species In The Krohn Conservatory
Do you want to make your visit to Eden Park more educational and entertaining? Then head to The Krohn Conservatory. Founded in the 1930s, it contains more than 3500 plant species from all over the world.
This is a unique opportunity to see some vibrant plants you may have never seen before. However, many visitors come to see a marvelous collection of butterflies. Just imagine hundreds of colorful butterflies flying around as you explore the plants.
Keep in mind that the display of collections changes very often. Additionally, the Krohn Conservatory organizes a variety of exciting educational talks and programs for adults and children. Local botanists and conservatory curators will happily share what they know about butterflies and plants.
4.
Visit One Of The Oldest Art Museum In The USA: The Cincinnati Art Museum
When you are in Eden Park, don't miss the Cincinnati Art Museum. Founded in 1881, it is one of the oldest art museums in the USA.
The Museums features over 65 000 artworks including several works of Botticelli, Picasso, and Monet. Nonetheless, many international and local contemporary artists have the honor to exhibit there. Therefore, the collection is always outstanding and worth to visit.
What's more, the museum building is stunning so it will be love at first sight for all architecture enthusiasts. Finally, the entrance is free so take two hours or more to take in some amazing artwork.
5.
Explore The Works Of Grand Masters In The Taft Museum Of Art
Goya. Rembrandt. Gainsborough. These are just some of the greatest art names found in the Taft Museum of Art. What's more, here you can see the greatest Gothic ivory sculpture in all America. Alternatively, get some guided tours around this museum and have a pleasant, educational afternoon.
6.
Spend A Day Exploring The Cincinnati Museum Center At Union Terminal
If you visit Cincinnati on a rainy day, then take some time to explore the wonders of the Cincinnati Museum Center at Union Terminal. Keep in mind that the center has an OMNIMAX theater and a research center too.
(i)Have A History Lesson At The Cincinnati History Museum
This is a perfect place to learn about the city's history and development. Furthermore, you can also discover its contributions to the Second World War. Moreover, you can see a magnificent replica of a Mississippi steamboat from the 1800s. Finally, centuries-old artifacts that remind of the first settlers will make you appreciate history even more. Hence you should visit the museum to get a valuable life lesson
(ii) Take The Kids to The Duke Energy Children's Museum
If you are looking for fun stuff to do in Cincinnati, the Duke Energy Children's Museum is a must-see. The kids will certainly enjoy the museum a lot.
Eight magnificent hands-on exhibits and various displays are attention-grabbing. What's more, a rich array of exploration and discovery areas are what make this museum worth your visit.
Furthermore, the museum offers plenty of fun learning experiences for children of all ages. Additionally, the topics covered are related to culture, chemistry, biology, and science.
(iii) Discover The Natural History And Science Museum
The Natural History and Science Museum encourages and educates people about the world around us.

Grasp the story of dinosaurs and learn about the Ice Age. Explore the glaciers that were an inevitable part of the Ohio Valley 19 000 years ago. Travel to the Moon with Neil Armstrong. This is a place where you can enjoy a plethora of exciting interactive displays.
7.
Gaze At The Iconic John A. Roebling Bridge
This spectacular bridge has been one of the things that make Cincinnati easily recognizable in the world. It connects downtown Cincinnati to Covington in Kentucky.
What's more, you can find various companies that offer dining and sightseeing cruises down the Ohio River. If you get the chance, book a tour since it will be an amazing and romantic experience.
8.
Watch A Baseball Game Of The Cincinnati Reds And Visit The Hall Of Fame
Are you passionate about baseball? Even if you are not, catching a baseball game the Great American Ball Park is a must. It is home to a professional baseball team – the Cincinnati Reds.
Don't miss that vibrant and lively atmosphere. What's more, you can bring your snacks and water. Baseball games can get quite long after all.
Once you are there, you can stop by the Hall Of Fame and Museum. Many interactive exhibits tell a story about the team. What's more, children are always fascinated with a miniature Red's locker room they can play in.
9.
Get Some Fun At The Coney Island Amusement Park
Situated on the bans of the Ohio River, Coney Island is an exciting amusement park and waterpark. It's one of the oldest entertainment parks in the area as it opened in 1886. Here you can overcome the fear so don't miss the popular Twister and Cyclone.
On the other hand, if you are not into taking adrenaline rides. Coney Island hosts several festivals. Don't miss the Cincinnati Celtic World Festival, Summerfair Arts Festival. Additionally, you can also explore the Cincinnati Flower and Farm Festival.
10. Have An Adrenaline Rush on King's Island
Are you looking for more amusement parks in Cincinnati? King's Island should be your next stop for an extra dose of cheerfulness and fun. Even though it's in the suburbs, this entertainment park has more than three million visitors every year.
Without a doubt, its rollercoasters with twisting and turning are not for the faint-hearted though. However, after an exciting ride like that, you can enjoy in the Soak City waterpark. What more can you ask for on a hot summer day?
Moreover, if you find yourself in Cincinnati around Halloween, you must visit the King's Island. Everyone speaks about its spooky and eerie parties and petrifying decorations. Make sure to get your tickets on time though because they sell out quickly.
11.
Head To The Heart Of Cincinnati: The Fountain Square
Fountain Square is the most popular gathering place in Cincinnati for all generations. Everything a tourist might need and much more is within a walking distance. Keep in mind that restaurants and bars are always packed.
The locals love it because all major Cincinnati events take place here. Fountain Square holds plenty of free concerts and outdoor cinema events. So grab a cup of coffee and enjoy the sun listening to some relaxing music. What more can you ask for?
12.
Try The Vibrant Mix Of Ethnic Food At Findley Market
Do you miss seeing those amazing open-air markets? Head to downtown Cincinnati and enjoy exploring Findley Market. It was founded in 1852 and since then, it has been cherished among locals and tourists.
What more, Findley Market is open Tuesday through Saturday. Some vendors open on Sundays too. However, for full experience visit the market from Tuesday to Saturday.
It offers plenty of fresh products and meats. In addition, you can get some great, handmade prepared deli meals. Don't hesitate to taste sweets too.
13.
Have A Delicious Dinner In The Cincinnati Dinner Train
If you are in Cincinnati, you just can't afford to miss the Cincinnati Dinner Train. It offers the most breathtaking scenery.
It departs from the BBQ Revue parking lot on Madison Road. Furthermore, it travels downtown, to the riverfront, returning after three hours.
When it comes to the food, let's just say you won't regret paying a bit extra. Choose between mouthwatering Chicken Breasts in White Wine Sauce and Salmon with a Spicy Hoisin Glaze. You won't make a mistake whichever you opt for.
Please note that they do have several rules that need to be followed. For example, only passengers aged 12 and above are allowed on board. What's more, they also encourage passengers to wear "business casual" clothes so forget about jeans and T-shirts. However, it's your chance to experience what it was like in the 1940s. So why don't you even dress like that too?
14.
Try Cincinnati Chili, BBQ And Beer
You mustn't leave the city without exploring its cuisine. Like many cities in America, Cincinnati features a lot of street food restaurants.
However, it's greatly known for the Cincinnati chili. Nowadays, there are more than 200 chili parlors all over Cincinnati hence it's the most popular regional food.
This meat sauce consists of ground beef, stock and tomato paste. Additionally, you can also find spices such as cinnamon, nutmeg, clove, and even dark chocolate.
On the other hand, you should also try Cincinnati barbecue specialties. Numerous, casual restaurants serve delicious meat with a variety of tasty toppings.
Finally, don't hesitate to sip local craft ales. You can find bars and pubs all over the city that serve local beer. Nonetheless, is a pleasure to have a pint of good beer, especially after some spicy barbecue.
Tired Of Sightseeing? Enjoy These Cincinnati Events
Cincinnati is a lively city that often gets packed with tourists who want to experience what life is like in the city. Luckily, the offer is vast.
Are you up for working out outdoors for free? Head to stunning Summit Park for some sports activities. What's more, you can even choose from H.I.I.T to Crossfit to Zumba. If you are more into yoga and dance, workout on the Green at Washington Park on Tuesdays and Wednesdays.
During the summer, Washington Park hosts Summer Cinema on Wednesday nights. What's more, Spring Grove Cemetery and Arboretum offers free outdoor movie nights as well.
Not a movie fan? No worries. The city of Cincinnati hosts plenty of small music festivals and districts organize free concerts. Spend your Friday night listening to some R'n'B music in Washington Park.
Finally, you can simply stroll down the riverfront and enjoy magical views of the city. It's quite calming to sit on one of those benches and listen to boats, people and birds.
Spending your holidays in Cincinnati might as well be what you crave for. It's a cutting edge city you can visit all year-round. So don't wait for ideal weather. Head to Cincinnati as soon as possible!