Things To Do In Kuala Lumpur, Malaysia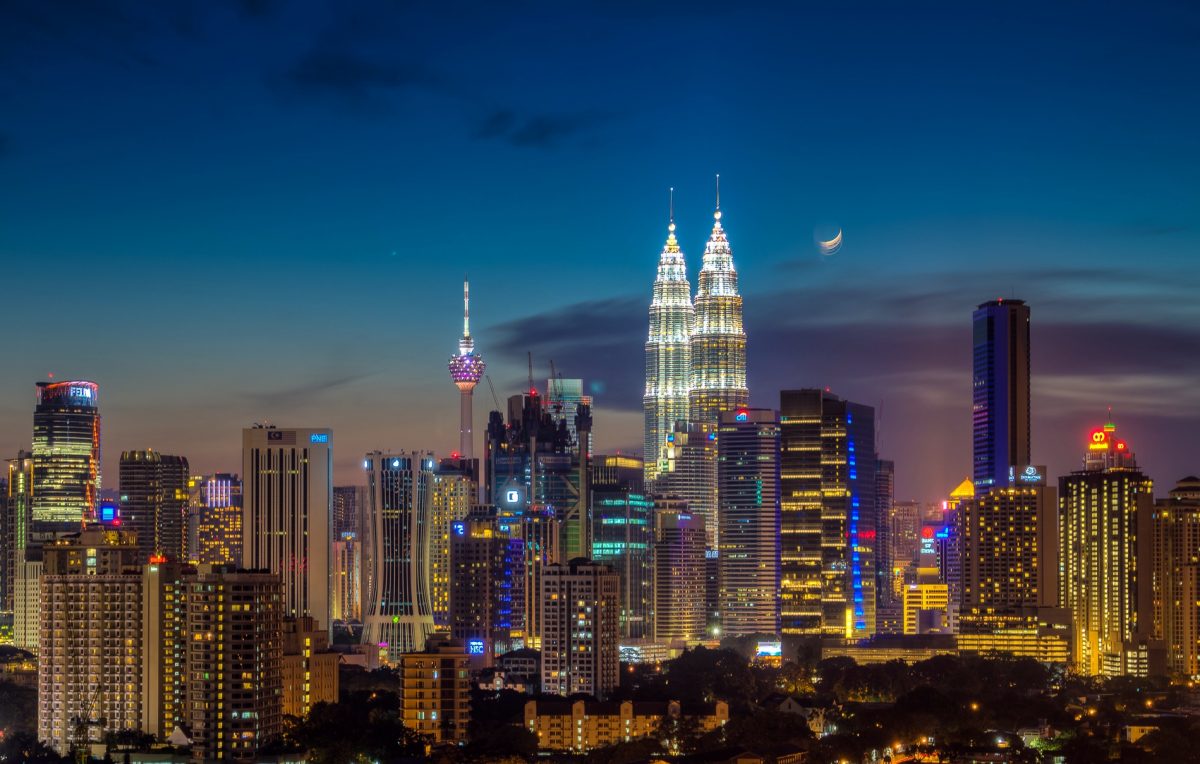 We heard about KL once in a while when the travel topic is brought up during a conversation. Before we dig deeper into this dazzling city, what does KL mean?

Kuala Lumpur (KL) is the capital city of Malaysia and best known for its multicultural background. Not to mention their impressive skyscrapers. One of them is the world-renowned Petronas Twin Towers that was once known to be the World's highest tower. Although this city was once part of the British colonial, its origins persist in shaping the distinctive Malaysian culture. Little do you know, Kuala Lumpur is also listed to be the fastest growing metropolitan regions in Southeast Asia.

There's no good or bad time to visit Kuala Lumpur. Trust us! The best time to visit Kuala Lumpur is all the time. Even if there are monsoon seasons around Malaysia, KL is an exception. This reason alone already makes KL a great destination to travel. There are countless things you can do in Kuala Lumpur, so be ready to explore!
Things to do with families
Beyond shopping, there are many other options available for families to travel in KL. To add on, the cheap and extensive mode of transportation in this city makes sightseeing so much more accessible. Here's what you can do with your families.
Stroll around KLCC Park
Step outside of the massive Suria KLCC shopping empire, you'll find a 50-acre man-made garden right outside. On contrary to the modern skyscrapers, KLCC Park offers a relaxing atmosphere for the public to stroll around. There are jogging tracks, playgrounds for kids and even a swimming pool for you to escape the heat. Just take a dip if you want, it's free.
Take a stroll around the cobbled walkways at the park surrounding the 'Lake of Symphony'. Soak into the lush greenery even if it's hard to believe that this park existed in the middle of the bustling Kuala Lumpur city centre. While the lake comes to alive in the noon and evenings as soon as it's illuminated for the fountain show. Accompanied by music, the lake moves with symphony and it's certainly enough to put you in awe. So, secure your spot and get your camera ready for the spectacular fountain show. Also, the fountain can shot up as high as 42m tall. KLCC park can be quite crowded at this moment, thus, be sure to come early.
Sunway Lagoon Theme Park
What's a better way to escape the KL heat that is both fun and accessible from KL city centre? Sunway Lagoon Theme Park offers a comprehensive selection of water rides and activities for both adults and kids. Just 30 minutes drive from Kuala Lumpur city centre, you'll find plenty of activities to do here like— the Surf Beach, Nickelodeon Lost Lagoon, Flying Fox, and Wildlife Park. And here comes the best part, children who are under 90 cm enjoy free entry to Sunway Lagoon. If you're tired or hungry from these activities, the Sunway hotel and shopping mall is right next door.
Stroll at Lake Gardens
Lake Gardens is a tropical paradise for everyone, regardless if you're a nature lover or even a city-goers, you'll love this place. Located right in the heart-of-the-city, lake gardens is easily reachable by most public transport. This 91.6 hectares recreational park is a great escape from the hectic city. It is best to go for an afternoon picnic with your family and friends. Just remember to bring along your favourite snacks and enjoy the scenery.

Within the garden, there are multiple attractions like the orchid garden and deer park. You can either choose to stroll the park on foot or to discover lake gardens by going on a Segway tour. Although the price might be slightly steep, it's well-worth for a ride. Especially considering the trail is more than 10km. However, there is no entrance fee to enter this park and it's open for all citizens. So, your wallet is probably going to stay in great shape.
Explore KL Birdpark
KL Birdpark is easily one of the best tourist spots in KL. With over 200,000 visitors annually, you wouldn't want to miss this attraction in Kuala Lumpur especially if you love birds. Don't worry if you're travelling if your kids, this attraction is surely entertaining and can easily fill up your day. Look out for the time to participate in one of the birds feeding show. This bird park houses more than 3,000 species of birds all over the world from—Indonesia, Thailand, China, Australia, Holland to New Guinea. I assure you 15.0USD (RM63.00) for adults is going to worth every penny!
Merdeka Square
There are uncountable events held at Merdeka Square, Kuala Lumpur. The most iconic event that will never be swept away from local's heart was when Malaysian first Prime Minister Tunku Abdul Rahman declares Malaysia's independence from the British colonial. One of the city's most memorable landmark, Merdeka Square's colonial surroundings serve a good reason for your visit.

Right across the Merdeka Square, you'll notice a unique Moorish design building with a clock tower. Turns out, it's Sultan Abdul Samad building that is currently being used by the Ministry of Malaysia's Tourism and Culture. However, somewhere next to these two buildings, the Royal Selangor Club can be spotted easily for its wooden Tudor-style architecture. Now, this clubhouse is actively used to host some of the most prestigious VIP club members. Come here for a stroll during the evening when the heat slowly calms down.
Things to do at night
You'll probably never come across a city as vibrant as this in Kuala Lumpur. KL might be known for its stunning skyscrapers, but the nightlife is out of the world happening here. Let's skip the talk and unravel them now!
Enjoy the view of Petronas Twin Towers
Be ready to be blown away by this majestic skyscraper in KL! Among all of the landmarks in Malaysia, Petronas Twin Towers are hard to be forgotten. Despite its impressive outlook, these towers offer great shopping selections and feature some of the most amazing indoor activities. Some of the highlight including the Petroscience and indoor aquarium. If time allows, try to catch an orchestra performance at the Philharmonic Hall.

This twin towers also feature an observatory deck that offers 360° panoramic view at the 86th floor of the tower. From here, you'll enjoy a city view of Kuala Lumpur and the KLCC park right beneath the tower. Avoid visiting during the peak hour (sunset-time), instead, come after your dinner to catch the last observatory admission at 8.30pm. The skyline is breathtaking during the night when the towers and city are lighted like a firefly from far. The one-time admission for the observatory deck cost 19USD (RM80) for adults. Otherwise, exit the towers, head down to KLCC park for an overall view of the towers and surrounding.
Savour the Kuala Lumpur street food
KL might be known for its stunning skyscrapers, but the nightlife is out of the would happening. Let's unravel them now! Malaysian pride itself for their local foods. Malaysia a.k.a. the 'Food Paradise' is the favourite country for food lovers and no wonder visitors flock in internationally for the award-winning culinary experience.

While you're in KL, you can not leave this city without pleasing your palate with these unique Malaysian flavours. From the national dish of Malaysia 'Nasi Lemak' to the spicy 'Laksa' noodles, you name it you got it. Despite its monstrous appearance, challenge yourself for a taste of the King of Fruit 'Durian'. The best part, Kuala Lumpur street food is cheap and comes in many choices. Head down to Jalan Alor for some of the finest local foods, located just 15-minutes drive away from Kuala Lumpur city centre. So, start taking note for all you food lovers out there, KL is a great spot to kick-start your food adventures.
Party at Changkat, Bukit Bintang
Almost every adult in the city has been to this party street at Changkat, KL. This street is possibly one of many locals and tourist favourite in Kuala Lumpur, particularly for its happening atmosphere. Venture few lanes out of Jalan Alor, you'll be teleported instantly into a new culinary dimension. Far away from the traditional spread, many metropolitan cuisines can be found here. From the exotic— Spanish suckling pig at El Cerdo to Japanese style ox-tongue yakitori at Palillos. Changkat allows you to be wild with your imagination and who knows you'll find what you imagine here.
If you're looking for something to quench your thirst, Changkat definitely has your back. Get seated at the 'Opium Bar KL' that serves intricate cocktails by the local bartender. We highly recommended the 'Consort Yang' and '50 Shades of Red'. Try it and let us know what you think!
Visit the iconic Batu Caves
We all agree that is frustrating to travel around especially when there it's cramp and crowded. Batu Caves Kuala Lumpur, one of Malaysia's gem needs to be on everyone's travel list. Predominantly, most people visit Batu Caves during the day, but did you know that you can also visit this holistic place during the night as well? So, why bother to cramp your way up to the top while you can have the place for yourself during the night?

Located not too far away from Kuala Lumpur city centre, Batu Caves are reachable by local commuter train (KTM). This limestone hill comprises of three main caves interconnecting the smaller ones. Inside, there are displays of golden holy statues and idols. Explore Batu Caves, you'll find some shrines tuck away in the corner. Don't miss taking your mandatory Instagram shots at the colourful staircases accompanied by the softly illuminated lights along the way. You can thank us later. Just bring along your photography pro friend as night-photography can be quite tricky sometimes.
Fun things to do
There are more fun things to do here in KL than you imagine. Whether or not if you're travelling in a family or with friends, this city never fails to amaze you. Here are some of the suggestions.
Petaling Street Shopping
One of the best places to visit in Kuala Lumpur is Petaling street a.k.a. Chinatown. The hectic actions of street vendors, sophisticated aromas and products with vivid colours definitely spike your adrenaline to shop in KL. After a long walk, fuel up with some local delights then continue hunting for your goodies. We recommend the 'Apam Balik' a local peanut sweet pancake.

While haggling is common sight here at Petaling Street. Relatively, it's one of the must-do-things in Malaysia. Enough said this place is a perfect opportunity for you to unlock your haggling skills. Whether if you're into knock-off items like watches and handbags, it's easy enough to find something that catches your attention here in this market. Explore those hidden alleyways, as most of the good stuff always tucked away in the backends.
Skybar Hunting

Everybody knows the skyline in Kuala Lumpur is impressive. There are no better ways to admire KL city while having a chilled drink on your hand. Since KL is saturated with skyscrapers, there are plenty of towers converting the boring cement roof-top to a bar. Out of so many choices available in KL, these are some of our favourite bars. These include— Heli Lounge Bar, Vertigo Banyan Tree, Marini's on 57 and Fuego Troika Sky Dining.

If your intention is to catch the sunset, we recommend visiting the bar as soon as it's open. As there is always a line queuing up for a table at most roof-top bars. However, certain bars have a dress code, so be mindful of the rules and regulations. You definitely don't want to overdress or perhaps underdressed.
Genting Highlands

We know the heat in Malaysia can be quite unbearable sometimes. Thankfully, there is this chilly place located less than an hour drive away from Kuala Lumpur city centre. Set amidst the cool mountains, Genting Highlands is a favourite getaway for locals. Apart from the casino and the theme parks, this newly revamped Genting Highlands is your new fun place to visit in Malaysia.
Stop on your way to Genting Highlands for the Chin Swee Caves Temple located on the craggy hilly slope. This religious site is especially hard to miss for its striking nine-storey light-lit pagoda on a mountain. Take a moment to admire the intricate sculptures and ancient Chinese inscriptions. The SkyTerrace is the best spot in enjoy the scenic view of the thousand years old mountains.