The 10 Best State Parks in Virginia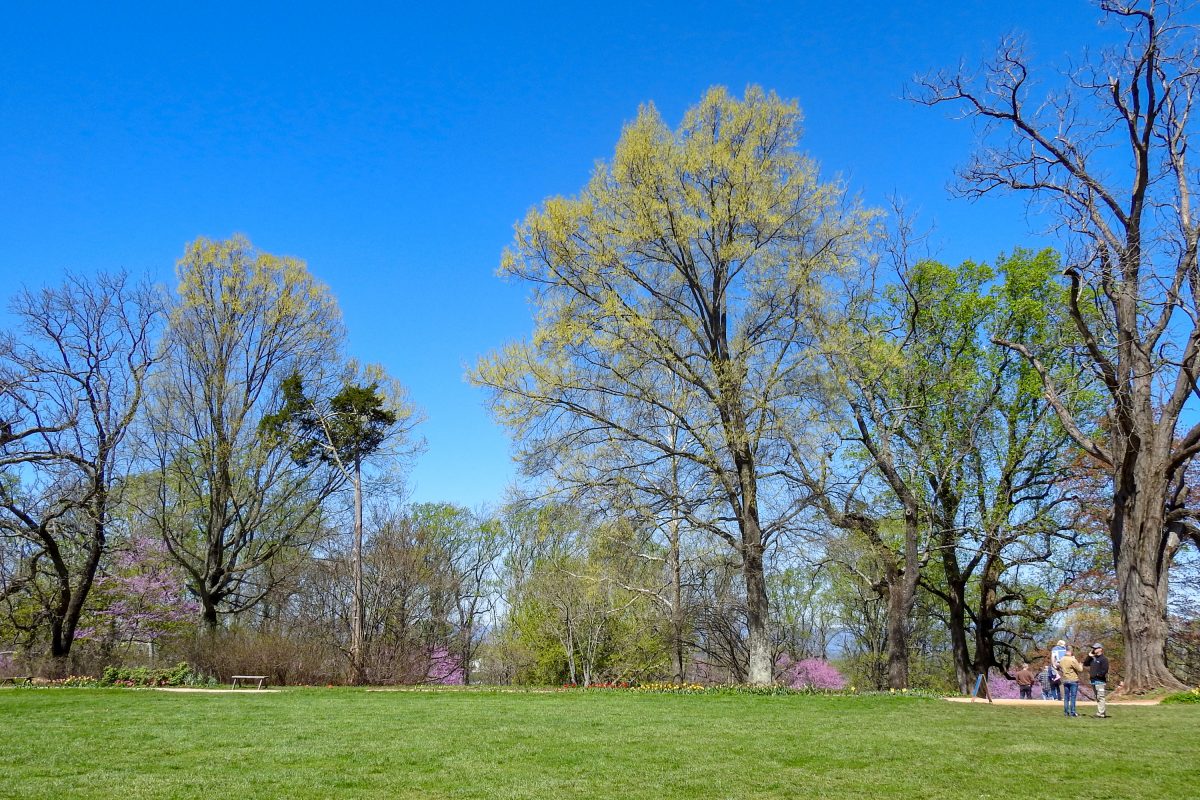 Virginia is for lovers! And, also for families, music-lovers, birders, boating enthusiasts, adventure-seekers, hikers, bikers, horseback riders, history buffs, and happy campers. There are 38 state parks in Virginia, which might make it difficult to decide which ones to visit. While they are all worthy of a visit, these ten Virginia state parks, in particular, stand out amongst the rest for an inspiring diversity of reasons.
If you want to experience the best of what Virginia has to offer on nature and wildlife-front, visiting any of these state parks is definitely the way to immerse yourself in a memorable collection of beaches, lakes, rivers, forests, and historical landmarks. There are plenty of opportunities to camp, whether in a tent, cabin, or lodge in these state parks. This is highly recommended if that's your kind of thing. Virginia is an amazing state to visit, and its selection of state parks really makes it shine as a tourist destination in the United States.
1.
Land In First Landing State Park
First Landing State Park is not only Virginia's most visited state park, but it is also a national landmark with a rich historical background. The area that is now the park was the landing site of the first English settlers in 1607. The waterways and cypress swamps were utilized by pirates, merchants, and military ships during the War of 1812. Legend has it that Blackbeard used the Narrows area of the park as a hideout. The Union and Confederate patrols also used the interior waterways during the Civil War. Today, First Landing State Park is still used as a military training ground.
This beautiful park is laced with 20 miles of trails and 1.5 miles of beachfront. There are also cabins and campsites available for those who want to spend more than a day in the park. There are plenty of recreational and educational activities to partake in here, including biking, boating, fishing, hiking, swimming, and historical and educational exhibits.
2.
Make A Visit To Kiptopeke State Park
The area that now makes up Kiptopeke State Park was initially explored by the famous Captain John Smith in 1608. Located on Virginia's eastern shoreline, this 562-acre state park offers recreational access to the Chesapeake Bay. There are plenty of lodging accommodations including campsites, two and three-bedroom cabins, six-bedroom lodges, yurts, a bunkhouse, and an RV area.
While visiting Kiptopeke State Park, you can enjoy 5.1 miles of hiking trails, pier fishing, boating, biking, swimming, and seasonal educational programs. There is also a playground and beach bathhouse on the grounds. The park is home to many different types of migratory birds, as well as deer and foxes. So, don't forget your binoculars!
3.
See The Sights In High Bridge Trail State Park
The High Bridge Trail State Park is one of the newest additions to Virginia's impressive collection of state parks. Located in Farmville, the centerpiece of this state park is the High Bridge. Stretching 2,422 feet long and 125 feet above the Appomattox river, it is the longest pedestrian bridge in Virginia. It is also a historical landmark, as this area was the site of two Civil War battles that took place just before General Lee's surrender at Appomattox.
The park has 31 miles of trails and is the perfect place to go hiking, biking, or horseback riding. You can easily access the trail from downtown Farmville. After you are finished exploring this countryside state park, the town of Farmville has a lot to offer. This includes the R.R. Morton Museum, a historic walking tour, an adventure park, a golf course, and two more historical state parks.
4.
Have A Picnic In Hungry Mother State Park
Hungry Mother State Park is one of the original six state parks in Virginia. It has also long been a favorite amongst visitors and locals alike. The park is predominately woodlands with a 108-acre lake in the middle. The lake is ideal for canoeing, kayaking, fishing, paddle boarding, and paddle boating. This inviting lake is always calm. If you aren't staying overnight in the park, the day-use areas are open every day from 8 am to 10 pm. However, there are plenty of lodging options, including campsites, cabins, lodges, and yurts. There is also a gift shop, restaurant, and conference center within the park.
You are probably curious as to why this park was named Hungry Mother though. Local legend has it that a woman named Molly Marley and her small child escaped from a tribe of Native Americans that came through and destroyed several settlements along the New River, which is just to the south of the park. The mother and child survived for a while in the wilderness eating berries. However, eventually, Molly collapsed likely from lack of sufficient food.
Her child went in search of help but being weak and malnourished as well could only utter "hungry mother" when the child found help. Molly was found dead by the search party. The mountain within the park was named Molly's Knob and the stream where she collapsed was later called Hungry Mother Creek in her memory.
5.
Take A Break In Grayson Highlands State Park
If you love to ride horses, this is the state park for you! Located near Mount Rogers and Whitetop Mountain, which are two of Virginia's highest mountains, Grayson Highlands State Park has an enchanting selection of scenic horse trails as well as year-round access to the Virginia Highlands Horse Trail. This state park is also a high-country hiker's dreamland. For those interested in hiking part of the Appalachian Trail, this park offers an excellent access point. Thousands of backpackers every year visit this alpine-wonderland.
There are thirteen trail systems inside of the Grayson Highlands State Park. If you are bringing your own horse to the park, there is a horse camping area, with stables and a trailer parking area. During the winter, cross-country skiing and snowshoeing are popular park activities.
6.
Have An Awesome Time In Douthat State Park
Since 1936, Douthat State Park has been a popular park amongst local and visiting families. It is listed on the National Register of Historic Places and is home to some of Virginia's most outstanding mountain scenery. There are more than 40 miles of woodland trails carved through this park, some of which are also horse-friendly. There are several designated swimming areas and a 50-acre fishing lake that is full of rainbow, brown, and brook trout. For fishing enthusiasts, there is also a 4-miles of stream fishing. However, fishing permits are required. Also, there are specific regulations that must be followed if you want to fish the lake or streams.
Douthat State Park has a sandy swimming beach with a snack bar, a playground, a gift shop, a camp store, boat rentals, and cabins and lodges available for rent. There is also a picnic area, an amphitheater, and a restaurant that overlooks the lake. The park is open from 6 am until 10 pm, unless of course, you are spending the night.
7.
Take A Bike Ride In Occoneechee State Park
If you love aquatic or equestrian recreation, this state park in Virginia is a must-visit. It is located on the John H. Kerr Reservoir or Buggs Island Lake as it is also called and is home to the largest lake in Virginia. The 48,000-acre lake is a fishing and boating lover's dream destination. There are three boat ramps, a fuel dock, and several boats and slips that you can rent.
Also, there is 24-hour lake access here, so it is never too early or too late to enjoy the lake! The park was named after the Native Americans who lived on this land hundreds of years ago, and there is a museum within the park that is dedicated to their history and culture.
For the equestrian park-goer, you will find a horse campsite and covered stalls for rent, as well as miles of trails. There are 20-miles of hiking, biking, and horseback riding trails that wind through the park. For park visitors with children, there is also a playground and a snack bar. If you want to spend a night or even a week along the peaceful lake and surrounded by nature, there are campsites, RV sites, and cabins available. Make sure you check out the park's event calendar as there is a lakeside amphitheater.
8.
Explore The Natural Tunnel State Park
Former United States Secretary of State William Jennings Bryan called the natural tunnel in Virginia's Natural Tunnel State Park "the eighth wonder of the world." Stretching more than 850 feet long and ten stories high, this massive limestone tunnel was naturally created by forces of nature over thousands of years. You can take a chairlift to the tunnel floor where you can then walk through it and admire the steep ancient walls and towering chimneys. There is an option to take a guided cave tour if you are interested in learning more about the Natural Tunnel State Park.
There is more to visiting this state park though then walking through a jaw-dropping natural wonder. Amenities include two campgrounds, cabins for rent, picnic areas, an outdoor amphitheater, a camp and gift shop, and a pool with a 100-foot waterslide. The Clinch River, which runs through the park, is an excellent river for canoeing too if you are interested in spending some time on the water.
The newest addition to the Natural Tunnel State Park is The Daniel Boone Wilderness Trail Interpretive Center. This is the museum and center to go to if you want to learn about how the Wilderness Road played an invaluable role in American's westward expansion. It is quite a fascinating history! The center is open every day from 10 am to 6 pm from mid-May through October. It's also open the same hours Friday through Monday from November through April.
9.
Canoe Down To Westmoreland State Park
Westmoreland State Park is located on the northern neck of the Potomac River in Montross, Virginia. Listed on the National Register of Historic Places, this is a state park definitely worth visiting. Spanning a grand 1,321 acres, you will find six miles of groomed trails, an Olympic-sized swimming pool, a playground, a fishing pier, campgrounds, and cabins for rent. There is also a snack bar and camp store on site. If you love fishing, fossil hunting, and or bird watching, Westmoreland State Park is the place for you.
The shorelines of Potomac River are known for concealing ancient shark teeth. Visitors from around the world come here to look for these prehistoric treasures. The offshore breakwaters are full of fish. Hence the American bald eagle, great blue heron, kingfisher, common tern, and osprey love this area too. The Potomac River Retreat Center, which can host up to 16 of your favorite people, is a great place to host your next family reunion or special gathering. Cell phone service is limited, but you definitely won't miss the digital world when spending time here.
10.
Visit The Famous Pocahontas State Park
Conveniently located only twenty miles from Richmond, Virginia's capital, the Pocahontas State Park is a beautiful park to visit during the warm summer months or snowy winter months. The park has 64-miles of trails, campgrounds, cabins for rent, and a museum. There is an aquatic center here that has a toddler-friendly pool, three and five-foot deep pools, a wet deck with a fountain, an activity pool, and two water slides. There are few better places to enjoy the summer heat in Virginia than here! This park also has three-lakes and boat rentals.
The Civilian Conservation Corps Museum, which is in the park, is dedicated to the Depression-era workers who helped build the state park system in Virginia and is quite an interesting museum to visit. There is also a 2,000-person outdoor amphitheater where a variety of performances and concerts are staged. Between convenience, available activities, and live entertainment, it is easy to see why this is one of Virginia's most visited state parks.