Expert's Guide On What To Expect From Glacier National Park Weather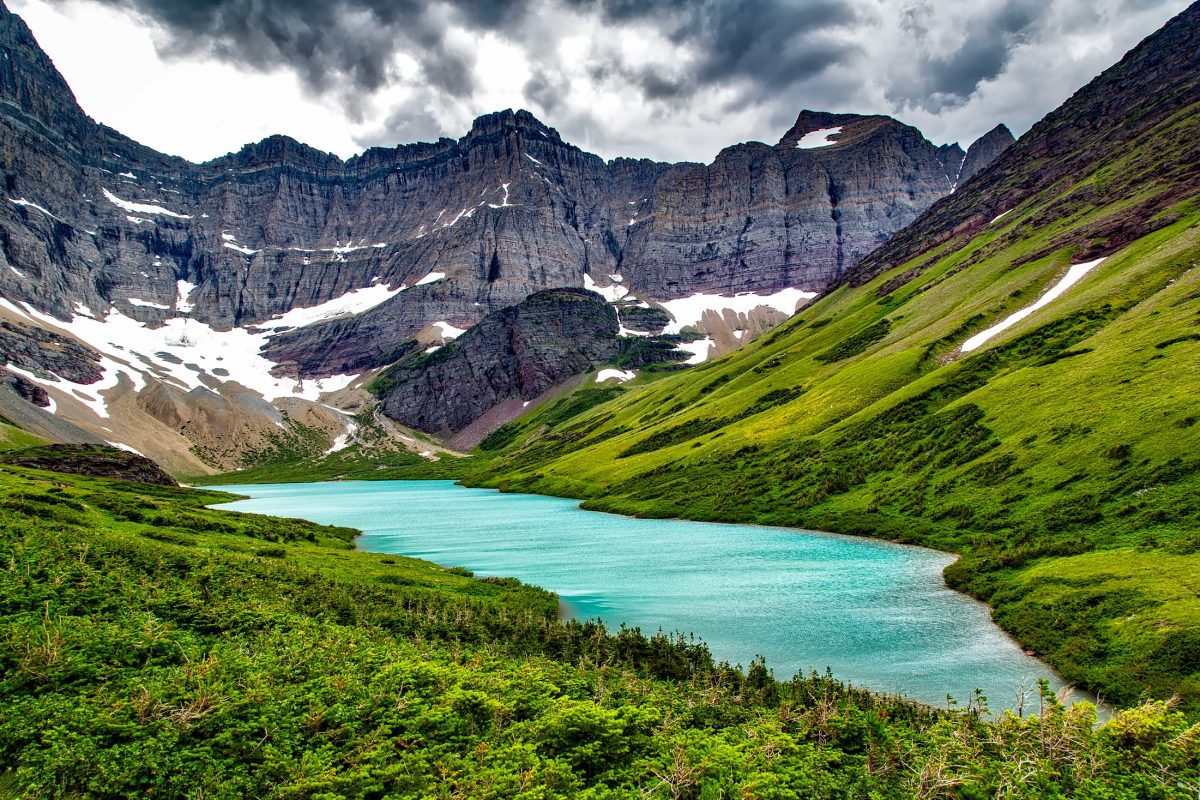 Wow – that Glacier National Park! Spreading over the mighty summits of Montana, this is surely one of America's most breathtaking wildernesses.
It's 1,350 square kilometers of pure natural drama. Look one way and there are soaring scree slopes. Check another and it's glistening ice fields. Gaze in another direction and you find alpine valleys filled with fir forests, lakes and red cedar trees. Once upon a time, it's estimated there were upwards of 150 glaciers here. A whopping 25 can still be found crashing through the massifs, along with rare wildlife like lynxes and grizzly bears.
If all that's tempted you, it's high time you started planning a jaunt to this famous reserve on the Canada–United States border. To do that, you'll first need to decide on a time. Cue this guide to Glacier National Park weather, which offers a rundown of the top times to cruise Montana's way.
It gives insights into what to expect from the climate and conditions of the seasons. There are tips on the best things to do at Glacier National Park at different times of the year. And it pinpoints the prime months for Glacier National Park hikes, Glacier National Park camping, and scenic drives.
How unpredictable is Glacier National Park weather?
In a word: extreme.
The Glacier National Park encompasses a whopping six individual peaks that rise to over 10,000 feet above sea level. Meanwhile, base elevations and valleys sit at just 3,000 feet in some places. The result is some hefty temperature variations at different altitude points.
And there's more. Glacier National Park weather is also governed by the spread of the reserve. At its western end, the park spills into the Pacific Ocean watershed. But the eastern fringes of Glacier sit in the rain shadow that's over the Continental Divide. That means precipitation can be huge in some sectors, yet minimal in others.
In addition to all that, the topography of the Rocky Mountain peaks is responsible for all sorts of microclimates and small-scale weather changes. That means you should never book Glacier National Park lodging dreaming of sun-filled holidays. There's always a chance of freak weather systems passing through, even in the high summer. And you'll always need to pack thermals and outdoors gear suited to harsh climatic changes.
Top things to do at Glacier National Park in the spring
Getting in there before the summer crowds have its advantages. Glacier National Park hikes might be out of the question on account of high levels of mud on the trails. However, the snowmelt brings punch to the waterways. You could opt to hit the Middle Fork for adrenaline-pumping rafting days to make the most of that.
Spring is also a great season for wildlife viewing. It's when the grizzly bears come out of hibernation and – towards the end of spring – when the wildflowers start popping up on the fields. While the famous "Going to the Sun Road" might not open until June, the Camas Road is a fine alternative. Be careful cruising along that in spring conditions (heavy rain/snow is always a possibility). And keep your eyes peeled for mountain lions, moose, and deer as you drive.
Glacier National Park weather in spring (March – May)
Because the Glacier National Park sits up in the highlands of Montana, springtime is really more of a winter lite. Snow has been known to persist in these parts well into May, and even into the summer months. What's more, thermometers often read 40 degrees or less right up until the end of April.
As the snowpack begins to melt later in the season, there's oodles of water sloshing around the park. That can bring real power to the rivers. And it's when sights like the Redrock Falls and Running Eagle Falls are at their most dramatic. However, it also washes out the alpine meadows, bringing lots of mud and instability to the Glacier National Park trails.
Never forget that the vastness and high altitude of Glaciers' ranges can bring unpredictable weather. You'll need to pack sensibly for the spring. That means waterproofs, hardy outdoors clothing, good thermal wear, and some hot-weather gear to boot.
Top things to do at Glacier National Park in the summer
Apart from cross-country skiing and building snowmen, there's really nothing that's off the menu in the summer. This is when Glacier National Park weather is at its finest. It's when most people arrive (so you might need to queue to pay that Glacier National Park entrance fee). But it's also when adventure beckons from all quarters of the reserve.
You might want to hoof it on Glacier National Park trails. There are countless hiking opportunities here, ranging from multi-day treks to beginner walks. Some of the most famous include the Highline Trail. It's an 11-mile route that begins at The Loop (a free shuttle ride can take you there), whisking you up above the canyons where spear-like Douglas firs frame vistas of lonely valleys. Another of the most iconic Glacier National Park hikes that's perfect for the summer months is the lookout of Hidden Lake. Start it at Logan Pass and get ready to be stunned by dagger-like summits and glistening waters.
The warmer months also reign as the top season for Glacier National Park camping. There are 13 officially designated sites to pitch up at within the reserve. They promise real immersion in Montana outdoors. Most spots come with fire pits, woodland surroundings, and amazing stargazing come the twilight hours.
Oh, and let's not forget the world-famous Going-to-the-Sun Road. It's one of the highlights of the GNP, and certain to be open in the middle of the summer. Find it weaving through the Rockies amid hills peppered with mountain goats and dashed with ancient pine woods. Talk about jaw-dropping stuff!
Glacier National Park weather in summer (June – August)
The slopes bloom with wildflowers. The rivers gurgle through the forests. The meadows are emerald green. Wildlife – chamois, grizzlies, bobcats – is everywhere. It must be summer in the Glacier National Park! This is hands down the most popular time to hit the great Montana reserve. A vast proportion of the 2.5 million yearly visitors come during this warm season, and it's easy to see why…
Daytime temperatures are typically in the middle of the 70s. Occasional highs mean balmy peaks in the 80s. And the nights see big variations, as the cloudless skies usher in cooler conditions (around 40 degrees is normal). Precipitation does peak a little in June but stays low throughout July and August. Rain is always more common in the western half of the park, where clouds can coalesce after rolling off the Pacific Ocean.
Top things to do at Glacier National Park in the autumn
The unique conditions offered by the autumn, coupled with plummeting visitor numbers, make September and October great options for a whole host of things to do in Glacier National Park.
Firstly, milder heat means you can cycle without sweating. That's great news for roadsters who want to try and hit the breathtaking Going-to-the-Sun Road before the snows come. Of course, that's by no means the only route. There are riverside paths to whiz up along Sprague Creek. Hardcore ascents can take you to the soaring Logan Pass. And pretty sections weave along the grassy banks of Lake McDonald to boot.
Autumn might also be the best time of year for Glacier National Park hikes. That's especially true if you come early on in the season. The snows won't have hit in earnest then, so most trails are likely to be open. However, fewer people will be lacing up their boots, so you might just find yourself alone in the wilds.
Glacier National Park weather in fall (September – October)
The fall marks the end of the main visiting season in the reserve. Official Glacier National Park lodging and marked Glacier National Park trails will start to close as you get towards the end of the autumn. What's more, the conditions will get more unpredictable and harsher as the months move closer to the winter.
Still, loads of people say this is the time of year with the best Glacier National Park weather of all. In September and October, temperature highs are usually between 55-70. Nights are chilly, dropping to below 40 most evenings. However, the skies are clear, the air is fresh, and you'll be able to see the non-evergreen forests of aspen and cottonwood changing color, from emerald to ochre and rust-red.
Precipitation levels do start to pick up in the fall. However, as the days get shorter, it's more likely to drop as snow, especially up in the higher elevations. That, combined with the temperature fluctuations, means you'll probably need to pack thermals and warm clothes.
Top things to do at Glacier National Park in the winter
Glacier National Park lodging and a whole host of the scenic byways close shut for the winter months. There's simply too much snow to keep them open. The same goes for the main Glacier National Park trails through many of the most popular valleys and lake areas.
However, that's not to say that winter is without its joys. As mentioned above, snowshoeing walks are a great way to escape into the hinterland. They are organized by rangers in the winter season and include interesting information about the region's flora and fauna.
Other travelers will prefer to go for Nordic skis. You'll be able to cover more ground on those. Cross-country routes abound. Some highlights are the upstream connection to the Sacred Dancing Cascades Trail, which gurgles over snow pillows from December onwards. The appropriately named Avalanche Lake Trail is another option. Check your avalanche risk before embarking on that, and then get ready for narrow sections that lead to an ice-caked body of water under Bearhat Mountain and the Sperry Glacier.
Glacier National Park weather in winter (November – March)
The Glacier National Park winter isn't to be taken lightly. This is one of the most inhospitable mountain regions in North America at this time of year. Sub-zero temperatures dominate most days, and even when it's warm things can change in a heartbeat.
Snowfall presents perhaps the most real danger to those wanting to explore the backcountry between November and March. Sudden blizzards created by weather systems coming in off the West Coast can cause massive dumps of powder in just a few hours. The snowpack can reach whopping heights of several meters too. That means avalanches are always a threat, and travelers in winter should stay abreast of all relevant warnings.
Of course, there's a primeval beauty to see the Glacier National Park in winter. Snowshoeing and cross-country Nordic skiing take over from the regular shuttle services. There's barely another soul around, so you can find real solitude. And the wild backcountry looks even wilder. Hidden Lake is caked in snow, the Rocky peaks shimmer with ice coatings, and the rivers are peppered with bergs and crystals.
So, you're planning a trip to Glacier National Park? We hope this weather analysis gives you an overview of what to expect during your visit. And hopefully, helpful to make a decision in which season to be here.
If you have any thoughts, let us know. Share with us your stories and we love to hear from you. Find more details for other national parks here. We promise you'll find what you need!