Golden Temple In Amritsar – All You Need To Know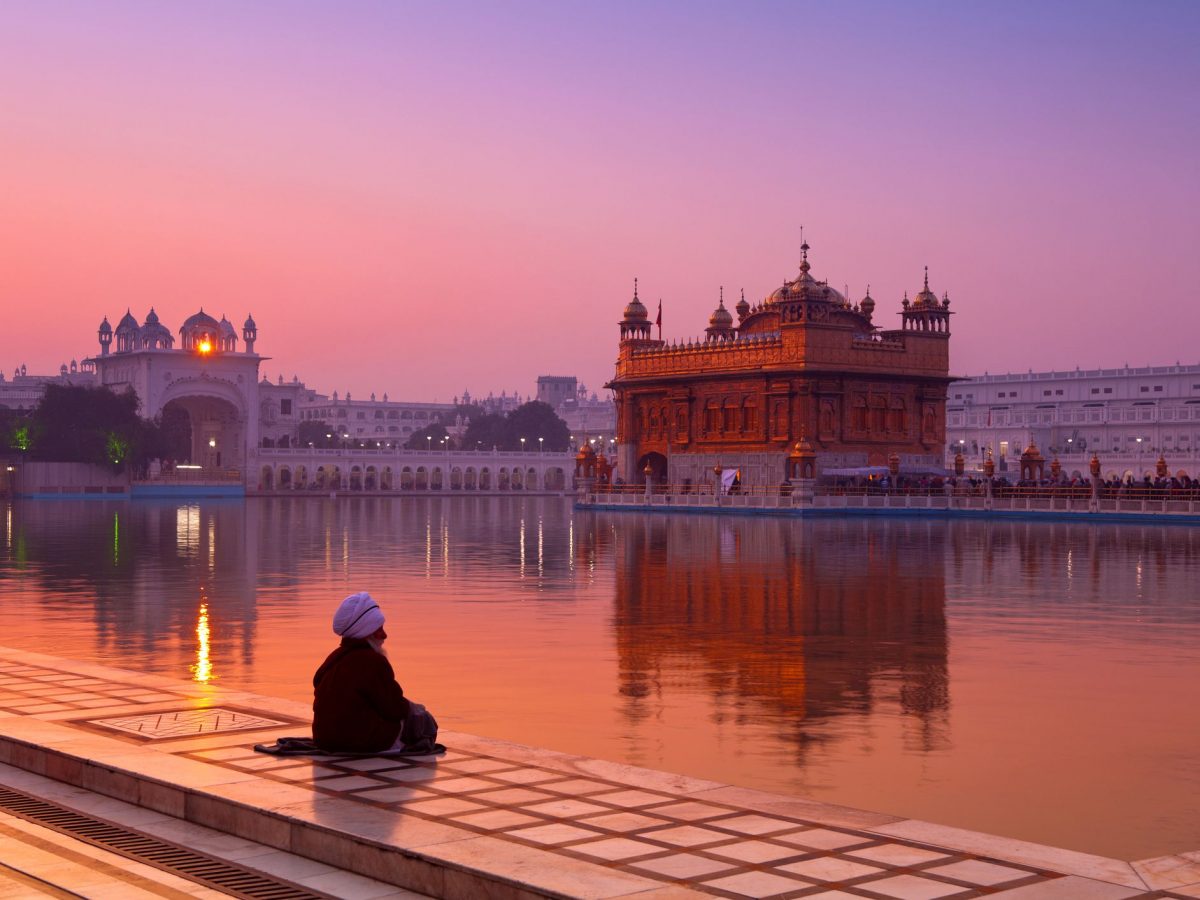 One of the holiest shrines in Sikhism, the Golden Temple in Amritsar will take you to a different realm altogether. Also known as Harmandir Sahib (god's abode), this place in India is pure bliss.
Especially the holy tank of nectar that encircles the main temple area is central to the entire place. Without surprise, this abode of god attracts pilgrims and tourists from all corners of the world. While it is hard not to be smitten by its calm and invigorating air.
It stands as a symbol of brotherhood, peace, and equality, and thus people from all castes and creeds are welcome. Plus, its free kitchen serves food to lakhs of devotees on a daily basis. However, it is also studded with some of the most precious gems, including Afganistan's famed Lapiz Lazuli. And needless to say, most of it is covered with gold.
So right from its architecture, atmosphere, and spirituality, this Sikh gurudwara is an epitome of peacefulness. Moreover, there are a lot of things to do in and around here. Come explore.
A Brief History Of The Golden Temple In Amritsar
The construction of Golden Temple started back in 1577 by the fourth Sikh guru, Guru Ram Das. It is interesting to note that the foundation stone was laid by a Muslim cleric, Hazrat Mian Mir of Lahore. It was completed in 1601, and the Sikhism holy book was placed in the guru palace.
Meanwhile, a town was settled around the Golden Temple, which is the modern-day Amritsar. Earlier the Golden Temple Complex used to have an open pool, but gradually developed a covered courtyard.
You might also be interested to know that there are three Ber Trees in the complex. And these are much older than this Sikh gurudwara itself. In fact, Baba Buddha sat under one of these trees while he supervised the construction of the Sikh temple.
These trees thus hold a deep reverence among the Sikh community. And efforts are being made on a large scale to preserve them. Moreover, the external area of the Sikh temple was recently renovated and widened. Besides, it has been turned into a vehicle-free zone.
Magnificent Architectural Traits
Apart from the mental solace, you can also feast your eyes to some most exquisite architecture. The main sanctum is a three-story structure that houses the Sikhism holy book (Guru Granth Sahib). The gold foil dome is quite a masterpiece.
However, the gold overlay was added in 1830 by Maharaja Ranjit Singh, the then rules of Punjab. For this, about hundreds of kg of gold was used, with 24-carat purity.
The most striking feature about its floor plan is that it has four entrances from four directions. These signify that people from all religions, regions or cultures are welcome to visit this place.
Besides, it has been built at a level lower than that of the city, again, to symbolize egalitarianism.
The ceilings and walls feature some most outstanding work in addition to gold embossing. The beautiful and vibrant inlay work depicts nature, including birds, animals, and flowers. One can easily notice that precious stones have been used for these inlays on marble.
The gold embossing has been done on most walls of the inner complex, along with the ceilings and exterior. Copper sheets have been diligently designed to depict amazing patterns, which are overlayed with gold leaves.
Places To Visit In Harmandir Sahib
There are many things to do at Golden Temple, the holy sight. Some of them are:
1.

Take A Stroll In The Golden Temple Courtyard
Walking in the huge courtyard of the Sikh temple is one of the most calming things to do in Amritsar. Also known as the Parikarma, this courtyard is the best way to observe life.
You can also lay down or sit here, and drink in the beauty of this amazing tourist attraction.
2.

Visit The Golden Shrine
Though needless to say, the central sanctum santorum is the main spot to be visited. There's a long passage that bridges the courtyard and the central shrine. When inside, you'll be awed by the glory and tranquility of the interiors. You can also climb up on the upper floors and get a better glance at the intricacy of architecture.
3.

Help In The Community Kitchen
The community kitchen here serves free food to around a lakh visitors daily. Lending help in the kitchen will surely be a heartwarming thing.
Things To Do Around Golden Temple
Golden Temple is close to some very interesting sights. Here are a few things to do right around the Golden Temple complex.
1.

Discover The Past In Sikh History Museum
Dig into the Sikh history by archiving through the paintings and artifacts of the Sikh Museum. Its located right at the front of the Golden Temple entrance.
2.

Visit The Jallianwala Bagh
The Jallianwala Bagh is a testimony to the colonial atrocities. A British General had opened fire on a peaceful gathering in a park beside the main Sikh temple. With just one narrow passage blocked by the armed policemen, hundreds of men, women, and children died here. The bullet marks on the walls stand witness.
3.

Grab A Bite Of Some Punjabi Cuisines
When in Punjab, a taste of the yummy butter chicken with naan is a must. Splurge here for the many mouth-watering delicacies of the region. The street food is amazing. Also visit the Amritsari Bazaars, with some shops being run by many generations of the same family.
4.

Meet And Chat With Humble Locals
Punjabi people are brave hearts and large-hearted, all at once. Talk with them and you'll be greeted like family. Many tourists are left in awe with their humbleness and hospitality. You leave this place filled with love, for sure.
Things to Remember At Golden Temple
Here are certain points to remember, while you are visiting this holy shrine of Sikhism in Amritsar. For instance,
Everyone is supposed to cover their heads with a scarf or a piece of cloth. If you don't carry one along, you can easily buy them from the markets outside. Or perhaps grab one for free right at the entrance.
You'll also have to remove your footwear, as they are not allowed inside.
Besides, any alcohols or intoxicants, chewing gums, sunglasses, etc are considered disrespectful.
A bit heart wracking, but photography is not allowed inside unless one is granted special permission by the authorities.
When To Visit Golden Temple Amritsar?
You can visit this Sikh pilgrim spot any time of the year. However, during Diwali, the festival of lights, the place is spectacularly decked up in lights. Plus the fireworks are eye candy.
Similarly, Lohri (in January), Holi (in March) and Baisakhi (in April) are some festivals that make this place worth visiting. Anyhow, monsoons could mean traffic snarls and slightly flooded Amritsar streets, so beware.
How To Reach Golden Temple?
Amritsar is situated in Punjab, which in turn is 460 km from Delhi. However, the road route could take you around ten hours from Delhi, by car or bus. But you can easily shorten this to six hours by booking the 12013/New Delhi-Amritsar Shatabdi Express from Delhi.
If you are planning to travel by air, the Amritsar International Airport is just a few miles away. You can book your flight from a number of countries, besides many of the Indian cities.
When in Amritsar, you'll find a range of hotels from 2 to five star, so you can easily book your stay. Besides, there's quite a fervour in the city, and you'll never feel alone, even if you are on a solo trip. So explore the city and the Golden Temple and be awed by the magnanimity of the calmness that prevails here.
The recitation from the holy inscription is soothing for the soul, even if you don't understand the language.
This 200-year-old structure is an enthralling beauty, apart from its great significance for the Sikh community.
So are you all set to visit this amazing place in Amritsar?