Gangtok India: Your Guide To Sikkim's Capital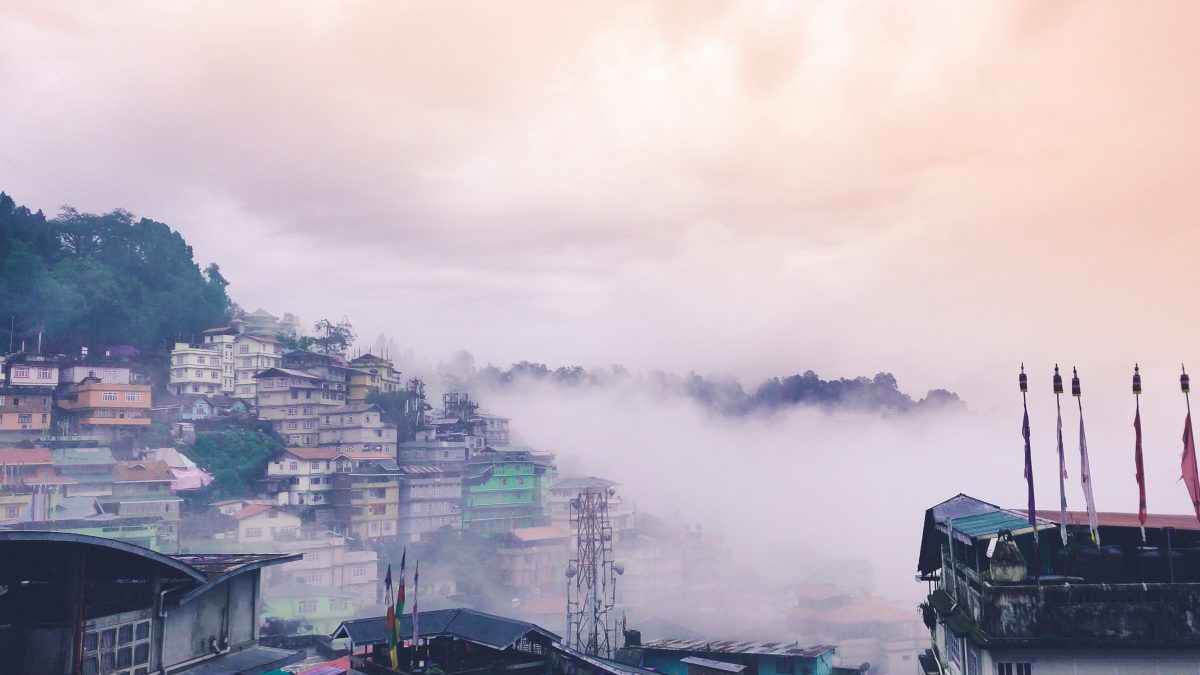 Getting to visit a place you've never been to before is a blithesome experience. Visiting a site is way better than hearing about it.
Let's face it. Listening to someone else drone on about their journey only gives you a second-hand account. And no matter how good of a visualizer you are, being there would trump hearing about it every time.
Traveling is a deeply enriching experience in and of itself. But places like India (that are a unique blend of heritage, tradition, culture and scenic beauty) tend to leave travelers even more enchanted.
India is known for a lot of things, but often enough its natural beauty is overlooked and rarely talked about. For example, India is home to some of the most breathtaking hill stations you'll ever come across.
These hill stations are always swarming with tourists and locals alike. Locals usually visit these hill stations in the summer to avoid the heatwave and enjoy some cold that the higher altitude provides.
Going to the top of these hills and watching the drooling clouds in the sky is mesmerizing, to say the least. It's a peaceful and soothing experience and perfect for anyone who needs to unwind after a long day at work.
Gangtok is the perfect place for a getaway that is purely designed to get you close to nature. As the capital of the mountainous northern India state of Sikkim, Gangtok boasts several attractions for tourists with opportunities for thrilling activities like trekking and hiking in the mountains.
To ensure that you get the most out of your trip to Gangtok, we've put together a guide to get you started.
Gangtok: The Voice Of Sikkim
Gangtok is one of the best hill towns in Sikkim. It is the capital of Sikkim and worth checking out. People prefer going to Gangtok for its cleanliness, and the newlywed couples find it to be a fascinating place for their honeymoon trip.
The most beautiful thing about Gangtok Sikkim is its scenic beauty and the striking views of the world's third-largest mountain, i.e. the Kanchenjunga Mountain!
Traveler's Favorite City
Gangtok was initially established as a Buddhist shelter and a pilgrimage site. And that makes a great deal of sense given how the peace and quietness of this location provide the perfect setting for meditation and personal reflection.
While the pilgrimage sites and the ancient monasteries enrich the traveler in spirituality, the adventure-packed activities keep them engaged throughout.
And throughout the whole experience, the breathtaking skylines and encompassing vistas keep the tourist spellbound.
Gangtok takes on different avatars as the season's change. In summers, it becomes a shelter for tourists from the scorching heat of the Northern Plains, whereas in winter it is a sleepy, snow-clad town perfect for skiing and the like.
Tourists will find plenty to do here regardless of when they visit.
Top Things To Do In Gangtok
The ten essential activities that must be on the top of your list while planning for a trip to the capital of Sikkim include:
1.
Getting Your Adrenaline Dose From A Cable Ride
The cable car ride at Gangtok is a great way to kick off your tour. The ride begins from Deorali and takes the passengers all the way to Tashiling. You can get a unique glimpse at the city below from this vantage point. The views can be really breathtaking sometimes.
What can you expect? Well, the overall ride is pretty smooth with some twists and turns here are there. The ride continues for almost a kilometre before finally arriving at Tashiling.
And by the way, the cable car doesn't have any seats so expect to stand for a while. But we promise the views will make all of it worth the effort.
The ride features a double-cable, with each cable car being able to carry up to 24 passengers at a time. So, if you're travelling with family or a group of friends, this ride can offer the perfect opportunity to enjoy something thrilling altogether.
The ride consists of three stations along the way. The first station is at Deorali near the Institute of Tibetology.
Namnang is the station that follows the first one. And the last station is in Tashiling, close to the Secretariat.
Timings: 9:30 am – 4:00 pm
Location: Deorali, Gangtok.
2.
You Have To Try The Yak Safari
Yak Safari is one of the most unique experiences among all of the things to do in Gangtok. You get to ride this large mountain animal known as Yak. It is a slow and steady trip that takes you to places in Gangtok as you firmly hold on to the hump of the Yak.
The ride is definitely one of a kind experience and a great way to explore the celestial beauty of Sikkim.
Location: Dzongri, Gangtok.
3.
Feel The Thrill Of Mountain Biking
To mountain bikers, Gangtok will honestly feel like a great treat. Mountain biking is among the best things to do in Gangtok for adventurers. Gangtok is filled with challenging routes that are sure to offer you a thrilling experience.
Location: Gangtok to Phodong, Rangrang to Dikchu Makha to Sirwani, Temi to Gangtok, Rumtek toSang, Sirwani to Temi, Namchi to Jorethang, Melli to Gangtok, Rumtek to Sang, Sirwani to Temi, Namchi to Namthang and Rangpo.
4.
Go River Rafting In The Teesta River
River rafting in the Teesta River is an adventure you don't want to miss out on when in Gangtok. If you're travelling with friends, make sure you get them on board as well. It's one hell of a ride. And you'll definitely need more hands for all that paddling you'll have to do.
The rapids of the Teesta Rivers and Rangit are graded at the international level from I to IV, making it one of the most beautiful rafting stretches in the world. Rafting in the turbulent water of Rangit is quite challenging so Teesta River might be better suited to your skills.
Location: Some of the popular rafting routes are as follows
Makha to Rongpo (Shortest Route)
Dikchu to Teesta Bridge (Intermediate Route)
Dikchu to Kali Johra (Five Hours Long Route)
Bordang to Melli (More Than Five Hours Long Route)
5.
Soar Like A Bird While Paragliding
Paragliding is another great option among the many thrilling things to do in Gangtok. It is immensely popular because of the breathtaking views of the Himalayas and the picturesque nature in its backdrop. And the good news is, for paragliding in Gangtok, you don't need to be a pro.
There are plenty of operators who will guide you through the whole thing. A certified pilot will take care of the entire flight and your safety.
Location:
For a medium fly is Baliman Dara – 1400 meter altitude for 5 – 10 minutes
For high fly is Reshithang village – 2200 meter altitude for 20 – 30 minutes
6.
Go Ice Skiing Because Why Not?
Yumthang valley is a top-rated spot in Gangtok for ice skiing. Popularly known as the "Valley of Flowers" or the "Sikkim Valley of Flowers Sanctuary", Yumthang attracts countless tourists for its skiing activity.
Even if you don't plan on skiing, you should definitely plan a trip to the valley. It's worth seeing because of its exotic location, rivers, hot springs, lush green meadows, and yaks. A trip to Yumthang takes around two hours from Lachung (a small town) 125 kilometer away from Gangtok.
The valley is closed for tourists between December to March due to heavy snowfall in the area. Moreover, a direct journey to Yumthang is not possible during winters because of all the fog. After 5:30, it becomes very dark, which is something to keep in mind before visiting.
7.
Stand Before The Mesmerizing Seven Sisters Waterfall
Your entire day can be spent just by watching the pristine, crystal clear blue waters of the Seven Sisters Waterfall. Forests from all sides surround the waterfall. The Seven Sisters Waterfall is the best place to relax and enjoy the view with family or friends.
Seven Sisters Waterfalls, as the name suggests, comprises of seven different waterfalls unanimously arranged side by side on a full rugged cliff. This famous waterfall is at a distance of 32 kilometers from Gangtok on the Gangtok-Lachung Highway.
Location: National Highway, North Sikkim, Gangtok.
8.
Overcome The Fear Of Rock Climbing
Gangtok truly has a lot to offer for adventure enthusiasts. Near the Western District of Sikkim is a town called Pelling. Another great tourist destination after Gangtok, Pelling has great rock climbing sites that tourists can take advantage of.
Other interesting things you can do here include taking village tours, trekking and mountain biking. If you're planning to visit Pelling and the areas around Gangtok, make sure you put rock climbing on your list too.
9.
Feel The Alluring Ambiance Of Nathu La Pass
Heard of the ancient silk route? Nathu La Pass was one of the three connecting links between India and China. So the pass definitely has a great historical significance.
Here, you can not only glimpse at the Indo-China border but also see Indian and Chinese soldiers guarding it. The trip may require you to put aside a whole day because the journey is quite long. Normally, the journey also includes visits to Tsomgo Lake and Baba Mandir.
Location: 54 kilometers East of Gangtok.
10.
Take A Walk At The Peaceful Ranka Monastery
Ranka Monastery is an ideal place for travelers and offers extremely picturesque views. It is a relatively new monastery as compared to other monasteries in Sikkim, and has earned itself a significance amongst Bollywood filmmakers. The houses in this monastery have a massive courtyard, a great series of prayer wheels, and a stunning pagoda top.
Once you enter the monastery, you'll suddenly feel the spirituality and tranquility it's so famous for. You can also check out the prayer hall and the terrace outside. And with mountains in the background, the setting is perfect for personal reflection and meditation.
How To Get To Gangtok?
It's pretty easy to get to Gangtok. If you want to take a cab or ride a bus, you can find one at Siliguri, Bagdogra, and New Jalpaiguri. Beware of the rates though.
If you visit during the monsoon season, the rain may be used as a valid excuse to charge you higher than the normal fare.
Another option that is available is to get to Gangtok by train. The railway station at New Jalpaiguri is the closest that can get you to Gangtok within 3 to 4 hours.
Alternatively, you can book a flight to Gangtok. The Bagdogra Airport is the closest to Gangtok so be sure to book your flight there.
What To Expect From Sikkim Weather?
Sikkim is known for its scenic landscapes and natural beauty. Sikkim enjoys five seasons – winter, summer, autumn, and monsoon.
Summer In Sikkim: Summer is the ideal time to explore Sikkim. During this season nature is at it's best. The season is excellent for trekking, visiting places like the lakes and the monasteries. All and all, you will find that Sikkim is inviting in the summers.
Monsoon In Sikkim: Monsoon is not the ideal weather to visit Sikkim because of the heavy rainfall throughout the month. Traveling by road becomes dangerous and obstructive. But if you are visiting Sikkim in this season regardless, then be sure to spot the waterfalls and do some bird watching to get the most out of the experience.
Winter In Sikkim: The winter in Sikkim is full of never-ending snowfall. And it looks mesmerizing with snow-covered mountains, rivers, and roads. There may be chances of hindrance during the trip because of the natural disasters, landslides and so on. But other than that the place is quite beautiful and welcoming during these months.
We hope these ideas help you plan an exciting adventure for your Gangtok visit. And if you feel like exploring more of India's natural beauty, then here's a list of the 10 beautiful natural parks that you can visit in India.