9 Exciting Places to Visit with Your Family in Kerala, India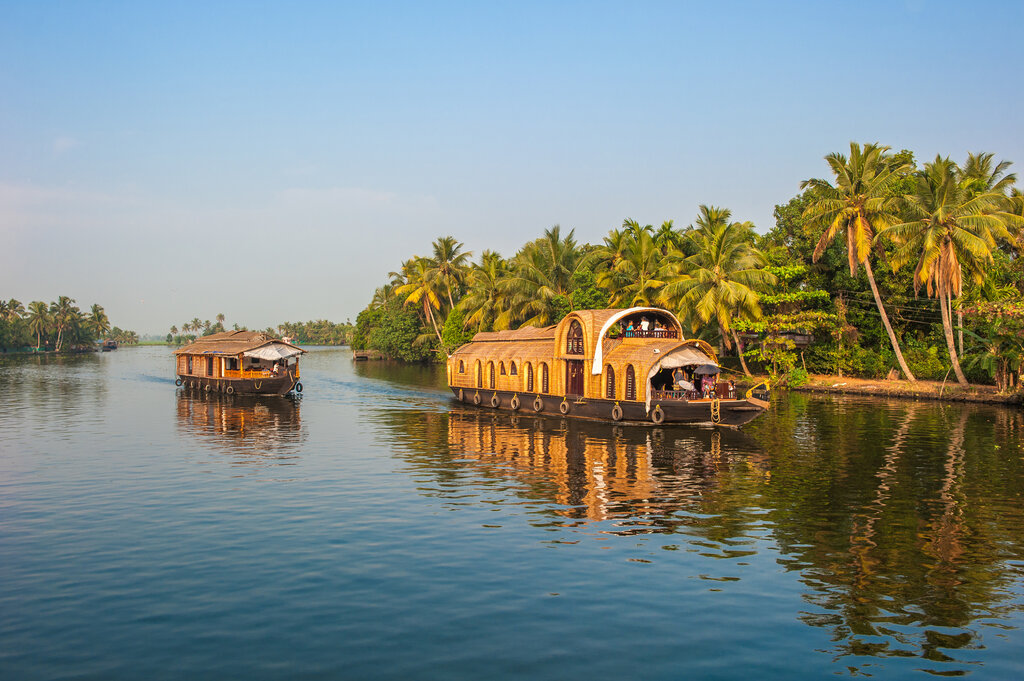 Sugar, spice, and everything nice, that's Kerala for you. Indeed, the spices capital of India holds everything from sweet to spicy, and natural beauty like no other. The wealth of its beauty comes in the form of backwaters – a sanctuary of paradisical brackish waters that you can wake up to in your houseboat. Mornings in Kerala are a misty golden landscape, tinged with a stretch of calm blue. Afternoons are a mission to explore the untouched palm-lined lagoons and UNESCO heritage sites, while nights are packed with music and cocktails.
Kerala has a variety of attractive places, each to satisfy and indulge in your passion. Here are 9 of the best places to visit with your family and loved ones. Browse through some of these lovely Kerala Holiday Packages to find the best deals for yourself.
1. Alleppey
Did you know that India has its very own Venice? Upon hearing this, it doesn't make sense. But, one look at Alleppey, and you'll know why this Venetian capital is tagged as the "Venice of the East". The tranquil backwaters of canals, lakes, and lagoons make an unending lattice of blue amongst the rest of Mother Nature's palette. And you can experience it all in many ways – canoe, kayak, parasail, or on a relaxing boat tour. At Kerala's most well-known backwater resort, the Vembanad Lake, you can also witness vast green paddy fields and all sorts of flora and fauna. Finally, rejuvenate with Ayurveda treatments to fully experience the magic of Alleppey.
2. Wayanad
If stretches of blue don't intrigue you, then maybe the green acres of Wayanad will. Located at an astounding height of 700-2,100m in the Western Ghats Mountain Range, this breathtaking hill station is all about amazing experiences in a cooling unspoiled environment. Wayanad is an aromatic garden that grows various spices like cardamom and black pepper, coffee beans, and organic fruits. A staple for all things outdoors, you can rock climb, hike, and trek through this mighty mountain. Trek and explore Asia's second-largest earth dam, Banasura Sagar Dam, or Wayanad's highest Chembra peak. Moreover, you'd find ancient relics and monuments, and neolithic caves along the way. The ability to relive and unravel history for visitors to this hillside hideaway adds to Wayanad's allure.
3. Cochin
Cochin, commonly known as Kochi, is a unique location in Kerala that skillfully melds age-old customs and cutting-edge ideas. This magnificent port city, also known as the "Queen of the Arabian Sea" is a popular travel destination. A nexus of many cultures and traditions, Cochin has embraced the modern viewpoint to become one of India's most technologically advanced metropolises. Whether it's the spirit of the Dutch inns, Chinese nets, British heritage, or the old spice shops, Cochin will certainly make you love it all over again.
4. Munnar
There is no need to introduce Munnar; it is yet another gorgeous hill town located among the fascinating Western Ghats. The soaring clouds, majestic mountains, rolling hills, and a tranquil atmosphere, rising 1,600m above sea level, are all part of a vacation in this mountainous refuge's appealing environs. Munnar, which is largely surrounded by unending tea fields and lush forests, must be considered the top tourist destination in Kerala. No matter the time of year, whether it's the height of spring or the depths of the monsoon, Munnar will always leave you wanting more.
5. Kumarakom
Another enchanting backwater resort in God's Own Country is Kumarakom, which is adorned by the Vembanad Lake's ethereal allure. This area, which is close to Kottayam City, is where being lazy is the only rule while you vacay in Kerala. Take a private houseboat tour and glissade through the intricate network of canals and lakes. You can also visit its bird sanctuary – 14 acres of any ornithologist's utopia, and you can witness up close exotic species of cuckoos, Siberian storks, Egrets, and many other friendly fowls. Needless to say, Kumarakom is a favorite destination for all kinds of tourists thanks to the allure of the turquoise Vembanad Lake, the evergreen coconut groves, and the breezy rice fields.
6. Kovalam
If you like sand-meets-sea, and all things in between, then Kovalam is just for you. Located along the shores of the Arabian Sea, this beach town is of the top tourist destinations in Kerala. The distance between Trivandrum, the state capital of Kerala, and Kovalam, which is host to some of the country's most stunning and pleasurable beaches, is only 16 kilometers. While you're here, you can go for a stroll, engage in beach activities, or take part in other fun activities close to Samudra Beach, Hawah Beach, and Lighthouse Beach.
7. Thekkady
Visit Thekkady if you want more out of your trip to Kerala! Because of its excellent geography, Thekkady sports all colors of blue, green, and spice. Referred to as the "Spice Capital of Kerala," Thekkady is not only a visual buffet of scenic beauty but an aromatic city to invigorate your senses too. Furthermore, this safe haven of rich biodiversity houses a variety of unique wildlife species at Periyar National Park. Get up close and personal with lions, tigers, bison, and baby elephants here!
8. Kollam
A charming tiny port city, Kollam is nothing but tiny when it comes to appeal and allure. Sporting a position on the list of the most appealing tourist spots in India's "Backwater Capital.", Kollam has everything to offer. It is a picture-perfect holiday resort that fascinates tourists with the blue Lakshadweep Sea and the emerald Ashtamudi Lake. When visiting Kollam, you can feel and experience Kerala's original customs and traditions the most vividly. Regardless of whether it concentrates on fishing, farming, cashew processing, or tourism, this port city has a solid reputation among travelers. Tangasseri, Kollam, and Thirumullavaram beaches are available for beach lovers to enjoy.
9. Vagamon
If you desire an uncommon but fascinating vacation in Kerala, you must plan your trip to Vagamon. This retreat in the Idukki region is renowned for its unadulterated beauty, pleasant climate, and many other qualities. It is one of the most scenic hill stations in Kerala and one of the more obscure popular tourist destinations. As such, you don't have to worry about brushing shoulders and squeezing with a crowd here. A significant number of thrill- and adventure-seekers frequent Vagamon in addition to leisure travelers. Adventure activities like rock climbing, paragliding, hiking, climbing, and many more are quite popular there all year round.