Everything You Need To Know About Anthem Of The Seas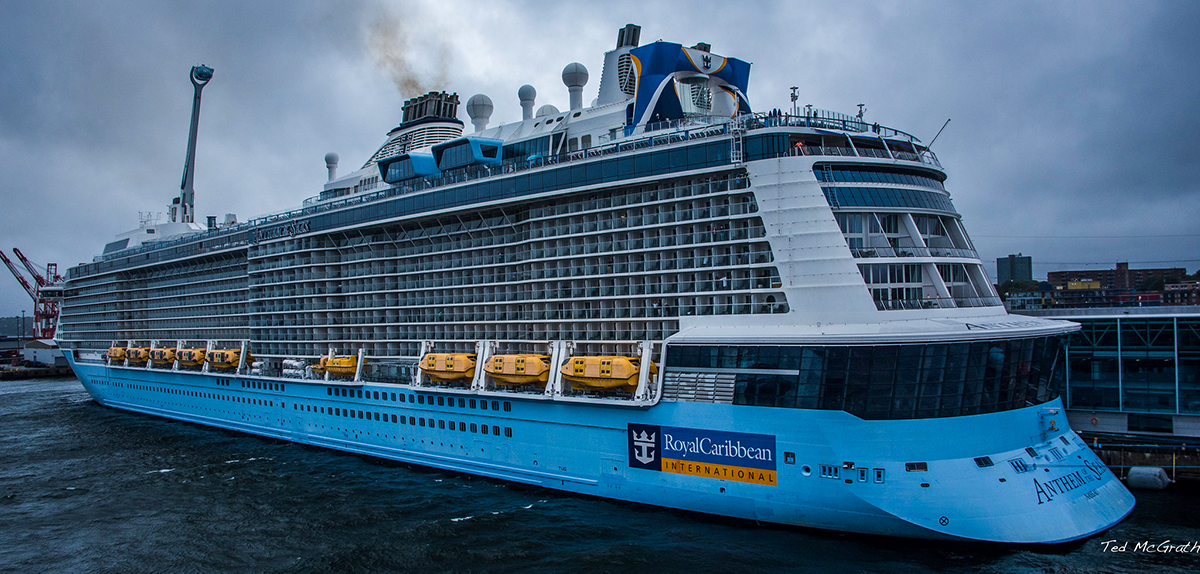 Many people dream of setting out to the open waters in a cruise headed for a tropical island across the vast Atlantic. If you're reading this now, we bet you're one of them. We also bet that Anthem of the Seas will satisfy every cruise fantasy you've ever had.
Luxurious activities that you can only experience at amusement parks and high-class hotels can be found on the decks of these floating cities on the sea. Sounds awesome, right? Taking your family on a vacation of a lifetime is something you'll never forget.
Choosing the right cruise is crucial for the trip. With several different cruise liners floating on the ocean, each offering unique experiences, picking one can be difficult.
One of the top cruise lines is Royal Caribbean, and among their fleet is the Anthem of the Seas. This cruise ship can hold over 4000 passengers and has a wide array of activities for you and your family.
What Routes Are Available On The Anthem Of The Seas?
The Anthem of the Seas sails from New York to the Caribbean. It also offers transatlantic routes to Europe.
Some of these routes are:
Canada & New England
Bermuda
Bahamas
Southern Caribbean
Spain & Portugal
Northern Europe Cities
The Italian Mediterranean
Canary Islands
France & Spain
No matter which route you choose, your adventure will surely be amazing. Each of these routes has various lengths of travel and activities. Some will be day cruises, and some require several weeks.
Each of these routes has ports that dock at land as well. Build memories by going out on excursions with your loved ones and explore each new country together. Just make sure to get back on the ship on the designated time.
What Activities Are There To Keep You Busy?
On board the Anthem of the Seas, you'll never be bored! With the number of activities available on the ship, you may never want to leave. You can hit the roller skating rink or ride one of the bumper cars.
You can even join different classes in cupcake making or sushi making. When you're done with that, dress up and dine in one of the many fine-dining restaurants on deck.
Some of the other activities that are available on the Royal Caribbean's Anthem of the Seas:
RipCord® by iFLY®

Bionic Bar®
These are just a few of the activities and entertainment options you'll find on Anthem of the Seas. Whether you are cruising for a few days or a couple of weeks, there'll always be something fun to do.
What Are The Schedules?
Scheduling your cruise can be challenging, especially when you're working with a limited time frame. Schedules change yearly and vary from time to time.
The best way to make sure that you find the cruise that works for you is to take a look at the schedules available. There are summer and winter cruises, and each comes with its own set of activities. So think about what you'd like to do on the cruise, and make your decision from there.
How Much Will It Cost?
Prices for a trip aboard Anthem of the Seas depend on the chosen route. The typical price range is from $598 all the way up to $3200. The longest routes will be the most expensive. Time and season also play a part. The longer you are on the boat, the higher the price.
Going on a cruise may sound expensive. But when you consider the included food, lodging, transport, and activities, it's definitely a good deal. You never have to worry about driving home after a few drinks.
Plus, the kids can enjoy themselves without you having to watch them. That means mom and dad get a break too! Now THAT is worth the money!
What People Have Said About This Cruise
The Anthem of the Seas is an entertainment mecca that floats across crystal blue waters. You can go for a swim on the pool or earn scuba certification, then go skydiving in the iFLY® or take classes at the Trapeze school. The nightlife is an amazing chock-full of fantastic meals and shows that will rock you.
Broadway-quality shows can be seen in multiple showrooms. If it's not your thing, you can always check out a lounge or a bar and relax with a nice beverage as you while away the evening. The ship is built for fun whether you are a family or a couple or a group of friends.
The ship's pinnacle of fun is the North Star®, which promises to elevate you both physically and emotionally, revealing 360-degree views of a world you've truly never seen before. The technology used to make the cruise easier is state of the art with RFID bracelets, which you can use to pay for things.
The Anthem of the Seas is a cruise that will leave lasting fun and exciting memories in years to come for you and your family.
Frequently Asked Questions
First timers on a cruise always have something to ask about before going on a cruise like Anthem of the Seas. Here are a few questions you might find yourself asking.
Who cruises on the Anthem of the Sea?
Many people think of retirees when they think of cruises. In truth, the passenger age range is wide. The Anthem of the Seas is a big draw for cruisers from North America and the United Kingdom. You'll find that young adults are especially catching on to the cruising holiday experience.
It's all-inclusive and the activities are all sorted for you. If you have kids, you can relax knowing that they're having fun in a safe place where they are being watched while you relax.
What is the dress code?
Daytime dress code is pretty much beach resort casual. Things like swimsuits and shorts are perfectly fine on deck. However, if you're planning on dining, you need to wear a shirt or cover-up. At night casual resort wear is also fine. But during the Grande night, formal wear is required.
What should I pack?
Taking note of the dress code is a great guide for what you should pack. But in the end, it depends on what you want to wear and feel comfortable with. Most cruisers have said that shorts and shirts are a must, along with dresses (for women). Jeans and smart shirts will work well for evenings for men. Don't forget to pack your swimsuit and sarong or cover-ups. A pair of smart shoes, trainers, and sandals should also be packed.
Other than clothes, you'll need sunglasses, a hat, and lots of sunscreen lotion. If you're bringing gadgets, don't forget your charging cables! Lastly, remember to bring with you a sense of adventure and fun, because you'll have bucket loads of opportunities to enjoy yourself on the Anthem of the Seas!
Is there shampoo provided?
Basic toiletries are provided on your cruise ship. That will save you some space in the luggage.
Can you bring a hair dryer?
Most cruise ship cabins will be equipped with a hairdryer. But if you need one that is a little more powerful, you can bring your own on the trip.
Final Thoughts
Taking the time to plan a cruise that'll allow you to see and experience things you've always dreamed of is a true gift. And an even better gift would be a dynamic, exciting, life-changing cruise on the Anthem of the Seas.
It has everything you could possibly need for a great vacation. So pack your bags, grab your tickets, and set sail into the vacation of your dreams.
Bon voyage!
Are you getting ready for a cruise? Here is the ultimate cruise packing list – you don't want to forget anything, do you?