What Are Some Tourist Attractions In Switzerland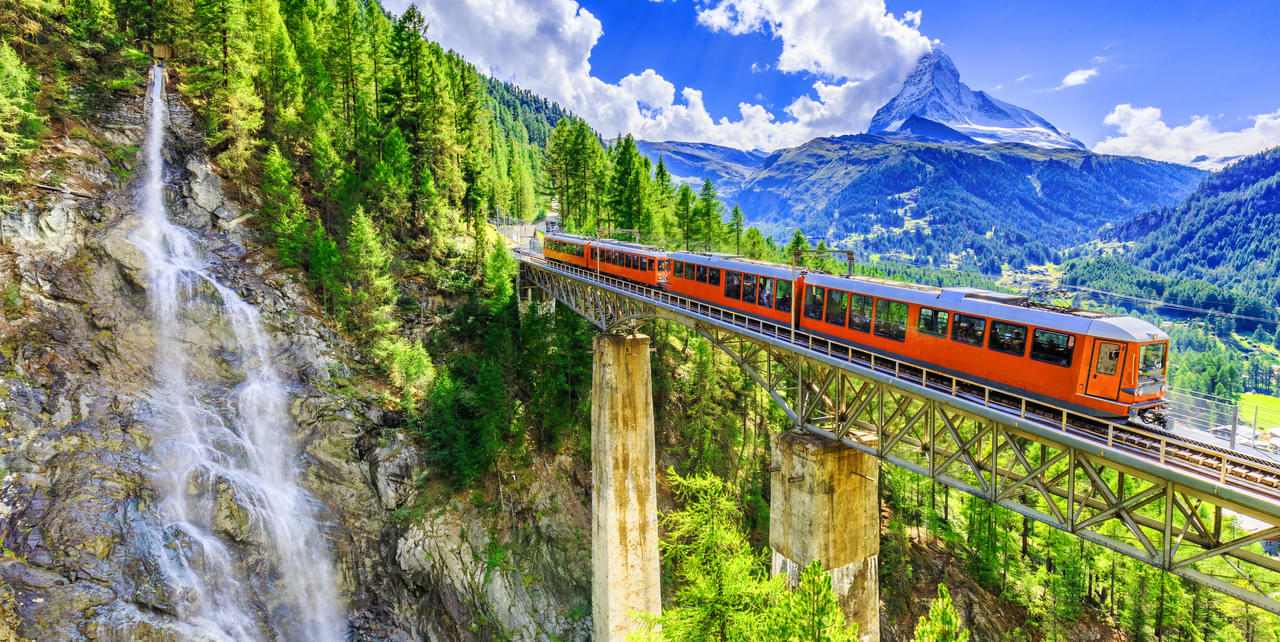 Introduction
Welcome to Switzerland, a country renowned for its stunning landscapes, charming cities, and rich cultural heritage. Nestled in the heart of Europe, Switzerland offers a multitude of attractions that cater to every type of traveler. Whether you are a nature lover looking to explore the picturesque Swiss Alps, a history enthusiast wanting to immerse yourself in the fascinating historical sites, or a foodie eager to indulge in Swiss chocolate and cheese, Switzerland has something for everyone.
One of the first things that comes to mind when thinking of Switzerland is its efficient and punctual public transportation system. This makes it easy to navigate through the country and discover its various regions. From the vibrant city of Zurich to the tranquil beauty of Lucerne, and from the cosmopolitan city of Geneva to the adventure mecca of Interlaken, Switzerland offers a diverse range of destinations to explore. What's more, the country is known for its cleanliness and safety, making it an ideal destination for solo travelers, families, and couples alike.
Switzerland is famous for its natural beauty, with snow-capped mountain peaks, pristine lakes, and charming villages dotting the landscape. The Swiss Alps, with peaks like the Matterhorn and Eiger, are a haven for outdoor enthusiasts who can indulge in activities such as skiing, hiking, and mountaineering. The breathtaking landscapes of the Swiss countryside, with rolling hills and picturesque valleys, provide a peaceful retreat for those seeking tranquility. The Swiss National Park is a wildlife lover's paradise, where you can spot rare species such as ibex and chamois in their natural habitat.
Beyond its natural wonders, Switzerland is also home to vibrant cities that boast a mix of history, culture, and modernity. Zurich, the largest city in Switzerland, is a bustling metropolis known for its world-class museums, stylish boutiques, and vibrant nightlife. Lucerne, on the other hand, is a picture-perfect city with its charming old town, iconic Chapel Bridge, and stunning Lake Lucerne. Geneva, often referred to as the "Capital of Peace," is known for its international diplomacy and cultural diversity.
In this article, we will explore some of the top tourist attractions in Switzerland. Whether you are planning a short city break or a longer vacation, these destinations are sure to leave you with unforgettable memories of the Swiss experience.
Zurich
Zurich, the largest city in Switzerland, is a vibrant metropolis that seamlessly blends history, culture, and urban modernity. Known for its efficiency, cleanliness, and stunning lakeside location, Zurich is a must-visit destination for any traveler exploring Switzerland.
Start your visit to Zurich by strolling along the Bahnhofstrasse, one of the world's most exclusive shopping streets. With its luxury boutiques, renowned Swiss watch shops, and stylish department stores, this street is a paradise for fashion enthusiasts and shoppers alike. Adjacent to the Bahnhofstrasse, you'll find the historic old town, known as "Altstadt," with its narrow cobbled streets, medieval buildings, and beautiful churches. Don't miss the magnificent Grossmünster, a Romanesque-style cathedral that offers panoramic views of the city from its towers.
If you're a culture vulture, Zurich won't disappoint. The city is home to over 50 museums, covering a wide range of topics from art and history to science and technology. The Kunsthaus Zurich is a must-visit for art lovers, showcasing a vast collection of European art, including works by Picasso, Monet, and Chagall. For those interested in Swiss history, a visit to the Swiss National Museum is a must. Housed in a stunning castle-like building, the museum exhibits artifacts that highlight the country's rich cultural heritage.
For a unique experience, head to the trendy area of Zurich West. This former industrial district has transformed into a hip and creative hub, with art galleries, music venues, and trendy bars and restaurants. Explore the vibrant neighborhood of Kreis 4, known for its vibrant street art scene and multicultural vibe. Don't forget to try some local delicacies, such as traditional Swiss cheese fondue or rösti, a Swiss potato dish that is served with various toppings.
Zurich's natural beauty is another highlight of the city. Take a stroll along the picturesque shores of Lake Zurich, rent a paddleboard or boat to explore the lake, or simply relax on one of the many lakeside parks. If you're feeling more adventurous, take a short train ride to Uetliberg, a nearby mountain offering panoramic views of Zurich and the surrounding landscapes. Nature lovers can also visit the Zurich Zoo, home to a wide range of animal species, including the popular penguins.
With its blend of history, culture, and natural beauty, Zurich offers a diverse range of attractions to suit every traveler's interests. Whether you're exploring the vibrant city center, immersing yourself in the local culture, or enjoying the stunning natural landscapes, Zurich is sure to leave you with lasting memories of your Swiss adventure.
Lucerne
Located in the heart of Switzerland, Lucerne is a charming city that offers a unique blend of history, natural beauty, and cultural attractions. With its picturesque setting on the shores of Lake Lucerne and surrounded by majestic mountains, Lucerne is a dream destination for travelers seeking a mix of tranquility and exploration.
The centerpiece of Lucerne is its iconic Chapel Bridge (Kapellbrücke), a covered wooden bridge that stretches across the Reuss River. Dating back to the 14th century, the Chapel Bridge is adorned with beautiful paintings that depict Lucerne's history. Take a leisurely stroll across the bridge, and enjoy the scenic views of the river and the cityscape. Adjacent to the bridge, you'll find the Water Tower, a former fortification that now houses a small museum where you can learn more about the city's history.
Explore the charming streets of Lucerne's old town (Altstadt), with its well-preserved medieval architecture. Admire the colorful facades, ornate guildhalls, and explore the quaint shops and boutiques that line the narrow cobblestone streets. Don't miss the Jesuit Church, a beautiful baroque church known for its stunning interior adorned with intricate stucco work and ornate decorations.
For nature enthusiasts, Lucerne offers plenty of opportunities to explore the surrounding natural beauty. Take a cruise on Lake Lucerne and marvel at the breathtaking scenery of the crystal-clear waters and towering mountains. Mount Pilatus, located just a short boat and cogwheel train ride away from Lucerne, offers panoramic views of the Swiss Alps. You can hike, take a cable car, or even try the world's steepest cogwheel railway to reach the summit of this majestic mountain.
Another must-visit attraction in Lucerne is the Lion Monument (Löwendenkmal). Carved into a rock face, the monument depicts a dying lion and commemorates the Swiss Guards who lost their lives during the French Revolution. This poignant sculpture is a symbol of Swiss valor and has become an iconic image of Lucerne.
When it comes to cultural experiences, Lucerne does not disappoint. The city is home to several world-class music festivals, including the Lucerne Festival and the Lucerne Blues Festival, attracting renowned musicians from around the world. Catch a classical concert at the KKL Lucerne, a modern concert hall renowned for its exceptional acoustics.
Food lovers will also find delight in Lucerne's culinary scene. Sample traditional Swiss dishes such as cheese fondue and raclette, or indulge in the exquisite Swiss chocolates that the country is famous for. The farmers' market in Lucerne's old town is a great place to taste local produce and regional specialties.
With its combination of stunning natural landscapes, rich history, and cultural offerings, Lucerne truly captivates visitors. Soak in the beauty of Lake Lucerne, explore the charming old town, and immerse yourself in the cultural delights that this enchanting city has to offer.
Geneva
Situated on the shores of Lake Geneva, Geneva is a cosmopolitan city known for its international diplomacy, cultural diversity, and picturesque setting. As the headquarters of numerous international organizations, including the United Nations, Geneva offers a unique blend of history, politics, and natural beauty.
One of the must-visit attractions in Geneva is the Jet d'Eau, a stunning water fountain located at the point where Lake Geneva meets the Rhône River. This iconic symbol of the city shoots water up to 140 meters in the air, creating a mesmerizing spectacle. Take a leisurely stroll along the promenade and enjoy the views of the fountain and the lake.
Explore the Old Town (Vieille Ville) of Geneva, a charming neighborhood filled with narrow cobblestone streets, historic buildings, and picturesque squares. Visit St. Peter's Cathedral, an impressive gothic-style cathedral dating back to the 12th century. Climb to the top of the towers for panoramic views of the city and the lake. Don't miss the Maison Tavel, the oldest house in Geneva which now houses a museum that showcases the city's history.
For art enthusiasts, the Museum of Art and History in Geneva is a treasure trove of artistic masterpieces, including works by renowned artists such as Monet, Van Gogh, and Picasso. The museum also features an extensive collection of archaeological artifacts and decorative arts.
Geneva is also known for its vibrant international dining scene. Indulge in a variety of cuisines from around the world, reflecting the city's multiculturalism. Explore the Carouge district, known for its bohemian atmosphere and trendy restaurants, or visit one of the many traditional Swiss restaurants to sample local specialties.
Aside from its cultural and culinary offerings, Geneva is surrounded by breathtaking natural beauty. Take a boat ride on Lake Geneva and marvel at the panoramic views of the Swiss Alps. Explore the nearby Jardin Anglais, a picturesque park filled with colorful flowerbeds, sculptures, and the famous L'Horloge Fleurie, a clock made of flowers.
For those interested in science and technology, a visit to CERN, the European Organization for Nuclear Research, is a must. Take a guided tour to learn about groundbreaking scientific discoveries and explore the Large Hadron Collider, the world's largest and most powerful particle accelerator.
Whether you're drawn to its stunning landscapes, its rich history, or its international flair, Geneva offers a unique and captivating experience. Immerse yourself in the cultural diversity, explore the historical sites, and enjoy the natural beauty that makes this city a true gem in Switzerland.
Interlaken
Nestled between two pristine alpine lakes, Interlaken is a picturesque town in the heart of Switzerland that attracts adventure seekers, nature lovers, and adrenaline junkies from around the world. Surrounded by towering mountains, including the iconic Jungfrau, Eiger, and Mönch, Interlaken is an outdoor paradise offering a multitude of activities and breathtaking scenery.
One of the main draws of Interlaken is its wide range of adventure sports. Whether you're an experienced thrill-seeker or a first-time adventurer, there's an activity for everyone. From paragliding high above the mountains and skydiving over the crystal-clear lakes to canyoning through waterfalls and white-water rafting down the turbulent rivers, Interlaken offers an adrenaline rush like no other.
If you prefer a more relaxed pace, there are plenty of scenic hiking trails in and around Interlaken. Explore the picturesque Grindelwald Valley, known for its lush meadows, cascading waterfalls, and breathtaking views of the surrounding mountains. Take a leisurely stroll along the Brienzersee (Lake Brienz) promenade and enjoy the tranquility and beauty of the pristine lake.
No visit to Interlaken is complete without taking a mountain excursion. Hop on a cogwheel train and ascend to the Jungfraujoch, also known as the "Top of Europe." At over 3,400 meters above sea level, the Jungfraujoch offers panoramic views of the surrounding snow-capped peaks and a chance to step foot on the Aletsch Glacier, the largest glacier in the Alps. Don't forget to visit the Ice Palace, a series of ice sculptures carved into the glacier.
Interlaken is also a gateway to the stunning Bernese Oberland region, offering endless opportunities for outdoor activities. Visit the charming alpine villages of Lauterbrunnen and Mürren, known for their traditional Swiss chalets and stunning valley views. Take a cable car up to Schilthorn, made famous as a filming location for a James Bond movie, and admire the panoramic views of the surrounding mountains.
After a long day of adventure, unwind and relax in the town itself. Interlaken's charming streets are lined with boutique shops, Swiss chocolate stores, and cozy cafes. Sample Swiss delicacies such as cheese fondue or enjoy a hearty meal of Swiss rösti. Don't forget to try the famous Swiss chocolate at one of the local chocolate shops.
Interlaken truly offers an unparalleled experience for those seeking adrenaline, natural beauty, and Swiss charm. From heart-pounding adventure sports to serene hiking trails and majestic mountain views, Interlaken is a destination that will leave you with unforgettable memories of Switzerland's incredible alpine landscapes.
Zermatt
Located at the foot of the iconic Matterhorn, Zermatt is a picturesque mountain village that offers visitors a truly alpine experience. With its car-free streets, stunning landscapes, and world-class skiing, Zermatt is a paradise for outdoor enthusiasts and nature lovers.
The Matterhorn, with its distinctive pyramid shape, is the main attraction in Zermatt. Take a cable car or a cogwheel train to reach the summit and witness the breathtaking panoramic views of the surrounding Swiss and Italian Alps. If you're an adventurous soul, you can even attempt to climb this legendary peak with a certified mountain guide.
Zermatt is renowned as one of the best ski resorts in the world, attracting skiers and snowboarders of all levels. With over 360 kilometers of slopes and an extensive network of lifts and gondolas, there is something for everyone, from beginners to seasoned experts. The winter season in Zermatt lasts from November to April, providing ample opportunity to enjoy the powder snow and exhilarating runs.
Even in the summer months, Zermatt offers a plethora of outdoor activities. Hike along well-marked trails that lead to glacial lakes, waterfalls, and panoramic viewpoints. The Gornergrat Railway provides a scenic journey to Gornergrat, offering unparalleled views of the surrounding 29 peaks that reach over 4,000 meters in altitude.
Zermatt is not just about adventure sports and natural beauty – it also boasts a charming village center. Stroll through the car-free streets and visit the boutiques, high-end shops, and cozy cafes. Indulge in delicious Swiss cuisine, whether it's a traditional cheese fondue or a hearty raclette. Don't forget to sample the local specialty, the Zermatt lamb.
For those interested in Swiss history and culture, a visit to the Matterhorn Museum is a must. Learn about the history of mountaineering in the region and gain insight into the lives of the early settlers. The museum showcases artifacts, photographs, and exhibits that delve into the rich heritage of Zermatt and its mountaineering tradition.
Whether you visit Zermatt for its stunning natural beauty, thrilling outdoor pursuits, or its enchanting village atmosphere, this alpine gem is sure to leave a lasting impression. Immerse yourself in the majestic surroundings, enjoy the superb skiing, and experience the unique alpine charm that Zermatt offers.
Bern
Bern, the capital city of Switzerland, is a charming and historical treasure that seamlessly combines medieval architecture with a lively and modern atmosphere. Surrounded by the River Aare, Bern offers visitors a unique blend of cultural heritage, vibrant urban life, and stunning natural beauty.
Begin your exploration of Bern in the UNESCO-listed Old Town, a well-preserved medieval city center with narrow cobbled streets and beautiful sandstone buildings. Admire the iconic Zytglogge, a medieval clock tower that dates back to the 13th century. Every hour, mechanical figures perform a fascinating show that has delighted both locals and visitors for centuries.
The Bear Park is another popular attraction in Bern. Located just east of the Old Town, the park is home to several brown bears, which are also symbols of the city. Take a leisurely stroll through the park and observe these magnificent creatures in a spacious and natural habitat.
For those interested in history and culture, Bern offers a wealth of museums and galleries. The Bern Historical Museum is a must-visit, showcasing the city's rich heritage through its extensive collection of artifacts, including medieval armor, Swiss folk art, and archaeological finds. The Paul Klee Center, dedicated to the works of the renowned Swiss painter, offers a unique blend of art appreciation and scenic views of the surrounding countryside.
Explore the Bundeshaus, the Swiss Federal Parliament building, located in the heart of Bern. Take a guided tour to learn about Switzerland's political system and admire the stunning architecture of this important national institution. Don't forget to visit the terrace for panoramic views of the city.
Bern also offers a vibrant shopping scene. The bustling Kramgasse, the main shopping street in the Old Town, is lined with boutiques, bookshops, and cafes, offering a perfect blend of old-world charm and contemporary shopping. Visit the Rosengarten, a beautiful rose garden located on a hilltop, for panoramic views of the city skyline and the Bernese Alps in the distance.
When it comes to culinary delights, Bern is known for its traditional Swiss cuisine. Indulge in delicious Swiss cheese specialties such as raclette or fondue, or try traditional Bernese dishes such as Berner Platte, a hearty platter of various meats and sausages. Don't forget to sample the famous Bernese honey, known for its unique flavor and quality.
With its rich history, architectural beauty, and vibrant atmosphere, Bern is a destination that offers a perfect mix of culture, history, and natural beauty. Immerse yourself in the charm of the Old Town, explore the diverse museums, and savor the culinary delights of this captivating Swiss capital.
Lausanne
Perched on the shores of Lake Geneva, Lausanne is a vibrant and dynamic city known for its rich history, picturesque landscapes, and thriving cultural scene. As the Olympic Capital and home to the International Olympic Committee, Lausanne offers a blend of sporting heritage, architectural beauty, and a lively atmosphere.
One of the highlights of Lausanne is its stunning panoramic views of Lake Geneva and the surrounding Alps. Take a leisurely stroll along the Ouchy Promenade, a lakeside walkway lined with beautiful parks and gardens. Visit the Olympic Museum, which showcases the history and achievements of the Olympic Games and offers interactive exhibits for sports enthusiasts of all ages.
Explore the charming old town of Lausanne, known as the "Cité," with its narrow winding streets, medieval buildings, and historic landmarks. The Gothic-style Lausanne Cathedral is a prominent feature of the old town, with its stunning stained glass windows and panoramic views from the tower's terraces. Don't miss the Place de la Palud, a vibrant square that hosts a colorful market and is home to the iconic Lausanne Town Hall.
Lausanne is also known for its thriving arts and culture scene. The Collection de l'Art Brut is a unique museum that showcases works by self-taught artists. The Musée de l'Elysée is dedicated to photography and hosts exhibitions that explore various aspects of the art form. The Béjart Ballet Lausanne and the Lausanne Chamber Orchestra are just a few examples of the city's vibrant performing arts scene.
Food lovers will find plenty to indulge in, as Lausanne is home to a diverse culinary landscape. The city boasts a wide range of international restaurants, trendy cafes, and traditional Swiss brasseries. Don't miss the opportunity to try some local specialties, such as cheese fondue, raclette, or Lausanne's famous sausage, the "saucisson vaudois."
Lausanne's location makes it a gateway to outdoor adventures. The nearby Lavaux vineyards, a UNESCO World Heritage site, offer stunning terraced vineyards that produce some of the finest wines in Switzerland. Hike or bike through the vineyards, stopping to enjoy wine tastings along the way. In the winter, head to the nearby Jura mountains for cross-country skiing and snowshoeing.
Whether you're exploring its historic landmarks, indulging in its culinary delights, or immersing yourself in its vibrant cultural offerings, Lausanne is a city that offers a delightful blend of tradition and modernity, making it a must-visit destination for travelers exploring Switzerland.
Basel
Basel, located on the banks of the Rhine River in the northwest of Switzerland, is a captivating city renowned for its rich history, vibrant culture, and thriving art scene. With its unique blend of Swiss, French, and German influences, Basel offers visitors a diverse and enchanting experience.
Basel is home to a plethora of world-class museums, making it a haven for art enthusiasts. The Kunstmuseum Basel houses an extensive collection of art, ranging from Old Masters to contemporary works. The Fondation Beyeler, located just outside the city, showcases modern and contemporary art in a stunning architectural setting. Don't miss the Tinguely Museum, dedicated to the works of Swiss artist Jean Tinguely, known for his playful and kinetic sculptures.
Explore the charming old town of Basel, with its well-preserved medieval buildings, picturesque squares, and narrow cobblestone streets. The impressive Basel Minster, a Gothic-style cathedral with its twin towers, offers stunning views of the city from its observation deck. Wander through the atmospheric Marktplatz, where the bustling market takes place daily, and marvel at the magnificent Rathaus, the town hall adorned with vibrant frescoes.
Basel is also known for its rich cultural heritage and vibrant festivals. The Basel Carnival, also known as Fasnacht, is one of the most renowned and oldest carnivals in Switzerland, featuring processions, elaborate costumes, and traditional music. The city is also home to the Basel Tattoo, an international military music event that brings together musicians and performers from around the world.
For those interested in history, visit the fascinating Basel Historical Museum, which provides insight into the city's past through its extensive collection of artifacts and exhibits. Explore the Munsterplatz, a charming square lined with historical buildings and dotted with cafes and restaurants.
Basel's location along the Rhine River offers a unique opportunity for leisurely boat rides and scenic walks along the riverbanks. Cross the Mittlere Brücke, a picturesque bridge that connects the old town with Kleinbasel, the city's lively district on the other side of the river. Here, you'll find a mix of trendy shops, bars, and restaurants.
Basel's culinary scene is a treat for food lovers. From traditional Swiss dishes to international cuisine, the city offers a diverse range of dining options to suit every palate. Don't forget to try some of Basel's famous specialties, such as Basler Läckerli, a spiced gingerbread-like biscuit, or Basler Mehlsuppe, a hearty flour soup.
With its captivating art scene, rich historical heritage, and vibrant culture, Basel is a city that will enchant visitors with its charm. Immerse yourself in its museums, explore its historic streets, and experience the unique fusion of cultures that makes Basel a truly remarkable destination.
Lugano
Lugano, nestled in the picturesque region of Ticino in southern Switzerland, is a stunning city that offers a blend of Swiss charm and Mediterranean flair. With its breathtaking lake views, lush landscapes, and vibrant cultural scene, Lugano is a destination that delights visitors from all over the world.
The star attraction of Lugano is Lake Lugano itself, a shimmering body of water surrounded by rolling hills and mountains. Take a leisurely stroll along the promenade, enjoy a boat ride on the lake, or simply relax on one of the many scenic lakeside parks. Don't miss the beautiful Parco Civico, a lakeside park that features lush gardens, picturesque fountains, and a charming Belvedere terrace offering panoramic views.
Explore the charming and pedestrian-friendly old town of Lugano, known as the "Borgo." With its colorful buildings, cobblestone streets, and lively piazzas, the Borgo exudes an authentic atmosphere. Discover hidden gems as you wander through the narrow streets, and visit the stunning San Lorenzo Cathedral, which dates back to the Middle Ages and boasts beautiful frescoes.
Lugano is a haven for art lovers, with a number of museums and galleries that display works from renowned artists. The Museo d'Arte della Svizzera Italiana (MASI Lugano) is an impressive art museum featuring a diverse array of contemporary and modern art. Villa Carlotta, located just outside of Lugano in the neighboring town of Tremezzina, is a magnificent villa that houses a stunning art collection and beautiful botanical gardens.
For panoramic views of Lugano and the surrounding countryside, take a funicular ride to Monte Brè, the highest point in the Lugano area. Hike through the picturesque trails or simply enjoy the breathtaking views from the summit. Alternatively, take a cable car to Monte San Salvatore for stunning vistas and a visit to the picturesque church perched atop the mountain.
Lugano offers a culinary experience that blends Swiss and Mediterranean flavors. Indulge in delicious Italian dishes, fresh seafood, and homemade gelato at the charming restaurants scattered throughout the city. Don't miss the opportunity to try some local Ticinese specialties, such as risotto with luganighe (a traditional local sausage) or polenta served with a variety of toppings.
With its breathtaking scenery, rich cultural heritage, and idyllic lakeside setting, Lugano offers a perfect blend of relaxation, outdoor activities, and cultural exploration. Immerse yourself in the beauty of the region, savor the flavors of the local cuisine, and enjoy the laid-back Mediterranean lifestyle that Lugano has to offer.
Conclusion
Switzerland is a country that captivates with its stunning landscapes, vibrant cities, and rich cultural heritage. From the bustling streets of Zurich to the charming villages of Zermatt, Switzerland offers a wide array of attractions that cater to every traveler's interests. Whether you're seeking adventure in the Swiss Alps, exploring the historical sites in Bern, enjoying the cultural offerings of Geneva, or basking in the Mediterranean charm of Lugano, Switzerland provides a truly unforgettable experience.
Throughout the country, you'll find a seamless blend of modernity and tradition. The efficient transport system makes it easy to navigate and explore the diverse regions of Switzerland, ensuring that you don't miss out on any of the incredible destinations. Whether you're skiing down the pristine slopes, savoring delectable Swiss cuisine, or surrounded by panoramic views of lakes and mountains, Switzerland offers a sense of tranquility and beauty that is hard to match.
Switzerland's commitment to preserving its natural landscapes and cultural heritage is evident in its well-preserved historical sites, museums, and outdoor spaces. The country's cleanliness, safety, and attention to detail make it a welcoming and comfortable destination for travelers from around the world. Whether you're a nature lover, history enthusiast, adventure seeker, or simply in search of a relaxing getaway, Switzerland has something to offer for everyone.
As an SEO expert, it's important to note that incorporating relevant keywords throughout the article, such as "Switzerland attractions" or "things to do in Switzerland," can help improve the visibility and search engine ranking of the content. However, it's equally crucial to maintain a natural and engaging writing style that resonates with readers. By striking this balance, we can create a comprehensive and optimized article that not only ranks well in search engines but also provides valuable information to those planning to visit Switzerland.
In conclusion, Switzerland is a treasure trove of natural beauty, cultural richness, and exciting experiences. Whether you're exploring the vibrant cities, indulging in the local cuisine, or immersing yourself in outdoor adventures, Switzerland offers a truly unforgettable journey. So pack your bags and get ready to embark on an unforgettable Swiss adventure.