Kandersteg & Lake Oeschinensee Travel Guide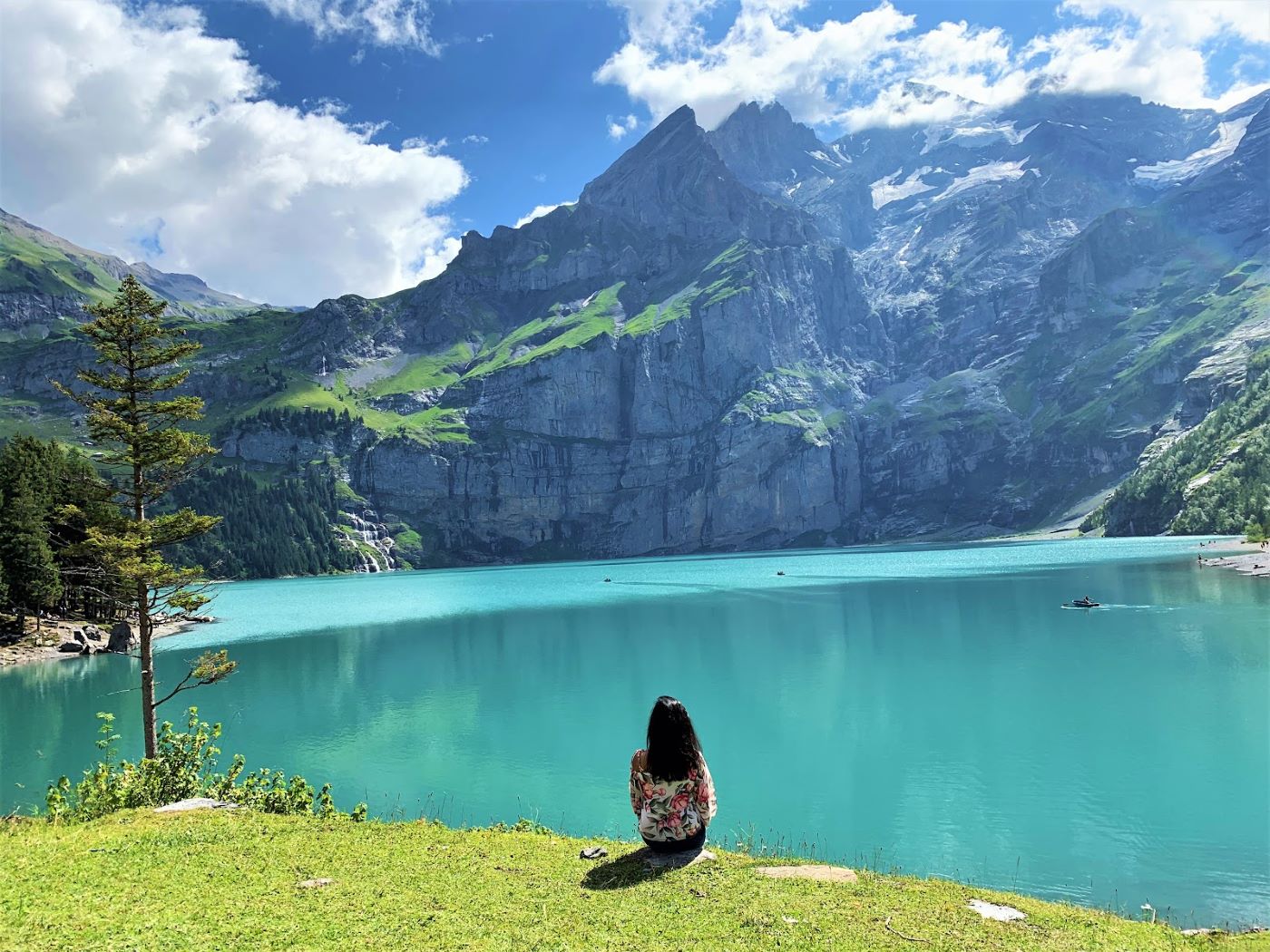 Introduction
Welcome to Kandersteg, a picturesque mountain village nestled in the Bernese Oberland region of Switzerland. Surrounded by breathtaking alpine landscapes, Kandersteg is a haven for outdoor enthusiasts and nature lovers. Whether you're seeking thrilling hiking trails, stunning lakes, or simply a peaceful retreat amidst nature, Kandersteg offers it all.
The charm of Kandersteg lies not only in its natural beauty but also in its rich history. Dating back to the 13th century, this small Swiss village exudes a traditional Alpine ambiance, with its wooden chalets, flower-filled meadows, and towering peaks. It's no wonder that Kandersteg has become a popular destination for travelers seeking an authentic Swiss experience.
Kandersteg's location at the foot of the Bernese Alps makes it an ideal base for exploring the region's natural wonders. From hiking through lush valleys to summiting majestic peaks, there are numerous adventurous activities to embark on. And if you prefer a more leisurely pace, you can simply relax by the crystal-clear waters of Lake Oeschinensee or indulge in the local cuisine.
Getting to Kandersteg is convenient, with excellent transportation connections. Whether you choose to arrive by train, car, or even helicopter, you'll be welcomed by the awe-inspiring beauty of the surrounding mountains.
In this Kandersteg and Lake Oeschinensee travel guide, we'll delve into the various aspects of this enchanting destination. From finding the perfect accommodation to exploring the hiking trails and immersing yourself in the local culture, get ready for an unforgettable adventure in Kandersteg.
How to Get to Kandersteg
Kandersteg is conveniently located in the heart of Switzerland and is well-connected to major cities and transportation hubs. Here are the different ways to reach this alpine paradise:
By Car:
If you prefer the flexibility of driving, Kandersteg is easily accessible by car. From Zurich, take the A6 motorway towards Bern, and then continue on the A6 and A8 to Kandersteg. The journey takes approximately 2.5 to 3 hours, depending on traffic conditions.
By Train:
Switzerland's efficient train network makes getting to Kandersteg a breeze. From Zurich, take a train to Bern, and then change to the scenic regional train that takes you straight to Kandersteg. The train journey offers spectacular views of the Swiss countryside and takes approximately 2.5 to 3 hours.
By Air:
If you're arriving from abroad, the nearest international airports are Zurich Airport and Geneva Airport. From both airports, you can take a train to Kandersteg, with a transfer in Bern. The journey from Zurich Airport takes around 3 to 3.5 hours, while from Geneva Airport, it takes approximately 3.5 to 4 hours.
By Helicopter:
For a truly unforgettable entrance to Kandersteg, you can also opt for a helicopter ride. There are heliports in Kandersteg where you can arrange private helicopter transfers, providing breathtaking aerial views of the Swiss Alps.
Once you arrive in Kandersteg, you'll find that most attractions and amenities are within walking distance. If you plan on exploring the surrounding areas, it's recommended to rent a car or utilize public transportation for added convenience.
Now that you know how to get to Kandersteg, it's time to start planning your adventure in this alpine wonderland!
Accommodation Options
When it comes to accommodation in Kandersteg, there are options to suit every preference and budget. From cozy chalets to luxurious hotels, you'll find the perfect place to rest and rejuvenate after a day of exploring. Here are some popular accommodation choices in Kandersteg:
Hotels:
Kandersteg offers a range of hotels that cater to different needs. From family-friendly establishments to upscale boutique hotels, you'll find a variety of options to choose from. Many hotels boast stunning views of the surrounding mountains and offer amenities such as on-site restaurants, spa facilities, and outdoor terraces where you can soak in the scenery.
Chalets and Holiday Homes:
If you're seeking a cozy and home-like atmosphere, consider renting a chalet or holiday home in Kandersteg. These traditional Swiss-style accommodations provide a unique experience, complete with wooden interiors, spacious living areas, and often, private gardens or balconies. It's the perfect choice for those who prefer a self-catering option or want to enjoy their own private space.
Guesthouses and Bed & Breakfasts:
For a more personal touch, consider staying in a guesthouse or bed and breakfast in Kandersteg. Run by friendly local hosts, these establishments offer comfortable rooms and a warm, welcoming atmosphere. You'll have the opportunity to interact with the locals and get insider tips on the best places to explore in the area.
Campsites:
If you're a camping enthusiast, Kandersteg has several well-equipped campsites where you can pitch your tent and enjoy the great outdoors. These campsites offer amenities such as hot showers, electricity hook-ups, and on-site facilities like restaurants and shops. Camping is a fantastic option for those who want to be closer to nature and wake up to stunning mountain views.
Regardless of the type of accommodation you choose, make sure to book in advance, especially during peak seasons like summer and winter, as Kandersteg is a popular tourist destination. Take the time to compare prices, read reviews, and consider the proximity to attractions and hiking trails.
With a variety of accommodation options available, you'll find the perfect place to call home during your stay in Kandersteg, ensuring a comfortable and memorable experience.
Things to Do in Kandersteg
Kandersteg offers a plethora of activities and attractions that cater to every interest and age group. Whether you're seeking outdoor adventures, cultural experiences, or just want to relax in the beauty of nature, here are some must-do activities in Kandersteg:
Hiking and Mountain Biking:
Kandersteg is a paradise for hikers and mountain bikers, with a vast network of well-marked trails that showcase the stunning alpine landscapes. Embark on a scenic hike to Blüemlisalp, take the challenging route up to Gemmi Pass, or explore the Oeschinensee Nature Park on foot or by bike. The options are endless, and you'll be rewarded with breathtaking views along the way.
Explore Oeschinen Lake:
Dubbed the "Jewel of the Bernese Oberland," Oeschinen Lake (Oeschinensee) is a must-visit attraction in Kandersteg. Take a gondola ride or enjoy a scenic hike to reach the lake, which boasts crystal-clear turquoise waters framed by majestic mountains. You can rent a rowboat or paddleboard to explore the lake, go fishing, or simply relax on the lakeshore and soak in the tranquil surroundings.
Rollercoaster Toboggan Run:
For an exhilarating experience, head to the Oeschinensee cable car station and hop on the rollercoaster toboggan run. Speed down the track as you twist and turn through the alpine landscape, providing an adrenaline-filled adventure for both kids and adults.
Visit the Alpine Nature Park Center:
Learn more about the region's nature and wildlife by visiting the Alpine Nature Park Center in Kandersteg. The center provides interactive exhibits, educational displays, and guided tours that offer insights into the diverse flora and fauna of the area. It's a great opportunity to deepen your understanding of the region's natural environment.
Discover Local Culture:
Immerse yourself in the charming local culture of Kandersteg by visiting the traditional wooden chalets, exploring the village's well-preserved architecture, and attending local festivals and events. Don't miss the opportunity to sample authentic Swiss cuisine at one of the many cozy restaurants in the village.
These are just a few examples of the many activities that await you in Kandersteg. Whether you're an outdoor enthusiast, a nature lover, or someone seeking a tranquil escape, Kandersteg offers a wide range of experiences that will leave you with unforgettable memories.
Hiking Trails in Kandersteg
Kandersteg is a haven for hikers, offering an extensive network of well-maintained trails that cater to all hiking abilities. From leisurely nature walks to challenging mountain ascents, there's a hiking trail in Kandersteg for everyone. Here are some of the top hiking trails to explore:
Oeschinensee Panorama Trail:
This popular trail takes you on a scenic journey around the picturesque Oeschinensee (Oeschinen Lake). The trail offers breathtaking views of the turquoise lake, towering mountains, and lush alpine meadows. It's a moderate-level hike that takes around 3 to 4 hours to complete, including stops for photos and taking in the scenery.
Gemmi Pass Trail:
The Gemmi Pass Trail is a challenging but rewarding hike that takes you to an elevation of 2,340 meters. From Kandersteg, you can take a cable car up to the start of the trail. The hike offers stunning panoramic views of the surrounding mountains, glaciers, and even the iconic Matterhorn on a clear day. It's a full-day hike that requires sturdy hiking boots and proper preparation.
Blüemlisalp Lakes Trail:
For a more remote and adventurous hike, consider exploring the Blüemlisalp Lakes Trail. This trail offers breathtaking views of the Blüemlisalp Glacier and takes you past several alpine lakes. The trail is challenging and requires experience and proper equipment. It's recommended to hire a local guide or join a guided tour for this hike.
Allmenalp Via Ferrata:
If you're looking for a thrilling and adrenaline-inducing experience, try the Allmenalp Via Ferrata. This secured climbing route takes you along cliff edges, suspension bridges, and ladders, offering spectacular views of Kandersteg and the surrounding mountains. It's suitable for those with a good level of fitness and experience in via ferrata climbing.
Panoramaweg Kandersteg:
If you prefer a leisurely hike that's suitable for all ages and abilities, the Panoramaweg Kandersteg is perfect. This scenic trail takes you through meadows, forests, and pastures, offering panoramic views of the village and the surrounding mountains. Along the way, you'll find charming picnic areas and benches to rest and take in the views.
Before embarking on any hike, it's important to check the weather conditions, dress appropriately, and carry essentials such as water, snacks, a map, and a first aid kit. It's also advisable to inform someone of your hiking plans, especially for more challenging hikes.
With its stunning landscapes and variety of hiking trails, Kandersteg is a paradise for outdoor enthusiasts. Lace up your hiking boots and set off to explore the natural wonders of this alpine paradise.
Exploring Lake Oeschinensee
One of the highlights of visiting Kandersteg is exploring the stunning Lake Oeschinensee (Oeschinen Lake). Nestled amidst the Bernese Alps, this crystal-clear mountain lake offers a picturesque setting and a multitude of activities for nature lovers and adventure enthusiasts. Here's what you can expect when exploring Lake Oeschinensee:
Scenic Beauty:
Surrounded by towering peaks, rugged cliffs, and lush forests, Lake Oeschinensee is a true natural gem. The stunning turquoise waters of the lake are fed by glacial meltwater, creating a mesmerizing sight. Take a moment to soak in the awe-inspiring beauty of the lake and its surroundings, as you're surrounded by the tranquility of the Swiss Alps.
Hiking Trails:
There are several hiking trails that lead to and around Lake Oeschinensee, allowing you to fully immerse yourself in the alpine scenery. The Oeschinensee Panorama Trail offers breathtaking views of the lake from above, while the lakeside trail takes you on a leisurely stroll along the water's edge. You can also venture further into the surrounding mountains on more challenging hikes, such as the Blüemlisalp Lakes Trail.
Water Activities:
Lake Oeschinensee is not only a sight to behold but also offers opportunities for water-based activities. Rent a rowboat or paddleboard and explore the calm waters of the lake, surrounded by the majestic mountain peaks. Fishing enthusiasts can also try their luck in catching trout, perch, or pike, adding to the sense of adventure and relaxation.
Picnic Areas and Restaurants:
Several picnic areas are scattered along the shores of Lake Oeschinensee, providing the perfect spot to enjoy a leisurely lunch or snack amidst nature. Pack a picnic basket with local Swiss delights and find a peaceful spot to savor your meal while taking in the breathtaking views. Additionally, there are restaurants and cafes nearby where you can indulge in traditional Swiss cuisine and refreshing beverages.
Winter Wonderland:
In winter, Lake Oeschinensee transforms into a snowy wonderland. The frozen lake creates an ideal setting for ice skating and ice fishing. The surrounding mountains offer opportunities for skiing and snowshoeing, adding to the winter activities available in Kandersteg.
Exploring Lake Oeschinensee is a must-do when visiting Kandersteg. Whether you prefer hiking, water activities, or simply admiring the natural beauty, this alpine gem will captivate your senses and create lasting memories.
Camping at Lake Oeschinensee
If you're a nature enthusiast looking for an immersive experience in the beautiful Swiss Alps, camping at Lake Oeschinensee (Oeschinen Lake) is the perfect option. Surrounded by breathtaking mountain scenery, camping here allows you to fully immerse yourself in the tranquility and beauty of the region. Here's everything you need to know about camping at Lake Oeschinensee:
Campsites:
There are two campsites located near Lake Oeschinensee – Bergbahnen Kandersteg-Oeschinen and Camping Oeschinen. These campsites offer well-maintained facilities and amenities to ensure a comfortable stay amidst nature. Both campsites provide designated areas for tents, caravans, and motorhomes, accommodating different camping preferences.
Nature Setting:
Camping at Lake Oeschinensee gives you the opportunity to wake up to stunning views of the turquoise lake and the surrounding mountains. The campsites are nestled amidst lush green meadows and provide a serene and peaceful atmosphere. You'll be surrounded by the sights and sounds of nature, making it an ideal setting for relaxation and reconnection with the great outdoors.
Amenities and Facilities:
The campsites at Lake Oeschinensee offer a range of amenities and facilities to make your camping experience enjoyable. These include clean and modern toilet and shower facilities, washing areas, drinking water points, and waste disposal facilities. Some campsites also offer convenient on-site amenities like restaurants, grocery stores, and picnic areas.
Outdoor Activities:
Camping at Lake Oeschinensee opens up a world of outdoor activities right at your doorstep. From hiking and mountain biking to fishing and boating, there's something for everyone. Explore the numerous hiking trails around the lake, embark on a thrilling mountain bike ride through the surrounding mountains, or rent a rowboat and glide across the tranquil waters of the lake. The possibilities for outdoor adventures are endless.
Booking and Availability:
Due to the popularity of Lake Oeschinensee as a camping destination, it's recommended to book your campsite in advance, especially during peak seasons. Check with the individual campsites for availability and reservation procedures. Booking in advance ensures that you have a spot secured and can plan your trip accordingly.
Camping at Lake Oeschinensee provides a unique opportunity to connect with nature and fully appreciate the beauty of the Swiss Alps. Whether you prefer a cozy tent or the comfort of your own motorhome, camping here is an unforgettable experience that allows you to create lasting memories in this stunning alpine setting.
Wildlife and Nature Viewing
Kandersteg is not only known for its awe-inspiring landscapes but also its diverse wildlife. The region's untouched nature provides a habitat for a variety of animal species, making it a paradise for wildlife enthusiasts and nature lovers. Here's what you can expect when it comes to wildlife and nature viewing in Kandersteg:
Alpine Fauna:
As you explore the hiking trails and meander through the forests surrounding Kandersteg, you may come across a range of alpine fauna. Look out for ibex, chamois, and marmots, known for their agility and adaptability to mountainous terrains. These furry creatures often make appearances in the higher elevations, so keep your camera ready to capture their playful antics.
Birdwatching:
Kandersteg is also a haven for birdwatching enthusiasts. From majestic birds of prey like golden eagles and peregrine falcons to smaller species such as crested tit and black grouse, you'll have the opportunity to spot a variety of birds in their natural habitat. Lace up your hiking boots, pack your binoculars, and embark on a birdwatching adventure in the alpine meadows and forests.
Flora and Flora Trails:
The region surrounding Kandersteg is rich in flora, boasting vibrant alpine flowers, impressive rock formations, and ancient forests. Take a leisurely stroll on the Flora and Fauna Trail, a self-guided walk that introduces you to the wide variety of plant species in the area. Along the trail, you'll find informative signposts that help you identify different plants and their unique characteristics.
Nature Reserves and Parks:
To further enhance your wildlife and nature viewing experience, consider visiting the nature reserves and parks in the Kandersteg area. The Oeschinensee Nature Park is home to diverse plant and animal species, and exploring the park's trails and viewpoints allows for close encounters with the natural wonders of the region. Additionally, the nearby Jungfrau-Aletsch-Bietschhorn UNESCO World Heritage Site is a protected area that showcases pristine landscapes and opportunities for wildlife spotting.
Guided Wildlife Tours:
If you want to maximize your chances of spotting wildlife and learning more about the region's natural wonders, consider joining a guided wildlife tour. Local guides are knowledgeable about the area's wildlife habits and can take you to the best locations for wildlife viewing. They'll provide insights into the behavior and ecology of the animals you encounter, ensuring a memorable and educational experience.
Remember, when observing wildlife and exploring nature, it's crucial to respect the animals and their habitats. Keep a safe distance, avoid disturbing their natural behavior, and follow any guidelines set by park authorities or guides. By being mindful and responsible, you contribute to the preservation of this precious ecosystem for future generations to enjoy.
Dining Options in Kandersteg
When it comes to dining in Kandersteg, you'll find a range of options that cater to different tastes and budgets. From traditional Swiss cuisine to international flavors, the village offers a delightful culinary experience. Here are some dining options to indulge in during your visit to Kandersteg:
Swiss Cuisine:
Immerse yourself in the local culinary traditions by enjoying authentic Swiss dishes. Try classics like fondue, raclette, and rösti, which showcase the rich flavors of Swiss cheese and potatoes. Many restaurants in Kandersteg serve these traditional specialties, giving you a chance to savor the true essence of Swiss cuisine.
Alpine Hut Restaurants:
For a unique dining experience, head to one of the alpine hut restaurants scattered around Kandersteg. These rustic mountain huts offer a cozy ambience and serve hearty meals made with local ingredients. Enjoy traditional Swiss dishes while surrounded by panoramic views of the surrounding peaks.
International Flavors:
If you're craving international cuisine, Kandersteg has you covered. Explore the village and you'll find a variety of restaurants offering diverse culinary options. From Italian pasta and pizza to Asian delicacies and American-style burgers, there's something for every palate.
Bakery and Cafés:
Start your day with a visit to one of the local bakeries and cafés, where you can indulge in freshly baked bread, pastries, and cakes. Pair it with a cup of aromatic Swiss coffee or hot chocolate, and you'll have the perfect breakfast or afternoon treat to fuel your adventures in Kandersteg.
Mountain Terrace Dining:
Several restaurants in Kandersteg boast stunning mountain terrace views, allowing you to dine amidst the beauty of the Swiss Alps. Enjoy your meal while taking in the breathtaking surroundings, whether it's for lunch, dinner, or a relaxing apéro (pre-dinner drink) in the fresh alpine air.
Before dining out, it's advisable to make a reservation, especially during peak tourist seasons. This ensures a table at your preferred restaurant and helps you plan your day accordingly. Many restaurants also offer take-out options if you prefer to enjoy your meal in the comfort of your accommodation or while picnicking in nature.
With its diverse dining options, Kandersteg provides a culinary experience that satisfies all tastes and preferences. Prepare your taste buds for a delightful journey through Swiss and international flavors in this alpine paradise.
Shopping in Kandersteg
Although Kandersteg is a small mountain village, it offers visitors a charming shopping experience with a variety of local stores. From souvenir shops to specialty stores, here's what you can expect when it comes to shopping in Kandersteg:
Souvenir Shops:
Take a piece of Kandersteg home with you by exploring the village's souvenir shops. These stores offer a wide range of items, including miniature wooden chalets, Swiss cowbells, traditional Swiss clothing, postcards, and more. It's the perfect place to find gifts for friends and family or a memento to remind you of your visit to this alpine paradise.
Local Products:
Kandersteg has a selection of specialty stores that showcase locally produced goods. From artisanal cheese and chocolates to handmade crafts and textiles, these stores offer a chance to support local producers and take home products that represent the unique culture and heritage of the region.
Sports and Outdoor Gear:
For outdoor enthusiasts, Kandersteg has several stores that cater to sports and outdoor gear. Whether you need hiking boots, backpacks, camping equipment, or outdoor apparel, these stores have you covered. Shop for high-quality gear to ensure you're well-prepared for your outdoor adventures in the Swiss Alps.
Grocery Stores:
If you're staying in self-catering accommodation or planning a picnic, Kandersteg has several grocery stores where you can stock up on supplies. These stores offer a wide range of fresh produce, Swiss cheeses, bread, snacks, and other essentials. It's convenient for grabbing items for meals or snacks while exploring the beautiful surroundings.
Handcrafted Souvenirs:
Besides the souvenir shops, keep an eye out for local artisans who sell unique handcrafted items. You may find beautifully hand-carved wooden sculptures, intricate Swiss watches, or pottery creations that make for special and one-of-a-kind souvenirs.
Exploring the local shops in Kandersteg provides an opportunity to discover unique treasures and support the local economy. Stroll through the village, browse the stores at a leisurely pace, and take in the alpine ambiance as you shop for souvenirs and useful items for your stay.
Local Festivals and Events
Kandersteg is not only a natural paradise but also a vibrant community that embraces its traditions and culture. Throughout the year, the village comes alive with a variety of festivals and events that showcase the rich heritage of the region. Here are some local festivals and events you may have the opportunity to experience in Kandersteg:
Kandersteg International Scout Centre Events:
The Kandersteg International Scout Centre is world-renowned and hosts several events and activities throughout the year. From international scout gatherings to themed weeks and camps, the center brings together scouts from around the globe to share cultural experiences, participate in outdoor activities, and form lasting friendships.
Bergbahnen Kandersteg-Oeschinen Events:
The Bergbahnen Kandersteg-Oeschinen team organizes a variety of events to enhance the visitor experience. These may include live music concerts, open-air cinema screenings, guided hikes, or special adventure tours. Check the local event calendars or inquire at the cable car station for any upcoming events during your visit.
New Year's Eve Celebrations:
Ring in the New Year with a bang in Kandersteg! The village embraces the festive spirit with fireworks displays, live music, and communal celebrations. Join the locals and fellow visitors as they gather in the town square to count down to midnight and welcome the new year in style.
Kandersteg Carnival:
Experience the lively and colorful Kandersteg Carnival. Held in February or March, this traditional carnival celebration features parades, costumed performers, music, dancing, and merriment throughout the village. Join in the fun, don your own costume if you wish, and immerse yourself in the festive atmosphere of this age-old tradition.
Alpine Music Festivals:
Kandersteg is known for its love of music and hosts several alpine music festivals throughout the year. From folk music gatherings to brass band performances, these events showcase the talents of local musicians and offer a glimpse into the musical traditions of the region. Tap your feet to the lively melodies and experience the joy that music brings to the village.
Keep in mind that specific dates and details of these events may vary from year to year, so it's advisable to check local event calendars or inquire with the Kandersteg tourism office for up-to-date information. Attending these festivals and events allows you to immerse yourself in local culture, connect with the community, and create lasting memories of your visit to Kandersteg.
Tips for Visiting Kandersteg
Visiting Kandersteg is an adventure in itself, and with some helpful tips in mind, you can make the most of your trip. Here are some tips to ensure a smooth and enjoyable visit to this alpine paradise:
Plan Ahead:
Before your trip, take the time to research and plan your itinerary. Consider the activities and attractions you want to explore, check their opening hours and any reservation requirements, and make a rough schedule. This preparation will help you maximize your time and make the most of your visit.
Pack for the Outdoors:
As Kandersteg is a destination known for its outdoor activities, pack appropriate clothing and gear. Invest in sturdy and comfortable hiking shoes, pack rain gear, and layer your clothing to accommodate changing weather conditions. Additionally, bring essentials like sunscreen, a hat, insect repellent, and a refillable water bottle to stay hydrated during your adventures.
Observe Trail Etiquette:
When hiking, follow trail etiquette by staying on designated paths, respecting signage and protected areas, and not disturbing wildlife. Take your litter with you and leave no trace of your presence. By practicing responsible hiking, you help preserve the natural beauty for future visitors to enjoy.
Use Public Transportation:
Switzerland's public transportation system is efficient and well-connected, making it the ideal way to explore Kandersteg and the surrounding areas. Consider purchasing a Swiss Travel Pass or Half Fare Card to save on transportation costs. Trains and buses are comfortable, reliable, and often offer scenic views along the way.
Check Weather Conditions:
Before heading out on any outdoor activities, check the weather forecast and be prepared for changing conditions. The mountains can create their own weather patterns, so be cautious of sudden changes in temperature, wind, and precipitation. Dress in layers and carry necessary equipment for your safety and comfort.
Respect the Local Culture:
Switzerland has a rich cultural heritage, and it's important to respect local customs and traditions. Familiarize yourself with basic etiquette, such as greeting locals with a friendly "Grüezi" and being respectful of quiet zones. Remember to follow any guidelines or regulations set by nature reserves or cultural sites you visit.
Stay Hydrated and Energized:
With all the outdoor activities and exploration, it's important to stay hydrated and energized. Carry a water bottle and refill it at drinking fountains or shops along the way. Pack energizing snacks like nuts, fruits, or energy bars for a quick boost of energy during your adventures.
By keeping these tips in mind, you'll be well-prepared to make the most of your visit to Kandersteg. Embrace the natural beauty, immerse yourself in the local culture, and create lasting memories in this alpine wonderland.
Conclusion
Kandersteg truly is a gem in the heart of the Swiss Alps. With its breathtaking landscapes, abundant outdoor activities, and rich cultural heritage, it offers a perfect blend of natural beauty and authentic Swiss experiences. Whether you're an adventure seeker, a nature lover, or someone in search of tranquility, Kandersteg has something to offer for everyone.
From the moment you arrive in this picturesque village, you'll be captivated by its charm and the stunning scenery that surrounds it. The hiking trails provide opportunities to explore the mesmerizing alpine landscapes, while Lake Oeschinensee offers a tranquil oasis for relaxation and water activities.
Immerse yourself in the local culture by sampling traditional Swiss cuisine, attending local festivals, and exploring the village's history and architecture. The warm and welcoming atmosphere of Kandersteg will make you feel right at home.
As you plan your trip, remember to pack accordingly for the outdoor adventures that await you. Check the weather, plan your hikes, and equip yourself with the right gear and clothing. Be mindful of the natural environment and always follow trail etiquette to preserve the beauty of the area.
Whether you're camping by the crystal-clear waters of Lake Oeschinensee or staying in a cozy chalet, Kandersteg offers a range of accommodation options to suit your needs and preferences. And with excellent transportation connections, getting to and around Kandersteg is convenient and stress-free.
As you leave Kandersteg, you'll carry with you the memories of stunning mountain vistas, invigorating hikes, and the warmth of Swiss hospitality. It's a destination that will leave a lasting impression and have you longing to return.
So, start planning your visit to Kandersteg and immerse yourself in the majestic beauty and memorable experiences that await you in this alpine paradise. Whether you're seeking adventure, serene landscapes, or a cultural getaway, Kandersteg is sure to enchant and captivate you at every turn.