Essential Tuscany Travel Tips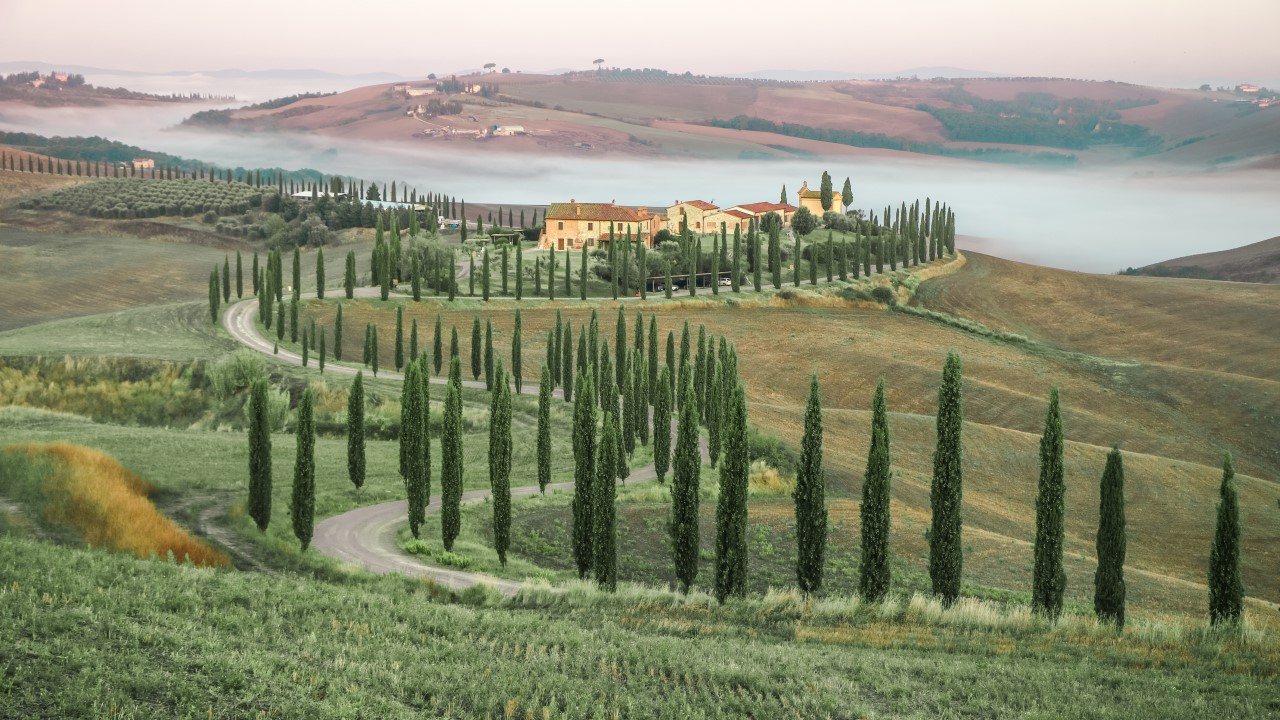 Introduction
Welcome to the enchanting region of Tuscany, located in the heart of Italy. With its rich history, breathtaking landscapes, and world-renowned cuisine, Tuscany is a must-visit destination for travelers seeking an unforgettable experience.
Tuscany is known for its picturesque rolling hills, vineyards, and olive groves. From the historic cities of Florence, Siena, and Pisa to the charming villages of San Gimignano and Montepulciano, this region offers a perfect blend of ancient history and modern charm.
Whether you're passionate about Renaissance art, eager to explore ancient ruins, or simply yearn to indulge in the finest Italian cuisine and wine, Tuscany has something to offer everyone.
As you embark on your Tuscan adventure, it's important to plan ahead and make the most of your trip. In this guide, we'll provide you with essential travel tips to help you navigate this captivating region.
From the best time to visit and how to get there, to where to stay and the top attractions to visit, we'll cover everything you need to know to make your trip to Tuscany a memorable one. So, let's dive in and discover the beauty and charm of this remarkable region.
Best Time to Visit Tuscany
Tuscany is a year-round destination, each season offering its own unique charms. The best time to visit Tuscany depends on your preferences and the activities you have in mind.
Spring (April to June) is a popular time to visit as the countryside is in full bloom with vibrant colors. The weather is mild and pleasant, making it perfect for exploring the region's outdoor attractions and charming towns.
Summer (July to August) is the peak tourist season in Tuscany. The weather is hot, with temperatures reaching their highest point during July and August. This is a great time to enjoy the region's stunning beaches and outdoor festivals. However, be prepared for crowds and higher prices.
Autumn (September to November) is another great time to visit Tuscany. The weather is still mild, and the landscapes are adorned with hues of red and gold. The wine harvest season also takes place during this time, making it a perfect opportunity to indulge in the region's famous wines.
Winter (December to February) is the low season in Tuscany. The temperatures can be chilly, especially in the northern parts of the region. However, if you're looking for a quieter and more affordable time to experience Tuscany, winter can be a great option.
Overall, the best time to visit Tuscany is during the spring and autumn months when the weather is pleasant, there are fewer tourists, and you can fully appreciate the region's natural beauty.
How to Get to Tuscany
Getting to Tuscany is relatively easy as it is well-connected to major cities in Italy and Europe. The region has several airports, train stations, and highways, offering various transportation options for travelers.
If you are coming from abroad, the most convenient way to reach Tuscany is by flying into one of the region's airports. The main international airports in Tuscany are Florence Airport (FLR), Pisa International Airport (PSA), and Peretola Airport (also known as Amerigo Vespucci Airport). These airports have direct flights from major European cities as well as connecting flights from other international destinations.
Once you arrive at the airport, you can easily reach your desired destination within Tuscany using public transportation or by renting a car. There are efficient bus and train services that connect the airports to the major cities and towns in the region.
If you prefer traveling by train, Tuscany has an extensive rail network with regular services to and from major Italian cities such as Rome, Venice, Milan, and Florence. The main train stations in Tuscany include Florence Santa Maria Novella, Pisa Centrale, and Siena. From these stations, you can easily access other towns and attractions in the region.
If you opt for a more scenic and flexible mode of transportation, renting a car is a great option. Tuscany's well-maintained highway network makes it easy to explore the region at your own pace. Just keep in mind that some cities, like Florence and Siena, have restricted traffic zones, so make sure to familiarize yourself with the rules and regulations.
Another popular way to travel to Tuscany is by taking a ferry from coastal cities such as Livorno or Piombino. These ferries connect Tuscany with the nearby islands of Elba and Giglio. Not only is this a convenient way to reach the islands, but it also offers stunning views of the Tuscan coastline.
Regardless of your preferred mode of transportation, getting to Tuscany is a seamless process, allowing you to start your Tuscan adventure as soon as you arrive.
Where to Stay in Tuscany
Tuscany offers a wide range of accommodation options to suit every traveler's needs and preferences. Whether you're looking for luxury resorts, charming boutique hotels, agriturismi (farm stays), or budget-friendly hostels, you'll find plenty of choices throughout the region.
For those seeking a luxurious and indulgent experience, Tuscany boasts plenty of high-end resorts and hotels. Some of the most popular areas for luxury accommodations include the Chianti region, the Val d'Orcia, and the coastal towns of Forte dei Marmi and Punta Ala. These areas offer exquisite amenities, spa facilities, and breathtaking views.
If you prefer a more intimate and authentic stay, consider booking a stay at an agriturismo. Agriturismi are traditional Italian farmhouses converted into accommodations. They provide a unique opportunity to experience the rural charm of Tuscany while enjoying comfortable amenities. Many agriturismi also offer farm-to-table dining experiences, providing guests with a true taste of Tuscan cuisine.
For budget-conscious travelers, Tuscany has an array of affordable options including hostels, guesthouses, and budget hotels. These accommodations often provide cozy rooms and basic amenities, allowing you to save on accommodation costs while still enjoying your Tuscan getaway. Florence, Siena, and Pisa have a wide variety of budget accommodations to choose from.
If you're looking to immerse yourself in the history and charm of Tuscany, consider staying in one of the region's historic city centers. Florence, Siena, and Lucca offer a wide range of accommodations within walking distance of iconic landmarks, historical sites, and vibrant local markets. Staying in these cities allows for easy exploration and a true taste of Tuscan city life.
Lastly, if you prefer a quieter and more secluded experience, consider staying in the smaller towns and villages of Tuscany. Towns like San Gimignano, Cortona, and Montepulciano offer a more intimate atmosphere and allow you to experience the authentic Tuscan lifestyle. These towns often have charming bed and breakfasts and small family-run hotels.
Regardless of where you choose to stay in Tuscany, you can expect warm hospitality, beautiful surroundings, and easy access to the region's top attractions. It's always a good idea to book your accommodations in advance, especially during the peak tourist season, to ensure availability and secure the best rates.
Must-See Attractions in Tuscany
Tuscany is filled with captivating attractions that showcase its rich history, stunning architecture, and breathtaking landscapes. From iconic cities to picturesque towns, here are some of the must-see attractions in Tuscany:
Florence: Known as the birthplace of the Renaissance, Florence is a treasure trove of artistic and architectural marvels. Don't miss the magnificent Florence Cathedral (Duomo), the Uffizi Gallery, and the famous Ponte Vecchio.
Siena: Famous for its medieval charm, Siena is home to the Palio, a thrilling horse race held in the Piazza del Campo. Explore the Siena Cathedral and climb the Torre del Mangia for panoramic views of the city.
Pisa: Visit the iconic Leaning Tower of Pisa, part of the Piazza dei Miracoli, a UNESCO World Heritage Site. Don't forget to explore the Cathedral and the Baptistery as well.
San Gimignano: Known as the "Medieval Manhattan" due to its impressive skyline, San Gimignano is famous for its well-preserved medieval towers. Stroll through the narrow streets, visit the San Gimignano Cathedral, and sample the local Vernaccia wine.
Chianti Wine Region: Explore the beautiful vineyards and wineries in the Chianti region. Take a wine tour, taste the renowned Chianti Classico wine, and indulge in the delicious regional cuisine.
Val d'Orcia: This idyllic valley is a UNESCO World Heritage Site known for its stunning landscapes, rolling hills, and picturesque towns. Visit the charming villages of Montalcino, Pienza, and Montepulciano.
Cinque Terre: While not technically in Tuscany, the UNESCO-listed Cinque Terre is a must-visit destination just a short distance away. Explore the colorful cliffside villages and hike along the scenic coastal trails.
Elba Island: Escape to the beautiful Elba Island, a paradise known for its crystal-clear waters and stunning beaches. Explore the historic town of Portoferraio and enjoy water activities like snorkeling and sailing.
These are just a few of the many incredible attractions that Tuscany has to offer. Whether you're fascinated by history, art, architecture, or nature, Tuscany's diverse landscape ensures there is something for everyone to enjoy.
Exploring Tuscany by Car
Exploring Tuscany by car is a fantastic way to immerse yourself in the region's picturesque landscapes and charming towns. Having your own vehicle allows for flexibility and the freedom to discover hidden gems at your own pace. Here are some tips for exploring Tuscany by car:
Rent a Car: Renting a car is easy and convenient in Tuscany. You can find car rental agencies at major airports, train stations, and in most cities. It's recommended to book in advance, especially during peak season, to ensure availability and secure the best rates.
Get a GPS or Use Navigation Apps: Having a reliable navigation system is crucial for exploring Tuscany by car. Consider renting a car with a built-in GPS or bring your own portable GPS device. Alternatively, you can use navigation apps on your smartphone, such as Google Maps or Waze, to help you navigate the roads.
Plan Your Itinerary: Tuscany is vast and offers countless attractions. Before hitting the road, plan your itinerary to make the most of your time. Research the towns, landmarks, and attractions you want to visit, and map out the most efficient routes to avoid backtracking.
Enjoy the Scenic Routes: Tuscany is renowned for its picturesque countryside. Take advantage of the scenic routes and enjoy the breathtaking views as you drive through the rolling hills, vineyards, and olive groves. Consider taking the Chiantigiana road (SR222) for stunning vistas of the Chianti region.
Be Mindful of ZTL Zones: Some city centers in Tuscany, like Florence, Siena, and Pisa, have restricted traffic zones known as ZTL (Zona a Traffico Limitato). These zones are off-limits to non-resident vehicles during certain hours. Pay attention to signage and make sure to park outside the restricted areas to avoid fines.
Explore the Hidden Gems: While popular destinations like Florence and Siena are must-visit attractions, don't forget to explore the lesser-known towns and villages of Tuscany. Venture off the beaten path and discover hidden gems that offer a more authentic Tuscan experience.
Take Advantage of Parking Lots: Most towns and cities in Tuscany have designated parking lots outside the city walls or historical centers. Park your car in these lots and use public transportation or walk to explore the attractions within the city. Parking fees may apply, so have some change or small bills on hand.
Driving in Tuscany can be a rewarding and memorable experience, allowing you to uncover the region's beauty at your own pace. Just remember to familiarize yourself with local driving regulations, stay alert, and enjoy the freedom of exploring Tuscany's hidden treasures.
Public Transportation in Tuscany
Tuscany has a well-developed public transportation system that allows you to explore the region easily. Whether you prefer trains, buses, or a combination of both, here is a guide to using public transportation in Tuscany:
Trains: Tuscany is well-connected by a comprehensive network of trains. The main train station in Florence, Santa Maria Novella, serves as a major transportation hub and provides connections to other cities in Italy. From Florence, you can easily reach popular destinations like Pisa, Siena, and Lucca. Trains run regularly and are a convenient option for longer journeys.
Buses: Buses are a reliable and cost-effective way to travel within Tuscany, particularly to smaller towns and villages that may not have direct train connections. The main bus company in Tuscany is called Li-nea and operates routes throughout the region. You can find bus stops in city centers and transportation hubs. Bus schedules may vary, so it's advisable to check the timetables in advance.
Trenitalia Tickets: If you plan on using both trains and buses, consider purchasing a Trenitalia pass. This pass allows unlimited travel on regional trains and buses within Tuscany for a set number of days. It offers flexibility and cost savings, especially for travelers who want to explore multiple destinations within the region.
Regional Cards: Some cities in Tuscany offer regional cards that provide discounted rates for public transportation and attractions. For example, the Firenze Card allows unlimited bus travel within Florence and free admission to selected museums and attractions. Check if your destination has any regional cards available to enhance your travel experience.
Schedules and Timetables: It's important to check the schedules and timetables for trains and buses in advance. While public transportation in Tuscany is generally reliable, there may be occasional delays or changes in the schedule, especially during weekends or holidays. Websites and mobile apps like Trenitalia and Moovit can provide up-to-date information on routes, schedules, and any service disruptions.
Walking and Cycling: Tuscany's compact city centers and scenic landscapes make it an ideal region for walking and cycling. Many towns and cities have pedestrian-friendly areas and dedicated cycling paths. Consider exploring the sights on foot or renting a bicycle to fully experience the beauty of Tuscany at a leisurely pace.
Using public transportation in Tuscany is a convenient and efficient way to get around. Whether you choose trains, buses, or a combination of both, you'll have the freedom to explore the region's stunning landscapes, charming towns, and renowned attractions.
Tuscany Cuisine and Wine
When it comes to culinary delights, Tuscany is a gastronomic paradise that promises to tantalize your taste buds. With its fresh ingredients, traditional recipes, and rich flavors, Tuscan cuisine is a true reflection of the region's culture and culinary heritage.
Tuscan cuisine is characterized by its simplicity and emphasis on high-quality ingredients. The region is known for its use of local produce, such as olive oil, wine, fresh fruits, vegetables, and herbs. Tuscan dishes often feature grilled meats, hearty soups, homemade pasta, and a variety of cheeses.
No visit to Tuscany is complete without trying the iconic Florentine steak, known as "Bistecca alla Fiorentina." This tender and juicy T-bone steak is seasoned with salt, grilled to perfection, and typically served rare or medium-rare. It is a carnivore's delight!
Pasta lovers will be in heaven with the variety of pasta dishes in Tuscany. From the classic Pappardelle al Cinghiale (wide egg noodles with wild boar ragu) to the indulgent Pici all'Aglione (thick spaghetti with garlic and tomato sauce), you'll find pasta dishes to satisfy every craving.
When it comes to wine, Tuscany is famous for its production of some of Italy's finest wines. The region is known for its world-renowned red wines, including Chianti, Brunello di Montalcino, and Vino Nobile di Montepulciano. Take a wine tour to visit vineyards and wineries, where you can indulge in wine tastings and learn about the winemaking process.
During your culinary journey in Tuscany, make sure to try the delicious local specialties like ribollita (a hearty vegetable and bread soup), crostini toscani (toasted bread topped with liver paté), and castagnaccio (a chestnut flour cake with pine nuts and raisins).
Tuscan cuisine is known for its rustic and genuine flavors, which are often enhanced by the use of simple techniques and traditional cooking methods. Whether you savor your meals at a family-run trattoria, a hidden gem in a small village, or a Michelin-starred restaurant, Tuscany's culinary offerings are sure to leave a lasting impression.
Don't forget to pair your meals with a glass of Tuscan wine, as the region's robust reds and crisp whites complement the flavors of the dishes perfectly.
Indulging in the delectable cuisine and exquisite wines of Tuscany is not just a meal; it's an unforgettable experience that will immerse you in the rich culinary traditions of the region.
Packing Tips for Tuscany
When preparing for your trip to Tuscany, it's important to pack appropriately to ensure comfort and enjoyment throughout your journey. Here are some essential packing tips to help you make the most of your time in this beautiful region:
Seasonal Clothing: Pack clothing suitable for the season you are visiting. In the summer months, lightweight and breathable clothing is ideal to combat the heat. In spring and autumn, layering is key as temperatures can vary. For winter visits, pack warm clothing like coats, sweaters, and scarves.
Comfortable Shoes: Tuscany is best explored on foot, so bring comfortable walking shoes for touring cities, towns, and countryside. Choose shoes that are suitable for both urban streets and rural paths, as you may find yourself exploring a mix of environments.
Appropriate Attire for Churches: When visiting churches or religious sites, it is respectful to dress modestly. For both men and women, it's recommended to have clothing that covers your shoulders and knees. Carrying a scarf or shawl to cover up if needed is a good idea.
Lightweight Day Bag: A lightweight and sturdy day bag is essential for carrying your essentials during day trips and exploring. Make sure it's spacious enough to fit a water bottle, camera, map, and any other items you may need while out and about.
Sun Protection: Tuscany can get sunny and hot, especially during the summer months. Pack sunscreen, sunglasses, and a wide-brimmed hat to protect yourself from the sun's rays. Don't forget to stay hydrated by carrying a refillable water bottle.
Adapters and Chargers: Check the type of outlets in Italy and bring the appropriate adapters for charging your electronic devices. Also, remember to pack your chargers to keep your devices powered during your trip.
Medication and First Aid: If you require any medications, make sure to pack an adequate supply. Additionally, carry a basic first aid kit with essentials like band-aids, pain relievers, and any other necessary items for unexpected injuries or illnesses.
Travel Documents: Remember to bring your passport, travel insurance, and any necessary identification or visas. Keep extra copies of your important documents in a separate place in case of loss or theft.
Reusable Shopping Bag: Tuscany is known for its local markets, where you can find fresh produce, cheeses, and other delectable food items. Having a reusable shopping bag handy is practical and eco-friendly for carrying your market finds.
Italian Phrasebook or Translation App: While English is spoken in many tourist areas, learning a few basic Italian phrases or having a translation app can go a long way in enhancing your interactions with locals and navigating everyday situations.
Remember that Tuscany is a region where you can fully immerse yourself in the local culture, so pack with comfort, convenience, and respect for the local customs in mind. With proper planning and packing, you'll be well-prepared to embrace the beauty and wonder of Tuscany.
Safety Tips for Traveling in Tuscany
Tuscany is generally a safe destination for travelers, but it's always important to prioritize your safety and be aware of your surroundings. Here are some safety tips to keep in mind while traveling in Tuscany:
Keep Your Valuables Secure: While Tuscany is relatively safe, pickpocketing can occur in crowded tourist areas. Keep your belongings secure and be mindful of your surroundings, especially in busy places like train stations, markets, and popular tourist attractions. Use a money belt or a secure bag to carry your valuables and avoid displaying excessive amounts of cash or expensive items.
Take Care of Your Belongings: Be cautious with your personal belongings, especially when dining at outdoor cafes or leaving your bags unattended. Keep your bags close to your body and be mindful of your surroundings to prevent any opportunistic theft.
Stay Alert on Public Transportation: While public transportation in Tuscany is generally safe, remain vigilant while using buses or trains. Keep an eye on your belongings and beware of any suspicious activities or individuals. Avoid traveling alone late at night, especially in less densely populated areas.
Follow Traffic Rules: If you choose to rent a car in Tuscany, familiarize yourself with the local traffic rules and regulations. Drive defensively and be cautious on narrow, winding roads. Ensure your headlights are on at all times and use parking lots or designated parking areas to avoid fines or towing.
Stay Hydrated: Tuscany can get quite hot during the summer months, so make sure to stay hydrated by drinking plenty of water. Carry a refillable water bottle and avoid excessive sun exposure during the hottest parts of the day.
Observe COVID-19 Safety Precautions: As with any travel destination, it's important to be aware of and follow any COVID-19 safety guidelines and regulations. Stay updated on travel advisories, wear a mask in public indoor spaces and maintain social distancing when necessary.
Consult Local Authorities and Travel Resources: Before and during your trip, stay informed by consulting local authorities, official travel websites, and your country's embassy or consulate. They can provide valuable information regarding safety concerns, potential scams, and any travel advisories or warnings.
Trust Your Intuition: Most importantly, trust your instincts and use common sense while traveling in Tuscany. If a situation or location feels unsafe, remove yourself from it. Be cautious and aware, but also embrace the warmth and hospitality that Tuscany has to offer.
By following these safety tips and being mindful of your surroundings, you can have a safe and enjoyable journey through the beautiful region of Tuscany.
Conclusion
Congratulations, you're now equipped with essential travel tips for a memorable trip to Tuscany! From the enchanting cities of Florence and Siena to the picturesque landscapes and charming villages, Tuscany offers a sensory feast for travelers. By considering the best time to visit and planning your transportation, accommodation, and itinerary in advance, you can make the most of your journey through this captivating region.
Indulge in the exquisite Tuscan cuisine and sample the renowned wines that the region is famous for. Explore the must-see attractions, from the iconic landmarks of Florence and Pisa to the hidden gems nestled in the Tuscan countryside. Whether you choose to explore by car or utilize the efficient public transportation system, Tuscany promises unforgettable experiences at every turn.
As you travel, remember to prioritize safety by keeping your belongings secure, staying alert, and being aware of your surroundings. Additionally, respect the local customs and cultural norms, especially when visiting churches or religious sites.
Embrace the beauty, history, and charm of Tuscany as you immerse yourself in its rich heritage and warm hospitality. Let the rolling hills, vineyards, and olive groves captivate your senses, and savor the flavors of the region's delectable cuisine.
Whether you're marveling at the masterpieces of art in Florence, wandering the cobblestone streets of Siena, or relaxing in the tranquil countryside, Tuscany promises an unforgettable experience that will leave a lasting impression.
So pack your bags, prepare for an adventure, and get ready to fall in love with the wonders of Tuscany. Buon viaggio!