A Beginner's Guide To Visiting The Dolomites – Everything You Need To Know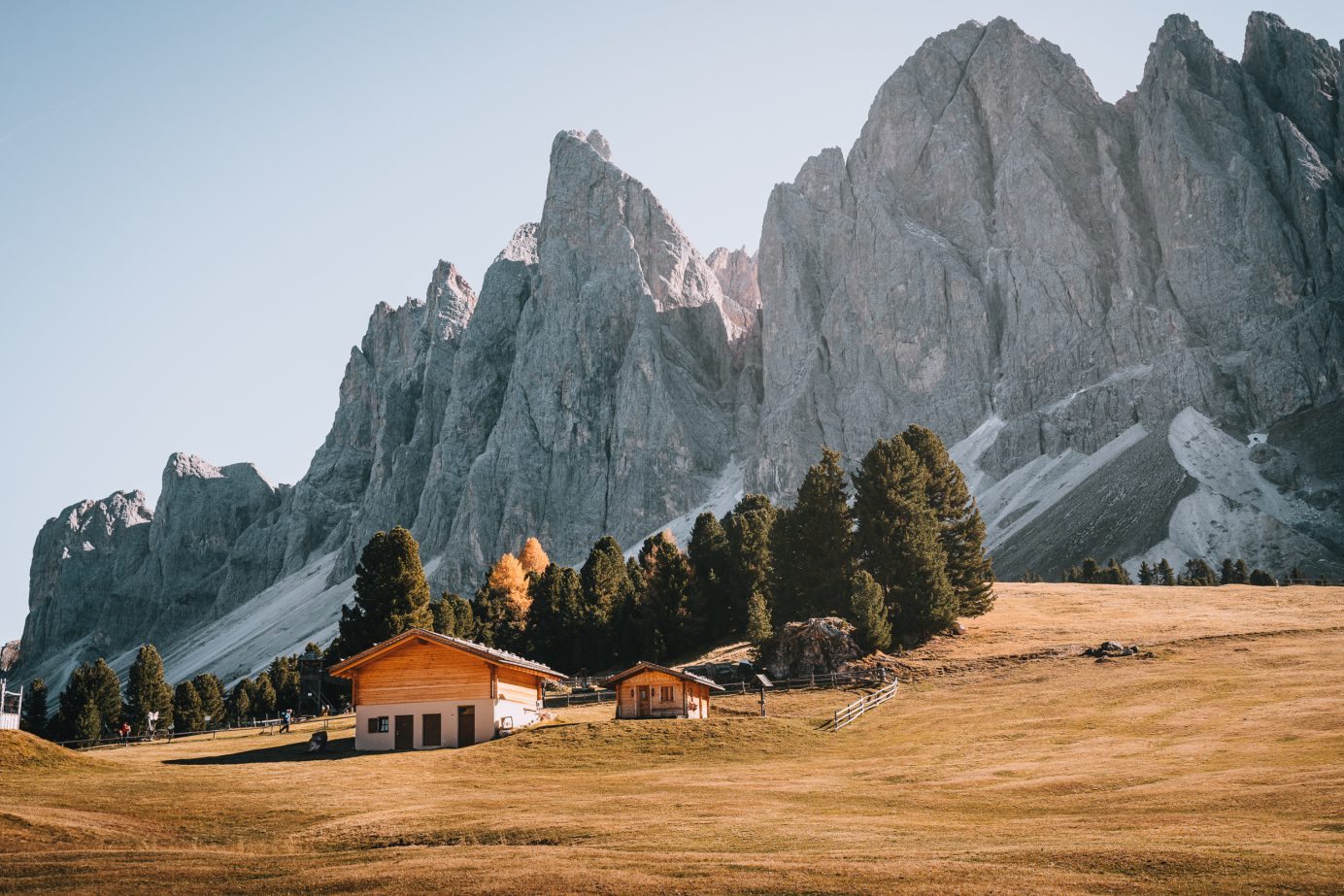 Introduction
The Dolomites, located in northeastern Italy, are a magnificent mountain range that offers breathtaking landscapes, outdoor adventures, and a rich cultural experience. With their unique geology, towering peaks, and charming alpine villages, the Dolomites are a popular destination for nature lovers, adventure enthusiasts, and those seeking a peaceful retreat.
Declared a UNESCO World Heritage site in 2009, the Dolomites span across several regions, including Trentino-Alto Adige, Veneto, and Friuli Venezia Giulia. These majestic mountains are known for their distinctive pinkish hue, especially at sunrise and sunset, which is a result of the dolomite rock composition.
Visiting the Dolomites is a treat for all the senses. The air is crisp and pure, the flora and fauna are diverse, and the views are nothing short of stunning. Whether you're an avid hiker, a passionate skier, or simply a lover of natural beauty, the Dolomites have something to offer everyone.
Prepare to be enchanted by the charming alpine villages nestled in the valleys, where you can experience the warm hospitality of the locals and indulge in traditional cuisine. Each village has its own unique character and charm, offering a glimpse into the region's rich history and culture.
In this beginner's guide, we will take you through everything you need to know about visiting the Dolomites. From the best time to visit and how to get there, to where to stay and the top outdoor activities, we have got you covered. So sit back, relax, and get ready to embark on an unforgettable journey through the stunning landscapes of the Dolomites.
Location and Geography
The Dolomites are located in the northeastern part of Italy, primarily in the provinces of Belluno, Trento, and Bolzano. This mountain range is part of the Southern Limestone Alps and stretches across an area of about 141,903 hectares.
The Dolomites are known for their unique geological composition, with majestic peaks rising abruptly from lush valleys. These limestone mountains were formed over millions of years through a process of sedimentation and uplift. The distinctive dolomite rock gives the mountains their characteristic pinkish hue, particularly when bathed in the soft light of sunrise or sunset.
Within the Dolomites, you'll find several prominent peaks, including Marmolada, the highest peak in the range, reaching an impressive height of 3,343 meters (10,968 feet). Other notable peaks include the Tre Cime di Lavaredo, Sassolungo, and Civetta.
The Dolomites are not only known for their towering peaks but also for their picturesque valleys and alpine meadows. The region is dotted with charming villages and towns nestled in the valleys, each offering its own unique charm and cultural heritage.
Thanks to its exceptional natural beauty and geological importance, the Dolomites were designated as a UNESCO World Heritage site in 2009. This recognition further highlights the significance of preserving and protecting this remarkable mountain range.
With its exceptional beauty and diverse landscape, the Dolomites attract visitors from all over the world. Whether you're an avid mountaineer, nature enthusiast, or simply seeking a peaceful escape, the Dolomites offer a wealth of opportunities to explore and immerse yourself in their awe-inspiring beauty.
Best Time to Visit
The Dolomites offer breathtaking beauty throughout the year, but the best time to visit depends on your interests and preferred activities. Here's a breakdown of the different seasons and what they have to offer:
Spring (April – May)
Spring in the Dolomites is a magical time when nature comes alive. The valleys are filled with colorful wildflowers, and the snow-capped peaks start to melt, creating cascading waterfalls. It's a great time for hiking, as the trails are less crowded, and the temperatures are mild. However, do keep in mind that some trails may still have snow at higher elevations, so it's important to check the conditions before embarking on any hikes.
Summer (June – August)
Summer is the peak tourist season in the Dolomites, and for good reason. The weather is pleasantly warm, and the days are longer, allowing for more time to explore. The meadows are in full bloom, creating a stunning contrast against the towering mountains. Summer is ideal for hiking, mountain biking, rock climbing, and enjoying outdoor festivals and events. However, be prepared for larger crowds, especially in popular tourist areas.
Fall (September – October)
Autumn in the Dolomites is a photographer's dream. The foliage changes to vibrant hues of red, orange, and gold, creating a breathtaking landscape. The weather is still mild in September and early October, making it a great time for hiking and outdoor activities. As the season progresses, the temperatures start to drop, and the first snowfall can be expected in the higher elevations. Fall is also an excellent time to sample the local cuisine, as many harvest festivals take place during this time.
Winter (November – March)
Winter in the Dolomites is a true winter wonderland. The mountains are covered in a blanket of snow, and the ski resorts come to life. If you enjoy winter sports such as skiing, snowboarding, or snowshoeing, this is the ideal time to visit. The Dolomites boast numerous ski areas with excellent slopes for all skill levels. The cozy alpine villages are adorned with twinkling lights, creating a festive atmosphere. However, do keep in mind that winter can be cold, and some mountain passes may be closed or require chains on your vehicle, so it's important to check the weather and road conditions before your trip.
Ultimately, the best time to visit the Dolomites depends on your personal preferences and the activities you plan to enjoy. Whether you're looking for lush meadows, colorful foliage, winter sports, or simply to immerse yourself in the stunning scenery, the Dolomites have something to offer year-round.
How to Get There
Getting to the Dolomites is fairly straightforward, with multiple transportation options available depending on your starting point. Here are some common ways to reach this stunning mountain range:
By Air
The nearest international airports to the Dolomites are Venice Marco Polo Airport and Innsbruck Airport. From these airports, you can rent a car and drive to your desired destination in the Dolomites. Alternatively, you can take a public bus or arrange a private transfer service to reach the mountains. Flights to these airports are frequent and well-connected to major European cities.
By Train
Italy has an extensive train network, making it convenient to reach the Dolomites by rail. The major train stations near the Dolomites are Bolzano, Trento, and Belluno. From these stations, you can take local buses or taxis to reach the specific villages or towns within the Dolomites. The train journey itself is a scenic experience, offering picturesque views of the Italian countryside.
By Car
If you prefer flexibility and independence, driving to the Dolomites is a great option. The region is well-connected by highways and scenic roads, making it accessible from various parts of Italy and neighboring countries. It's important to note that some areas of the Dolomites are only accessible by private car, so having your own vehicle gives you the freedom to explore off-the-beaten-path locations.
By Bus
There are also bus services available that connect major cities to the Dolomites. From cities like Venice, Verona, and Innsbruck, you can take a bus to reach the Dolomites. This option is cost-effective and convenient, especially if you prefer not to drive or navigate public transportation.
Once you're in the Dolomites, the region is well-served by a network of local buses that connect the different towns and villages. These buses provide an efficient way to get around and explore the area without the need for a car.
Before you embark on your journey, it's a good idea to check the local transportation schedules and plan your route in advance. Additionally, be mindful of the weather conditions, especially during the winter months, as road closures and restrictions may be in place.
With various transportation options available, reaching the breathtaking Dolomites is a seamless experience, allowing you to fully immerse yourself in its natural splendor.
Where to Stay
The Dolomites offer a range of accommodations to suit every traveler's preferences and budget. Whether you prefer luxury resorts, cozy family-run guesthouses, or charming mountain huts, you'll find the perfect place to stay in this stunning region. Here are some popular options:
Hotels and Resorts
The Dolomites are home to a variety of hotels and resorts that cater to all types of travelers. From luxurious 5-star properties with spa facilities and gourmet restaurants to family-friendly hotels with entertainment options for children, there's something for everyone. You'll find most of these hotels in the larger towns and resort areas, offering easy access to the slopes and outdoor activities.
Mountain Huts
For a more rustic and immersive experience, consider staying in one of the traditional mountain huts scattered throughout the Dolomites. These huts, known as "rifugi" in Italian, provide basic accommodation and are often located along popular hiking trails. Staying in a mountain hut allows you to wake up to breathtaking views of the surrounding mountains and enjoy the peacefulness of the wilderness.
Bed and Breakfasts
If you're looking for a cozy and intimate atmosphere, consider staying in a bed and breakfast. These family-run establishments offer comfortable rooms and home-cooked breakfasts, providing a personalized and authentic experience. Bed and breakfasts are often situated in smaller villages, allowing you to immerse yourself in the local culture and interact with the friendly locals.
Farm Stays
For a unique and authentic experience, consider staying on a farm in the Dolomites. Farm stays, known as "agriturismi" in Italian, offer the opportunity to stay in traditional farmhouses and experience rural life firsthand. You can enjoy fresh, locally sourced food, participate in farm activities, and take in the stunning panoramic views surrounding the farms.
Camping
For nature enthusiasts and those on a tighter budget, camping is a popular option in the Dolomites. There are designated camping sites located throughout the region, offering basic facilities and a chance to sleep under the stars. Camping allows you to have a closer connection to nature and make the most of the outdoor activities the Dolomites have to offer.
Regardless of your preferred accommodation type, it's advisable to book in advance, especially during peak seasons, to ensure availability. Consider the location and proximity to the activities you plan to engage in, as well as the amenities and services that are important to you.
With a wide range of options available, you'll find the perfect place to stay in the Dolomites, allowing you to fully relax and enjoy the natural beauty of the region.
Popular Towns and Villages
The Dolomites region is dotted with charming towns and villages, each offering their own unique charm, culture, and natural beauty. Here are some of the most popular towns and villages to visit in the Dolomites:
Cortina d'Ampezzo
Cortina d'Ampezzo is one of the most renowned and glamorous towns in the Dolomites. Nestled in the heart of the mountains, this alpine retreat offers an elegant atmosphere, luxury boutiques, and world-class ski resorts. With stunning panoramic views, chic restaurants, and a vibrant après-ski scene, Cortina d'Ampezzo is a favorite destination for both winter sports enthusiasts and those seeking a sophisticated mountain getaway.
Ortisei
Ortisei, located in Val Gardena, is a charming alpine village known for its picturesque setting and rich cultural heritage. With its traditional wooden buildings and stunning mountain backdrop, Ortisei exudes a timeless charm. The village is a popular base for outdoor activities and boasts excellent hiking and skiing opportunities. Don't miss the opportunity to explore the charming pedestrianized center, browse the local shops selling wood carvings and artisanal crafts, and indulge in the delicious South Tyrolean cuisine.
Bolzano
The capital of the South Tyrol region, Bolzano is a vibrant city that seamlessly blends Italian and Austrian influences. Located at the crossroads of major mountain passes, Bolzano offers a unique mix of history, culture, and natural beauty. Take a stroll through the historic center, visit the South Tyrol Museum of Archaeology to see the famous Ötzi the Iceman, or explore the local markets to taste delicious regional delicacies. Bolzano makes for an excellent base to explore the surrounding Dolomite landscapes.
San Candido
San Candido, also known as Innichen, is a quaint town located in the Puster Valley. This idyllic alpine town boasts colorful facades, charming narrow streets, and a serene atmosphere. Surrounded by towering peaks, it offers a plethora of outdoor activities, including hiking, biking, and skiing. San Candido is home to the beautiful Collegiate Church and serves as a gateway to the stunning Tre Cime di Lavaredo, a trio of majestic peaks that are a must-visit in the Dolomites.
Corvara
Corvara, nestled in the heart of Alta Badia, is a picturesque village renowned for its access to some of the best skiing and hiking in the Dolomites. Surrounded by stunning peaks, the village offers a perfect blend of natural beauty, amenities, and a rich culinary scene. Corvara serves as an ideal base for exploring the Sella Ronda, a famous ski circuit that takes you on a tour of the Dolomite valleys. The village also hosts the annual Maratona dles Dolomites, a popular cycling race attracting cyclists from around the world.
These are just a few of the many enchanting towns and villages that await you in the Dolomites. Each has its own unique character, providing a glimpse into the region's rich history, culture, and awe-inspiring natural surroundings.
Outdoor Activities
The Dolomites are a playground for outdoor enthusiasts, offering a plethora of activities to immerse yourself in nature's beauty. Whether you're seeking adventure, relaxation, or simply want to take in the stunning scenery, the Dolomites have something for everyone. Here are some popular outdoor activities to enjoy in this breathtaking mountain range:
Hiking and Trekking
The Dolomites are a hiker's paradise, with an extensive network of well-marked trails catering to all levels of fitness and experience. From leisurely walks through picturesque valleys to challenging treks with thrilling panoramic views, there's a hike for everyone. Popular hiking routes include the Tre Cime di Lavaredo loop trail, the Alta Via 1 long-distance trek, and the Puez-Odle Nature Park. Make sure to check the weather conditions, carry proper equipment, and follow trail signs and guidelines.
Cycling and Mountain Biking
The Dolomites boast an array of cycling routes, from scenic road cycling routes to thrilling mountain biking trails. The famous Maratona dles Dolomites attracts cyclists from around the world, challenging them to conquer the mountain passes of the region. For mountain bikers, the Dolomites offer thrilling downhill trails, cross-country routes, and bike parks. Renting a bike or joining guided cycling tours are popular options for exploring the area on two wheels.
Rock Climbing
With its vertical rock faces and challenging routes, the Dolomites are a paradise for rock climbers. The region offers a wide range of climbing routes suitable for all skill levels, from beginner-friendly crags to multi-pitch climbs that test experienced climbers. The mountains provide spectacular views and a unique climbing experience, attracting climbers from all over the world. Hiring a local guide is recommended for safety and to make the most of your climbing adventure.
Paragliding
For those seeking an adrenaline rush and a bird's-eye view of the Dolomites, paragliding is an exhilarating choice. Several paragliding schools and operators offer tandem flights, allowing you to soar above the majestic peaks and take in the stunning panoramas below. No previous experience is required, as you'll be accompanied by an experienced pilot who will guide you through the flight.
Water Activities
The Dolomites are not just about mountains; they also offer opportunities for water-based activities. The region is home to several scenic lakes and rivers where you can go kayaking, paddleboarding, or fishing. Traversing the crystal-clear waters surrounded by the Dolomite peaks is a unique and captivating experience, allowing you to connect with nature in a different way.
These are just a few of the outdoor activities that await you in the Dolomites. Whether you're an adventure seeker, nature lover, or simply want to enjoy the tranquility of the mountains, there's no shortage of opportunities to soak in the breathtaking beauty of this remarkable region.
Hiking Trails
The Dolomites are a hiker's paradise, offering a vast network of trails that wind through stunning landscapes and provide unforgettable experiences. Whether you're a beginner or an experienced hiker, there's a trail for every level of fitness and expertise. Here are some of the most popular hiking trails in the Dolomites:
The Tre Cime di Lavaredo Loop
The iconic Tre Cime di Lavaredo, also known as the Three Peaks of Lavaredo, is a must-see attraction in the Dolomites. The loop trail around these majestic peaks offers breathtaking views and takes you through scenic alpine terrain. The trail is about 9 kilometers long and is well-marked, making it accessible for hikers of varying abilities.
The Alta Via 1
The Alta Via 1 is a long-distance trail that stretches over 120 kilometers through the heart of the Dolomites. It takes hikers on a journey through stunning mountain landscapes, remote valleys, and picturesque alpine meadows. The trail can be completed in several stages or hiked in its entirety over the course of a few weeks. It is advisable to have prior hiking experience and be well-prepared for multi-day trekking.
Seceda to Col Raiser
This popular day hike offers incredible panoramic views of the surrounding peaks and valleys. Starting from the Seceda cable car station near Ortisei, the trail takes you to the summit of Seceda and continues along a mountain ridge to Col Raiser. Along the way, you'll be treated to jaw-dropping views of the Dolomites and the Val Gardena valley.
The Tre Cime di Lavaredo to Lake Misurina
This trail offers a moderate and picturesque hike that takes you from the iconic Tre Cime di Lavaredo to the tranquil Lake Misurina. The trail follows a well-marked path and provides stunning views of the surrounding peaks and the picturesque lake. With a variety of wildflowers carpeting the meadows in spring and summer, it's a beautiful hike to experience the natural beauty of the Dolomites.
Sassolungo and Sassopiatto Circuit
This challenging but rewarding trail encircles the majestic Sassolungo and Sassopiatto peaks, offering awe-inspiring views throughout the hike. Starting from the Sellajoch pass, the trail takes you around these monumental mountains through alpine meadows and rocky terrain. It's a longer and more demanding hike, most suitable for experienced hikers.
When hiking in the Dolomites, it's essential to be prepared and have the right equipment. Make sure to wear sturdy hiking boots, carry sufficient water, pack snacks, and dress in layers to accommodate changing temperatures and weather conditions. It's also recommended to check trail conditions, bring a map or use a GPS device, and inform someone of your hiking plans.
Embrace the breathtaking beauty of the Dolomites as you explore its vast array of hiking trails. Each trail offers its own unique rewards, from stunning vistas to peaceful alpine meadows, providing an unforgettable hiking experience amidst the magnificent mountain landscape.
Skiing and Snowboarding
The Dolomites are renowned for their world-class ski resorts, making them a haven for skiing and snowboarding enthusiasts. With a combination of stunning slopes, breathtaking views, and excellent snow conditions, the Dolomites offer an unforgettable winter sports experience. Here's everything you need to know about skiing and snowboarding in this stunning mountain range:
Alta Badia
Alta Badia is a popular ski destination in the Dolomites, known for its well-groomed slopes and stunning scenery. With over 130 kilometers of interconnected ski runs, it caters to all levels of skiers and snowboarders. The Sella Ronda ski circuit is a highlight, taking you on a thrilling tour around the Sella massif, offering spectacular panoramic views along the way.
Cortina d'Ampezzo
Cortina d'Ampezzo is not only famous for its glamorous atmosphere but also for its exceptional skiing and snowboarding opportunities. With over 120 kilometers of diverse slopes, including plenty of challenging black runs, it attracts both beginners and advanced skiers. The resort hosted the Winter Olympics in 1956, and its slopes have been enjoyed by enthusiasts from around the world ever since.
Val Gardena
Val Gardena is a winter paradise with its extensive ski area and breathtaking landscape. Nestled in the heart of the Dolomites, it is known for its well-connected slopes and a range of trails suitable for all ability levels. The Sellaronda skiing experience is particularly popular here, offering a circular route around the Sella massif, while the Gardenaccia area provides a diverse mixture of slopes for every skier's preference.
Kronplatz
Kronplatz, located in the South Tyrol region, is a modern and vibrant ski resort offering a wide range of slopes spread over 119 kilometers. Its well-groomed slopes, modern lifts, and panoramic views make it an ideal destination for families and winter sports enthusiasts. The resort also offers advanced runs and a snow park for those looking to push their skills to the limit.
Arabba
Arabba is a hidden gem in the Dolomites, loved by avid skiers and snowboarders for its challenging terrain and off-piste opportunities. The resort is part of the Sellaronda ski circuit and offers access to over 500 kilometers of connected slopes. The Marmolada Glacier, known as the "Queen of the Dolomites," is also easily accessible from Arabba, providing breathtaking vistas and exciting skiing possibilities.
Whether you're a beginner, an intermediate skier, or an expert looking for a thrilling adventure, the Dolomites offer diverse ski areas suitable for all levels. The region boasts top-notch facilities, stunning mountain scenery, and a cozy alpine atmosphere that enhances the overall skiing and snowboarding experience.
Natural Parks and Landmarks
The Dolomites are not only renowned for their majestic peaks and pristine slopes but also for their stunning natural parks and landmarks. These protected areas showcase the diverse ecosystems, unique flora and fauna, and geological wonders that make the Dolomites a UNESCO World Heritage site. Explore these natural parks and landmarks to truly immerse yourself in the beauty of this remarkable mountain range:
The Dolomiti Bellunesi National Park
The Dolomiti Bellunesi National Park is a haven for nature lovers and outdoor enthusiasts. With its rugged mountains, dense forests, alpine meadows, and crystal-clear lakes, it offers a diverse range of environments to discover. The park is home to a variety of animal species, including golden eagles, chamois, and ibex. Hiking and wildlife spotting are popular activities here, allowing visitors to connect with nature and experience the park's tranquility.
The Tre Cime di Lavaredo
The iconic Tre Cime di Lavaredo, or the Three Peaks, are among the most recognizable landmarks in the Dolomites. These towering and distinctive peaks create a stunning backdrop and have become a symbol of the region. The area offers numerous hiking trails, ranging from easy walks to more challenging routes, providing breathtaking views of these majestic rock formations. The beauty and grandeur of the Tre Cime di Lavaredo attract photographers, nature enthusiasts, and hikers from all over the world.
Lago di Braies
Lago di Braies, also known as Pragser Wildsee, is a picturesque alpine lake located in the Prags Dolomites. Surrounded by towering mountains and dense forests, the lake boasts turquoise waters that reflect the stunning landscape. Visitors can embark on a leisurely walk around the lake, rent a rowboat to explore its tranquil waters, or simply relax on its shores and soak in the natural beauty. Lago di Braies is a true gem of the Dolomites and a must-visit destination for its captivating scenery.
The Puez-Odle Nature Park
The Puez-Odle Nature Park is a UNESCO World Heritage site and an area of exceptional natural beauty in the Dolomites. This park is characterized by its distinctive and rugged rock formations, lush meadows, and a vibrant array of alpine plant species. The park offers a multitude of hiking and walking trails that allow visitors to explore its unique landscape. Marvel at the towering rock pinnacles, stunning waterfalls, and panoramic views that make the Puez-Odle Nature Park a true natural wonder.
The Marmolada Glacier
The Marmolada Glacier, known as the "Queen of the Dolomites," is the highest peak in the range, standing at an impressive 3,343 meters (10,968 feet). This glacier is a sight to behold and offers breathtaking views from its summit. A cable car transports visitors to the top, where they can enjoy panoramic vistas of the surrounding mountains and valleys. The Marmolada Glacier is not only a natural landmark but also a symbol of the Dolomites' glacial history and significance.
Exploring the natural parks and landmarks of the Dolomites allows you to fully appreciate the unique and awe-inspiring beauty of this mountain range. Whether you're hiking through picturesque valleys, gazing at towering peaks, or immersing yourself in the tranquility of alpine lakes, these natural wonders will leave a lasting impression on your journey.
Historical Sites and Museums
The Dolomites not only boast stunning natural beauty, but they are also home to a rich history and cultural heritage. Visitors can explore a variety of historical sites and museums that offer insights into the region's past and the traditions of its inhabitants. Here are some notable historical sites and museums to visit in the Dolomites:
Messner Mountain Museum
The Messner Mountain Museum is a network of six museums spread across the Dolomites, each dedicated to different aspects of mountaineering and mountain culture. Created by renowned mountaineer Reinhold Messner, these museums offer a fascinating journey through the history, culture, and challenges of mountaineering. From a museum inside a castle to an underground museum built into the summit of a mountain, the Messner Mountain Museum's unique locations make the visit even more memorable.
Ötzi the Iceman Museum
The South Tyrol Museum of Archaeology in Bolzano is home to one of the world's most famous archaeological discoveries – Ötzi the Iceman. Ötzi is a remarkably well-preserved mummy dating back over 5,000 years and provides invaluable insights into early human history. The museum showcases Ötzi's artifacts, exhibits on his life and the Copper Age, and the fascinating story of his discovery. It's a must-visit for history enthusiasts and those interested in ancient civilizations.
Belluno's Civic Museum
Belluno's Civic Museum, located in the historic center of Belluno, offers a captivating journey through the city's history and art. Housed in the Palazzo dei Rettori, the museum showcases archaeological artifacts from prehistoric times to the Roman era, medieval and Renaissance artworks, and historical documents. Visitors can explore the museum's various sections, including the art gallery, the archaeological section, and exhibitions on the local history and culture of Belluno.
Museum Ladin Ciastel de Tor
The Museum Ladin Ciastel de Tor, situated in San Martino in Badia, focuses on the language, traditions, and history of the Ladin people, a distinct linguistic and cultural minority in the Dolomites. The museum is housed in a medieval castle and offers an interesting insight into the Ladin culture through interactive exhibits, artifacts, and audiovisual presentations. Visitors can learn about the Ladin language, traditional crafts, and the unique way of life in the Dolomites.
Tour of Bunker 52
Located in Val di Fiemme, the Tour of Bunker 52 provides a glimpse into the military history of the Dolomites. During World War I, the Dolomites served as a battleground between the Italian and Austro-Hungarian armies. Bunker 52, an underground fortress, has been preserved and converted into a museum that offers guided tours. Visitors can explore the tunnels, observe historical artifacts, and learn about the challenges faced by soldiers in the Dolomite front during the war.
Exploring the historical sites and museums of the Dolomites is a fascinating way to delve into the region's past and gain a deeper understanding of its cultural heritage. From ancient archaeological discoveries to stories of mountaineering heroes, these sites offer a captivating glimpse into the rich history of the Dolomites.
Local Cuisine
The Dolomites not only offer breathtaking landscapes but also a rich and diverse culinary tradition. The region's cuisine is influenced by its geographic location and a combination of Italian, Austrian, and Ladin culinary traditions. Exploring the local cuisine is a delightful and flavorful experience in the Dolomites. Here are some of the must-try dishes and specialties:
Speck
Speck is a type of cured ham that is a staple in the South Tyrol region. It is made from pork, which is seasoned with a blend of herbs and spices, then smoked and aged. The result is a flavorful and slightly smoky ham that can be enjoyed on its own or as a part of a variety of dishes, such as pasta, salads, or sandwiches.
Canederli
Canederli, also known as Knödel in German, are bread dumplings that are a popular comfort food in the Dolomites. Made from leftover bread mixed with milk, eggs, and various ingredients such as speck, cheese, or herbs, these hearty dumplings are typically served with rich sauces or in a flavorful broth.
Gnocchi alla Trentina
Gnocchi alla Trentina is a delightful local dish made with potato-based dumplings served with a rich tomato and speck sauce. The gnocchi are soft and pillowy, and the combination of flavors from the tomato sauce and the smoky speck creates a harmonious and satisfying dish.
Polenta
Polenta is a traditional cornmeal dish that is popular in the Dolomites. It is made by simmering cornmeal in water or stock until it thickens into a creamy consistency. Often served as a side dish with various meats, stews, or goulash, polenta is a comforting and versatile accompaniment that complements the robust flavors of the region's cuisine.
Strudel
Austrian influence can be found in the Dolomite region's pastry offerings, particularly the infamous strudel. This delicious dessert is made with paper-thin layers of pastry filled with a variety of fillings, such as apples, cherries, or nuts. It can be enjoyed warm or at room temperature, often accompanied by a dollop of freshly whipped cream.
Local Cheeses
The Dolomites are known for their delicious cheeses, such as Trentingrana, Puzzone di Moena, and Asiago. These cheeses are made with locally sourced milk and are aged to develop rich flavors and unique characteristics. Visitors can enjoy these cheeses on their own, paired with cured meats, or incorporated into various dishes.
When in the Dolomites, be sure to pair your meals with a glass of local wine or a refreshing spritz, a popular aperitif in the region. The Dolomites offer a unique culinary experience that combines flavors from different cultures, resulting in a delightful fusion of traditional dishes and regional specialties.
Safety Tips
When visiting the Dolomites, it's essential to prioritize safety to ensure a smooth and enjoyable experience. Here are some important safety tips to keep in mind:
1. Check weather and trail conditions:
Before embarking on any outdoor activities, check the weather forecast and trail conditions. Sudden changes in weather can occur, and it's important to be prepared for any possible challenges or hazards.
2. Dress appropriately:
Be sure to dress in layers and wear suitable clothing and footwear for the activities you plan to engage in. The weather in the mountains can change quickly, so it's important to be prepared with warm and waterproof clothing.
3. Stay on marked trails:
Stick to the designated hiking trails and follow signposts and markers. Straying off the trail can lead to dangerous situations and harm the fragile alpine environment.
4. Carry necessary equipment:
Depending on the activities you plan to undertake, carry a map, compass, GPS device, and sufficient water and food. Additionally, consider carrying safety equipment, such as a first aid kit, a whistle, and a headlamp.
5. Stay hydrated and nourished:
Keep yourself hydrated by carrying enough water and replenishing your fluids regularly, especially during strenuous activities. Pack nutritious snacks to maintain your energy levels throughout the day.
6. Be cautious on mountain roads:
If you're driving in the mountains, exercise caution on the narrow and winding roads. Adhere to speed limits, be aware of potential hazards, and carry snow chains during winter months when required.
7. Respect wildlife and nature:
Observe wildlife from a distance, avoid feeding animals, and do not disturb their habitats. Leave no trace by properly disposing of waste and respecting flora and fauna in protected areas.
8. Be aware of your limits:
Hike or engage in activities within your physical capabilities and skill level. Don't push yourself beyond your limits to avoid accidents or injuries.
9. Inform someone of your plans:
Before heading out on a hike or any outdoor adventure, inform someone of your itinerary and expected return time. This way, someone will be aware of your plans and can alert authorities if necessary.
By following these safety tips and being mindful of your surroundings, you can make the most of your time in the Dolomites while ensuring your well-being and enjoyment throughout your visit.
Essential Packing List
When planning a trip to the Dolomites, it's important to pack wisely to ensure you have everything you need for a comfortable and enjoyable experience. Here's an essential packing list to help you prepare for your adventure:
Clothing:
– Layered clothing for varying weather conditions, including a waterproof and windproof jacket – Warm sweaters or fleeces for cooler temperatures – Comfortable and sturdy hiking boots for outdoor activities – Moisture-wicking and breathable hiking socks – Thermal base layers for colder months – Sun hat, sunglasses, and sunscreen for sun protection
Gear and Equipment:
– Daypack for carrying water, snacks, and essentials during hikes – Hiking poles for stability and support during mountain treks – Water bottle or hydration pack to stay hydrated on the trails – Map or GPS device for navigating the hiking trails – Camera or smartphone for capturing the breathtaking views
Safety and First Aid:
– Basic first aid kit with band-aids, antiseptic, and any necessary medications – Whistle and headlamp for emergencies – Trail map and compass for navigation – Mobile phone with emergency numbers saved
Other Essentials:
– Travel adapter for charging electronic devices – Money belt or travel pouch for securely storing valuables – Reusable water bottle to reduce plastic waste – Snacks and energy bars for on-the-go nourishment – Travel-sized toiletries and personal care items – Quick-drying towel for outdoor activities and swimming
Seasonal Items:
– Hat, gloves, and a warm scarf for winter visits – Thermal layers and warm socks for cold weather – Swimsuit for enjoying lakes or thermal spas during the summer – Insect repellent for protection against mosquitoes and other bugs during the warmer months – Snow chains, if driving during winter, as some mountain roads may require them

Remember to pack according to the specific activities you plan to engage in and the time of year you'll be visiting. It's also advisable to check the weather forecast before your trip and make any necessary adjustments to your packing list.

With this essential packing list, you'll be well-prepared to explore the stunning landscapes and enjoy the outdoor adventures that await you in the Dolomites.
Conclusion
The Dolomites truly offer a one-of-a-kind experience for travelers seeking natural beauty, adventure, and cultural immersion. From the majestic peaks to the charming alpine villages, this mountain range in northeastern Italy has something for everyone.
Whether you're an avid hiker, a skiing enthusiast, a history buff, or a foodie, the Dolomites will captivate you with their stunning landscapes, outdoor activities, historical sites, and delightful cuisine.
Make the most of your visit by considering the best time to go, exploring the diverse towns and villages, and immersing yourself in the outdoor adventures the region has to offer. Remember to prioritize safety, check weather conditions, and be prepared with the right clothing and equipment for your chosen activities.
Indulge in the local cuisine, savoring the flavors and specialties that highlight the region's culinary heritage. Experience the rich history and cultural traditions by visiting museums and historical sites, and take the time to appreciate the natural wonders of the Dolomites, from its towering peaks to its pristine lakes and valleys.
Whether you're seeking a serene mountain retreat or an adrenaline-filled outdoor adventure, the Dolomites will leave you with cherished memories and a deep appreciation for the wonders of nature. So pack your bags, lace up your boots, and get ready to embark on an unforgettable journey through the breathtaking landscapes of the Dolomites.