The Ultimate Santorini Travel Guide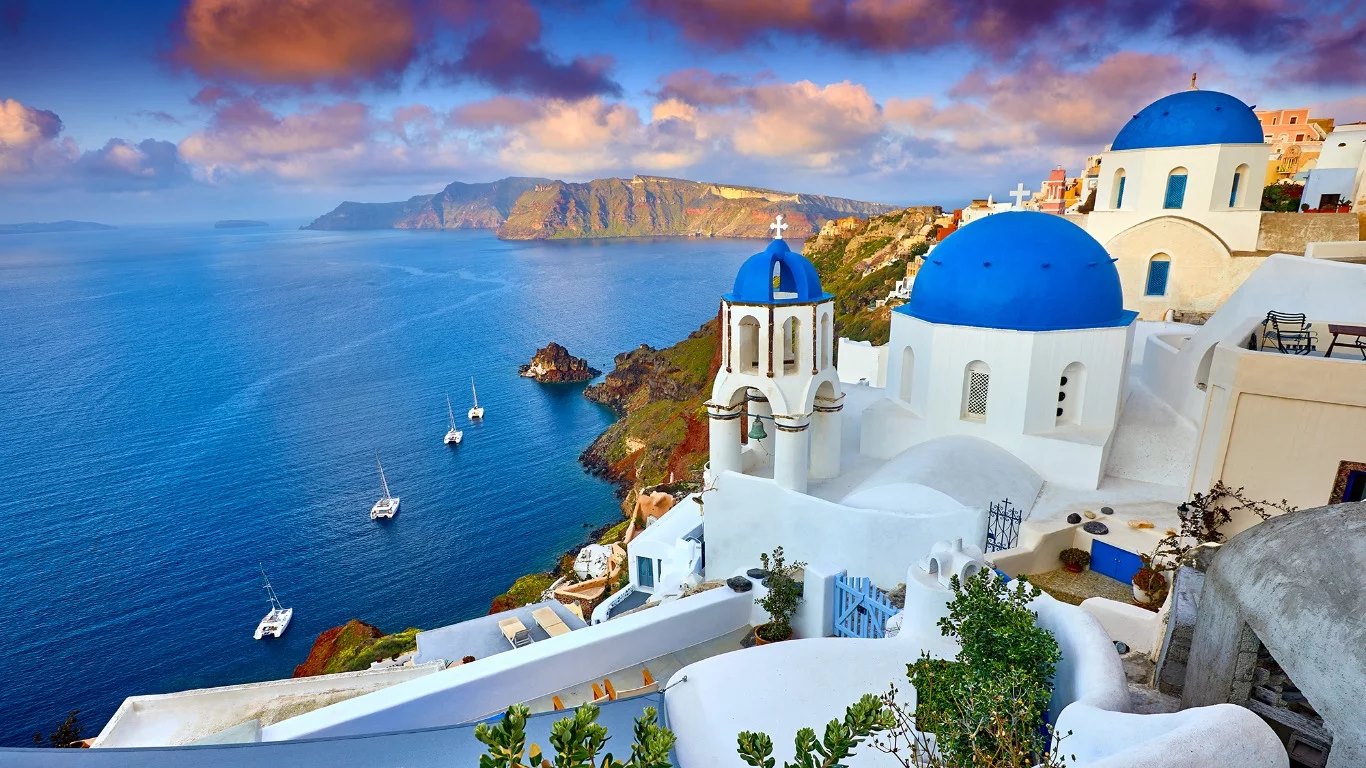 Introduction
Welcome to Santorini, a captivating island nestled in the Aegean Sea and renowned for its breathtaking beauty and ancient history. With its stunning sunsets, iconic blue-domed churches, and pristine white-washed buildings, Santorini has become a top destination for travelers seeking a unique and unforgettable experience.
Located in the Cyclades archipelago, Santorini is blessed with a Mediterranean climate, mild winters, and warm summers, making it an ideal year-round destination. Whether you're an adventure enthusiast, a history buff, a foodie, or simply seeking relaxation on pristine beaches, Santorini offers something for everyone.
Steeped in rich history and mythology, Santorini boasts ancient archaeological sites that transport visitors back in time. Explore the ancient ruins of Akrotiri, a Minoan Bronze Age city buried under volcanic ash, or wander through the labyrinthine alleys of the charming villages.
While the island's natural beauty is undeniable, it is the locals' warm hospitality and vibrant culture that truly leave a lasting impression. From the bustling markets to the lively tavernas, you'll have the opportunity to immerse yourself in the local way of life.
Whether you're planning a romantic getaway, family vacation, or solo adventure, this ultimate travel guide to Santorini will provide you with all the essential information and tips you need to make the most of your trip. From the best time to visit and how to get here, to where to stay and what to see, we'll guide you through the enchanting island to ensure an unforgettable experience.
So pack your bags, grab your camera, and get ready to embark on a journey to one of the most magical destinations in the world – Santorini!
Best Time to Visit Santorini
Santorini offers great weather and stunning views throughout the year, but the best time to visit the island depends on your preferences and interests. Here's a breakdown of the different seasons to help you decide when to plan your Santorini getaway.
Summer (June to August): This is the peak tourist season in Santorini, with warm temperatures ranging from 25°C to 35°C (77°F to 95°F). The days are long and sunny, perfect for lounging by the pool or soaking up the sun on the island's beautiful beaches. Keep in mind that this is also the busiest time, so expect crowds and higher prices. Make sure to book your accommodations well in advance to secure the best deals.
Spring (April to May) and Autumn (September to October): These shoulder seasons offer pleasant temperatures averaging 20°C to 25°C (68°F to 77°F). The crowds are thinner compared to the summer months, and you'll still enjoy sunny days and comfortably warm evenings. This is a great time to explore the island's attractions and enjoy outdoor activities without the hustle and bustle of peak season. Plus, you might find better deals on accommodations and flights.
Winter (November to March): Although the weather is cooler with temperatures ranging from 10°C to 15°C (50°F to 59°F), winter in Santorini has its own charm. This is the least crowded time, allowing you to experience the island's authentic tranquility and explore its cultural heritage without the tourist crowds. Keep in mind that some tourist sites, restaurants, and hotels may have limited operating hours during this time, so it's important to check ahead. However, if you're a fan of photography or looking for a peaceful retreat, winter can be an ideal time to visit.
Overall, Santorini is a year-round destination with each season offering a unique experience. Consider your preferences, budget, and desired activities when choosing the best time to visit. Whether you're a sun-seeker, an adventurer, or a culture enthusiast, Santorini will enchant you with its beauty and wonders regardless of the season.
Getting to Santorini
Santorini is well-connected to various parts of the world and getting to the island is relatively easy. Here are the different ways to reach Santorini:
By Air: The most convenient way to reach Santorini is by flying into Santorini International Airport (JTR), also known as Thira Airport. It is served by domestic and international flights, making it easy to reach the island from major cities in Europe and beyond. Several airlines operate regular flights to Santorini, and the duration of the flight varies depending on your location. Once you arrive at the airport, you can reach your accommodation by taxi, bus, or private transfer.
By Ferry: If you prefer a scenic journey, you can opt to travel to Santorini by ferry. The island has daily ferry connections with Athens (Piraeus) and other Greek islands. Ferries are available year-round, but the frequency and travel time may vary depending on the season. High-speed ferries provide a quicker journey, while conventional ferries offer a more leisurely experience. Ferry tickets can be purchased online or at the ports, and it's recommended to check the ferry schedules in advance to plan your trip.
By Cruise: Santorini is a popular stop on many Mediterranean cruise itineraries. Cruises offer an opportunity to combine a visit to Santorini with other destinations in Greece and neighboring countries. The cruise ships dock at the port of Athinios, and passengers are then transported to the main town of Fira via cable car, donkey ride, or walking up the steep steps.
Once you arrive in Santorini, it's easy to explore the island using the local transportation system or by renting a car, motorcycle, or ATV. Public buses run regularly and connect the major villages and attractions, while taxis and private transfers provide more comfort and convenience.
Whichever mode of transportation you choose, the journey to Santorini is part of the adventure and promises beautiful scenery and anticipation for the wonders that await on this stunning island.
Transportation on the Island
Getting around Santorini is fairly convenient, as the island offers various transportation options to explore its attractions and villages. Here are the different modes of transportation you can use on the island:
Buses: Santorini has a reliable public bus system that connects the major towns and villages. The buses are comfortable and air-conditioned, making them a popular choice for budget travelers. They run frequently, especially during the peak tourist season, and offer affordable fares. Keep in mind that buses can get crowded, particularly during high season, so plan your timing accordingly.
Taxis: Taxis are readily available in Santorini and provide a convenient and comfortable way to get around the island. You can find taxi stands at popular tourist spots, in the main towns, and at the airport and ferry ports. It's recommended to negotiate the fare before starting your journey, especially for longer trips or excursions to different parts of the island.
Car Rental: Renting a car is a popular option on Santorini, as it provides flexibility and independence to explore the island at your own pace. There are several car rental agencies available, both at the airport and in the main towns. Keep in mind that due to the narrow and winding roads, especially in the village of Oia, it's important to be comfortable driving in such conditions if you choose to rent a car.
Motorcycles and ATVs: For a more adventurous way to explore the island, you can rent a motorcycle or an ATV (All-Terrain Vehicle). These vehicles offer a thrilling experience, allowing you to navigate through narrow streets and reach secluded spots that may not be accessible by car. It's important to have a valid driver's license and wear safety helmets when riding motorcycles or ATVs.
It's worth noting that Santorini's villages are interconnected by scenic walking paths, offering a fantastic opportunity to explore on foot. Whether you're strolling along the caldera in Fira or traversing the traditional alleys of Oia, walking can be a delightful way to soak up the island's charm.
Another popular mode of transportation in Santorini is private transfers. Many hotels and tour operators offer airport or port transfers, allowing you to enjoy a hassle-free journey from the moment you arrive. Additionally, private tours and excursions provide personalized transportation and the expertise of a local guide, allowing you to make the most of your time on the island.
With the various transportation options available, getting around Santorini is a breeze, ensuring that you can easily explore the island's picturesque villages, stunning beaches, and cultural sites with ease and convenience.
Where to Stay in Santorini
Santorini offers a wide range of accommodation options to suit every budget and preference. From luxury resorts to cozy guesthouses, there is something for everyone. Here are some popular areas to consider when choosing where to stay in Santorini:
Fira: Fira is the capital town of Santorini and one of the most popular places to stay. It is known for its stunning views of the caldera, vibrant atmosphere, and bustling nightlife. Fira offers a wide range of accommodation options, from luxury hotels and villas to budget-friendly guesthouses and hostels. Staying in Fira gives you easy access to shops, restaurants, and attractions, making it a convenient base to explore the island.
Oia: Famous for its iconic sunsets and picturesque blue-domed churches, Oia is a charming village that appeals to those seeking a romantic and tranquil atmosphere. Staying in Oia allows you to experience the postcard-perfect views of the caldera, wander through its narrow alleys lined with boutique shops and art galleries, and indulge in world-class dining. Accommodation options in Oia range from luxury cave hotels to charming boutique hotels, providing an unforgettable experience.
Kamari: Situated on the southeast coast of Santorini, Kamari is known for its beautiful black sand beach and laid-back vibe. This area offers a range of accommodation options, including beachfront resorts, hotels, and family-run guesthouses. Kamari is a great choice for those looking to relax and enjoy the beach, with plenty of waterfront tavernas, bars, and shops to explore.
Perissa and Perivolos: Located near Kamari, Perissa and Perivolos are two other popular beach destinations in Santorini. These areas offer long stretches of black sand beach, water sports activities, beach clubs, and a lively nightlife scene. Accommodation options in Perissa and Perivolos include hotels, villas, and guesthouses, ranging from budget-friendly to upscale establishments.
Immerovigli: Situated between Fira and Oia, Immerovigli is known as the "balcony to the Aegean" and offers breathtaking views of the caldera. It is a quieter alternative to Fira and Oia, perfect for those seeking a more relaxed and romantic atmosphere. Immerovigli is home to some luxurious hotels and suites built into the cliffs, providing a serene and picturesque setting.
Regardless of where you choose to stay in Santorini, you'll be surrounded by stunning landscapes and the island's unique charm. It's important to book your accommodation in advance, especially during the peak season, to secure the best options and prices.
Ultimately, whether you prefer a bustling town, a romantic village, or a beachside retreat, Santorini offers plenty of accommodation choices to make your stay an unforgettable experience.
Top Attractions in Santorini
Santorini is a treasure trove of natural beauty, ancient history, and architectural wonders. Whether you're fascinated by the island's volcanic origins or captivated by its charming villages, here are some must-visit attractions in Santorini:
1. Caldera: The Santorini caldera is undoubtedly the island's most iconic and breathtaking natural attraction. Formed by a volcanic eruption centuries ago, the caldera offers awe-inspiring panoramic views of the deep blue Aegean Sea and the picturesque villages perched on the cliffs. Watching the sunset from the caldera is an unforgettable experience.
2. Red Beach: Located near the ancient site of Akrotiri, the Red Beach is known for its unique red volcanic sands and towering red cliffs. The vibrant colors create a stunning contrast against the azure waters of the Aegean Sea. It's a popular spot for sunbathing, swimming, and snorkeling.
3. Oia: The village of Oia is a must-visit destination in Santorini. Its narrow streets, blue-domed churches, and white-washed buildings create a picture-perfect setting. Explore the charming alleys, admire the traditional Cycladic architecture, and indulge in panoramic views of the caldera. Oia is particularly famous for its stunning sunsets.
4. Akrotiri Archaeological Site: Step back in time at the Akrotiri Archaeological Site, often referred to as the "Pompeii of the Aegean." This well-preserved Minoan Bronze Age settlement was buried under volcanic ash and rediscovered in the late 1960s. Explore the ruins to uncover ancient homes, streets, and fascinating artifacts.
5. Fira: As the capital town of Santorini, Fira is a vibrant center with a unique blend of shops, tavernas, and stunning views of the caldera. Explore the picturesque streets, visit the Archaeological Museum of Thera to learn about the island's history, and take a cable car ride down to the old port.
6. Santo Winery: Santorini is known for its exceptional wines, and a visit to Santo Winery is a must for wine enthusiasts. Enjoy wine tasting sessions overlooking the caldera, learn about the island's unique viticulture practices, and savor the flavors of Santorinian wines.
7. Ancient Thera: Perched on a hilltop, Ancient Thera is an archaeological site that showcases a mix of Hellenistic, Roman, and Byzantine ruins. Take a journey through ancient history as you explore the remnants of ancient temples, houses, and theaters, all while enjoying panoramic views of the island.
These are just a few of the many incredible attractions that Santorini has to offer. Whether you're interested in natural wonders, cultural sites, or simply soaking up the island's charm, Santorini will leave you mesmerized with its beauty and rich history.
Beaches in Santorini
Santorini may be known for its stunning caldera views, but the island also boasts some exceptional beaches where you can soak up the sun and enjoy the crystal-clear waters of the Aegean Sea. Here are a few beaches you should visit during your stay in Santorini:
Kamari Beach: Located on the southeastern coast of Santorini, Kamari Beach is one of the most popular and well-organized beaches on the island. With its unique black sand, clear waters, and a backdrop of impressive cliffs, Kamari Beach offers a lively and vibrant atmosphere. Various beach bars, restaurants, and water sports facilities can be found along its promenade, making it a perfect spot for a fun-filled beach day.
Perissa Beach: Adjacent to Kamari Beach, Perissa Beach is another famous black sandy beach that stretches for several kilometers. Surrounded by dramatic cliffs and lined with beachfront tavernas and bars, it offers a more relaxed and laid-back ambiance. The calm shallow waters and the presence of lifeguards make it ideal for families with children. You can also find opportunities for water sports such as jet skiing, windsurfing, and paddleboarding.
Red Beach: As the name suggests, Red Beach is known for its unique red volcanic sands. Located near Akrotiri village, this beach is surrounded by impressive red cliffs, creating a dramatic and picturesque setting. Red Beach can be accessed by boat or via a short walk from the parking area. Keep in mind that the beach can get crowded during peak tourist season, so it's worth visiting early in the day to secure a good spot.
White Beach: Situated close to Red Beach, White Beach is accessible only by boat or by hiking from Red Beach. It offers a tranquil and secluded setting, ideal for those seeking a more peaceful beach experience. The cliffs surrounding White Beach are massive white rock formations, giving the beach its name. The crystal-clear turquoise waters are perfect for swimming and snorkeling.
Vlychada Beach: Located on the southern coast of Santorini, Vlychada Beach is a hidden gem known for its lunar-like landscape. This unique beach is surrounded by impressive cliffs and caves, offering a more secluded and serene atmosphere. The beach is organized with sunbeds and umbrellas, and there is a beach bar where you can enjoy refreshing drinks and snacks.
Each beach in Santorini has its own charm and character, ranging from bustling and lively to tranquil and secluded. Whether you're seeking vibrant beachfront activities, picturesque surroundings, or a peaceful beach retreat, Santorini's beaches have something to offer every traveler.
Exploring the Villages
One of the highlights of visiting Santorini is exploring its charming and picturesque villages. With their cobblestone streets, pristine whitewashed buildings, and blue-domed churches, the villages of Santorini offer a glimpse into the island's rich history and unique architectural style. Here are some of the most enchanting villages to explore during your visit:
Oia: Located on the northern tip of the island, Oia is perhaps the most famous village in Santorini. Known for its stunning sunsets and panoramic views of the caldera, Oia is a romantic and enchanting destination. Take a leisurely stroll through the winding alleys, admire the traditional Cycladic architecture, and venture to the iconic blue-domed churches that have become synonymous with Santorini's beauty.
Fira: As the capital of Santorini, Fira offers a lively and bustling atmosphere. The town is perched on the edge of the caldera, providing stunning views of the sea and the volcano. Explore the narrow streets lined with shops, cafes, and restaurants, and visit the Museum of Prehistoric Thera to learn more about the island's fascinating history.
Pyrgos: Nestled on a hilltop, Pyrgos is a medieval village known for its impressive Venetian fortress, narrow labyrinthine alleys, and traditional Cycladic architecture. Take a leisurely walk through the village's charming streets, visit the beautiful churches, and enjoy panoramic views of the island from the highest point in Santorini.
Megalochori: Megalochori is a traditional village that exudes authenticity and charm. With its well-preserved white-washed buildings, colorful doors, and traditional vineyards, it offers a glimpse into Santorini's rural life. Explore the quiet alleys, visit the local wineries for wine tasting, and savor traditional Greek cuisine at the local tavernas.
Emporio: Emporio is a traditional village located in the south of Santorini. Known for its medieval Kasteli, a fortified settlement, Emporio invites visitors to wander through narrow streets, discover hidden chapels, and enjoy the tranquility of a less touristy village. Climb to the top of the Kasteli to enjoy panoramic views of the surrounding landscape.
Exploring the villages of Santorini allows you to immerse yourself in the island's unique culture and architecture. Take your time to wander the streets, interact with the friendly locals, and appreciate the enchanting beauty of these idyllic Santorinian villages.
Santorini's Local Cuisine
Santorini is not only a feast for the eyes but also a treat for the taste buds. The island's local cuisine combines delicious flavors, fresh ingredients, and traditional Greek culinary techniques. Here are some of the must-try dishes and flavors that define Santorini's local cuisine:
Santorini Cherry Tomatoes: Known for their exceptional sweetness, Santorini cherry tomatoes are a prized local delicacy. Grown in volcanic soil under the Mediterranean sun, these tomatoes have a rich flavor and vibrant color. Enjoy them in salads, as a topping for bruschetta, or in traditional Greek dishes like Gemista (stuffed vegetables).
Fava: Santorini's fava beans, also known as yellow split peas, have a distinct flavor and creamy texture. Traditionally served as a meze (appetizer), fava is often pureed and drizzled with local olive oil, lemon juice, and topped with chopped onions. It is best enjoyed with freshly baked bread.
Seafood: Being an island, Santorini offers an abundance of fresh seafood. From grilled octopus and calamari to succulent shrimp and locally caught fish, seafood lovers will be in for a treat. Try the traditional Greek dish "Psarosoupa" (fish soup) or the famous "Santorinian Lobster," cooked in tomato sauce with local herbs and spices.
White Eggplant: Santorini is famous for its unique white eggplant, which has a mild flavor and silky texture. The most well-known dish featuring white eggplant is "Melitzanosalata," a creamy eggplant dip made with roasted eggplant, garlic, lemon juice, and olive oil. It is a perfect accompaniment to bread or as a side dish.
Vinsanto Wine: Santorini is renowned for its exceptional wines, and one of the most famous is Vinsanto. This sweet dessert wine is made from sun-dried grapes and aged in oak barrels for several years. Sip on a glass of Vinsanto after a delicious meal or pair it with local pastries like "Melitinia" or "Koufeto" for a delightful culinary experience.
Greek Salads: A staple of Greek cuisine, Greek salads shine in Santorini thanks to the flavorful local ingredients. Enjoy a plate of fresh tomatoes, cucumbers, onions, olives, and feta cheese topped with fragrant herbs and drizzled with olive oil. It's a refreshing and healthy dish that showcases the vibrant flavors of the Mediterranean.
When dining in Santorini, venture beyond the touristy areas and explore the local tavernas and family-run restaurants to experience the authentic flavors of the island. Indulge in the rich culinary heritage of Santorini and let your taste buds discover the magical flavors that this enchanting island has to offer.
Nightlife in Santorini
Santorini may be known for its stunning sunsets and picturesque villages, but the island also offers a vibrant and exciting nightlife scene. As the sun sets and the stars come out, Santorini comes alive with an array of options for partygoers and night owls. Here is a look into the nightlife of Santorini:
Fira: The capital town of Santorini, Fira, offers a bustling and vibrant nightlife scene. The narrow streets are lined with nightclubs, bars, and rooftop lounges, catering to various tastes. Dance the night away at a lively nightclub, sip cocktails with panoramic views of the caldera, or enjoy live music performances at a cozy jazz bar.
Oia: While Oia is known for its tranquility and breathtaking sunsets, it also offers some elegant and sophisticated nightlife options. Enjoy a romantic dinner at a rooftop restaurant, sip on fine wines as you overlook the caldera, or unwind with a cocktail at one of the stylish bars. Oia's laid-back atmosphere is perfect for those seeking a more intimate and relaxed evening.
Kamari and Perissa: The beachside villages of Kamari and Perissa offer a more casual and fun-filled nightlife experience. From beach bars and clubs to open-air tavernas, these areas come alive after the sun goes down. Enjoy live music, dance to the beats of international DJs, or simply relax with a drink on the beach while enjoying the sea breeze.
Sunset Cruises: A unique way to experience Santorini's nightlife is by joining a sunset cruise around the caldera. These cruises typically offer live music, entertainment, and unlimited drinks as you sail along the coast. Dance under the stars, admire the spectacular views, and create memories that will last a lifetime.
Cultural Performances: For those seeking a more cultural evening, Santorini offers various performances showcasing traditional Greek music and dance. From folk performances in traditional tavernas to theatrical shows in ancient amphitheaters, immerse yourself in the local culture and witness the captivating performances that reflect the island's heritage.
It is important to note that while Santorini does offer a vibrant nightlife scene, the island generally caters to a more relaxed and upscale ambiance compared to other party destinations. Loud and rowdy clubs are less prevalent, but instead, you can expect sophisticated lounge bars, live music venues, and elegant establishments.
As with any nightlife scene, it's important to drink responsibly and be respectful of the local culture and environment. Santorini's nightlife combines the island's beauty with an exciting energy, allowing visitors to enjoy a memorable and enjoyable night out on this enchanting Greek island.
Shopping in Santorini
Santorini offers a diverse and unique shopping experience, ranging from high-end fashion boutiques to traditional local shops. Whether you're looking for souvenirs, fashion, artwork, or local delicacies, the island has something for every taste. Here's a guide to shopping in Santorini:
Traditional Products: Santorini is known for its local products, and exploring the traditional shops is a must. Look for products made from the island's famous cherry tomatoes, such as tomato paste, sun-dried tomatoes, and tomato-based sauces. You'll also find locally produced wine, honey, olive oil, herbs, and spices. These items make for great souvenirs or gifts to bring back home.
Jewelry and Fashion: Santorini is home to talented local artisans who craft exquisite jewelry pieces. Look for unique designs inspired by the island's beauty, such as necklaces, earrings, and bracelets featuring gemstones, seashells, and volcanic rock. You'll also find trendy fashion boutiques selling stylish clothing, swimwear, and accessories.
Art and Crafts: Santorini's picturesque landscapes have inspired many artists, and you'll find a wide selection of art galleries throughout the island. Discover paintings, sculptures, and pottery showcasing the local talent and the beauty of Santorini's natural surroundings. Don't forget to explore the traditional craft shops where you can find handmade ceramics, weaving, and embroidery.
Local Markets: Visit the local markets and farmers' markets in Santorini to experience the vibrant atmosphere while discovering fresh produce, local wines, and homemade products. These markets are perfect for indulging in the island's culinary delights and picking up fresh fruits, vegetables, cheeses, and pastries.
Designer Boutiques and Luxury Brands: For those seeking high-end fashion and luxury brands, Santorini offers a variety of designer boutiques and upscale shops. Explore the streets of Fira and Oia to find well-known Greek and international fashion labels, designer jewelry, and couture accessories.
Souvenirs and Keepsakes: Along the narrow streets of Santorini's villages, you'll find plenty of souvenir shops offering a wide range of trinkets, keychains, magnets, and T-shirts adorned with the iconic Santorini motifs. Take home a piece of Santorini as a reminder of your unforgettable trip.
No matter what you're looking for, shopping in Santorini is a delightful experience. From unique local products to high-end fashion, the island offers a mix of traditional charm and modern elegance, ensuring that you can find the perfect souvenir or gift to commemorate your time in this magical Greek island.
Outdoor Activities in Santorini
Santorini's natural beauty and stunning landscapes make it an ideal destination for outdoor enthusiasts. Whether you're seeking adventure, relaxation, or breathtaking views, the island offers a variety of outdoor activities to suit every taste. Here are some of the top outdoor activities to enjoy in Santorini:
Hiking: Santorini boasts a network of picturesque hiking trails that allow you to explore the island's natural wonders. The most famous trail is the Fira to Oia hike, which offers panoramic views of the caldera and takes you through charming villages along the way. You can also hike to the ancient site of Akrotiri or explore the scenic paths that wind through the vineyards and countryside.
Boat Tours: Set sail and discover the beauty of Santorini from the sea on a boat tour. Cruise along the coastline, admire the volcanic cliffs, and enjoy swimming and snorkeling in the crystal-clear waters. Opt for a traditional boat or a luxurious catamaran tour, some of which include stops at hidden beaches and volcanic hot springs.
Water Activities: Santorini offers an array of water sports and activities for thrill-seekers. Try your hand at windsurfing, jet skiing, paddleboarding, or kayaking along the coastlines. Scuba diving and snorkeling are also popular, allowing you to explore the vibrant marine life and underwater caves in the Aegean Sea.
Vineyard Tours: Santorini is renowned for its vineyards and exceptional wines. Embark on a vineyard tour to learn about the unique viticulture of the island and indulge in wine tastings. Wander through the vineyards, take in the panoramic views, and discover the traditional winemaking techniques that have been passed down through generations.
Hot Springs and Volcano Excursions: Explore the volcanic origins of Santorini by taking a boat excursion to Nea Kameni, the island's active volcano. Walk on the volcanic terrain, explore the crater, and enjoy the therapeutic hot springs nearby. These excursions offer a unique opportunity to witness the geological wonders of Santorini up close.
Beach Activities: With its stunning black and red sand beaches, Santorini is perfect for enjoying beach activities. Spend a day sunbathing and swimming at popular beaches like Kamari or Perissa, where you can also try water sports, rent paddleboards, or take banana boat rides. Relax under an umbrella, sip on refreshing cocktails, and enjoy the island's laid-back beach culture.
Outdoor activities in Santorini provide a chance to connect with nature, experience the island's geological wonders, and immerse yourself in the beauty of the Aegean Sea. Whether you prefer hiking along the cliffs, exploring the underwater world, or indulging in wine tastings, Santorini offers endless possibilities for outdoor adventure and relaxation.
Cultural Experiences in Santorini
Santorini is not just a beautiful island; it's also steeped in rich history and vibrant culture. From ancient archaeological sites to traditional festivals, Santorini offers a range of cultural experiences for visitors. Here are some activities that allow you to delve into the cultural heritage of Santorini:
Akrotiri Archaeological Site: Explore the ancient ruins of Akrotiri, often referred to as the "Pompeii of the Aegean." This Minoan Bronze Age city was buried under volcanic ash and preserved remarkably well. Walk through the well-preserved streets, examine the intricate frescoes, and discover the advanced civilization that once thrived here.
Museum of Prehistoric Thera: Located in Fira, the museum showcases the artifacts excavated from the volcanic site of Akrotiri. It offers insights into the island's prehistoric past, displaying pottery, sculptures, and objects that shed light on the daily life and customs of the ancient inhabitants of Santorini.
Local Festivals and Celebrations: Immerse yourself in the festive spirit by participating in the island's cultural celebrations. One of the major festivals is the "Ifestia" or the Santorini Volcano Festival, which takes place annually in August and includes fireworks, concerts, and performances. Additionally, various religious celebrations, such as the Easter festivities and the Feast of Metamorphosis, offer a chance to witness local customs and traditions.
Winery Visits and Wine Tastings: Santorini has a centuries-old winemaking tradition, and exploring its wineries is an excellent way to experience the island's cultural heritage. Visit local wineries to learn about the unique viticulture practices, explore the vineyards, and indulge in wine tastings. Discover the distinctive flavors of Santorinian wines, such as Assyrtiko, Nykteri, and Vinsanto.
Traditional Villages: Explore the charming traditional villages of Santorini, such as Oia, Pyrgos, and Megalochori. Wander through the narrow streets, admire the Cycladic architecture, and visit the colorful churches. Engage with the locals, visit local shops and markets, and savor traditional Greek cuisine at family-run tavernas. These villages offer an authentic glimpse into the island's culture and way of life.
Art Galleries and Workshops: Santorini has long been an inspiration for artists, and you'll find numerous art galleries showcasing local talent. Visit the art galleries to admire paintings, sculptures, and ceramics that capture the beauty of the island. You can even participate in workshops to learn traditional crafts, such as pottery, painting, and weaving.
By immersing yourself in the cultural experiences of Santorini, you'll gain a deeper understanding of the island's history, customs, and rich cultural heritage. Embrace the opportunity to engage with the locals, witness traditional celebrations, and explore the artistic expressions that make Santorini a truly unique and captivating destination.
Tips and Reminders for Santorini Travel
Planning a trip to Santorini? Here are some essential tips and reminders to ensure a smooth and unforgettable experience:
Book Accommodation in Advance: Santorini is a popular tourist destination, so it's crucial to book your accommodation well in advance, especially during peak season. Secure the best deals and availability by planning ahead.
Be Prepared for Crowds: Santorini can get crowded, particularly during the summer months. Be prepared for the influx of tourists and plan your activities and visits to popular attractions accordingly.
Transportation: Public transportation in Santorini, such as buses and taxis, can get busy during peak season. Consider renting a car or an ATV for more flexibility and easier exploration, especially if you plan to visit multiple villages and beaches.
Protect Yourself from the Sun: Santorini enjoys plenty of sunshine, so be sure to protect yourself from the sun's rays. Wear sunscreen, a hat, and sunglasses, and seek shade during the hottest hours of the day to avoid sunburn and heatstroke.
Respect Local Customs: Santorini has a rich cultural heritage, so it's important to respect local customs and traditions. Dress modestly when visiting churches and monasteries, and be mindful of noise levels and local etiquette.
Stay Hydrated: Santorini's warm climate can make you susceptible to dehydration. Drink plenty of water throughout the day to stay hydrated, especially if you're engaging in outdoor activities or spending time at the beach.
Try Local Cuisine: Santorini is known for its delicious food and local delicacies. Be sure to try traditional dishes, such as fava, tomato-based dishes, fresh seafood, and local wines. Venture beyond tourist areas to discover authentic local tavernas and indulge in the island's culinary delights.
Respect the Environment: Help preserve the beauty of Santorini by being mindful of the environment. Avoid leaving litter behind, follow designated paths when hiking, and respect protected areas. Be a responsible traveler and leave a positive impact on the island.
Enjoy the Sunset: Santorini is renowned for its breathtaking sunsets. Find your perfect spot to watch the sun go down, whether it's in Oia, Fira, or from a boat tour. Prepare your camera and immerse yourself in the magical moment.
By keeping these tips in mind, you'll be well-prepared and able to make the most of your time in Santorini. Embrace the beauty, culture, and warmth of the island, and create memories that will last a lifetime.
Conclusion
Santorini, with its stunning beauty, rich history, and vibrant culture, offers a truly unforgettable travel experience. From the picturesque villages perched on cliffs to the breathtaking sunsets and unique landscapes, Santorini captivates the hearts of all who visit. Whether you're exploring the ancient ruins of Akrotiri, relaxing on the black sand beaches, indulging in the local cuisine, or immersing yourself in the island's cultural heritage, Santorini has something for everyone.
As you plan your trip to Santorini, consider the best time to visit based on your preferences. Take advantage of the various transportation options available to reach the island, and choose a suitable accommodation that suits your needs and budget. Explore the top attractions, from the iconic caldera and ancient sites to the charming villages and local markets. Enjoy the outdoor activities, savor the local cuisine, and immerse yourself in the warm hospitality of the locals.
While Santorini is undeniably a popular tourist destination, it still retains its unique charm and allure. Respect the local customs, protect the environment, and be mindful of the other visitors to ensure a harmonious and enjoyable experience for all. Whether you're seeking adventure, relaxation, or a cultural journey, Santorini offers an enchanting escape like no other.
So, pack your bags and get ready to be amazed by the beauty that awaits you in Santorini. Let the awe-inspiring sunsets, the stunning landscapes, and the warm embrace of Greek hospitality create memories that will last a lifetime. Santorini is a destination that will capture your heart and leave you longing to return.