Guide To Christmas In Seiffen, The Ore Mountains And Chemnitz, Saxony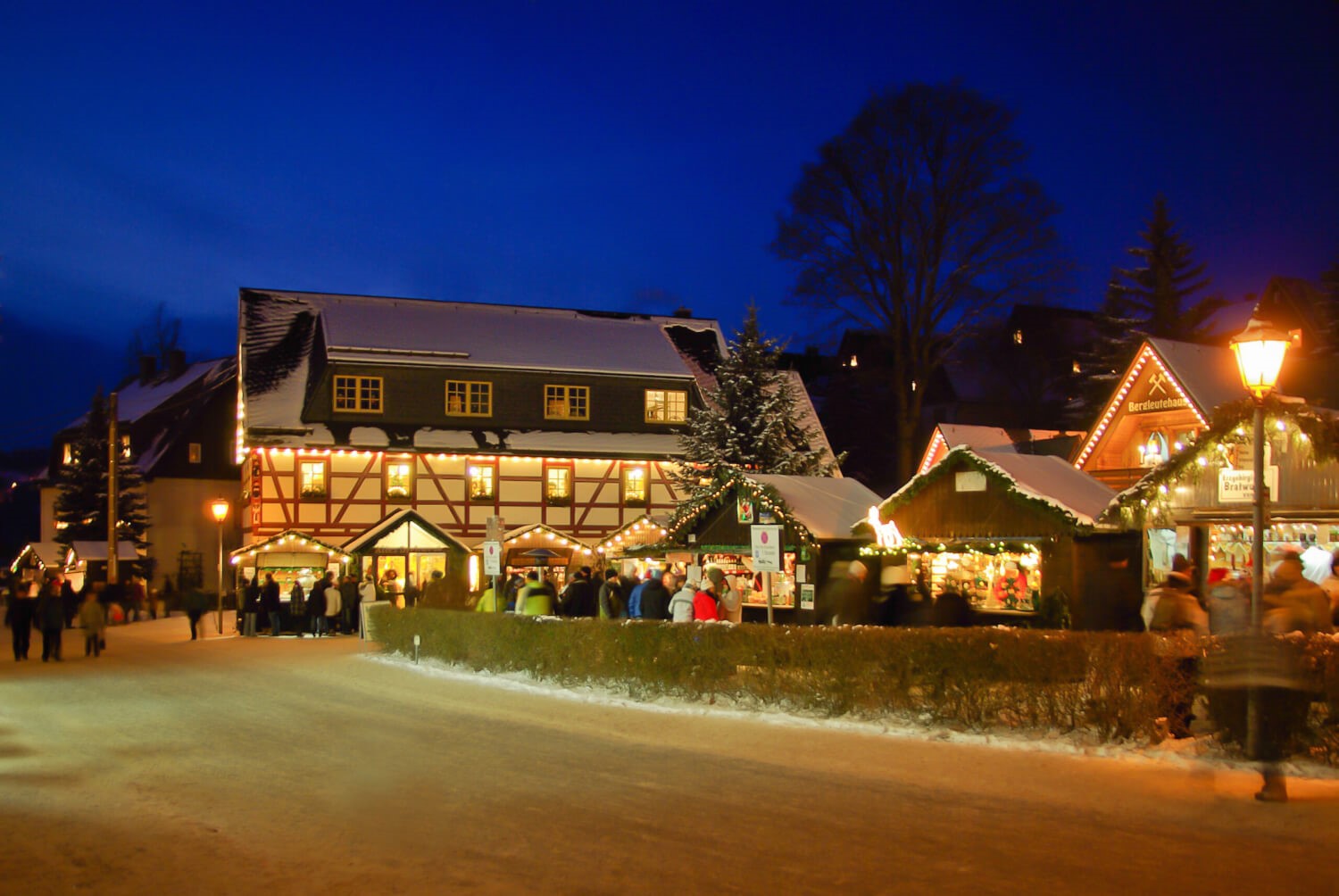 Introduction
Germany is known for its rich Christmas traditions, and one of the best places to experience the festive season is the region of Saxony. In particular, the picturesque town of Seiffen, nestled in the Ore Mountains, and the vibrant city of Chemnitz offer a magical Christmas experience like no other.
Seiffen, also known as the Toy Village, has a long history of crafting wooden toys and intricate Christmas decorations. This small town exudes charm with its traditional architecture and cobblestone streets, creating a perfect backdrop for the holiday season. On the other hand, Chemnitz, the third-largest city in Saxony, embraces the Christmas spirit with its sparkling lights, bustling markets, and a myriad of events for visitors to enjoy.
Whether you're a lover of traditional craftsmanship, enchanting displays, or simply immersing yourself in the festive ambiance, a visit to Seiffen and Chemnitz during Christmas time is a must. In this guide, we'll take a closer look at the unique charm of these places and discover the exciting traditions and attractions that await you.
History of Seiffen
The history of Seiffen can be traced back to the 14th century when the discovery of silver and tin in the Ore Mountains led to the development of mining in the region. As mining became the primary industry, the people of Seiffen began carving wooden toys during the long winter months as a means of supplementing their income.
However, it wasn't until the 18th century that Seiffen gained recognition for its craftsmanship. The local artisans started producing Christmas decorations such as incense smokers, nutcrackers, and pyramids, contributing to the growing popularity of the region as a hub for traditional wooden toys and ornaments.
Seiffen became synonymous with quality craftsmanship, and its reputation spread far and wide. The wooden toys and Christmas decorations from Seiffen became highly sought after, not just in Germany but also in other parts of Europe and around the world.
Despite the challenges faced during times of war and political changes, Seiffen managed to preserve its traditional craft and keep its unique identity intact. Today, walking through the streets of Seiffen feels like stepping back in time, as the craft of wooden toymaking is still a way of life for many locals.
The Seiffen Toy Museum, located in a historic building in the town, offers a glimpse into the rich history of the region's craftsmanship. Visitors can admire the intricate wooden toys and learn about the techniques and skills that have been passed down through generations.
Seiffen's commitment to preserving its heritage is also evident in the annual Christmas traditions that take place in the town. From the festive Advent calendar opening to the charming Christmas market, every aspect of the holiday season in Seiffen reflects the town's deep-rooted history and passion for craftsmanship.
Overall, the history of Seiffen is closely intertwined with the art of wooden toymaking and the creation of beautiful Christmas decorations. It is a story of resilience, tradition, and a dedication to keeping the heritage alive for generations to come.
Christmas Traditions in Seiffen
Seiffen is renowned for its cherished Christmas traditions, which have been passed down through generations and continue to be celebrated with great joy and enthusiasm.
One of the most beloved traditions in Seiffen is the lighting of the Advent candles. Every Sunday leading up to Christmas, families gather around their Advent wreaths, adorned with four candles representing the four weeks of Advent, to mark the countdown to Christmas. The lighting of a new candle each week creates a warm and festive ambiance in homes throughout the town.
Another cherished tradition is the crafting of wooden decorations. In Seiffen, the craft of toymaking is deeply ingrained in the culture, and during the Christmas season, locals and visitors alike have the opportunity to witness the artisans at work. Stroll along the streets of Seiffen and you'll find numerous workshops and shops, where skilled craftsmen and women carve intricate wooden ornaments and toys by hand. It's a fascinating sight to see their creativity and craftsmanship on display.
Seiffen also boasts an enchanting Christmas market, where you can experience the magical atmosphere of the holiday season. The market is filled with rows of festive stalls selling a wide array of handmade wooden toys, delicate Christmas decorations, and traditional crafts. The scent of gingerbread, mulled wine, and roasted almonds permeates the air, tempting your taste buds and inviting you to indulge in the flavors of the season.
During your visit to Seiffen, don't miss the opportunity to witness the famous candle arches, also known as Schwibbogen. These beautifully crafted arches, made of wood and adorned with intricate scenes, are lit up at night, creating a mesmerizing display of light against the dark winter sky. It's a sight that truly embodies the spirit of Christmas in Seiffen.
Lastly, no Christmas celebration in Seiffen would be complete without the singing of traditional carols. Choirs and musical groups from the region perform heartwarming renditions of classic Christmas songs, filling the air with joyous melodies and creating a sense of togetherness and unity.
Christmas traditions in Seiffen are deeply rooted in the town's history and craftsmanship. They provide a glimpse into the past and offer a unique and magical experience for visitors seeking an authentic Christmas celebration.
Seiffen Christmas Markets
When it comes to Christmas markets, Seiffen has something truly special to offer. The town's Christmas market is a true winter wonderland, where locals and visitors gather to immerse themselves in the festive spirit.
The Seiffen Christmas market takes place in the heart of the town, surrounded by charming wooden houses adorned with twinkling lights and traditional decorations. As you stroll through the market, you'll be captivated by the warm and inviting atmosphere that permeates the air.
At the market stalls, you'll find a wide variety of handmade wooden toys, intricate Christmas decorations, and traditional crafts. From nutcrackers and incense smokers to pyramids and carved figurines, there's something for everyone who appreciates the art of craftsmanship.
Indulge in the delicious flavors of the season by sampling the local culinary delights. Treat yourself to warm and freshly baked gingerbread cookies, savor a cup of steaming mulled wine or hot chocolate, and indulge in roasted almonds or traditional German sausages.
Don't miss the opportunity to witness the time-honored traditions of the region. Watch skilled artisans demonstrate their craft as they carve wooden toys and decorate delicate ornaments right before your eyes. Take a moment to appreciate their craftsmanship and perhaps even bring home a unique piece as a memento of your visit.
The Seiffen Christmas market is also a haven for families with children. There are various activities to keep the little ones entertained, such as face painting, puppet shows, and even a chance to meet Santa Claus himself.
A highlight of the Seiffen Christmas market is the candle arch ceremony. As night falls, the town is adorned with countless candle arches, creating a mesmerizing spectacle of light and creating a magical ambiance that you won't soon forget.
Visiting the Seiffen Christmas market is not just about shopping; it's about experiencing the authentic charm of the holiday season and immersing yourself in a centuries-old tradition. It's a place where the magic of Christmas comes to life, and memories are made.
Major Attractions in the Ore Mountains
The Ore Mountains, also known as Erzgebirge, are a mountain range that stretches across the border of Germany and the Czech Republic. This picturesque region is not only known for its natural beauty but is also home to several major attractions that make it a must-visit destination.
One of the most iconic landmarks in the Ore Mountains is the Fichtelberg, the highest peak in the region. Standing at an impressive 1,214 meters, Fichtelberg offers breathtaking panoramic views of the surrounding mountains and valleys. Visitors can take a cable car ride to the summit, where they can enjoy hiking trails, skiing in the winter months, and even visit a quaint mountain hut for some warm refreshments.
For history enthusiasts, a visit to the Ore Mountain Mining Region is a must. This UNESCO World Heritage Site showcases the rich mining heritage of the region, which dates back over 800 years. Explore the fascinating Markus Röhling Stolln, an underground mine that allows visitors to experience the life of a miner firsthand. The Mining Museum in the picturesque town of Annaberg-Buchholz is also worth a visit, offering insight into the history and technology of mining in the Ore Mountains.
If you're a fan of architecture and historical charm, be sure to visit the charming town of Annaberg-Buchholz. This historic town is home to stunning medieval buildings, including the beautiful St. Anne's Church and the Renaissance-style Town Hall. Explore the cobblestone streets, browse through boutique shops, and immerse yourself in the rich history and culture that fills the air.
Another highlight of the Ore Mountains is the Toy Museum in Seiffen. This museum showcases the rich heritage of wooden toy making in the region, with an impressive collection of traditional wooden toys and Christmas decorations. Visitors can learn about the craft of toymaking, admire intricately carved figurines, and even watch skilled artisans at work.
For nature lovers, the Ore Mountains offer a plethora of outdoor activities. From hiking and mountain biking in the summer to skiing and snowboarding in the winter, there are endless opportunities to explore the breathtaking landscapes. The Krušnohorská magistrála, a long-distance hiking trail that spans the entirety of the Ore Mountains, provides a unique way to experience the beauty of the region.
Whether you're seeking natural beauty, historical charm, or cultural experiences, the Ore Mountains have something to offer for everyone. Immerse yourself in the stunning landscapes, explore the rich history, and create memories that will last a lifetime.
Famous Christmas Decorations from Seiffen
Seiffen, also known as the Toy Village, is renowned for its exquisite Christmas decorations that have captured the hearts of people around the world. The town's skilled artisans have been crafting these intricate pieces for centuries, making Seiffen a mecca for collectors and enthusiasts of traditional Christmas ornaments.
One of the most iconic Christmas decorations from Seiffen is the Nutcracker. These wooden figurines, often resembling soldiers or characters from fairy tales and folklore, have become synonymous with the holiday season. Crafted with great attention to detail, these nutcrackers are not only beautiful but also functional, as their movable jaw can crack nuts.
Another famous decoration from Seiffen is the incense smoker, also known as Räuchermann in German. These figurines depict various characters, such as miners, bakers, and Santa Claus, with a small compartment on their body where incense cones can be placed. When the incense is lit, it creates a fragrant aroma that fills the air, making the smoker a delightful addition to any Christmas display.
The Christmas pyramid, or Weihnachtspyramide, is another iconic symbol of the holiday season in Seiffen. These wooden structures feature multiple levels, each adorned with intricate carvings and figurines. The pyramid is powered by the heat from the candles placed at the base, causing the fan blades to rotate and creating a whimsical spectacle.
The Schwibbogen, or candle arch, is a unique and enchanting decoration that originated in the Ore Mountains and is closely associated with Seiffen. These wooden arches consist of multiple candle holders and are often adorned with beautiful scenes and motifs. When lit, the candle arch casts a warm and inviting glow, adding a cozy ambiance to any room.
Seiffen is also renowned for its beautifully handcrafted Christmas tree ornaments. From delicate angels and miniature Santas to intricate snowflakes and nativity scenes, these ornaments add a touch of elegance and charm to any Christmas tree. Each piece is meticulously made, and the craftsmanship is evident in the intricate detailing and delicate paintwork.
Whether you're a collector or simply looking to add some traditional and unique decorations to your Christmas festivities, Seiffen offers an incredible selection. These famous Christmas decorations from Seiffen not only bring joy and beauty to your home but also hold a piece of history and tradition that has been passed down through generations.
Exploring Chemnitz during the Christmas Season
When it comes to vibrant Christmas celebrations, the city of Chemnitz in Saxony shines with its festive spirit and enchanting atmosphere. From dazzling light displays to lively markets, exploring Chemnitz during the Christmas season is an absolute delight.
The heart of the Christmas festivities in Chemnitz can be found at the Christmas market, known as the Chemnitz Weihnachtsmarkt. Located in the historic city center, the market is a hub of activity and excitement. Rows of charming wooden stalls offer a diverse range of goods, including handmade crafts, traditional gifts, and mouthwatering treats.
Indulge in the heavenly scents of freshly baked gingerbread, roasted almonds, and sizzling sausages as you wander through the market. Treat yourself to a warm cup of traditional mulled wine known as Glühwein or sample other regional specialties. With the joyful sounds of music and laughter filling the air, the Christmas market in Chemnitz is a sensory delight that will leave you with lasting memories.
As you explore the city during the Christmas season, be sure to marvel at the magnificent light displays that adorn the streets and squares. From decorative illuminations on historical buildings to sparkling Christmas trees, the city transforms into a magical wonderland after dark.
While in Chemnitz, don't miss the opportunity to visit the towering Christmas pyramid in the city center. Its rotating tiers and beautifully carved figurines create a captivating sight, adding to the festive ambiance of the surroundings. This iconic Christmas symbol is a must-see attraction during the holiday season.
For a unique cultural experience, attend one of the many concerts and performances that take place throughout the city. From classical music concerts in historic churches to lively Christmas musicals, there are plenty of opportunities to immerse yourself in the sounds of the season.
Immerse yourself in the artistic side of Chemnitz by visiting the Museum of Natural History or the Museum of Contemporary Art. These cultural institutions often host special exhibitions and events during the Christmas season, adding a touch of creativity and inspiration to your visit.
Whether it's strolling through the Christmas market, taking in the festive light displays, or indulging in cultural experiences, exploring Chemnitz during the Christmas season is an unforgettable experience. The city's joyful atmosphere and rich traditions will leave you feeling merry and bright as you embrace the holiday spirit.
Chemnitz Christmas Markets
When it comes to Christmas markets, Chemnitz in Saxony is a city that knows how to celebrate in style. The city comes alive during the holiday season with its enchanting Christmas markets, offering visitors a chance to immerse themselves in the festive atmosphere and indulge in the holiday spirit.
The Chemnitz Christmas markets are spread across multiple locations, each with its own unique charm. The largest and most popular market is the Chemnitz Weihnachtsmarkt, situated in the city center. Here, you'll find a delightful array of stalls selling everything from handcrafted gifts and ornaments to delicious treats and warming drinks.
As you wander through the market, the tantalizing aromas of roasted chestnuts, sizzling Bratwurst sausages, and freshly baked gingerbread fill the air. Treat your taste buds to a cup of Glühwein, a traditional mulled wine infused with mulling spices, or sample local specialties like Stollen, a rich fruitcake dusted with powdered sugar.
The Chemnitz Christmas markets are not just about shopping and indulging in delicious food; they also offer a variety of entertainment options. Enjoy live music performances, carol singers, and festive concerts that bring the holiday spirit to life. Children will be thrilled by the merry-go-rounds, ice skating rinks, and a visit from Saint Nicholas himself.
One of the highlights of the Chemnitz Christmas markets is the stunning display of lights and decorations. From twinkling fairy lights illuminating the streets to beautifully decorated Christmas trees, the city transforms into a magical wonderland. Be sure to take a stroll through Chemnitz's scenic squares and picturesque alleys to fully appreciate the festive ambiance.
For those looking to combine shopping and culture, the Mittelaltermarkt (Medieval Market) in Chemnitz is not to be missed. Here, you'll be transported back in time as artisans in medieval attire display their traditional crafts and trades. Browse through stalls selling handmade goods, enjoy live performances, and marvel at the immersive medieval atmosphere.
With its blend of traditional charm and modern festivities, the Chemnitz Christmas markets provide a delightful experience for visitors of all ages. Soak up the festive atmosphere, indulge in delicious treats, and discover unique gifts to bring a touch of Saxony's holiday spirit home with you.
Festive Events in Chemnitz
Chemnitz, the vibrant city in Saxony, offers a wide range of festive events during the holiday season. From lively parades to enchanting performances, there is something for everyone to enjoy and embrace the joyous spirit of Christmas.
One of the most highly anticipated events is the Chemnitz Christmas Parade. This colourful procession winds its way through the city streets, featuring lively music, dazzling floats, and performers dressed in festive costumes. Join the crowds as they cheer, sing along to Christmas carols, and enjoy the delightful atmosphere that fills the air.
The Stadthalle Chemnitz, a prominent venue in the city, hosts a variety of festive concerts and performances throughout the holiday season. From classical orchestral performances and choral recitals to uplifting Christmas musicals and ballet productions, these events provide an opportunity to immerse yourself in the magic of the season.
The Opernhaus Chemnitz, the city's opera house, also presents a special program of holiday-themed performances. Be enchanted by captivating opera productions or enjoy the beauty of classical ballet performances, all showcasing the talent and artistry of the city's cultural scene.
For a truly magical experience, make sure to attend the Lichterfest, or Festival of Lights, in Chemnitz. The city is bathed in a breathtaking display of illuminations, with historic buildings, parks, and squares adorned with thousands of twinkling lights. Take a stroll through the beautifully lit surroundings, marvel at the mesmerizing light installations, and capture unforgettable moments against the backdrop of the illuminated city.
If you're in Chemnitz during the Advent season, consider attending the Advent concerts held in various churches throughout the city. These concerts feature choirs, orchestras, and talented soloists performing classical Christmas compositions, hymns, and carols. The acoustics of the churches enhance the beauty of the music, creating a serene and uplifting experience.
Children and families can enjoy special festive events in Chemnitz as well, such as storytelling sessions, puppet shows, and interactive workshops. The Stadtspielhaus Chemnitz offers enchanting performances for young audiences, keeping children entertained and filled with wonder during the holiday season.
From parades and concerts to enchanting light displays and family-friendly events, Chemnitz offers a wealth of festive experiences for locals and visitors alike. Embrace the magical spirit of Christmas, create lasting memories, and let the city's vibrant energy fill your heart with joy and holiday cheer.
Where to Stay in Seiffen and Chemnitz
Seiffen and Chemnitz offer a range of accommodation options to suit every traveler's needs and budget. Whether you prefer a cozy guesthouse, a charming boutique hotel, or a modern hotel with all the amenities, you'll find a place to rest and recharge during your visit to these delightful destinations.
In Seiffen, there are several traditional guesthouses and family-run hotels that offer a warm and welcoming atmosphere. These accommodations often showcase the town's traditional charm, with wooden furnishings and cozy interiors. Staying in Seiffen allows you to be in the heart of the Christmas magic, with the town's famous Christmas markets and attractions just a short walk away.
For those seeking a luxury experience, there are upscale hotels available in the surrounding areas. These hotels often feature elegant rooms, spa facilities, and stunning views of the Ore Mountains. By staying in one of these establishments, you can enjoy the tranquility of the countryside while still being within reach of Seiffen's festive atmosphere.
In Chemnitz, there is a wide range of accommodation options to choose from, whether you prefer staying in the city center or in the outskirts. The city boasts several modern hotels with comfortable rooms and amenities such as Wi-Fi, fitness centers, and on-site dining options.
If you're looking for a more unique experience, consider staying in one of Chemnitz's boutique hotels. These intimate establishments often feature stylish and individually designed rooms, providing a cozy and personalized atmosphere. Some boutique hotels are located in historical buildings, adding a touch of charm and character to your stay.
In both Seiffen and Chemnitz, it is advisable to book your accommodation in advance, especially during the Christmas season when the cities attract a high number of visitors. This ensures that you secure the best available options and can plan your trip with peace of mind.
When choosing where to stay, consider your preferences, whether you want to be closer to the Christmas markets and attractions or prefer a quieter retreat in the outskirts. Research the amenities offered, read reviews from other travelers, and select an accommodation option that fits your budget and desired level of comfort.
Regardless of where you choose to stay, both Seiffen and Chemnitz offer comfortable and convenient options to make your visit enjoyable and memorable. Wake up refreshed and ready to explore the festive wonders of these enchanting destinations.
Local Cuisine and Delicacies
Exploring the culinary delights of Seiffen and Chemnitz is an essential part of experiencing the local culture. Both regions offer a variety of traditional dishes and delicacies that will delight your taste buds and provide a true gastronomic experience.
One iconic dish in Seiffen and the Ore Mountains is the Erzgebirgischer Eierschecke. This delicious cake is made of a rich and fluffy layer of sweet yeast dough topped with a creamy cheesecake filling. Its distinctive flavor comes from a mix of vanilla, lemon zest, and a hint of rum.
Another must-try specialty is the Pulsnitzer Pfefferkuchen. Originating from the nearby town of Pulsnitz, this gingerbread-like pastry is made with a blend of honey, spices, and ground almonds. They are often shaped into hearts or intricately decorated with icing, making them a popular treat during the Christmas season.
When it comes to hearty meals, traditional Saxon cuisine shines. One staple dish you won't want to miss is the Sauerbraten. This marinated and slow-cooked beef roast is tender and flavorful, typically served with a rich savory sauce, often accompanied by red cabbage and Klöße (dumplings).
Another beloved dish is the Quarkkeulchen, a type of potato pancake made with a mixture of grated potatoes, quark (a type of soft cheese), eggs, and flour. These sweet and savory pancakes are typically served with applesauce or sour cream, making them a delightful and filling treat.
As Christmas approaches, the region is also famous for its seasonal treats. Stollen, a sweet bread filled with dried fruits, nuts, and marzipan, is a traditional Christmas favorite. The Saxon version, known as Dresdner Stollen, is highly regarded for its rich flavor and dense texture.
To accompany your meal or to simply enjoy as a refreshing beverage, don't miss the opportunity to taste the local beers and liqueurs. Saxony is known for its beer culture, and you'll find a variety of delicious brews to sample. Additionally, Saxony produces specialty liqueurs like Schnapps and Kirsch, made from locally grown fruits.
While visiting Seiffen and Chemnitz, make sure to explore the local markets and food stalls. Here, you can try traditional street food like Bratwurst, a grilled sausage served in a roll with mustard or ketchup. Look out for regional cheese and dairy products such as Quark and Harzer Käse, perfect for a light snack.
Immerse yourself in the delightful flavors of Seiffen and Chemnitz, and embrace the local cuisine to truly experience the culinary culture of Saxony.
Transportation Options
Getting to and around Seiffen and Chemnitz is relatively easy, thanks to the region's well-connected transportation network. Whether you're arriving from within Germany or internationally, there are several transportation options to choose from.
If you're flying into the area, the nearest international airport is Dresden Airport (DRS), located approximately 90 kilometers from Seiffen and 80 kilometers from Chemnitz. From the airport, you can take a train or a rental car to reach your destination. Leipzig/Halle Airport (LEJ) is another option, located about 130 kilometers from Chemnitz.
Once you arrive in either Seiffen or Chemnitz, there are various transportation options to explore the surrounding areas. To travel between Seiffen and Chemnitz, you can take advantage of the well-connected regional train and bus services. Trains run frequently, offering a convenient and efficient way to move between the two destinations.
In Chemnitz, the city has an extensive public transportation system, including trams and buses, which provide easy access to different neighborhoods and attractions. The Chemnitz Stadtbahn, a light rail system, is particularly convenient for getting around the city center.
If you prefer to have the flexibility of your own vehicle, renting a car is a viable option. Car rental companies can be found at airports and in larger cities like Chemnitz, offering a convenient way to explore the region at your own pace. Just be sure to familiarize yourself with local traffic rules and regulations.
Another option for exploring the area is to join organized tours or hire private transportation services. This allows you to sit back and relax while enjoying the expertise of local guides who can provide insights and take you to must-see attractions.
In Seiffen, the town is relatively compact, and most of its attractions can be reached on foot. Exploring the streets and Christmas markets on foot is a delightful way to immerse yourself in the town's festive atmosphere.
Overall, the transportation options in Seiffen and Chemnitz provide flexibility and convenience for visitors to explore the region. Whether you prefer public transport, renting a car, or joining organized tours, you'll have no trouble getting around and experiencing all that these charming destinations have to offer.
Conclusion
A visit to Seiffen and Chemnitz during the Christmas season promises an unforgettable experience filled with festive charm, rich traditions, and enchanting attractions. From exploring the historic town of Seiffen and its renowned craftsmanship to immersing yourself in the vibrant atmosphere of Chemnitz, there are endless delights to discover.
In Seiffen, the Toy Village, you'll have the opportunity to witness the art of wooden toymaking firsthand and explore the town's fascinating history. The Christmas markets offer a magical experience, with their array of handmade crafts, delicious treats, and festive ambiance. Don't forget to indulge in the famous Christmas decorations, such as nutcrackers, incense smokers, and candle arches, that have made Seiffen famous around the world.
In Chemnitz, you'll be captivated by the city's lively Christmas markets, adorned with lights, fragrant aromas, and artisanal crafts. The festive events, concerts, and performances add a touch of magic to the air, while the light displays and enchanting decorations create a truly captivating experience.
Both Seiffen and Chemnitz offer a range of accommodation options, allowing you to rest and recharge in comfort after a day of exploring. The local cuisine and delicacies will tantalize your taste buds, showcasing the flavors of the region and adding to the festive spirit.
With well-connected transportation options, you can easily navigate between Seiffen and Chemnitz, as well as explore the surrounding areas. Whether you choose to travel by train, rent a car, or join organized tours, you'll find convenient ways to move around and uncover the wonders of the region.
Seiffen and Chemnitz embody the true essence of a German Christmas, offering a perfect blend of tradition, craftsmanship, and holiday cheer. These destinations invite you to immerse yourself in the joyful atmosphere, connect with the local culture, and create lasting memories of a magical holiday season.
So, plan your visit to Seiffen and Chemnitz and get ready to be captivated by the charm, warmth, and enchantment of these remarkable destinations. Whether you're seeking festive traditions, stunning decorations, or simply a memorable Christmas experience, Seiffen and Chemnitz have it all.