Paris Is Wonderful In Winter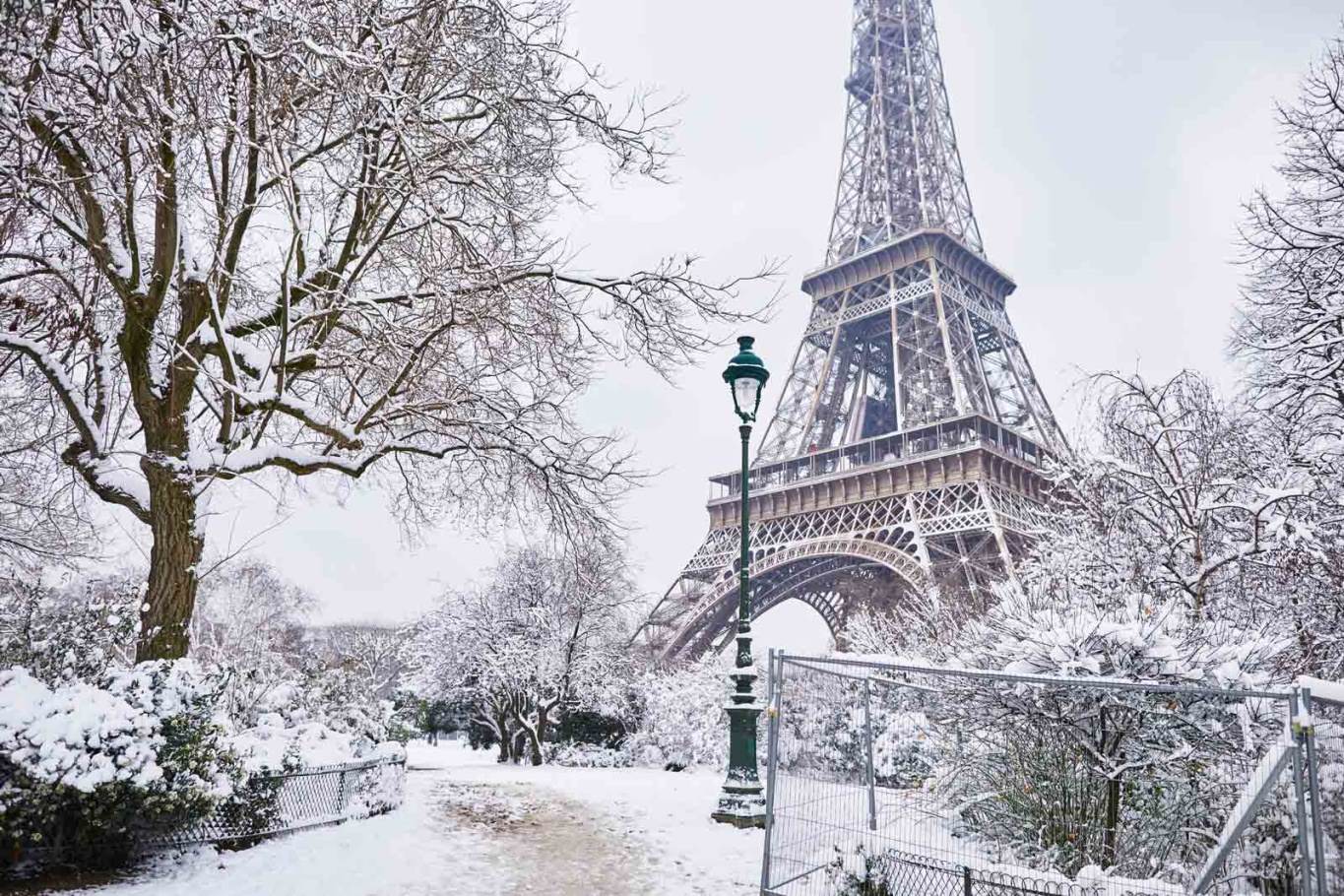 Introduction
When it comes to the city of lights, Paris, the charm and beauty never fade away, even in the winter months. While spring and summer may be more popular for tourists, winter in Paris offers a unique and magical experience that should not be missed. From the festive atmosphere to the cultural delights, the French capital has a lot to offer during this time of the year.
As the winter weather sets in, Paris transforms into a picturesque wonderland with its iconic landmarks adorned with twinkling lights and a sense of warmth that is felt everywhere you go. The city becomes a haven for art, history, and gastronomy enthusiasts, offering an array of activities and events that cater to every interest.
Visiting Paris in winter also means fewer crowds, allowing you to explore the city at a more leisurely pace. Whether you're a first-time visitor or a seasoned traveler, the "City of Love" will captivate you with its romantic ambiance and festive spirit.
In this article, we will guide you through the enchanting experience of visiting Paris in winter, from what to wear to the best activities and attractions to explore. So, grab your warmest coat and get ready to discover why Paris is truly wonderful in winter.
What to Wear in Paris Winter
Parisian winters can be chilly, so it's important to dress appropriately to stay warm and stylish. Here are some essential items to pack for your winter trip to Paris:
A warm coat: Opt for a stylish wool or down coat that will keep you cozy during the chilly days and nights.
Layered clothing: It's best to dress in layers, so you can adjust your outfit accordingly based on the temperature changes throughout the day.
Sweaters and cardigans: Pack a few lightweight sweaters and cardigans that you can easily layer over your shirts or dresses for added warmth.
Scarves, gloves, and hats: Don't forget to bring these accessories to protect your neck, hands, and head from the cold wind. Choose ones that match your outfits to add a touch of Parisian style.
Warm footwear: Invest in a pair of comfortable and waterproof boots to keep your feet warm and dry while exploring the city.
When it comes to winter fashion in Paris, black is always a classic choice. Consider incorporating black pieces into your wardrobe, as it is a staple color in the Parisian fashion scene.
Additionally, remember to bring comfortable and durable walking shoes, as Paris is a city best explored on foot. This will allow you to navigate the cobbled streets and take in the sights without any discomfort.
Don't be afraid to indulge in layering and experiment with different textures and fabrics to create stylish and chic outfits. Parisians are known for their impeccable sense of style, so embrace your inner fashionista and strut the streets of Paris with confidence.
Festive Events in Paris
Winter in Paris is a time of celebration, with a wide range of festive events that bring joy and excitement to the city. Here are some of the top events to experience during the winter season:
Christmas Markets: Paris is known for its charming Christmas markets that pop up throughout the city. These enchanting markets offer a variety of crafts, gifts, and delicious treats that will satisfy your holiday cravings. The Champs-Elysees market and the market at La Defense are particularly popular and shouldn't be missed.
Ice Skating: Lace up your skates and glide across the ice at one of the many outdoor ice rinks set up around Paris. The most iconic rink is located at the base of the Eiffel Tower, offering a magical skating experience with a stunning backdrop.
Festival of Lights: Every year, in mid-December, the city of Paris comes alive with the spectacular Festival of Lights. Buildings, monuments, and streets are adorned with beautiful light displays, creating a magical atmosphere that illuminates the city during the dark winter nights.
New Year's Celebrations: Parisians sure know how to ring in the new year in style. Join the crowds gathered on the Champs-Elysees to witness the magnificent fireworks display at the stroke of midnight. Alternatively, book a special dinner cruise on the Seine River for a unique and memorable celebration.
Opera and Ballet Performances: Winter is a great time to immerse yourself in the world of performing arts in Paris. The city's iconic opera houses, such as the Palais Garnier and the Opera Bastille, host a variety of ballet and opera performances featuring world-class artists.
These are just a few of the many festive events that take place in Paris during the winter season. The city's vibrant atmosphere, combined with the holiday spirit, will leave you with unforgettable memories and a true appreciation for the magical charm of winter in Paris.
Winter Activities in Paris
Paris offers a plethora of exciting activities to keep you entertained during the winter months. Here are some popular winter activities to enjoy in the French capital:
Take a River Cruise: Explore the scenic beauty of Paris from a different perspective by taking a river cruise along the Seine. Admire the city's iconic landmarks, such as the Eiffel Tower, Notre-Dame Cathedral, and the Louvre, while comfortably seated in a cozy boat.
Visit Art Galleries: Seek refuge from the cold by immersing yourself in the world of art at Paris' renowned museums and galleries. Explore the Louvre, home to the famous Mona Lisa, or visit the Musée d'Orsay, which houses an impressive collection of impressionist masterpieces.
Indulge in French Cuisine: Winter is the perfect time to savor hearty and warming French dishes. Treat yourself to a traditional French meal at a cozy brasserie or try classic delights such as creamy onion soup, escargots, and beef bourguignon.
Go Shopping: Paris is a shopper's paradise, and winter offers the opportunity to explore the city's world-class department stores and boutique shops. From high-end fashion on Champs-Elysees to vintage finds in Le Marais, you'll be spoiled for choice.
Visit Montmartre: Take a stroll through the charming streets of Montmartre and visit the famous Sacré-Cœur Basilica. Enjoy panoramic views of the city from its hilltop location and indulge in a cup of hot chocolate at one of the cozy cafes.
Attend a Concert or Theater Performance: Paris is known for its vibrant arts scene, offering a wide range of concerts, ballets, and theater performances throughout the winter season. Check listings for shows at iconic venues like the Opera Garnier or the Theatre du Chatelet.
Regardless of your interests, Paris has something for everyone during the winter months. Whether you prefer to immerse yourself in art, indulge in culinary delights, or embrace the city's cultural offerings, you'll find plenty of activities to make your winter visit to Paris truly memorable.
Exploring Winter Cuisine in Paris
Paris is renowned for its culinary excellence, and winter is the perfect time to indulge in the city's comfort food and warming delicacies. Here are some must-try winter dishes that will tantalize your taste buds:
Fondue: Embrace the cozy atmosphere of winter by enjoying a traditional cheese fondue. Dip chunks of crusty bread into hot melted cheese for a satisfying and indulgent experience.
Hot Chocolate: Paris is famous for its rich and velvety hot chocolate. Sip on a cup of this decadent treat at renowned chocolatiers like Angelina or Ladurée to warm up during the cold winter days.
Raclette: Raclette is a must-try winter dish that originated in the French Alps. It involves melting a wheel of cheese and scraping off the melted portion onto boiled potatoes, cured meats, and pickles.
Cassoulet: This hearty stew consists of white beans, various meats such as sausage, duck, and pork, and a flavorful tomato base. It's the ultimate comfort food for a chilly winter evening.
Bouillabaisse: Although typically a dish associated with the coastal city of Marseille, you can find this traditional fish stew in many Parisian restaurants during winter. Enjoy a bowl of this aromatic and flavorful dish, filled with an assortment of fresh seafood.
Roast Chestnuts: Winter in Paris is not complete without indulging in roasted chestnuts. You'll often find street vendors selling these aromatic and warm treats, perfect for snacking as you explore the city.
In addition to these specific dishes, winter in Paris is also a great time to explore the city's vibrant culinary scene. From charming boulangeries offering freshly baked bread and pastries to cozy brasseries serving traditional French fare, you'll find a wide range of dining options to satisfy your cravings.
Remember to pair your meals with a glass of French wine or a perfectly crafted cocktail to complete your winter dining experience in Paris.
Visiting Christmas Markets in Paris
One of the most enchanting aspects of winter in Paris is the presence of magical Christmas markets that beckon visitors with their festive ambiance and delightful offerings. Here's everything you need to know about visiting the Christmas markets in Paris:
Paris is home to several Christmas markets, each with its own unique charm. The markets are typically set up in picturesque locations, adorned with twinkling lights and decorations that fill the air with a sense of joy and wonder.
One of the most famous Christmas markets in Paris is located along the Champs-Elysees. Stretching from the Place de la Concorde to the Arc de Triomphe, this market offers a wide variety of stalls selling crafts, gifts, decorations, and delectable treats. Enjoy a cup of mulled wine, savor traditional French pastries, or admire the beautiful artisanal products on display.
Another popular Christmas market can be found at La Defense, the modern business district of Paris. This market boasts a lively and contemporary atmosphere, with numerous stalls showcasing unique handmade crafts, international food, and live performances.
Aside from the Champs-Elysees and La Defense markets, there are also smaller, more local markets scattered throughout Paris. Explore areas like Montmartre, Saint-Germain-des-Pres, or the Marais district to discover hidden gems and experience a more intimate and charming Christmas market atmosphere.
Visiting the Christmas markets in Paris is not just about shopping. It's an opportunity to immerse yourself in the festive spirit, soak up the lively atmosphere, and enjoy the various entertainment options available. From festive carolers and live music performances to ice skating rinks and merry-go-rounds, there is something for everyone to enjoy.
Don't miss the chance to take home unique and handcrafted souvenirs from the markets, as they make perfect gifts for loved ones or cherished mementos of your winter visit to Paris.
Overall, visiting the Christmas markets in Paris is an unforgettable experience that will leave you enchanted by the festive spirit and the charm of the French capital during the holiday season.
Enjoying Parisian Parks in Winter
While Paris is known for its beautiful parks and gardens, they hold a special charm during the winter season. From peaceful strolls to festive activities, here's how you can enjoy Parisian parks in winter:
Despite the colder temperatures, Paris' parks remain open during the winter months, offering a tranquil escape from the hustle and bustle of the city. The sprawling green spaces, adorned with bare trees and occasional dustings of snow, create a serene and picturesque setting.
One of the most iconic parks in Paris is the Luxembourg Gardens. This expansive park offers enchanting beauty year-round, but during winter, it transforms into a peaceful oasis. Take a leisurely walk around the park's pathways, breathe in the crisp air, and admire the statues and fountains that dot the landscape.
The Tuileries Garden, located between the Louvre Museum and Place de la Concorde, is another popular park that retains its charm in winter. Enjoy a peaceful stroll along the tree-lined avenues, or warm up with a cup of hot chocolate at the charming outdoor cafes within the park.
Winter also brings unique activities to Parisian parks. Many parks set up temporary ice skating rinks, allowing visitors to glide across the ice while surrounded by beautiful scenery. The rink at the Hotel de Ville and the one at the Eiffel Tower are particularly popular and offer a festive and memorable experience.
During December, some parks host holiday-themed events and markets. The Winter Village at the Champs-Elysees, for example, transforms a section of the park into a winter wonderland with festive decorations, food stalls, and entertainment options for all ages.
For a cozy and magical experience, consider visiting parks in the evening when the lights illuminate the pathways, creating a fairytale-like atmosphere. The Parc des Buttes-Chaumont, with its hilly terrain and stunning views, takes on an ethereal beauty at night and is perfect for a romantic stroll.
No matter which park you choose to explore, remember to dress warmly and wear comfortable shoes. Embrace the unique charm of Parisian parks in winter and appreciate the tranquility and natural beauty that they offer, providing a refreshing break from the city's bustling streets.
Museums and Galleries to Visit in Winter
Paris is renowned for its rich art and cultural scene, and winter provides the perfect opportunity to explore the city's world-class museums and galleries. Here are a few must-visit destinations to add to your itinerary during the winter months:
The Louvre Museum is a top attraction year-round, but it holds a particular allure during the winter season. As one of the largest and most famous museums in the world, it houses an extensive collection of artistic treasures, including the iconic Mona Lisa. Wander through the grand halls and marvel at works of art that span centuries of artistic achievement.
Another must-visit museum is the Musée d'Orsay, housed in a former railway station. This museum showcases an impressive collection of impressionist and post-impressionist art, featuring masterpieces by renowned artists such as Monet, Renoir, and Van Gogh. The museum's magnificent glass-roofed atrium offers a unique and picturesque setting to appreciate the art.
For those interested in modern and contemporary art, the Centre Pompidou is a must-see. Known for its iconic exterior design, this museum houses an extensive collection of modern and contemporary artwork. Explore the various galleries and enjoy exhibitions that showcase groundbreaking artistic movements.
While the aforementioned museums are well-known, Paris is also home to numerous smaller museums and galleries that offer a more intimate and immersive experience. The Musée Rodin, dedicated to the works of the renowned sculptor Auguste Rodin, is a hidden gem that showcases his masterpieces in a picturesque garden setting.
During the winter months, it's also worth visiting the Picasso National Museum, which houses an exceptional collection of works by Pablo Picasso. Explore the museum's diverse collection and gain insights into the artist's evolution and influence on modern art.
If you're a fan of contemporary art, head to the Palais de Tokyo, a vibrant contemporary art space that showcases cutting-edge installations, performances, and exhibitions. This dynamic and ever-changing museum offers a glimpse into the latest trends in the art world.
Winter in Paris is also an excellent time to visit lesser-known galleries that exhibit a wide range of art styles and emerging artists. Explore the Marais district, known for its artistic charm and diverse gallery scene, or stroll along the charming streets of Saint-Germain-des-Prés, where you can find numerous art galleries showcasing both contemporary and classic works.
Whether you choose to visit the world-famous museums or explore the hidden gems of Paris' art scene, immersing yourself in the city's museums and galleries during winter is a truly enriching experience. Appreciate the creativity and beauty of the art on display, and discover the immense cultural heritage that Paris has to offer.
Famous Landmarks to See in Winter
Winter in Paris is a magical time to explore the city's famous landmarks, which take on a new level of charm and beauty amidst the crisp winter air. Here are some iconic landmarks that you shouldn't miss during the winter season:
The Eiffel Tower, the symbol of Paris, shimmers even brighter during the winter months. Admire the magnificent iron structure adorned with sparkling lights that twinkle against the backdrop of the dark winter sky. The tower also offers stunning panoramic views of the city, allowing you to appreciate the winter landscape from above.
The Notre-Dame Cathedral, with its Gothic architecture and rich history, is a must-visit landmark in any season. In winter, the cathedral's intricate details and flying buttresses are on full display, creating a striking contrast against the winter sky. Take a moment to appreciate the stunning stained glass windows that illuminate the interior with colorful light.
Strolling along the Champs-Elysees, a famous avenue in Paris, is a quintessential experience, especially during winter. The avenue sparkles with lights, creating a magical atmosphere, and leading the way to the majestic Arc de Triomphe. Visit at night to witness the Arch illuminated against the dark sky and enjoy the festive ambiance of the surrounding area.
The Palace of Versailles, located just outside of Paris, is a historic landmark that exudes grandeur and elegance. Explore the palace's opulent rooms and stroll through the vast gardens, which take on a serene and captivating charm during the winter months. If you happen to visit on a snowy day, the palace grounds are transformed into a winter wonderland.
The Sacré-Cœur Basilica, perched atop Montmartre Hill, offers panoramic views of Paris and its snow-covered rooftops. The white-domed basilica stands out against the winter landscape, creating a picturesque scene. Climb the stairs or take the funicular to reach the top and enjoy the breathtaking view.
Don't forget to visit the beautiful bridges that grace the Seine River. The Pont Alexandre III, with its ornate design and golden statues, is particularly stunning during winter. Enjoy a leisurely walk across the bridge while taking in the views of the river and capturing memorable photos.
These famous landmarks of Paris, among many others, continue to captivate visitors during the winter months. Whether blanketed in snow or illuminated by twinkling lights, they offer a unique and enchanting experience that highlights the timeless beauty of the city.
Conclusion
Winter in Paris is a truly magical time. The city comes alive with a festive atmosphere, offering a unique blend of charm, beauty, and cultural delights. From exploring the famous landmarks adorned with twinkling lights to immersing yourself in the world-class museums and galleries, there is no shortage of activities to enjoy during the winter months.
Visiting Paris in winter also provides an opportunity to indulge in the city's culinary delights. From sipping rich hot chocolate to savoring traditional winter dishes, you can warm your soul with the flavors of French cuisine.
Winter in Paris also means fewer crowds, allowing you to experience the city at a more leisurely pace. Whether you're exploring the charming parks, browsing through the festive Christmas markets, or simply wandering the picturesque streets, Paris rewards you with a sense of magic and wonder.
So, don your warmest coat, embrace the festive spirit, and immerse yourself in the captivating beauty of Paris in winter. Whether you're a first-time visitor or returning to relive the enchantment, the "City of Love" will offer you a winter experience that will linger in your heart forever.