What Tourist Attractions Are There To Do When It Rains In London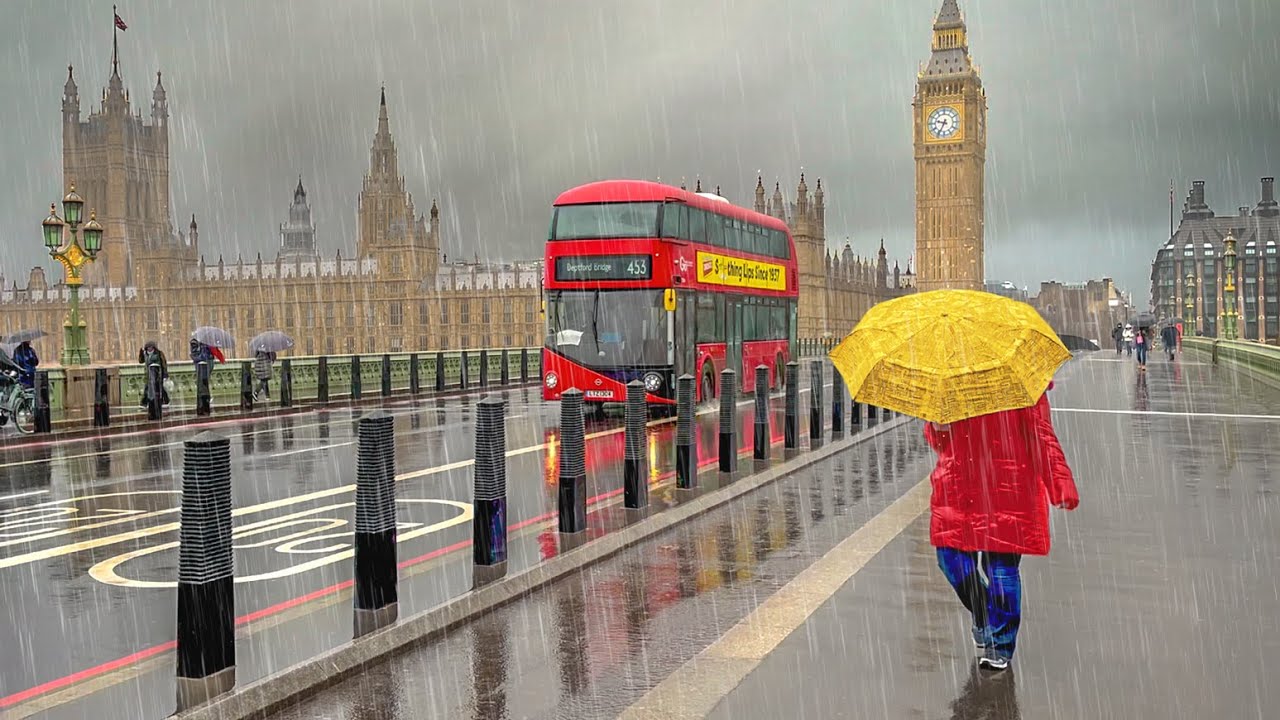 Introduction
When visiting London, the weather can often be unpredictable, and rain showers are not uncommon. But don't let a little rain dampen your spirits! The city is brimming with indoor attractions and activities that are perfect for enjoying during inclement weather. Whether you're an art lover, history buff, shopaholic, or simply seeking some relaxation, London has something to offer for everyone, rain or shine.
From world-class museums and art galleries to bustling shopping centers and tantalizing food experiences, this vibrant city has it all. So, put away your umbrellas and get ready to explore the best indoor attractions in London when it rains.
In this article, we'll guide you through a variety of options to suit different interests, ensuring that you make the most of your rainy day in this fantastic metropolis. So, grab a cup of tea, find a cozy spot, and let's dive into the plethora of indoor attractions London has to offer.
Indoor Museums
London is home to some of the world's finest museums, which provide fascinating insights into art, history, science, and culture. These indoor havens are perfect for immersing yourself in knowledge and escaping the rain. Here are a few must-visit museums:
The British Museum: This iconic museum houses a vast collection of art, artifacts, and antiquities from around the world. Explore ancient Egyptian mummies, Greek sculptures, and the renowned Rosetta Stone.
The Natural History Museum: Dive into the world of dinosaurs, marvel at the incredible diversity of wildlife, and learn about the Earth's rich history at this captivating museum. Don't forget to visit the popular "Dippy" the Diplodocus!
The Victoria and Albert Museum: Known as the V&A, this museum celebrates art and design in all its forms. Discover intricate fashion pieces, admire stunning ceramics, and explore the world of photography.
The Science Museum: Ignite your curiosity about the world of science, technology, and innovation at this interactive museum. From space exploration to robotics, there is something exciting for visitors of all ages.
The Tate Modern: Located in a former power station, this contemporary art museum showcases captivating and thought-provoking artworks from around the world. Take in the stunning views of the city from the viewing platform on the top floor.
These museums offer a wealth of knowledge and provide shelter from the rain. Take your time exploring the exhibits, participate in interactive activities, and broaden your horizons with the captivating stories told within.
Art Galleries
London is a hub for art enthusiasts, with numerous art galleries showcasing a wide range of styles and periods. These indoor spaces allow visitors to appreciate the beauty and creativity of artists from around the world. Here are a few notable art galleries to visit when it's raining in London:
The National Gallery: Located in Trafalgar Square, this prestigious gallery houses an extensive collection of European paintings. Admire masterpieces by renowned artists such as Van Gogh, Monet, Rembrandt, and Botticelli.
The Tate Britain: Explore British art from the 16th century to the present day at this remarkable gallery. From historic portraits to contemporary installations, the Tate Britain offers a comprehensive journey through British artistic heritage.
The Saatchi Gallery: Situated in Chelsea, this contemporary art gallery showcases works by emerging artists and hosts a diverse range of exhibitions. Discover thought-provoking installations, paintings, sculptures, and photography.
The Serpentine Galleries: Comprised of the Serpentine Gallery and the Serpentine Sackler Gallery, this institution offers an exciting program of contemporary art exhibitions. Enjoy innovative works by both established and emerging artists.
The Wallace Collection: Housed in a historic townhouse, this gallery features an exquisite collection of art, including paintings, sculptures, furniture, and porcelain. Marvel at the grandeur of the setting and the beauty of the artworks.
With their diverse collections and thought-provoking exhibits, these art galleries provide a sanctuary of creativity and inspiration. Take your time to appreciate the art, reflect on the different styles and movements, and allow yourself to be transported to different worlds through the power of artistic expression.
Shopping Centers
If you're looking to indulge in some retail therapy while staying dry, London has a fantastic array of indoor shopping centers that cater to every taste and budget. From luxury fashion boutiques to unique independent stores, these shopping centers offer a delightful escape from the rain. Here are a few notable ones to explore:
Westfield London: Located in Shepherd's Bush, Westfield London is one of the largest shopping centers in Europe. It boasts a vast selection of high-street and luxury brands, along with a diverse range of dining options and entertainment venues.
Covent Garden: Situated in the heart of London's West End, Covent Garden is a bustling shopping district filled with vibrant stores, boutiques, and market stalls. Discover unique gifts, fashion, accessories, and handmade crafts.
Harrods: A world-renowned luxury department store, Harrods is a must-visit for any avid shopper. Explore its opulent halls, browse exclusive designer collections, and indulge in gourmet delights.
Selfridges: Located on Oxford Street, Selfridges is a premier department store known for its extensive selection of fashion, beauty, home goods, and gourmet food. Immerse yourself in a world of style and luxury.
King's Cross Coal Drops Yard: This converted Victorian coal yard has been transformed into a unique shopping destination. Explore boutiques, concept stores, and independent retailers housed in beautifully designed arches.
Whether you're searching for the latest fashion trends, unique souvenirs, or simply want to browse and explore, these shopping centers offer an enjoyable and sheltered experience. Engage in some retail therapy, treat yourself to something special, and make the most of your rainy day in London.
Theaters and Cinemas
London's vibrant theater scene is renowned worldwide, and it's the perfect way to spend a rainy day in the city. From classic plays to musical extravaganzas, there are numerous theaters and cinemas offering top-notch entertainment. Here are a few options to consider:
West End Theaters: Explore the world-famous West End and catch a captivating performance at one of its many theaters. From long-running shows like "The Lion King" and "Les Misérables" to new and exciting productions, the West End has something for every theater enthusiast.
The Globe Theatre: Immerse yourself in the world of Shakespeare at the iconic Globe Theatre. Experience the bard's timeless plays performed in a replica of the original open-air theater.
Independent Theaters: London is also home to a vibrant independent theater scene. Discover hidden gems and experimental productions at venues like the Royal Court Theatre, the Donmar Warehouse, and the Hampstead Theatre.
IMAX and Specialty Cinemas: If you're a film lover, head to one of London's IMAX theaters for a larger-than-life cinematic experience. Additionally, the city boasts a selection of specialty cinemas that showcase independent, foreign, and classic films.
Film Festivals: Keep an eye out for film festivals taking place in London. These events offer a chance to see unique and thought-provoking films, attend Q&A sessions with directors, and immerse yourself in the world of cinema.
Indulging in the performing arts or immersing yourself in a captivating film can provide the perfect escape from the rain. Lose yourself in the magic of live theater or be transported to another world on the big screen, all while staying cozy and dry indoors.
Indoor Markets
London is famous for its bustling markets, and luckily, many of them are indoors, making them the perfect destination for a rainy day. These markets offer a fantastic array of goods, from delicious food and fresh produce to unique crafts and antiques. Here are a few indoor markets worth exploring:
Borough Market: Situated near London Bridge, Borough Market is a food lover's paradise. Sample a variety of gourmet delights, from artisanal cheeses and fresh seafood to delectable pastries and international cuisines.
Camden Market: Located in the vibrant Camden Town, this market is a treasure trove of alternative fashion, quirky accessories, vintage finds, and international street food. Explore the maze of stalls and enjoy the lively atmosphere.
Old Spitalfields Market: Nestled in the heart of East London, this historic market is a blend of contemporary fashion, unique crafts, and mouthwatering street food. Discover everything from vintage clothing to handmade jewelry.
Leadenhall Market: This beautifully designed covered market dates back to the 14th century and offers a delightful shopping experience. Explore boutique stores, grab a bite to eat, and marvel at the stunning Victorian architecture.
Greenwich Market: Set in the charming Greenwich neighborhood, this covered market is filled with antiques, art pieces, handmade crafts, and street food stalls. Enjoy the lively atmosphere and find unique treasures.
Exploring indoor markets allows you to immerse yourself in the city's diverse offerings and engage with local vendors. Whether you're seeking delectable treats, one-of-a-kind souvenirs, or simply love the bustling market atmosphere, these indoor markets are sure to delight.
Historical Sites and Palaces
London is steeped in history, and on a rainy day, exploring its historical sites and palaces provides an enriching experience. These indoor attractions allow you to delve into the city's past and marvel at stunning architectural wonders. Here are a few notable historical sites and palaces to visit:
The Tower of London: Step back in time at this iconic fortress that has served as a royal palace, prison, and treasury. Explore its winding corridors, see the Crown Jewels, and learn about the fascinating stories of its inhabitants throughout history.
Hampton Court Palace: Venture to the outskirts of London to visit this grand Tudor palace. Immerse yourself in the opulent world of Henry VIII, walk through the stunning gardens, and admire the famous Great Hall.
Kensington Palace: Discover the stories of past and present royal residents at this elegant palace. Explore the beautiful State Rooms, visit the Victoria and Albert exhibition, and stroll through the picturesque Kensington Gardens.
The Churchill War Rooms: Step into a hidden underground complex that served as the nerve center of British operations during World War II. Explore the historic rooms, see the wartime artifacts, and gain insights into Winston Churchill's leadership.
The British Library: Delve into the fascinating world of literature and history at the British Library. Marvel at their impressive collection, including important manuscripts, rare books, and historic documents like the Magna Carta.
Exploring these historical sites and palaces grants you a glimpse into London's rich heritage and brings history to life. Whether you're fascinated by royal stories, wartime history, or literary treasures, these indoor attractions will leave you with a profound appreciation for the city's past.
Escape Rooms and Indoor Activities
If you're in the mood for a thrilling and interactive indoor experience, London offers a variety of escape rooms and other engaging activities that are perfect for a rainy day. These immersive adventures challenge your problem-solving skills and provide hours of entertainment. Here are a few options to consider:
Escape Rooms: Step into a world of mystery and excitement by tackling the puzzles and challenges of an escape room. Test your teamwork and wits as you work against the clock to solve riddles, find hidden clues, and successfully escape your chosen scenario.
Virtual Reality Experiences: Immerse yourself in virtual worlds and embark on thrilling adventures through virtual reality experiences. From virtual roller coasters to immersive gaming, these experiences transport you to new realms without leaving the comfort of indoors.
Indoor Mini-Golf: Challenge your friends to a fun and competitive game of indoor mini-golf. Navigate through creative courses and enjoy a dose of friendly rivalry while staying protected from the rain.
Indoor Climbing Centers: Get your adrenaline pumping by visiting an indoor climbing center. Test your skills on a variety of walls and conquer exciting climbing routes under the guidance of experienced instructors.
Indoor Trampoline Parks: Have a bouncing good time at one of London's indoor trampoline parks. Jump around, perfect your flips and tricks, and experience the joy of defying gravity.
These indoor activities offer a unique and exciting way to spend a rainy day in London. Gather a group of friends or family, unleash your competitive spirit, and make lasting memories as you engage in these immersive and entertaining experiences.
Libraries and Bookstores
For bookworms and literary enthusiasts, a rainy day in London provides the perfect opportunity to explore the city's charming libraries and bookstores. These indoor havens offer solace for those seeking to immerse themselves in the written word and discover new literary treasures. Here are a few notable libraries and bookstores to visit:
The British Library: As one of the largest libraries in the world, the British Library is a treasure trove of knowledge. Explore its vast collection spanning centuries, admire rare manuscripts, and even see famous literary works like the original manuscript of "Alice's Adventures in Wonderland."
Daunt Books: Nestled in Marylebone, Daunt Books is a beloved independent bookstore housed in a stunning Edwardian building. Browse its well-curated selection of books, including travel literature, fiction, and classics.
Persephone Books: Situated in Bloomsbury, Persephone Books is known for republishing neglected works by mid-20th century female authors. Discover thought-provoking and often overlooked gems in this delightful bookstore.
Foyles: Located on Charing Cross Road, Foyles is a well-known destination for book lovers. Browse its extensive collection of fiction, non-fiction, and specialty books, and check out their regular author events and book signings.
The London Review Bookshop: This cozy bookshop in the heart of Bloomsbury is a haven for literary minds. Explore their well-stocked shelves, attend book launches, and enjoy a cup of coffee in the adjoining café.
Whether you're searching for a specific title, seeking literary inspiration, or simply love the ambiance of book-filled spaces, London's libraries and bookstores offer a haven for bookworms. Spend a leisurely afternoon perusing the shelves, discovering new authors, and falling in love with the written word all over again.
Spa and Wellness Centers
When the weather outside is gloomy, there's no better time to treat yourself to some pampering and relaxation at one of London's spa and wellness centers. These indoor sanctuaries offer a range of rejuvenating treatments and activities to help you unwind and escape the rain. Here are a few notable options to consider:
The Bulgari Spa: Located in the heart of Knightsbridge, this luxurious spa offers a wide range of treatments, including massages, facials, and body rituals. Indulge in their serene surroundings and let the skilled therapists melt away your stress.
The Four Seasons Spa: Situated in the iconic Four Seasons Hotel near Hyde Park, this spa offers a serene retreat from the hustle and bustle of the city. Enjoy their signature treatments, relax in the pool or sauna, and rejuvenate your mind and body.
Aqua Sheko: Embark on a unique spa experience in the heart of London's West End. Aqua Sheko specializes in "fish pedicures," where tiny Garra Rufa fish gently exfoliate your feet. Sit back, relax, and let these gentle creatures provide an unusual form of pampering.
Chuan Spa: Discover a sanctuary of tranquility at the Chuan Spa in the Langham Hotel. This holistic spa offers treatments inspired by Traditional Chinese Medicine, including massages, acupuncture, and herbal baths.
Indoor Yoga and Meditation Studios: Join a yoga or meditation class at one of London's indoor studios. From vinyasa flow to restorative practices, these studios offer a calming space to improve flexibility, find inner peace, and cultivate mindfulness.
Immerse yourself in a world of tranquility and self-care at London's spa and wellness centers. Whether you choose to indulge in a luxurious treatment or seek inner peace through yoga and meditation, these indoor sanctuaries provide the perfect escape from the rain and rejuvenate your body and soul.
Indoor Sports Facilities
If you're an active individual and love staying fit, you don't have to let the rain dampen your exercise routine. London offers a variety of indoor sports facilities where you can break a sweat and have fun, regardless of the weather outside. Here are a few options for indoor sports activities:
Indoor Climbing Centers: Scale new heights at one of London's indoor climbing centers. With walls of varying difficulty levels, these centers welcome climbers of all abilities to challenge themselves and improve their skills in a controlled and safe environment.
Indoor Swimming Pools: Dive into a refreshing swim at one of London's indoor swimming pools. Whether you're looking for a leisurely dip or want to partake in organized aqua aerobics or swimming lessons, these pools offer a great way to stay active and beat the rain.
Indoor Tennis Courts: Rent an indoor tennis court and unleash your skills on the court, regardless of the weather outside. Many sports facilities across the city offer indoor tennis facilities that allow you to work on your game and enjoy a friendly match with friends or family.
Indoor Fitness Centers: Stay in shape and maintain your workout routine at one of London's indoor fitness centers. Equipped with state-of-the-art gym equipment, group exercise classes, and personal trainers, these centers offer a range of workouts to cater to different preferences and fitness goals.
Indoor Sports Halls: Check out indoor sports halls that offer facilities for a wide range of activities, including basketball, badminton, volleyball, futsal, and more. Gather your friends or join a league to enjoy some friendly competition and stay active.
Rainy days don't have to put a damper on your active lifestyle. London's indoor sports facilities provide excellent opportunities to engage in a variety of sports activities and maintain your fitness routine while staying protected from the rain.
Food and Drink Experiences
A rainy day in London presents the perfect opportunity to indulge in delightful culinary experiences. From cozy cafes and traditional British pubs to afternoon tea and food tours, the city offers a diverse range of options for food and drink enthusiasts. Here are a few notable experiences to consider:
Afternoon Tea: Treat yourself to a quintessential British experience by enjoying afternoon tea. savor a selection of finger sandwiches, freshly baked scones with clotted cream and jam, and a variety of mouthwatering pastries, all accompanied by a steaming pot of tea.
Food Markets: Discover the vibrant food scene of London by exploring its bustling food markets. From Borough Market with its gourmet delights to the multicultural offerings of Camden Market, these markets offer a delightful culinary adventure, allowing you to indulge in a variety of cuisines.
Gastronomic Experiences: Embark on a gastronomic journey by booking a food tour or culinary workshop in London. Explore different neighborhoods, taste local specialties, and learn about the city's culinary history from passionate food guides.
Cocktail Bars and Pubs: Seek shelter from the rain in one of London's cozy cocktail bars or traditional pubs. Sip on expertly crafted cocktails or enjoy a pint of locally brewed beer while basking in the warm and inviting atmosphere.
Gourmet Dining: Indulge in a memorable dining experience at one of London's renowned gourmet restaurants. Treat your taste buds to innovative and exquisite dishes prepared by acclaimed chefs, and savor the artistry of fine dining.
London's culinary scene offers a plethora of options for food and drink enthusiasts, with something to please every palate. Whether you're seeking traditional British fare, international flavors, or unique dining experiences, rainy days provide the perfect excuse to indulge in the city's gastronomic delights.
Conclusion
London is a city that knows how to entertain, even on rainy days. Whether you're a museum aficionado, an art lover, a shopaholic, or simply looking for indoor activities, this sprawling metropolis offers a wide range of attractions to keep you engaged and entertained while staying dry. From world-class museums like the British Museum and the Natural History Museum to vibrant art galleries such as the Tate Modern and the Saatchi Gallery, you can immerse yourself in culture and creativity.
If shopping is more your style, London's shopping centers, including Westfield London and Covent Garden, provide an extensive array of stores to fulfill your retail desires. The city's theaters and cinemas offer an escape into the world of drama, music, and film, while indoor markets like Borough Market and Camden Market tantalize your taste buds with delicious food and unique finds.
For those seeking relaxation and wellness, London's spa and wellness centers provide a haven of tranquility, while libraries and bookstores offer a paradise for literature lovers. And if staying active is your goal, you can engage in indoor sports activities at climbing centers, swimming pools, and fitness centers throughout the city.
Lastly, don't miss the opportunity to savor delectable culinary experiences, from indulging in afternoon tea to exploring food markets and enjoying gourmet dining. London's diverse food and drink scene offers something to satisfy every palate.
So, don't let a rainy day dampen your spirits when visiting London. Embrace the indoor attractions and activities that the city has to offer, and make the most of your time in this vibrant and captivating destination.