Arrival In Copenhagen: An Afternoon At Nimb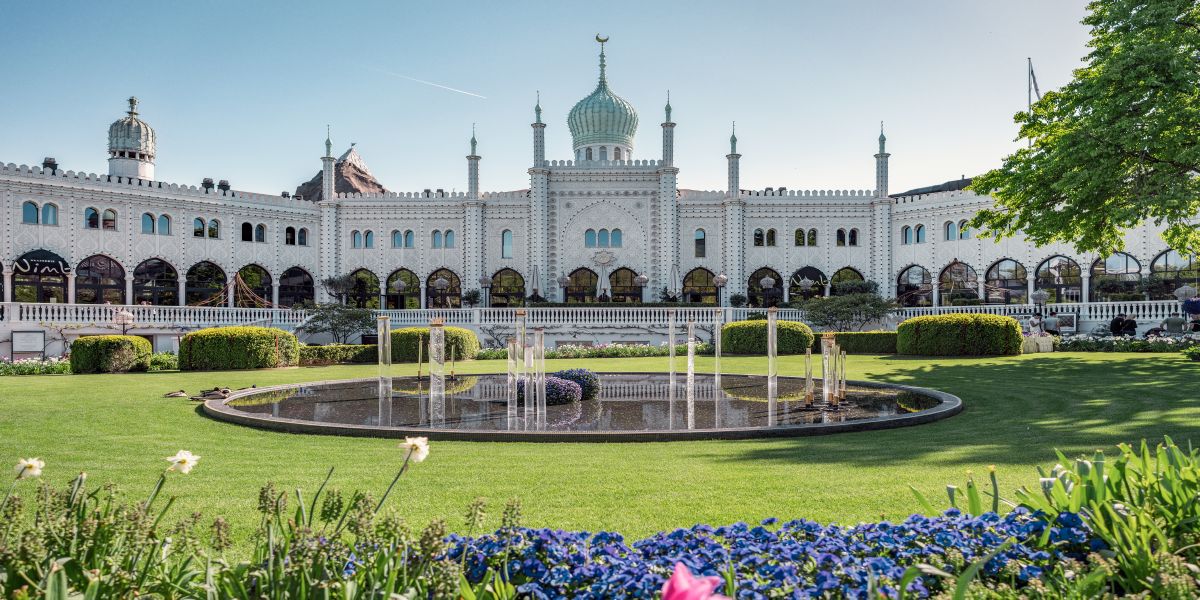 Introduction
Welcome to Copenhagen, the capital city of Denmark! Known for its beautiful architecture, rich history, and vibrant cultural scene, Copenhagen is a city that offers a perfect blend of old-world charm and modern sophistication. Whether you are a history buff, a food lover, or simply someone who appreciates a picturesque setting, Copenhagen has something for everyone.
As you arrive in Copenhagen, prepare to immerse yourself in the Danish way of life. From the moment you step foot in this charming city, you will be greeted by warm smiles and a relaxed atmosphere. The Danish people, known for their friendly and welcoming nature, will make you feel right at home.
One of the first places you should explore is Tivoli Gardens, a world-renowned amusement park that dates back to 1843. Located in the heart of Copenhagen, Tivoli Gardens is not only an amusement park but also a cultural hub. With beautifully landscaped gardens, exciting rides, and live entertainment, Tivoli Gardens is the perfect place to start your Copenhagen adventure.
Exploring Tivoli Gardens
Exploring Tivoli Gardens is like stepping into a fairytale. This historic amusement park is a must-visit destination for both locals and tourists. As you stroll through the park, you will be captivated by the enchanting atmosphere created by the charming old-world architecture, colorful flowers, and twinkling lights.
Tivoli Gardens offers a wide range of attractions for visitors of all ages. From thrilling roller coasters to gentle rides for the little ones, there is something here for everyone. One of the most iconic attractions is the Rutschebanen, a wooden roller coaster that has been delighting visitors since 1914. Don't miss the chance to take a ride on this classic piece of Danish history.
In addition to the rides, Tivoli Gardens also hosts concerts, performances, and cultural events throughout the year. Check the schedule to see if there are any shows that pique your interest during your visit. It's a great way to immerse yourself in Danish culture and have a unique experience.
When you need a break from the excitement, there are plenty of dining options within Tivoli Gardens. From casual cafes to fine dining restaurants, you can find something to satisfy your cravings. Try some traditional Danish cuisine like smørrebrød (open-faced sandwiches) or indulge in delicious Danish pastries.
As the sun sets, Tivoli Gardens transforms into a magical wonderland. The park is beautifully illuminated, creating a romantic and enchanting atmosphere. Take a leisurely stroll through the gardens, marvel at the illuminated rides, and enjoy the live performances that take place throughout the evening.
Exploring Tivoli Gardens is an experience that will leave you with lasting memories. Whether you are a thrill-seeker, a music lover, or simply looking for a whimsical escape, Tivoli Gardens offers a little bit of magic for everyone.
Nimb Hotel: A Luxury Experience
When it comes to luxurious accommodations in Copenhagen, the Nimb Hotel stands out as an exceptional choice. Located in Tivoli Gardens, this exquisite boutique hotel offers a unique blend of modern luxury and historic elegance.
The Nimb Hotel is housed in a stunning 19th-century building, which adds to its charm and character. As you step inside, you will be greeted by a warm and inviting atmosphere, with elegant interiors and tasteful decor that seamlessly blend contemporary design with classic Danish elements.
The hotel features a range of rooms and suites, each designed with the utmost attention to detail to ensure a comfortable and luxurious stay. From plush bedding to spacious bathrooms, every aspect of the rooms has been thoughtfully designed to provide the utmost comfort and relaxation.
One of the highlights of staying at the Nimb Hotel is the impeccable service provided by the staff. From the moment you arrive, you will be treated like royalty, with personalized attention and a commitment to exceeding your expectations. The dedicated concierge team is always on hand to assist you with any requests or recommendations to ensure a memorable stay.
In addition to the luxurious rooms, the Nimb Hotel boasts a range of amenities that will make your stay even more enjoyable. Relax and unwind at the hotel's beautiful rooftop terrace, where you can soak up panoramic views of Copenhagen while sipping on a refreshing cocktail. Indulge in a pampering treatment at the hotel's spa, which offers a range of holistic therapies and rejuvenating massages.
For those looking to indulge in culinary delights, the Nimb Hotel is home to some of Copenhagen's finest dining options. The Michelin-starred restaurant, Nimb Herman, offers an unforgettable gastronomic experience with its innovative fusion of Danish and international cuisine. Alternatively, you can dine at Nimb Brasserie, which serves up delicious seasonal dishes made with locally sourced ingredients.
Staying at the Nimb Hotel is more than just a luxurious experience; it is an opportunity to immerse yourself in Danish hospitality and experience the epitome of comfort and elegance. Whether you are visiting Copenhagen for business or pleasure, the Nimb Hotel is the perfect choice for a truly memorable stay.
Nimb Brasserie: Dining with Elegance
Located within the prestigious Nimb Hotel in Copenhagen, the Nimb Brasserie offers a dining experience that combines culinary excellence with timeless elegance. This renowned restaurant is a favorite among locals and visitors alike, thanks to its commitment to using the finest ingredients and creating dishes that showcase the very best of Danish cuisine.
As you enter the Nimb Brasserie, you will be greeted by a warm and welcoming ambiance, with tasteful decor and a relaxed atmosphere. The restaurant's design reflects a modern Scandinavian aesthetic, with clean lines, natural materials, and an abundance of natural light. Whether you are dining for breakfast, lunch, or dinner, the Nimb Brasserie provides a serene setting that allows you to savor each bite in style.
The menu at the Nimb Brasserie is a celebration of seasonal, locally sourced ingredients. The talented team of chefs creates dishes that capture the essence of Danish cuisine while incorporating international influences. From classic Danish smørrebrød to innovative culinary creations, each dish is thoughtfully prepared and beautifully presented.
Start your dining experience with a selection of appetizers, such as the delicate cured salmon or the flavorful Danish cheese board. For the main course, you can choose from a variety of options, including succulent steaks, fresh seafood, or vegetarian delights. Be sure to save room for dessert, as the Nimb Brasserie's sweet treats are a work of art.
Complementing the delectable food is an extensive wine list featuring a carefully curated selection of wines from around the world. The knowledgeable sommeliers will be happy to assist you in choosing the perfect wine to accompany your meal, enhancing the flavors and creating a truly memorable dining experience.
In addition to its exceptional cuisine, the Nimb Brasserie also prides itself on its impeccable service. The attentive and friendly staff will ensure that your dining experience is nothing short of extraordinary, catering to your every need and ensuring your comfort throughout your meal.
Whether you are celebrating a special occasion, enjoying a romantic dinner, or simply seeking an exceptional dining experience, the Nimb Brasserie is the perfect choice. With its elegant ambiance, exquisite cuisine, and attentive service, this restaurant offers a true taste of Danish culinary excellence.
The Nimb Bar: A Taste of Copenhagen's Cocktails
Located within the renowned Nimb Hotel in Copenhagen, the Nimb Bar is a haven for cocktail enthusiasts and those looking to unwind with a drink in hand. With its stylish décor, expert mixologists, and impressive selection of beverages, the Nimb Bar offers a sophisticated and memorable drinking experience.
As you step into the Nimb Bar, you'll be greeted by an elegant and inviting atmosphere. The bar's design exudes a modern Scandinavian aesthetic, with sleek furnishings, subtle lighting, and a warm color palette. Whether you choose to sit at the bar or in one of the comfortable lounge areas, you'll feel a sense of relaxation and sophistication.
One of the highlights of the Nimb Bar is the extensive cocktail menu. The skilled mixologists pride themselves on creating innovative and delicious concoctions that showcase both classic and contemporary flavors. From traditional favorites like the Old Fashioned and the Martini to house specialties like the Nimb Sour or the Nordic Mule, there is a drink to suit every taste.
For those who appreciate the art of mixology, the Nimb Bar also offers a selection of signature cocktails. These unique creations are crafted with precision and creativity, using high-quality spirits, homemade infusions, and fresh ingredients. Each sip is a sensory experience, allowing you to explore the rich flavors and unique combinations.
In addition to their impressive cocktail selection, the Nimb Bar also offers an extensive range of spirits, wines, and beers. Whether you are a whiskey connoisseur, a wine lover, or prefer a refreshing craft beer, you'll find something to satisfy your taste buds.
Pair your chosen beverage with a selection of delectable bar bites that are designed to complement the drinks. From gourmet sliders to delicious charcuterie boards, the Nimb Bar offers a delectable menu of small plates that are perfect for sharing or enjoying on your own.
The attentive and knowledgeable staff at the Nimb Bar are passionate about mixology and are happy to guide you through the menu, offer recommendations, and share their expertise. Their dedication to creating the perfect drink and their warm and friendly service will ensure that your experience at the Nimb Bar is truly exceptional.
Whether you're a cocktail aficionado or simply looking for a stylish spot to enjoy a drink, the Nimb Bar is the perfect destination. Indulge in the art of mixology, savor unique flavor combinations, and immerse yourself in Copenhagen's vibrant cocktail scene.
Relaxing at Nimb Wellness: A Spa Retreat
Indulge in a moment of pure relaxation and rejuvenation at Nimb Wellness, a tranquil oasis located within the Nimb Hotel in Copenhagen. This luxurious spa offers a range of treatments and therapies that will pamper your body and soothe your mind, providing an escape from the stresses of everyday life.
As you enter Nimb Wellness, you'll be greeted by a serene and peaceful ambiance. The spa's design blends Scandinavian simplicity with opulent touches, creating an environment that exudes tranquility. Soft lighting, calming colors, and natural materials set the stage for a truly blissful experience.
Choose from a menu of indulgent treatments that are tailored to meet your specific needs and preferences. Whether you're looking to relieve muscle tension with a deep tissue massage, rejuvenate your skin with a facial, or simply unwind with a soothing aromatherapy session, the skilled therapists at Nimb Wellness will ensure that you leave feeling refreshed and revitalized.
In addition to the traditional spa treatments, Nimb Wellness also offers a range of holistic therapies that promote overall well-being. Experience the healing benefits of a heated bamboo massage, which uses warm bamboo sticks to deeply relax and release tension. Or opt for a session of reflexology, an ancient practice that targets specific points on the feet believed to correspond to different areas of the body.
The spa facilities at Nimb Wellness are designed to enhance your relaxation experience. After your treatment, take a dip in the tranquil swimming pool or unwind in the comforting warmth of the sauna. The soothing ambiance and serene surroundings create the perfect atmosphere for unwinding and recharging.
As a guest at Nimb Wellness, you can also take advantage of the state-of-the-art fitness center, equipped with top-of-the-line equipment for those who wish to maintain their exercise routine during their stay. The friendly staff are on hand to assist you and provide guidance as needed.
During your visit to Nimb Wellness, make sure to also explore the range of wellness products and beauty treatments available. From luxurious skincare products to indulgent spa packages, you can take a piece of the Nimb Wellness experience home with you.
Indulging in a spa retreat at Nimb Wellness is not only a treat for your body, but also for your mind and soul. Allow yourself to unwind, recharge, and experience the ultimate relaxation in the heart of Copenhagen.
Conclusion
Copenhagen, with its captivating beauty and rich cultural heritage, offers a truly unforgettable experience for travelers seeking a blend of old-world charm and modern sophistication. From exploring the enchanting Tivoli Gardens to indulging in the luxurious amenities of the Nimb Hotel, this vibrant city has something to offer for everyone.
With its historic architecture and fairy-tale-like ambiance, Tivoli Gardens immerses visitors in a world of magic and wonder. From exhilarating rides to stunning live performances, this iconic amusement park provides entertainment for all ages. As the sun sets, the park transforms into an illuminated masterpiece, creating a romantic and captivating atmosphere.
For those seeking a luxury experience, the Nimb Hotel offers an exceptional stay in the heart of Copenhagen. From its elegant rooms and impeccable service to the world-class dining options, the hotel provides a truly unforgettable experience. Indulge in culinary delights at the Nimb Brasserie, sip handcrafted cocktails at the Nimb Bar, and relax at the Nimb Wellness spa for a complete pampering retreat.
Copenhagen's vibrant food and drink scene are further showcased at the Nimb Brasserie and the Nimb Bar. The Nimb Brasserie offers a taste of Danish culinary excellence, with its seasonal dishes made from locally sourced ingredients. The Nimb Bar, on the other hand, provides a sophisticated and stylish setting to enjoy expertly crafted cocktails that showcase the best of Copenhagen's mixology scene.
When it's time to unwind and rejuvenate, Nimb Wellness invites you to relax and indulge in a spa retreat. With its range of luxurious treatments and serene ambiance, the spa offers a sanctuary where you can restore and revitalize your body and mind.
Copenhagen is a city that offers a perfect blend of old-world charm and modern amenities. From the enchanting Tivoli Gardens to the luxurious experiences at the Nimb Hotel and the vibrant food and drink culture, this captivating city has something to satisfy every traveler's desires. Whether you're seeking adventure, relaxation, or cultural immersion, Copenhagen is ready to welcome you with open arms.
So, pack your bags, immerse yourself in Danish hospitality, and embark on a journey of exploration and discovery in the beautiful city of Copenhagen. You're sure to leave with unforgettable memories and a deep appreciation for the Danish way of life.