The Ultimate Guide To The Best Of Banff, Alberta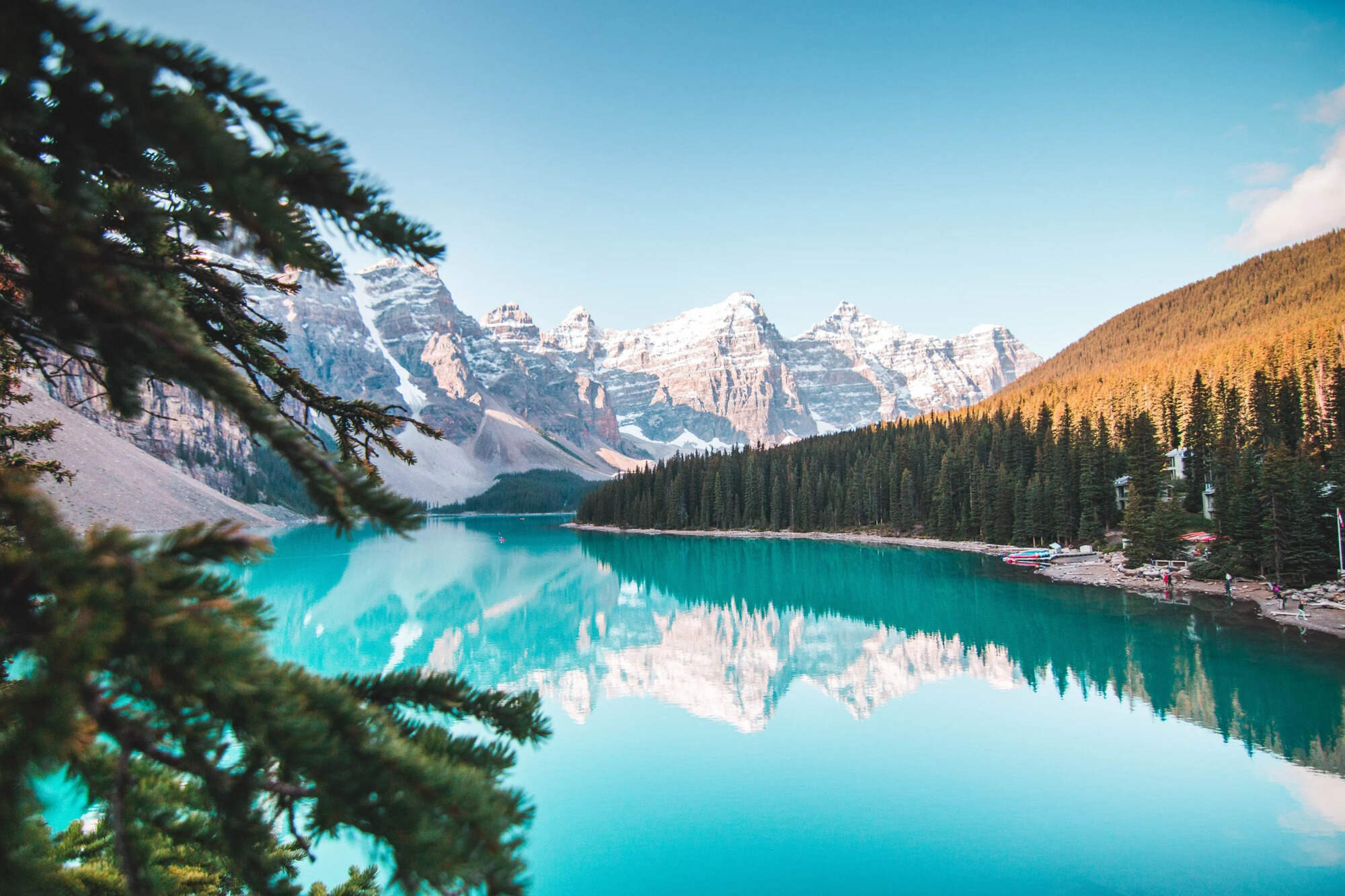 Introduction
Welcome to the breathtaking Canadian Rockies and the charming town of Banff, Alberta. Nestled within the Banff National Park, this picturesque destination offers a perfect blend of stunning natural beauty and a vibrant mountain community. With its soaring peaks, crystal-clear lakes, and abundant wildlife, Banff is a haven for outdoor enthusiasts and nature lovers. Whether you're seeking thrilling adventures or tranquil moments in nature, Banff has something for everyone.
Known for its world-class skiing, hiking trails, and awe-inspiring landscapes, Banff draws visitors from all over the globe. But Banff isn't just about outdoor adventures; it also boasts a vibrant nightlife, delectable dining scene, and a wide range of shopping opportunities. From its charming streets to its world-renowned hot springs, Banff offers a unique and unforgettable experience that will leave you wanting to come back for more.
Getting to Banff is a breeze thanks to its convenient location. The town is just a 90-minute drive from the Calgary International Airport, making it easily accessible for both domestic and international travelers. Whether you choose to rent a car or take a shuttle, the journey to Banff is filled with breathtaking scenery that will leave you in awe.
In this ultimate guide to Banff, we'll take a closer look at the best of what this remarkable destination has to offer. From the top hiking trails and wildlife encounters to the exhilarating skiing and snowboarding opportunities, we'll cover it all. Get ready to immerse yourself in the wonders of Banff and create memories that will last a lifetime.
Getting to Banff
Getting to Banff is a seamless process, thanks to its convenient location and well-connected transportation options. Whether you're traveling from within Canada or from abroad, there are several ways to reach this captivating mountain town.
By Air: The closest major airport to Banff is the Calgary International Airport (YYC), located approximately 90 minutes away by road. The airport is well-served by domestic and international airlines, making it easy to access Banff from various cities around the world. Once you arrive in Calgary, you can either rent a car to drive to Banff or take a shuttle service. Shuttle services like Banff Airporter and Brewster Express offer regular transfers between the airport and Banff, providing a convenient and hassle-free option.
By Car: If you prefer the flexibility of driving, renting a car is a great option. The drive from Calgary to Banff is a scenic journey that takes you through the stunning Canadian Rockies. The Trans-Canada Highway (Highway 1) is the main route that connects Calgary to Banff, and the drive usually takes around 1.5 to 2 hours, depending on traffic and weather conditions. Keep in mind that during the winter months, road conditions can be challenging, so it's essential to check the weather and plan accordingly.
By Bus: Another option for getting to Banff is by bus. Several bus companies operate routes between Calgary and Banff, providing an affordable and convenient transportation option. Companies like Brewster Express and Greyhound offer regular scheduled services with comfortable and reliable buses. The journey typically takes around 2 hours, depending on traffic conditions.
By Train: Traveling to Banff by train is a unique and picturesque experience. The Rocky Mountaineer offers luxury train journeys that take you through the stunning landscapes of the Canadian Rockies. Although the train does not directly reach Banff, you can opt for packages that include a transfer from the closest train station, which is in the town of Jasper. From Jasper, you can take a scenic drive to Banff, soaking in the awe-inspiring beauty of the region.
Once you arrive in Banff, getting around is easy. The town is compact and can be easily explored on foot. If you plan to venture outside of Banff or explore the surrounding areas, renting a car is recommended. This will give you the freedom to visit nearby attractions and make the most of your time in this spectacular part of Alberta.
Where to Stay in Banff
When it comes to accommodations, Banff offers a wide range of options to cater to every traveler's needs and preferences. From luxury resorts to cozy lodges and budget-friendly hostels, there is something for every budget and style. Here are some of the top choices for where to stay in Banff:
Luxury Resorts: Banff is home to several world-class luxury resorts that provide the ultimate in comfort and indulgence. These resorts boast upscale amenities, stunning mountain views, and exceptional services. Whether you choose the iconic Fairmont Banff Springs, the elegant Rimrock Resort Hotel, or the contemporary Moose Hotel & Suites, you can expect a truly luxurious experience.
Cozy Lodges: For a more rustic and intimate atmosphere, consider staying at one of Banff's cozy lodges. These charming accommodations often feature log cabins or timber-frame structures, giving you a genuine mountain retreat experience. The Buffalo Mountain Lodge and the Juniper Hotel & Bistro are popular choices among those seeking a cozy and peaceful getaway.
Budget-Friendly Options: If you're traveling on a budget, there are plenty of affordable accommodations in Banff. Hostels like the HI-Banff Alpine Centre and Samesun Banff offer comfortable dormitory-style rooms and communal spaces, perfect for backpackers and budget-conscious travelers. Additionally, there are several budget-friendly hotels and motels in the town that provide comfortable rooms at affordable rates.
Vacation Rentals: Another popular option for accommodation in Banff is vacation rentals. Renting a condo, cabin, or house allows you to have a home away from home and provides more space and privacy for families or groups. Websites like Airbnb and VRBO offer a wide selection of vacation rentals in Banff, allowing you to find the perfect place that suits your needs.
When choosing where to stay in Banff, it's important to consider the location and proximity to attractions and amenities. Some accommodations are situated in the heart of Banff, allowing easy access to shops, restaurants, and nightlife, while others are nestled in more secluded areas, providing a peaceful and tranquil setting.
No matter where you decide to stay in Banff, you can expect warm hospitality, stunning surroundings, and easy access to the breathtaking beauty of the Canadian Rockies.
Best Hiking Trails in Banff
One of the main attractions in Banff is its extensive network of hiking trails, offering breathtaking views, wildlife encounters, and an opportunity to immerse yourself in the natural beauty of the Canadian Rockies. Whether you're a seasoned hiker or a beginner looking for a leisurely stroll, Banff has a hiking trail for everyone. Here are some of the best hiking trails to explore:
Plain of Six Glaciers: This iconic trail offers stunning views of glaciers, mountains, and turquoise-colored lakes. The trail starts at Lake Louise and takes you through a gradually ascending path, ending at the Plain of Six Glaciers Tea House. Along the way, you'll be treated to panoramic vistas and the chance to spot wildlife like marmots and mountain goats.
Johnston Canyon: Perfect for all skill levels, Johnston Canyon is a must-visit hiking destination. The trail takes you through a narrow canyon, offering breathtaking views of waterfalls and crystal-clear pools. Be sure to hike to the Upper Falls for a truly memorable experience.
Sulphur Mountain: For a challenging hike with a rewarding view, Sulphur Mountain is the perfect choice. The trail starts at the base of the Banff Gondola and ascends to the summit, where you'll be treated to panoramic vistas of Banff and the surrounding mountains. If you prefer, you can also take the gondola up to the summit and hike down for a less strenuous experience.
Larch Valley and Sentinel Pass: This trail is especially popular during the fall when the larch trees turn a vibrant golden color. The hike takes you through a picturesque valley and culminates at Sentinel Pass, where you'll be rewarded with breathtaking mountain views.
Cascade Amphitheatre: This trail offers a beautiful mix of forested areas, meadows, and stunning alpine scenery. The path takes you to an amphitheater-like basin surrounded by impressive cliffs. Keep an eye out for wildlife, including mountain goats and pikas.
Goat Creek: For a longer and more secluded hike, venture to Goat Creek. This trail follows a former fire road and leads you through meadows, forests, and along a scenic creek. It's a great option for those seeking solitude and a peaceful day in nature.
Before embarking on any hiking trail, it's essential to be prepared and stay safe. Check the weather conditions, wear appropriate footwear, bring enough water and snacks, and let someone know your hiking plans. Additionally, be mindful of wildlife and practice Leave No Trace principles by respecting the environment and packing out any garbage.
Exploring the hiking trails in Banff is not only a great way to connect with nature but also an opportunity to witness the unparalleled beauty of the Canadian Rockies.
Exploring the Wildlife in Banff
Banff National Park is not only renowned for its stunning landscapes, but also for its diverse wildlife population. With over 53 species of mammals, including grizzly bears, elk, moose, and bighorn sheep, there are ample opportunities to observe and appreciate the natural wonders of the animal kingdom. Here are some of the best ways to explore and encounter wildlife in Banff:
Wildlife Drives: One of the easiest ways to spot wildlife is by taking a scenic drive through the park. The Bow Valley Parkway and the Icefields Parkway are known for their abundance of wildlife sightings. Be sure to drive cautiously, as animals often cross the road, and never approach or feed them.
Guided Wildlife Tours: Joining a guided wildlife tour is a great way to increase your chances of spotting animals and learn about their habitat and behaviors. Knowledgeable guides can take you to the best locations and provide insights into the park's wildlife conservation efforts.
Hiking Trails: While exploring Banff's hiking trails, you'll have the opportunity to encounter wildlife. Keep your eyes peeled and be aware of your surroundings. It's important to keep a safe distance and avoid disturbing the animals. If you happen to come across a bear or other potentially dangerous wildlife, follow proper safety protocols and make noise to alert them of your presence.
Canoeing and Kayaking: Taking a canoe or kayak trip on one of Banff's serene lakes, such as Lake Louise or Moraine Lake, provides a unique perspective on the wildlife. You may spot waterfowl, beavers, or even muskrats as you paddle along the calm waters.
Wildlife Viewing Areas: Banff National Park has designated wildlife viewing areas where you can observe animals from a safe distance. These areas often have interpretive signage and viewing platforms, providing optimal opportunities to observe and photograph wildlife without causing any disturbance.
Remember, when observing wildlife in Banff, it's crucial to respect their natural habitat and maintain a safe distance. Do not approach or feed the animals, as this can be harmful to both you and the animals. Take binoculars or a camera with a zoom lens for better close-up views without intruding on their space.
Exploring the wildlife in Banff is a remarkable experience that allows you to connect with nature and witness the beauty of these incredible creatures in their natural environment.
Canoeing and Kayaking in Banff
With its pristine lakes and breathtaking mountain scenery, Banff offers the perfect backdrop for canoeing and kayaking adventures. Whether you're looking for a peaceful paddle or a thrilling water excursion, there are plenty of options to explore the stunning waters of Banff. Here's everything you need to know about canoeing and kayaking in Banff:
Lake Louise: One of the most iconic destinations in Banff, Lake Louise is a must-visit for canoeing enthusiasts. The calm and turquoise-colored waters of the lake provide a picturesque setting for a leisurely paddle. Canoes are available for rent at the lake, allowing you to explore at your own pace while taking in the breathtaking mountain scenery and the famous Fairmont Chateau Lake Louise.
Moraine Lake: Another stunning option for canoeing is Moraine Lake. Nestled in the Valley of the Ten Peaks, this glacier-fed lake is known for its vibrant blue-green waters and majestic surroundings. Canoe rentals are available during the summer months, allowing you to explore the lake's serene beauty and perhaps spot a variety of wildlife that call the area home.
Emerald Lake: Located just outside of Banff National Park in Yoho National Park, Emerald Lake offers another exceptional canoeing experience. The tranquil waters of the lake shimmer with emerald hues, creating a captivating sight. Rent a canoe and paddle around the lake, admiring the surrounding mountains and the dense forests that line its shores.
Bow River: If you prefer a river adventure, the Bow River is a popular spot for kayaking and canoeing. This scenic river winds its way through Banff and offers a variety of experiences, from peaceful sections perfect for a leisurely paddle to faster, more thrilling rapids for experienced kayakers. Several local outfitters offer kayak and canoe rentals, as well as guided tours to navigate the river safely.
Peyto Lake: While canoeing is not permitted on Peyto Lake itself, the viewpoint overlooking this stunning glacier-fed lake is worth a visit. Enjoy a short hike to the viewpoint and marvel at the mesmerizing shades of blue that the lake exhibits. It's a great spot for photography enthusiasts looking to capture the beauty of the Canadian Rockies.
When planning a canoeing or kayaking adventure in Banff, it's important to prioritize safety. Always wear a life jacket, know your limits, and be aware of your surroundings. Pay attention to any restrictions or safety advisories that may be in place, especially during periods of rapidly changing weather or higher water levels.
Canoeing and kayaking in Banff offer a unique and unforgettable way to explore the region's stunning lakes and rivers, immersing yourself in the tranquility and natural beauty of the Canadian Rockies.
Best Skiing and Snowboarding Spots in Banff
With its stunning mountain peaks and abundant snowfall, Banff is a paradise for winter sports enthusiasts. Whether you're a seasoned skier or a snowboarding enthusiast, the region offers a variety of world-class resorts and thrilling slopes to satisfy your adrenaline cravings. Here are some of the best skiing and snowboarding spots in Banff:
Mount Norquay: As the closest ski resort to the town of Banff, Mount Norquay is a popular choice for locals and visitors alike. Offering a mix of terrain for all skill levels, from beginner slopes to challenging runs, Mount Norquay is the perfect place to kick off your ski or snowboarding adventures. The resort also features night skiing, giving you the opportunity to hit the slopes under the stars.
Sunshine Village: Located just a short drive from Banff, Sunshine Village is known for its world-class skiing and snowboarding opportunities. With over 3,300 acres of skiable terrain, the resort offers a variety of trails catering to all levels of experience. From gentle groomers to steep chutes and bowls, there's something for every skier and rider at Sunshine Village. The resort's high elevation ensures excellent snow conditions throughout the season.
Lake Louise Mountain Resort: Nestled in the breathtaking Banff National Park, Lake Louise Mountain Resort is renowned for its stunning scenery and diverse terrain. With over 4,200 acres of skiable terrain and an extensive trail network, the resort offers endless possibilities for skiers and snowboarders of all abilities. From gentle slopes for beginners to challenging steeps and powder-filled bowls, Lake Louise Mountain Resort provides an unforgettable winter sports experience.
Nakiska Ski Area: Located just outside of Banff in the Kananaskis Country, Nakiska Ski Area was the site of the alpine events during the 1988 Winter Olympics. The resort offers a range of trails suitable for beginners and intermediate skiers and snowboarders. Nakiska's well-groomed slopes and stunning mountain views make it a popular choice for families and those looking for a relaxed day on the mountain.
Mt. Shark: For those seeking a backcountry skiing or snowboarding experience, Mt. Shark provides access to a vast network of trails and ungroomed terrain. The area is popular for cross-country skiing and ski touring, allowing you to explore the untouched wilderness and enjoy breathtaking views. It's important to have the necessary backcountry equipment and knowledge before venturing into this area.
Each ski resort in Banff offers its own unique charm, stunning scenery, and a range of amenities, including rental shops, ski schools, and cozy mountain lodges. Whether you're a beginner or an expert, Banff's ski resorts provide the perfect playground to enjoy winter sports amidst the beauty of the Canadian Rockies.
Relaxing in Banff's Hot Springs
After a day of outdoor adventures, there's no better way to unwind and rejuvenate than by immersing yourself in the soothing waters of Banff's hot springs. Situated in the heart of the Canadian Rockies, these natural hot springs provide a tranquil oasis amidst the breathtaking mountain scenery. Here's why visiting Banff's hot springs should be on your list:
Upper Hot Springs: Located just minutes from the town of Banff, the Upper Hot Springs offer a relaxing and therapeutic experience. The mineral-rich waters are heated naturally and range in temperature from 37 to 40 degrees Celsius (98 to 104 degrees Fahrenheit). Soak in the warm waters as you enjoy panoramic views of the surrounding mountains and feel the stress melt away. The Upper Hot Springs facility also includes a café and a gift shop, making it a perfect spot to spend a leisurely afternoon.
Cave and Basin National Historic Site: For a truly unique hot springs experience, visit the Cave and Basin National Historic Site. This site is not only significant for its natural hot springs but also for its historical importance as the birthplace of Canada's national park system. Explore the underground caverns and learn about the history and geology of the area. While you can't soak in the hot springs at this site, it offers a fascinating glimpse into the origins of Banff National Park.
Hot Springs Spa: If you're looking for an enhanced hot springs experience, consider visiting one of the spa resorts in Banff that feature hot spring pools. These spas offer the opportunity to relax in thermal waters while enjoying additional amenities such as massage treatments, saunas, and steam rooms. It's the perfect way to indulge in some self-care and pampering.
Benefits of Hot Springs: Soaking in hot springs not only provides relaxation but also offers several health benefits. The mineral-rich waters are known for their therapeutic properties, which can help ease muscle tension, improve circulation, and promote overall well-being. Taking a dip in Banff's hot springs allows you to reap these benefits while surrounded by the natural beauty of the mountains.
Visiting Tips: To make the most of your hot springs experience, remember to bring a swimsuit, towel, and flip-flops. It's advisable to shower before entering the hot springs and follow any guidelines provided by the facility. Keep in mind that the hot springs can get busy, especially during peak tourist seasons, so plan your visit accordingly.
Indulging in Banff's hot springs is not only a way to relax and unwind but also a unique way to connect with the natural wonders of the Canadian Rockies. Soothe your body and soul as you immerse yourself in the rejuvenating, mineral-rich waters of Banff's hot springs.
Dining and Nightlife in Banff
When it comes to dining and nightlife, Banff offers a vibrant scene that caters to a variety of tastes and preferences. From cozy pubs to fine dining establishments, the town has a diverse culinary landscape that is sure to satisfy any craving. Here's a glimpse into the dining and nightlife options in Banff:
Restaurants: Banff boasts an array of restaurants that showcase a wide range of cuisines, from local Canadian dishes to international fare. Whether you're in the mood for a juicy steak, fresh seafood, or vegetarian delights, you'll find numerous options to indulge your taste buds. Some popular choices include The Bison Restaurant, Park Distillery Restaurant and Bar, and the Maple Leaf Grill & Lounge, known for their quality ingredients and unique flavors.
Pubs and Breweries: If you're looking for a more casual dining experience, Banff has a selection of cozy pubs and breweries that offer a laid-back atmosphere and a wide range of craft beers. The Banff Ave Brewing Co. and The Grizzly Paw Brewing Company are local favorites, where you can sample their handcrafted brews and enjoy delicious pub-style food.
Après-Ski: After a day on the slopes, many visitors indulge in the tradition of après-ski, a time to unwind and socialize with fellow adventurers. Banff is home to several après-ski hotspots where you can enjoy drinks, live music, and a lively atmosphere. The Bear Street Tavern and the Rose & Crown Pub are popular choices among locals and visitors for their après-ski ambiance.
Nightclubs and Bars: When the sun sets, Banff comes alive with its vibrant nightlife scene. From energetic nightclubs to cozy wine bars and lounges, there are options to suit every taste. Party the night away at clubs like The Dancing Sasquatch and Aurora Nightclub, or enjoy a more laid-back evening at wine bars like Saltlik or The Balkan Restaurant.
Live Music: Banff also offers a variety of venues where you can enjoy live music performances. The Banff Centre for Arts and Creativity hosts concerts and shows throughout the year, featuring a range of genres from classical to contemporary. Many pubs and bars in town also have live music nights, providing a lively and entertaining atmosphere.
Local Specialties: While in Banff, be sure to try some of the local specialties. Treat yourself to a hearty plate of Alberta beef, sample wild game like bison or elk, or indulge in a classic Canadian favorite – poutine. Don't forget to satisfy your sweet tooth with a taste of maple syrup-infused treats or the iconic Canadian butter tart.
With its diverse culinary scene and vibrant nightlife, Banff offers an excellent dining and entertainment experience for visitors. Whether you're seeking gastronomic delights, a cozy pub atmosphere, or a night of dancing, Banff has something to satisfy every palate and make your evenings in the town truly memorable.
Shopping in Banff
When it comes to shopping, Banff offers a delightful mix of locally made crafts, unique souvenirs, and high-quality outdoor gear. From charming boutiques to specialty stores, the town has something for everyone. Here's a glimpse into the shopping scene in Banff:
Boutiques and Artisan Shops: Take a stroll down Banff Avenue, the main street in town, and you'll find a variety of boutiques and artisan shops. These stores showcase a wide range of locally made products, including jewelry, clothing, artwork, and home decor. Whether you're looking for a one-of-a-kind piece or a handmade keepsake to commemorate your trip, Banff's boutiques are treasure troves of unique finds.
Souvenir Shops: It's hard to resist bringing home a piece of Banff as a memento of your trip. The town is dotted with souvenir shops offering an array of keepsakes, such as postcards, magnets, keychains, and t-shirts adorned with iconic Banff imagery. You'll also find Indigenous-owned gift shops that feature authentic Indigenous arts, crafts, and jewelry, allowing you to support local artisans and take home a meaningful piece of Indigenous culture.
Outdoor Gear: Banff is a gateway to outdoor adventure, and you'll find a plethora of stores specializing in outdoor gear. From hiking boots and camping equipment to ski and snowboard gear, these stores offer everything you need to explore the stunning landscapes surrounding Banff. Brands like Patagonia, Arc'teryx, and The North Face have flagship stores in Banff, making it a haven for outdoor enthusiasts.
Local Products and Food: Indulge in some culinary delights by exploring the specialty food shops in Banff. You'll find gourmet chocolates, maple syrup products, locally roasted coffee, and other delicious treats. Don't forget to sample some of the region's famous Canadian smoked salmon or try the unique flavors of ice cream created by local artisans.
Aboriginal Art and Handicrafts: Banff is situated on the traditional lands of Indigenous peoples, and the town offers opportunities to appreciate and support Indigenous art. Visit galleries and boutiques that feature Indigenous art, such as traditional carvings, beadwork, paintings, and clothing. These pieces carry deep cultural significance and provide a beautiful way to connect with the rich Indigenous heritage of the area.
When shopping in Banff, keep in mind that many stores are committed to sustainable practices and offer eco-friendly products. You'll find stores that prioritize fair trade, recycled materials, and locally sourced products, allowing you to shop with a clear conscience.
Shopping in Banff is not only a chance to bring home unique treasures but also a way to support local artisans, embrace the culture of the region, and find the perfect mementos to cherish your time in the Canadian Rockies.
Exploring Banff National Park
Banff National Park, Canada's oldest national park and a UNESCO World Heritage Site, is a veritable paradise for outdoor enthusiasts and nature lovers. Spanning over 6,641 square kilometers (2,564 square miles) of pristine wilderness, the park offers a staggering array of natural wonders, from snow-capped mountains and shimmering turquoise lakes to lush forests and cascading waterfalls. Here are some of the best ways to explore Banff National Park:
Hiking: With over 1,600 kilometers (1,000 miles) of trails, Banff National Park is a hiker's paradise. Lace up your boots and embark on a journey through awe-inspiring landscapes. From leisurely strolls along scenic lakeshores to challenging hikes to stunning mountain vistas, there are trails for every skill level. Don't miss iconic hikes like the Larch Valley in the fall, the breathtaking Plain of Six Glaciers, or the panoramic viewpoint at Sentinel Pass.
Scenic Drives: Banff is renowned for its breathtaking scenic drives that wind through the heart of the park. The Icefields Parkway is a must-see, offering jaw-dropping vistas of glaciers, towering peaks, and turquoise lakes. The Bow Valley Parkway is another popular route, where you can spot wildlife and explore historic sites. Drive carefully and take your time to soak in the beauty around every corner.
Lake Activities: Banff National Park boasts some of the most picturesque lakes in the world, and exploring them is a must. Take a scenic cruise on the iconic Lake Minnewanka, rent a canoe or kayak on the serene Moraine Lake, or simply relax on the shores of the stunning Lake Louise. These activities allow you to immerse yourself in the tranquility and beauty of these natural wonders.
Wildlife Watching: Banff National Park is home to a diverse array of wildlife, including elk, deer, bears, bighorn sheep, and more. Keep your eyes peeled as you explore the park for a chance to spot these majestic creatures in their natural habitat. While wildlife encounters are exciting, it's important to maintain a safe distance and respect their space.
Photography: Banff National Park is a photographer's dream, with its jaw-dropping landscapes and abundant wildlife. Capture the stunning sunrise over the mountains, the vibrant colors of the lakes, or the graceful movements of animals in their natural habitat. Make sure to respect any photography guidelines and remember to take only pictures and leave only footprints.
Interpretive Programs: Enhance your understanding of Banff's natural and cultural heritage by participating in interpretive programs offered by Parks Canada. Join guided hikes, wildlife talks, or cultural demonstrations to learn more about the park's ecosystems, history, and Indigenous cultures. These programs provide valuable insights into the unique features that make Banff National Park so extraordinary.
When exploring Banff National Park, it's essential to practice responsible tourism. Follow Leave No Trace principles, stay on designated trails, and respect park guidelines to ensure the preservation of this precious natural habitat for generations to come.
Embark on a journey of discovery in Banff National Park and prepare to be captivated by its awe-inspiring beauty and abundant wildlife. Let the wonders of this incredible national park leave an indelible mark on your heart and soul.
Day Trips from Banff
While Banff National Park offers a wealth of natural beauty and outdoor adventures, the surrounding area also boasts a variety of captivating attractions that make for memorable day trips. From charming mountain towns to stunning natural landmarks, here are some incredible day trips to explore from Banff:
1. Lake Louise: Just a short drive from Banff, Lake Louise is a must-visit destination. The iconic turquoise-colored lake, surrounded by towering mountains, is a sight to behold. Take a stroll along the lakeshore, rent a canoe to explore the pristine waters, or hike to the Lake Agnes Tea House for panoramic views of the area.
2. Moraine Lake: Located in the Valley of the Ten Peaks, Moraine Lake is another must-see attraction near Banff. The vivid blue-green hues of the lake, set against the backdrop of dramatic peaks, create a postcard-worthy scene. Hike the nearby trails or simply take in the beauty from the lakeshore.
3. Yoho National Park: Cross the provincial border into British Columbia and explore Yoho National Park. Marvel at the stunning Takakkaw Falls, the second tallest waterfall in Canada, or visit the Natural Bridge, a unique rock formation created by the powerful Kicking Horse River. Yoho National Park offers a variety of hiking trails, scenic drives, and photo opportunities.
4. Canmore: Venture south from Banff and visit the charming town of Canmore. Surrounded by the towering peaks of the Rockies, Canmore offers a vibrant downtown area filled with unique shops, art galleries, and restaurants. Take a walk along the scenic shores of the Bow River or enjoy a round of golf at one of the stunning courses in the area.
5. Kananaskis Country: Experience the beauty of Kananaskis Country, a wilderness area renowned for its hiking and outdoor activities. Explore the pristine lakes, hike the scenic trails, or relax at the luxurious Kananaskis Nordic Spa. This tranquil region is just a short drive from Banff and offers a peaceful escape into nature.
6. Johnston Canyon: Located between Banff and Lake Louise, Johnston Canyon is a popular day trip destination known for its beautiful hiking trails and stunning waterfalls. The hike to the Lower and Upper Falls takes you through narrow canyons with catwalks and bridges, offering breathtaking views of cascading water and natural rock formations.
Exploring the surrounding area of Banff allows you to immerse yourself in even more natural wonders and discover the diverse treasures that this region has to offer. Whether it's iconic lakes, charming towns, or magnificent waterfalls, these day trips will create unforgettable memories and expand your appreciation for the beauty of the Canadian Rockies.
Tips for Visiting Banff
Visiting Banff is an incredible experience, but to make the most of your trip, it's helpful to keep a few tips in mind. From planning your itinerary to staying safe in the great outdoors, here are some valuable tips for visiting Banff:
Plan Ahead: Banff is a popular tourist destination, especially during peak seasons. Plan your trip in advance to secure accommodations, make restaurant reservations, and book any activities or tours you're interested in. Research the weather conditions, particularly if you plan on participating in outdoor activities.
Be Prepared for Changing Weather: Banff's weather can be unpredictable, so pack layers and be prepared for changing conditions. Even in the summer, temperatures can be cool in the mornings and evenings. If you're visiting during the winter, make sure to dress warmly and have appropriate gear for winter activities.
Take Advantage of Free Shuttle Services: The town of Banff offers a free shuttle service known as Roam Transit, which provides transportation to various attractions and areas within the town. Utilize this convenient service to explore Banff while saving on parking fees and reducing traffic congestion.
Respect Wildlife and Natural Environment: Banff is home to a diverse range of wildlife, including bears and elk. It's important to respect their habitat and keep a safe distance. Do not feed or approach wildlife, and always follow guidelines for wildlife encounters. Additionally, practice Leave No Trace principles and ensure that you leave the natural environment as you found it.
Stay Safe in the Outdoors: If you plan on hiking or partaking in outdoor activities, make sure you're adequately prepared. Bring proper gear, including sturdy footwear and layers of clothing. Carry sufficient water, snacks, and sunscreen. Be aware of trail conditions and any warnings or closures in the area.
Take Advantage of Visitor Information Centers: Banff has several visitor information centers that provide valuable resources, maps, and guidance for your visit. Visit one of these centers upon arrival to gather information about current events, conditions, and recommendations from knowledgeable staff.
Respect Local Communities and Indigenous Cultures: Banff is situated on the traditional lands of Indigenous peoples. Take the time to learn about and respect the local culture, traditions, and protocols. Support Indigenous-owned businesses and artisans, and engage in cultural experiences offered in the area.
Practice Responsible Tourism: Banff is a precious natural and cultural heritage site. Practice responsible tourism by adhering to park regulations, staying on designated trails, and respecting wildlife and cultural sites. Minimize your environmental impact by using reusable water bottles and bags, and properly disposing of waste.
Stay Hydrated and Stay Safe: The high altitude of Banff can cause dehydration and altitude sickness. Drink plenty of water and stay hydrated throughout your visit. If you experience severe symptoms, such as dizziness or difficulty breathing, seek medical attention.
Engage with the Local Community: Take the time to interact with the friendly and welcoming local community. Ask for recommendations from locals and engage in conversations to learn more about the area's history, hidden gems, and insider tips.
By keeping these tips in mind, you'll maximize your enjoyment of Banff's natural wonders, ensure your safety, and contribute to the preservation of this extraordinary destination for future generations.
Conclusion
Banff, Alberta is a destination that truly captures the heart and soul of the Canadian Rockies. With its majestic mountain peaks, glistening lakes, and abundant wildlife, it offers an unparalleled experience for nature lovers and outdoor adventurers. From the exhilarating hikes to the soothing hot springs, every corner of Banff beckons you to explore and immerse yourself in its natural beauty.
Whether you're skiing down thrilling slopes, kayaking in serene lakes, or simply taking in the breathtaking views, Banff has something for everyone. The town itself offers a charming blend of dining, shopping, and vibrant nightlife, ensuring that your time off the trails is equally enjoyable.
As you plan your trip to Banff, be sure to make use of the many resources available, including visitor information centers, local expertise, and online guides. By planning in advance, respecting the environment and wildlife, and staying prepared for changing weather conditions, you'll be able to fully embrace all that Banff has to offer.
Remember to take the time to connect with the local community and learn about the Indigenous culture and heritage that is deeply rooted in the area. Engage in responsible tourism practices and leave a positive impact on the environment and community as you explore this pristine natural wonderland.
Banff is more than just a destination; it's an experience that will leave you with lifelong memories. Whether you're seeking adventure, relaxation, or a chance to reconnect with nature, Banff delivers. So pack your bags, lace up your boots, and get ready to embark on a journey of discovery in the extraordinary Canadian Rockies.