Fun Things To Do In Fernie BC In Winter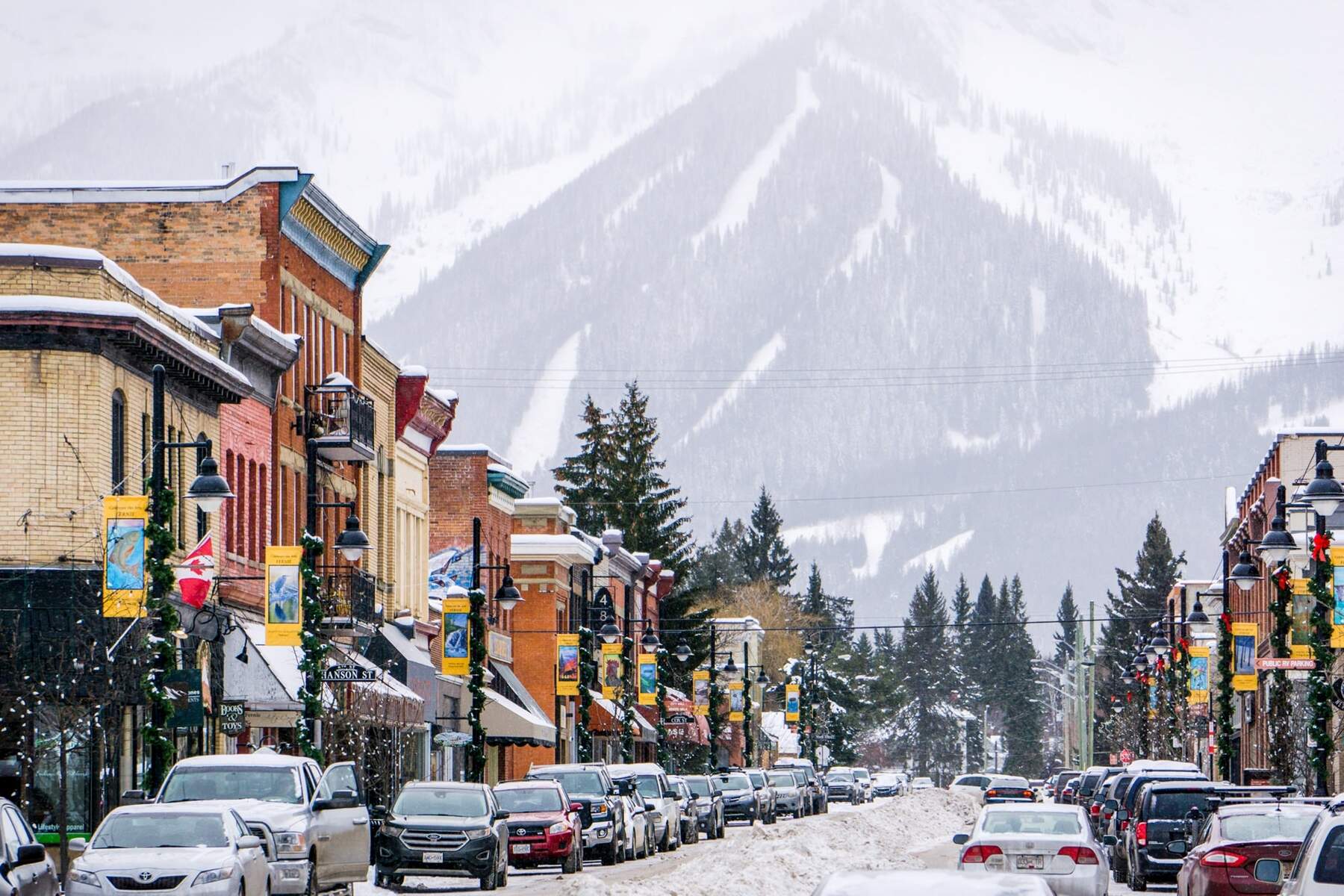 Introduction
When the snow starts to fall in Fernie, British Columbia, it transforms into a magical winter wonderland. Nestled in the heart of the Canadian Rockies, this charming mountain town offers a plethora of exhilarating and unforgettable winter activities. Whether you're an outdoor enthusiast or someone looking for cozy relaxation, Fernie has something for everyone.
Fernie is renowned for its world-class skiing and snowboarding opportunities. With over 2,500 acres of skiable terrain and an average annual snowfall of 37 feet, it's a haven for snow sports enthusiasts. The challenging slopes and breathtaking panoramic views make Fernie Alpine Resort a must-visit destination.
If you prefer a slower pace, Fernie offers fantastic opportunities for snowshoeing and cross-country skiing. Explore the tranquil wilderness trails and immerse yourself in the stunning winter landscapes. The fresh, crisp air and the sound of snow crunching underfoot create a serene and peaceful atmosphere.
For those looking for a unique winter adventure, fat biking has gained popularity in Fernie. With oversized tires designed to tackle snowy trails, fat bikes provide an exhilarating way to explore the winter terrain. Rent a fat bike and pedal your way through the snowy forests and experience the thrill of winter biking.
If you crave the thrill of speed and the excitement of off-roading, snowmobiling in the backcountry is an activity you shouldn't miss. Guided tours take you through beautiful alpine meadows and secluded mountain trails, providing an adrenaline-pumping experience.
Ice skating is a classic winter activity that invokes nostalgia and joy. Lace up your skates and glide across the ice at the Fernie Memorial Arena or the scenic outdoor ice rink at Maiden Lake. Whether you're a beginner or a seasoned skater, ice skating is a delightful way to spend a winter day.
For those seeking tranquility, ice fishing is a serene and peaceful winter activity. Bundle up and head out to one of the frozen lakes surrounding Fernie. Set up your fishing gear, drill a hole in the ice, and patiently wait for the fish to bite. It's a chance to embrace the serenity of the winter landscape while enjoying the thrill of catching your own dinner.
Skiing and Snowboarding
Fernie is a haven for skiing and snowboarding enthusiasts of all levels. With its legendary powder and diverse terrain, it offers an unforgettable winter experience. Fernie Alpine Resort boasts over 2,500 acres of skiable terrain, including groomed runs, pristine glades, and challenging bowls.
For beginners and intermediate riders, the resort offers wide-open slopes and gentle runs, perfect for building confidence and improving skills. Expert riders will find a playground of steep chutes, deep powder, and thrilling tree runs. Fernie's legendary snowfall and vertical relief make it a dream destination for advanced skiers and snowboarders.
For those looking to enhance their skills, the resort offers ski and snowboard lessons with certified instructors. From private lessons to group sessions, the experienced instructors will help you sharpen your technique and conquer new challenges.
In addition to downhill skiing and snowboarding, Fernie also offers fantastic backcountry opportunities. With plenty of accessible terrain, you can embark on guided tours or venture out on your own. Explore untouched powder stashes, breathtaking alpine vistas, and remote winter landscapes.
After an exhilarating day on the slopes, relax and unwind at one of the resort's cozy lodges, complete with amenities like hot tubs, saunas, and spas. Indulge in delicious après-ski meals and enjoy the warm hospitality that Fernie is known for.
Whether you're a seasoned pro or a beginner, skiing and snowboarding in Fernie provides a thrilling and memorable experience. With its breathtaking scenery, diverse terrain, and abundant fresh powder, Fernie is a destination that will leave you craving for more.
Snowshoeing and Cross-Country Skiing
If you're looking for a peaceful and immersive winter experience, snowshoeing and cross-country skiing in Fernie should be at the top of your list. With its pristine wilderness and stunning mountain vistas, Fernie offers endless opportunities to explore on snowshoes or skis.
Snowshoeing is a fantastic way to venture off the beaten path and embrace the winter wonderland. Strap on a pair of snowshoes and traverse through the snowy trails that wind through dense pine forests. The solitude and serenity of the surroundings create a sense of calm and connection with nature.
Fernie has a variety of groomed trails and backcountry routes suitable for snowshoeing. Explore the Montane Trail Network, a 12-kilometer network of trails that meander through scenic meadows and towering trees. For a more adventurous trek, head to Fernie Alpine Resort's snowshoe trails, which provide access to beautiful alpine vistas.
For those seeking a full-body workout and a chance to glide through the winter landscapes, cross-country skiing is a fantastic option. Fernie boasts well-maintained cross-country ski trails that cater to all skill levels. Whether you're a beginner or an experienced skier, you'll find trails that suit your needs.
The Fernie Nordic Society maintains over 50 kilometers of trails, ranging from gentle beginner loops to challenging advanced routes. Enjoy the rhythmic motion of cross-country skiing as you glide through picturesque meadows, along frozen rivers, and through peaceful forests.
If you're new to snowshoeing or cross-country skiing, Fernie offers rental equipment and lessons for all ages and abilities. Certified instructors can guide you through the basics and help you gain confidence on the trails.
Regardless of your skill level, snowshoeing and cross-country skiing provide the perfect opportunity to immerse yourself in Fernie's winter landscapes. Soak in the tranquility, breathe in the fresh mountain air, and embrace the beauty of nature as you explore the snowy trails.
Fat Biking
Fat biking has gained popularity in recent years as an exciting and unique way to explore winter landscapes. In Fernie, fat biking has become a beloved activity, thanks to the town's extensive trail network and snowy terrain.
What sets fat biking apart from traditional mountain biking is the oversized tires specifically designed to navigate through snow, sand, and other challenging terrains. These wide tires provide increased traction and stability, allowing riders to tackle snowy trails with ease.
Fernie boasts a variety of fat biking trails, ranging from beginner-friendly routes to more technical and advanced terrain. The Fernie Mountain Bike Club maintains an extensive trail network, ensuring there's something suitable for riders of all skill levels.
If you're new to fat biking, Fernie offers rental shops where you can easily obtain a fat bike for a day or even an entire week. Local experts can provide trail recommendations and advice on the best routes for your skill level.
Exploring Fernie on a fat bike is an exhilarating adventure. Ride through quiet forests, along frozen rivers, and up challenging hills while soaking in the stunning winter scenery. Feel the rush of the cool breeze against your face as you pedal through the snowy trails, creating your own path in the winter wonderland.
For those seeking a guided experience, several local tour operators offer fat biking tours. An experienced guide will lead you through the best trails in Fernie while sharing their knowledge and insights about the area's natural beauty and rich history.
Fat biking in Fernie is not only a thrilling outdoor activity, but it's also a great way to stay active and enjoy nature during the winter months. Whether you're a seasoned rider or a beginner, fat biking in Fernie provides a unique and unforgettable adventure that will leave you wanting to come back for more.
Snowmobiling
If you're seeking a thrilling winter escapade, snowmobiling in Fernie is an activity that will get your adrenaline pumping. With its vast backcountry and pristine snow-covered mountains, Fernie offers a playground for snowmobile enthusiasts of all skill levels.
Explore the remote and untouched winter landscapes as you zip through powder-filled meadows and carve your way through snowy trails. Fernie's backcountry is dotted with endless opportunities to experience the thrill of snowmobiling.
Guided snowmobile tours are available for those who are new to snowmobiling or simply prefer to have a local expert lead the way. Knowledgeable guides will take you on an exhilarating adventure, showcasing the best spots and providing insights into the area's natural wonders.
For seasoned riders, Fernie's backcountry offers a playground of endless possibilities. From gentle alpine meadows to challenging mountain slopes, there's terrain to satisfy every rider's appetite for adventure. Breathtaking views, open bowls, and thrilling glades await those who venture out on their snowmobiles.
Remember to always practice safe riding habits and follow designated trails and backcountry guidelines. Safety gear, including helmets and avalanche beacons, should be worn at all times to ensure a secure and enjoyable experience.
Whether you're a first-time rider or a seasoned expert, snowmobiling in Fernie allows you to immerse yourself in the beauty and splendor of the winter landscape. Feel the rush of the wind against your face as you explore the backcountry and create lasting memories in this winter wonderland.
After a day of snowmobiling, unwind and share stories of your adventure with fellow riders at one of Fernie's cozy lodges or bars. Revel in the sense of accomplishment and camaraderie that comes from a day of thrilling snowmobiling.
Snowmobiling in Fernie is an experience that will leave you craving for more. Get ready to rev up your engine and embark on a winter adventure like no other.
Ice Skating
Ice skating is a quintessential winter activity that brings joy and excitement to people of all ages. In Fernie, there are several options for ice skating, offering a chance to glide gracefully or show off your skills on the ice.
The Fernie Memorial Arena is a popular indoor ice skating destination that offers public skating sessions throughout the week. Lace up your skates and enjoy the smooth surface as you twirl and glide under the vibrant lights. The arena provides a fun and lively atmosphere for families, friends, and couples to create lasting memories on the ice.
If you prefer an outdoor ice skating experience, head to the Maiden Lake Outdoor Rink. Located in a picturesque setting, this outdoor rink invites you to skate amidst the breathtaking winter scenery. Skate under the open sky, surrounded by snow-covered trees, while enjoying the crisp mountain air.
Both the Fernie Memorial Arena and Maiden Lake Outdoor Rink offer rental skates, making it convenient for visitors to enjoy ice skating even if they don't have their own equipment. Rental skates are available in various sizes for both children and adults.
Ice skating is not only a fun activity, but it also offers numerous health benefits. It is a great way to improve balance, coordination, and cardiovascular fitness. Whether you're a beginner or a seasoned skater, ice skating provides a wonderful opportunity to embrace the winter season and enjoy the beauty of Fernie.
In addition to public skating sessions, both the Fernie Memorial Arena and Maiden Lake Outdoor Rink host special events such as themed skate nights, hockey games, and figure skating performances. Keep an eye out for these events to add an extra dose of excitement to your ice skating experience.
After a thrilling session on the ice, warm up with a hot beverage or treat yourself to a delicious meal at one of Fernie's charming cafes or restaurants. Share laughter and stories of your skating adventures with loved ones and bask in the joy that comes from a day spent on the ice.
Whether you're a beginner or an experienced skater, ice skating in Fernie provides a delightful winter activity that connects you with the beauty of the season. Lace up your skates and glide across the ice, creating memories that will last a lifetime.
Ice Fishing
Ice fishing is a serene and captivating winter activity that allows you to embrace the beauty of Fernie's frozen lakes and immerse yourself in the tranquility of the winter season. With its abundance of frozen lakes and rivers, Fernie offers excellent opportunities for ice fishing.
Bundle up in warm layers and make your way to one of the frozen lakes surrounding Fernie. Whether you're a novice or an experienced angler, ice fishing provides a unique and memorable experience.
Before you venture out on the ice, it's essential to ensure your safety. Make sure the ice is thick enough to support your weight, generally recommended to be at least four inches thick for walking. Fishing with a partner is also advised, as it adds an extra layer of safety.
Drill a hole in the ice using an ice auger, and set up your fishing gear. Ice fishing equipment typically includes an ice fishing rod, bait, and an ice fishing shelter, which provides protection from the elements and creates a cozy space to fish from.
As you wait patiently for a bite, take in the serenity of the frozen landscape. Watch as the snow-covered trees and mountains reflect off the pristine ice, creating a truly magical winter scene.
Fernie's frozen lakes are home to a variety of fish species, including trout, pike, and whitefish. Catching your own fish is a satisfying experience, and if you're lucky, you can even cook it up for a fresh and delicious meal.
Remember to adhere to fishing regulations and practice catch and release whenever possible. This helps to preserve the fish population and maintain the balance of the ecosystem.
Ice fishing in Fernie is not just about the catch; it's a chance to connect with nature, unwind, and disconnect from the hustle and bustle of everyday life. Spend the day enjoying the peacefulness and solitude of the frozen lake, and let the beauty of winter surround you.
Before you leave, be sure to clean up and leave the area as pristine as you found it. Respect the environment and leave no trace, ensuring that future generations can continue to enjoy the wonders of ice fishing in Fernie.
Ice fishing in Fernie offers a unique and tranquil winter experience, allowing you to appreciate the beauty of nature while pursuing the thrill of catching your own fish. So grab your gear, find your spot on the ice, and embark on a memorable ice fishing adventure in Fernie.
Winter Hiking
Winter hiking in Fernie offers a unique and spectacular way to explore the stunning landscapes and embrace the serene beauty of the season. With its snow-covered peaks, frozen waterfalls, and tranquil forests, Fernie provides endless opportunities for memorable winter hikes.
Before embarking on a winter hike, it's crucial to be well-prepared. Dress in warm, moisture-wicking layers to stay comfortable and protect against the cold. Wear sturdy waterproof boots with good traction to navigate the snow-covered trails. It's also essential to carry essentials such as a map, compass, headlamp, and extra food and water.
Fernie boasts a variety of winter hiking trails suitable for all levels of experience. For beginners, explore the network of trails along the valley bottom, such as the Fairy Creek Falls Trail, where you can hike to the frozen waterfall and witness its magnificent icy formation.
For more seasoned hikers, venture into the stunning backcountry trails that lead you through alpine meadows and towering peaks. Trails like Island Lake Lodge and Mt. Fernie Provincial Park offer breathtaking views and opportunities to immerse yourself in the winter wilderness.
Winter hiking provides a different perspective as you trek along snowy trails, leaving footprints in the untouched powder. The quietness of the winter landscape creates a sense of peace and solitude, giving you a chance to connect with nature on a deeper level.
As you hike, keep an eye out for winter wildlife. Fernie is home to a variety of animals, including elk, deer, and birds of prey. Spotting these creatures against the backdrop of a snowy landscape adds to the magic of your winter hike.
Ensure that you follow trail markers and stay on designated paths to protect the fragile alpine ecosystems. Respect any closures or restrictions in place for wildlife conservation or avalanche safety.
Winter hiking offers a physical and mental challenge, allowing you to stay active while immersing yourself in the beauty of nature. It's important to be mindful of the shorter daylight hours in winter and plan your hikes accordingly, allowing enough time to return safely before sunset.
After a refreshing day of winter hiking, warm up with a hot beverage or enjoy a hearty meal at one of Fernie's fantastic restaurants. Share stories of your winter hiking adventure as you relish in the satisfaction of conquering the trails.
Winter hiking in Fernie is an incredible opportunity to embrace the stillness and beauty of the season. Whether you're seeking solitude, adventure, or breathtaking views, Fernie's winter trails have something to offer every avid hiker.
Winter Wildlife Viewing
Winter in Fernie not only brings breathtaking landscapes but also offers a unique opportunity for wildlife enthusiasts to observe the fascinating creatures that call this region home. The snowy terrain creates a beautiful backdrop for spotting wildlife in their natural habitats.
As you explore the winter trails and backcountry of Fernie, keep your eyes peeled for signs of wildlife. The deep snow often reveals tracks and traces, giving you clues to their presence. Look for paw prints of animals like lynx, foxes, and even elusive creatures like wolverines.
Fernie is known for its diverse bird population, and winter is an excellent time to spot these feathered creatures. Keep an eye out for raptors like eagles and hawks soaring above the snowy hillsides. Listen for the distinctive call of owls as they hunt in the cold winter nights.
Winter also brings the opportunity to witness large mammals as they forage for food. Look for herds of majestic elk and deer as they navigate through the snow-covered valleys. If you're lucky, you may even spot a solitary moose or mountain goat perched on a rocky slope.
Fernie is also home to a thriving population of wintering birds, including various species of waterfowl. Head to areas near frozen lakes and rivers to witness these beautiful birds taking refuge in the icy waters.
Remember to respect wildlife by observing from a distance and not disturbing their natural behavior. This ensures their safety and keeps their environment undisturbed. A pair of binoculars or a camera with a telephoto lens will allow you to get a closer look without intruding on their space.
Winter wildlife viewing in Fernie is a captivating and humbling experience. It reminds us of the resilience and adaptability of the animals that thrive in these harsh conditions. Take the time to appreciate the natural beauty surrounding you and the wonders of the animal kingdom.
Before you venture out, it's essential to research local regulations and any safety guidelines in place to protect the wildlife and their habitats. Educate yourself on the best practices for wildlife viewing to ensure a positive and responsible experience.
Winter wildlife viewing in Fernie offers a unique opportunity to witness nature's wonders. Immerse yourself in the beauty of the landscape, be patient, and keep your eyes and ears open. You never know what extraordinary wildlife encounters await you in this winter wonderland.
Winter Festivals and Events
Winter in Fernie is not only about outdoor activities; it's also a time for festive celebrations and community gatherings. Throughout the season, Fernie hosts a variety of winter festivals and events that showcase the town's vibrant culture and bring the community together.
One of the most anticipated events is the Fernie Griz Days festival, held annually in March. This festival celebrates the legendary "Griz," a mythical mountain man known for bringing abundant snowfall to the region. The festival features a range of activities, including live music, fireworks, a parade, snow sculptures, and even a rail jam competition.
For those seeking artistic inspiration, the Fernie Stoke Fest offers a dynamic blend of film screenings, live performances, and art exhibitions. This festival highlights the creativity and talent of local artists and showcases inspiring works that capture the essence of Fernie's winter beauty.
Throughout the winter season, Fernie's local pubs and breweries host lively events such as beer tastings, live music performances, and themed parties. It's a chance to sample the finest craft brews while enjoying the lively atmosphere and camaraderie of fellow winter enthusiasts.
Music lovers can also immerse themselves in the Winter Concert Series, a lineup of live performances featuring local and visiting musicians. From vibrant folk and rock bands to soulful acoustic acts, these concerts provide a fantastic opportunity to experience the vibrant music scene in Fernie.
Families and children can join in the fun at events like the Fernie Lantern Festival. This magical evening involves creating and parading handmade lanterns through the streets, illuminating the winter darkness with a warm glow.
For those who appreciate the excitement of winter sports, Fernie hosts a variety of ski and snowboard competitions throughout the season. Witness professional athletes and local talent showcase their skills and thrill spectators with their incredible feats on the slopes.
Winter festivals and events in Fernie provide a wonderful opportunity to connect with the community, celebrate the season, and immerse yourself in the town's vibrant atmosphere. With a variety of activities and entertainment options, there's something for everyone to enjoy and make lasting memories.
When planning your visit to Fernie, be sure to check the event calendar for the latest information on upcoming festivals and events. Embrace the festive spirit and get ready to experience the magic of winter in Fernie.
Hot Springs Relaxation
After a day of outdoor adventure in Fernie's winter wonderland, there's no better way to unwind than by soaking in the natural hot springs. Nestled amidst the breathtaking Rocky Mountains, Fernie offers the perfect setting for relaxation and rejuvenation.
Lizard Creek Hot Springs, located just a short drive from Fernie, is a hidden gem that offers a unique and serene experience. Encircled by snow-covered mountains, these natural hot springs provide soothing warmth and stunning views of the surrounding wilderness. Relax in the therapeutic hot mineral waters and let the stresses of the day melt away.
The hot springs are nestled in a natural setting, creating a peaceful atmosphere that promotes tranquility and Zen. The contrasting sensation of the hot water against the crisp winter air creates a blissful and invigorating experience.
Immerse yourself in the warm waters and breathe in the fresh mountain air. The hot springs offer a space to disconnect from the outside world and embrace the serenity of nature. Marvel at the snow-covered landscapes while enjoying the soothing comfort of the hot springs.
Lizard Creek Hot Springs provides both public and private pools, allowing visitors to choose the level of privacy they prefer. This makes it an excellent option for individuals, couples, and families alike.
After indulging in a relaxing soak, why not extend your visit to Lizard Creek Hot Springs by booking a cozy cabin or chalet? Stay overnight and wake up to the serene beauty of the mountains, ready to embark on another day of adventure in Fernie.
It's important to note that Lizard Creek Hot Springs is a rustic and natural hot spring, so be prepared for a wilderness experience. Bring your own towels, warm clothing, and any refreshments you may desire during your visit.
As you soak in the hot springs, be sure to respect the environment and follow any guidelines in place to preserve the natural beauty of the area. Leave no trace, so that future visitors can enjoy the hot springs in their pristine condition.
Hot springs relaxation in Fernie is the perfect way to soothe tired muscles, calm the mind, and reconnect with nature. Whether you visit for an afternoon or choose to spend a night, the hot springs offer a tranquil escape that will leave you feeling refreshed and rejuvenated.
Après-Ski Activities
Après-ski, the lively socializing that takes place after a day of skiing or snowboarding, is an integral part of the winter experience in Fernie. After hitting the slopes, it's time to unwind, relax, and celebrate a day well spent in the mountains.
Fernie offers a variety of après-ski activities to suit everyone's tastes and preferences. From cozy pub atmospheres to live music performances, there's something for everyone to enjoy after a day on the slopes.
One popular après-ski activity is to gather with friends and fellow skiers at one of the local pubs or bars. These establishments offer a warm and inviting atmosphere, perfect for sharing stories and laughter while indulging in a well-deserved beverage. Sip on craft beers, treat yourself to a hot mulled wine, or enjoy a signature cocktail as you recount the adventures of the day.
If you prefer a more relaxed après-ski experience, retreat to one of the many spas or wellness centers in Fernie. Treat yourself to a soothing massage, rejuvenating facial, or a session in a hot tub or sauna. Let the stress of the day melt away as you pamper yourself and prepare for another day of mountain adventures.
During winter, Fernie also hosts live music events, adding a lively and vibrant atmosphere to the après-ski scene. Local bands and visiting musicians perform at various venues, ranging from intimate cafes to bustling bars and pubs. Immerse yourself in the toe-tapping rhythms and energetic performances as you enjoy the company of friends and fellow winter enthusiasts.
For those seeking a bit of excitement, try your hand at a game of pool or darts at one of the local entertainment venues. Challenge your friends to a friendly competition as you engage in lively banter and laughter. This is a fun way to unwind and continue the enjoyment of the day.
Après-ski activities in Fernie are not limited to indoor experiences. Take advantage of the stunning natural surroundings by going for a walk or snowshoe around town or along the scenic Elk River. Enjoy the peacefulness and beauty of the winter landscape while reflecting on the adventures of the day.
Whatever après-ski activity you choose, the focus is on relaxation, camaraderie, and celebrating the spirit of winter adventure. Connect with fellow skiers and snowboarders, share memorable moments, and create lasting friendships in the vibrant après-ski scene of Fernie.
With a variety of options to suit every taste, your après-ski experience in Fernie will be brimming with warmth, laughter, and the sense of camaraderie that comes from spending a day on the slopes.
Local Dining and Craft Beer Tasting
Fernie is not just a paradise for outdoor enthusiasts; it's also a culinary hotspot with a vibrant food and craft beer scene. After a day of winter adventures, treat your taste buds to a culinary journey through Fernie's local dining establishments and indulge in the craft beer offerings that the town is renowned for.
Fernie's restaurants showcase a diverse range of cuisines, from comforting Canadian dishes to international flavors. Whether you're craving a hearty Canadian poutine, a mouthwatering steak, or a decadent seafood feast, Fernie's dining scene has something to satisfy every palate.
One of the highlights of dining in Fernie is the focus on locally sourced ingredients. Many restaurants work closely with regional farmers and producers to create menus that celebrate the flavors of the surrounding area. From farm-fresh fruits and vegetables to locally raised meats and artisanal cheeses, you can expect a farm-to-table experience that tantalizes your taste buds.
After enjoying a delicious meal, it's time to explore Fernie's craft beer scene. The town is home to multiple breweries that offer a wide selection of locally brewed beers, each with its unique flavors and styles.
Settle into a cozy corner of one of Fernie's stylish brewpubs or taprooms and sample a flight of craft beers. From crisp and refreshing lagers to hoppy and aromatic IPAs, there's a beer to suit every preference. Engage with the knowledgeable staff who are passionate about their craft and can guide you through the beer tasting experience.
Many breweries in Fernie offer brewery tours, providing a behind-the-scenes look at the beer-making process. Gain insight into the art of brewing as you witness firsthand the dedication and craftsmanship that goes into creating each batch of beer.
For those looking to learn more about the nuances of beer styles and flavors, consider attending a beer tasting or a beer-pairing event. These educational experiences allow you to explore the intricacies of beer and discover how different flavors complement each other.
Alongside the craft beer, Fernie's breweries often have inviting food menus that pair perfectly with their brews. Indulge in delicious pub fare such as gourmet burgers, handcrafted pizzas, and creative appetizers. The combination of flavorful food and locally brewed beer creates a harmonious dining experience.
Whether you're a beer enthusiast or a food lover, Fernie's local dining scene and craft beer offerings will tantalize your taste buds and leave you wanting more. Enjoy the warm hospitality, the creative culinary delights, and the inventive craft beers as you savor the unique flavors of Fernie.
Shopping for Winter Gear and Souvenirs
When visiting Fernie, shopping for winter gear and souvenirs is a must-do experience. Whether you're in need of new ski or snowboarding gear or simply want to take home a piece of Fernie's charm, the town offers a range of shops and boutiques to browse through.
Fernie is home to several outdoor gear shops that cater to winter enthusiasts. From ski and snowboard rentals to the latest gear and apparel, these stores have everything you need to stay warm and stylish on the slopes. Knowledgeable staff can assist you in finding the right gear for your skill level and provide helpful recommendations.
In addition to winter sports equipment, Fernie boasts specialty stores that offer a wide range of winter clothing and accessories. Whether it's cozy sweaters, waterproof jackets, or insulated boots, you'll find the perfect attire to keep you comfortable and fashionable during your winter adventures.
Looking for a unique souvenir or gift? Fernie's boutique shops offer a variety of locally made and artisanal products. Explore charming stores that showcase the work of local artists, including handmade jewelry, artwork, and home decor items. These one-of-a-kind pieces capture the essence of Fernie and make for memorable treasures to take home.
The town's galleries and gift shops are also excellent places to find distinctive souvenirs. Discover beautiful photography capturing Fernie's natural beauty, or find a locally authored book that shares tales of the town's rich history and outdoor adventures.
For those who appreciate craft spirits, Fernie boasts a local distillery that produces premium spirits using locally sourced ingredients. Visit their tasting room and bring home a bottle of their unique creations to savor the taste of Fernie long after your visit.
Don't forget to explore the local markets, which showcase the talents of Fernie's artisans and farmers. Fresh produce, homemade preserves, and unique handmade crafts can be found at these vibrant markets, offering a true taste of the region.
Shopping in Fernie is an opportunity to support local businesses and artisans while finding the perfect gear and souvenirs to commemorate your time in this magical mountain town. From practical winter gear to artistic creations, the shopping experience in Fernie is as diverse and captivating as the town itself.
Take a piece of Fernie's charm and adventure home with you as a reminder of the unforgettable memories made in this picturesque winter wonderland.
Conclusion
Fernie, British Columbia, offers a winter experience like no other. From its world-class skiing and snowboarding to its tranquil snowshoeing trails and picturesque winter landscapes, Fernie has something for everyone seeking adventure, relaxation, and natural beauty.
Immerse yourself in the thrill of gliding down powdery slopes at Fernie Alpine Resort or explore the serene winter landscapes on snowshoes or cross-country skis. Experience the exhilaration of fat biking through snowy forests or the adrenaline rush of snowmobiling in the backcountry.
Fernie also offers a range of charming après-ski activities, from cozy pub atmospheres and live music performances to relaxing spa treatments. Indulge in the town's culinary delights, sample local craft beers, and take home unique souvenirs and local products.
But Fernie is not just about the activities—it's about the people and their passion for the winter season. The warm hospitality of the locals, the vibrant festivals and events, and the sense of community create an atmosphere that is lively and welcoming.
As you explore the winter wonders of Fernie, be sure to take time to appreciate the stunning beauty of the snow-covered mountains, frozen lakes, and breathtaking panoramic views. Whether you're a seasoned outdoor enthusiast or someone seeking a cozy winter retreat, Fernie will capture your heart and leave you with unforgettable memories.
So, pack your winter gear, embrace the snow, and get ready to embark on an amazing winter adventure in the Canadian Rockies. Whether you're carving down the slopes, exploring the peaceful backcountry trails, or savoring the local flavors, Fernie is a destination that will leave you inspired, rejuvenated, and longing to return.