Arriving Into Edmonton, Alberta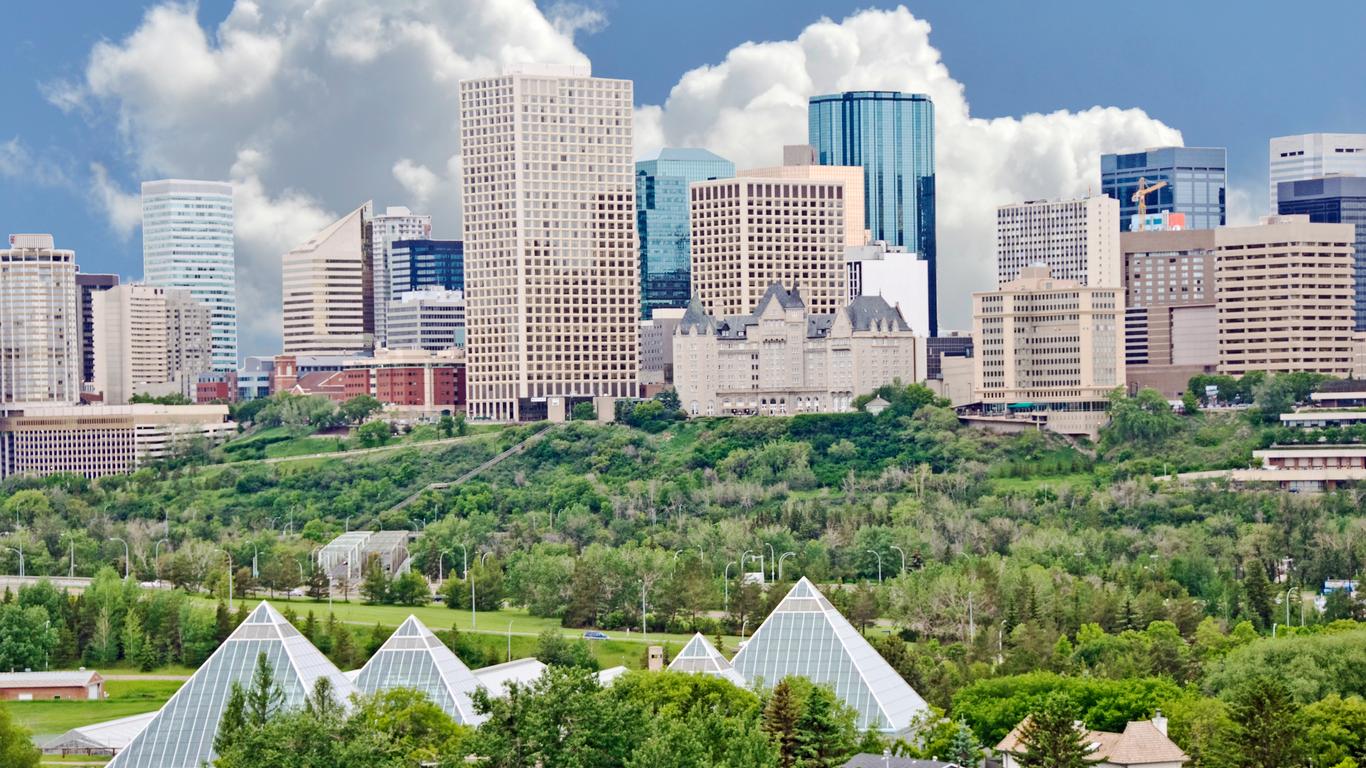 Introduction
Welcome to Edmonton, Alberta, one of Canada's hidden gems. Located in the heart of the prairies, Edmonton is the capital city of Alberta and boasts a population of over one million residents. Known for its vibrant culture, exciting events, and breathtaking natural beauty, Edmonton is a must-visit destination for travelers.
Edmonton offers a unique blend of metropolitan amenities and outdoor adventure, making it the perfect place for those seeking a diverse and memorable experience. Whether you're exploring the city's vibrant downtown core, immersing yourself in the local arts and music scene, or venturing into the surrounding wilderness, Edmonton has something for everyone.
With its rich history and cosmopolitan atmosphere, Edmonton has become a hub for arts, culture, and entertainment. The city is home to numerous world-class museums, galleries, and theaters, where you can immerse yourself in the vibrant local arts scene. From Broadway-caliber productions to indie theater performances, there is always something exciting happening on Edmonton's stages.
But Edmonton is not just about art and culture—it is also a playground for outdoor enthusiasts. With more than 160 kilometers of hiking and biking trails, pristine river valleys, and countless parks, Edmonton offers endless opportunities to connect with nature. Whether you're exploring the iconic Elk Island National Park, embarking on a canoe trip down the North Saskatchewan River, or discovering the stunning West Edmonton Mall, there is no shortage of outdoor adventures in and around the city.
Edmonton also boasts a thriving culinary scene, with a wide array of international cuisines and local delicacies to tantalize your taste buds. From farm-to-table dining experiences to mouthwatering burgers and poutine, you'll find something to satisfy every craving. And when the sun sets, Edmonton comes alive with vibrant nightlife options, including trendy bars, live music venues, and world-class casinos.
Whether you're a nature lover, foodie, culture enthusiast, or adventure seeker, Edmonton has it all. In this guide, we will delve into the various aspects that make Edmonton an exciting and unique destination. From the city's climate and transportation options to the top attractions, dining, shopping, and outdoor activities, we will arm you with all the information you need to make the most of your visit to this incredible city.
Climate in Edmonton
Edmonton experiences a northern continental climate, characterized by warm summers and cold winters. The city enjoys long daylight hours during the summer months, with temperatures ranging from 15°C to 25°C (59°F to 77°F). This is the perfect time to explore the city's outdoor attractions and take part in various festivals and events.
Winter in Edmonton can be quite chilly, with temperatures dropping to an average of -10°C to -20°C (14°F to -4°F). Heavy snowfall is common during this time, creating a picturesque winter wonderland. Visitors can enjoy activities such as ice skating, skiing, snowboarding, and even dog sledding.
Spring and fall are transitional seasons in Edmonton, with milder temperatures and changing landscapes. Spring brings new life as the city blossoms with vibrant flowers and blossoming trees, while fall offers stunning foliage colors and a crisp, cool atmosphere.
It's essential to dress appropriately for the weather, especially during the winter months. Layering is recommended to stay warm, as well as wearing a waterproof outer layer to protect against snow and precipitation.
It's also important to note that Edmonton's weather can be unpredictable at times, so it's always a good idea to check the forecast before heading out for the day. Packing a mix of clothing options will ensure you're prepared for any changes in weather.
Overall, Edmonton's climate provides a unique experience throughout the seasons, allowing visitors to enjoy outdoor activities in both summer and winter. Whether you're exploring nature trails in the summer or embracing the snow in the winter, Edmonton's climate offers a diverse range of experiences for all seasons.
Transportation options
Getting around Edmonton is convenient and hassle-free, thanks to its multiple transportation options. Whether you prefer public transit, renting a car, or using rideshare services, there are plenty of ways to navigate the city.
Public Transit: Edmonton Transit Service (ETS) operates an efficient and extensive bus and LRT (Light Rail Transit) network throughout the city. The LRT system consists of two lines, the Capital Line and the Metro Line, providing easy access to major attractions, universities, and residential areas. The bus network covers the entire city, including suburbs and areas not serviced by the LRT. ETS offers various ticket options, including single-ride fares, day passes, and monthly passes, making it affordable and accessible for both residents and visitors.
Ride-Sharing Services: Uber and Lyft are available in Edmonton, providing convenient transportation options with just a few taps on your smartphone. These rideshare services offer a reliable and affordable way to travel around the city. Simply download the app, request a ride, and a driver will pick you up and take you to your desired destination.
Taxis: Traditional taxi services are also available in Edmonton. You can hail a cab from designated taxi stands or book one through a taxi company. Taxis are a convenient option if you prefer having a dedicated driver and don't mind the slightly higher cost compared to rideshare services.
Car Rentals: If you prefer the freedom and convenience of having your own vehicle, car rentals are readily available in Edmonton. Several major car rental companies have branches at the Edmonton International Airport and throughout the city. Renting a car allows you to explore the surrounding areas at your own pace and venture beyond the city limits.
Biking/Walking: Edmonton is a bike-friendly city with an extensive network of paved trails and bike lanes. Renting a bike from one of the many bike-sharing stations is a great way to explore the city and its beautiful river valley. Walking is also a popular option, especially in the downtown core, where many attractions are within walking distance of each other.
Overall, Edmonton provides a range of transportation options that make navigating the city convenient and accessible. Whether you choose to use public transit, rideshare services, taxis, or opt for a car rental, you'll have no trouble exploring all that Edmonton has to offer.
Accommodation options
When it comes to accommodation in Edmonton, you'll find a wide range of options to suit every budget and preference. Whether you're looking for luxury hotels, cozy bed and breakfasts, or budget-friendly hostels, Edmonton has it all.
Hotels: Edmonton offers a diverse selection of hotels, ranging from luxurious five-star properties to affordable chain hotels. The downtown area is a popular choice for visitors, with several hotels conveniently located near major attractions, shopping centers, and entertainment venues. Many hotels in the city also offer amenities such as on-site restaurants, fitness centers, and swimming pools.
Bed and Breakfasts (B&Bs): For a more intimate and personalized experience, consider staying at a bed and breakfast in Edmonton. B&Bs offer cozy and comfortable accommodations, often in historical or character-filled homes. You'll enjoy a warm and welcoming atmosphere, along with home-cooked breakfasts prepared by your hosts.
Hostels: If you're a budget-conscious traveler or prefer a more social atmosphere, there are several hostels located throughout Edmonton. Hostels offer dormitory-style accommodations with shared facilities, making them an excellent choice for solo travelers or groups on a tight budget.
Short-Term Rentals: Another popular accommodation option in Edmonton is short-term rentals, such as Airbnb or VRBO. These rentals provide the opportunity to stay in a private apartment, condo, or house, giving you the flexibility to enjoy a home-away-from-home experience during your stay.
In addition to these options, there are also extended-stay hotels, campgrounds, and RV parks available for those who prefer a more unique or outdoor-oriented accommodation experience.
When choosing your accommodation in Edmonton, consider factors such as location, amenities, and budget. It's advisable to book well in advance, especially during peak travel seasons or if you have specific requirements.
Overall, no matter what your accommodation needs may be, Edmonton offers a variety of options to suit every traveler's preferences. Rest assured that you'll find a comfortable and convenient place to stay during your visit to this vibrant Canadian city.
Top attractions in Edmonton
When visiting Edmonton, you'll find a plethora of attractions that highlight the city's diverse and vibrant culture. Whether you're interested in history, nature, or entertainment, there's something for everyone to enjoy. Here are some of the top attractions in Edmonton:
West Edmonton Mall: Known as one of the largest malls in North America, West Edmonton Mall is a must-visit attraction. Featuring over 800 stores, an indoor amusement park, water park, ice rink, mini-golf course, and countless dining options, the mall offers endless entertainment for the whole family.
Fort Edmonton Park: Step back in time at Fort Edmonton Park, a living history museum that showcases Edmonton's past. Explore various eras, from the early fur trading days to the early 20th century, as you wander through historic buildings, chat with costumed interpreters, and experience interactive exhibits.
Art Gallery of Alberta: Immerse yourself in the vibrant arts scene at the Art Gallery of Alberta. This stunning architectural masterpiece houses a diverse collection of art, featuring both historical and contemporary works. Explore the ever-changing exhibitions that represent a wide range of artistic styles and mediums.
Alberta Legislature Building: A landmark of Edmonton, the Alberta Legislature Building is a magnificent structure that offers a glimpse into the province's political heritage. Take a guided tour to learn about the building's history, architecture, and the democratic process in Alberta.
Elk Island National Park: Just a short drive from Edmonton, Elk Island National Park is a haven for nature enthusiasts. Home to a large population of bison, elk, and various bird species, the park offers opportunities for hiking, wildlife spotting, and stargazing.
Muttart Conservatory: Explore the beauty of the Muttart Conservatory, featuring four glass pyramids that house a diverse collection of plants from different climatic regions. Whether you're interested in tropical plants, arid desert flora, or vibrant blooms, the conservatory is a feast for the senses.
TELUS World of Science: Delve into the world of science and discovery at the TELUS World of Science. With interactive exhibits, planetarium shows, and IMAX movies, this attraction is a favorite among families and science enthusiasts.
Old Strathcona: Visit the vibrant and historic Old Strathcona district, known for its charming boutiques, art galleries, theaters, and lively restaurants. The area is also home to the popular Whyte Avenue, a vibrant street filled with shops, cafes, and nightlife options.
North Saskatchewan River Valley: Explore North America's largest urban parkland, the North Saskatchewan River Valley. With over 160 kilometers of trails, this expansive green oasis offers opportunities for walking, cycling, picnicking, and taking in stunning views of the city skyline.
Winspear Centre: Experience the thrill of live music at the Winspear Centre, the home of the Edmonton Symphony Orchestra. Enjoy concerts ranging from classical masterpieces to contemporary performances, showcasing the city's vibrant music scene.
This is just a glimpse of what Edmonton has to offer in terms of attractions. Whether you're interested in shopping, history, art, nature, or entertainment, you'll find endless opportunities to explore and discover the rich tapestry of this Canadian city.
Dining and nightlife
Edmonton's culinary scene is thriving and diverse, offering a wide range of dining options to suit every palate. From local favorites to international cuisines, you'll find an abundance of restaurants, cafes, and food trucks that will satisfy even the most discerning food enthusiasts.
Local Delicacies: When in Edmonton, don't miss trying some of the local delicacies. Start your day with a hearty plate of "pancakes and syrup" at one of the city's iconic pancake houses. Indulge in the famous "Alberta beef" at a steakhouse or enjoy a bowl of the traditional Canadian dish, "poutine," which consists of French fries topped with cheese curds and gravy.
International Cuisine: Edmonton is a melting pot of cultures, and this is reflected in its diverse culinary offerings. You can savor authentic Italian pasta, indulge in spicy Indian curries, sample savory Vietnamese pho, or enjoy a delicious plate of sushi at a Japanese restaurant. The options are endless, and you'll find an array of international cuisines to satisfy any craving.
Farm-to-Table Dining: Edmonton's thriving farm-to-table movement has brought a focus on locally sourced and sustainable ingredients. Many restaurants in the city pride themselves on using fresh, seasonal produce, and locally raised meats, providing diners with a truly unique and flavorful experience.
Craft Breweries and Distilleries: Edmonton has seen a rise in craft breweries and distilleries, offering an exciting array of locally brewed beers, ciders, and spirits. Take a tour of one of the breweries or distilleries and sample their creations. You can also enjoy a pint or a cocktail at one of the city's lively brewpubs or cocktail bars.
When the sun goes down, Edmonton comes alive with a vibrant nightlife scene. Whether you're looking for live music venues, trendy bars, or dance clubs, you'll find plenty of options to keep you entertained into the late hours.
Live Music: Edmonton has a thriving music scene, with venues ranging from intimate jazz clubs to large concert halls. Catch a live performance by local musicians or international artists at venues like the Winspear Centre, Starlite Room, or the Blues on Whyte.
Trendy Bars and Lounges: If you're looking for a trendy spot to enjoy a cocktail with friends, Edmonton has a variety of stylish bars and lounges. From rooftop patios with stunning city views to cozy speakeasies with craft cocktails, there's a perfect spot for every mood.
Dance Clubs: For those who love to dance the night away, Edmonton offers several nightclubs where you can let loose and groove to the beats of renowned DJs. Whether you prefer electronic music, hip-hop, or top hits, the city's dance clubs cater to a variety of musical tastes.
With its diverse dining scene and lively nightlife, Edmonton ensures that visitors have a memorable culinary and entertainment experience. So, whether you're satisfying your taste buds at a local eatery or dancing the night away at a club, Edmonton has something to offer for everyone.
Shopping in Edmonton
When it comes to shopping, Edmonton offers a diverse range of options, from sprawling malls to unique boutiques and local markets. Whether you're searching for the latest fashion trends or one-of-a-kind souvenirs, you'll find plenty of shopping destinations to explore in the city.
West Edmonton Mall: As one of the largest shopping malls in North America, West Edmonton Mall is a shopaholic's paradise. With over 800 stores, including major department stores, luxury brands, and specialty shops, you can find everything from fashion apparel and accessories to home decor and electronics. It's not just a mall; it's an experience with its indoor amusement park, water park, skating rink, and mini-golf.
Whyte Avenue: Known as a trendy and vibrant district, Whyte Avenue is a hub for independent boutiques, local designer shops, and unique art galleries. It's the perfect place to find fashionable clothing, jewelry, and accessories from local designers, as well as specialty stores offering vintage and retro finds.
Southgate Centre: Southgate Centre is an upscale shopping mall located in south Edmonton. It features a mix of high-end fashion brands, stylish boutiques, and popular department stores. With its spacious layout and elegant ambiance, this mall offers a sophisticated shopping experience.
Old Strathcona Farmers' Market: For a different shopping experience, head to the Old Strathcona Farmers' Market. This bustling market is open year-round and showcases a wide variety of fresh local produce, baked goods, artisanal crafts, and unique handmade items. It's a great place to support local vendors and find unique souvenirs.
Edmonton City Centre: Located in the heart of downtown, Edmonton City Centre is a modern shopping complex with a mix of retail stores, restaurants, and entertainment options. From fashion boutiques to electronics stores, you'll find a variety of options to cater to your shopping needs.
Specialty Shops: Edmonton is also home to several specialty shops that offer unique shopping experiences. Visit Old Strathcona's Whyte Avenue to explore a plethora of vintage shops, bookstores, and specialty stores offering trinkets, art, and curiosities. You can also find Aboriginal art and handmade crafts at Indigenous-owned stores throughout the city.
Whether you're a fashion enthusiast, art collector, or simply love to explore unique shops, Edmonton's shopping scene has something for everyone. From the luxury of West Edmonton Mall to the charm of Whyte Avenue and the local flair of farmers' markets, Edmonton offers a diverse and enjoyable shopping experience.
Outdoor activities in and around the city
Edmonton is surrounded by stunning natural landscapes, making it a perfect destination for outdoor enthusiasts. From exploring picturesque river valleys to embarking on thrilling adventures, there's no shortage of outdoor activities to enjoy in and around the city.
North Saskatchewan River Valley: Spanning over 160 kilometers, the North Saskatchewan River Valley offers endless opportunities for outdoor activities. Hike or bike along the extensive trail system that winds through the river valley, taking in breathtaking views of the river, lush greenery, and stunning city skyline. You can also enjoy picnicking, birdwatching, or simply strolling through the numerous parks and recreational areas along the riverbanks.
Elk Island National Park: Located just a short drive east of Edmonton, Elk Island National Park is a haven for nature lovers. The park is home to a thriving population of bison, elk, and over 250 species of birds. Enjoy hiking or biking on scenic trails, go wildlife spotting, have a picnic, or rent a canoe for a peaceful paddle on one of the park's lakes.
Whitemud Park and Nature Reserve: Whitemud Park offers a peaceful retreat within city limits. Explore the nature reserve's walking trails, which wind through lush forests and wetland areas. This park is perfect for birdwatching, spotting wildlife, and immersing yourself in nature without venturing far from the city.
Golfing: Edmonton boasts several top-notch golf courses for both recreational and professional golfers. Whether you're a beginner or an experienced player, you can enjoy a round of golf at courses like the Royal Mayfair Golf Club or The Quarry. The city's golf courses offer challenging fairways and stunning views of the surrounding landscapes.
River Rafting and Kayaking: The North Saskatchewan River provides opportunities for river rafting and kayaking adventures. Whether you're seeking a thrilling white-water experience or a tranquil paddle, various outfitters offer guided trips and equipment rentals. Explore the river's scenic stretches, navigate rapids, and soak in the beauty of nature as you float downstream.
Zipline and Aerial Adventures: For an adrenaline rush, head to one of the zipline and aerial adventure parks near Edmonton. Test your courage by zipping through the treetops, navigating high ropes courses, and conquering challenging obstacle courses. These parks offer a thrilling and unique outdoor experience for the whole family.
Winter Activities: During the winter months, Edmonton transforms into a winter wonderland with various activities to enjoy. Skiing and snowboarding enthusiasts can hit the slopes at nearby ski resorts like Rabbit Hill Snow Resort or Snow Valley. Outdoor skating rinks, ice fishing, and snowshoeing are also popular winter activities in the city.
Whether you're seeking peaceful nature walks, thrilling adventures, or winter sports, Edmonton provides ample opportunities to enjoy the great outdoors. Embrace the beauty of the surrounding landscapes and create unforgettable memories with the plethora of outdoor activities available.
Events and festivals in Edmonton
Edmonton is a city that knows how to celebrate, with events and festivals happening throughout the year. From cultural celebrations to live music and sporting events, there's always something exciting happening in this vibrant Canadian city.
K-Days: Each summer, Edmonton hosts K-Days, a popular annual fair and exhibition. This 10-day event features thrilling amusement park rides, live entertainment, agricultural exhibits, food vendors, and a grand fireworks finale. It's a beloved tradition that attracts both locals and visitors of all ages.
Edmonton International Fringe Festival: Known as the oldest and largest fringe theatre festival in North America, the Edmonton International Fringe Festival is a must-see event for theater enthusiasts. For 11 days in August, performers from around the world take the stage, offering a diverse array of theatrical performances, street performances, and arts-related activities.
Ice on Whyte Festival: Embrace the winter season by attending the Ice on Whyte Festival. Held in January, this festival showcases incredible ice sculptures created by talented artists. Visitors can explore the ice carving competitions, take part in ice-related activities, and enjoy live music and entertainment.
Edmonton Folk Music Festival: Experience the magic of live music at the Edmonton Folk Music Festival. Held annually in Gallagher Park, this four-day event features performances by renowned national and international folk musicians. Set against the backdrop of the picturesque Edmonton skyline, this festival is a favorite among music lovers.
Heritage Festival: Celebrating Edmonton's multicultural diversity, the Heritage Festival is a three-day event in August. Visitors can indulge in delicious ethnic cuisines, learn about different cultures through exhibits and performances, and experience the vibrant sights and sounds of the world within Edmonton.
Edmonton International Street Performers Festival: Prepare to be amazed by the talent and creativity of street performers at the Edmonton International Street Performers Festival. For 10 days in July, downtown Edmonton comes alive with captivating performances ranging from acrobatics and comedy to magic and music.
Edmonton Marathon: Lace up your running shoes and take part in the Edmonton Marathon, held annually in August. With various race distances available, from a 5K fun run to the full marathon, this event attracts participants of all fitness levels. The route showcases Edmonton's scenic beauty and provides a memorable running experience.
Edmonton International Film Festival: Film enthusiasts will enjoy the Edmonton International Film Festival, an event that showcases a diverse selection of independent and international films. From thought-provoking documentaries to captivating narratives, this festival highlights the best of independent cinema from around the world.
These are just a few examples of the many events and festivals that take place in Edmonton throughout the year. Whether you're interested in arts and culture, music, sports, or culinary delights, there's always something happening in this lively Canadian city.
Conclusion
Edmonton, Alberta offers a unique and unforgettable experience for residents and visitors alike. From its lively atmosphere to its stunning natural surroundings, the city has something for everyone. Whether you're exploring the vibrant downtown area, immersing yourself in the local arts and culture scene, or venturing into the nearby wilderness, Edmonton is a destination that will leave a lasting impression.
With its diverse range of attractions, Edmonton showcases the best of both urban and outdoor settings. From the iconic West Edmonton Mall to the historical Fort Edmonton Park, there are endless opportunities to immerse yourself in the city's rich history and cultural heritage. Meanwhile, the North Saskatchewan River Valley and Elk Island National Park provide ample opportunities for outdoor adventures, such as hiking, biking, and wildlife spotting.
Edmonton's culinary scene is also thriving, with a wide range of dining options that cater to all tastes and preferences. Whether you're in the mood for local delicacies, international cuisines, or farm-to-table experiences, you'll find an abundance of restaurants, cafes, and food trucks to satisfy every craving.
In addition to its attractions and dining scene, Edmonton is known for its year-round lineup of events and festivals. From K-Days to the Edmonton International Fringe Festival, there's always something happening to celebrate the city's vibrant culture and bring people together.
Overall, Edmonton encapsulates the spirit of Canada, with its warm hospitality, stunning landscapes, and a mix of metropolitan and outdoor offerings. Whether you're a nature enthusiast, a history buff, a food lover, or a culture seeker, Edmonton has something to offer you. So, pack your bags and get ready to embark on an unforgettable journey in this incredible Canadian city.