10 Best Things To Do In Ireland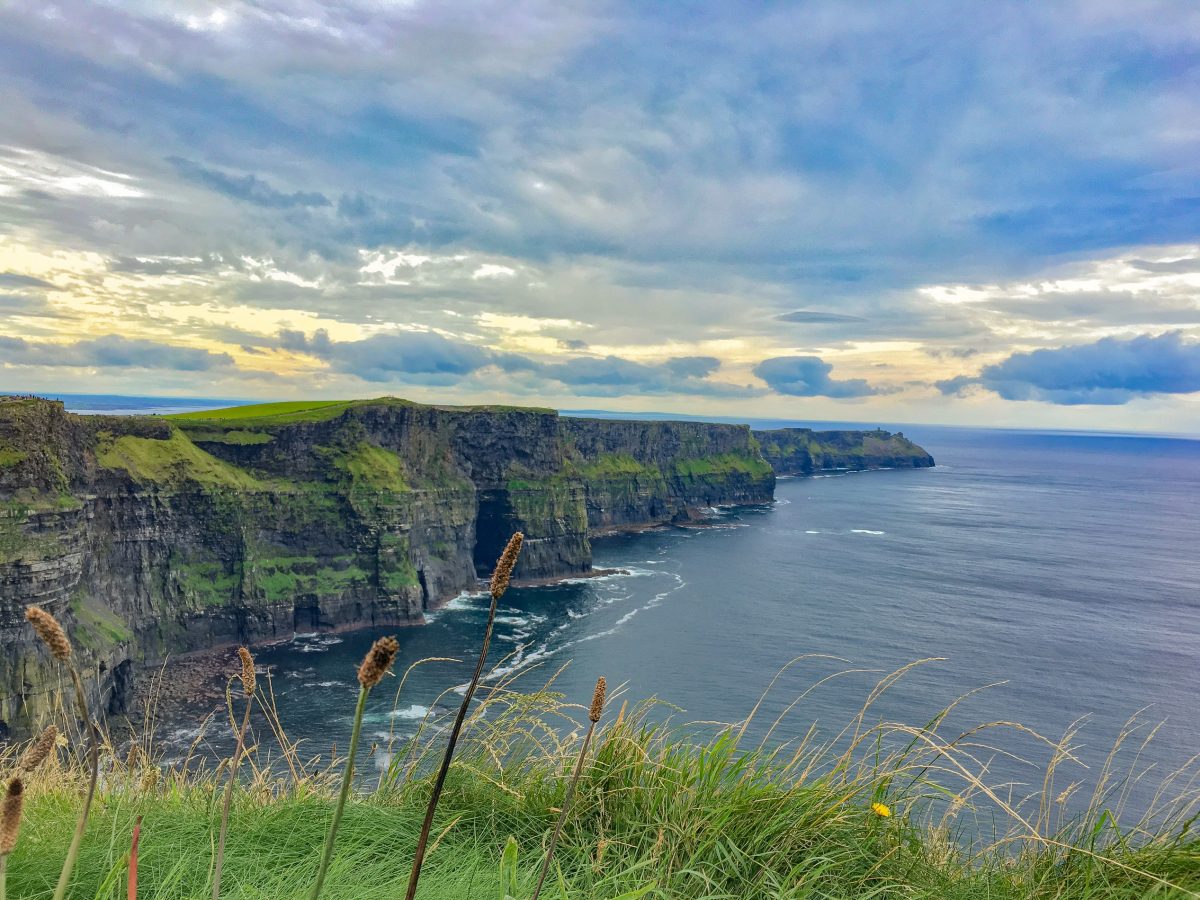 Ireland is one of the best places to travel to in the world. Even more so, if you're the type who loves to explore attractions rich in history and culture. From partying at famous pubs to visiting centuries-old castles, Ireland is a lure for backpackers and family and friends' get away from all over the world.
Ireland boasts its highest tourist arrivals in 2018, receiving more than 11 million international visitors, thanks to its hundreds of stunning landscapes and attractions.
Home of the Irish
The huge number of visits in Ireland is a no-surprise though. Aside from the countless places to go and things to do, the Irish people could be one of the most admirable people in the world. Speaking in their distinct English accent, they'd tell you weird jokes and witty stories until your stomach couldn't handle.

Having a terrific sense of humour is one of the better things the people of Ireland do, with many saying they have the best among Europeans.
Famous Irish Folk
When people say opposite attracts, there would be a lot of Irish and Germans ending up together. They'd surely enjoy a table of potatoes and beers! Given these characteristics of the Irish, you could be wondering who might be the famous Irish people you probably didn't know were Irish. To give you some: MMA fighter Conor McGregor, Colin Farrell, Richard Harris (Albus Dumbledore!), One Direction singer Niall Horan, scientist Robert Boyle, and singer Danny O Donoghue. And no, St. Patrick wasn't born in Ireland.
Before You Go to Ireland
Before you book that flight to Ireland, it's a must to check on what type of adventure you would want to experience in the island country dubbed as the "Emerald Isle." Tourist arrivals are usually high during the summer season, which means rates of hotels, getting around and the Ireland tourism services are also higher than usual. If you're on a budget, visiting Ireland during the spring and autumn season would be most convenient. This also means fewer crowds and lesser time constraints so you can fully enjoy your visit!
Ireland Weather
The weather in Ireland is relatively pleasant even during the summer season. It's not too hot and not too cold, just the perfect weather for you! The temperature goes as high as 68 degrees Fahrenheit (20 degrees Celsius) during summer (May to July); 46 to 54°F (8 to 12°C) during Spring (February to April); 57 to 64°F (18-20°C) during autumn (August to October); and 39 to 42°F (4 to 6°C) during winter (November to January).
Although snow is rare during the winter season, some tourist attractions are closed during the season. It could also be wet all from November to January. One good thing about the winter season of Ireland is you could skip the long lines due to fewer tourists!
Two Weeks to Wander
To get the most out of your visit to Ireland, you must at least spend 10 days to visit the top attractions around the country. During these days, you can have the adventure-packed travel you dearly wished.
The sights outside Dublin, such as the Wild Atlantic Way, would usually take you a long road trip. So it's advisable that you rent a car from the capital city of Dublin. Take note that you don't need to rent a car while you're exploring around Dublin! The city is pleasantly walkable. You can rent the type of car suitable for your travel from the many rental companies in Ireland.
Now let's jump into Ireland's abundant sights and delights, with the list of top things to do in Ireland.
1.
Drink Like the Irish at Irish Pubs
This one tops our list, because why not? Irish pubs, or commonly referred to as bars in other countries, are a big part of Ireland's social culture and could be traced as early as the 10th century! After all, Ireland ranks 6th among the 196 countries in the world in terms of beer consumption per capita. An Irish, according to researches, consumes a whopping 98.2 litres of beer per year! What's more? The Irish Whiskey has a grand fan-following too! Don't forget to try a glass of Ireland Whiskey to feel the warmth on a cold Irish evening.
Meet Locals at Irish Pubs
Short for "public houses," the Irish pubs, aside from the usual drinking, offer a great place for you to eat hearty foods and experience traditional music and local sports! If you wish to discover and experience the Irish sense of humour yourself, there is no better way than sharing a table (and a conversation) with the locals inside a pub. So when you're in Ireland, you can't miss partying at their pubs. Most of the pubs are found inside Dublin, so you have a good reason to enjoy this culture as much as you enjoy beers!
2.
Party at The Temple Bar in Dublin
No visit to Dublin is complete without visiting the Temple Bar. Where is Temple Bar located? You may wonder. Well, the Temple Bar is actually a small area located in the south bank of the River Liffey in central Dublin. It's just about 9 kilometres from Dublin Airport. Temple Bar in Ireland could also be nearer from any of your hotels in that region. What to Do in Temple Bar? Have a lot of fun! If you're in for an adventure in the streets near The Temple Bar, prepare yourself for a long night. It never gets boring at these attractions in Ireland.
Be an Irish Nightcrawler
Although it became an integral part of Ireland's culture and history, Temple Bar is now mostly flocked by tourists. Not to mention the badge Temple Bar owns, titled "Tourism Hub" in all of Ireland. The Temple Bar is a must-see if you're a Nightcrawler! It is considered as the "Heart of Dublin City," where you can find pubs, galleries, restaurants, and live music jam-packed into one area. It's pretty convenient especially if you're only planning to stay for a couple of days in Ireland. It's quite acceptable to say that the place nearly offers a complete Ireland experience. Here you can eat, drink, party, read, sing, and socialize with locals. What more can anyone need?!
3.
Be Amazed by the Stunning Cliffs of Moher
A must-visit in Ireland! The Cliffs of Moher beside Galway Bay, are breathtaking. You can almost see Cliffs of Moher in all of the tourism posters and campaigns for Ireland. Yet when you're sighting its rawness and beauty with your eyes, images and photos really cannot compare or do justice!
Ireland's Top Destination
Data from the official website said the Cliffs of Moher was visited by around 1.58 million tourists from around the world in 2018 or around 10% of the total tourist influx in Ireland! That's also more than 13 times the population of Country Clare, where the famous Cliffs of Moher are actually located. Where are Cliffs of Moher located, you wonder?
This scenic landscape is located on the southwestern edge of the Burren region in County Clare, Ireland. The cliffs stretch for up to 14 kilometres, but that doesn't stop the photo-addicts. At Cliffs of Moher, there are popular spots where tourists swarm in to take selfies with the stunning cliffs. From Dublin, you'll have to take a 267-kilometre road trip. When you have a car, the trip usually lasts for not more than 4 hours. But if you opt to ride the bus from Galway Station, you'll have to spend about 2 more hours than a private car. Admission fees range from 4 to 6 euros depending on the age. Children under 16 are exempted from paying fees.
4.
Kiss the Blarney Stone at Blarney Castle
If you love leaving your mark, then this one is your perfect place! Blarney Castle is a medieval stronghold built in the 14th century by the MacCarthy of Muskerry dynasty, although it has been originally and partially built 200 years earlier. It is now partly ruined, but some of its rooms are still available for viewing.
Get a Gift of the Gab
At the top is the most sought-after activity at Blarney: kissing the Blarney Stone. Also known as the "Stone of Eloquence," legends unfold kissing the limestone can earn people the gift of the gab! Kissing the Blarney stone is a common practice in Ireland. After you have kissed to your heart's content, you can explore the vast garden around Blarney Castle. A trip to Blarney Castle is easy.
The castle is located in the town of Blarney, near the City of Cork and River Martin. You may reach the castle by taking a bus, or rent a car for your convenience! Booking of tickets is available at the castle's official website.
5.
Admire the Vintage Harp at Trinity College
The Harp is Ireland's favourite musical instrument. So much so, that Ireland prides its vintage harp collection dating back to many centuries. It's the only country that has a musical instrument as a symbol in its national emblem. Harp symbols can be found in many of Ireland's documents such as stamps, passports, coins and even in the famous Guinness bottles! If you want to see one of their majestic harps, you can pay a visit to the Long Room of Trinity College, where the O'Neill harp; a 15th-century harp is displayed.
Spend some time in Ireland to understand why travellers visit this college for Harps.
6.
Be Enchanted by Dublin Castle
Big fans of Disney fairytales, Ireland has something for you! You can experience sheer royalty and enchantment by visiting the Dublin Castle. This 800-year old fortress was built for Ireland's monarchy. Dublin Castle was also Ireland's seat of Government until 1922.
Tickets and More
The Castle in Dublin is open 7 days a week for those who want to relive magical times in Ireland. Tickets costing €12 for adults are available at Dublin Castle's guest reception desk. However, it is pretty convenient if you just book the tickets online on Dublin Castle's official website. So, where is Dublin Castle Located? Just go to the heart of Dublin in Ireland. This beautiful castle is on Dame Steet in Dublin. What's more? Dublin Castle is an easy 10-minutes from the Temple Bar. Another quick way to get here is to take a bus from Eden Quay to the Palace Street Gate.
7.
Enjoy a Pint at Guinness Storehouse
Don't miss chugging down a pint of Guinness Storehouse's finest brew! One of the most famous breweries in Ireland, the Guinness Storehouse creates a new level of wonder to the beer experience. You can enjoy exploring this 7-story establishment by a visit to the exhibition. At the exhibition, you'll know all about beer's history, as you sip on fresh beer and relish the taste of Irish cuisine. Those new to Ireland may wonder, where is Guinness Storehouse located? The Storehouse is located at St. James Gate Brewery and is open 7 days a week from 9:30 am to 5 pm. Lines could be longer during peak seasons as this place has received more than 4 million visitors since 2000. That's over 570 people per day! The admission ticket of Guinness Storehouse is €18.50 and comes with a complimentary pint.
8.
Interact with the Wild at Dublin Zoo
This one is especially for animal lovers who plan to visit Ireland! Dublin Zoo, located inside the Phoenix Park is one of the most popular attractions in Dublin. The zoo exhibits various animal species per group, which includes African Plains, Kaziranga Forest Trail, World of Cats, World of Primates, Roberts House (aviary), South American House, Reptile House, City Farm, Pet's Corner, and Discovery Centre. If your hunger pangs interrupt your Dublin Zoo exploration, head to the Meerkat Restaurant to make your belly happy.
9.
Drive Along the Wild Atlantic Way in Ireland
If you want to strike out seeing 9 counties of Ireland from North to South, then the Wild Atlantic Way trail is your kind of adventure. The Wild Atlantic Way is a tourism trail in Ireland's west coast, in addition to some parts of Ireland's north and south coasts. You have to prepare mentally for this trip as the trail extends up to 2,400 kilometres (that's 271 times larger the size of Mt. Everest, to give you an idea). Wild Atlantic Way also offers over 150 discovery points. The trail starts from Donegal, in the North of Ireland and finishes County Cork in the South of Ireland. You have to rent a car and book several hotels to enjoy the whole drive.
as you have to have at two weeks in Ireland to complete the trail! Tourist spots along the trail include Portsalon Beach, Clifden's castle and cliffs in County Galway, and Mizen Head, among others.
10.
See Colorful Architecture in Cobh
Just 20 minutes away from Cork City, Cobh offers tourists with bustling energy with its colourful architecture and picturesque views of houses and structures. Its name was derived from the English word "cove," as it was often referred to as the "Cove of Cork" before it had been named Queenstown and eventually became Cobh, now a famous village in all of Ireland. The magnificent St. Colman's Cathedral stands tall amongst the buildings in this small fishing community. You can walk through the village's historical sites and museums, or you can even go fishing in Cobh!
Slán Go Fóill – Goodbye For Now
And, that sums our list of top 10 things to do in Ireland. Prepare to be fascinated by Ireland. Truly, Ireland is a place to be when you just simply wanted to be embraced by nature, history, culture, and people. After you have seen the beautiful sights of Ireland, wander towards Scotland to explore some more. The beautiful Edinburg is not far away.
Plan your Ireland trip now. Like the Irish often say, "May the road rise to meet you". We wish you a happy time in Ireland. Enjoy your trip to Ireland, and don't forget to tell us all about it.