Best Things To Do In Hordaland, Norway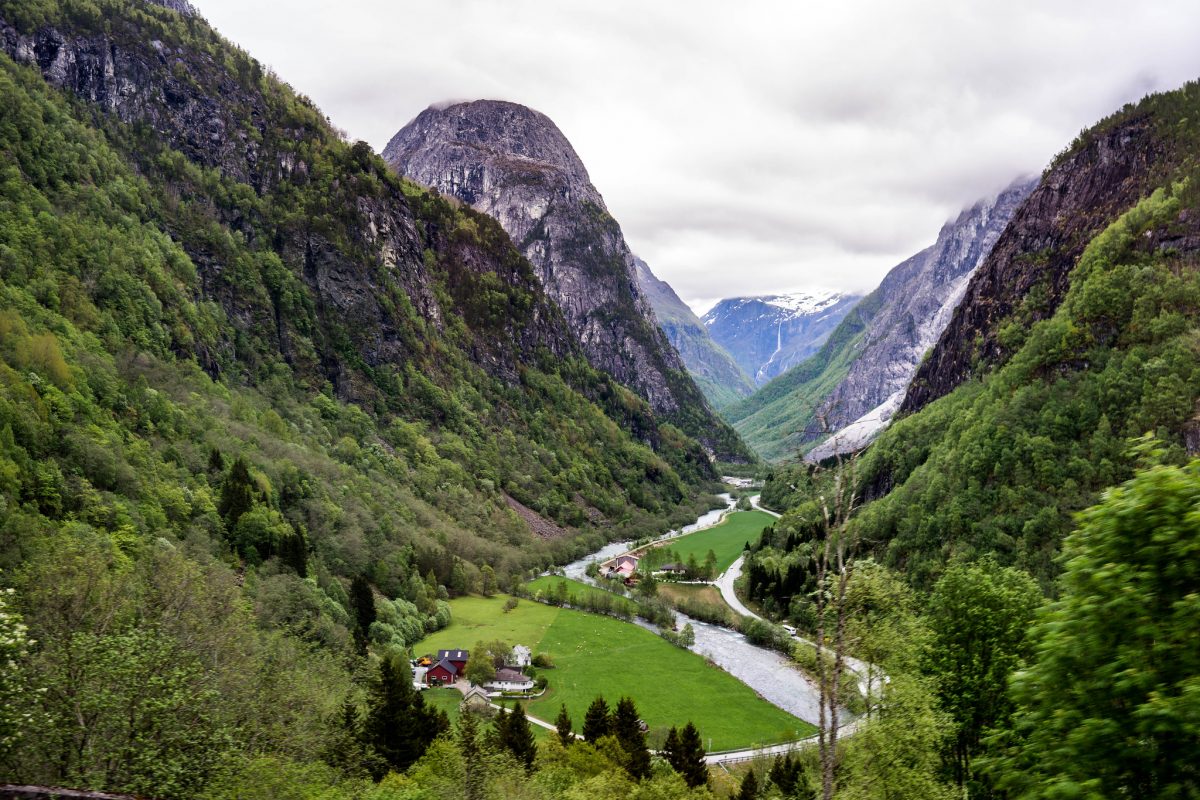 On the western coast of the land of the Vikings lies the Hordaland region. It is the third-largest county in Norway and one of the most popular tourist destinations in the country.
The mainland mostly consists of fjords, mesmerizing and breathtaking picturesque landscapes. Peaceful meadows are hugged by mighty and grievous mountains, and around them are water streams and lakes. Steady fishing villages by the sea, fruit farms, and big cities in every corner will give you a picture of northern life against stunning nature.
Here is our list of the best things to do in Hordaland to help you enjoy fascinating Norway.
Getting To Hordaland From Oslo
Hordaland is located pretty far from the capital of Norway, Oslo. To get there you'll have to cover more than 450 km. Eventually, there are three simple ways to do that: by bus, by train, and by plane. Bergen is the municipality and the biggest city of Hordaland county. Therefore, it would be wise to seek transport that goes there.
To Hordaland By Train
Vy is the government-owned railway company that serves trains on this route. Trains depart from Oslo to Bergen 6 times a day from the same track, number 3. Depending on the route, the trip takes 6 to 9 hours. Ticket prices vary between $42 and $75 per adult and depend on the day and the time of a trip.
Despite the length of the trip, getting to Hordaland by train can become a pleasant part of your journey. You will have a chance to enjoy landscapes of the Norwegian picturesque mainland through the window of a comfortable train, which includes perks like Wi-Fi and a Cafe. In addition to the ticket, you will be given a free audiobook and digital newspaper. To find additional info or book tickets visit the railway company's official website.
To Hordaland By Plane
The fastest way to get to the Hordaland from the capital city is obviously by air. Surprisingly, ticket fares are similar to a train ride. If you'll take care of your trip in advance, you'll have a chance to buy a ticket for something between $48 and $64. Two major airlines serve this direction: Norwegian and SAS, and you can choose from a couple of flights a day. A short flight will take you to Bergen in just an hour. We've found the hottest deals for tickets on these two websites: tripmydream.com and azair.com.
To Hordaland By Bus
Norway is quite an expensive country to travel to for vacation. Therefore, you might think that traveling by bus would the best option if you are on a tight budget. However, getting to the Bergen by bus somehow costs a fortune. Apparently, it is not the most popular destination for bus trips, thus you'll have two options. You'll have to pay $63 for a 20-hour ride or a similar amount but for a 9-hour ride with one transfer. The only deals we could find are at flixbus.com and www.nor-way.no. Thus, if you don't have a certain urge or enduring love for bus trips, we advise you to save money and time and choose between trains and planes.
1.
Start Exploring From Bergen
Bergen is the mesmerizing harbor city surrounded by seven mountains and is also the second biggest city in Norway. The former capital retains high economic and cultural value despite that it has yielded its title to Oslo.
Bergen will be a perfect place to start your journey around the Hordaland region. Here you will get a chance to see with Viking customs mixed with the modern pace of life. There are so many things to see in Bergen that it deserves a separate article, however, here we highlighted the certain "must-see" ones.
Among the seven mountains around the city, the most picturesque one is Fløyen. From the top of the mountain opens a magnificent landscape over the Bergen and surrounding fjord. The viewpoint from 320m above the sea level will paint a picture of a stunning panorama of a busy city hidden by the fascinating nature. T
o get to the top you'll have to attend a ride on the train called Fløibanen. The train courses from the center of Bergen and usually a ride takes about 5-8 minutes. The price for a return ticket is $10 for an adult and $5.50 for a child or senior. This attraction runs every day from 8 AM to 11 PM.
3.
Shop At Bergen Fish Market
One must admit that it would be strange to visit a port-town and elude its fish market. Bergen is no exception! Since the departing point to the top of Fløyen is near the local fish market it would be easy to hit two birds with one stone. Fishing has been the country's main craft since ancient times and Bergen remains the busiest port in Norway, with one of the most famous fish bazaars.
Here you will find all types of "Frutti di mare" caught in local waters and, therefore, 100% fresh and natural fish. In addition to the outstanding seafood, you'll be able to sip local flavor or obtain some hand-made crafts. Bergen fish market is open weekly from 8 AM to 11 PM.
4.
Get In Touch With Nordic Art At KODE Art Museum
KODE's collection of art, design, and music is one of the largest Nordic museums. The museum contains around 50 000 objects including composers' homes, contemporary art, historical objects, concerts, and parklands. The exhibitions are located in 4 buildings located in the city center called KODE 1, 2, 3 and 4.
KODE 1 contains exhibitions tied with fine craft and design. Here you can find silver and gold objects made in Bergen. Also, you will be able to enjoy European and Asiatic antique collections, paintings, and other works of Old Masters. KODE 2 is the main place for temporary exhibitions. For info about current presentations visit the museum's official website. KODE 3 will give you a chance to explore the collection of works by Edvard Munch as well as other works from the Golden Age of Norwegian art.
KODE 4 contains exhibitions of one of the most beloved artists Nikolai Astrup. At the other end of the building is KunstLab, the art museum for children. There are special laboratories where kids and families can learn about modern art through sets of funny experiments. Every KODE has own working schedule, therefore, we advise you to visit the museum's website to find suitable hours for you. Tickets cost is $14 per adult and $6.60 for students, children under 18 y.o. can enter free of charge. The ticket works for every KODE (1-4) and valid for 2 days.
5.
Have A Stroll At Bryggen
One of the most iconic sights of the city is a jolly palette of Bryggen facades. Originally these houses were built back in the 14th century as a part of Hanseatic League's trading empire. However, they had to be rebuilt after the great fire in 1702.
Nowadays, Bryggen is recognized as a UNESCO World heritage of authentic Nordic culture. This old wharf consists of 62 buildings, wandering around you can find authentic shops, restaurants, and museums of Nordic culture. The major part of the site is open from Monday till Saturday from 9 AM to 4 PM.
6.
Challenge Yourself With A Hike To Trolltunga
If you are brave enough and enjoy long-distance hikes, consider visiting Trolltunga. Literally translated as "Troll's tongue," this locale is a spectacular cliff that rises over the valley of the Ringedalsvatnet lake. It was formed by the glacier during the Ice Age around 10, 000 years ago.
This specific hike is a pretty challenging activity, taking on average between 10 to 12 hours to reach the top of the cliff and return back. You'll have to cover around 12km of trails, with an ascent of about 900 meters. However, such hard work will pay off as the trail will guide you through fascinating mountain landscapes riddled by local nature. At the end of your climb, the panorama from the cliff will take your breath away.
Due to its relative difficulty, hiking to Trolltunga needs certain preparation. Since it's a mountain terrain, be advised the weather may constantly change. You will need decent clothes and good hiking shoes to conquer the trail's steep granite. The best time for hiking is from June to September because during the other months the trail is mostly covered with snow and ice.
There are two places to start. The first one is the parking area at Skjeggedal located at Skjeggedal 20, 5770 Tyssedal; parking here costs $55 per day. The second one is relatively new is located at Mågelitopp hilltop at 5770 Tyssedal. This starting point also close to the top at will allow you to save around 3 hours in total, however, parking here will cost you 10 bucks extra and can contain only 30 vehicles. There are also shuttles that course between two starting points, for their schedule and additional info visit the official website.
7.
Get Stunned By A Fascinating Folgefonna
Folgefonna is a collective name for three glaciers located at Hordaland on the territory of the Folgefonna National Park. Here you will have a chance to enjoy the view of the mighty glacier and how it sculptured the surrounding fjord and pristine nature. There are two ways to enjoy this astonishing phenomenon: admire the panorama of its mightiness from the side or explore it during the hiking tours.
Besides the glacier, Folgefonna National Park also will please you with other attractions of pristine nature such as crystal-clear lakes, local fauna, waterfalls, and valleys. The glacier is stretched over the 200 km2, therefore, there are many places where you can start your exploration. The fjord is inhabited by many small authentic villages that provide cozy accommodation in traditional Nordic hotels. Alternatively, you can choose among many comfortable camping grounds. For additional info on attractions visit the park's official website.
8.
Visit The Vigor Waterfall Vøringsfossen
Through the narrow roads of a picturesque Måbø valley, passing old tunnels and stone steps you can get to the spellbinding waterfall called Vøringsfossen. This huge and mighty waterfall drops its waters from 182 meters down the valley. As waters reach the bottom, they move into a curved river that flows beyond the horizon.
Altogether, it forms an idyllic picture of nature's natural processes. Vøringfossen is located at 5785 Eidfjord, you can reach it by car and after that, you will have to take 30 minutes stroll.
9.
Admire The Authentic Fantoft Stave Church
Yet another place worth a visit to is located near Bergen. Fantoft Stave Church was originally built in the 1150s at the village called Sogn located in a different county. It served its duty until 1879 when another church was constructed to replace the old stave one. Therefore, Fantoft Stave Church was threatened with demolition alongside all other stave churches across Norway.
However, a famous Norwegian businessman saved it and financed its relocation to the Fana near Bergen piece by piece. Nevertheless, bad luck found the church and in 1992 it was destroyed by arson. It was again reconstructed in 1997. The stave church is a mesmerizing piece of medieval Nordic architecture completely made out of wood. It is living proof of how Viking barbarians shaped and adopted Christianity as it entered their lives at the turn of the first millennium.
10.
Get Wet Under The Låtefossen
In the municipality of Odda lies one of the biggest waterfalls in Norway, Låtefossen. Two twin streams take their origin at the Lotevatnet lake and rush down from 165-metre heights. As they fall the streams meet again under the old road bridge. These phenomena, combined with the fascinating surrounding nature, is what makes this attraction unique and so popular.
Therefore, if you don't mind to get a bit wet and see this thrilling piece of nature you'll have to find the old 6-arched bridge at route 13 near Skare.
Best Time to Visit Hordaland
Since Norway is a northern country, the best time to visit Hordaland will be from late May to the first half of September. The local climate is mostly mild and generally warm. However, there are a lot of rainfalls in the Bergen region during the whole year. Therefore, don't forget to pack water-resistant clothes.
The average temperature during the winter season (from October to April) is around 5 °C (41F). Yet during summer temperature may rise till 20 °C (68F). Nevertheless, if you don't afraid of little snow and ice Hordaland won't disappoint you with its attractions and beauty. Even more, it may present you with additional and unique scenes for your trip.

So, you're planning a trip to Norway? Check here for more related articles about Norway.