Best Things To Do In Glasgow, Scotland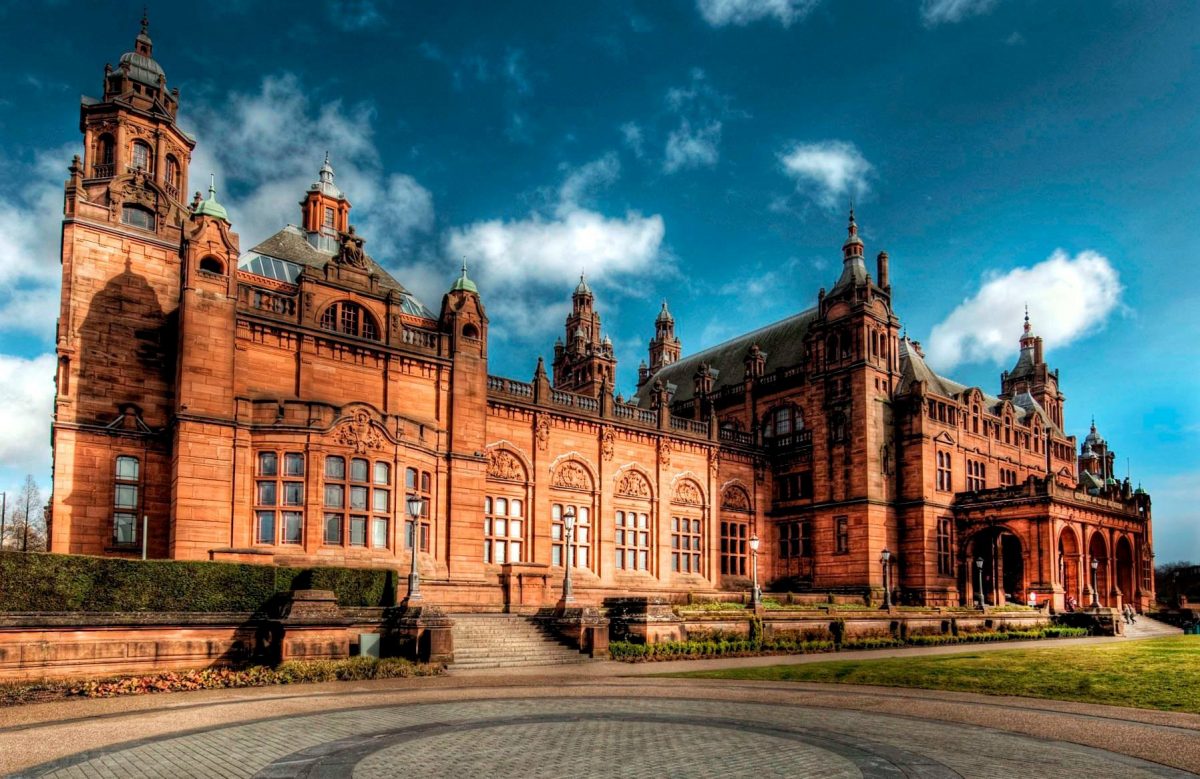 Glasgow, a beautiful land in Scotland, has always garnered appreciation from people across the globe. This Scotland beauty needs to be visited for its well preserved umpteen medieval architectures, art museums and galleries. Taking a stroll through the lovely trails, passing by the medieval buildings, ignite awe and inspiration amongst people. This can only be experienced in Glasgow, Scotland.
The Glasgow city is also famous for its cultural movement with so many options of ballets, recitals, operas and live music clubs.
There are plenty of things to do in Glasgow with the right balance of old and new.
Did you know that Glasgow is the largest city in Scotland? From pleasant people to the world's spiciest ice cream, Glasgow has so many reasons to make you happy and give you a splendid vacation.
Let's help you with a wonderful guide to give you only memorable experiences in Glasgow.
Best time to visit Glasgow, Scotland
Normally, Scotland is popular worldwide for its cold climate. But, Glasgow is the opposite. It is quite humid here. Therefore, the best time to visit Glasgow would be between March to August, when it isn't that warm. During this time you can easily go for long walks on the beautiful pavements and relax in the national parks.
Where to stay in Glasgow, Scotland?
If you are pondering on the best area to stay in Glasgow, it all depends on the places you are planning to visit.
A safe bet would be Central Glasgow that has the Argyle street, famous George Square and Buchanan street. Most of the tourist tours start from Central Glasgow.
Staying at Central Glasgow gives you a major advantage of covering all the major attractions. They are very close to each other. You wouldn't have to travel a lot from one place to the other if you are in Central Glasgow. You can save a lot of time and money by doing so.
The best luxury hotels are found near Buchanan street of Glasgow, whereas the hotels in George Square have a mix of budget hotels and luxurious hotels.
You may even take other neighbourhoods to stay in Glasglow. Just make sure that the main train stations are really close by.
Places to visit in Glasgow, Scotland
1.
Visit the Kelvingrove Art Gallery & Museum
It is perfect when you start your journey with the most loved attraction of Glasgow, Kelvingrove Art Gallery & Museum. Mainly because this has been the greatest centre of attraction in Glasgow for many centuries.
The perfect family atmosphere rendered by the art gallery is one of the main reasons for tourists to swarm like bees here. Therefore, all the art lovers who have always been inspired by stunning medieval architectures, do not miss out Kelvingrove Art Museum in Glasgow.
The 22 galleries provide so many insights on the different art forms and artists. It is an eye-opener to so many spectacular works of top-notch artisans. The Kelvingrove Art Gallery has been praised by many international celebrities and eminent personalities all around the globe for their unique, extensive period of work from the past.
The most talked about piece of artwork inside this mighty Glasgow museum is the 'Christ of St John of the Cross' by Salvador Dali. This painting is considered as a great masterpiece of his.
The museum is also host to numerous exhibitions and displays every year.
The opening hours of the museum are from 10:00 am to 5 pm. Looking for a free getaway into the museum? The museum entry is free. Therefore, you can enjoy a wallet-friendly tour inside the Kelvingrove Art Museum of Glasgow.
If you are tired after the tedious stroll, you even have restaurants and cafes within this Scotland museum. There are a few gift shops adjacent to the cafes from where you can collect souvenirs for your loved ones.
2.
Travel back in time at Glasgow Cathedral
Standing as a fantastic example of medieval gothic architecture, this cathedral is dedicated to Glasgow's saint and founder St. Kentigern (St. Mungo). He was buried in this cathedral.
The cathedral is just ten minutes walk from the main city centre. This Scottish cathedral is known to have survived the 1560 reformation.
The Glasgow Cathedral was mentioned by Sir Walter Scott in his novel Rob Roy. So, you might be able to understand the importance of this cathedral in Glasgow.
When you take a stroll inside the cathedral, you get to know more about the history of Scotland. This has one of the best post-war collections of stained glass windows of Britain.
3.
Pay a visit to Glasgow Necropolis
Have you anytime heard of a cemetery being a tourist attraction? Now that's Glasgow's Necropolis for you.
Necropolis is very popular because of the wide variety of monuments. The architectural styles of the monuments are designed by great architects and sculptors of those days. If it doesn't seem odd to you, try visiting this place in Glasgow which is a burial ground for more than 50,000 bodies.
Visit this Glasgow Necropolis, the very same day you visit Glasgow Cathedral. It is really close to the Glasgow Cathedral.
4.
Some more art at Hunterian Museum & Art Gallery
This oldest Scotland museum should definitely be there in your must do things in Glasgow. The museum is certainly one of its kind dating back to centuries.
The Hunterian Museum in Glasgow has encompassed the Hunterian Art gallery, The Mackintosh House, The Zoology Museum and Anatomy Museum.
It is home to the largest art collections of James McNeill Whistler, Mackintosh and Whistler. These large collections of the museums have been considered as a Collection of National Significance. They are the best cultural assets of Scotland.
Almost every day the Hungarian Museum in Glasgow is home to a variety of exhibitions and events.
The Hunter museum opening hours are from 10 am to 8 pm.
5.
Learn & unlearn in Glasgow Science Centre
The Glasgow Science Centre is proof of how much this city has given emphasis to science.
Glasgow is always known as a centre where international students come together for their higher education. Therefore, you find so many universities and study centres here.
The Glasgow study centre is comparatively new. It was inaugurated by Queen Elizabeth II in 2001. This is not a free museum in Scotland, unlike the rest.
The study centre in Glasgow has three main buildings. The Science Mall, Glasgow centre and IMAX mall.
The Glasgow Science Centre is one of the most important tourist attractions of Glasgow and it has been accorded with a five-star rating by the Scottish Tourist Board.
6.
A revelation at the Riverside Museum
The Riverside Museum of Glasgow is unique with its wide collection of displays. This Glasgow museum has received accolades and awards for being the best transport museum.
The museum has housed almost every means of transport, ranging from skateboards to prams and cars. The Riverside Museum of Glasgow is certainly the best fun thing to do with kids in Glasgow.
The interactive fire engine helps you put out a fire. Get to learn more about the history of the most used vehicles such as aeroplanes and cars. If you want to get the feel of old transport, hop onto a ferry or a tram. This Glasgow Museum is going to be the right spot for all the wheel lovers.
7.
Some fun at Sharmanka Theatre
The most famous kinetic theatre in Glasgow, the Sharmanka Theatre gives you the creeps. Mainly because it has incorporated ghastly lighting and unique soundscapes to their shows. The theatre showcases historical tales of Glasgow with great innovations. The narratives are mainly about the tragic stories of spirits in humans.
I don't think this would be everybody's cup of tea. Especially, those tourists who want a great vacation in Glasgow, just by admiring the scenic beauty and art museums. If you are still on an adventurous mode, then this is certainly your place.
The Sharmanka Theatre in Glasgow is a unique experience in every little way.
8.
Visit the most talked about People's Palace
A visit to Peoples Palace in Glasgow is any tourists dream. This gigantic beauty blends well with the lush green background. It is a scene to be cherished forever.
The People's Palace is a revelation to everyone who steps inside this visual grandeur of Glasgow. It gives insights on how the people in Glasgow lived once upon a time through their amazing collection of paintings, photographs and films.
9.
Admire the Gallery of Modern Art
The is the centre for Glasgow's great contemporary art collection. The gallery is called GoMA by the locals. If you are wondering about the entry fee to this place then be happy, this is another free thing to do in Glasgow.
This is also another hotspot for the never-ending art exhibitions and displays in Glasgow, Scotland. A permanent display within the gallery talks about the history of the building of the Gallery of Modern Art.
The statue of the Duke of Wellington, situated just outside the gallery is another iconic landmark of Glasgow.
10.
See flower blooms in Glasgow Botanic Gardens
Glasgow Botanic Gardens is one of the most crowded areas. Most of the tourists come here to relax and chit chat with their family after a tedious day. Since the garden is located in the heart of the city, it is easily accessible by people in Glasgow. This is one of the quickest getaways for people who need some 'me moments.'
The collection of flowers in the Botanic gardens of Glasgow are innumerable.
The Glasgow Botanic Gardens are not only famous for its plants, but also for the woodland copses, riverside walks and the most famous Kibble Palace. Are you wondering about what is Kibble Palace? The Kibble Palace is a glass house where all the natural tree ferns have been preserved by John Kibble.
11.
Feel the nature at Pollock Country Park
The Pollok Country Park is another special natural park in Glasgow, sprawled in more than 360 acres. What makes it unique is the beautiful network of paths and trails that encourage people to walk more and explore the park in its entirety.
This lovely Scotland park is a woodland that attracts people to another two most visited attractions of Glasgow, the Sumptuous Pollock House and the Burrell Collection.
There is also another speciality about Pollock Country Par in Glasgow. This park was voted as 'Europe's Best Park in 2008'. The place is a relief for many to get away from bustling Scotland's city life.
12.
Behold the beautiful St Mungo Museum
This museum is really special for the people in Glasgow, because this is totally dedicated to the patron saint St Mungo. He was the sole reason why Christianity became more prevalent in Scotland.
The museum is located in the oldest house in Glasgow. This is in close proximity to the Glasgow Cathedral.
The St. Mungo Museum focuses more on religion and its influence on people. It has amazing works that reflect on the significance of religion across the globe.
There are many religious and cultural talks that happen on a regular basis inside this museum of Glasgow. All like minded people assemble here together to get some great religious insights. So many family gatherings and friendly activities too take place inside the museum.
The tourists of Glasgow who visit the St Mungo Museum can also relax at their popular cafe in the first Zen garden.
13.

Shop at Buchanan street
If you have had an overdose of art museums and parks in Glasgow, then it's the right time to get onto the splurge mode.
Wondering where to go shopping in Glasgow? There is no place other than Buchanan Street in Glasgow for a perfect shopping spree.
The Buchanan street in Glasgow is packed with many great architectural buildings and the finest eateries and souvenir shops. From the major international footwear brands to local items of clothing, you get everything that you have been looking for in this lane.
This Glasgow street is normally crowded. Therefore, try to be here around 9 am, so that you can stride peacefully through the lanes and do some window shopping very pleasantly.