20 Best Things to Do in Bordeaux, France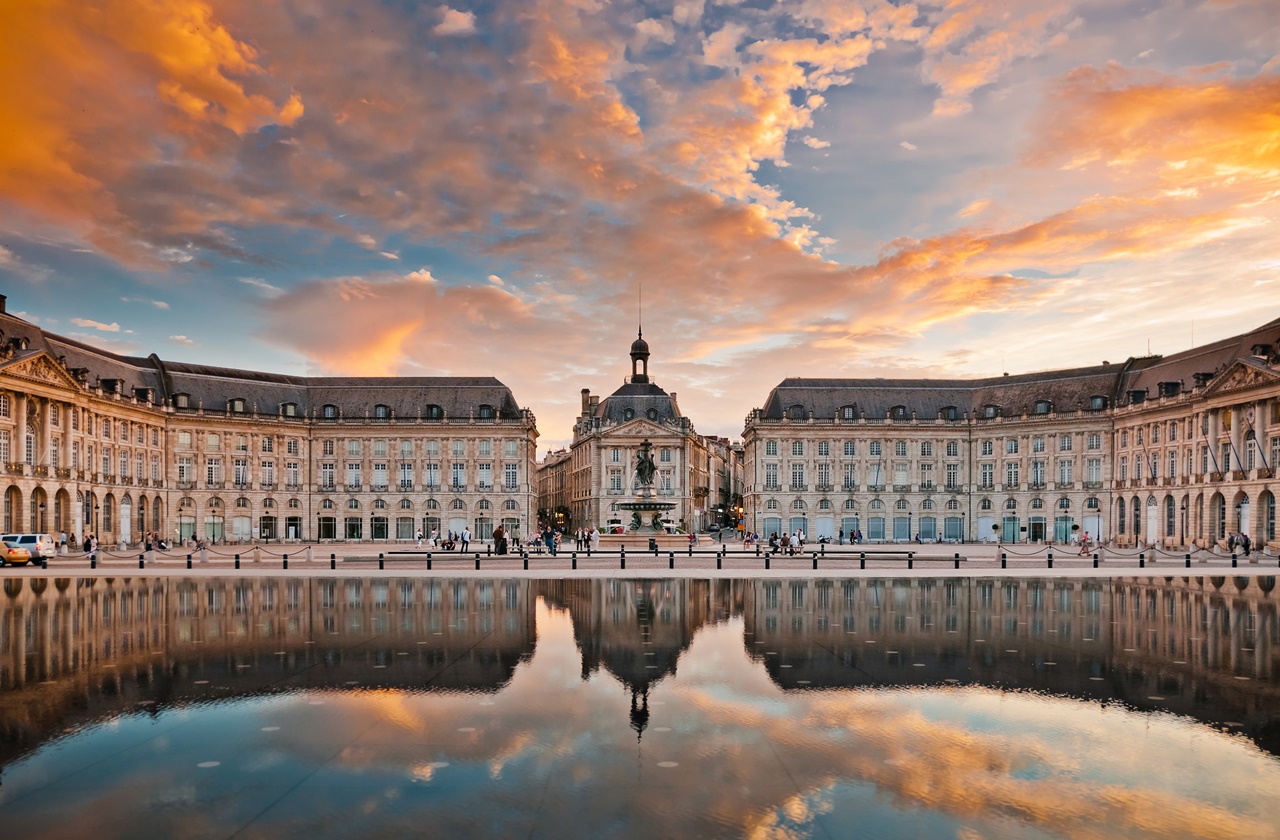 Bordeaux is one of the most beautiful and must-visit cities in France, famous for its wines and jaw-dropping scenery. Although most tourists flock to cities like Paris or even the glamorous towns along the French Riviera, Bordeaux is relatively more laid-back but just as beautiful. And if you're a wine connoisseur or enthusiast, you may recognize the city as one of the biggest wine-producing regions in the world. But aside from its wines and wine-related activities, there are other things to do in Bordeaux. The city is bursting with hundreds of monuments and landmarks, with over 350 registered monuments. After Paris, Bordeaux has the most listed monuments in the country.
With award-winning vineyards and centuries-old ruins, Bordeaux is a charming town waiting to be discovered. If you're visiting France, take a day trip or stay for a few days in the wine capital of the world and discover the best things to do in Bordeaux!
What is Bordeaux Known For?
Photo by FreeProd on Adobe Stock
Without a doubt, Bordeaux is famous for its wines. With over 120,000 hectares of vineyards, it is also the largest wine-growing region in France and one of the largest in the world. Wines produced in Bordeaux also vary from casual table wines to more expensive and luxurious bottles. Its sub-regions, Saint-Émilion, Pomerol, Graves, and Médoc, are also famous for their elegant and luxurious châteaux that rival the beautiful castles in France.
Aside from its wines, Bordeaux is also a popular tourist destination because of its shopping districts. Rue Sainte-Catherine is the main shopping district lined with numerous boutiques, shops, cafes, and restaurants. Additionally, Cours de l'Intendance is another popular shopping district loved by both locals and foreigners. But for the ultimate shopping experience in Bordeaux, head to Galeries Lafayette. Resembling an elegant palace, the department store is one of the biggest in Europe.
Best Time to Visit Bordeaux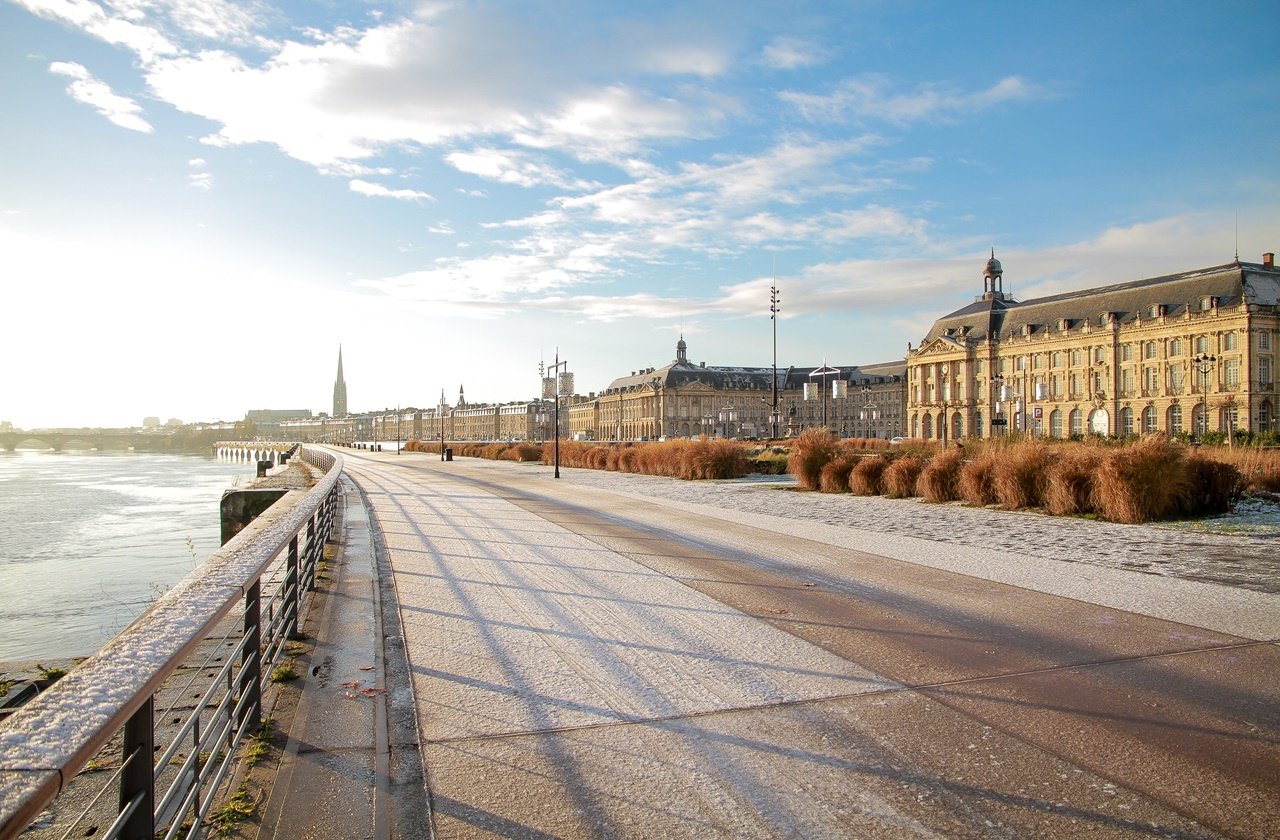 Photo by Vince Gx on Unsplash
Whether you want to explore the vineyards or enjoy other things to do in Bordeaux, the best time to visit this French city is in spring and autumn. There are fewer crowds and hotel prices are cheaper. This is also a great time to visit Bordeaux as the trees and flowers are in bloom. Save for a few hours of rainfall, the weather in Bordeaux is generally pleasant during this time.
For travelers wanting to participate in the grape harvest festivities, plan your visit sometime in late August to September. Not all wineries allow visitors during harvests, but others make the most and allow visitors to witness this activity. If you have a particular winery to visit, check beforehand if they are open to visitors on the month of your visit. Additionally, the fall foliage gives the vineyards and city a rustic yet charming vibe.
However, for travelers who prefer small crowds, the best time to visit and plan fun things to do in Bordeaux is during winter. The weather may be very chilly, but the Christmas markets are definitely worth visiting. Hotel and tour prices are also cheaper during winter so this is perfect for budget travelers.
Best Things to Do in Bordeaux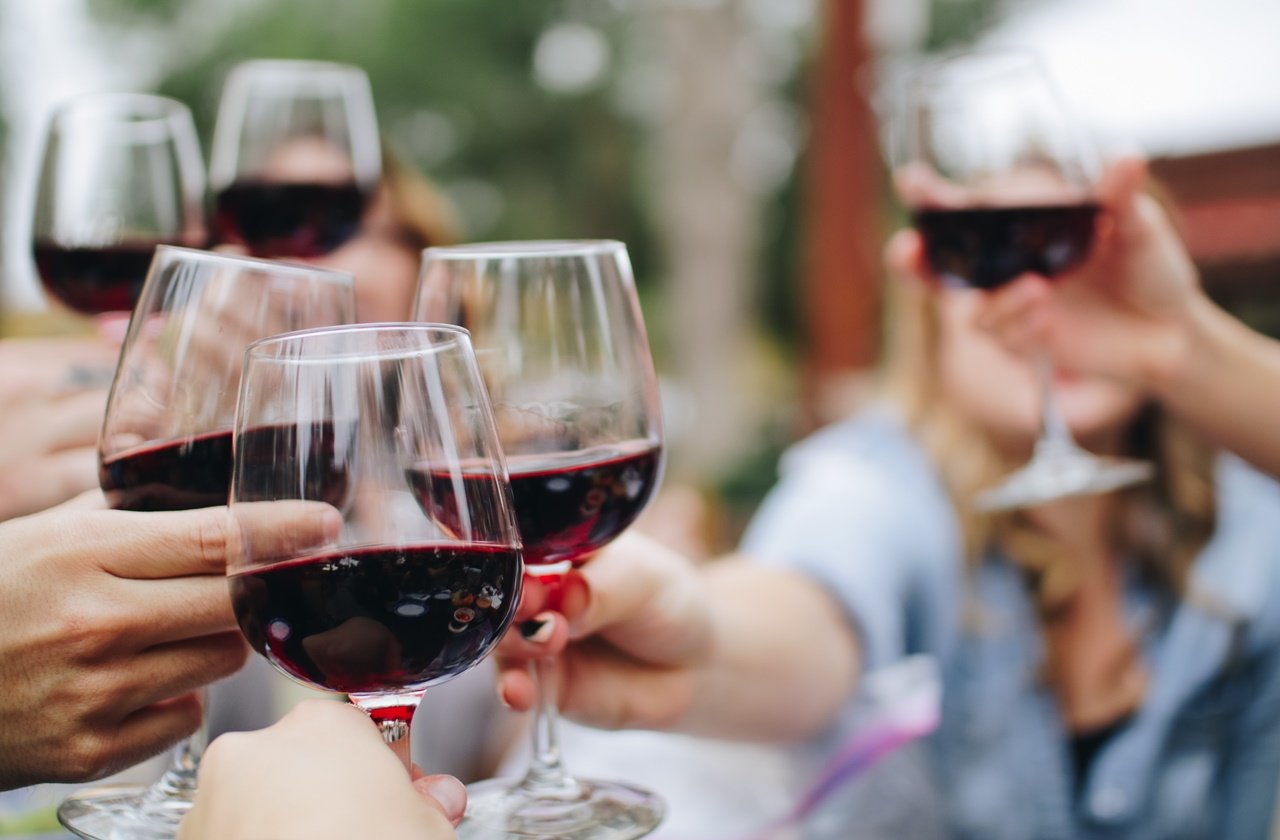 Photo by Kelsey Knight on Unsplash
1. Partake in a Wine Tasting Session
When it comes to the must-do things in Bordeaux, anything wine-related always tops the list. A wine tasting session is always a great activity when visiting any wine region. And in Bordeaux, there are countless wineries, châteaux, and restaurants that offer specialized wine tasting sessions. You can choose group wine tasting sessions or a private one for smaller groups. In addition, you can also visit one winery to another while sampling some of its wines as opposed to having your wine tasting in a single location. But nonetheless, a wine tasting session lets you explore the flavors that made Bordeaux a famous wine region.
2. Go for a Stroll Around Jardin Public
Also known as the "public garden", the Jardin Public is a sprawling area filled with trees and botanical gardens. Inspired by the gorgeous gardens of the Versailles Palace, the gardens originally had a French style but it was renovated into the English style seen today. Jardin Public is the perfect getaway if you want to rest after a day of exploring and sightseeing. You can also bring a picnic mat, a basket filled with snacks, and enjoy a relaxing picnic while enjoying the crisp air. If you're seeking a change of scenery from the vast vineyards, visiting Jardin Public is one of the best things to do in Bordeaux.
3. Shop at Rue Sainte-Catherine
Aside from exploring its vineyards, shopping at Rue Sainte-Catherine is one of the best things to do in Bordeaux. Rue Sainte-Catherine stretches on for more than a kilometer, said to be the longest pedestrian shopping street in Europe. It boasts over 250 stores from brands like Zara, Lush, and H&M as well as cafes and restaurants for a quick stop before resuming your shopping trip. Ready your wallets and shop 'til you drop especially in February and July when seasonal sales kick in. But even if you don't plan on buying anything, the street is still one of the must-see sights in Bordeaux.
4. See Place De La Bourse and Miroir d'Eau
For first-time visitors, a trip to the Place De La Bourse and Miroir d'Eau is without a doubt one of the best things to do in Bordeaux. Elegant and majestic, the Place De La Bourse is a creation of French architect Ange-Jacques Gabriel, the man who also designed the Petit Trianon and the Place de la Concorde. In front of Place de la Bourse is the Miroir d'Eau, the world's largest reflective pool covering up to 3,450 square meters of floor area. Take photos and admire the mirror-like reflection of the Place De La Bourse from the pool. Head to the town square on a hot summer day and dip your feet in its cool waters.
5. Check Out the Place Des Quinconces
Visiting Place Des Quinconces should definitely be on your list of things to do in Bordeaux! After all, it is the largest city square in France and is a location for events, outdoor concerts, and festivals. It is also one of the most photographed places in the city and is where you can find the impressive Monument aux Girondins, built in honor of the Girondins, a political faction who played an important role during the French Revolution. Place Des Quinconces is also near other places like Jardin Public and Rue Sainte-Catherine, perfect if you want to see more of Bordeaux's attractions in one trip.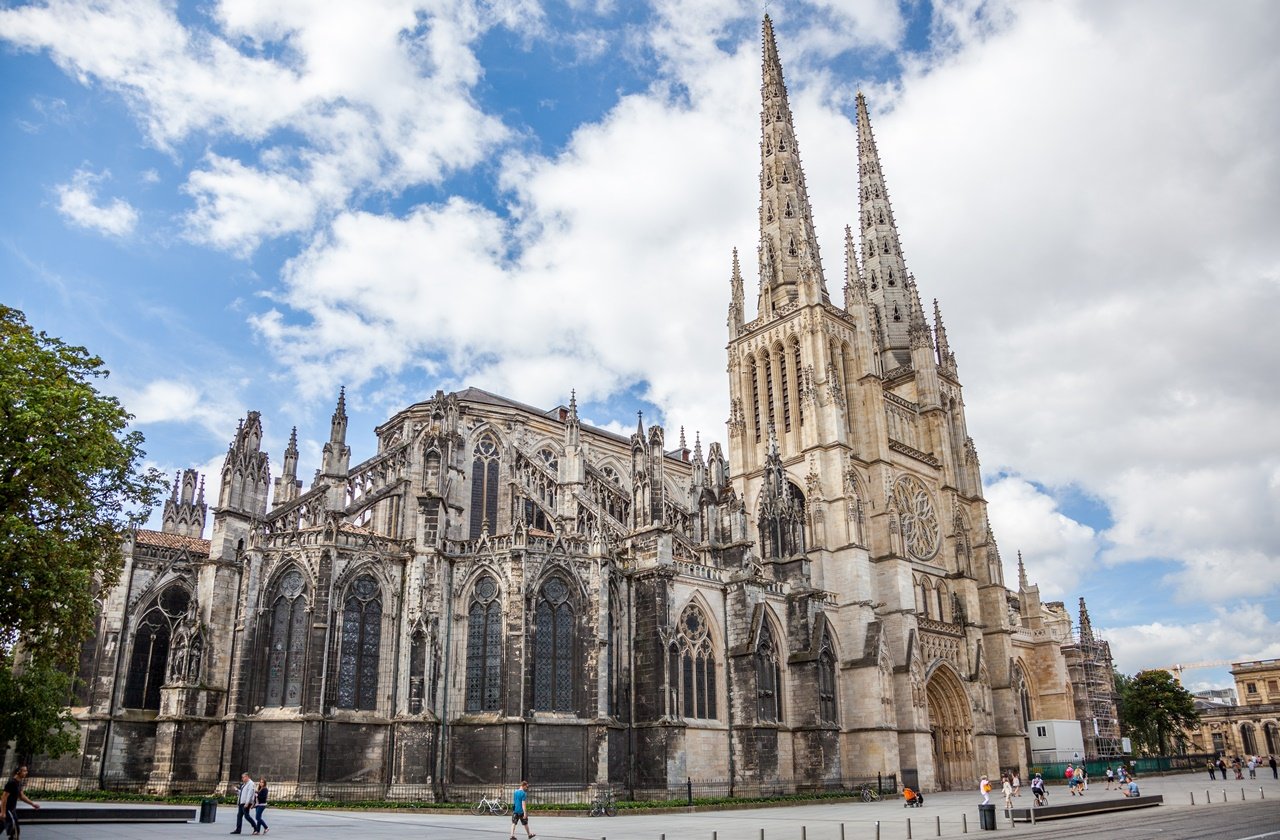 Photo by Pierre Violet on Adobe Stock
6. Pay a Visit to Bordeaux Cathedral
Also known as Saint André Cathedral, Bordeaux Cathedral is one of the city's most notable sights. It is also part of the Camino de Santiago pilgrimage, a UNESCO-listed World Heritage Site that leads to the cathedral of Santiago de Compostela in Spain. Like the Notre-Dame in Paris, Bordeaux Cathedral features Gothic and Romanesque architecture, with its towers donating over the city skyline. Bordeaux Cathedral also houses a variety of valuable religious paintings and illuminations. In summer, the cathedral hosts the Bordeaux International Organ Festival and if you're lucky, you may get a chance to watch a free concert or an organ recital!
7. Learn About Bordeaux's Wine Culture at Cité du Vin
For avid oenophiles, a visit to the Cité du Vin is one of the best things to do in Bordeaux. This interactive museum has anything and everything you need to know about the history of wine as well as the different wine regions around the world. Cité du Vin also holds temporary wine exhibitions, wine classes, and a themed wine tasting dinner along with a movie screening. Go on a tour of the museum and its exhibitions and cap off the experience with a glass of wine on the top floor of the tower with a gorgeous view of Bordeaux.
8. Climb Pey Berland Tower
Get a chance to see panoramic views of the city at Pey Berland Tower. The tower soars 66 meters and is one of the best things to do in Bordeaux if you want to see the city from a different perspective. The tower boasts Gothic architecture with angled buttresses, gorgeous spires, and intricate details. Walk up 230 steps to get to the top and be in awe of Bordeaux's sweeping views as well as a different perspective of the neighboring Bordeaux Cathedral. SInce Pey Berland Tower is a popular site, make sure to purchase skip-the-line tickets to avoid waiting in long queues for hours.
9. See Saint-Michel Basilica
Saint-Michel Basilica is another important religious site in Bordeaux, dedicated to St. Michael the Archangel. The basilica features flamboyant Gothic architecture and took almost 200 years to build and finish. Along with the Bordeaux Cathedral and Basilica of Saint Severinus, Saint-Michel Basilica is a World Heritage Site as part of the Routes of Santiago de Compostela in France. On Saturday mornings, the small square in front of the basilica hosts a traditional open-air market filled with local finds. On weekdays, the square turns into a popular flea market where you can buy clothes, souvenirs, and local produce.
10. Walk Across Pont De Pierre
Pont De Pierre is one of the most iconic sights in Bordeaux, connecting the left and right banks of the Garonne River. The bridge has 17 elegant arches which are equal to the number of letters in Napoleon Bonaparte's name, the man who commissioned its construction. Take a walk from one side of the bank to another and admire the rushing waters of the Garonne River. If you want to skip the hassle of walking, you can take the tram for a more relaxing trip. At night, the lit-up arches create a beautiful pathway that overlooks Bordeaux, illuminated by twinkling lights.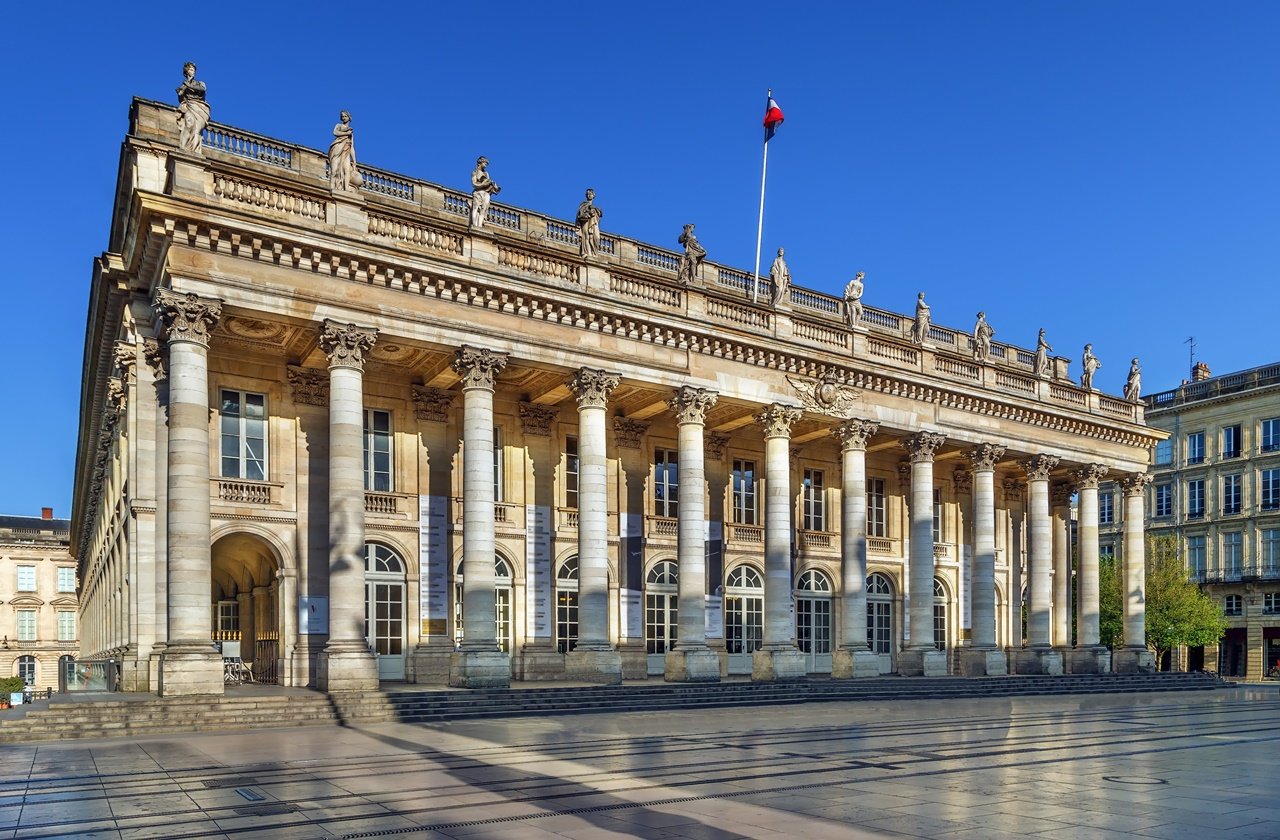 Photo by borisb17 on Adobe Stock
11. Catch a Performance at the Grand Théâtre de Bordeaux
Watching a ballet or opera show at the Grand Théâtre de Bordeaux is one of the best things to do in Bordeaux. The building, with its Corinthian columns and elegant foyers, is a creation of the architect Victor Louis. Its interiors feature a grand staircase, which eventually inspired the design for the Opéra Garnier in Paris. In addition, a 400-light chandelier completes its grandiose atmosphere. Join guided tours of the opera house and learn more about its history as you visit the auditorium and other key areas. But if you have time (and money) to spare, go all the way and watch a ballet or opera performance!
12. Visit Its Different Museums
Museum-hopping is one of the best things to do in Bordeaux to gain a deeper appreciation of its history. Like museums in Madrid, museums in Bordeaux help you learn more about a city and its art as well as development. Although the Cité du Vin is a must-visit museum, there are other galleries and museums to visit in Bordeaux. The Musée d'Aquitaine contains everything you need to know about the history of Bordeaux and the Aquitaine region, while the Museum of Decorative Arts of Bordeaux features jewelry, tableware, and ceramics from different centuries. If you have a Bordeaux City Pass, you may be able to score great discounts and free admissions to these museums.
13. Explore the Ruins of Palais Gallien
During the 3rd century, Bordeaux became the capital of Aquitaine, once a Roman province. Today, there are a few remains of Bordeaux's Roman history, including the ruins of Palais Gallien. It used to be a huge amphitheater that can fit up to 20,000 people watching epic gladiator fights and hunts with wild animals. Unlike the Colosseum in Rome and other amphitheaters, the Palais Gallien was believed to have wooden bleachers. Discover Bordeaux's Gallo-Roman history at the Palais Gallien. At the entrance, you can find a 3D reconstruction showing the amphitheater at its former glory.
14. Go on a Hop-on Hop-off Sightseeing Tour
Short on time? Go on a hop-on hop-off of Bordeaux and see all of its highlights from the comforts of your seat. This is one of the most convenient things to do in Bordeaux if you want to have all major sights covered in a day. Simply aboard at the designated bus stops, enjoy the panoramic views of the city, alight at your chosen destination, and hop back in to resume your tour. Hop-on hop-off passes also include discounts to certain shops as well as free entry to museums and other points of interest. You can also purchase 24-hour, 48-hour, or 72-hour tickets depending on your length of stay.
15. Visit the Grosse Cloche
Located in the heart of Bordeaux is one of the oldest belfries in France, the Gross Cloche. From afar, one may immediately identify it by its cone-shaped roofs and its old belfry. Literally translated as "Big Bell", the monument weighs more than 7 tons and is perched on top of a former dungeon where thieves and juveniles were locked up in a thick door. The bell is only rung on special occasions including Remembrance Day (November 11) and Bastille Day (July 14). If you're out sightseeing near Pont De Pierre and Saint-Michel Basilica, the Grosse Cloche is a site you shouldn't miss.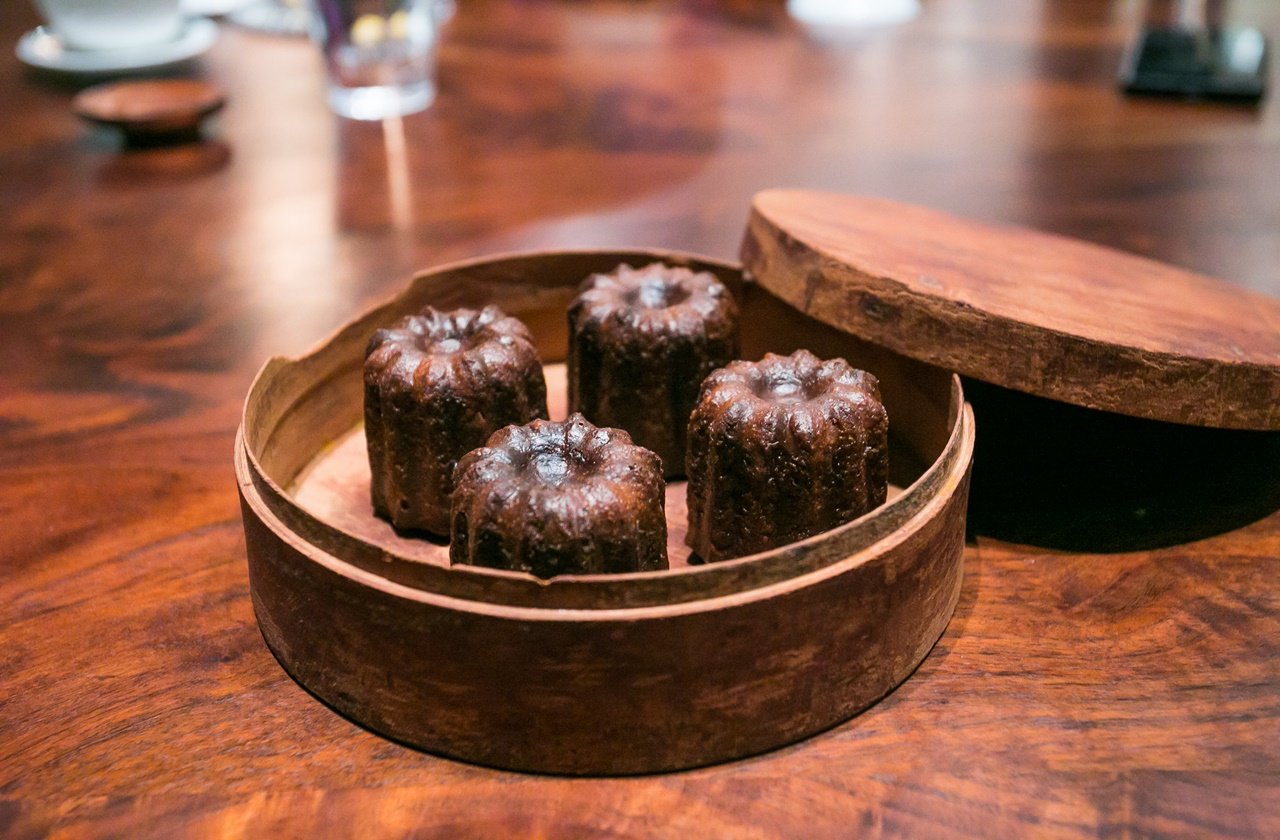 Photo by City Foodsters on Flickr
16. Try Out Their Cuisine
Aside from its famous wines, Bordeaux's food is also worth trying. For foodies, going on a food crawl is one of the best things to do in Bordeaux! Explore the streets of the city with an expert guide and sample its famous delicacies from one stall to another. For fresh produce, cheese, and wine, visit the Marché des Capucins, the largest market in Bordeaux. In addition, the Place du Parlement is a great place for cafe-hopping or trying out the local cuisine. In Bordeaux, don't forget to try canelés (vanilla and rum-flavored pastries), steak with Bordelaise sauce, and grilled duck breast.
17. Relax at Quais de Bordeaux
Taking a breather at Quais de Bordeaux is one of the best things to do in Bordeaux after a day of shopping and sightseeing. It overlooks the left side of the Garonne River and is lined with gorgeous neoclassical buildings and colorful flower beds. The platform used to be a harbor but was then renovated to accommodate those wanting to admire the river views. Go biking, rollerblading, or simply lie down on the flower beds and enjoy the calm and tranquil atmosphere. You can also enjoy a cup of coffee and a couple of pastries at the nearby cafes.
18. Go on a Day Trip Around Its Wine Regions
For a deeper appreciation of Bordeaux wines, go on a day trip to its wine regions. The regions are bursting with wineries, mostly family-owned, as well as charming châteaux. Several tour operators offer day trips to these regions along with a wine tasting session. While most tours visit popular regions like Saint-Emilion, you can also visit lesser-known regions like Canon Fronsac and Sauternes. Explore the vineyards and gain access to the cellars as you learn more about the winemaking process. At the end of your tour, get a chance to sample these wines!
19. Explore Bordeaux on a Bike
If you want to avoid the hassle of taking public transport or being stuck in traffic, go on a bike tour of Bordeaux instead. Bike paths are available everywhere around the city, making it easier and safer for you to navigate around the streets. Most important monuments and attractions are also near each other so you can visit most sites in one trip. Bike rentals are available on a daily or hourly basis. Additionally, some tour operators also offer themed bike tours where you can visit important historical sites or see Bordeaux's architectural wonders.
20. Discover Saint-Emilion on a Day Trip
With rustic buildings and cobbled streets, a trip to Saint-Emilion should be on your list of things to do in Bordeaux. Not only is it one of France's best wine regions, but it is also a UNESCO World Heritage Site. Visit its Romanesque churches and ruins, walk along its narrow streets, and enjoy the French countryside views. But a trip to Saint-Emilion isn't complete without visiting its vineyards and wineries, producing some of the best wines worldwide. Sample a glass of Cabernet Sauvignon, Merlot, or Cabernet Franc, and don't forget to bring home a bottle with you as a souvenir!
Visit the Wine Capital of the World
With miles of vineyards and picturesque châteaux, Bordeaux is a dream destination for wine enthusiasts around the world. You can go to several wine tasting sessions, visit a museum dedicated to wine and its history, and get a chance to visit and see up close the many wine villages and sub-regions.
However, Bordeaux is also more than just its wines! You can enjoy other non-wine-related things to do in Bordeaux. Visit different museums, marvel at its opulent opera house, relax and go people-watching at its town squares. For foodies, sample a delicious canelé and other regional specialties. For those staying in the city for a short time, go on a hop-on hop-off sightseeing tour and see all of its highlights in a day or two!