The Best Things To Do In Cuba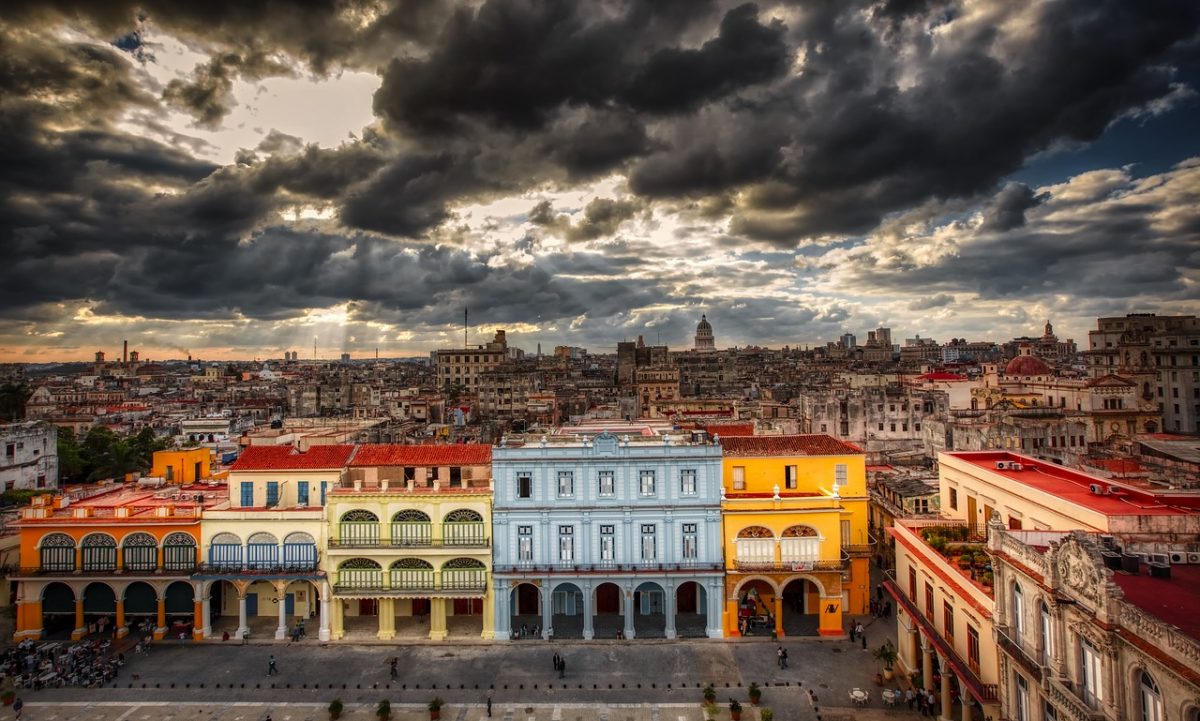 Beautiful inside and out. The perfect phrase to describe Cuba. From the old, colourful buildings of the colonial era to the lush, scenic views of the Vegas Grande Waterfalls. This coupled with the rich history surrounding the country makes Cuba one of a kind.
We've put together the ultimate list of things to do in Cuba – from places to stay, places to eat, and all the ways you can fall in love with the country.
It doesn't matter whether you're looking to learn how to roll a cigar, drink one too many Cuba Libres, or swim in a cenote. There's something for everyone in Cuba.
1.
Try Staying At A Hostel In Cuba For A Different Vibe
While there are 5-star hotels within Cuba, we recommend you skip that and opt for hostels or an Airbnb. The lush life is always nice but there's a certain authenticity that comes with staying in a hostel or an Airbnb in Cuba.
Much of the country remains untainted by commercialism and modernism, carry that same vibe to your holiday accommodations.
Hostels such as Hostel Casa De Ania and Rolando's Backpacker Hostel are clean, homey, and located not far off from where all the action happens in Havana. They also come equipped with on-site laundry facilities and a bar.
Alternatively, if you're in Trinidad and are looking for low-cost, reliable accommodation, Airbnb has plenty of options starting at USD$10 for a night.
2.
Learn How To Roll A Cigar Like A Pro At The Tobacco Farms In Viñales
Even if you don't normally smoke cigars, learning how to roll one at a tobacco farm in Trinidad, Cuba is something we insist you try your hand at.
There are various tours available that allow you to visit these traditional tobacco farms located within Viñale. In a small, intimate setting you get to meet the farmers who grow and tend to the tobacco plants.
During the session, you might be so lucky to be able to roll your own cigar. Even if you don't smoke them, rolling one will double as an amazing souvenir to take home.
Locals have been smoking cigars since long before Christopher Columbus set foot in the country. So as you can imagine, Cuban cigars and the tobacco farms within the country and are steeped in more history than you can imagine!
3.
Cycle Through The Beautiful Valle De Viñales
While in Valle De Vinales consider further exploring its beauty by getting yourself on a bike tour around the city! Did we mention that Valle De Vinales has proudly been named as a UNESCO World Heritage Site?
There are plenty of bicycle tours that will allow you to explore the breathtaking landscapes Valle De Vinales while getting a healthy dose of exercise.
If you are feeling particularly ambitious, you have the option of a bike tour that takes you from Havana to Vinales. For 335 CUC, you get to put your cycling skills to the test by taking a 3-day cycling tour from one city of Cuba to another.
Be warned though, this tour is known to be for advanced cyclists so if you're planning to do go from Havana to Vinales whilst in Cuba start practising beforehand!
4.
Ride Like A Cuban In A Classic Car In Havana, Cuba
If you're anything like us then you're a little bit of a sucker for classic, vintage cars. Havana, Cuba will make you feel like a kid in a candy shop with classic cars around every corner.
Live out your lifelong fantasy of riding in a 1950 Buick or a 1952 Chevy with a classic car tour. You will be pleased to know there are several tours available for you to book a car.
You will be even happier to know that your car comes with a driver, who doubles as a guide. Many of these drivers will enthusiastically share priceless stories and historical facts about Havana's rich cultural background.
Classic cars are so popular here that even their taxis use them. Some recommend just taking a taxi instead of getting on an official classic car tour.
However, we found that by doing this you risk being overcharged as experienced drivers realise most people want a picture bad enough to pay. You should be paying about 60 CUC for a two-hour tour.
If you do want just a couple of quick shots, ensure that you aren't taking the taxi a long distance! Otherwise, opt for the tour – you get more bang for your buck.
5.
Spend The Day At Playa Jibacoa Beach
Located on the Northern shores of Cuba, the best way to get to Playa Jibacoa Beach is by taxi or by renting a car and driving down yourself. You should be able to reach Playa Jibacoa in an hour, on your way take in the sights and sounds since a large portion of the drive will be along the coast.
What is there to do at Playa Jibacoa? While there may not be a lot of activities per se, it is the perfect beach to just relax. You can expect to be one of the few people present as Playa Jibacoa doesn't see a lot of crowds.
If you're itching to get in the water, there are two shipwrecks that you can dive at. One of the wrecks can be seen from the beach while the other is fully submerged. The dive is suitable for both beginners and advanced divers. However, only advanced divers are allowed to dive within the wreckage.
There is a small store across the street where you can grab yourself cold beers and tidbits before you sprawl out on the sand and attain the perfect tan.
6.
Drink Like Hemingway At El Floridita
Are you a fan of both rum and Hemingway? You can sit in the same bar that the talented Hemingway one did and sip on his usual drink. Dubbed The Papa Hemingway or the Hemingway Daiquiri, it is basically a double daiquiri sans the sugar.
El Floridita in Havana, Cuba was once one of Hemingway's favourite haunts. There you can order the drink that packs a punch as you sit back and take in the history of the hotel.
Another bar that has retained much of its old-age decor and history is the Hotel Nacional. As with much of Cuba, the Hotel Nacional's interior has not received much of an update. Meaning that stepping inside quickly transports you to to an era long passed.
The Mojitos at the Hotel Nacional have been prided for being the best in Cuba. Our recommendation is that you grab yourself one of their famous mojitos and have a drink in the very space Frank Sinatra once did!
7.
Dive Into A Cenote At Saturno Cave, Varadero
What is a cenote? Derived from the Mayan word for 'abyss', a cenote is a natural pit or sinkhole. When the rock around it collapses it exposes a natural pool of groundwater.
Wooden stairs take you down into Saturno Cave at Varadero. Once you get inside the cave you are faced with water so clear you can see the rock formations under the surface.
It is truly an out-of-this-world experience. Taking a dip in the refreshing waters is one of the most amazing things as the waters pleasantly contrast the heat of the day.
Do take note that at some points the water goes very deep and it is therefore not recommended for young children or the elderly.
8.
Be Transported To Another World In A Different Time At La Guarida & Disco Ayala
La Guarida can be found nestled away within a derelict mansion. From the outside, the last thing you expect to find hidden within is one of Havana's fancier restaurants.
Head up the old steps and feel yourself be instantly transported as you're greeted by warm lights and the smell of food wafting through the air.
While the food here is slightly more than what you'd expect from the rest of Cuba, it is still cheaper than you'd pay elsewhere for the type of food and ambience you'll receive. Many people who come here are big fans of the lobster!
Cuba is full of surprises and hidden gems. Disco Ayala in Trinidad is no exception. Disco Ayala is a club inside a literal cave. If you've always wanted to take partying to a whole new level, underground that is, Disco Ayala will do just that.
How do you get to Disco Ayala? Look for Plaza Mayor in Finco Santa Ana in Trinidad, head northwest and away from the centre of town. Look for signs pointing you towards 'Disco Las Cuevas' and you should be on the right path. If all else fails, ask a friendly local for directions.
9.
Appreciate Nature's Wonders At The Vegas Grande Waterfalls
If you have your heart set on swimming in a waterfall the Vegas Grande Waterfalls is the perfect place to check that one off your bucket list. If you're driving there, the waterfalls are only a short hike from where you would leave your car.
You will need to pay an entrance fee of 9 CUC just before you reach the waterfall. Keep heading down towards the base of the waterfall.
Remember to have your swimsuit and other necessities packed before you embark on this journey. Swimming in the Vegas Grande Waterfalls is not an experience you want to miss out on.
Plus, after the hike you just had you're going to appreciate the refreshing water against your skin before you head back up the way you came!
10.
See The Bamboo Cathedral In Trinidad
Haven't had enough of nature in Cuba? We suggest you head over to Trinidad to feast your eyes on the Bamboo Cathedral. You can find the Bamboo Cathedral nestled away within Tucker Valley in Chaguaramas.
It is recommended to do the hike to the Bamboo Cathedral early so as to avoid the hot sun. On top of this, there isn't really a better way to kick start your day than with a bit of exercise.
If you're looking for free things to do in Trinidad, the Bamboo Cathedral is a great option. Access to these trails are free and they're the perfect spot for a picnic brunch! Bring a camera and keep your eyes peeled for the various species of birds and monkeys that inhabit Cazabon Park.
11.
Celebrate Cuba With The Santiago Festival
Santiago is located near the Eastern tip of Cuba. While it may be a little out of the way and not necessarily on the initial itinerary, we think you should reconsider.
If you've found yourself with a little extra time on your hands and are itching to soak up even more that Cuba has to offer – Santiago de Cuba is perfect for you. This mega carnival occurs towards the later part of July, so if you want to catch remember to plan your holiday accordingly.
Touted as the most famous and traditional festival in all of Cuba, this is not something you want to miss out on. Expect a full-blown extravaganza of colours, music, light, and dance at Santiago de Cuba.
As mentioned, getting to Santiago from Havana is not the easiest or shortest feat. However, there are bus routes that run daily from city to city. You can buy a bus ticket for roughly 57 CUC, departing from Havana and arriving in Santiago.
The total journey will take you about 18 hours as the bus makes several stops at various cities that are scattered along the way.
There are also tours that take you from Havana, through Baracoa, Santiago, and several other cities. These tours run over the course of roughly 2-weeks and are great if you want to explore both Havana and some of the less popular cities of Cuba.
12.
Catch The Sunrise At Morro Castle, Havana
From a fortress that once guarded the entrance to Old Havana, to a prison, and finally to the historic landmark that it is today. Morro Castle in Havana is definitely something you should put on your itinerary.
Resist the temptation to stay up late the night before, which we know is difficult in Havana, and ensure you wake up before the sun does on the day of your visit to Morro Castle. While there is not much to do at Morro Castle per se, the stunning view of the sun rising over the sleepy city is reason enough for a visit.
You can combine your classic car ride with your visit to Morro Castle if you're having trouble figuring out how to get there!
There You Have It, The Best Things To Do In Cuba!
Eat, drink, hike, cycle, and party your way through all of beautiful Cuba. Do let us know which ones were your favourite(s) or if we've missed anything that you think absolutely deserves a mention!