Top Tips For Visiting Brisbane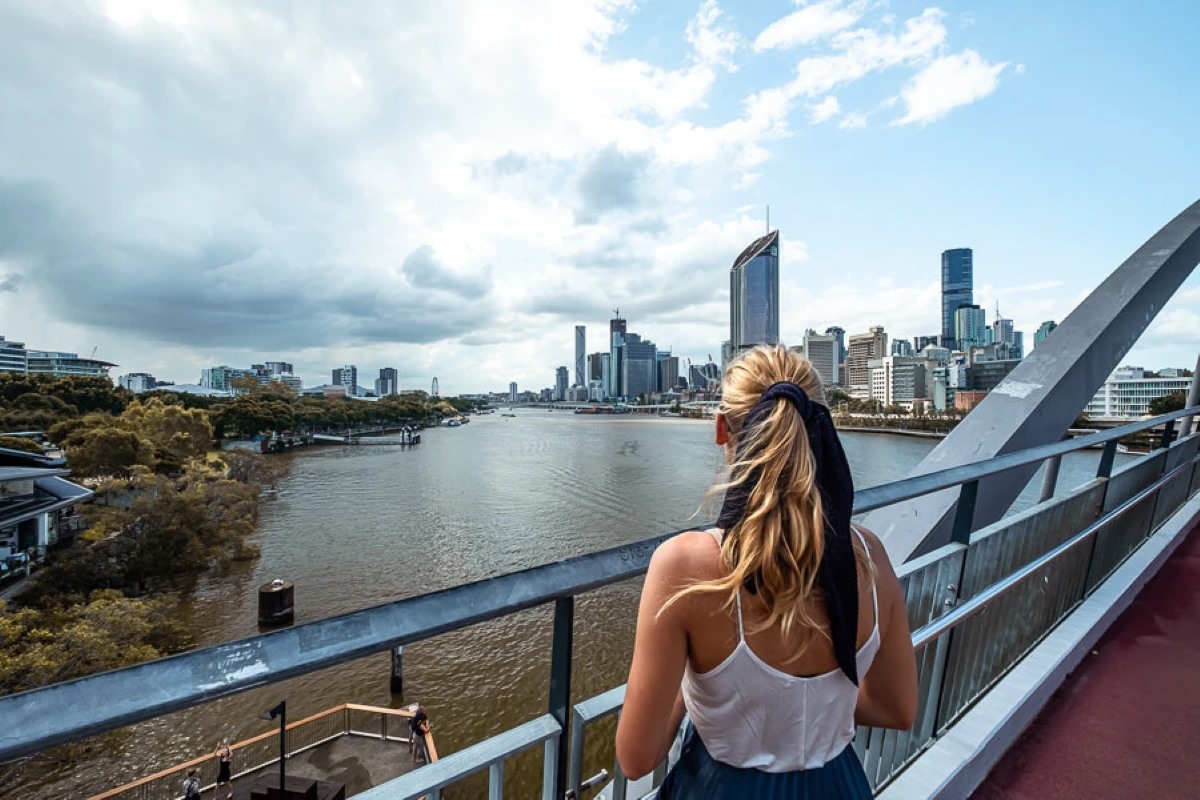 Introduction
Welcome to Brisbane, the vibrant capital city of Queensland, Australia. Known for its warm climate, friendly locals, and a mix of natural and urban attractions, Brisbane has become a popular destination for travelers from around the world. Whether you are a nature enthusiast seeking outdoor adventures, a food lover in search of culinary delights, or a culture seeker looking for museums and galleries, Brisbane has something for everyone.
With its strategic location on the eastern coast of Australia, Brisbane offers a unique blend of laid-back charm and metropolitan energy. Surrounded by stunning beaches, lush national parks, and the winding Brisbane River, you'll find countless opportunities to immerse yourself in nature while still enjoying the convenience of a bustling city.
Home to a diverse and multicultural population, Brisbane embraces its cultural heritage and celebrates its vibrant arts scene. From the Queensland Cultural Centre to the numerous art festivals and performances throughout the year, the city has a rich tapestry of artistic expression that demands exploration.
So, whether you're planning a short visit or a longer stay, this article will provide you with a comprehensive guide to make the most of your time in Brisbane. From weather tips and transportation options to must-see attractions and delicious dining experiences, we'll cover it all. So, fasten your seatbelts and get ready to embark on an unforgettable adventure in the River City!
Weather and Best Time to Visit
Brisbane boasts a subtropical climate, with warm and pleasant weather throughout most of the year. Summers (December to February) can be hot and humid, with temperatures averaging around 30°C (86°F), while winters (June to August) are mild and comfortable, with temperatures ranging from 11°C to 21°C (52°F to 70°F). Spring (September to November) and autumn (March to May) bring mild temperatures and are often considered the best times to visit, as the weather is pleasant and the city is less crowded.
If you enjoy sunny days and outdoor activities, the months of April to September offer the most ideal weather conditions. During this period, you can expect plenty of sunshine and less rainfall, making it a great time to explore the city's parks, go hiking, or relax on the beautiful beaches nearby.
However, if you're a fan of festivals and cultural events, you might want to consider visiting during the summer months. Brisbane hosts various festivals and events during this time, including the popular Brisbane Festival, which showcases the city's vibrant arts scene and culminates in a grand finale of music and fireworks.
It's important to note that Queensland, including Brisbane, experiences a wet season from December to March. While the rainfall can provide relief from the summer heat, it's advisable to pack a light raincoat or umbrella, just in case.
Another factor to consider when planning your visit is school holidays. Keep in mind that the city can become busier during peak holiday periods, such as Christmas and Easter, so if you prefer a quieter experience, you may want to schedule your trip for a different time.
Overall, Brisbane's climate is enjoyable year-round, offering something for everyone depending on your preferences and interests. Whether you're looking to soak up the sun, enjoy outdoor activities, or immerse yourself in the city's cultural events, you're sure to find a suitable time to visit Brisbane and create lasting memories.
Getting Around Brisbane
Getting around Brisbane is convenient and efficient, thanks to its well-developed transportation network. Here are some of the popular modes of transportation you can use to explore the city:
Public Transport: Brisbane's public transport system, run by TransLink, includes buses, trains, and ferries. The network covers most of the city and surrounding suburbs, making it easy to navigate. The Go Card is a reusable smart card that offers discounted fares and can be used across all modes of public transport.
Buses: Buses are a popular mode of transport in Brisbane, with numerous routes covering the city and connecting suburbs. The bus network operates throughout the day, and some routes even run 24/7. Check the TransLink website or use their app for schedules and route information.
Trains: Brisbane's train network is extensive and connects the city with its neighboring suburbs and regional areas. Central Station is the city's major railway hub, and trains run on multiple lines, making it convenient to explore different parts of Brisbane and beyond.
Ferries: Brisbane's scenic river is beautifully serviced by the CityCat and CityFerry services. These ferries provide a unique way to travel along the river, offering stunning views of the city's skyline and riverside attractions. They are particularly popular for reaching destinations like South Bank and the University of Queensland.
Taxis and Rideshare: Taxis and rideshare services such as Uber are readily available in Brisbane. This option provides flexibility and convenience, especially when traveling to specific locations or in a group.
Walking and Cycling: Brisbane is a pedestrian-friendly city with plenty of dedicated walking and cycling paths. Exploring the city on foot or by bike is a great way to discover hidden gems and enjoy the pleasant weather. You can also rent bikes from various bike-sharing stations scattered throughout the city.
When planning your travel around Brisbane, it's a good idea to consider purchasing a Go Card. This prepaid card allows for seamless and discounted travel across different modes of public transport. Simply tap on and off when boarding and alighting from buses, trains, and ferries.
If you prefer the freedom of driving, car rentals are available at the airport and throughout the city. Brisbane also has a well-maintained road network, but do check for any toll roads and parking regulations.
Exploring Brisbane and its surrounding areas is made easy with the variety of transportation options available. So whether you choose to ride the efficient public transport system, enjoy the scenic river ferries, or take to the streets on foot or by bike, getting around Brisbane is a breeze.
Must-See Attractions in Brisbane
Brisbane is a city with an abundance of attractions that cater to a variety of interests. From cultural landmarks to natural wonders, here are some must-see attractions that should be on your itinerary when visiting Brisbane:
South Bank Parklands: Located on the southern bank of the Brisbane River, South Bank Parklands is a vibrant hub of entertainment and recreation. Take a stroll along the scenic promenade, relax on the sandy Streets Beach, visit the Queensland Art Gallery, or enjoy a picnic in the lush parklands.
Lone Pine Koala Sanctuary: As the world's oldest and largest koala sanctuary, Lone Pine is a must-visit for animal lovers. Get up close and personal with Australia's iconic koalas, hand-feed kangaroos, and meet a variety of other native Australian wildlife.
Brisbane Botanic Gardens Mount Coot-tha: Explore the stunning botanical gardens, located just seven kilometers from the city center. Enjoy pleasant walks through themed gardens, visit the tropical greenhouse, and take in panoramic views of the city from the summit of Mount Coot-tha.
Story Bridge: For breathtaking views of Brisbane, consider climbing the iconic Story Bridge. The Bridge Climb adventure takes you to the top of the bridge where you can enjoy panoramic vistas of the city, river, and surrounding landscape.
Queensland Museum and Science Centre: Immerse yourself in cultural and scientific exhibits at the Queensland Museum and Science Centre. Discover the natural history of Queensland, explore interactive displays, and view captivating exhibitions that showcase art, culture, and science.
Brisbane City Hall: Admire the architectural beauty of Brisbane City Hall, the city's iconic landmark. Take a free tour of the building to learn about its history, marvel at the stunning clock tower, and visit the Museum of Brisbane to explore the city's past and present.
Roma Street Parkland: Escape the hustle and bustle of the city at Roma Street Parkland, a sprawling green oasis in the heart of Brisbane. Enjoy serene walks, visit themed gardens, and relax in the tranquil atmosphere of this award-winning parkland.
The Wheel of Brisbane: Take a ride on the Wheel of Brisbane for stunning views of the city skyline. This giant Ferris wheel offers breathtaking panoramic views from enclosed, air-conditioned capsules, making it a perfect way to see the city by day or night.
These are just a few of the many attractions that Brisbane has to offer. Whether you're interested in history, nature, art, or adventure, Brisbane's diverse range of must-see attractions promises to captivate and inspire visitors of all ages.
Exploring the River City
Brisbane is often referred to as the "River City" due to its picturesque location along the Brisbane River. The river serves as a focal point for many activities, attractions, and experiences in the city. Here are some exciting ways to explore and enjoy the River City:
River Cruises: One of the best ways to experience the beauty of Brisbane's river is by taking a river cruise. Choose from a variety of options, including sightseeing cruises, dinner cruises, or even adventure cruises. Relax on the deck, take in the stunning city skyline, and learn about the history and landmarks along the banks of the river.
CityCat and CityFerry: The CityCat and CityFerry services are not only a means of transport but also a fun way to explore the city. Hop aboard and enjoy the scenic route as the ferries glide along the river, stopping at various key destinations including South Bank, Kangaroo Point, and New Farm Park.
Kayaking and Paddleboarding: For the adventurous souls, kayaking or paddleboarding along the river offers a unique perspective of the city. Rent equipment and navigate your way through the water, enjoying the beautiful surroundings and even stopping at riverside parks for a picnic or break.
Story Bridge Adventure Climb: For a thrilling experience, consider climbing the iconic Story Bridge. The guided adventure climb takes you to the top of the bridge, where you'll be rewarded with breathtaking panoramic views of the river, city skyline, and surrounding areas.
Riverside Dining: Indulge in a memorable dining experience at one of the many riverside restaurants and bars. Enjoy delicious cuisine while admiring the sparkling river below and the city lights reflecting on its surface. This is a great way to relax and soak up the vibrant atmosphere of the River City.
Riverfront Festivals and Events: Throughout the year, Brisbane hosts various festivals and events along the riverfront. From food and wine festivals to music and cultural celebrations, there's always something happening by the water's edge. Check the local events calendar to see what's on during your visit.
Exploring the River City provides a unique perspective on Brisbane's natural beauty and vibrant atmosphere. Whether you choose to cruise along the river, hop on a ferry, participate in water activities, or simply enjoy a riverside dining experience, the Brisbane River is a central and enchanting feature that should not be missed.
Dining and Foodie Experiences
Brisbane has emerged as a culinary hotspot in Australia, offering a diverse and vibrant dining scene that caters to every palate. From trendy cafes to award-winning restaurants, here are some dining and foodie experiences you must indulge in when visiting Brisbane:
South Bank Food Precinct: South Bank is a mecca for food lovers, with a wide range of dining options to suit every taste. From global cuisines to gourmet burgers, you'll find a plethora of cafes, restaurants, and food stalls offering delicious dishes made with fresh, local ingredients.
Howard Smith Wharves: Located under the iconic Story Bridge, Howard Smith Wharves is a trendy dining and entertainment precinct. Here, you can enjoy a riverside dining experience with a stunning backdrop, offering a variety of cuisines ranging from Italian to Asian fusion.
Chinatown: Brisbane's Chinatown in Fortitude Valley is a must-visit for food enthusiasts. Explore the bustling streets lined with vibrant Asian eateries, offering everything from traditional Chinese dim sum to Vietnamese pho and Malaysian street food.
James Street: Known for its boutique shops and upscale vibes, James Street also offers a range of dining experiences. From cozy cafes serving delectable brunch options to chic restaurants offering contemporary Australian cuisine, this trendy precinct is a food lover's dream.
Breweries and Craft Beer: Brisbane is home to a thriving craft beer scene, with numerous breweries and brewpubs scattered throughout the city. Embark on a brewery tour, sample unique and locally brewed beers, and soak in the lively atmosphere of these hip establishments.
Farmers Markets: For a taste of local produce, head to one of Brisbane's farmers markets. The Jan Powers Farmers Markets in the city and the Eat Street Northshore markets offer a wide array of fresh fruits, vegetables, artisanal products, and ready-to-eat treats.
Rooftop Bars: Enjoy panoramic views of the city while sipping on craft cocktails at one of Brisbane's rooftop bars. The city boasts several rooftop venues, many located in the Fortitude Valley and CBD areas, providing a unique and vibrant atmosphere for a memorable night out.
Brisbane's food scene is constantly evolving, with new and exciting dining experiences popping up throughout the city. Whether you're a fan of gourmet cuisine, international flavors, or street food delights, Brisbane offers a plethora of options that will satisfy even the most discerning foodie.
Remember to make reservations in advance, especially for popular establishments, and be open to trying new flavors and culinary experiences. With its gastronomic delights and culinary creativity, Brisbane is truly a food lover's paradise.
Shopping in Brisbane
Brisbane offers a diverse and vibrant shopping scene that caters to all tastes and budgets. From international brands to local designers and unique boutiques, here are some shopping destinations you won't want to miss:
Queen Street Mall: Located in the heart of the city, Queen Street Mall is Brisbane's premier shopping district. This bustling pedestrian mall is home to an array of fashion boutiques, department stores, jewelry shops, and specialty stores, offering something for everyone.
James Street: Known for its trendy and upscale boutiques, James Street in Fortitude Valley is a must-visit for fashionistas. Discover a curated selection of Australian and international designer labels, as well as unique homeware stores, beauty boutiques, and art galleries.
The Valley Markets: If you're looking for something unique and handmade, head to The Valley Markets. Held every weekend in the Brunswick Street Mall in Fortitude Valley, these markets showcase the work of local artisans, offering fashion, accessories, arts, crafts, and delicious homemade treats.
Westfield Chermside: As one of the largest shopping centers in Australia, Westfield Chermside is a retail powerhouse. With over 400 stores, including major department stores, fashion brands, and specialty shops, you can spend hours exploring and finding the latest trends.
Paddington Antique Centre: Antique lovers will delight in the Paddington Antique Centre. Browse through a vast collection of vintage clothing, retro furniture, collectibles, and unique treasures from different eras. This center is a haven for those seeking one-of-a-kind pieces with a touch of nostalgia.
Fortitude Valley: Beyond fashion, Fortitude Valley is home to quirky and eclectic stores, offering everything from vinyl records and vintage finds to alternative fashion and alternative lifestyle products. Explore the hidden laneways and arcades, and you're sure to find something unique.
Brisbane Arcade: Step back in time at the heritage-listed Brisbane Arcade. This elegant shopping arcade is adorned with stunning architecture and is home to an array of boutique stores, specializing in jewelry, fashion, accessories, and gifts.
Whether you're looking for high-end fashion, unique vintage pieces, or locally-made treasures, Brisbane has the shopping experience for you. Keep in mind that most shops in the city are open seven days a week, and major shopping centers have late-night shopping on Thursdays, making it easy to indulge in some retail therapy at your convenience.
Don't forget to explore the surrounding neighborhoods and support local businesses to discover hidden gems and unique finds. From glamorous malls to charming markets, Brisbane offers a shopping experience that is as diverse as its culture and people.
Outdoor Activities and Parks
Brisbane is blessed with an abundance of natural beauty and outdoor spaces, making it a perfect destination for outdoor enthusiasts. From pristine parks to thrilling activities, here are some outdoor experiences you can enjoy in and around Brisbane:
Mount Coot-tha: Rise above the city and take in breathtaking views of Brisbane from the summit of Mount Coot-tha. Explore the bushwalking trails, visit the Brisbane Botanic Gardens, and enjoy a meal at the Summit Restaurant or Kuta Café.
Kangaroo Point Cliffs Park: Located just across the river from the CBD, Kangaroo Point Cliffs Park offers stunning panoramic views of the city skyline. Explore the park's walking and cycling tracks, have a picnic, or try your hand at rock climbing at the iconic cliffs.
Lone Pine Koala Sanctuary: Immerse yourself in nature and wildlife at the Lone Pine Koala Sanctuary, home to a variety of native Australian animals. Get up close and personal with kangaroos, hand-feed lorikeets, and have a memorable encounter with a koala.
New Farm Park: Escape the city bustle and unwind at the picturesque New Farm Park. Take a leisurely stroll through the gardens, have a picnic by the river, or simply relax under the shade of the iconic Moreton Bay fig trees.
South Bank Parklands: South Bank Parklands offers a wide range of outdoor activities. Enjoy a swim at Streets Beach, explore the various gardens and picnic areas, or rent a bike to cycle along the riverfront pathways. You can also take a ride on the Wheel of Brisbane for stunning views.
Moreton Island: Escape to a tropical paradise with a visit to Moreton Island. Just off the coast of Brisbane, this island offers opportunities for snorkeling along the Tangalooma Wrecks, sandboarding down massive dunes, and swimming in crystal-clear blue waters.
River City Cruises: Explore the Brisbane River on a scenic river cruise. Choose from different cruises, including eco-cruises, sunset cruises, or even dolphin-spotting cruises, to experience the city from a unique perspective.
Water Sports: Brisbane's warm climate and proximity to water make it an ideal destination for water sports enthusiasts. Try your hand at paddleboarding, kayaking, or jet skiing along the river or head to the nearby Moreton Bay for sailing and fishing adventures.
With its year-round pleasant weather and stunning natural landscapes, Brisbane offers endless opportunities for outdoor activities and adventures. Whether you prefer to relax in a serene park, embark on thrilling water sports, or explore the surrounding islands, there is something to suit every taste and preference. So, get out and enjoy the great outdoors in Brisbane!
Accommodation Options
Brisbane offers a wide range of accommodation options to suit every budget and preference. From luxurious hotels to budget-friendly hostels and self-catering apartments, here are some popular choices for your stay in the city:
Hotels and Resorts: Brisbane boasts a variety of hotels and resorts, ranging from internationally renowned chains to boutique establishments. Whether you're looking for a luxurious five-star experience or a comfortable mid-range option, there are plenty of choices available in the CBD and surrounding suburbs.
Apartments and Serviced Apartments: If you prefer a home-away-from-home experience, consider staying in an apartment or serviced apartment. These accommodations offer the convenience of a fully-equipped kitchen and laundry facilities, making them ideal for longer stays or families traveling together.
Hostels and Backpacker Accommodation: For budget-conscious travelers or those seeking a more sociable atmosphere, hostels and backpacker accommodations are a popular choice. Brisbane has a range of clean and comfortable options that cater to backpackers and solo travelers.
Bed and Breakfasts: For a personalized touch and a taste of local hospitality, consider staying at a bed and breakfast. These charming accommodations offer comfortable rooms and a delicious breakfast to start your day.
Holiday Homes and Rentals: If you're traveling with a group or prefer a more private setting, renting a holiday home or apartment can be a great option. You'll have your own space and the flexibility to cook meals and relax in a home-like environment.
When choosing your accommodation, consider factors such as location, amenities, and proximity to public transportation. Staying in the CBD provides easy access to shopping, dining, and the city's attractions, while staying in the outer suburbs offers a more relaxed and residential vibe.
It's also worth noting that Brisbane hosts a variety of events and festivals throughout the year, so it's advisable to book your accommodation in advance, especially during peak travel periods.
Whatever your preferences and budget, Brisbane offers a wide range of accommodation options to ensure a comfortable and enjoyable stay in the city.
Nightlife and Entertainment
Brisbane may be known for its sunny days, but when the sun goes down, the city comes alive with a vibrant nightlife and a variety of entertainment options. Whether you're in the mood for a night of live music, dancing, or enjoying a relaxed drink with friends, Brisbane has something to offer for everyone:
Fortitude Valley: As Brisbane's entertainment hub, Fortitude Valley is teeming with bars, clubs, and live music venues. Explore Brunswick Street and its surrounding laneways to find hidden gems showcasing local and international talent. The Valley is known for its lively atmosphere and is a popular destination for late-night revelers.
South Bank: South Bank is not only a cultural hub but also a great place to enjoy the evening. Visit the stylish bars and wine bars along Little Stanley Street or head to the iconic Brisbane River to enjoy a drink with a stunning view of the city skyline.
Jazz Clubs and Live Music Venues: Brisbane has a thriving music scene, with plenty of venues offering live performances, from jazz clubs to indie rock venues. Check out popular spots like The Triffid, Lefty's Old Time Music Hall, and The Zoo for a night of great music and a lively atmosphere.
Rooftop Bars: Take advantage of Brisbane's warm weather and enjoy a drink at one of its rooftop bars. From rooftop gems with stunning views of the city, like Eleven Rooftop Bar and Elixir Rooftop Bar, to trendy and stylish venues like The Terrace at Soleil Pool Bar, Brisbane's rooftop bar scene offers a unique and memorable experience.
Casino and Entertainment Complexes: If you're feeling lucky, head to the Treasury Casino or The Star Gold Coast for a night of excitement and entertainment. Both venues offer a wide range of gaming options, as well as bars, restaurants, and live entertainment.
Comedy Clubs: Sit back, relax, and have a laugh at one of Brisbane's comedy clubs. Enjoy stand-up performances by local comedians or catch touring comedians at venues like The Sit Down Comedy Club and The Comedy Lounge.
Riverside Dining and Night Markets: Brisbane's riverside dining precincts come alive at night, offering a magical atmosphere to enjoy delicious food and drinks. Indulge in waterfront dining at Eagle Street Pier or explore the vibrant Night Market at Eat Street Northshore, where you can sample a variety of international street food and enjoy live entertainment.
When it comes to nightlife and entertainment, Brisbane has something for everyone. Whether you're into live music, dancing the night away, or enjoying a quiet drink at a rooftop bar, the city's diverse and vibrant scene ensures that your nights in Brisbane will be memorable and exciting.
Day Trips from Brisbane
Brisbane's central location in Queensland makes it an ideal starting point for exploring the surrounding areas. If you have some extra time, consider taking a day trip from Brisbane to discover the natural beauty and unique attractions in the region. Here are some popular day trip destinations:
Gold Coast: Just an hour's drive south of Brisbane, the Gold Coast is renowned for its pristine beaches, vibrant nightlife, and world-class theme parks. Spend the day sunbathing on the golden sands of Surfers Paradise, taking a thrilling roller coaster ride at Dreamworld, or exploring the lush rainforests of the hinterland.
Sunshine Coast: Head north from Brisbane to the Sunshine Coast and explore its stunning coastline and laid-back atmosphere. Visit the famous Australia Zoo, dive into the crystal-clear waters at Noosa Beach, or hike through the enchanting Kondalilla National Park.
Tangalooma Island: Catch a ferry from Brisbane to Tangalooma Island for a day of adventure. Feed wild dolphins, snorkel around the Tangalooma Wrecks, or try your hand at sandboarding on the massive sand dunes. This island paradise is just a short boat ride away from the city.
Lamington National Park: Explore the UNESCO-listed Lamington National Park, located just a short drive from Brisbane. Go hiking through lush rainforests, discover breathtaking waterfalls, and spot unique wildlife in this World Heritage-listed area.
Moreton Island: Embark on a day trip to Moreton Island and discover its natural beauty. Snorkel at the Tangalooma Wrecks, toboggan down massive sand dunes, or spot bottlenose dolphins on a dolphin cruise. Moreton Island offers a range of activities for nature lovers and adventure seekers.
Stradbroke Island: Catch a ferry to North Stradbroke Island, known as "Straddie" by the locals. Enjoy stunning beaches, go for a hike in the national park, or spot marine life while snorkeling or scuba diving. Stradbroke Island is a great escape from the city, offering a relaxed and laid-back atmosphere.
Bribie Island: Just a short drive from Brisbane, Bribie Island is a popular day trip destination for nature lovers. Explore the island's national park, relax on its pristine beaches, or go kayaking in the calm waters of the Pumicestone Passage.
These are just a few of the many day trip options available from Brisbane. Whether you're seeking adventure, relaxation, natural wonders, or wildlife encounters, the surrounding region provides abundant opportunities to explore and create lasting memories.
Before heading out on a day trip, make sure to check operating hours, ferry schedules, and any permit requirements, especially for national parks. With a little planning, you can make the most of your time and discover the diverse beauty that Queensland has to offer.
Safety Tips for Visitors
Brisbane is generally a safe city to visit, but it's always important to take precautions to ensure your safety and enjoy a worry-free trip. Here are some essential safety tips for visitors to Brisbane:
Stay aware of your surroundings: Like any city, it's important to be aware of your surroundings at all times. Keep an eye on your belongings and avoid displaying valuables in crowded areas.
Use reliable transportation: Stick to licensed taxis, ride-sharing services, or public transportation when moving around the city. Always ask for identification and use reputable companies to ensure your safety.
Be cautious of scams: Be cautious of strangers who approach you with unsolicited offers or requests for money. Avoid giving personal or financial information to unknown individuals.
Take care of your belongings: Keep your belongings secure and within sight, especially in crowded places or tourist areas. Use a money belt or a secure bag to carry your passport, cash, and important documents.
Stay hydrated and protect yourself from the sun: Brisbane's climate can be hot and sunny, so make sure to drink plenty of water, wear sunscreen, and use protective clothing to shield yourself from the sun's rays.
Follow water safety guidelines: If you're swimming at the beach or in a pool, follow water safety guidelines, swim between the flags on patrolled beaches, and be aware of any potential hazards.
Observe traffic rules: If you're driving or walking in Brisbane, obey traffic signals and rules. Look both ways before crossing the street, especially in busy areas.
Keep emergency numbers handy: Save important numbers such as emergency services, your hotel, and embassy or consulate contacts on your phone. In case of an emergency, knowing whom to contact can be crucial.
Check weather forecasts and travel advisories: Keep an eye on weather forecasts and travel advisories, especially during severe weather conditions. Stay informed to ensure your safety during your visit.
Remember, common sense and vigilance go a long way in ensuring a safe and pleasant visit to Brisbane. By taking these safety tips into account, you can focus on enjoying your time exploring the city and its attractions with peace of mind.
Conclusion
Brisbane, with its warm climate, friendly locals, and multitude of attractions, offers a memorable experience for visitors from around the world. Whether you're exploring the River City's scenic beauty, indulging in delicious foodie experiences, immersing yourself in its vibrant nightlife, or embarking on exciting day trips, Brisbane has something to captivate every traveler.
From the stunning views atop Mount Coot-tha to the bustling streets of Fortitude Valley, the city provides a diverse range of activities and experiences that cater to a wide range of interests. Whether you're a nature enthusiast seeking outdoor adventures, a culture lover exploring museums and galleries, or a foodie looking for culinary delights, Brisbane promises to leave you enthralled and wanting more.
As you plan your visit, remember to take advantage of Brisbane's well-connected public transportation system, embrace its unique attractions, and immerse yourself in the friendly and laid-back atmosphere. Be sure to explore the surrounding areas too, as Brisbane serves as a gateway to stunning destinations like the Gold Coast, Sunshine Coast, and the beautiful islands of Moreton and Stradbroke.
With safety tips in mind, such as staying aware of your surroundings and taking precautions with your belongings, you can fully enjoy your time in Brisbane without any worries. Remember to embrace the city's warm weather, but also take measures to protect yourself from the sun and stay hydrated.
Whether you're a nature lover, a culture aficionado, or an adventure seeker, Brisbane has something to offer everyone. So, pack your bags, prepare for an unforgettable journey, and get ready to experience the vibrant and captivating spirit of the River City!