From Bangkok To Hua Hin: How To Get There?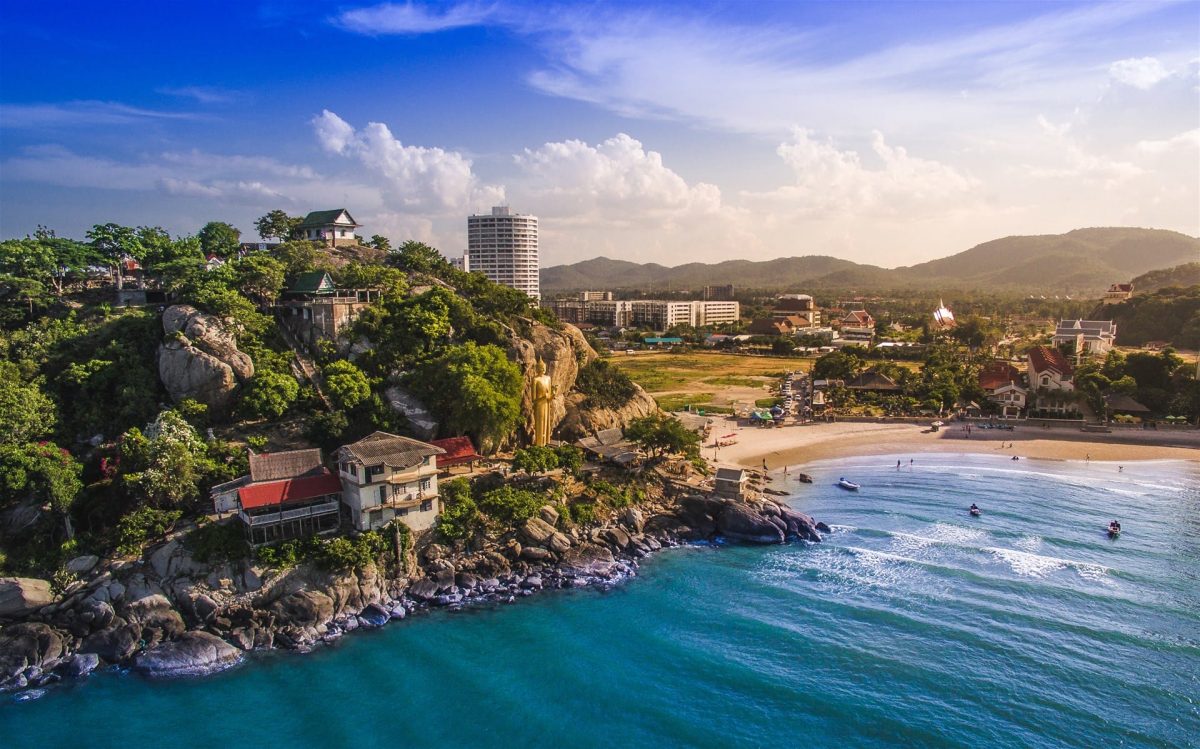 Looking to kick off your shoes with a weekend getaway at the beach? Why not head down to Hua Hin – the seaside resort city of Thailand! With its sparkling waters and scenic white beaches, this tranquil coastal town is not only popular among the residents of Bangkok, but with tourists as well. Explore the streets of Hua Hin and follow your nose down to the mouth-watering fragrance of local delicacies wafting from street markets. From exotic resorts to fishing villages and temples, and from jungle trekking to mountain retreats, the seaside town of Hua Hin's got it all!
Located closely to Bangkok, Hua Hin makes for an ideal and convenient location for those looking to escape the hustle and bustle of life in Bangkok or extend their Thailand vacation! Hence, here are several ways you can travel from Bangkok to Hua Hin! Read on to find out more!
Ways To Travel From Bangkok To Hua Hin
Although travelling by train is not the fastest way to get from Bangkok to Hua Hin, it certainly is one of the more interesting journeys to experience – especially for someone on a budget!
Departing from Hua Lamphong railway station, the duration of this scenic journey ranges from 3.5 hours to 4.5 hours depending on the type of train – Ordinary, Rapid, Express or Special Express. In addition to this, ticket costs are subjective based on the passenger's choice of train, coach type, and seat. It can range from 44 THB for the cheapest 3rd class seat to over 1,000 THB for a 1st class seat. Do take note that tickets purchased online are 250 THB more than physical tickets to guarantee your seat on the train in advance! The earliest train departs at 8:05AM, with the last departing at 10:50PM.
If you choose to travel by bus, you can easily get from Bangkok to Hua Hin by taking a bus from Suvarnabhumi Airport, or the City Centre.
From Suvarnabhumi Airport, you can travel to Hua Hin on a modern 24-seater coach. With 6 departure times starting from 7AM, the duration of the bus journey is estimated at 3 to 4 hours. These coaches cost 305 THB and can be booked at counters located on Level 1 at Gate 8. The same location also serves as a gathering point for those taking the bus. Do take note that you are restricted to 1 hand luggage per person, with an extra piece of luggage weighing 20kg or less! For an additional piece of luggage over 20kg, you will have to pay 50 THB.
Or, you can take a bus from the City Centre at the Southern Bus Terminal – Siew Tai Mai, located near Chao Phraya River. Buses will depart every 20 minutes, and the journey will take approximately 3.5 hours. The estimated price of the journey is 200 THB.
Another cheap alternative of getting from Bangkok to Hua Hin is by van. An estimated 3.5 to 4 hour journey, travelling by van is more flexible with multiple tour companies such as Nor Neane Transport, Mama Travel and Tour, and JKP Mochit; as well as different departure points to choose from such as Mochit New Van Terminal, the Southern Terminal, Khao San Road, and Ekkamai. These vans can seat around 10 to 12 passengers. However, it's not an advisable alternative for those who require a lot of luggage space!
For the comfort of a door-to-door service without the trouble of tedious planning, take a taxi instead! Travelling by taxi from Bangkok to Hua Hin is bound to be more expensive though! For example, an estimated cost from Suvarnabhumi Airport would be around 2,000 THB. However, this would be great for those travelling in bigger groups, as splitting the fare would be close to the cost of travelling by train or bus. This will roughly take around 2.5 hours to 3.5 hours depending on traffic.
Thinking of renting a car and driving from Bangkok to Hua Hin instead? Well, it certainly is a more flexible option, making it easier to get around most places in the city at your own leisure. Car rentals are available at Sixt Car Rental, Avis, Thai Rent A Car, and Hertz Avis. Take heed that you should either have a Thai driver's license or an international driver's permit! Additionally, some car rental companies may set the minimum age at 21, while some set it at 23.
The cost of renting smaller, standard budget cars can start at 700 THB per day and can cost up to 3,000 THB per day for luxury models. You can even pay as much as 5,000 THB per day for a large, luxury car. A 24-hour minimum rental charge is included as well. So be prepared to pay additional charges if you return the car late!
One of the costliest, but fastest alternatives to travel from Bangkok to Hua Hin is to travel by plane. There are currently no commercial flights between Bangkok and Hua Hin, but, it is possible to hire a charter flight. This will cost approximately 2,200 THB by which you will reach Hua Hin in 35 minutes. However, if you're not willing to pay this considerably large amount of money, a bus or train would definitely still be the best option!
Accommodation in Hua Hin
Well known for its various vacation resorts for the Thai Royal Family, Hua Hin is home to luxurious and unique hotels. Here are 3 appealing accommodation that will get you feeling like royalty.
1.
Green Gallery Beach Boutique Hotel
This cosy boutique hotel by the beach possesses traditional Thai elements blending with colonial architecture and was once home to royalty. These Thai-styled villas are furnished with a mix of vintage yet modern aesthetic and are designed to emphasise its image as a vacation home by the sea. With pool villas and rooms by the sea, the Green Gallery Hotel seems like the perfect place to settle down on a vacation. They also have pet-friendly rooms so your furry friends won't miss out on the fun!
Nestled in the quaint Santorini Park Village, this Mediterranean-style boutique Bed & Breakfast is situated near the Amusement Park and Fantasy Waterpark. Comprising of 2 themes – Greek Contemporary and Cozy Med, each room possesses its own unique décor and character. Guests are also treated to a scrumptious Greek-style Breakfast Bar in the morning.
This intimate, luxurious award-winning resort is located in Pranburi, Hua Hin, within close proximity of the beach on Pak Nampran Bay. The resort is a popular choice for romantic weddings and honeymoons due to their private and picturesque views. It features 25 unique residences with a majority of them containing their very own private pool and rejuvenating activities to cleanse the mind, body, and soul.
Major Tourist Attractions
Hike up to Khao Takiab Mountain, also widely known as Monkey Mountain! This monkey-inhabited mountain is home to a hilltop temple offering a sensational bird-eye view of Hua Hin. Not into hiking? Well, take a stroll along Khao Takiab Bay – a favourite spot amongst water-sports enthusiasts with its glistening waters, and a popular beach destination to sink your toes in the sand.
Adopting an open-air market concept, Cicada Market boasts Hua Hin's artistic talents through art and handmade crafts. The Art Market is split into 4 sections: Art a la Mode, Art Indoors, Art of Act, and Art of Eating. All of these which feature an art gallery, beer garden, and live music. Selling a variety of items from creative knick-knacks to clothes, you're bound to have an amazing shopping experience!
This mysterious, mystical landmark holds a stunning vision of a gold and green pavilion surrounded by trees and vegetation inside its cave walls. This pavilion was built at the end of the 19th century for the visit of the royal King Chulalongkorn the Great. Other Kings such as King Prajadhipok and King Bhumibol Adulyadej has also visited the cave. Only a handful of dedicated visitors has ever had the honour of witnessing this beautiful sight due to the amount of effort it takes to reach it. Will you be the next Indiana Jones and take on this adventure-filled challenge?
Final Thoughts
With so much to do in the coastal town of Hua Hin, it's impossible to resist throwing on your shades and having some fun in the sun! We understand the frustrations of tedious planning when it comes to travelling. Hence, we hope to minimise complications when travelling from Bangkok to Hua Hin! So, what are you waiting for? Head to Hua Hin now!