Arrival In Kathmandu, Nepal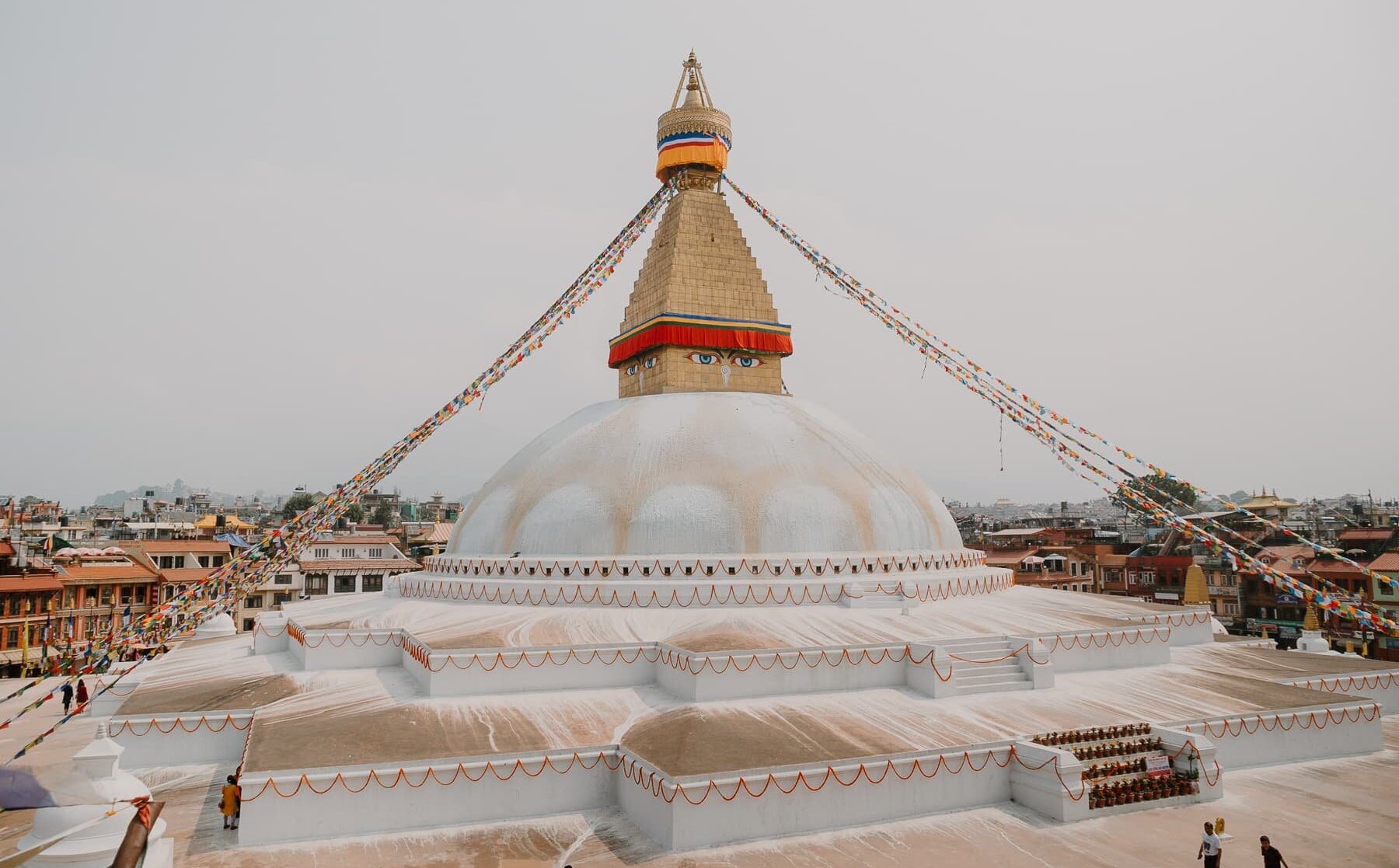 Introduction
Welcome to the vibrant city of Kathmandu, the capital of Nepal! Nestled in the heart of the Himalayas, this enchanting city offers a unique blend of ancient history, rich culture, and breathtaking natural beauty. From the bustling streets filled with colorful markets to the serene temples and monasteries, Kathmandu is a destination that appeals to both adventure enthusiasts and cultural explorers.
As you embark on your journey to Kathmandu, be prepared to be awe-inspired by the majestic mountains that surround the valley. The city itself is a fascinating mix of old and new, where ancient traditions coexist with modern development. From the moment you step off the plane, you will be greeted by warm smiles and the unmistakable charm of the Nepali people.
But before you set foot in this captivating city, it's important to make necessary preparations. Ensure you have the appropriate travel documents including a valid passport and visa. Check the weather forecast for your travel dates, as the climate in Kathmandu can vary throughout the year. Pack accordingly, with comfortable clothing and sturdy shoes for exploring the city's attractions and perhaps even embarking on a trek through the Himalayas.
Whether you are a solo traveler seeking enlightenment at ancient temples, a nature lover looking to trek through stunning landscapes, or a foodie wanting to delve into the flavors of Nepali cuisine, Kathmandu has something to offer everyone. This article will guide you through the essential aspects of your arrival in Kathmandu, including transportation options, accommodation choices, must-visit attractions, local food experiences, shopping opportunities, and adventure activities. Get ready to embark on a memorable adventure in this mesmerizing city!
Preparing for the Journey
Preparing for your journey to Kathmandu requires careful planning and consideration. Here are a few essential steps to ensure a smooth and enjoyable trip:
Research and Plan: Start by researching about Nepal and the specific places you want to visit in Kathmandu. Look for popular tourist attractions, cultural festivals, and outdoor activities that interest you. Make a list of must-see places and create a tentative itinerary.
Travel Documents: Check the passport validity and ensure it has at least six months of validity from the date of entry into Nepal. Apply for a tourist visa in advance or obtain it upon arrival at the airport. Additionally, consider purchasing travel insurance to cover any unforeseen emergencies.
Health and Safety: Consult with a healthcare professional or a travel clinic to get the necessary vaccinations and medications for your trip. It is recommended to have vaccinations for Hepatitis A and B, typhoid, and tetanus. Carry a basic first aid kit and take precautions against altitude sickness if you plan to trek in the higher regions.
Pack Accordingly: Kathmandu experiences varying weather conditions throughout the year, so pack clothing suitable for the season of your visit. Light and breathable clothes are ideal for the warmer months, while warm layers are necessary for colder months and high-altitude treks. Don't forget essentials like sunscreen, a hat, sturdy shoes, and a reusable water bottle.
Currency and Communication: The official currency of Nepal is the Nepalese Rupee (NPR). It's advisable to carry some cash for smaller transactions as ATMs may not be widely available in certain areas. Additionally, check with your mobile phone provider about international roaming options or consider purchasing a local SIM card for communication.
Cultural Etiquette: Familiarize yourself with Nepali customs and traditions to ensure you respect the local culture. Dress modestly when visiting temples and religious sites, remove your shoes before entering sacred places, and be courteous to the locals.
By taking these steps to prepare for your journey, you will be well-equipped to embark on a memorable adventure in Kathmandu. Remember to stay open-minded, embrace the local culture, and be prepared for the unexpected. Get ready to immerse yourself in the vibrant energy and natural beauty that Kathmandu has to offer!
Flight to Kathmandu
Flight to Kathmandu is the most convenient and popular way to reach the capital of Nepal. Tribhuvan International Airport (TIA) in Kathmandu serves as the entry point for international travelers from around the world. Here's what you need to know about flying to Kathmandu:
International Airlines: Several international airlines operate regular flights to and from Kathmandu, connecting the city with major cities in Asia, Europe, and the Middle East. Popular airlines such as Qatar Airways, Emirates, Turkish Airlines, and Air India offer direct flights to Kathmandu from various destinations.
Transit Options: Depending on your location and airline, you may have to make a connecting flight at a hub airport before reaching Kathmandu. Typical transit points include Delhi, Dubai, Istanbul, Doha, and Abu Dhabi. Check with your airline for specific details about your itinerary and any visa requirements for transit.
Duration of Flight: The duration of the flight to Kathmandu varies depending on your departure location and transit points. Direct flights from major cities in Asia usually take around 3-5 hours, while flights from Europe or the Americas may have longer durations with layovers.
Arriving at Tribhuvan International Airport: Upon arrival at Tribhuvan International Airport, complete the immigration process by presenting your passport and visa. Collect your luggage and proceed to the customs clearance area. There are currency exchange counters and ATMs available in the arrival hall for your convenience.
Visa on Arrival: If you haven't obtained a tourist visa in advance, you can apply for a visa on arrival at Kathmandu airport. Fill out the necessary forms, pay the visa fee in US dollars, and provide a passport-sized photograph. The process is relatively straightforward, but be prepared for some waiting time during peak travel seasons.
Ground Transportation: Once you have cleared customs and collected your luggage, you can choose from various transportation options to reach your accommodation in Kathmandu. These include pre-arranged airport transfers provided by hotels, taxis, ride-hailing services like Uber, and public buses.
Flying to Kathmandu is an exciting experience that offers stunning aerial views as you approach the majestic Himalayas. It is advisable to book your flights in advance and arrive at the airport with ample time to complete the necessary formalities. Prepare yourself for an unforgettable adventure as you land in the vibrant and culturally rich capital city of Nepal.
Arrival at Tribhuvan International Airport
As you arrive at Tribhuvan International Airport (TIA) in Kathmandu, you will be greeted by an atmosphere buzzing with excitement and the warm hospitality of the Nepali people. Here's what you can expect upon your arrival at the airport:
Immigration and Customs: After disembarking from the aircraft, proceed to the immigration area with your passport, filled out immigration forms, and visa (if you obtained it in advance). Present your documents to the immigration officer, who will stamp your passport. Make sure to keep the stamped visa page safe.
Baggage Claim: After clearing immigration, proceed to the baggage claim area to collect your luggage. Look for the monitors displaying the carousel number to locate the correct belt for your flight. In case of any missing or damaged luggage, notify the airline staff at the baggage services counter.
Customs Clearance: Once you have collected your luggage, head towards the customs clearance area. Green and red channels are available, with the green channel for passengers with nothing to declare and the red channel for those with goods to declare. Most tourists can proceed through the green channel without any issues.
Arrival Hall: After clearing customs, you will enter the arrival hall where you will find facilities like currency exchange counters, ATMs, and public telephone booths. Take a moment to familiarize yourself with the surroundings and gather any necessary information before continuing your journey.
Transportation Options: Various transportation options are available from the airport to your accommodation in Kathmandu. If you have pre-arranged airport transfer through your hotel, look for hotel representatives holding signs near the exit. Taxis, ride-hailing services like Uber, and public buses are also available for transportation within the city.
Mobile Connectivity: If you wish to have access to mobile services during your stay in Nepal, you can purchase a local SIM card at the airport. Several mobile network operators have kiosks in the arrival area where you can buy SIM cards and data packages.
As you step out of Tribhuvan International Airport, you will be greeted by the bustling atmosphere of Kathmandu. Take in the sights, sounds, and smells of the city as you prepare to embark on a remarkable journey through the vibrant capital of Nepal.
Transportation Options to the City
Once you have arrived at Tribhuvan International Airport in Kathmandu, you have several transportation options to choose from to reach your accommodation in the city. Here are the main transportation options available:
Airport Transfer: Many hotels in Kathmandu offer airport transfer services for their guests. It is recommended to check if your hotel provides this service and arrange for a pick-up in advance. Look for hotel representatives holding signs with hotel names near the exit of the arrival hall.
Taxis: Taxis are readily available outside the airport terminal. Official airport taxis are located at the designated taxi stand and charge a fixed rate based on the destination. Negotiate the fare with the driver before getting into the taxi. It's advisable to carry smaller Nepalese currency denominations for convenience.
Ride-Hailing Services: Popular ride-hailing services like Uber and local service providers like Pathao operate in Kathmandu. Install the respective app on your smartphone, book a ride, and wait for the driver to arrive at the designated pick-up point outside the terminal. Payment is usually made through the app.
Public Buses: Public buses are a cost-effective transportation option, but they can be crowded and not very comfortable, especially with luggage. There are several bus routes from the airport to different parts of the city. Look for the bus stands near the airport entrance and ask the locals for guidance on the appropriate bus for your destination.
When deciding on the most suitable transportation option, consider factors such as your budget, comfort level, and location of your accommodation. If you prefer convenience and direct service, airport transfer or taxis might be the best choice. However, if you are looking for a more affordable option and are comfortable navigating public transportation, buses can be a viable option.
It's important to note that traffic congestion is common in Kathmandu, especially during peak hours. Be prepared for some delays and plan your transportation accordingly, keeping in mind the estimated travel time to reach your destination. Additionally, ensure you have the address and contact information of your accommodation readily available, both for your convenience and to provide to the driver if necessary.
By choosing the transportation option that suits your needs and preferences, you can smoothly make your way from Tribhuvan International Airport to your accommodation, ready to begin your exploration of the fascinating city of Kathmandu.
Checking into a Hotel
Once you have arrived in Kathmandu, one of the first things you will need to do is check into your hotel. With a range of accommodation options available, from budget guesthouses to luxury hotels, finding the perfect place to stay is an important part of your travel experience. Here are some things to keep in mind when checking into a hotel in Kathmandu:
Reservation: If you have made a reservation in advance, provide your name and booking details to the hotel staff at the reception desk. Make sure to have a confirmation email or reservation voucher handy for reference. If you haven't made a reservation, you can check for availability and rates directly at the reception desk.
Check-in Process: Fill out the necessary check-in form and present your identification documents, such as your passport, to the hotel staff. They will verify your details, record your information, and provide you with a room key or access card. Take note of the hotel's policies and any additional charges, such as for meals or amenities.
Room Selection: Depending on availability, you may have the option to choose from different room types or locations within the hotel. Consider factors such as room size, view, and proximity to amenities. If you have any specific preferences or requirements, let the hotel staff know during check-in.
In-Room Facilities: Familiarize yourself with the facilities and amenities available in your hotel room. This may include Wi-Fi access, television, air conditioning, a safe, minibar, and tea/coffee-making facilities. If you encounter any issues or need assistance, inform the hotel staff right away.
Hotel Services: Take note of the services offered by the hotel, such as housekeeping, laundry, room service, and luggage storage. Check the operating hours of any on-site restaurants, fitness centers, or spa facilities if you plan to utilize them during your stay.
Hotel Policies: It's important to understand and abide by the hotel's policies. This includes rules regarding smoking, pets, noise, and any specific guidelines related to cultural norms. Familiarize yourself with the hotel's check-out time and keep it in mind to avoid any additional charges.
Concierge and Local Information: The hotel's concierge can be a valuable resource for information and assistance during your stay. They can provide recommendations on local attractions, arrange transportation, and assist with booking tours or activities. Don't hesitate to seek their guidance for a memorable experience in Kathmandu.
Ensuring a smooth check-in process and familiarizing yourself with the hotel's facilities and services will set the stage for a comfortable and enjoyable stay in Kathmandu. Take some time to settle in, unwind, and get ready to explore the wonders of this captivating city.
Exploring Kathmandu's Attractions
Kathmandu, the cultural heart of Nepal, is a treasure trove of attractions that will captivate your senses and leave you in awe of its rich history and vibrant heritage. Here are some of the must-visit attractions to explore during your time in Kathmandu:
Durbar Square: Step back in time as you visit Durbar Square, a UNESCO World Heritage Site. Marvel at the intricately carved palaces, temples, and shrines, such as the Hanuman Dhoka Palace, Kumari Ghar (the residence of the living goddess), and the magnificent Taleju Temple.
Boudhanath Stupa: Immerse yourself in the spiritual ambiance of Boudhanath Stupa, one of the largest stupas in the world. Walk around the dome-shaped structure, spin prayer wheels, and observe Buddhist pilgrims engaging in prayers and rituals.
Swayambhunath Stupa: Ascend the steps to reach Swayambhunath Stupa, also known as the "Monkey Temple." Admire the ancient architecture, colorful prayer flags, and the iconic eyes of Buddha overlooking the valley. Enjoy panoramic views of Kathmandu from the top.
Pashupatinath Temple: Visit the sacred Hindu temple of Pashupatinath, dedicated to Lord Shiva. Witness devotees performing rituals and cremation ceremonies along the banks of the Bagmati River. Respect the religious customs and dress modestly when exploring the temple premises.
Thamel: Indulge in the vibrant energy of Thamel, a bustling neighborhood brimming with shops, restaurants, and cafes. Explore the narrow streets filled with handicraft stores, boutiques, and street vendors selling traditional artifacts, clothing, and souvenirs.
Patan Durbar Square: Just a short distance from Kathmandu, Patan Durbar Square offers a glimpse into the ancient Newari architecture and artistry. Wander through the courtyards, admire the intricately carved temples, and visit the Patan Museum to learn about the city's history.
Garden of Dreams: Take a break from the hustle and bustle of the city at the serene Garden of Dreams. Stroll through the beautifully landscaped gardens, relax by the ponds, and enjoy a cup of tea at the cafe. This oasis of tranquility offers a peaceful respite.
These are just a few highlights of the rich cultural tapestry that Kathmandu has to offer. Each corner of the city reveals hidden gems, ancient stories, and architectural marvels. Don't be afraid to wander off the beaten path and explore the lesser-known temples, neighborhoods, and markets. Engage with the friendly locals, savor authentic Nepali cuisine, and immerse yourself in the vibrant atmosphere that makes Kathmandu truly unique.
Remember to respect local customs and dress appropriately when visiting religious sites. Keep in mind that some attractions may have an entry fee, so it's a good idea to carry cash in smaller denominations. With a sense of curiosity and a spirit of adventure, you are sure to have a memorable experience as you explore the wonders of Kathmandu.
Local Cuisine and Dining Options
One of the highlights of visiting Kathmandu is indulging in the rich and flavorful local cuisine. Nepali cuisine is a delightful blend of flavors, influenced by the diverse cultures and ethnicities that call Nepal home. Here's a glimpse into the local cuisine and some dining options to savor:
Daal Bhaat: Considered the national dish of Nepal, daal bhaat is a traditional meal consisting of lentil soup (daal), rice (bhaat), a variety of curries, pickles, and yoghurt. It is a wholesome and satisfying meal that is enjoyed by locals and visitors alike.
Momo: These delicious dumplings are a must-try when in Kathmandu. Momo can be filled with various fillings, such as chicken, vegetables, or cheese, and are served with a spicy dipping sauce. You can find momo stalls and restaurants serving this popular street food all over the city.
Newari Cuisine: Kathmandu is known for its rich Newari cuisine, which includes delicacies like Newari Bhoj (feast), choila (spicy grilled meat), bara (lentil pancake), and wo (spicy lentil cakes). Don't miss the chance to try Newari delicacies at local eateries in places like Patan or Bhaktapur Durbar Square.
Thakali Cuisine: Originating from the Thakali community in the Himalayan region, Thakali cuisine is known for its flavorsome dishes like dhindo (buckwheat porridge), gundruk (fermented leafy greens), and achar (pickles). Look for Thakali restaurants in Kathmandu to savor these authentic flavors.
Street Food: Kathmandu is a haven for street food lovers. Explore the lively streets of Thamel and Indra Chowk to find a variety of street food stalls offering mouthwatering treats such as samosas, chatamari (Newari pizza), pani puri (spiced crispy balls with tangy water), and more.
Fusion and International Cuisine: Kathmandu also offers a wide range of international dining options, including Indian, Tibetan, Chinese, Italian, and Western cuisines. From upscale restaurants to cozy cafes, you'll find a diverse range of flavors to suit every palate.
Traditional Drinks: Quench your thirst with traditional Nepali drinks like masala tea (spiced tea), lassi (yogurt-based drink), tongba (fermented millet drink), and raksi (local alcoholic beverage). These beverages offer a delightful way to experience the local flavors.
When dining in Kathmandu, you'll find a mix of casual eateries, upscale restaurants, and charming cafes. Don't be afraid to venture beyond the popular tourist areas and explore the hidden gems where locals dine. Engaging with the friendly locals and trying the local specialties will enhance your culinary journey in Kathmandu.
Remember to practice good hygiene and choose reputable food vendors to ensure a safe dining experience. Many restaurants and cafes offer vegetarian and vegan options, catering to different dietary preferences. Step out of your comfort zone and embrace the flavors of the local cuisine for an unforgettable gastronomic adventure in Kathmandu.
Shopping in Kathmandu
Kathmandu offers a vibrant and diverse shopping experience, with a wide range of traditional crafts, souvenirs, and unique items waiting to be discovered. Whether you're looking for authentic Nepali handmade products or trendy fashion items, here's a guide to shopping in Kathmandu:
Thamel: Thamel is the bustling tourist hub of Kathmandu and a shopaholic's paradise. Here, you'll find an abundance of shops selling a variety of goods, including handicrafts, clothing, jewelry, pashminas, trekking gear, and souvenirs. Bargaining is common practice, so don't hesitate to negotiate for the best price.
Local Markets: Explore the local markets of Asan, Indra Chowk, and Ason Bazaar for an authentic shopping experience. These markets are a treasure trove of spices, dried fruits, traditional textiles, metalwork, wood carvings, and religious items. Get lost amidst the vibrant atmosphere and take home unique finds.
Patan Handicraft Center: Located in Patan, this center is a hub for traditional Nepali crafts. Visit the numerous shops and studios to browse through exquisite metalwork, pottery, paintings, jewelry, and statues. Take the opportunity to witness artisans at work, creating intricate masterpieces.
Boutiques and Designer Stores: Kathmandu is home to a growing number of boutiques and designer stores that showcase contemporary Nepali fashion and accessories. These stores offer a blend of modern designs and traditional craftsmanship, featuring clothing, bags, accessories, and home decor items.
Thanka Paintings: Look out for Thanka paintings, a traditional form of Buddhist art in which intricate religious scenes are painted on cotton or silk canvases. Visit Thanka painting galleries in Thamel or Patan to admire and purchase these beautiful works of art.
Nepali Tea and Spices: Don't miss the chance to take home some Nepali tea and spices to add a touch of the Himalayas to your pantry. Visit tea shops in Kathmandu to taste and buy a variety of teas, such as green tea, black tea, and herbal infusions. The local markets are also great places to purchase aromatic spices like cardamom, cinnamon, and turmeric.
Fair Trade Shops: Support social and economic empowerment by shopping at fair trade shops in Kathmandu. These shops promote ethical practices and offer a range of products made by disadvantaged and marginalized communities in Nepal. From handmade textiles to eco-friendly household items, you'll find unique and meaningful items to treasure.
When shopping in Kathmandu, keep in mind that quality and authenticity can vary. Take your time to compare prices and assess the quality of the products before making a purchase. Shopping in local markets and from independent artisans can offer a more unique and personal experience.
Lastly, remember to respect the cultural and environmental values of Nepal when purchasing items. Avoid products made from endangered species, such as ivory or tiger bone, as they contribute to illegal wildlife trades. Instead, opt for sustainable and eco-friendly products that support local artisans and communities.
With its array of shopping options, Kathmandu offers a memorable retail experience where you can find special treasures to remind you of your time in this enchanting city.
Trekking and Adventure Activities
Kathmandu serves as a gateway to some of the most breathtaking trekking routes and adventurous activities in the world. Whether you're an experienced trekker or seeking thrilling outdoor experiences, here are some popular options for trekking and adventure activities in and around Kathmandu:
Everest Base Camp Trek: Embark on a once-in-a-lifetime adventure and trek to the base camp of the world's highest mountain, Mount Everest. This challenging trek takes you through stunning landscapes, Sherpa villages, and offers panoramic views of the Himalayas.
Langtang Valley Trek: Escape into the serene beauty of Langtang Valley, located north of Kathmandu. Trek through lush forests, encounter traditional Tamang villages, and relish the awe-inspiring vistas of snow-capped peaks.
Annapurna Circuit Trek: Discover the diverse landscapes of the Annapurna region on this classic trek. Traverse through rice terraces, rhododendron forests, and high mountain passes while being rewarded with breathtaking views of Annapurna and Dhaulagiri ranges.
White-Water Rafting: Experience adrenaline-pumping activities by venturing on a white-water rafting trip in the rivers around Kathmandu. Enjoy the thrill of tackling the rapids while admiring the natural beauty of the surrounding landscapes.
Bungee Jumping and Paragliding: For those seeking an adrenaline rush, head to The Last Resort near Kathmandu for a heart-pounding bungee jumping experience. Alternatively, take to the skies with paragliding and soar above the picturesque landscapes of Kathmandu Valley.
Mountain Biking: Explore the rugged terrains of Kathmandu and its outskirts on a mountain biking adventure. Ride along trails that offer stunning mountain views, visit traditional villages, and discover ancient temples and monasteries along the way.
Rock Climbing: Test your strength and agility by trying rock climbing at the various climbing sites near Kathmandu. Whether you're a beginner or an experienced climber, there are options available for all skill levels.
Jungle Safari: Take a break from the mountains and immerse yourself in the wildlife of Nepal by going on a jungle safari. Head to Chitwan or Bardia National Park and embark on guided tours to spot rare wildlife, including elephants, rhinos, tigers, and bird species.
Before embarking on any trekking or adventure activities, ensure you are physically fit and adequately prepared. It is advisable to trek with a licensed guide and to have the necessary permits for restricted areas. Respect the environment, adhere to trekking guidelines, and leave no trace to preserve the pristine beauty of nature.
With its stunning landscapes and thrilling adventure options, Kathmandu offers endless opportunities for outdoor enthusiasts and adventure seekers. Whether you choose to trek in the Himalayas, conquer rapids on the rivers, or engage in other exhilarating activities, you'll create memories to last a lifetime.
Conclusion
Kathmandu, with its rich cultural heritage, stunning natural beauty, and warm Nepali hospitality, is a destination that leaves a lasting impression on travelers from around the world. From the moment you arrive at Tribhuvan International Airport to the diverse array of experiences awaiting you, Kathmandu offers a captivating journey of exploration and discovery.
As you prepare for your journey to Kathmandu, ensure you have all the necessary travel documents, plan your itinerary, and pack accordingly for the varying weather conditions. Upon arrival, the city welcomes you with open arms, offering a range of transportation options to take you to your accommodation in the bustling heart of the city.
During your time in Kathmandu, immerse yourself in the vibrant culture by exploring the city's iconic attractions. From the ancient palaces and temples of Durbar Square to the serene Buddhist stupas of Boudhanath and Swayambhunath, every corner of the city reveals its rich history and spiritual heritage.
Indulge in the flavors of Nepali cuisine, from the national dish of daal bhaat to the delectable momos and Newari delicacies. Engage in the art of haggling and browse through local markets and boutiques to find unique souvenirs, traditional crafts, and authentic Nepali products.
If adventure beckons, venture into the Himalayas for trekking, where you can conquer high mountain passes, witness breathtaking landscapes, and engage with local communities along the way. Experience the thrill of white-water rafting, paragliding, or rock climbing, or immerse yourself in the wildlife wonders of the national parks on a jungle safari.
As your time in Kathmandu comes to an end, reflect on the rich experiences and memories you have created. From the friendly smiles of the locals to the awe-inspiring beauty of the Himalayas, Kathmandu offers a truly remarkable adventure that will stay with you long after you leave.
So, pack your bags, embrace the spirit of adventure, and get ready to embark on an unforgettable journey through the cultural and natural wonders of Kathmandu.