An Afternoon In Pokhara, Nepal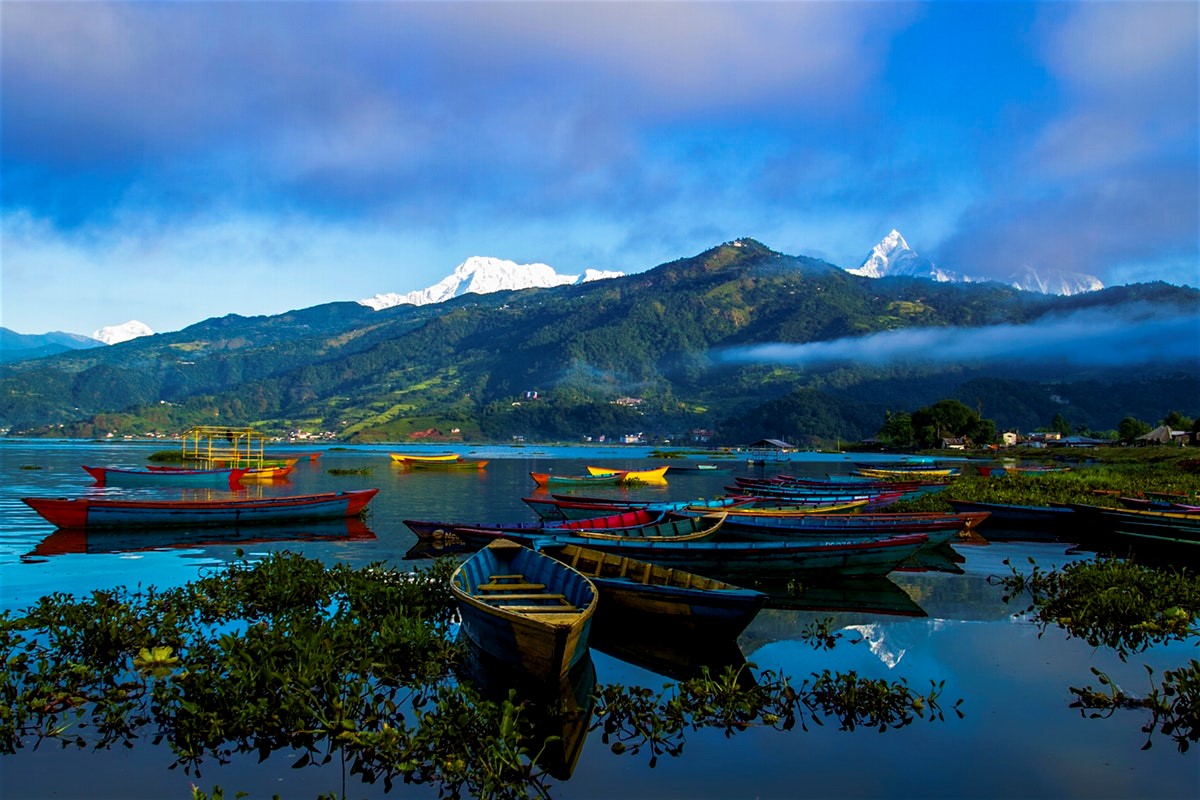 Introduction
Welcome to Pokhara, a picturesque city nestled in the lap of the Himalayas in Nepal. Known for its stunning natural beauty and serene landscapes, Pokhara is a popular destination for travelers seeking solace and adventure. With its majestic mountains, tranquil lakes, and vibrant culture, it offers a unique blend of relaxation and excitement.
Pokhara is located approximately 200 kilometers west of Kathmandu, the capital city of Nepal. It is easily accessible by road or air, making it a convenient getaway for both domestic and international tourists. The city serves as a gateway to the Annapurna mountain range, attracting trekkers from all over the world.
As you arrive in Pokhara, you will be captivated by the enchanting beauty that surrounds you. The serene Phewa Lake, the cascading waterfalls, and the panoramic views of the mountains create a magical ambiance that is hard to resist. Whether you are a nature lover, an adventure seeker, or a spiritual traveler, Pokhara has something to offer for everyone.
Getting to Pokhara
To reach Pokhara, you have several transportation options available. The most common means of getting there is by air or road.
If you prefer to travel by air, you can book a domestic flight from Kathmandu to Pokhara. The flight takes about 30 minutes and offers breathtaking aerial views of the Himalayan range. Pokhara has its own domestic airport, which is well-connected to major cities in Nepal.
For those who enjoy road trips, you can take a scenic bus ride from Kathmandu to Pokhara. The journey takes approximately 6 to 7 hours, depending on the traffic and road conditions. The bus route offers stunning views of the countryside and is a popular choice among budget travelers.
If you prefer a more comfortable option, you can also hire a private car or taxi to reach Pokhara. This allows you to enjoy the journey at your own pace and stop at various scenic spots along the way.
Once you arrive in Pokhara, you will find that the city is relatively small and easy to navigate. There are plenty of local transportation options available, such as taxis, rickshaws, and motorcycles for hire. Walking is also a popular way to explore Pokhara, especially around the Lakeside area.
It's important to note that road conditions in Nepal can be challenging, especially during the monsoon season. It's advisable to check the weather and road conditions before embarking on your journey to ensure a smooth and safe travel experience.
Exploring the Lakeside
One of the main attractions in Pokhara is the Lakeside area, located on the eastern shore of Phewa Lake. The Lakeside is a bustling hub filled with hotels, restaurants, cafes, and shops, offering a vibrant atmosphere for visitors to explore.
As you stroll along the Lakeside, you will be greeted by stunning views of Phewa Lake and the surrounding mountains. The calm waters of the lake provide a perfect backdrop for leisurely walks, picnics, or simply relaxing by the shore. You can rent a paddleboat or a kayak to explore the lake up close, allowing you to immerse yourself in the tranquility of the surroundings.
The Lakeside is also known for its vibrant nightlife. It comes alive after sunset, with numerous bars and clubs offering live music, entertainment, and a chance to mingle with locals and fellow travelers. Whether you're in the mood for a quiet drink or a night of dancing, the Lakeside has something to cater to every taste.
Food lovers will be delighted by the wide array of dining options available in the Lakeside. From traditional Nepali cuisine to international dishes, you can indulge in a culinary journey that will satisfy your taste buds. Don't miss the opportunity to try momos, a popular Nepali dumpling, and the famous Dal Bhat, a traditional meal consisting of lentil soup, rice, and assorted vegetables.
The Lakeside is also a great place to shop for souvenirs and local handicrafts. You'll find a range of shops selling colorful textiles, traditional artwork, jewelry, and handmade products. Bargaining is common in Nepal, so don't hesitate to negotiate the prices and take home a piece of Nepal's rich cultural heritage.
Exploring the Lakeside in Pokhara is an experience that combines natural beauty, cultural vibrancy, and a touch of modernity. It is a must-visit destination for anyone visiting Nepal, offering a perfect blend of relaxation and entertainment.
Boating on Phewa Lake
No visit to Pokhara is complete without experiencing the joy of boating on Phewa Lake. This serene lake, with its crystal-clear waters and majestic backdrop of the Annapurna mountain range, provides an idyllic setting for a memorable boating adventure.
You can rent a rowboat or a paddleboat from the Lakeside area and venture out onto the tranquil waters of Phewa Lake. As you paddle or row, you will be surrounded by breathtaking views of the mountains reflected in the mirror-like surface of the lake. The gentle ripple of the water and the cool breeze create a soothing ambiance that allows you to connect with nature and unwind.
While boating on Phewa Lake, don't forget to make a stop at the Tal Barahi Temple, located on an island in the middle of the lake. This Hindu temple dedicated to Goddess Durga is a popular pilgrimage site and offers a serene atmosphere for prayer and reflection.
If you prefer a more leisurely experience, you can hire a boatman to navigate the lake while you sit back and relax. The boatman will not only guide you through the lake but also share interesting stories and legends associated with the area, adding a touch of local folklore to your boating experience.
For the adventurous souls, kayaking is another thrilling option to explore Phewa Lake. Navigate through the calm waters, exploring hidden coves and observing the rich birdlife that calls the lake home. Kayaking allows you to get closer to nature and fully immerse yourself in the beauty of the surroundings.
As evening approaches, don't miss the chance to witness the magical sunset over Phewa Lake. The setting sun paints the sky with hues of red, orange, and gold, casting a mesmerizing glow over the lake and reflecting off the peaks of the Annapurna range. It is a sight that will leave you in awe of nature's beauty.
Boating on Phewa Lake is a tranquil and unforgettable experience that allows you to connect with nature, soak in the beauty of the mountains, and create lasting memories. It is a must-do activity for anyone visiting Pokhara.
Visiting Devi's Fall
One of Pokhara's most famous attractions is Devi's Fall, also known as Patale Chhango. This mesmerizing waterfall is located just a short distance from the city center and offers a unique and magical experience for visitors.
Devi's Fall is named after a tragic incident involving a Swiss tourist named David who fell into the waterfall's underground passage and disappeared, hence the name "Devi's Fall" or "Waterfall of the Goddess". The cascading water creates a powerful roar as it plunges into the narrow gorge, creating a dramatic and captivating sight.
As you approach Devi's Fall, you'll notice the sound of the rushing water and feel its mist on your face. The sight of the foaming water rushing over the cliff and disappearing into the underground passage is truly captivating. During the monsoon season, the waterfall is particularly impressive as it swells with the rainwater, displaying its full force and power.
After exploring the main waterfall, take a moment to visit the nearby Gupteshwor Mahadev Cave. This cave, located just behind Devi's Fall, houses a sacred Shiva Lingam and is considered a holy site by Hindus. As you wander through the narrow passages of the cave, you'll be in awe of the natural formations and the mystical atmosphere within.
Visiting Devi's Fall is not only a chance to witness a remarkable natural wonder but also an opportunity to learn about the local legends and cultural significance associated with it. There are several areas near the fall where you can relax, take photos, and enjoy the tranquility of the surroundings.
It's important to note that during the monsoon season and after heavy rainfall, the volume of water at Devi's Fall can increase significantly. It's advisable to exercise caution and follow the safety guidelines provided by local authorities when visiting the site.
Devi's Fall is a must-visit destination in Pokhara for nature lovers and those seeking a unique and awe-inspiring experience. It is a testament to the power and beauty of the natural world, leaving visitors in awe of its sheer magnificence.
Peace Pagoda
Perched on top of a hill overlooking the Pokhara valley, the Peace Pagoda, also known as Shanti Stupa, is a symbol of peace and tranquility. Built as a monument to promote world peace, this beautiful white structure is not only a religious site but also a popular tourist attraction.
The Peace Pagoda was constructed by Buddhist monks and inaugurated in 1999. Its purpose is to inspire peace and harmony among people of all races, religions, and nationalities. As you make your way up the hill to reach the Peace Pagoda, you'll be greeted by lush greenery and the sounds of nature, creating a serene atmosphere.
Once you reach the Peace Pagoda, you'll be rewarded with stunning panoramic views of Pokhara, Phewa Lake, and the surrounding mountains. The view is particularly breathtaking during sunrise and sunset, when the golden hues of the sun paint the sky and create an ethereal ambiance.
Inside the Peace Pagoda, you'll find intricate Buddhist artwork, including statues, paintings, and carvings that depict important events from the life of Lord Buddha. You can take a moment to meditate or offer prayers for peace and well-being while enjoying the spiritual energy that permeates the site.
Surrounding the Peace Pagoda, there are well-maintained gardens and walking paths that allow you to leisurely explore the area. Take a peaceful stroll through the beautifully landscaped gardens, adorned with colorful flowers and the fragrance of incense filling the air.
If you're feeling adventurous, you can take an alternative route to reach the Peace Pagoda by embarking on a nature hike. This allows you to immerse yourself in the lush surroundings, observe the local flora and fauna, and enjoy the tranquility away from the bustling city.
Visiting the Peace Pagoda in Pokhara is not only a chance to admire its architectural beauty but also an opportunity to reflect on the importance of peace and harmony in our lives and in the world. It offers a peaceful respite from the chaos of everyday life, allowing you to connect with your inner self and appreciate the beauty of nature.
Sarangkot Sunrise
If you're an early riser or a photography enthusiast, witnessing the sunrise from Sarangkot is an experience not to be missed. Sarangkot, a hilltop located just outside Pokhara, offers breathtaking views of the sunrise over the Annapurna mountain range, creating a mesmerizing spectacle of colors and light.
To catch the magical sunrise, it's advisable to start your journey early in the morning, as the ascent to Sarangkot can take around 45 minutes to an hour. Many tour operators offer guided hikes or transportation services to Sarangkot, ensuring a convenient and comfortable experience for visitors.
As you reach the top of Sarangkot, you'll be rewarded with panoramic views of the surrounding valleys, Phewa Lake, and the snow-capped peaks of the Annapurna and Dhaulagiri ranges. The serene and tranquil atmosphere sets the stage for a truly awe-inspiring sunrise experience.
As the first rays of sunlight pierce through the darkness, the mountains come alive, revealing their majestic beauty. The surreal sight of the golden hues painting the snow-capped peaks and the changing colors in the sky creates a surreal and enchanting moment that will leave you in awe.
The sunrise from Sarangkot is not only a visual treat but also offers a sense of tranquility and serenity. The peaceful ambiance and the awe-inspiring natural beauty make it a perfect place for meditation and self-reflection.
As the sun rises higher in the sky, you can also enjoy panoramic views of Pokhara city and the sprawling landscape below. The different hues of light bathing the valley create a stunning visual contrast that is perfect for capturing memorable photographs.
After enjoying the spectacle of the sunrise, you can explore the surrounding area and enjoy a cup of steaming tea or coffee from one of the local tea houses. The warm beverage coupled with the majestic views makes for a perfect way to start your day in Pokhara.
Whether you're a nature lover, a photography enthusiast, or simply seeking a peaceful and memorable experience, watching the sunrise from Sarangkot will leave you with a sense of awe and wonder. It is truly a magical and spiritual moment that will be etched in your memory forever.
Paragliding in Pokhara
Pokhara is not only famous for its natural beauty but also for offering exhilarating adventures, and paragliding is one of the most thrilling activities you can experience here. With its favorable weather conditions, stunning landscapes, and panoramic views, Pokhara is considered one of the world's top paragliding destinations.
The paragliding experience begins at Sarangkot, a popular hilltop located just outside Pokhara. Here, you will meet your trained and experienced paragliding pilot who will guide you throughout the adventure. After a safety briefing, you will be strapped into a harness and attached to a tandem paraglider, ready to take flight.
As you launch from Sarangkot, a rush of adrenaline and excitement overcomes you as you soar through the sky like a bird. The feeling of freedom and weightlessness is truly exhilarating as you glide above the picturesque landscapes, with the impressive Annapurna mountain range as your backdrop.
During the paragliding flight, you'll have a bird's-eye view of the Pokhara valley, Phewa Lake, and the surrounding hills. The panoramic vistas, the colorful landscapes, and the glistening lake below create a breathtaking experience that is hard to replicate.
The paragliding pilots are experienced professionals who prioritize safety and ensure a memorable experience for their passengers. They have a deep knowledge of the local weather patterns and wind conditions, allowing them to navigate and control the paraglider with ease.
Paragliding in Pokhara offers different flight durations, ranging from short flights of about 15 minutes to longer flights that can last up to an hour. The duration and route can be customized to suit your preferences, whether you're seeking an adrenaline-pumping adventure or a more relaxed and scenic glide.
No prior experience is required to go paragliding in Pokhara. The tandem flights allow anyone, regardless of age or fitness level, to enjoy the thrill of flying. You will be provided with all the necessary safety equipment and instructions, ensuring a safe and enjoyable experience.
As you land back in Pokhara, the feeling of accomplishment and exhilaration lingers. The memories of soaring through the sky and witnessing the stunning landscapes from a unique perspective will stay with you long after your paragliding adventure in Pokhara comes to an end.
Taste of Local Cuisine
One of the most delightful aspects of visiting a new destination is indulging in the local cuisine, and Pokhara offers a variety of delicious dishes that will tantalize your taste buds. From traditional Nepali dishes to international flavors, there is something to suit every palate.
When it comes to Nepali cuisine, don't miss the opportunity to try momos, a popular dumpling dish made with a lightly spiced filling of vegetables or meat, and served with a spicy dipping sauce. Another must-try dish is Dal Bhat, a traditional meal that consists of lentil soup, rice, assorted vegetables, and sometimes a portion of meat or fish. It's a hearty and flavorful dish that showcases the essence of Nepali cuisine.
Pokhara is also famous for its Newari cuisine, the traditional cuisine of the Newar community. Newari dishes such as Choila (spicy grilled meat), Bara (lentil pancake), and Chatamari (rice crepe topped with various toppings) are some of the local specialties that you should definitely try during your visit.
If you're craving international flavors, the Lakeside area of Pokhara offers numerous restaurants and cafes that serve a wide range of cuisines, including Indian, Tibetan, Chinese, Italian, and continental dishes. Whether you're in the mood for a spicy curry, a steaming bowl of noodles, wood-fired pizza, or a juicy burger, you'll find plenty of options to satisfy your cravings.
Don't forget to pair your meal with a refreshing beverage. Whether it's the traditional millet-based alcoholic drink called "Raksi," a glass of locally brewed beer, a piping hot cup of Nepali tea, or a freshly squeezed fruit juice, there is a beverage to complement every dish and bring out its flavors.
Exploring the local street food scene is another way to experience the culinary delights of Pokhara. From savory snacks like samosas and pakoras to sweet treats like jalebi and sel roti, the streets are filled with tempting options that will tantalize your taste buds.
While you're in Pokhara, consider visiting one of the local cooking classes or food tours to learn more about the traditional Nepali cooking techniques and flavors. It's a fun and immersive way to experience the local cuisine and bring home some culinary skills and knowledge.
Whether you're a food enthusiast or simply looking to savor the unique flavors of the region, exploring the diverse and delicious cuisine in Pokhara will be a memorable part of your visit. It's an opportunity to experience the rich culinary heritage of Nepal and indulge in a gastronomic adventure.
Shopping in Pokhara
When it comes to shopping, Pokhara offers a unique blend of local handicrafts, traditional artwork, and vibrant textiles. Exploring the markets and shops in Pokhara is a delightful experience, allowing you to discover beautiful souvenirs and treasures to take home.
One of the most popular areas for shopping in Pokhara is the Lakeside market. Here you'll find an array of shops selling traditional Nepali handicrafts, including wood carvings, metalwork, and pottery. These handcrafted items showcase the skill and creativity of local artisans, and each piece tells a story of Nepal's rich cultural heritage.
Textile lovers will be delighted by the variety of colorful fabrics and garments available in Pokhara. Traditional Nepali clothing like saris, kurthas, and pashmina shawls can be found in different designs and patterns. You may also find local weavers selling intricately woven rugs and carpets that make for unique and memorable souvenirs.
For those interested in Buddhist artifacts, there are specialty stores that offer a wide selection of prayer beads, singing bowls, prayer flags, and incense. These items carry a spiritual significance and are commonly used in Buddhist rituals and practices.
If you're a lover of gemstones and jewelry, Pokhara has a range of options to choose from. From silver jewelry adorned with turquoise and amber to traditional Nepali ornaments embedded with precious and semi-precious stones, you can find a piece to suit your style and preferences.
Visiting the local markets and street vendors in Pokhara is also a great way to immerse yourself in the local culture and experience the hustle and bustle of daily life. Here, you'll find an array of products such as spices, handicrafts, clothing, and fresh produce. Bargaining is common in Nepal, so hone your negotiation skills to get the best deals.
If you prefer a more curated shopping experience, Pokhara has several boutiques and galleries that showcase contemporary Nepali artwork and design. These spaces exhibit a range of paintings, sculptures, pottery, and unique home décor items that blend modern aesthetics with traditional craftsmanship.
Remember, shopping in Pokhara is not just about acquiring material goods but also about supporting local artisans and preserving the cultural heritage of the region. Each purchase you make contributes to the livelihood of these artisans and helps sustain the local economy.
Whether you're looking for traditional handicrafts, unique artwork, or a stylish souvenir, shopping in Pokhara offers a diverse and enriching experience. It's an opportunity to bring home a piece of the local culture and create lasting memories of your visit to this beautiful city.
Conclusion
Pokhara, Nepal, is a captivating destination that offers a unique blend of natural beauty, cultural heritage, and adventurous experiences. From serene lakes to towering mountains, this city has something for every traveler. Whether you're seeking tranquility and relaxation or adrenaline-pumping activities, Pokhara caters to your desires.
The enchanting Lakeside area invites you to take leisurely walks along Phewa Lake, indulge in delectable cuisine, and immerse yourself in the vibrant atmosphere. The boating experience on the tranquil waters of Phewa Lake and the captivating views from Sarangkot at sunrise are moments that will take your breath away.
Pokhara also offers a rich cultural experience with its historical sites, such as Devi's Fall and the Peace Pagoda. Exploring these landmarks allows travelers to delve into the stories and legends that shape the identity of this remarkable city.
Paragliding through the skies of Pokhara and tasting the local cuisine are experiences that add an extra zest to your journey, providing glimpses of adventure and flavors that will linger long after your departure.
Finally, don't forget to take a piece of Pokhara home with you by shopping for unique handicrafts, traditional artwork, and locally made products. By doing so, you contribute to supporting local artisans and keeping the cultural heritage alive.
In conclusion, Pokhara is a gem in the heart of Nepal that offers a diverse range of experiences. It is a destination that rejuvenates the mind, captivates the senses, and leaves you with memories that will last a lifetime. So, pack your bags, embark on this unforgettable journey, and let Pokhara enchant you with its unparalleled beauty and charm.