Sunny Days At The Velassaru Maldives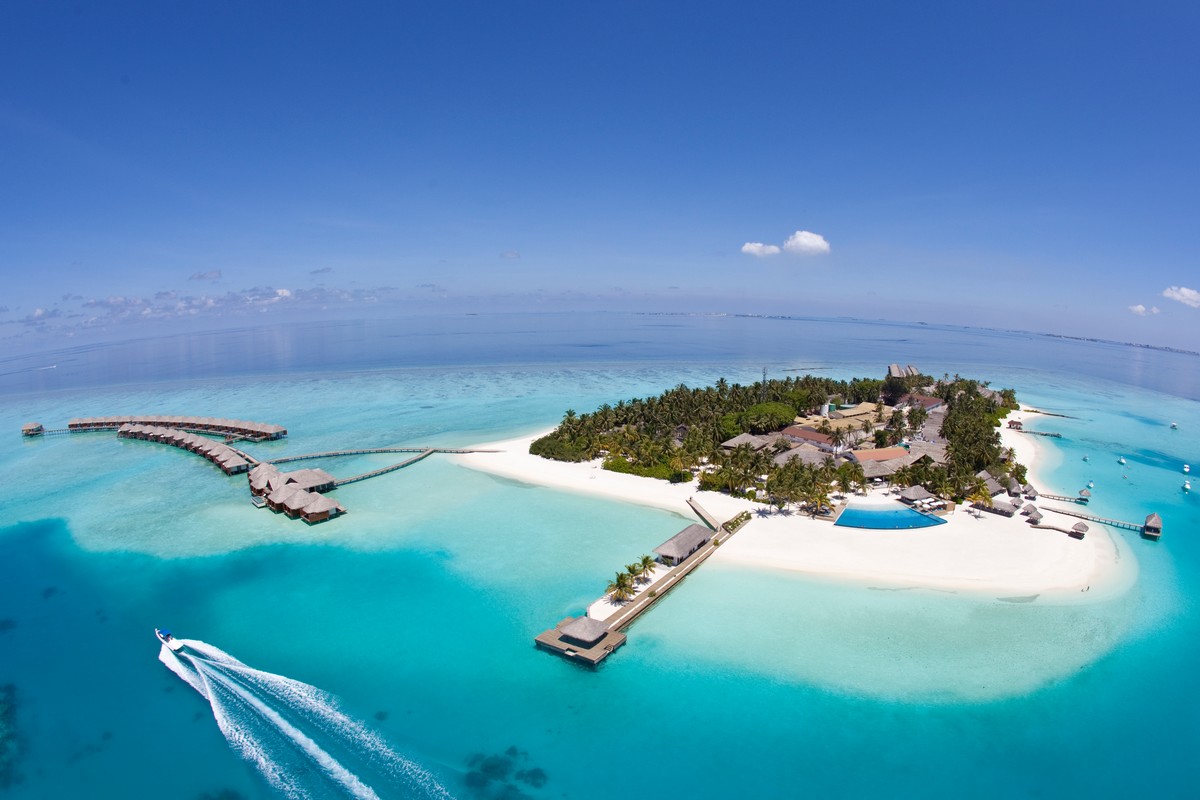 Introduction
Welcome to Velassaru Maldives, a tropical paradise nestled in the heart of the Indian Ocean. With its crystal-clear turquoise waters, pristine beaches, and vibrant marine life, Velassaru offers an idyllic escape for travelers seeking relaxation, adventure, and sheer luxury.
Located in the South Male Atoll, Velassaru Maldives is easily accessible by a 20-minute speedboat ride from Male International Airport. Upon arrival, guests are greeted by a warm and welcoming atmosphere, with a true sense of island living.
With its emphasis on contemporary design, Velassaru Maldives seamlessly blends modern sophistication with traditional Maldivian charm. The resort boasts a range of stylish and spacious accommodations, world-class dining options, a host of activities and amenities, and a serene spa for ultimate relaxation.
Whether you're seeking a romantic couples' getaway, a fun-filled family vacation, or an adventurous diving expedition, Velassaru Maldives has something for everyone.
Prepare to be captivated by the stunning natural beauty of the Maldives as you embark on a journey of luxury and relaxation at Velassaru Maldives.
Location of Velassaru Maldives
Velassaru Maldives is located in the South Male Atoll, just a short 20-minute speedboat ride away from Male International Airport. This convenient proximity makes it the perfect choice for both short getaways and longer vacations.
The Maldives is known for its breathtaking natural beauty, and Velassaru boasts a prime location amidst this paradise. The resort is surrounded by the crystalline waters of the Indian Ocean, with pristine white sand beaches stretching as far as the eye can see.
With its secluded and tranquil setting, Velassaru Maldives offers a sense of privacy and seclusion while still being easily accessible. Guests can enjoy the serenity of the island while also taking advantage of the nearby attractions and activities.
In addition to its stunning natural surroundings, Velassaru Maldives is also situated in close proximity to some of the best diving and snorkeling spots in the Maldives. The nearby coral reefs teem with colorful marine life, offering a truly unforgettable underwater experience.
Whether you're a nature lover, an adventure seeker, or simply craving a relaxing beach vacation, Velassaru Maldives' location provides the perfect backdrop for your dream holiday.
Accommodation Options
At Velassaru Maldives, you'll find a range of luxurious and stylish accommodation options designed to cater to every preference and budget. From spacious beachfront villas to overwater bungalows, each accommodation is thoughtfully designed to offer the utmost comfort and privacy.
The Beach Villas at Velassaru Maldives are perfect for those seeking a tropical retreat just steps away from the ocean. These beautifully appointed villas feature private terraces with direct beach access, where you can soak up the sun and enjoy the mesmerizing views.
If you're looking for a more unique experience, the Overwater Villas offer a truly enchanting stay. Perched above the clear turquoise waters, these villas provide uninterrupted views of the ocean and direct access to the lagoon. You can spend your days lounging on your private deck or even taking a dip in your own personal infinity pool.
For the ultimate indulgence, the Deluxe Villas at Velassaru Maldives offer an elevated level of luxury and privacy. These spacious villas feature a separate living area, a private garden, and a plunge pool, allowing you to unwind in style.
Alternatively, if you're traveling with family or a larger group, the Velassaru Islands Residence is the perfect choice. Offering two bedrooms, a private pool, and a separate living area, this expansive residence provides ample space for everyone to relax and enjoy their stay.
Regardless of which accommodation option you choose, you can expect modern amenities, elegant furnishings, and stunning views of the surrounding natural beauty. Each villa is designed to create a sense of serenity and tranquility, allowing you to truly immerse yourself in the beauty of the Maldives.
Experience the epitome of luxury and comfort at Velassaru Maldives, where your accommodation becomes your own private sanctuary amidst paradise.
Dining Options
At Velassaru Maldives, culinary excellence is taken to new heights with a diverse range of dining options that will tantalize your taste buds. From fine dining to casual beachside cafes, each restaurant offers a unique experience coupled with stunning views and exceptional service.
The Vela restaurant is the resort's main dining venue, serving an array of international dishes for breakfast, lunch, and dinner. With its open-air setting and panoramic ocean views, dining at Vela is a feast for the senses.
If you're looking for a romantic and intimate setting, Etesian Restaurant offers an exquisite dining experience. Set on a jetty over the water, you can savor the finest seafood and grilled specialties while enjoying the gentle sea breeze and breathtaking views.
For a taste of Asian flavors, you can head to Teppanyaki, where talented chefs prepare Japanese cuisine right before your eyes. Indulge in the art of teppanyaki while appreciating the stunning sunset scenery.
For a more casual and laid-back atmosphere, enjoy a meal at Turquoise Beach Restaurant. This beachside eatery offers a variety of international cuisine, including pizzas, burgers, and salads, all served with a touch of Maldivian charm.
If you're in the mood for something refreshing, Chill Bar is the perfect spot. Choose from an extensive selection of cocktails, mocktails, and light snacks while lounging by the pool or soaking up the sun on the beach.
At Velassaru Maldives, dining is not limited to restaurants alone. Private dining options, including beachfront dinners and in-villa dining, can be arranged for those seeking a more intimate and personalized experience.
With its exceptional cuisine and picturesque settings, Velassaru Maldives ensures that every dining experience is a memorable one. From romantic candlelit dinners to casual beachside meals, prepare to embark on a culinary journey that will delight your taste buds and create lasting memories.
Activities and Amenities
Velassaru Maldives offers a wide range of activities and amenities to ensure that your stay is filled with excitement, relaxation, and unforgettable moments. Whether you're seeking adventure or simply craving some downtime, the resort has something to cater to every interest and preference.
For water sports enthusiasts, there's a plethora of options to choose from. Embark on a snorkeling adventure and discover the vibrant marine life that resides just beneath the surface. Dive into the crystal-clear waters and explore the coral reefs under the guidance of experienced instructors. Alternatively, take your pick from a variety of exhilarating water sports, such as kayaking, windsurfing, jet skiing, and parasailing.
If you're in search of ultimate relaxation, a visit to the resort's luxurious spa is a must. Set amidst lush tropical gardens, the spa offers a range of indulgent treatments and therapies that combine traditional techniques with modern practices. Immerse yourself in a world of pure bliss as you unwind and rejuvenate your body, mind, and soul.
For those looking to maintain their fitness routine while on vacation, Velassaru Maldives provides a fully equipped gym with state-of-the-art fitness equipment. Join a yoga or pilates class in a serene outdoor setting or engage in a game of tennis on the resort's courts.
In addition to these activities, the resort also offers a variety of excursions and experiences that allow you to discover the local Maldivian culture and natural beauty. Take a sunset cruise and witness the breathtaking colors of the horizon as the sun sets over the Indian Ocean. Visit nearby islands and immerse yourself in the local way of life. Alternatively, embark on a fishing trip and try your hand at catching your own dinner.
From the moment you arrive at Velassaru Maldives, you'll be immersed in a world of endless possibilities. Whether you choose to engage in thrilling adventures, indulge in pampering spa treatments, or simply relax by the pool, you'll find that every moment spent at the resort is filled with joy, serenity, and wonder.
Spa and Wellness
At Velassaru Maldives, your well-being is of utmost importance, and the resort's spa and wellness offerings are designed to rejuvenate your body, mind, and soul. Step into a world of serenity and bliss as you indulge in luxurious treatments and therapies amidst the stunning natural beauty of the Maldives.
The resort's award-winning spa, Velassaru Spa, is a haven of tranquility where skilled therapists provide a range of revitalizing treatments inspired by ancient healing traditions. From soothing massages to invigorating body scrubs and wraps, each treatment is designed to enhance relaxation and restore balance.
Choose from an array of signature experiences, such as the "Maldivian Massage" that combines traditional techniques with locally sourced coconut oil, or the "Oceanic Massage" that uses smooth, heated shells to release tension and promote a sense of deep relaxation.
In addition to massages, the spa offers a variety of beauty treatments and facials that use organic products to nourish and hydrate your skin. Experience the healing power of nature as you indulge in a tropical facial or a body polish using locally sourced ingredients.
To complement your spa experience, Velassaru Maldives also provides a range of wellness activities and facilities. Start your day with a revitalizing yoga session on the beach, guided by expert instructors. Join a meditation class and let the sound of the waves and the gentle sea breeze restore inner calm and serenity.
The resort's fitness center is fully equipped with state-of-the-art equipment, allowing guests to maintain their exercise routines while on vacation. Engage in a workout session with a personal trainer or participate in a group fitness class.
After a day of relaxation and wellness, treat yourself to a healthy and nutritious meal at one of the resort's dining outlets. The culinary team at Velassaru Maldives strives to cater to all dietary preferences, ensuring that you can nourish your body with delicious and wholesome cuisine.
Indulge in the ultimate spa and wellness experience at Velassaru Maldives, where the healing power of nature and the expertise of skilled therapists combine to create a journey of rejuvenation and well-being.
The Beaches of Velassaru Maldives
When it comes to pristine, picture-perfect beaches, Velassaru Maldives truly stands out. With its powdery white sand and crystal-clear turquoise waters, the beaches of Velassaru are a tropical paradise that dreams are made of.
Stretching along the shores of the resort, the beaches offer an idyllic setting for a relaxing and rejuvenating escape. Sink your toes into the soft sand as you stroll along the shoreline, feeling the gentle caress of the waves and taking in the breathtaking panoramic views.
For those seeking seclusion, there are hidden pockets of paradise where you can find your own slice of beach tranquility. Simply grab a towel or a beach lounger, find a spot under the shade of a palm tree, and bask in the warm Maldivian sun.
The clear waters in front of the resort's beaches are perfect for swimming and snorkeling. Dive in to discover a vibrant underwater world teeming with colorful coral reefs and a variety of marine life. Grab a snorkel and explore at your own pace or join a guided snorkeling tour to learn more about the coral ecosystem.
If you're feeling adventurous, you can also try your hand at water sports such as kayaking, stand-up paddleboarding, or windsurfing. Glide across the calm waters and enjoy the exhilaration of these exciting activities.
As the day draws to a close, find a comfortable spot on the beach and witness the breathtaking Maldivian sunset. Marvel as the sky transforms into a vivid canvas of oranges, pinks, and purples, reflecting off the calm ocean surface.
Whether you're seeking relaxation, adventure, or simply a picturesque setting to unwind, the beaches of Velassaru Maldives offer a haven of tranquility and natural beauty that will leave you in awe.
Water Sports and Diving
Velassaru Maldives is a playground for water sports enthusiasts and diving enthusiasts alike. With its clear turquoise waters and thriving marine ecosystem, this tropical paradise offers a wide range of exhilarating water sports and unforgettable diving experiences.
For adventure seekers, there are various water sports activities to choose from. Embark on a kayaking or paddleboarding adventure and explore the surrounding lagoon at your own pace. Feel the rush of adrenaline as you jet ski across the waves or soar high above the ocean on a parasailing ride, taking in panoramic views of the Maldivian archipelago.
If you're looking to discover the mesmerizing underwater world, Velassaru Maldives is renowned for its exceptional diving opportunities. Whether you're a seasoned diver or a beginner, the resort has a PADI-certified dive center where experienced instructors will guide you through the best diving spots.
Explore the vibrant coral reefs that surround the resort, teeming with colorful tropical fish, turtles, and even reef sharks. Dive into the depths and discover mesmerizing underwater caves, swim-throughs, and pinnacles that are home to an abundance of marine life.
The dive center offers a range of courses and programs, from introductory dives for beginners to advanced certifications for experienced divers. Immerse yourself in the underwater world and create lasting memories as you explore the incredible biodiversity of the Maldives.
For those who prefer staying on the surface, snorkeling is a popular activity that allows you to get up close and personal with the marine life. The resort provides snorkeling equipment, allowing you to swim alongside vibrant coral reefs and encounter colorful tropical fish.
Whether you're diving into the depths or exploring the sparkling surface, the water sports and diving experiences at Velassaru Maldives promise excitement, adventure, and a deep connection with the natural beauty of the Indian Ocean.
Local Culture and Excursions
While Velassaru Maldives offers a luxurious and indulgent escape, it also provides opportunities to explore and immerse yourself in the rich local culture and traditions of the Maldives. From cultural excursions to interactions with local communities, there are plenty of ways to gain a deeper understanding of this enchanting destination.
One popular excursion is a visit to nearby local islands, where you can experience the everyday life of Maldivian communities. Explore the narrow streets, visit local shops, and witness traditional craftsmanship. Engage with locals and learn about their customs, traditions, and the importance of fishing in their livelihood.
For a glimpse into the fascinating history of the Maldives, you can visit the National Museum in Male, the capital city. The museum showcases a rich collection of artifacts that highlight the country's cultural heritage, including ancient royal thrones, intricate traditional costumes, and historic documents.
If you're interested in marine conservation, consider joining a guided tour to the Maldives Whale Shark Research Program. This excursion offers a unique opportunity to learn about these majestic creatures and the ongoing efforts to protect and preserve their habitats.
A sunset cruise is another popular excursion, allowing you to witness the ethereal beauty of the Maldivian sunset while sailing across the calm waters. Marvel at the kaleidoscope of colors as the sun dips below the horizon, casting a golden glow over the surrounding islands.
For those seeking a taste of adventure, you can embark on a fishing trip and experience the traditional Maldivian way of fishing. Cast your line and try your luck at catching local fish species, then have your catch prepared by the resort's skilled chefs for a truly authentic dining experience.
Throughout your stay at Velassaru Maldives, there are various cultural activities organized by the resort, such as traditional music and dance performances. Immerse yourself in the vibrant rhythms and melodies of Maldivian music, and witness the graceful movements of traditional dance.
By participating in these excursions and exploring the local culture, you'll gain a deeper appreciation for the Maldives and its people, allowing you to truly embrace the essence of this captivating destination.
Tips for a Perfect Stay
To ensure a memorable and perfect stay at Velassaru Maldives, consider these tips to make the most of your time in this tropical paradise:
Plan your activities in advance: Take a look at the resort's activity and excursion options and plan ahead to secure your preferred experiences. This will help you make the most of your time and avoid missing out on any must-try activities.
Pack essentials for the Maldives: Don't forget to pack essentials such as sunscreen, a hat, sunglasses, and swimwear. The Maldivian sun can be intense, so it's important to protect yourself while enjoying the beautiful outdoors.
Try local cuisine: While the resort offers a range of international dining options, don't hesitate to try the local Maldivian cuisine. Sample traditional dishes such as fish curry, mas huni (smoked tuna with coconut), and roshi (a type of flatbread), for an authentic culinary experience.
Respect the marine life: When participating in water sports or snorkeling, remember to respect the underwater environment. Avoid touching or stepping on coral reefs, and never feed or chase marine animals. Let's preserve the delicate ecosystem for future generations to enjoy.
Stay hydrated: The Maldivian climate can be quite hot and humid, so it's important to stay hydrated. Drink plenty of water throughout the day, especially when engaging in outdoor activities, to keep yourself refreshed and energized.
Embrace the laid-back island vibe: The Maldives is known for its relaxed and laid-back atmosphere. Take this opportunity to slow down, unwind, and truly embrace the island lifestyle. Enjoy leisurely walks on the beach, indulge in spa treatments, or simply lounge by the pool with a tropical cocktail.
Capture your memories: The Maldives provides endless opportunities for stunning photographs. Don't forget to bring your camera or smartphone and capture the breathtaking sunsets, crystal-clear waters, and vibrant marine life. These photos will serve as a lasting reminder of your amazing time in the Maldives.
Disconnect from technology: While it's tempting to stay connected, consider disconnecting from technology and immersing yourself in the natural beauty of the Maldives. Take a break from emails and social media, allowing yourself to fully relax and appreciate the serenity of the surroundings.
Engage with the staff: The friendly and attentive staff at Velassaru Maldives are there to ensure your stay is exceptional. Don't hesitate to engage with them, ask questions, and seek recommendations. They are a wealth of knowledge and can help enhance your experiences on the island.
By keeping these tips in mind, you can make the most of your stay at Velassaru Maldives and create cherished memories that will last a lifetime.
Conclusion
Velassaru Maldives is a true paradise in the Indian Ocean, offering a luxurious and unforgettable experience amidst stunning natural beauty. The resort's prime location, gorgeous beaches, world-class amenities, and warm hospitality make it an ideal destination for travelers seeking both relaxation and adventure.
From the moment you arrive, you'll be greeted with a sense of tranquility and serenity that envelops the island. Whether you choose to unwind on the pristine beaches, indulge in rejuvenating spa treatments, or embark on thrilling water sports adventures, Velassaru Maldives has something for everyone.
The accommodation options, from beachfront villas to overwater bungalows, provide a perfect blend of comfort and luxury, allowing you to truly immerse yourself in the beauty of the Maldives. The dining options cater to all tastes, offering a delightful culinary journey that embraces international flavors and local Maldivian specialties.
Velassaru Maldives not only offers a luxurious escape but also provides opportunities for cultural exploration. Engage with the local communities, participate in excursions, and discover the fascinating history and traditions of the Maldives.
Whether you spend your days basking in the sunshine, diving into the turquoise waters, or simply reveling in the tranquility of the island, Velassaru Maldives promises an unforgettable experience that will leave you with cherished memories for years to come.
So, embark on a journey to paradise, where natural beauty, luxury, and warm hospitality converge. Velassaru Maldives awaits to provide you with an exceptional and enchanting getaway that will exceed all your expectations.