The Ultimate Guide To Canggu, Bali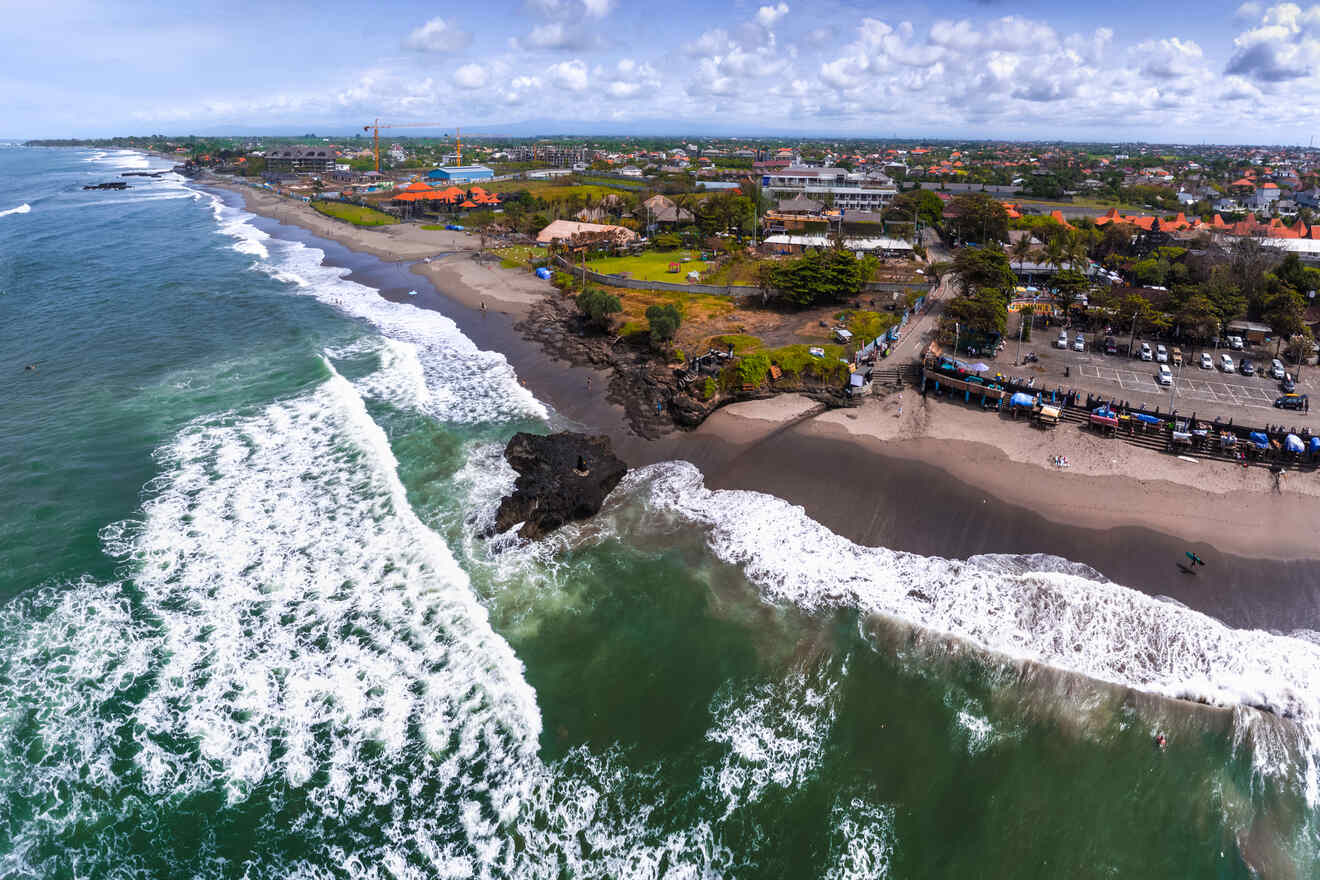 Introduction
Welcome to Canggu, Bali – a vibrant, laid-back coastal village that has become one of Indonesia's most popular tourist destinations. Nestled on the southwestern coast of the island, Canggu offers a unique blend of stunning natural landscapes, world-class surf breaks, and a thriving food and wellness scene.
With its picturesque beaches, lush rice fields, and trendy eateries, Canggu is a haven for travelers seeking a relaxed and bohemian atmosphere. This once-sleepy fishing village has undergone a rapid transformation in recent years, attracting digital nomads, surf enthusiasts, and wellness seekers from around the world.
Unlike the bustling streets of Kuta and Seminyak, Canggu offers a more tranquil and serene ambiance. It manages to strike the perfect balance between a laid-back village vibe and a hip and trendy atmosphere. Whether you're looking to catch the perfect wave, practice yoga overlooking the ocean, indulge in healthy and delicious cuisine, or simply soak up the sun on the beach, Canggu has something for everyone.
Known for its world-class surf breaks, Canggu attracts surfers of all levels. Echo Beach and Batu Bolong are the main surf spots, offering consistent waves and a friendly community of surfers. If you're a beginner, you can take surf lessons from one of the many surf schools along the coast. And even if you don't surf, the stunning black sand beaches are perfect for sunbathing and taking in the breathtaking sunsets.
In addition to its natural beauty, Canggu is also home to an array of yoga studios and wellness centers. Whether you're a seasoned yogi or a beginner, you can find a class that suits your level and interests. From Hatha to Vinyasa, Yin to Ashtanga, there are plenty of options to nourish your mind, body, and soul.
When it comes to cuisine, Canggu has gained a reputation as a food lover's paradise. The area is dotted with trendy cafes and restaurants, offering a wide range of cuisines to suit every palette. From healthy vegan and vegetarian options to mouthwatering Indonesian delicacies and international fusion dishes, you'll never run out of dining choices in Canggu.
After a day of exploring, surfing, and indulging in delicious food, Canggu comes alive at night. The village offers a bustling nightlife scene, with beach clubs and bars hosting live music performances, themed parties, and DJ sets. Whether you're in the mood for a casual drink or a night of dancing, Canggu has plenty of options to keep you entertained.
From the breathtaking natural beauty to the thriving food and wellness scene, Canggu has something for everyone. Its unique blend of surf culture, tranquility, and vibrant energy make it a must-visit destination in Bali. So grab your surfboard, yoga mat, and appetite for adventure, and discover the charm and allure of Canggu, where paradise meets bohemian bliss.
Best Time to Visit Canggu
Canggu enjoys a tropical climate, with warm temperatures and high humidity throughout the year. However, the best time to visit Canggu is during the dry season, which runs from April to October. During this time, you can expect less rainfall, plenty of sunshine, and comfortable temperatures ranging from 25 to 32 degrees Celsius (77 to 90 degrees Fahrenheit).
April to October is considered the peak tourist season in Canggu, as well as the rest of Bali. The skies are clear, the water is calmer for surfing, and outdoor activities are more enjoyable. It's also a popular time for events and festivals, such as the Bali Arts Festival, which takes place in June and July. However, due to the high demand, accommodation prices may be higher, and popular attractions can get crowded.
If you prefer a quieter and more affordable visit, the shoulder seasons of April and October are a good choice. During these months, you can still enjoy pleasant weather and fewer tourists. The surf conditions are also ideal for both beginners and experienced surfers.
November to March marks the wet season in Canggu, with higher chances of rain and occasional thunderstorms. While the rain can be sporadic, it doesn't typically last all day, and there are still plenty of sunny periods. The wet season can be a good time to visit for budget travelers, as accommodation prices tend to be lower. Just be prepared for some rain and plan activities accordingly.
It's important to note that Bali, including Canggu, experiences a peak of tourism during the Christmas and New Year holidays. If you plan to visit during this time, make sure to book your accommodation well in advance.
Ultimately, the best time to visit Canggu depends on your preferences and what you plan to do during your trip. If you're a surfer, the dry season months of May to September offer the most consistent waves. If you're looking to avoid crowds and save money, consider visiting in the shoulder seasons. No matter when you choose to visit, Canggu's natural beauty and vibrant atmosphere will leave you enchanted.
How to Get to Canggu
Canggu is conveniently located just a short distance from Bali's main international airport, Ngurah Rai International Airport. Here are several ways you can reach Canggu from the airport:
Private Transfer: Booking a private transfer is the most convenient option. You can arrange for a driver to pick you up directly from the airport and take you directly to your accommodation in Canggu. This option is especially ideal if you have a lot of luggage or if you prefer a hassle-free journey.
Taxi: There are plenty of official taxis available at the airport. Make sure to use the official airport taxi counter to avoid scams. The journey from the airport to Canggu takes around 30 to 45 minutes, depending on the traffic. It's recommended to negotiate the fare beforehand or use the meter to ensure a fair price.
Go-Jek or Grab: Go-Jek and Grab are popular ride-hailing apps in Bali. You can download the app and book a ride from the airport to Canggu. This option can be more affordable than a taxi, especially during non-peak hours.
Shuttle Bus: Some hotels and resorts in Canggu offer shuttle bus services for their guests. Check if your accommodation provides this option and inquire about the schedule and cost.
Once you're in Canggu, getting around the area is relatively easy. Here are some transportation options:
Renting a Scooter: One of the most popular ways to get around Canggu is by scooter. There are several rental shops in the area where you can rent a scooter for the duration of your stay. Make sure to wear a helmet, follow traffic rules, and drive safely.
Bicycle: Canggu is a relatively small area, making it perfect for exploring by bicycle. Many accommodations offer bicycle rentals, or you can easily find rental shops in the main Canggu area.
Taxi: Taxis are also available within Canggu and can be a convenient option for longer distances or if you prefer not to drive yourself.
Go-Jek or Grab: You can continue using the Go-Jek or Grab apps to book rides within Canggu. It's an easy and affordable way to get around if you don't want to drive yourself.
Walking: Canggu is a pedestrian-friendly area, and many attractions, restaurants, and cafes are within walking distance of each other. Enjoy a leisurely stroll and soak up the atmosphere as you explore Canggu on foot.
Getting to Canggu is a breeze, with various transportation options available to suit your preferences and budget. Whether you choose a private transfer, taxi, ride-hailing app, or decide to explore on a scooter or bicycle, you'll have no trouble reaching Canggu and navigating the area during your visit.
Accommodation Options
Canggu offers a wide range of accommodation options to suit every budget and preference. Whether you're seeking luxury villas, cozy guesthouses, or trendy boutique hotels, you'll find options that cater to your needs. Here are some popular accommodation choices in Canggu:
Villas: Canggu is known for its luxurious private villas, which often feature beautiful Balinese architecture, private swimming pools, lush gardens, and modern amenities. Villas provide a sense of privacy and exclusivity and are perfect for families or groups of friends traveling together.
Guesthouses and Homestays: For budget travelers or those looking for a more local experience, guesthouses and homestays are excellent options. These accommodations offer clean and comfortable rooms with basic amenities at affordable prices. You'll also have the chance to interact with friendly local hosts and experience Balinese hospitality firsthand.
Boutique Hotels: Canggu is home to several stylish boutique hotels that combine modern comforts with unique design elements. These hotels often feature trendy interior decor, spacious rooms, and on-site amenities such as pools, restaurants, and wellness facilities.
Surf Camps: With Canggu's reputation as a surfer's paradise, there are also surf camps that cater to travelers looking to ride the waves. These camps offer accommodation, surf lessons, equipment rentals, and a vibrant community of fellow surf enthusiasts.
Eco-Resorts: For eco-conscious travelers, Canggu has eco-resorts that prioritize sustainability and responsible practices. These resorts often incorporate natural elements, offer organic and locally sourced food, and have eco-friendly initiatives such as solar power and recycling programs.
The best areas to find accommodation in Canggu are around Echo Beach, Batu Bolong, and Berawa. These areas offer a mix of proximity to the beach, popular cafes and restaurants, and easy access to the main attractions in Canggu.
It's advisable to book your accommodation in advance, especially during the peak tourist season from April to October. This ensures that you secure your desired place to stay and can often result in better rates.
Whether you're looking for a luxurious villa, a budget-friendly guesthouse, or a unique boutique hotel, Canggu offers a variety of accommodation options to fit your style and budget. With its range of choices, you're sure to find the perfect place to stay and make your visit to Canggu unforgettable.
Top Attractions in Canggu
Canggu is brimming with exciting attractions and activities that cater to all interests. Whether you're a nature lover, a thrill-seeker, or a culture enthusiast, Canggu has something for everyone. Here are some of the top attractions you shouldn't miss during your visit:
Beaches: Canggu is known for its stunning beaches, and spending time by the ocean is a must-do. Echo Beach and Batu Bolong Beach are popular spots for sunbathing, swimming, and surfing. Watch the surfers catch waves, take a stroll along the sandy shores, or enjoy a spectacular sunset from one of the beachfront bars.
Tanah Lot Temple: Just a short drive from Canggu is the iconic Tanah Lot Temple, one of Bali's most famous landmarks. This ancient Hindu temple perched on a rock formation offers breathtaking views and is particularly stunning during sunset. Explore the temple grounds, soak in the spiritual ambiance, and witness Balinese Hindu rituals.
Batu Bolong Rice Terrace: Discover the serene beauty of Bali's famous rice terraces in Batu Bolong. Take a leisurely stroll through the lush green fields, marvel at the intricate irrigation systems, and witness the traditional farming techniques. It's an excellent opportunity to connect with nature and experience the tranquility of rural Bali.
Waterfalls: Embark on a short excursion to explore the enchanting waterfalls near Canggu. Visit the Tegenungan Waterfall, located in the nearby Gianyar Regency, which offers a beautiful cascade surrounded by greenery. Alternatively, journey to the north to discover the picturesque Sekumpul Waterfall, a hidden gem tucked amidst Bali's rainforest.
Tugu Bali: Immerse yourself in the rich cultural heritage of Bali at Tugu Bali, a unique museum and boutique hotel in Canggu. Marvel at the extensive collection of Indonesian antiques and artifacts while learning about the island's history. Enjoy a delicious meal at one of the on-site restaurants, which showcase traditional Indonesian cuisine.
Surfing: Canggu is a haven for surfers of all levels. Join a surf lesson or test your skills at Echo Beach or Batu Bolong. Whether you're a beginner learning to catch your first wave or an experienced surfer seeking new breaks, the consistent waves and friendly surf community make Canggu a fantastic surfing destination.
Tirta Gangga: Take a day trip to the stunning water palace of Tirta Gangga, located in the eastern part of Bali. This beautiful complex features ornamental pools, fountains, and lush gardens, creating a peaceful and serene atmosphere. Take a dip in the rejuvenating spring water pools or simply soak up the beauty of the surroundings.
Canggu Sunday Market: Every Sunday, the Old Mans Beach Club in Canggu hosts the Canggu Sunday Market. This vibrant market offers a variety of locally made crafts, clothing, jewelry, and delicious food stalls. Explore the stalls, shop for unique souvenirs, and savor the flavors of Indonesian street food.
These are just a few of the many attractions that await you in Canggu. Embrace the natural beauty, immerse yourself in the cultural richness, and indulge in the thrilling adventures that make Canggu a true gem on the island of Bali.
Beaches in Canggu
Canggu is renowned for its beautiful and diverse collection of beaches that offer something for every beachgoer. Whether you're a surfer, sunbather, or simply seeking a tranquil escape, Canggu's beaches have it all. Here are some of the top beaches in Canggu:
Echo Beach: Echo Beach is one of the most popular and iconic beaches in Canggu. Known for its breathtaking sunsets and world-class surf breaks, it attracts surfers and beach lovers from around the globe. Watch the surfers ride the waves, take a leisurely stroll along the black sand, or enjoy a delicious meal at one of the beachfront restaurants.
Batu Bolong Beach: Located near the famous Batu Bolong Temple, this beach is another favorite among surfers and sunbathers alike. It offers consistent surf breaks suited for both beginners and experienced surfers. After a session in the water, relax on the sandy shores or grab a refreshing drink at one of the beach bars overlooking the waves.
Berawa Beach: Berawa Beach is a pristine stretch of coastline known for its wide sandy expanse. It's a great spot for sunbathing, beach volleyball, and leisurely walks. The beach is backed by rice fields, creating a picturesque and tranquil atmosphere. You can also find beach clubs and beachfront cafes where you can unwind and enjoy the ocean views.
Nelayan Beach: Also known as Fisherman's Beach, Nelayan Beach offers a more laid-back and peaceful vibe compared to its neighboring beaches. It's a great spot for watching the local fishermen bring in their catch or observing traditional fishing boats lined up along the shore. The beach is less crowded, making it perfect for those seeking solitude and relaxation.
Berawa-Watu Bolong Beach: This beach is a hidden gem located between Berawa and Batu Bolong Beach. It blends the best of both worlds, combining calm areas for swimming and more challenging surf breaks. Whether you're a beginner or an avid surfer, you can find suitable waves to ride here. Take a sunset stroll along the beach for a magical end to the day.
As with any beach destination, it's essential to practice caution when swimming and surfing, paying attention to warnings, flags, and local advice. Be aware of rip currents and always swim within your ability. Additionally, remember to respect the environment by disposing of your trash properly and respecting the local customs and traditions.
Whichever beach in Canggu you choose to visit, you're guaranteed to be captivated by Bali's stunning coastal beauty and the incredible experiences it offers.
Yoga Studios and Wellness Centers
Canggu is a haven for yoga enthusiasts and wellness seekers, offering a myriad of yoga studios and wellness centers where you can rejuvenate your mind, body, and soul. Whether you're a seasoned yogi or a beginner looking to deepen your practice, Canggu has a wide range of options to choose from. Here are some of the top yoga studios and wellness centers in Canggu:
The Practice: Situated in a tranquil setting surrounded by lush greenery, The Practice is a renowned yoga studio in Canggu. It offers a variety of classes, including Vinyasa, Hatha, Yin, and meditation. With experienced instructors and a serene ambiance, it's a perfect place to unwind and reconnect with yourself.
Samadi Bali: Samadi Bali is not only a yoga studio but also a wellness center that focuses on holistic practices. In addition to a variety of yoga classes, Samadi Bali offers workshops, retreats, and a vegetarian café that serves nourishing plant-based meals. You can also explore their wellness offerings, such as acupuncture, Ayurveda, and holistic treatments.
The Canggu Studio: The Canggu Studio is a vibrant and welcoming space offering a range of yoga and fitness classes. From Power Vinyasa to Barre, Pilates, and Aerial Yoga, there's something to cater to every interest and fitness level. The studio also hosts regular workshops and events led by local and international instructors.
Desa Seni: Desa Seni is not just a yoga studio but a holistic village resort dedicated to wellness and sustainability. Nestled within lush gardens, it offers various yoga classes, including Hatha, Vinyasa, and Kundalini. Desa Seni also features traditional Indonesian architecture, an organic farm, a spa, and eco-friendly accommodations, creating a serene and immersive wellness experience.
Serenity Yoga Bali: Serenity Yoga Bali is a boutique yoga studio that offers a peaceful sanctuary for yoga practitioners. With experienced instructors and intimate class sizes, it provides a personalized and attentive experience. From gentle Hatha to dynamic Vinyasa, you can choose a class that suits your preferences and level of practice.
Aside from yoga studios, Canggu is home to numerous wellness centers where you can indulge in a range of holistic treatments. From traditional Balinese massages to Ayurvedic therapies and sound healing sessions, these centers offer a variety of services to promote relaxation and overall well-being.
Many yoga studios and wellness centers also host workshops, retreats, and special events throughout the year. These provide opportunities to dive deeper into your practice, learn from renowned instructors, and connect with like-minded individuals within a supportive community.
Whether you're seeking to deepen your yoga practice, explore new wellness modalities, or simply relax and rejuvenate, Canggu's yoga studios and wellness centers offer a wealth of opportunities to nourish your body, mind, and spirit.
Restaurants and Cafes
Canggu is a food lover's paradise, offering a vibrant and diverse culinary scene. From trendy cafes to local warungs and international restaurants, there are endless options to satisfy every palate. Whether you're craving healthy vegan fare, traditional Indonesian cuisine, or international fusion dishes, Canggu has something to please every taste bud. Here are some of the top restaurants and cafes to try in Canggu:
Penny Lane: Penny Lane is a popular cafe in Canggu known for its delicious breakfast and brunch options. From mouthwatering pancakes and smoothie bowls to hearty avocado toasts and specialty coffees, this cozy cafe is a must-visit for breakfast lovers.
Motion Café: Motion Café is a go-to spot for health-conscious individuals. Their menu features a variety of nutritious and flavorful dishes, including vegetarian, vegan, and gluten-free options. Indulge in nourishing salads, smoothie bowls, and raw desserts that will leave you feeling energized and satisfied.
The Shady Shack: The Shady Shack is a popular vegetarian cafe in Canggu, offering a delightful array of plant-based dishes. From fresh salads and Buddha bowls to hearty vegan burgers and raw desserts, this eatery focuses on using organic and locally sourced ingredients to create tasty and wholesome meals.
Warung Bu Mi: For an authentic taste of Indonesian cuisine, head to Warung Bu Mi. This local warung serves up traditional dishes like Nasi Campur, Gado-Gado, and Mie Goreng. Enjoy the aromatic flavors and experience the true essence of Indonesian street food.
Betelnut Cafe: Betelnut Cafe is a beloved establishment in Canggu, known for its vibrant atmosphere and delicious food. Their menu offers a variety of options ranging from nourishing salads and bowls to tasty wraps and burgers. Don't miss their signature smoothies and freshly squeezed juices.
La Brisa: La Brisa is not only a restaurant but also a beach club that offers an incredible dining experience. Located right on the beach, this bohemian-inspired establishment serves up a mix of international and local cuisines, accompanied by refreshing cocktails and a lively ambiance.
Milk & Madu: Milk & Madu is a family-friendly restaurant that caters to all tastes. Their menu features crowd-pleasers like pizzas, burgers, pasta, and salads, as well as vegetarian and gluten-free options. The relaxed atmosphere and friendly service make it a great spot for a casual meal.
In addition to these establishments, Canggu is dotted with numerous other cafes, restaurants, and warungs waiting to be explored. Whether you're seeking a healthy and nutritious meal, a taste of local flavors, or international cuisines, the vibrant food scene in Canggu will leave you spoiled for choice.
It's worth noting that many eateries in Canggu also prioritize sustainability and use locally sourced and organic ingredients whenever possible. So besides enjoying delicious food, you can feel good about supporting ethical and environmentally conscious businesses.
Don't forget to try the local specialty, Nasi Goreng, a flavorful Indonesian fried rice dish, and wash it down with a refreshing young coconut or a freshly brewed cup of Bali's famous Luwak coffee.
Embark on a culinary adventure in Canggu and savor the diverse flavors that await you in this vibrant food paradise.
Nightlife in Canggu
Canggu may be known for its laid-back beach vibes, but when the sun goes down, the village comes alive with a vibrant and exciting nightlife. Whether you're looking for a casual drink, live music, or late-night dancing, Canggu offers a range of options to suit different preferences. Here are some of the top nightlife spots in Canggu:
Old Man's: Old Man's is a legendary beachfront bar that has become an iconic spot in Canggu. With its relaxed atmosphere, daily happy hours, and live music performances, it's a favorite among locals and tourists alike. Grab a beanbag on the beach, sip on your cocktail, and enjoy the chilled-out vibes.
The Lawn: The Lawn is a beach club that offers a more upscale and stylish setting. Relax by the pool, enjoy the beautiful ocean views, and sip on delicious cocktails as the sun sets. The Lawn hosts regular DJ sets and themed parties, making it a great place to dance the night away under the stars.
Pretty Poison: Pretty Poison combines two popular pastimes – skateboarding and partying. This unique venue features a concrete pool where skaters showcase their skills, while the surrounding area doubles as a bar and dance floor. It's a hub for the alternative crowd, offering a mix of live music, DJ performances, and a lively atmosphere.
Deus Ex Machina: Deus Ex Machina is a popular motorcycle-themed restaurant, bar, and live music venue. This hip establishment hosts regular events, including live music gigs, art exhibitions, and trivia nights. Enjoy delicious food, sip on craft beers, and soak up the cool ambiance at this cultural hotspot.
Black Cat Mini Mart: Black Cat Mini Mart is a quirky spot that blends a convenience store concept with a bar and live music venue. Located in a traditional Balinese shop, it offers a unique and intimate setting for live performances, DJ sets, and good times with friends. Grab a cold beer from the fridge and enjoy the eclectic vibes.
La Laguna: La Laguna is a bohemian-themed restaurant and bar that is known for its enchanting and whimsical atmosphere. The venue is adorned with vintage caravans, fairy lights, and antique decor, creating a magical ambiance. Enjoy cocktails, indulge in tasty food, and dance to the beats of live DJ sets.
With its diverse nightlife scene, Canggu caters to all tastes and preferences. Whether you're in the mood for a relaxed evening by the beach or an energetic night of dancing, you'll find a spot that suits your mood. It's worth noting that some venues also host special events, such as themed parties and live music performances, so be sure to check out the local listings for upcoming events.
As with any nightlife experience, it's important to drink responsibly and respect the local culture and surroundings. Make sure to take care of your belongings and stay aware of your surroundings, especially when moving between venues at night.
Get ready to have a memorable night out in Canggu, where the energy is infectious, the drinks flow freely, and the good times never stop.
Shopping in Canggu
Canggu offers a delightful shopping experience with a mix of unique boutiques, stylish stores, and vibrant markets. Whether you're looking for fashionable clothing, handmade crafts, or locally sourced products, Canggu has plenty of options to satisfy your shopping desires. Here are some of the top shopping destinations in Canggu:
Love Anchor Market: Love Anchor Market is a popular destination for shoppers looking for one-of-a-kind items. Held every Saturday, this vibrant market features a wide range of stalls selling clothing, accessories, handicrafts, artwork, and more. You'll find everything from vintage clothing to handmade jewelry and quirky homeware.
Berawa Art Market: For an authentic Balinese shopping experience, head to Berawa Art Market. This traditional market offers a variety of handicrafts, souvenirs, and artwork created by local artisans. Browse through the colorful stalls and discover unique items such as Balinese wood carvings, batik fabrics, and handmade jewelry.
The Canggu Shop: Located in the heart of Canggu, The Canggu Shop features a curated selection of women's clothing, swimwear, accessories, and lifestyle products. From trendy beachwear to bohemian-inspired fashion, this boutique is the perfect place to update your wardrobe with stylish and unique pieces.
Kembali Bumbak: Kembali Bumbak is a concept store that offers a fusion of fashion, homeware, and artifacts from around the world. Discover a thoughtfully curated collection of clothing, accessories, and home decor items that reflect a bohemian and global aesthetic.
Amber Light Boutique: Amber Light Boutique is a stylish store that showcases contemporary clothing, swimwear, accessories, and jewelry. The boutique features a collection of local and international brands, each with its own unique style and design. It's the perfect place to find fashionable pieces that embody the spirit of Canggu.
Canggu Square: Canggu Square is a shopping complex that houses an assortment of shops and boutiques. From surf stores to fashion boutiques and health food markets, you can find a variety of items under one roof. Enjoy a leisurely stroll, browse through the stores, and explore the different offerings.
In addition to these dedicated shopping destinations, Canggu's streets are lined with shops and boutiques waiting to be discovered. From independent surf stores to trendy fashion boutiques, you'll find a mix of local and international brands catering to various styles and tastes.
When shopping in Canggu, don't forget to utilize your bargaining skills, especially in the local markets. It's common to negotiate the price to get the best deal. Additionally, many stores in Canggu embrace ethical and sustainable practices by supporting local artisans and using environmentally friendly materials.
Whether you're looking to update your wardrobe, find unique souvenirs, or discover local craftsmanship, Canggu's shopping scene will leave you spoiled for choice and bring a touch of the village's bohemian charm back home with you.
Day Trips from Canggu
While Canggu has plenty to offer, it's also an excellent base for exploring the surrounding areas of Bali. Take advantage of your time in Canggu by embarking on memorable day trips to nearby attractions and destinations. Here are some top day trip options from Canggu:
Ubud: Just a short drive from Canggu, Ubud is a cultural and artistic hub known for its lush landscapes and spiritual charm. Explore the iconic rice terraces, visit famous temples like the Goa Gajah (Elephant Cave), and wander through the vibrant markets to find unique handicrafts and artwork.
Mount Batur: Embark on an early morning adventure to Mount Batur, an active volcano located in the northeast of Bali. Hike to the summit and witness the breathtaking sunrise over the caldera while enjoying panoramic views of Lake Batur. It's a truly unforgettable experience for nature enthusiasts and adventure seekers.
Tanah Lot and Uluwatu Temples: Combine visits to two iconic coastal temples in one day trip. Tanah Lot Temple, perched on a rock formation and surrounded by the ocean, offers a mesmerizing sunset view. Uluwatu Temple, located on a cliff overlooking the Indian Ocean, is famous for its dramatic setting and traditional Kecak dance performances.
Tegenungan Waterfall: Take a refreshing break from the beach and visit Tegenungan Waterfall, located in the lush countryside near Ubud. Immerse yourself in the natural beauty, swim in the cascading waters, and capture beautiful photos of this stunning waterfall.
Gitgit Waterfall: If you're looking for a more dramatic waterfall experience, head towards the northern part of Bali and visit Gitgit Waterfall. Surrounded by tropical rainforest, this picturesque waterfall offers a breathtaking sight and a chance to cool off in its crystal-clear pool.
Jatiluwih Rice Terraces: Just a drive away from Canggu, Jatiluwih is famous for its UNESCO-listed rice terraces that showcase Bali's stunning agricultural landscapes. Take a leisurely stroll through the terraced fields, learn about traditional farming methods, and enjoy the scenic vistas.
Sanur: Located on the eastern coast of Bali, Sanur is a charming and laid-back town known for its calm waters and beautiful beaches. Spend a relaxing day swimming, sunbathing, and enjoying the local beachside cafes and restaurants. You can also take a boat trip to the nearby islands of Nusa Penida and Nusa Lembongan.
These are just a few examples of the many day trips you can embark on from Canggu. Whether you're seeking cultural immersion, natural beauty, or adventure, the surrounding areas of Bali have something to offer for every traveler. Make the most of your time in Canggu by exploring the diverse attractions and discovering the unique wonders of Bali.
Transportation in Canggu
Getting around Canggu and exploring the surrounding areas is relatively straightforward, thanks to the variety of transportation options available. Here are the main modes of transportation you can utilize in Canggu:
Scooters: Renting a scooter is a popular choice among visitors in Canggu. Scooters provide the freedom to explore the area at your own pace and can be rented from numerous rental shops in the village. However, it's essential to have prior experience riding a scooter and to always wear a helmet. Familiarize yourself with local traffic rules and be cautious, especially during peak hours.
Taxis and Ride-Hailing Apps: Taxis are readily available in Canggu, and you can easily flag them down on the street or book through the official taxi counter. Alternatively, you can use ride-hailing apps like Go-Jek or Grab to book a car or motorcycle taxi conveniently from your phone. These apps also offer delivery services and food delivery from local restaurants.
Bicycles: Exploring Canggu by bicycle is a popular and eco-friendly option. Many accommodations offer bicycle rentals, or you can find rental shops in the main areas of Canggu. Riding a bicycle allows you to enjoy the leisurely pace of the village and discover its hidden corners.
Walking: Canggu is relatively compact, and many attractions, restaurants, and cafes are within walking distance of each other. Walking is an excellent way to soak up the atmosphere and discover the local charm of the village. Just remember to stay hydrated, wear comfortable shoes, and be mindful of traffic when walking on busy roads.
Private Drivers: If you prefer a more personalized and hassle-free experience, hiring a private driver is a convenient option. Many drivers offer full-day or half-day services, giving you the flexibility to customize your itinerary and explore the surrounding attractions comfortably.
Public Buses: While public buses are not as prevalent in Canggu as in other parts of Bali, there are some options available. Trans Sarbagita is a public bus system that operates in certain areas of Bali, connecting major towns and attractions. However, it's important to note that the routes and schedules may be limited, so it's advisable to check in advance.
When using transportation services in Canggu, it's important to be mindful of your personal safety. Be cautious when riding a scooter or using ride-hailing apps, and always choose reputable providers. Make sure to agree on the fare or use the meter in taxis, or negotiate the price upfront with private drivers. It's also advisable to have cash on hand, as some small establishments may not accept credit cards.
With the various transportation options available, you can easily navigate Canggu and explore the surrounding areas, ensuring a seamless and enjoyable experience during your visit.
Safety Tips for Travelers
Canggu is generally a safe destination for travelers, but it's always a good idea to take precautions to ensure a safe and enjoyable trip. Here are some safety tips to keep in mind during your time in Canggu:
Stay Aware of Your Surroundings: Whether you're walking around the streets of Canggu or exploring the beaches, it's important to stay aware of your surroundings. Be mindful of your belongings and keep an eye out for any suspicious activity.
Secure Your Valuables: Keep your valuables, such as passports, cash, and electronics, securely locked in a safe in your accommodation when you're not using them. When you're out and about, carry only what you need and avoid flaunting expensive items.
Use Reliable Transportation: If you're using taxis or ride-hailing apps, always choose reputable providers and check that the vehicle matches the description on the app. Negotiate the fare or use the meter in taxis, and ensure that your personal belongings are secure while traveling.
Stay Hydrated: Bali's tropical climate can be hot and humid, so it's important to stay hydrated. Drink plenty of water throughout the day, especially if you're spending time outdoors or engaging in physical activities.
Protect Yourself from the Sun: Sunscreen, hats, and sunglasses are essential items when exploring the beaches and outdoor attractions in Canggu. Protect your skin from the sun's harmful rays to prevent sunburn and skin damage.
Practice Road Safety: If you choose to rent a scooter or bicycle, familiarize yourself with local traffic rules and drive defensively. Wear a helmet at all times and be cautious of other vehicles on the road. Avoid driving at night if possible, as visibility can be reduced.
Swim Safely: Pay attention to the flag system on the beaches and swim only in designated areas. Be aware of currents and always assess the conditions before entering the water. If you're not a confident swimmer, consider taking surfing or swimming lessons from a reputable school.
Respect Local Customs and Culture: Bali is known for its rich cultural heritage, so it's important to respect local customs and traditions. Dress modestly when visiting temples, and be mindful of local etiquette and practices.
Travel Insurance: It's always wise to have travel insurance that covers medical expenses, trip cancellation, and loss or theft of personal belongings. Make sure your insurance policy is valid for the activities you plan to engage in during your stay in Canggu.
Emergency Contact Information: Make a note of important contact numbers, including the local authorities, your embassy or consulate, and your accommodation. It's also a good idea to share your itinerary with a trusted friend or family member.
By following these safety tips and using common sense, you can ensure a safe and worry-free experience during your time in Canggu. Embrace the village's vibrant atmosphere, enjoy the beautiful surroundings, and create unforgettable memories on your Bali adventure.
Conclusion
Canggu, Bali offers a magical blend of natural beauty, bohemian vibes, and vibrant experiences that make it a must-visit destination for travelers from around the world. From its stunning beaches and world-class surf breaks to its yoga studios, wellness centers, and thriving food scene, Canggu caters to all interests and preferences. Whether you're seeking relaxation, adventure, cultural immersion, or simply a change of scenery, Canggu has something for everyone.
With its laid-back village atmosphere and proximity to the airport, Canggu is easily accessible and serves as an ideal base for exploring other areas of Bali. From the cultural wonders of Ubud to the majestic Mount Batur and the breathtaking temples of Tanah Lot and Uluwatu, day trips from Canggu offer endless opportunities to explore the beauty of the island.
While enjoying your time in Canggu, it's important to stay safe and be mindful of your surroundings. Practice road safety, secure your belongings, and respect local customs and traditions. Remember to protect yourself from the sun, stay hydrated, and use reliable transportation options.
Whether you're catching the perfect wave, finding your inner Zen in a yoga class, indulging in delicious cuisine, or immersing yourself in the vibrant nightlife, Canggu promises a unique and unforgettable experience. With its natural charm, welcoming locals, and diverse attractions, it's no wonder why Canggu has become a beloved destination for travelers seeking a slice of paradise.
So pack your bags, embrace the bohemian spirit, and let Canggu captivate your heart as you embark on a journey of adventure, relaxation, and discovery in this enchanting corner of Bali.