Hong Kong International Airport (HKG) – All You Need to Know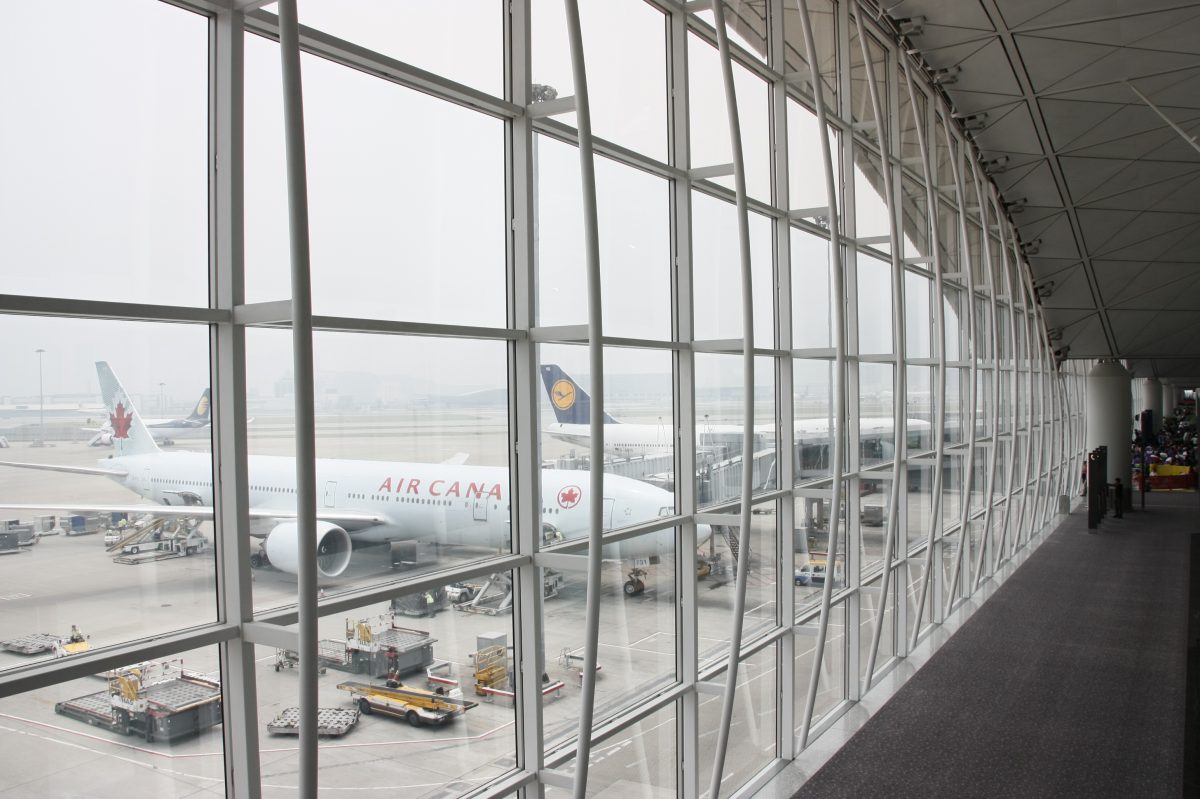 Spending time at airports isn't a fun activity, is it? It can get quite tiresome after a couple of hours. Therefore, a lot of airports are working hard on making the time spent there less dull.
Plenty of shops can keep you busy for hours, but Hong Kong International Airport offers much more than that. It is, after all, one of the best airports in the world.
What Makes Hong Kong International Airport So Important?
HKG airport became a commercial airport in 1998. Since then, it has become the most important regional centre and a gateway to all destinations in Asia.
In 2015, Hong Kong International Airport turned into one of the busiest airports worldwide, since it handled 68.5 million passengers.
Besides, HKG airport is the busiest cargo gateway in the world contributing a lot to Hong Kong's economy.
Finally, keep in mind that Hong Kong airport code is HKG. People, however, prefer to call it HKIA.
Hong Kong International Airport Facilities
An airport as big as Hong Kong International Airport certainly asks for well-organized facilities and, in turn, satisfied passengers.
Airport Ambassadors And Help Phones
Being at a huge airport can be quite stressful. However, at Hong Kong International Airport, you can always rely on the airport ambassadors.
You can easily find them throughout the terminals and get immediate assistance.
If you don't see any, you can find one of the help phones installed throughout the terminals.
Hong Kong International Airport staff always makes sure that your time spent there is stress-free and enjoyable.
Numerous Baggage Services
One of the greatest things at Hong Kong International Airport is its baggage services. They are incredibly reliable.
You can easily repack your baggage with protective fillers or straps. Passengers with heavy baggage can hire a pick-up and delivery service. They will collect the baggage from your home or a hotel and deliver it to the check-in counter.
In case you want to walk around and explore Hong Kong International Airport, you can safely store your baggage. The fees are determined based on the size of the baggage as well as storage duration.
Family-orientated Facilities
Hong Kong International Airport is one of the rare airports with a focus on families too.
Eight Children Play and TV Areas are in the restricted area in Terminal 1. This is where children can hang out, make new friends and play together. Plenty of toys are available for everyone.
Additionally, TV areas play popular cartoons so the children are entertained while waiting for the next flight.
What makes Hong Kong International Airport an amazing place for families is the infant stroller service. You can find infant strollers with luggage storage included all over the restricted area. What's even better, this service is free.
Finally, thirty-nine nursing rooms are available at HKG airport with all the latest changing and feeding facilities.
Comfort-orientated Facilities
Airports aren't the most comfortable places and let's face it – we all want to get out of the airport as soon as possible. However, Hong Kong International Airport is one of those places that makes you want to stay as long as possible.
All over HKG airport, you can find amazing resting places where you can even have some privacy. There is even a relaxation corner with cozy chairs and charging services. This is an amazing place to unwind and read a book. What's more, you can enjoy a massage if you like.
Hong Kong International Airport has the Caring Corner for passengers with disabilities, the elderly and pregnant women. This alone makes it a great airport.
Even if you want to take a shower after a long flight, you can do that too at Hong Kong International Airport. There are complimentary shower cabins with free amenities.
Health and Medical Facilities
Medical center at HKG airport is simply amazing and it makes you feel safe. They provide an array of different services including general practice consultations, X-ray, vaccinations, and physiotherapy. In addition, you can get your wound treated.
Things To Do At Hong Kong International Airport
Layovers can be quite long and dreadful. Can you even imagine how boring it can be to be stuck at an airport for several hours? Sitting in one place or visiting the shops is simply not enough.
With a rich plethora of facilities, HKG airport is one of the best airports in the world. However, the airport in Hong Kong offers many more activities for travelers, which make time fly.
Here are some things you can discover at Hong Kong International Airport to kill time and have some fun.
1.
Watch Movies In One Of The World's Best Cinemas
It might sound incredible but Hong Kong International Airport is home to Asia's largest 4-D projection screen.
The cinema has 360 seats and special effects are amazing – wind, fog and even water spray.
2.
Explore The Aviation Discovery Centre
The Aviation Discovery Center resembles a small amusement park with interactive exhibits that show the wonders of aviation throughout history. It is an amazing learning experience that you mustn't miss out on.
It is located at Level 6 in Terminal 2 so it's quite easy to find.
What's awesome about it is that you can actually experience what it feels like to be a pilot as there is a flight simulator.
However, note that SkyDeck will be closed if there is a red or black rainstorm warning or a typhoon signal number 3. Additionally, a thunderstorm warning can also be one of the reasons to close SkyDeck. Safety is of great importance at Hong Kong International Airport.
A visit to the Aviation Discovery Center can teach you to appreciate pilots and flight attendants just as much.
3.
Art Exhibitions and Music Performances
You can never be bored at Hong Kong International Airport. Those who are art and music enthusiasts will certainly enjoy spending time at this airport.
Culture, art, and music are highly appreciated so you can enjoy in many exhibitions. There is something for everyone's taste – from comics to modern art and photography.
4.
Get To Know Asia Hollywood
Hong Kong International Airport is a great place for those who love learning about a country's history and cinema.
Thanks to Media Asia Entertainment Group, you can enjoy seeing local movies and get to know Chinese cinematography.
What's more, you can even try to be a movie producer too. Use one of the interactive exhibits and create your own movie. It's can be fun to discover some hidden talents.
HKG airport is a paradise for shopaholics. Hundreds of stores offering coupons for discounts. An amazing array of special offers on every corner.
Choose between brands including Calvin Klein, Bvlgari, Cartier, Chanel, Lacoste and plenty more. Be aware that you might need several hours to go on a shopping spree at Hong Kong International Airport.
If you are into cosmetics, we recommend a visit to Giorgio Armani's signature cosmetics boutique. The boutique spreads over 2 669 square feet but you can explore his famous perfumes.
Those who are into jewellery might roam around Tiffany & Co.'s shop. You can let yourself enjoy beautiful silver rings, pendants as well as earrings. This is, after all, Tiffany & Co.'s first airport shop so being able to visit it is quite special.
Furthermore, yet another popular shop to visit is Muji to Go. This is a Japanese chain of home design and accessories stores that sells high-quality products. From digital alarm clocks to neck pillows and even satchels. You can find absolutely everything in this store.
On the other hand, if you want to explore Chinese fashion, then head to the Shanghai Tang store. Chinese-inspired designs might as well be the change you were looking for in your style.
Finally, shopping fans really appreciate the free delivery service. This service is available at the airport after spending a designated amount of money.
You don't have to be an avid tea lover. However, if you don't take the opportunity to visit Fook Ming Tong Tea Shop, you'll be missing out.
An endless collection of Chinese teas for specific needs is simply amazing. Just take some time to roam around and you will find herbal remedies for stress, slow metabolism, and even skin-related issues.
Additionally, here you can also shop for decorative Chinese teapots and teacups. These will certainly be a great souvenir to remind you of your visit to the airport.
7.
Try Playing Golf At SkyCity Nine Eagles Golf Course
Amazingly enough, playing golf at Hong Kong International Airport is possible on a nine-hole golf course. This is where you can rent all the equipment you need and even hire on-site instructors.
Playing at night is also possible since the course has outstanding lighting.
8.
GreenLive Air golf simulation experience
If the weather is bad outside and you just want to have a city break, GreenLive Air is a place to be.
9-hole and 18 hole simulation golf games are available indoors to practice your swings while waiting for the next flight.
9.
Relax and enjoy at the Plaza Premium Lounge
Spa at the airport? It sounds incredible, doesn't it? The Plaza Premium Lounge offers massage and spa services to all visitors.
Manicure and pedicure services are also available. Additionally, you could even get a haircut and arrive at your next destination fresh.
It's a perfect place to rest and relax before heading out to your next flight. The best thing is that it's open twenty-four hours.
10.
Enjoy Delicious Dishes
Hong Kong International Airport is one of those airports where you can enjoy plenty of worldwide cousins.

Popular restaurant chains such as Burger King and McDonald's are present there as well. However, you can still enjoy trying out delicious dishes coming from Japan, Germany or even France, for instance.
However, you should try classic Cantonese dishes that are so flavorful. Don't miss out on Tsui Wah's signature beef brisket curry and pork cartilage with tossed instant noodles.
On the other hand, if you are a fan of KFC, then do try Popeye's chicken served in Cajun sauce. This is probably the best junk food restaurant at HKG airport.
Finally, make sure you pay a visit to Kee Wah Bakery and Wing Wah Cake Shop. Their local delicacies will satisfy your sweet tooth.
Then again, Tsui Wah Eatery is undoubtedly the busiest restaurant at Hong Kong International Airport. It serves delicious Hong Kong styled Western food. Sizzling king prawns, shredded pork and mushroom, Malaysian beef brisket curry are just some of the must-try meals in this restaurant.
11.
Play Games In The SkyMall
Avid gamers will consider Hong Kong International Airport heavenly. You don't often get a chance to play games at an airport, right? However, I-Sports is in the SkyMall in Terminal 2. It represents an arcade with all the latest simulation games.
Be whoever you want to be – a professional racer or a star football player. You can enjoy Tekken. What's more, you can set out on a 3D pirate adventure.
Take your kids to Dream Come True Education Park
Have you ever wondered if children can learn a lot about the world through role-playing? You can get your answer by visiting the Dream Come True Education Park at Hong Kong International Airport.
It is located on Departures Level 6 in Terminal 2, near Food Court.
Dream Come True Education Park teaches children about the real world through job simulations.
What's more, children also have a chance to learn about the importance of teamwork through various fun activities.
12.
Disneyland – If The Layover Is More Than 10 Hours
Hong Kong International Airport is the closest airport to Disneyland. This is truly a fantastic opportunity to spend time and have some fun if you have a layover of more than 10 hours.
If you opt for some Hong Kong tour package or Hong Kong vacation package, Disneyland will be included.
You can hire a Hong Kong airport taxi to take you to Disneyland. This is the most convenient and fastest way. However, if you don't want to pay the extra money, you can go by train.
Be careful though, because there is no direct line from HKG airport to Disneyland. Finally, you can also take a bus to Disneyland and this will be the cheapest option.
If you want to get some Disneyland souvenirs, though, you can get items of popular cartoon characters at the airport.
Hong Kong International Airport is a fascinating place where entertainment and amusement never stop. You will forget you are at the airport. Their slogan says: "Where the best journeys begin" and we couldn't agree more. If your flight is ever delayed, HKG airport is the best place to be.