Amazing Things to do in Queenstown, New Zealand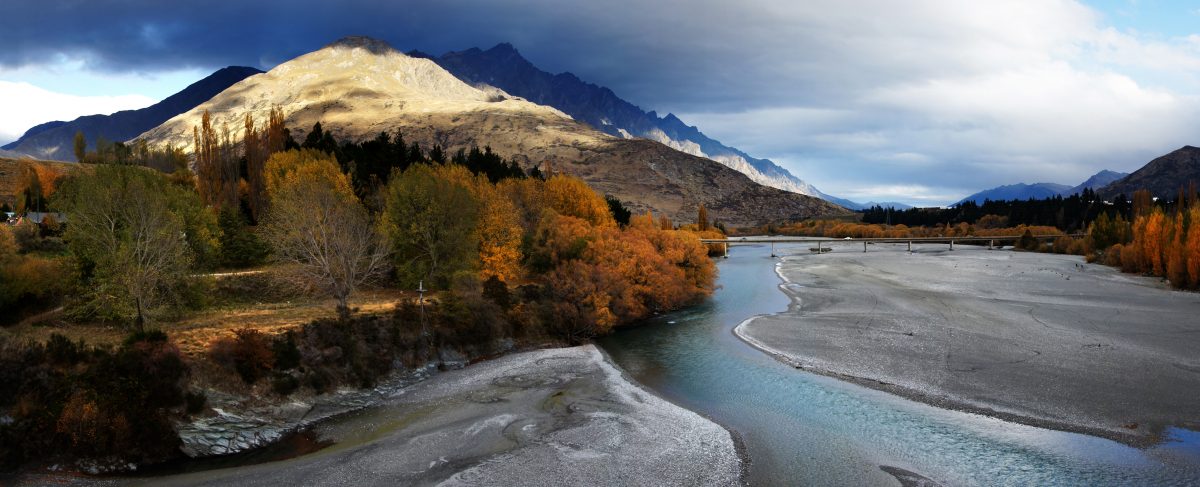 Few nations on earth are as blessed with such raw natural beauty as the island nation of New Zealand. Tucked away in the lower regions of the South Pacific, this remote outpost offers stunning alpine scenery, dramatic forests, raging rivers, and beautiful beaches. Yet even in a land overflowing with natural attractions, one region, in particular, has more than its share of New Zealand's tourist attractions; the wild, rugged southwestern corner of the South Island. The best way to see and experience the best of New Zealand is to base yourself in the self-proclaimed adventure capital of the world, Queenstown.
The easiest way to reach Queenstown is by air; via a short flight from larger cities such as Christchurch or Auckland.
Alternatively, it can be reached by car on a mind-blowingly scenic drive from Christchurch in about 6 hours. This is not counting the time it will take for you to stop and take pictures; which you will. Once there, having a car available is a great idea because you can not only see the best attractions in Queenstown but those of southwestern New Zealand as well. The following is a list of some of the most amazing things to do in Queenstown and the best way to experience them.
1.
Take a Jet Boat Ride on the Shotover River
Just a few kilometers outside of town is the gorgeous Shotover River and its dramatic canyons. The best way to see it is aboard a custom-built jet boat. The boat should be designed to handle the narrow confines and shallow depths at high speed. This uniquely New Zealand experience offers a thrilling 25-minute ride through the canyons while weaving, spinning, and racing through the rapids. With departures leaving every 15 minutes or so, you can easily take a half-day for this amazing experience and quickly be back in town, ready for the next.
2.
Take a Ride on the Queenstown Skyline Gondola
One of Queenstown's most iconic activities is a ride to the top of Bob's Peak on the Skyline Gondola. At the top, you can take in breathtaking views of the town nestled between tranquil Lake Wakatipu and the appropriately named Remarkables mountain range. You can also avail yourself of the many amenities located there.
For example, there are drinks at the bar, dinner with a view at the Stratosphere restaurant, and stargazing activities after dark. And if you're looking for a fun way to get down, opt for taking the luge for yet another amazing thing to do in Queenstown. The Skyline Gondola opens at 9 AM and stays open until late.
3.
Cruise Lake Wakatipu by Steamship
There's no better way to enjoy a peaceful ride along the length of Lake Wakatipu than aboard the "Lady of the Lake'; the TSS Earnslaw. This painstakingly restored 106-year-old steamship allows passengers to catch a glimpse of the past while cruising the alpine scenery of the lake. Cruises are 90 minutes long. However, they can be combined with other optional tours such as cycling, barbecuing, or a guided farm tour. There are departures daily from the wharf in Queenstown and snacks may be purchased on board.
4.
Make the Original Bungee Jump
While bungee jumping is now a worldwide phenomenon, the original commercial bungee jumps started in New Zealand. Thrill-seekers can jump from the original site—the Kawarau Bridge—just outside of town. Participants can jump singly or in tandem for an adrenaline rush above the swift-moving, milky blue waters of the Kawarau River. If bungee jumping isn't enough, other death-defying options include a pair of swings and a catapult launch across the river.
Also, for a more family-friendly experience, guests can take a ride on a zipride; a zipline where guests can ride in a seated upright position. However, for those who just can't get enough adrenaline, they can face forward in the 'Superman' style for 130 meters across the gorge. Perhaps now the reasons for Queenstown being called the adventure capital of the world are becoming a bit clearer.
5.
Cycle the Queenstown Trail
Cycling enthusiasts of all levels will appreciate the well maintained Queenstown Trail. Connecting Queenstown with historic Arrowtown and the Gibbston Valley, the terrain is suitable for beginner and intermediate cyclists. It also offers stunning views of the lake and surrounding mountains. Riders can opt for day rides or multi-day adventures.
These choices are made easier thanks to a host of bike rental companies, shuttle services, and tour operators. This is a great way to taste the history and scenery of the Otago region at your own pace. Bike hire is available all year long, with each season bringing its own particular flavor (the autumn colors are particularly striking).
6.
Visit Historic Arrowtown
If you need a break from all that adrenaline, a leisurely day in the historic hamlet of Arrowtown is a great way to unwind. Established in 1862 at the height of New Zealand's Otago Gold Rush, this picturesque settlement along the banks of the Arrow River retains many of its original buildings and charm. Just 20 minutes outside of Queenstown, visitors can wander through its shops and cottages. Also, for a special treat, visit the Chinese settlement at the edge of the river. Here, you can catch a glimpse of times gone by.
Those interested in the area's history can enjoy the Lakes District Museum. It is considered to be one of New Zealand's best small museums. It showcases several exhibits highlighting the area's original Maori population and the growth experienced during the gold rush days. A visit during the Fall brings a riot of color as the leaves change and the town takes on a golden hue.
7.
Take a Tour of 'Middle Earth'
While New Zealand's tourist attractions and natural beauty have been there all along, it wasn't until Peter Jackson's Lord of the Rings trilogy shone the spotlight on the country. Its incredible scenery ensured that New Zealand emerged as a top destination for natural attractions. Several of the films' most dramatic scenes were filmed in Queenstown and its environs.
This then allows Tolkien to offer fans the opportunity to visit some of fictional Middle Earth's most famous locales. Some of these places include Isengard, Ithilien, Lothlorien, Amon Hen, and the River Anduin. These venues were filmed in Glenorchy, Paradise, and the Kawarau River.
Sadly, the scenic Deer Park Heights locations – a worthy stand-in for the Plains of Rohan—are currently closed to the public. However, the remaining multitude of cinematic locations will be enough to satisfy the quest of even the biggest Lord of the Rings enthusiast. A host of tour operators run programs that will take you to each location. Once there, you can relive the movie with no hassle; including meals and hotel pick up.
8.
Experience One of the Most Beautiful Places on Earth at Milford Sound
Besides being a tourist destination in its own right, Queenstown is also a great base of operations for visiting one of the most beautiful places not just in New Zealand, but the entire world – Milford Sound. From Queenstown, your bus or private car must loop southwest through the town of Te Anua before entering into Fiordland National Park; part of the UNESCO World Heritage Te Wahipounamu region. It encompasses several national parks along with New Zealand's most rugged coastline, highest mountains, tallest forests, and wildest rivers.
Also, while the road leading to Milford Sound is already scenic beyond description, once through the steep Homer Tunnel the scenery goes into overdrive as you wind through impossibly beautiful mountain valleys carpeted in the temperate rain forest. Aqua-tinged raging rivers flow through the tangle of vegetation while waterfalls pour in from all sides. And this is even before you board a boat at the tiny terminus at Milford Sound.
Milford Sounds Tour Boats
A fleet of tour boats plies the length of the fjord. Here, it takes gawking tourists past the gushing spout of Lady Bowen Falls and iconic Mitre Peak all the way out to the mouth of the Tasman Sea. Along the way, it's common to spot bottlenose dolphins playing alongside the boat while New Zealand fur seals lounge on the rocks. Most dramatic is the fjord itself, composed of sheer 4000-foot cliffs rising up on each side, ringed by forest and topped by glaciers. Most boat rides also allow opportunities to see the waterfalls up close.
On land, there are numerous short walks through forests covered in moss. Here, you can also see the endemic New Zealand silver fern; a national symbol. There's also a strong chance you'll come across a kea – a native parrot known for its fearlessness around visitors.
Visiting Milford Sound is an absolute must on any visit to New Zealand. It makes this day trip one of the top things to do in Queenstown. Travel time is approximately 3.5 hours one-way, but it is absolutely worth it.
9.
Reach New Heights on a Day Trip to Mount Cook National Park
Still part of the World Heritage Te Wahipounamu region and a few hours' drive to the north is Mount Cook National Park, is New Zealand's tallest mountain; Mt. Cook, or in native Maori –Aoraki. It was here that one of New Zealand's most famous residents—Sir Edmund Hillary—cut his teeth in preparation for his eventual conquest of Mount Everest.
Rising high among the majestic Southern Alps, this is still a sought-after quest for serious mountain climbers. However, most visitors are content to walk the scenic, and decidedly less-dangerous trails that surround it. Easily accessible by road, and fronting the milky blue waters of gorgeous Lake Pukaki, visitors can see glaciers at work. They can also explore mountain tarns and stare out at the breathtaking alpine scenery for some amazing photos.
Guided tours can be arranged from Queenstown that includes lunch and transportation. However, having your own car will allow for greater freedom and the option to stop and take photos anywhere you want; and you will want to.
10.
Ski the Remarkables Range
Forming an important part of Queenstown's scenic mountain backdrop is the Remarkables Range. Here in the months of June through October, it doubles as an amazing ski destination. Just a 40-minute drive from town gives you seven parks to choose from, offering options for a range of abilities; from beginners to the advanced. Amenities include equipment rental, lessons, dining options, and even daycare services.
Parks are open from 9AM-4PM daily, and shuttle services are available from both hotels and the center of town. Also, in addition to the opportunity to ski or snowboard, visitors are treated to stunning views of Queenstown via a sightseeing pass that takes you up the Shadow Basin chair lift.
11.
Take a Scenic Flight Over the Southern Alps
For those with a little more money to spend, nothing beats the views offered on a scenic flight. Whether by helicopter, fixed-wing aircraft or even hot air balloon, views of the Queenstown region from above are completely unmatched.
Options include helicopter rides over Queenstown and the surrounding area. Also, there are options such as making a stop to play a hole of golf located at 4500 feet, to scenic flights over Milford Sound. This will not only spare you a 3.5-hour drive but allow you to see areas inaccessible to most travelers. Many excursions also provide the chance to land on a glacier for some trekking and unique photo opportunities.
Naturally, activities such as this are dependent on the weather, so budget in a stay of an extra day in case your first attempt is canceled or delayed. But for those whose budget will allow, there are few places on earth that can compare to the panoramas offered by a scenic flight over this pristine region. The views you'll see will leave you feeling that it was worth every penny.
There is no doubt that a visit to Queenstown is a visit to the best attractions in New Zealand. Armed with this list of things to do in Queenstown, you can now make your visit to this far-off destination the trip of a lifetime.