Things To Do In Stellenbosch: A Guide To South Africa's Wine Region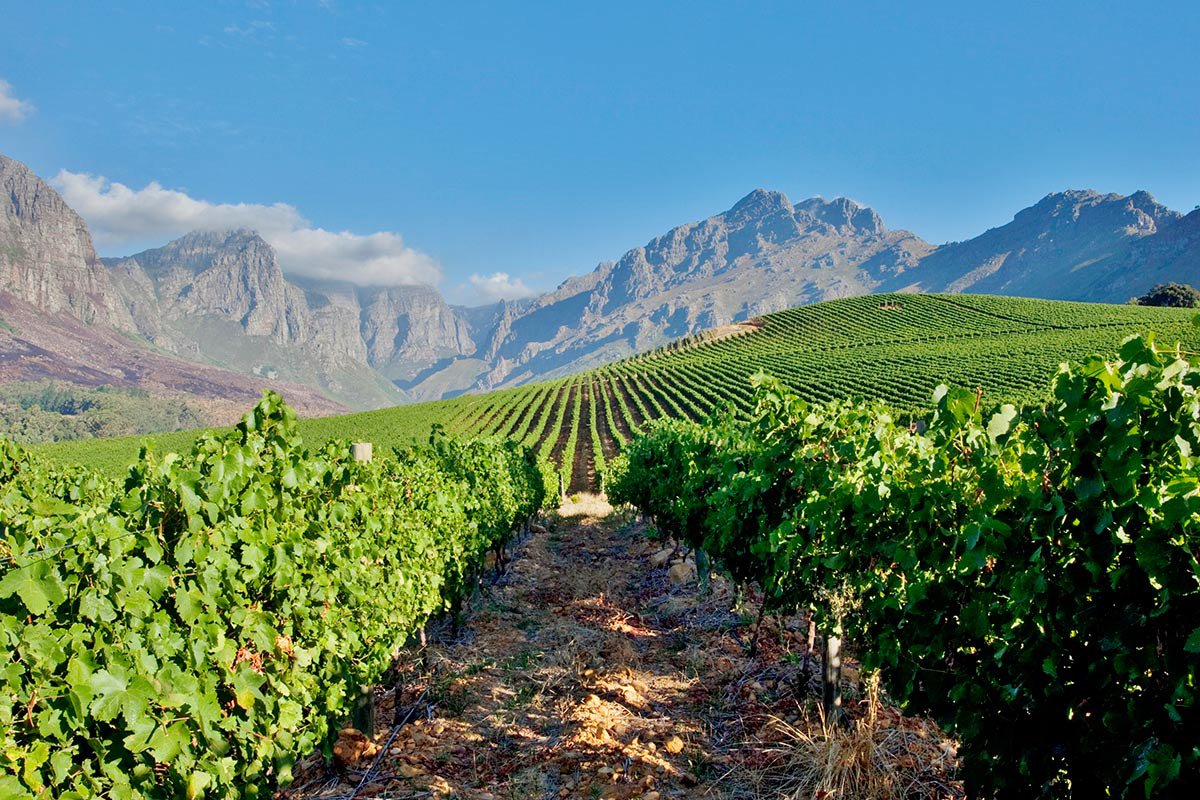 Introduction
Welcome to Stellenbosch, a picturesque town nestled in the heart of South Africa"s Western Cape province. Known as the wine capital of the country, Stellenbosch offers an exquisite blend of stunning natural landscapes, rich cultural heritage, and world-class wine experiences. With its unique combination of fertile valleys, towering mountains, and historic charm, Stellenbosch attracts visitors from around the globe.
Renowned for its award-winning vineyards and centuries-old wine tradition, Stellenbosch offers a plethora of activities for wine lovers and enthusiasts. But it"s not just wine that makes this region special. Stellenbosch boasts a diverse range of attractions, including outdoor adventures, historic sites, fine dining establishments, and a vibrant arts and culture scene.
Getting to Stellenbosch is easy. The town is located a mere 50 kilometers from Cape Town, making it a popular day trip destination for tourists exploring the surrounding area. Whether you choose to drive along the scenic wine routes or take a guided tour, the journey to Stellenbosch is a treat in itself, with breathtaking views of vineyards and rolling hills along the way.
Once in Stellenbosch, prepare to be captivated by its charming streets lined with oak trees, Cape Dutch architecture, and lively sidewalk cafes. The town is home to the prestigious Stellenbosch University, renowned for its academic excellence and vibrant student life. This youthful energy infuses the town with a dynamic atmosphere and adds to its unique charm.
As you explore Stellenbosch, you"ll discover an array of experiences to indulge in. From wine tastings and cellar tours to outdoor activities like hiking and mountain biking, there is something for everyone. Immerse yourself in the rich history and cultural heritage of the region by visiting its numerous museums and historical sites. And don"t forget to take advantage of the unique shopping opportunities and indulge in the local cuisine at the town"s top-notch restaurants.
Stellenbosch is also home to a vibrant events calendar, with festivals and celebrations taking place throughout the year. From the Stellenbosch Wine Festival to the Oyster and Champagne Festival, there is always something exciting happening in this lively town.
In this guide, we will take you on a journey through Stellenbosch, highlighting the must-see attractions, the finest wine establishments, outdoor adventures, historical sites, and more. So, grab a glass of exquisite wine and join us as we explore this enchanting destination.
Getting to Stellenbosch
Stellenbosch is conveniently located just a short distance from Cape Town, making it easily accessible for both local and international visitors. There are several ways to reach this charming wine region, each offering its own unique experience.
If you are flying into South Africa, Cape Town International Airport is the closest international airport. From the airport, Stellenbosch is approximately a 30-minute drive, depending on traffic. You can choose to rent a car, which gives you the flexibility to explore the region at your own pace. Car rental options are available at the airport, and the drive to Stellenbosch is straightforward, with signage directing you to the town. Alternatively, you can arrange for a private transfer or take a taxi directly to Stellenbosch.
If you prefer not to drive, there are several guided tour operators that offer day trips from Cape Town to Stellenbosch. These tours typically include transportation to and from Stellenbosch, as well as guided visits to some of the area"s top wineries. This option allows you to sit back and relax as you enjoy the scenic drive and learn about the wine culture from knowledgeable guides.
Another popular option is to take the Stellenbosch Wine Bus, a hop-on-hop-off service that takes you to various wine estates in the region. This convenient mode of transportation allows you to explore the wine farms at your own pace and enjoy the beautiful scenery along the way. The bus operates on specific routes, making it easy to plan your wine tasting adventures.
For those already in Cape Town, driving to Stellenbosch is a straightforward option. Depending on where you are in the city, the drive can take between 45 minutes to an hour. Simply follow the N2 and then take the R310 exit towards Stellenbosch. The road will lead you straight to the town, where you can easily navigate your way to the wine farms and other attractions.
Once in Stellenbosch, getting around the town is relatively easy. The town center is compact and walkable, allowing you to explore its charming streets on foot. However, if you plan on visiting multiple wine farms or venturing further into the surrounding areas, having a car is recommended.
Whether you choose to drive, join a guided tour, or take the Stellenbosch Wine Bus, the journey to this wine paradise is part of the overall experience. As you travel through the breathtaking landscapes and vineyard-dotted hills, you"ll immediately feel a sense of anticipation and excitement for the adventures that await you in Stellenbosch.
Exploring the Wine Farms
No visit to Stellenbosch would be complete without exploring its renowned wine farms. With over 150 wine estates and vineyards in the region, Stellenbosch is a wine lover's paradise. From historic estates with centuries-old cellars to innovative boutique wineries pushing the boundaries of winemaking, there is something to suit every palate.
The wine farms in Stellenbosch offer a wide variety of experiences, allowing you to immerse yourself in the world of winemaking. Many of the estates offer guided cellar tours, where you can learn about the winemaking process from vine to bottle. Knowledgeable guides will take you through the vineyards, explaining the different grape varieties grown in the region and the unique terroir that contributes to the wines' character.
During these tours, you'll have the opportunity to visit the cellar, where the grapes are processed, fermented, and aged in oak barrels. You'll gain insights into the winemaking techniques and see firsthand the meticulous attention to detail that goes into crafting each bottle of wine. Some estates even offer the chance to taste wines straight from the barrel, giving you a sneak peek into the future releases.
Of course, the highlight of any visit to a wine farm is the wine tasting itself. Stellenbosch is renowned for its exceptional wines, particularly its red blends and world-class Cabernet Sauvignon. The tasting rooms at the wine estates provide the perfect setting to sample a variety of wines, guided by knowledgeable and passionate staff who can help you discover your favorite flavors and styles.
Many wine farms also offer specialized tastings, such as food and wine pairings or vertical tastings, where you can sample different vintages of the same wine. These experiences provide a deeper understanding of the wines and their unique characteristics.
For a more personalized experience, consider booking a private cellar tour or a wine tasting with the winemaker. This gives you an opportunity to learn directly from the experts and gain a deeper appreciation for the craftsmanship and artistry behind each bottle of wine.
In addition to the wine tastings, some wine farms offer various culinary experiences. From gourmet picnics among the vineyards to fine dining restaurants showcasing the region's finest produce, you can indulge in the flavors of Stellenbosch alongside the exceptional wines.
Don't forget to take some time to explore the grounds of the wine estates. Many of them boast stunning gardens, art installations, and breathtaking views. Enjoy a leisurely stroll through the vineyards or find a picturesque spot to savor a glass of wine while taking in the beauty of the surrounding landscapes.
Exploring the wine farms in Stellenbosch is not just about tasting delicious wines; it's also about immersing yourself in the rich history, culture, and natural beauty of the region. So, grab a glass, stroll through the vineyards, and let the enchanting ambiance of Stellenbosch's wine farms captivate your senses.
Wine Tastings and Cellar Tours
When it comes to wine tastings and cellar tours, Stellenbosch offers an unparalleled experience for wine enthusiasts. With its rich winemaking heritage and diverse range of wine farms, the region is a haven for those seeking to explore and indulge in the world of wine.
Wine tastings in Stellenbosch are not solely about sipping on delicious wines; they are an opportunity to delve into the intricate flavors, aromas, and nuances that each wine offers. Whether you are a seasoned oenophile or just beginning your wine journey, the tastings in Stellenbosch will introduce you to an array of exceptional wines.
Each wine farm in Stellenbosch has its unique character and wine portfolio, ensuring that every tasting experience is different. From robust reds to crisp whites, and everything in between, Stellenbosch's wine farms cater to all tastes and preferences.
During a wine tasting, highly knowledgeable and passionate staff guide you through the wines, providing insights into the winemaking process, vineyard practices, and the region's terroir. They will help you identify the different flavor profiles, explaining the grape varieties used, the aging process, and the specific characteristics that make each wine unique.
At many wine farms, you can expect more than just a casual tasting at the tasting room counter. Some estates offer specialized tasting experiences, such as food and wine pairings, where the wines are artfully matched with delectable bites to create a harmonious culinary experience.
If you're looking to take your wine knowledge to the next level, consider booking a cellar tour. These tours provide an immersive experience into the winemaking process, taking you behind the scenes to discover the cellar's inner workings.
During a cellar tour, you'll learn about the different stages of winemaking, from grape processing to fermentation and oak barrel aging. Expert guides will share the estate's winemaking philosophy, techniques, and the unique factors that influence the quality and style of their wines.
Some cellar tours even offer the opportunity to taste wines directly from the barrel, giving you a sneak preview of upcoming releases and a chance to experience wines in their early stages of development.
For those who prefer a more personalized experience, booking a private tasting or cellar tour allows you to engage with the winemakers themselves. This intimate setting provides a rare opportunity to ask questions, share insights, and gain a deeper understanding of the winemaking process directly from the experts.
Whether you choose to embark on a wine tasting adventure or explore the depths of a cellar on a tour, the wine experiences in Stellenbosch are sure to leave a lasting impression. Immerse yourself in the world of Stellenbosch wines and savor the flavors and stories that each bottle holds.
Fine Dining Experiences
Stellenbosch is not only known for its exceptional wines but also for its vibrant culinary scene. The region offers a diverse range of dining options, ranging from relaxed bistros to elegant fine dining establishments. When it comes to fine dining experiences, Stellenbosch leaves no stone unturned, offering a plethora of gastronomic delights for food lovers.
Many of the wine farms in Stellenbosch boast their own restaurants, making it convenient to indulge in a delicious meal alongside a glass of exceptional wine. These estate restaurants often focus on farm-to-table cuisine, showcasing the freshest local ingredients and flavors from the region. Imagine savoring a perfectly cooked steak paired with a bold red wine, or sipping a crisp white while sampling beautifully plated seafood dishes – the possibilities are endless.
Visiting a wine farm for a fine dining experience allows you to immerse yourself in the complete Stellenbosch experience. The elegant settings, often with panoramic views of vineyards and mountains, create an ambience that enhances the dining experience. The venues are ideal for celebrating special occasions, romantic dinners, or simply treating yourself to an extraordinary culinary adventure.
Stellenbosch also offers a multitude of standalone restaurants, each with its distinct flair and cuisine. From innovative fusion restaurants to classic bistros and trendy cafes, there is something to suit every taste and mood. Many of these restaurants feature menus that are inspired by the diverse cultural influences found in South Africa, showcasing a fusion of African, European, and Asian flavors.
The chefs in Stellenbosch are renowned for their culinary expertise and creativity, pushing the boundaries of classic flavors and experimenting with unique combinations of ingredients. They take pride in sourcing the finest local produce, ensuring that every dish is a celebration of the region's flavors and culinary heritage.
Whether you're in the mood for a multi-course tasting menu, a relaxed lunch, or a decadent dessert, Stellenbosch's fine dining scene has something to offer. From Michelin-starred chefs to up-and-coming culinary talents, you'll find an array of talented professionals dedicated to creating unforgettable dining experiences.
For those looking to further enhance their culinary journey, Stellenbosch also hosts various food and wine pairing events throughout the year. These events bring together the best of Stellenbosch's wines and the finest cuisine, offering a unique opportunity to explore the complexities of flavor combinations and indulge in the region's gastronomic delights.
Whatever your culinary preferences may be, Stellenbosch provides a wealth of fine dining experiences that are sure to satisfy even the most discerning palate. So, sit back, relax, and let Stellenbosch's culinary scene delight you with its extraordinary flavors and impeccable hospitality.
Outdoor Activities
Stellenbosch is not just about wine and culinary experiences; it also offers a host of outdoor activities that allow visitors to immerse themselves in the region's incredible natural beauty. From exploring the majestic mountains to hiking through lush vineyards, there are plenty of outdoor adventures to embark on in and around Stellenbosch.
One of the most popular outdoor activities in the area is hiking. Stellenbosch is surrounded by scenic trails that cater to all fitness levels, from casual walkers to avid hikers. The Jonkershoek Nature Reserve, just outside of Stellenbosch, offers an abundance of hiking routes that wind through pristine fynbos, alongside crystal-clear streams, and up breathtaking mountain slopes. The trails provide panoramic views of the valley and are perfect for a day of adventure and exploring.
Cycling enthusiasts will also find plenty of opportunities to pedal their way through the picturesque landscapes of Stellenbosch. The region is home to numerous mountain biking trails that cater to all skill levels. Whether you prefer gentle routes through vineyards or more challenging terrains, there is a trail for you. Rent a bike and explore the countryside on two wheels, taking in the fresh air and stunning scenery as you go.
If you're looking for a unique way to explore the vineyards and wine farms, consider a horseback riding tour. Riding through the vineyards allows you to experience the beauty of Stellenbosch from a different perspective. Enjoy a leisurely ride as you soak in the tranquility of the surroundings and appreciate the gentle rhythm of the horses, all while taking in the sights and smells of the vineyards.
For the adrenaline junkies, Stellenbosch offers thrilling adventure activities such as zip-lining, paragliding, and skydiving. Soar through the air and experience the rush of adrenaline as you take in the stunning aerial views of the region. These activities provide a unique and thrilling way to appreciate the natural beauty of Stellenbosch from a different vantage point.
For a more relaxed outdoor experience, consider a picnic in one of the many scenic spots in and around Stellenbosch. Pack a basket with local delicacies and a bottle of your favorite Stellenbosch wine, and find a spot in a picturesque garden, alongside a tranquil river, or overlooking the vineyards. Enjoy a leisurely afternoon surrounded by nature while indulging in the flavors of the region.
In addition to these activities, golf enthusiasts can tee off at one of the many world-class golf courses in Stellenbosch, offering challenging fairways and stunning views. Anglers can try their hand at fly fishing in the surrounding rivers and dams, while birdwatchers can spot a variety of bird species in the diverse natural habitats of the region.
Stellenbosch boasts a natural playground for outdoor enthusiasts, from its breathtaking mountains to its rolling vineyards. Whether you're seeking adventure or simply want to relax and connect with nature, you'll find plenty of outdoor activities to satisfy your craving for exploration in this beautiful wine region.
Historical Sites and Museums
Stellenbosch is a town steeped in history, with a rich cultural heritage that dates back centuries. As you explore its charming streets, you'll come across numerous historical sites and museums that provide a glimpse into the town's past and the broader history of the region.
One of the must-visit historical sites in Stellenbosch is the Dorp Street. This iconic street is lined with beautifully preserved Cape Dutch buildings, many dating back to the 18th century. Take a leisurely stroll along Dorp Street and marvel at the architectural beauty, with their distinctive gables, thatched roofs, and vibrant facades. It's like taking a step back in time and immersing yourself in the town's colonial history.
The Stellenbosch Museum, located in the heart of the town, offers a comprehensive overview of the town's history and cultural heritage. Housed in a complex of four historic buildings, the museum showcases exhibitions that cover a range of topics, including early Stellenbosch, the Indigenous people of the region, slavery, and the cultural contributions of various communities. Explore the museum's halls to gain a deeper understanding of the town's roots and the people who have shaped its identity.
For a glimpse into the lives of the town's early settlers, visit the Village Museum. The museum consists of four beautifully restored houses dating from the 18th and 19th centuries, each furnished to depict a different period in Stellenbosch's history. Explore the interiors to get a sense of the daily lives, furniture, and decor of those who lived in Stellenbosch centuries ago.
History buffs will also appreciate a visit to the Jan Marais Nature Reserve. This open-air museum showcases the preserved remnants of an archaeological site dating back over 10,000 years. Explore the site's stone tools, rock art, and remains of ancient hearths, offering a glimpse into the lives of the region's earliest inhabitants.
In addition to these historical sites, Stellenbosch is home to several art galleries and cultural institutions that celebrate the town's artistic and creative heritage. The Rupert Museum houses an impressive collection of contemporary South African art, with works by renowned artists such as Irma Stern and Jacob Hendrik Pierneef. The Stellenbosch Art Gallery exhibits a diverse range of artwork, including paintings, sculptures, and ceramics, showcasing local talents and diverse artistic expressions.
To further immerse yourself in Stellenbosch's cultural heritage, attend one of the town's many festivals and events, which often showcase traditional music, dance, and crafts. The Stellenbosch Wine Festival and the Stellenbosch Slow Food and Wine Festival are just a few examples of the annual events that celebrate the region's rich cultural tapestry.
Exploring the historical sites and museums in Stellenbosch offers a fascinating journey into the town's past, providing a deeper appreciation of the cultural heritage and the diverse communities that have shaped it over the centuries. Soak up the history, marvel at the architecture, and uncover the stories that make Stellenbosch such a unique and vibrant destination.
Stellenbosch University
Founded in 1866, Stellenbosch University is not just an academic institution but also a significant cultural and historical landmark in Stellenbosch. It plays a vital role in shaping the town's ambiance and contributing to its vibrant atmosphere. With its prestigious reputation and beautiful campus, Stellenbosch University is an integral part of the town's identity.
The university is renowned for its academic excellence, particularly in the fields of agriculture, wine, and viticulture, as well as arts and sciences. Its programs attract students from all over the country and around the world who come to pursue their studies in a wide range of disciplines.
One of the university's most iconic features is its stunning campus, which blends Cape Dutch architecture with modern facilities. The oak-lined avenues, historic buildings, and beautifully manicured gardens create a captivating environment for students and visitors alike. The campus reflects the town's architectural style and enhances the ambiance of Stellenbosch as a whole.
Stellenbosch University also plays a significant role in the town's cultural life. Its vibrant student community brings youthful energy and a spirit of creativity and innovation to the area. The university hosts various cultural and artistic events throughout the year, including drama productions, musical performances, and art exhibitions. These events add to the cultural vibrancy of Stellenbosch and offer opportunities for both students and the wider community to engage in the arts.
The university's influence extends beyond the campus and academe. It is actively involved in community outreach programs, providing educational and social support to disadvantaged communities in Stellenbosch and the surrounding areas. Through various initiatives, Stellenbosch University contributes to improving the lives and opportunities of those in need, making a positive impact on the broader community.
For visitors, Stellenbosch University offers opportunities to engage with the university's academic and cultural offerings. The university's museums, such as the Sasol Art Museum and the J.S. Gericke Library and Archive, showcase exhibitions that highlight the rich heritage and artistic talent associated with Stellenbosch. These cultural institutions serve as conduits for promoting local and international artists and enriching the cultural fabric of the town.
Whether you're a student, an academic, or a visitor, Stellenbosch University provides a unique blend of education, culture, and history. Its commitment to excellence, social responsibility, and contribution to the town's cultural life make it an integral part of the Stellenbosch experience. Take the opportunity to explore the campus, engage with its cultural offerings, and witness firsthand the rich tapestry of learning and creativity that Stellenbosch University has to offer.
Shopping in Stellenbosch
When it comes to shopping, Stellenbosch offers a delightful array of options, from charming boutiques and art galleries to vibrant markets and specialty stores. Whether you're looking for unique souvenirs, local handicrafts, or stylish fashion, Stellenbosch has something to cater to every taste and preference.
One of the highlights of shopping in Stellenbosch is exploring the town's quaint streets and historical avenues. Dorp Street, in particular, is lined with boutique shops offering a variety of products, including clothing, accessories, and homeware. Take a leisurely stroll and discover hidden gems tucked away in the town's nooks and crannies.
Art lovers will find a treasure trove of creativity in the art galleries of Stellenbosch. Browse through collections of paintings, sculptures, ceramics, and photography, showcasing the works of talented local artists. The galleries offer a mix of contemporary and traditional art, providing a vibrant and diverse collection of art pieces to admire or purchase.
If you prefer open-air shopping experiences, visit the various markets that take place in Stellenbosch. The Slow Market, held on Saturdays, offers a wide range of locally produced goods, including fresh produce, artisanal food products, handmade crafts, and jewelry. It's the perfect place to immerse yourself in the vibrant atmosphere of the town and support local artisans and producers.
For those with a passion for fashion, Stellenbosch boasts a selection of clothing boutiques and designer stores. From trendy fashion boutiques to high-end stores, you'll find stylish clothing, footwear, accessories, and jewelry that reflect the latest fashion trends. Discover unique and locally made fashion items that will add a touch of Stellenbosch style to your wardrobe.
Stellenbosch is also home to several specialty stores that showcase the region's diverse offerings. Delve into the world of wine by visiting wine shops that offer a curated selection of Stellenbosch's best vintages. Sample and purchase wines to enjoy during your stay or to take home as a reminder of your visit to this enchanting region.
For those looking for culinary delights, the town provides a range of specialty stores. From artisanal bakeries to gourmet delis, you can find a variety of local and international treats. Stock up on delectable cheeses, charcuterie, preserves, and other culinary delights to create your own gourmet experiences.
Shopping in Stellenbosch is not just about the products; it's about the experience. The town's warm and friendly atmosphere, coupled with its unique shops, provides a delightful retail experience. Chat with the shop owners, who are passionate about their products and happy to share recommendations and stories about their town. Take the time to explore the hidden corners and artisanal offerings that make shopping in Stellenbosch a truly special experience.
So, whether you're looking for a handmade memento, a stylish fashion piece, or some delectable local treats, Stellenbosch has it all. Enjoy the charm and diversity of shopping in this vibrant town, and take a piece of Stellenbosch home with you.
Accommodation Options
When it comes to accommodation, Stellenbosch offers a wide range of options to suit every traveler's needs and preferences. From luxury boutique hotels to cozy guesthouses and self-catering apartments, there is something to cater to every budget and style of travel.
If you're looking for a luxurious and indulgent stay, Stellenbosch has a selection of top-notch hotels and resorts. These establishments offer luxurious amenities, impeccable service, and stunning views of the surrounding landscapes. Enjoy spa treatments, fine dining experiences, and access to on-site facilities such as pools and fitness centers. These accommodations are perfect for those seeking a relaxing and pampering getaway.
For those looking for a more intimate and personalized experience, guesthouses in Stellenbosch provide a cozy and homely atmosphere. The town is dotted with guesthouses that offer comfortable rooms, warm hospitality, and personalized service. Many guesthouses are heritage buildings, adding a touch of charm and history to your stay. Wake up to a delicious homemade breakfast, chat with friendly hosts, and enjoy the tranquility and comfort of a home away from home.
If you prefer a self-catering option, Stellenbosch has a variety of apartments and cottages available for rent. These accommodations provide the freedom to create your own schedule and meals while enjoying the comforts of a fully equipped space. Whether you're traveling with family or friends or simply prefer the convenience of a self-contained unit, you'll find numerous options to choose from.
Staying at a wine farm or estate is a unique experience that allows you to fully immerse yourself in the Stellenbosch wine region. Many wine farms offer guest accommodation, ranging from charming cottages nestled among the vineyards to luxurious suites in historic manor houses. Wake up to panoramic vineyard views, enjoy wine tastings on your doorstep, and savor the tranquility of the countryside.
For budget-conscious travelers, Stellenbosch also offers backpacker hostels and budget-friendly guesthouses. These accommodations provide comfortable beds, communal areas, and the chance to meet fellow travelers from around the world. They are well-located, often within walking distance of the town center and close to public transportation options.
When choosing accommodation in Stellenbosch, consider the location and proximity to attractions and amenities that are important to you. Whether you prefer to be in the heart of the town, surrounded by bustling cafes and shops, or nestled in the tranquility of the vineyards, there is an option for you.
Whichever accommodation option you choose, you can expect warm South African hospitality and a unique experience that complements your visit to Stellenbosch. So, find your perfect home away from home in this charming wine region and make your stay in Stellenbosch even more memorable.
Festivals and Events
Stellenbosch is a town that knows how to celebrate, with a vibrant calendar of festivals and events throughout the year. From wine festivals and food fairs to cultural celebrations and music concerts, there is always something happening in Stellenbosch to ignite your senses and captivate your imagination.
One of the most well-known festivals in Stellenbosch is the Stellenbosch Wine Festival. Held annually in February, this three-day event showcases the best of the region's wines, accompanied by live music, gastronomic delights, and a festive atmosphere. It's the perfect opportunity to sample a wide variety of wines from Stellenbosch's top wineries, interact with winemakers, and learn more about the rich winemaking tradition of the area.
The Stellenbosch Slow Food and Wine Festival is another popular event that celebrates the region's food and wine culture. Held in April, this festival offers a unique culinary experience, with a focus on sustainable and locally sourced produce. Indulge in delectable dishes, paired with exquisite wines, while enjoying live music and soaking up the festive atmosphere.
The Oyster and Champagne Festival, held in October, is a must for seafood and wine lovers. This lively event brings together the best of local oysters, paired with crisp champagne and sparkling wines. Enjoy live music, indulge in fresh seafood, and toast to the good life in the beautiful surroundings of Stellenbosch.
Stellenbosch doesn't just revel in wine-related events; it also embraces art and culture. The Stellenbosch International Chamber Music Festival, held in July, is a highlight for classical music enthusiasts. Internationally acclaimed musicians and talented young performers come together to deliver a series of captivating performances that span various genres and styles. It's a must-attend event for those who appreciate the beauty and power of music.
For those interested in visual arts, the Stellenbosch Street Soirees provide a unique opportunity to explore the town's vibrant art scene. These events take place on selected Wednesdays throughout the year, bringing local artists, musicians, and artisans together. Enjoy art exhibitions, live street performances, and festive food and wine offerings as you immerse yourself in the creative energy of Stellenbosch.
In addition to these headline events, Stellenbosch hosts a variety of smaller festivals and markets showcasing local produce, crafts, and entertainment. The Franschhoek Cap Classique and Champagne Festival, the Stellenbosch Craft Beer Festival, and the Stellenbosch Kersmarkt (Christmas Market) are just a few examples of the many events that take place throughout the year.
Attending festivals and events in Stellenbosch is not only a chance to indulge in the region's finest offerings but also an opportunity to connect with the vibrant community. Engage with locals, share stories, and create lasting memories as you celebrate together. So, check the festival calendar, get your tickets, and prepare to immerse yourself in the festive spirit of Stellenbosch.
Conclusion
Stellenbosch truly is a destination that offers something for everyone. From its renowned wine farms and cellar tours to its fine dining experiences and outdoor adventures, this charming town in South Africa's Western Cape has it all. Whether you're a wine aficionado, a history buff, a nature lover, or a food enthusiast, Stellenbosch will captivate your senses and leave you with unforgettable memories.
As you explore the wine farms of Stellenbosch, you'll be treated to a world-class wine experience. From vineyard walks to cellar tours and tastings, you'll gain insights into the winemaking process and indulge in the exceptional wines that the region has to offer.
For a taste of Stellenbosch's cultural heritage, visit the town's historical sites and museums. Immerse yourself in the town's rich history, architectural beauty, and artistic expression, and learn about the diverse communities that have shaped Stellenbosch over the centuries.
Outdoor enthusiasts will be spoiled for choice with the numerous activities available in and around Stellenbosch. Hike through scenic trails, cycle through picturesque landscapes, and embark on thrilling adventures that allow you to fully immerse yourself in nature's beauty.
Stellenbosch is not just a place of indulgence for the body; it also offers opportunities to nourish the soul. Explore the town's vibrant arts and cultural scene, attend festivals and events that celebrate wine, food, music, and art, and connect with the lively community that calls Stellenbosch home.
After a day of exploration, find comfort and relaxation in the town's range of accommodations. From luxurious boutique hotels to cozy guesthouses and self-catering apartments, you'll find the perfect place to rest and recharge for another day of Stellenbosch adventures.
In Stellenbosch, you'll encounter warm and friendly hospitality wherever you go. The locals are passionate about their town and proud of its offerings. They will welcome you with open arms and provide recommendations and insights to ensure that your visit to Stellenbosch is truly memorable.
So, pack your bags, bring your sense of adventure, and get ready to immerse yourself in the wine, history, nature, and culture of Stellenbosch. This enchanting town is waiting to share its treasures with you and create a truly unforgettable experience. Discover the magic of Stellenbosch and create memories that will last a lifetime.