An Afternoon In Simon's Town, Cape Town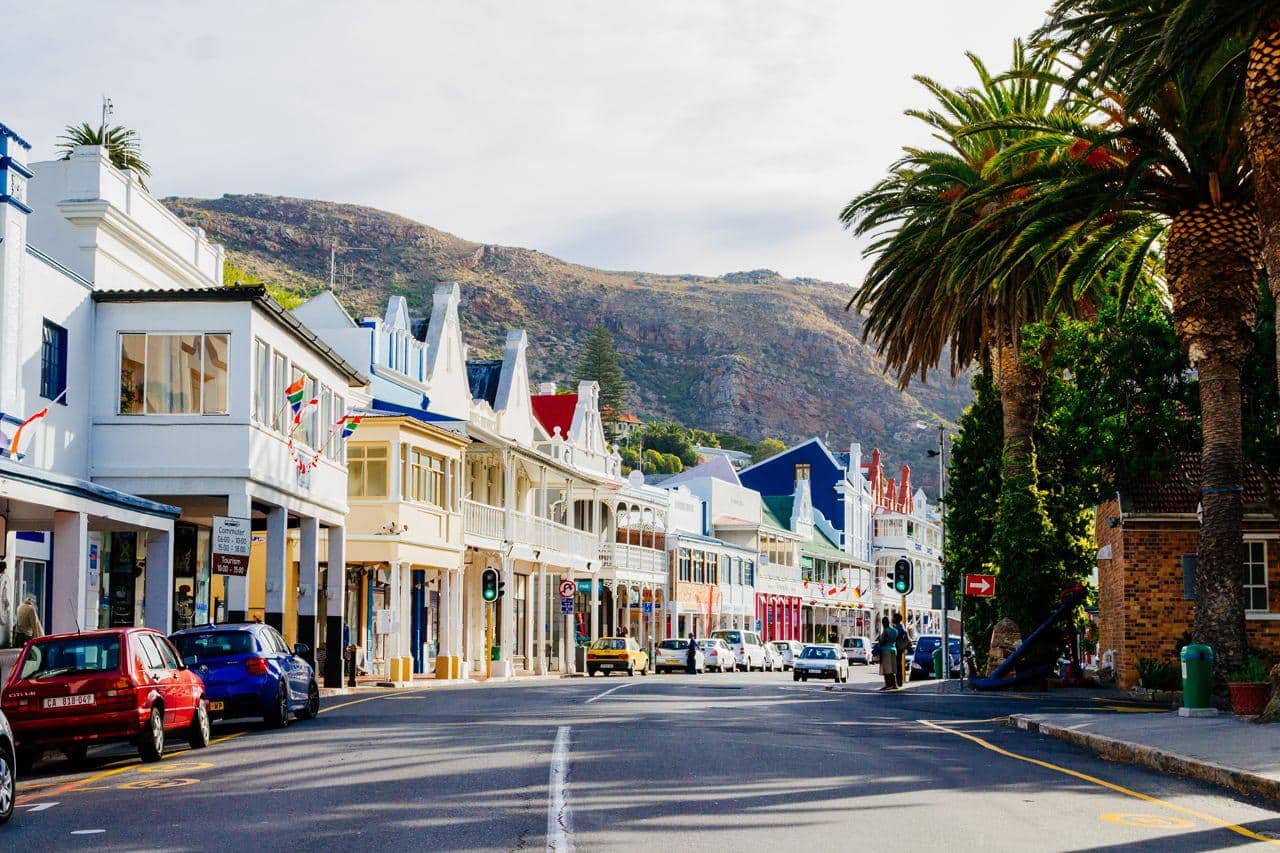 Introduction
Welcome to Simon's Town, a charming coastal town located on the Cape Peninsula, just outside of Cape Town. Known for its rich naval history and stunning natural beauty, Simon's Town is a must-visit destination for both locals and tourists alike.
Steeped in history, Simon's Town was established in 1687 and served as a naval base for the British Royal Navy during the 19th century. Today, it retains much of its old-world charm and is home to a thriving waterfront area, beautiful beaches, and a plethora of attractions that showcase the town's unique heritage and natural wonders.
Getting to Simon's Town is a breeze, as it is located just a short drive from Cape Town. Whether you choose to drive or take public transportation, the scenic journey along the coastline is a treat in itself. As you approach the town, you'll be greeted by panoramic views of the ocean and the rugged landscape that surrounds it.
Once you arrive in Simon's Town, you'll find yourself in a picturesque waterfront area that is bustling with activity. The Simon's Town Waterfront is lined with charming shops, restaurants, and cafes, offering something for everyone's taste. Take a leisurely stroll along the harbor and soak in the maritime atmosphere, or stop by one of the local eateries for a delicious meal with a view.
For history enthusiasts, a visit to the Simon's Town Museum is a must. Housed in an old Georgian building, the museum showcases the town's naval history through a fascinating collection of artifacts, photographs, and interactive exhibits. Learn about the exploits of the Royal Navy and the impact it had on Simon's Town and the surrounding area.
Getting to Simon's Town
Getting to Simon's Town is a straightforward and enjoyable journey, whether you're starting from Cape Town or any other nearby location. Here are some options for reaching this charming coastal town:
By Car: The most convenient way to get to Simon's Town is by car. From Cape Town, take the M3 highway southbound and follow the signs to Muizenberg. Continue along the scenic coastal road, passing through Kalk Bay and Fish Hoek, until you reach Simon's Town. The drive offers breathtaking views of the ocean and surrounding mountains.
By Train: Another option is to take the train from Cape Town to Simon's Town. The Metrorail Southern Line operates regular train services that connect Cape Town with Simon's Town. The journey takes approximately one hour and offers panoramic views of the coastline along the way. Trains are comfortable and reasonably priced, making this a popular choice for both locals and tourists.
By Bus: If you prefer public transportation, there are bus services that operate between Cape Town and Simon's Town. The MyCiTi bus system offers a convenient and affordable option for traveling around Cape Town and its suburbs. Check the official website for route details and schedules.
By Tour: If you'd rather sit back and relax, there are also organized tours available that include transportation to Simon's Town. These tours often include stops at other popular attractions along the way, giving you a chance to explore more of the Cape Peninsula.
Regardless of the mode of transportation you choose, the journey to Simon's Town will delight you with its stunning coastal scenery and the sense of anticipation as you approach this charming coastal town.
Exploring the Simon's Town Waterfront
The Simon's Town Waterfront is the beating heart of the town, offering a vibrant atmosphere and a plethora of activities and attractions to enjoy. Here are some highlights of what you can expect when exploring this charming waterfront area:
As you arrive at the waterfront, you'll be greeted by the sight of colorful buildings, bustling shops, and inviting cafes and restaurants. Take a leisurely stroll along the harbor and soak in the maritime atmosphere, while enjoying the stunning views of the bay and the surrounding mountains.
If you're a history enthusiast, visiting the Naval Base will be a treat. Take a guided tour and discover the rich naval heritage of Simon's Town. Marvel at the old cannons, explore the historic buildings, and learn about the naval operations that took place here. Keep your eyes peeled for the resident penguins that can often be spotted in the area!
For those looking for a unique shopping experience, the waterfront is home to a variety of boutique stores and art galleries. Browse through local crafts, artwork, and handmade jewelry, and take home a piece of Simon's Town as a memento of your visit. You'll also find a selection of clothing stores, souvenir shops, and curio stalls where you can find the perfect gift or keepsake.
Fuel up at one of the waterfront's cozy cafes or restaurants, offering a range of cuisines to suit every palate. Whether you're craving fresh seafood, hearty pub fare, or international dishes, you'll find plenty of options to satisfy your taste buds. Don't forget to try some traditional South African dishes, such as bobotie or biltong, for an authentic culinary experience.
A boat trip from the waterfront is a wonderful way to explore the bay and nearby attractions. Hop on a boat tour and cruise the coastline, keeping an eye out for playful dolphins and seals. Some tours even offer the opportunity to go whale watching during the migration season.
Take your time to explore the Simon's Town Waterfront, immersing yourself in the maritime history and laid-back atmosphere. Whether you're shopping, dining, or simply enjoying the stunning surroundings, the waterfront is a hub of activity and a must-visit destination in Simon's Town.
Visiting the Simon's Town Museum
If you are a history enthusiast or simply curious about Simon's Town's past, a visit to the Simon's Town Museum is a must. Housed in a beautiful Georgian building, the museum offers a fascinating glimpse into the town's rich naval history and heritage.
The Simon's Town Museum showcases a diverse range of exhibits and artifacts that tell the story of the town's association with the British Royal Navy. As you explore the museum, you'll have the opportunity to learn about the naval base's establishment in the late 17th century and its significance in the region.
The museum's collection includes a vast array of captivating artifacts, such as model ships, navigational instruments, naval uniforms, and weaponry. These artifacts offer insight into the daily lives of naval officers and sailors who lived and worked in Simon's Town during different eras.
Immerse yourself in the interactive displays that bring the history to life. Watch videos and listen to audio recordings that recount fascinating stories of naval battles, explorations, and the town's role in supporting maritime operations. The museum's knowledgeable staff are always on hand to provide additional information and answer any questions you may have.
One of the highlights of the museum is the recreated 18th-century navy steward's cottage. Step into this immersive exhibit and get a sense of what life was like for those supporting the naval base. Explore the rooms and see the artifacts and furnishings of the time period, giving you a glimpse into the day-to-day activities of the people who called Simon's Town home.
Visiting the Simon's Town Museum is not only educational but also provides an opportunity to appreciate the architectural beauty of the building itself. The Georgian-style structure adds to the overall charm and historical ambiance of the museum.
Before you leave, don't forget to stop by the museum gift shop, where you can find a range of unique souvenirs, books, and locally made crafts to take home as a memento of your visit to Simon's Town.
Whether you are a history buff or simply interested in exploring a different aspect of Simon's Town, a visit to the Simon's Town Museum promises an engaging and educational experience that will deepen your appreciation for the town's naval heritage.
Relaxing at Boulders Beach
No visit to Simon's Town is complete without a trip to the world-renowned Boulders Beach, famous for its enchanting resident penguin colony. Nestled between granite boulders and turquoise waters, this idyllic beach offers a unique and unforgettable experience.
As you arrive at Boulders Beach, you will be greeted by the sight of African penguins, also known as jackass penguins, waddling along the sandy shores and swimming in the clear blue waters. These charming creatures have made Boulders Beach their home, creating a one-of-a-kind wildlife encounter.
Take a leisurely stroll along the wooden boardwalks that wind through the beach, allowing you to observe the penguins up-close without disturbing their natural habitat. Marvel at their playful antics and watch as they dive into the water and glide effortlessly through the waves. The sight of these adorable creatures is sure to bring a smile to your face.
For those seeking a more immersive experience, there is an area of the beach that is open to visitors for swimming and sunbathing. Here, you can relax on the soft sand, take a dip in the cool waters, and enjoy the stunning coastal surroundings. Keep an eye out for penguins that may wander nearby, as they can also be found in this section of the beach.
Exploring the rock formations and boulders that give the beach its name is another highlight of a visit to Boulders Beach. These massive granite formations create small coves and sheltered pools, adding to the beach's unique charm and providing a picturesque backdrop for memorable photographs.
Please remember that Boulders Beach is a protected area, and it is important to respect the environment and the wildlife. Keep a safe distance from the penguins and refrain from touching them or feeding them. Additionally, be mindful of the signs and guidelines to ensure the preservation of this delicate ecosystem.
After spending a relaxing afternoon at Boulders Beach, stop by the beachside café or nearby restaurants for a refreshing beverage or a light meal. Sit back and savor the ocean views while reflecting on the natural beauty and serenity of this incredible place.
Whether you're a nature lover, a photography enthusiast, or simply seeking a peaceful beach experience, Boulders Beach offers a unique opportunity to connect with nature and be charmed by the delightful African penguins that call this place home.
Experiencing the Cape of Good Hope Nature Reserve
Just a short drive from Simon's Town lies the breathtaking Cape of Good Hope Nature Reserve, a rugged and picturesque landscape that forms part of the Table Mountain National Park. This iconic destination is a must-visit for nature enthusiasts, offering stunning views, diverse wildlife, and a sense of adventure.
As you enter the Cape of Good Hope Nature Reserve, be prepared to be awed by the sheer beauty of the surroundings. Towering cliffs, pristine beaches, and dramatic rock formations create a landscape that is both awe-inspiring and serene.
Embark on one of the many hiking trails that wind through the park, immersing yourself in this untamed wilderness. The trails offer varying levels of difficulty and lengths, catering to both casual walkers and experienced hikers. Along the way, you'll encounter unique plant species, including the resilient fynbos, which is indigenous to the Cape Floral Kingdom.
Keep your eyes peeled for the reserve's diverse wildlife. Spot rare bird species soaring through the skies, such as the Cape sugarbird and the African black oystercatcher. If you're lucky, you may even catch a glimpse of antelope grazing in the distance or a troop of baboons making their way through the rugged terrain.
One of the highlights of the Cape of Good Hope Nature Reserve is reaching the iconic Cape Point. Take the scenic funicular ride up to the viewpoint and marvel at the incredible panoramic vistas. Cape Point is historically significant as it marks the southwesternmost tip of the African continent, where the Atlantic and Indian Oceans meet. Enjoy the exhilarating feeling of being at the edge of the world and capture the moment with a photo at the famous Cape Point sign.
Don't miss the opportunity to explore the pristine beaches within the reserve. Diaz Beach and Buffels Bay are two popular spots for swimming, picnicking, and simply enjoying the tranquility of the surroundings. These secluded beaches provide a perfect escape from the hustle and bustle of daily life, allowing you to unwind and reconnect with nature.
If you're feeling peckish, the Two Oceans Restaurant, situated near the Cape Point lighthouse, offers a delightful dining experience with breathtaking ocean views. Indulge in fresh seafood dishes and savor the flavors of the Cape while taking in the natural splendor.
As you explore the Cape of Good Hope Nature Reserve, you'll be captivated by its untouched beauty, diverse wildlife, and the sense of being at the edge of the world. Whether you're hiking, wildlife spotting, or simply soaking in the magnificent scenery, a visit to this nature reserve is a true adventure for the soul.
Enjoying Local Cuisine in Simon's Town
A visit to Simon's Town is not only a feast for the eyes but also a treat for the taste buds. This charming coastal town boasts a vibrant culinary scene, offering an array of delectable dishes that showcase the flavors of South Africa. From fresh seafood delicacies to traditional African cuisine, here are some ways to indulge in the local flavors:
One of the main highlights of dining in Simon's Town is the abundance of fresh seafood. Being a coastal town, it's no surprise that the seafood here is exceptionally fresh and of the highest quality. Treat yourself to a plate of succulent grilled prawns, a bowl of fragrant seafood curry, or a platter of freshly shucked oysters. Local favorites also include Cape Malay-style fish curry and snoek (a type of local fish) braai (barbecue).
For those seeking authentic African cuisine, Simon's Town has several restaurants that specialize in traditional dishes. Explore the flavors of local delicacies such as bobotie, a fragrant mince meat dish with Cape Malay influences, or samp and beans, a hearty grain and legume stew. Other popular choices include chakalaka, a spicy vegetable relish, and boerewors, a flavorful sausage.
If you're looking for a unique dining experience, consider trying out a South African braai, a traditional barbecue. Several establishments in Simon's Town offer braai specials, allowing you to enjoy juicy, flame-grilled meats served with an array of sides like pap (maize porridge) and chakalaka. The open-fire cooking method gives the meats a distinct smoky flavor that is an integral part of South African cuisine.
Vegetarians and vegans will also find plenty of options to suit their dietary preferences in Simon's Town. Many restaurants offer plant-based dishes that showcase the abundance of fresh produce available in the region. From vibrant salads and vegetable curries to innovative plant-based burgers, you'll be pleasantly surprised by the variety and flavors on offer.
Pair your meal with a glass of South African wine, as the country is renowned for its exceptional vineyards. Whether you prefer a crisp white wine or a robust red, there are plenty of options available to complement your meal.
After your meal, satisfy your sweet tooth with a taste of local desserts. Indulge in malva pudding, a sticky caramelized sponge cake served with custard, or koeksisters, twisted syrup-drenched pastries. For a unique flavor profile, try melktert, a milk tart made with a delicate pastry crust and a creamy custard filling.
Simon's Town offers a delightful culinary experience, where you can savor the flavors of South Africa and indulge in local delicacies. From seafood to traditional dishes and international cuisine, there's something to please every palate in this charming coastal town.
Shopping for Souvenirs
When visiting Simon's Town, shopping for souvenirs is a must-do activity to bring back a piece of this charming coastal town. From unique handmade crafts to locally crafted products, here are some shopping options to help you find the perfect mementos:
Start your souvenir shopping adventure by exploring the waterfront area, where you'll find a variety of boutique stores and independent shops. These establishments offer a wide selection of locally made crafts, artwork, and jewelry, allowing you to support local artisans and take home a truly unique piece. Look for hand-carved wooden sculptures, intricate beadwork, or beautifully crafted ceramics that capture the essence of South African craftsmanship.
For art enthusiasts, Simon's Town boasts several galleries that showcase the work of talented local artists. Browse through the galleries and discover a range of paintings, sculptures, and mixed-media pieces that reflect the diverse beauty and cultural heritage of the region. Whether you prefer landscapes, wildlife art, or contemporary pieces, you're sure to find something that resonates with you.
Take a stroll through the local markets and pop-up stalls that often line the streets of Simon's Town. These markets offer a vibrant and lively atmosphere, where you can find an assortment of unique and handmade products. From vibrant clothing and accessories to organic skincare products and flavorful spices, the markets are a treasure trove of local delights.
Don't forget to visit the Simon's Town Museum shop, where you can find a range of historical books, prints, and souvenirs related to the town's naval history. Pick up a replica naval uniform or a model ship as a reminder of the museum's exhibits and the significance of Simon's Town as a naval base.
If you want to indulge in some retail therapy, the shopping malls near Simon's Town offer a mix of local and international brands. Explore the malls and browse through clothing stores, jewelry shops, and gift shops to find fashionable items or stylish accessories to commemorate your trip. Look out for stores that stock South African designer labels for a truly unique and stylish souvenir.
Food lovers will delight in the assortment of culinary souvenirs available in Simon's Town. Visit the local spice shops to pick up exotic spices and rubs that will transport you back to the flavors of South Africa. You can also find local wines, preserves, and artisanal chocolates that make for perfect gifts or treats to enjoy during your stay and share with loved ones back home.
Remember, shopping for souvenirs in Simon's Town not only allows you to bring home a piece of this beautiful coastal town but also supports local businesses and artisans. So take your time to explore the shops, markets, and galleries, and find the perfect souvenirs that will evoke cherished memories of your time in Simon's Town.
Conclusion
Simon's Town, with its rich history, natural beauty, and vibrant atmosphere, is a destination that captivates visitors from all over the world. From the picturesque waterfront to the fascinating museums, from the enchanting penguins of Boulders Beach to the breathtaking Cape of Good Hope Nature Reserve, there is something for everyone to enjoy in this coastal gem.
Getting to Simon's Town is easy, and once you arrive, you'll be greeted by the charm and warmth of this welcoming town. Explore the Simon's Town Waterfront, with its bustling shops and delightful eateries, before delving into the naval history at the Simon's Town Museum. Relax at the scenic Boulders Beach and get up close with its adorable penguin residents, or venture into the incredible Cape of Good Hope Nature Reserve for unforgettable hikes and stunning views.
The culinary scene in Simon's Town is a true delight, with a range of fresh seafood, traditional African dishes, and international cuisine to savor. Don't forget to shop for unique souvenirs, from local crafts and artwork to spices and wines, to commemorate your visit and support the local community.
As you leave Simon's Town, take with you not only the memories of this captivating destination but also the appreciation for its rich history, natural wonders, and the warm hospitality of its people. Whether you're a nature lover, a history enthusiast, or simply looking for a relaxing getaway, Simon's Town offers a truly unforgettable experience that will leave a lasting impression.