Staying At Sable Alley In Botswana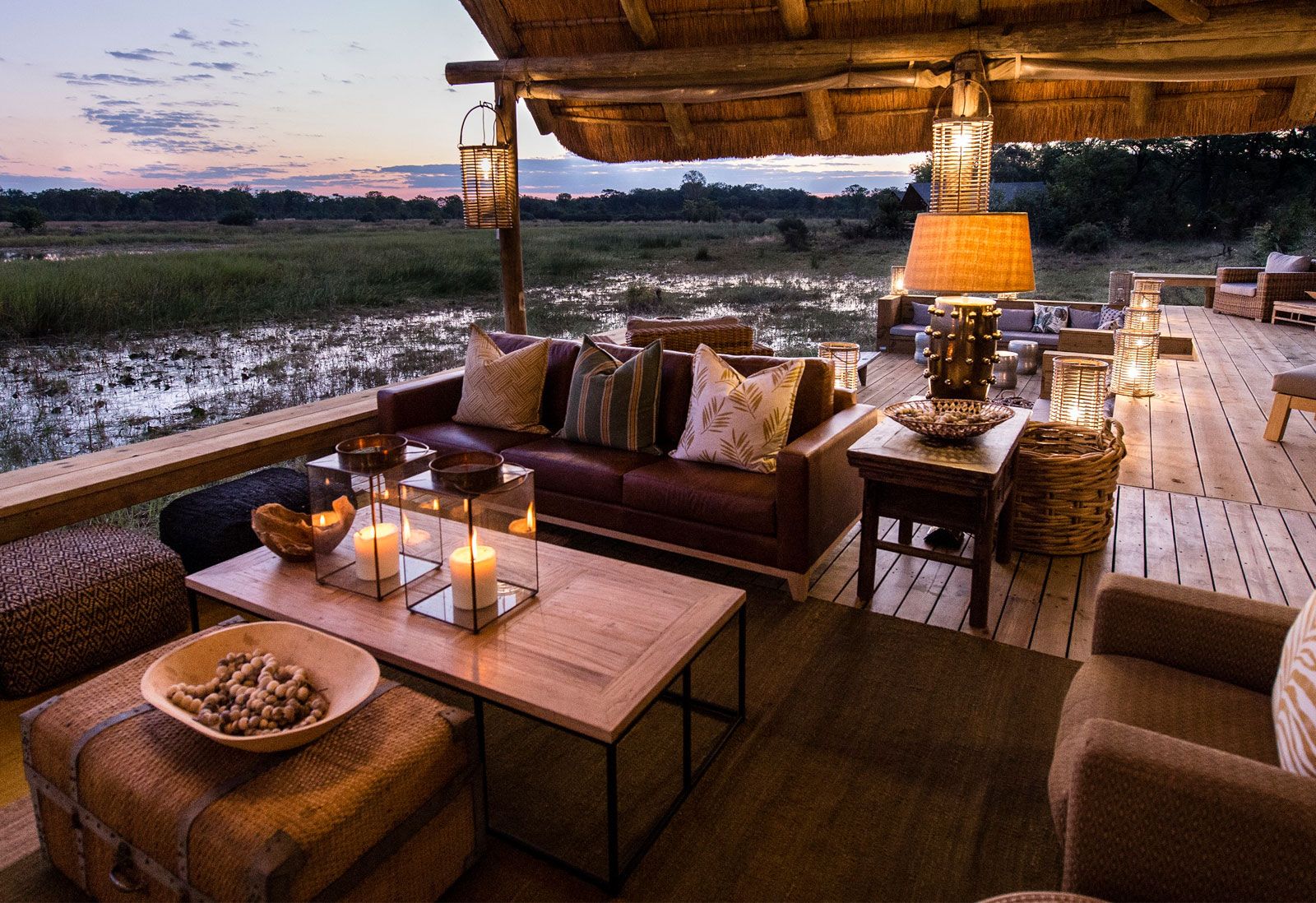 Introduction
Welcome to the enchanting world of Sable Alley, a remarkable eco-lodge nestled in the heart of Botswana. Situated in the renowned Khwai Private Reserve, Sable Alley offers a unique safari experience that combines luxury, adventure, and conservation.
This exquisite lodge is the epitome of tranquility, where luxury seamlessly blends with the beauty of the African wilderness. Whether you are an avid wildlife enthusiast, a nature lover, or simply seeking a serene and unforgettable getaway, Sable Alley is the perfect destination.
With its commitment to sustainability and community engagement, Sable Alley is a shining example of responsible tourism in Botswana. The lodge's dedication to preserving the environment and supporting local communities sets it apart, making it an ideal choice for conscious travelers.
From the moment you arrive at Sable Alley, you will be captivated by its rustic charm and warm hospitality. As you take in the breathtaking views and immerse yourself in the untamed landscape, you'll realize that this is a place where dreams come true and memories are made.
Join us as we delve into the wonders of Sable Alley, exploring its location, accommodations, dining experiences, thrilling activities, and conservation initiatives. Prepare to be inspired and amazed as we unravel the magic that awaits you in this remarkable corner of Botswana.
Location of Sable Alley
Sable Alley is located in the magnificent Khwai Private Reserve in Botswana. Situated adjacent to the world-renowned Moremi Game Reserve and the iconic Okavango Delta, this prime location offers an unparalleled safari experience.
The Khwai Private Reserve spans over 2,000 square kilometers and is known for its diverse wildlife and stunning landscapes. The reserve is teeming with an abundance of wildlife, including elephants, lions, leopards, buffalo, and a myriad of bird species.
What sets Sable Alley apart is its prime position on the banks of the Khwai River. This allows guests to witness the incredible wildlife that congregates near the river, providing extraordinary game-viewing opportunities right from the lodge's doorstep.
The Khwai River itself is a vital water source, attracting a plethora of wildlife throughout the year. It meanders through the reserve, creating a magnificent backdrop for both wildlife and guests alike.
Access to Sable Alley is made convenient by the nearby town of Maun, which serves as the gateway to the Okavango Delta. From Maun, you can reach the lodge via a scenic 25-minute light aircraft transfer, providing breathtaking aerial views of the delta and its surrounding wilderness.
With its pristine location and proximity to iconic wildlife reserves, Sable Alley offers a front-row seat to the wonders of Botswana's natural beauty. Whether you're gazing at a magnificent sunset reflecting off the Khwai River or tracking wildlife through the bush, this enchanting location will leave you awe-inspired.
Accommodation at Sable Alley
When it comes to accommodation, Sable Alley offers a luxurious and tranquil retreat in the heart of the wilderness. The lodge features spacious and stylish tented suites that effortlessly blend modern comforts with a rustic ambiance.
There are twelve well-appointed tented suites at Sable Alley, each carefully designed to provide the utmost comfort and relaxation. The suites feature private verandas where you can unwind and soak in the panoramic views of the surrounding landscape.
The tents are raised on wooden platforms, ensuring a sense of privacy and offering sweeping views of the Khwai River and the African bush. They are thoughtfully furnished with comfortable beds, en-suite bathrooms, indoor and outdoor showers, and modern amenities.
The main area of the lodge is an inviting space where guests can socialize and relax. The open-air lounge, with its comfortable seating and stunning views, is perfect for enjoying a refreshing drink or engaging in lively conversations with fellow guests.
The dining area provides a gastronomic journey, offering delectable meals that celebrate the flavors of Botswana. You can savor delicious dishes prepared by the lodge's talented chefs while enjoying the scenic backdrop of the bush.
For those seeking ultimate relaxation, Sable Alley also features a sparkling swimming pool, perfect for taking a refreshing dip while observing the surrounding wildlife activity.
Overall, the accommodation at Sable Alley provides a luxurious and comfortable haven amidst the untamed beauty of the wilderness. Whether you choose to unwind in your private tented suite, socialize in the main area, or take a refreshing swim in the pool, you will be immersed in a tranquil and captivating ambiance that perfectly complements your safari experience.
Dining at Sable Alley
At Sable Alley, dining is an integral part of the overall safari experience. The lodge takes pride in offering unforgettable culinary delights that showcase the best of Botswana's flavors and ingredients.
Meals at Sable Alley are expertly crafted by talented chefs who use locally sourced, fresh ingredients to create a culinary journey that tantalizes the taste buds. From hearty breakfasts to indulgent lunches and exquisite dinners, every meal is a delightful blend of flavors and textures.
Start your day with a sumptuous breakfast, which may include freshly baked pastries, tropical fruits, cereals, and a selection of hot dishes made to order. Enjoy your meal in the dining area or opt for a bush breakfast, a unique experience that allows you to dine amidst the breathtaking wilderness.
For lunch, you can expect an array of delicious options, from light salads and sandwiches to flavorful main courses inspired by local cuisine. The lodge's chefs ensure that every meal is a gastronomic delight, incorporating the vibrant flavors of Botswana into their creations.
In the evenings, gather around the campfire and share stories with fellow guests as you enjoy pre-dinner drinks and appetizers. As the sun sets, indulge in a mouthwatering dinner that showcases the best of international and local cuisine. From perfectly grilled meats to fresh seafood and vegetarian options, there is something to satisfy every palate.
One of the highlights of dining at Sable Alley is the opportunity to experience a traditional boma dinner. A boma is an outdoor enclosure, typically made of wooden poles, where guests can enjoy a communal meal under the starry African sky. This unique dining experience provides a true taste of Botswana's culture and allows you to connect with the natural surroundings.
Special dietary requirements and preferences are happily catered for at Sable Alley. The lodge's attentive staff and talented chefs ensure that every guest's culinary needs are met, creating a personalized dining experience that exceeds expectations.
Prepare to be amazed by the flavors, creativity, and attention to detail that go into every meal at Sable Alley. Whether you're enjoying a leisurely breakfast, a scenic bush picnic, or an intimate boma dinner, dining at Sable Alley is an exquisite journey for the senses.
Activities at Sable Alley
When it comes to activities, Sable Alley offers a plethora of experiences that allow guests to immerse themselves in the wild beauty of Botswana. Whether you're a wildlife enthusiast, a bird lover, or simply seeking an adventure, there is something for everyone at this remarkable lodge.
One of the main attractions at Sable Alley is the exceptional game drives. Led by experienced and knowledgeable guides, these game drives take you on an exploration of the Khwai Private Reserve, where you can encounter a diverse range of wildlife. From majestic elephants and graceful lions to elusive leopards and colorful bird species, the sightings on these game drives are truly awe-inspiring.
In addition to game drives, Sable Alley offers thrilling walking safaris. Led by skilled guides, these safaris provide a unique opportunity to venture into the African bush on foot, immersing yourself in the sights, sounds, and scents of the wilderness. Learn about the smaller intricacies of the ecosystem, track animal footprints, and gain a deeper appreciation for the beauty and fragility of nature.
For a different perspective, guests can embark on mokoro excursions. A mokoro is a traditional dugout canoe, gliding silently through the channels and waterways of the Okavango Delta. Drift along the serene waters, guided by experienced polers, and witness the incredible birdlife and aquatic creatures that call this ecosystem home. It's a serene experience that allows you to connect with the tranquility of the delta.
Photography enthusiasts will also find Sable Alley to be a paradise. The lodge offers specialized photography safaris and workshops, where you can learn from professional photographers and capture stunning images of the wildlife and landscapes. With expert guidance and the abundance of wildlife in the area, you'll have endless opportunities to capture that perfect shot.
For those seeking relaxation, Sable Alley provides an array of amenities. You can unwind by the lodge pool, enjoy a massage or wellness treatment, or simply find a quiet spot to immerse yourself in a book and take in the beauty of your surroundings.
With its diverse range of activities, Sable Alley ensures that every guest can create their own unique and unforgettable safari experience. Whether you're exploring the reserve on a game drive, delving into the bush on a walking safari, gliding through the waters in a mokoro, or simply indulging in relaxation, Sable Alley offers an adventure that will leave you with lifelong memories.
Wildlife at Sable Alley
Sable Alley is a haven for wildlife enthusiasts, offering an incredible opportunity to witness the diverse and abundant wildlife of Botswana. The lodge's prime location in the Khwai Private Reserve ensures unparalleled sightings of some of Africa's most iconic and elusive species.
While staying at Sable Alley, you'll have the chance to encounter the "Big Five" – elephants, lions, leopards, buffalo, and rhinoceros. These magnificent creatures roam freely through the reserve, offering awe-inspiring moments as you observe them in their natural habitat.
The Khwai River is a lifeline for wildlife, attracting an array of animals throughout the year. As you relax on the lodge's veranda, you may witness herds of elephants bathing in the river, lions lazily basking in the sun, or a stealthy leopard silently stalking its prey. The opportunities for wildlife sightings at Sable Alley are endless.
In addition to the larger predators and herbivores, the reserve is also home to an incredible variety of bird species. From the vibrant and charismatic lilac-breasted roller to the majestic African fish eagle, birdwatchers will find themselves in a paradise of feathered wonders.
During the dry season, when water sources become scarce, the Khwai River becomes a magnet for wildlife. It is not uncommon to witness intense predator-prey interactions as animals gather around the water, providing thrilling sightings of both predator and prey dynamics.
Sable Alley also offers the unique opportunity to witness the annual zebra migration. These majestic creatures undertake a remarkable journey from the floodplains of the Okavango Delta to the Khwai River area in search of fresh grazing areas. This natural spectacle is a sight to behold, as thousands of zebras traverse the landscape, accompanied by other herbivores and predators.
With its rich biodiversity and pristine ecosystem, Sable Alley provides an incredible platform to connect with nature and marvel at the wonders of wildlife. Whether you're an avid photographer, a wildlife enthusiast, or simply someone who appreciates the beauty of the animal kingdom, Sable Alley will leave you in awe of the captivating wildlife that calls this region home.
Conservation Initiatives at Sable Alley
Sable Alley is committed to conservation and sustainable tourism practices, recognizing the importance of preserving the incredible natural resources of Botswana for future generations. The lodge actively engages in various initiatives to protect the environment, support local communities, and promote conservation efforts in the region.
One of the key conservation initiatives at Sable Alley is their commitment to operating as an eco-friendly lodge. The lodge is designed to have minimal impact on the environment, with sustainable construction practices and the use of renewable energy sources. Solar power is utilized to reduce the lodge's carbon footprint, and waste management systems ensure that waste is properly disposed of and recycled whenever possible.
Sable Alley also actively supports local communities through various community development projects. The lodge sources a significant portion of its supplies from nearby communities, supporting local businesses and creating positive economic impact. They also partner with local schools and educational programs to provide opportunities for local children and contribute to their education and well-being.
Another important conservation initiative is the involvement of Sable Alley in wildlife protection and research. The lodge collaborates with conservation organizations and researchers to monitor and study the wildlife in the Khwai Private Reserve. This provides valuable insights into animal behavior, population dynamics, and the overall health of the ecosystem.
Additionally, Sable Alley is actively engaged in anti-poaching efforts. The lodge supports local anti-poaching teams and collaborates with conservation authorities to combat illegal wildlife activities. Through these efforts, Sable Alley contributes to the protection and preservation of the wildlife that calls the Khwai Private Reserve home.
Educational programs and initiatives are also an integral part of Sable Alley's conservation efforts. The lodge offers opportunities for guests to learn about the unique ecosystem, the challenges facing wildlife conservation, and the importance of sustainable tourism. By raising awareness and fostering a deeper understanding of conservation, they aim to inspire guests to become ambassadors for the environment.
Through their dedication to conservation initiatives, Sable Alley is actively working towards creating a sustainable future for the wildlife and communities of Botswana. By integrating responsible tourism practices, supporting local communities, and actively participating in wildlife protection and research, Sable Alley is making a positive impact on both the environment and the lives of people in the region.
How to Get to Sable Alley
Getting to Sable Alley is part of the adventure, as it is located in the pristine wilderness of the Khwai Private Reserve in Botswana. The lodge's remote location adds to its allure and offers a true escape from the hustle and bustle of everyday life.
The most common access point to Sable Alley is through Maun, the gateway to the Okavango Delta. Maun is well-connected to major international airports, making it easily accessible from various parts of the world.
From Maun, you will embark on a short and scenic light aircraft flight to Sable Alley. This 25-minute aerial journey provides incredible panoramic views of the Okavango Delta, giving you a taste of the breathtaking landscape that awaits you.
As you approach the Khwai Private Reserve, you will be greeted by the stunning sight of the Khwai River, flowing through the reserve and offering a lifeline for the abundant wildlife.
Upon arrival at the Sable Alley airstrip, you will be warmly welcomed by the lodge's friendly staff. From there, it's just a short transfer to the main lodge area, where your safari adventure truly begins.
It's important to note that light aircraft transfers are subject to weight restrictions, so it's recommended to pack light and follow the luggage guidelines provided by the lodge. This ensures the safety and comfort of all passengers onboard.
Once you've arrived at the lodge, all transfers within the reserve, including game drives and other activities, are efficiently organized by the lodge's staff. You can sit back, relax, and let the experienced guides take you on unforgettable journeys through the Khwai Private Reserve.
It's advisable to check with the lodge in advance to confirm the details of your arrival and departure, as well as any specific requirements or recommendations for your journey.
The journey to Sable Alley is part of the overall experience, immersing you in the vastness and beauty of the Botswana wilderness. Embrace the excitement of traveling to this remote oasis and get ready to embark on an adventure of a lifetime.
Conclusion
Sable Alley in Botswana is a remarkable destination that offers a perfect blend of luxury, adventure, and conservation. Nestled in the Khwai Private Reserve, this eco-lodge provides a truly immersive experience in the heart of Africa's untamed wilderness.
From its prime location on the banks of the Khwai River to its exquisite tented suites, Sable Alley offers a haven of tranquility and comfort. The lodge's commitment to sustainability and community engagement sets it apart, making it an ideal choice for conscious travelers.
At Sable Alley, dining is a culinary journey that celebrates the flavors of Botswana, while the activities on offer cater to every adventurer's desires. From exciting game drives and walking safaris to peaceful mokoro excursions and specialized photography workshops, there is something for everyone.
What truly sets Sable Alley apart is its abundance of wildlife. The Khwai Private Reserve is teeming with iconic species, allowing guests to witness incredible sightings of elephants, lions, leopards, and more. The lodge's dedication to conservation initiatives further enhances the experience, creating a deeper understanding and appreciation for the natural world.
Getting to Sable Alley is part of the adventure itself, with a short light aircraft flight from Maun providing breathtaking aerial views of the Okavango Delta. The lodge's remote location adds to its allure, offering a true escape into the wild beauty of the African savannah.
In conclusion, Sable Alley is a destination that captivates the senses and rejuvenates the soul. With its idyllic setting, luxurious accommodations, exceptional dining experiences, exciting activities, and commitment to conservation, it promises an unforgettable journey that will leave a lasting impression. Whether you're a wildlife enthusiast, a nature lover, or simply seeking a unique and enriching travel experience, Sable Alley in Botswana is the perfect choice.