A Guide to Visiting the Lavender Fields in France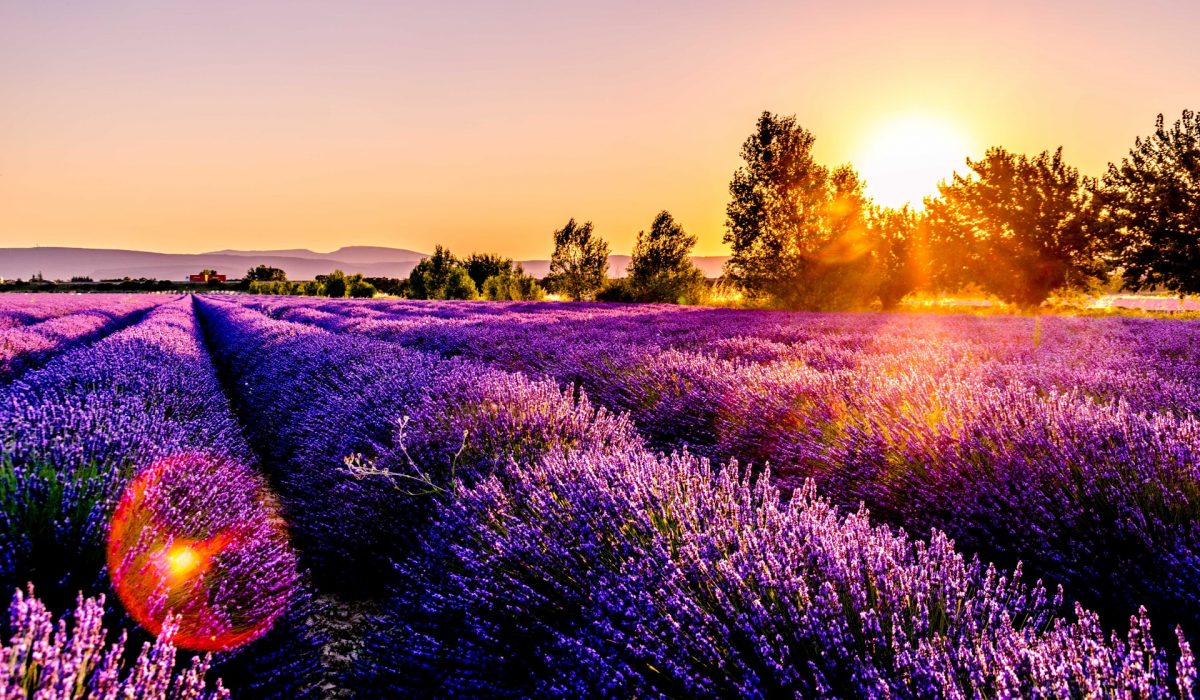 Today more than ever, we need various ways to de-stress from our everyday routines. Using essential oils is becoming popular in helping people to not only aromatize their spaces but also feel relaxed. In fact, there was a study in 2016 that found out the positive effects of lavender on the quality of sleep of people. So, if you are looking for a relaxing vacation, the lavender fields in France is literally the best place to go to unwind.
Although there are many cities in France that are studded with lavender, Provence is still considered the best place to see the lavender fields. Besides, these lavender fields are seen in every turn as you tick off your things to do in Provence. Interesting, right?
When is the Best Time to Visit the Lavender Fields in France?
Deciding on the best time to see the lavender fields in France can be challenging. Since most of them are located in various regions with varying weather. So there is no single month where you can visit all the lavender fields in full bloom. But typically, the lavenders bloom during Summer, which is usually from late June to early August. The best time to visit the most popular lavender fields is in July. So, make sure to watch out for flights to score great deals before deciding when to book your international flights.
Where can you find the Best Lavender Fields in France?
Luberon, Verdon, Aix-en-Provence, Marseille, and Avignon make up a huge chunk of lavender fields in Provence. Apart from these places, there are also other outlying areas where you can find these lavender fields. But there are three main locations that hold an outstanding reputation, which entice most tourists.
Usually, the earliest to bloom is in the village of Luberon, which blossoms as early as June. Most of the fields located in the upper part of Luberon harvest the lavenders around the 15th of July. While the ones in the lower part of Luberon as well as the fields in Valensole Plateaus are harvested around the 25th of July. But if you are coming to Provence later in July, don't worry it's not yet too late. The lavender fields in Sault bloom until early August.
Lavender Fields in Luberon, Provence
Les Agnels Organic Lavender Distillery
Address: Route de, Apt FR, 84400 Buoux, France
Les Agnels Organic Lavender Distillery is one of the reputable lavender distilleries in Provence. Its humble beginnings can be traced back to 1895 when Mathieu Agnel distilled wild lavenders from the nearby hill. Five generations after, it is now one of the greatest producers of organic essential oils, floral waters, soaps, bouquets, candles, and more.
Nowadays, tourists come here not only to buy Les Agnels Organic products, but to also learn about the history, process, and cultivation of lavenders. Les Agnels offers a guided tour that will let you tour around their distillery (€6 per person or around U$7) and their lavender fields (€15 per person or around US$18). While in the lavender fields, you will see the actual harvesting of lavenders with a sickle, at the same time, take lots of Instagram-worthy photos. Afterwards, they will take you to the distillery to see the process of how they distill their lavenders.
The guided tours for the lavender fields are only open from June 20 to August 15, depending on when the flowers will bloom. Meanwhile, the tour around the distillery only runs from June to October with specific times. You may check with Les Agnels Organic Lavender Distillery's website for their updated schedule.
Saignon Views
Address: VC6F+2H Saignon, France
Saignon village is one of the undiscovered gems of Provence. Within its cobblestoned streets, you will find ancient log cabins with colorful wooden windows and covered with vines. Its scenic ambiance will remind you of fairytale books! Stroll around the village and discover courtyards, hidden fountains, and eventually get a breathtaking view of Saignon. When you reach the large rock, Rocher de Bellevue, you will be able to appreciate another gem of Saignon — the Lavender fields.
Make sure to bring extra batteries and a memory card, because this is going to be a photography haven. Aside from the extensive rows of rolling lavender fields, you can also take a photo with the ancient village as part of your backdrop. For sure, all angles are going to be Instagram-worthy!
Lavender Fields Near Roussillon
Address: D227, 84220 Roussillon, France
Officially one of the most beautiful villages of France, Roussillon boasts uniformly warm-toned edifices. Forget about your modern interior, Roussillon takes you back to ancient France with its romantic ambiance. After you explore the cobblestoned alleys, make a visit to the foot of the village. There you can also take photos with a spectacular background. Apart from the long stretch of rows of lavenders, the remarkable pink house and the amazing Luberon valley are also good photobombers.
If you have more time, another thing to do in Roussillon is to take the Ochre Trail. Here, you will be directed to amazing deep canyons of what was once a quarry. You can also play in these unique orange sands, but make sure to bring some extra clothes because the sand is quite hard to dust off.
Abbaye Notre-Dame de Sénanque
Address: 84220 Gordes, France
Founded in 1148 by the Cistercian monks, Abbaye Notre-Dame de Sénanque offers another scenic lavender fields in France. Its elongated rows of lavenders stretch across the field with ancient Cistercian architecture as your backdrop. No wonder many tourists are attracted to this place. You can also join guided tours (starts at €8 per adult or around US$10) or unguided tours with Histopad (starts at €9.50 per adult or around US$11). Whichever tour you choose, prepare to travel back to the 12th to 13th century, or so it seems. You will see ancient dormitories, walkways, and other rooms in the monastery.
However, among the lavender fields in Provence, this is one of those that has many restrictions. One, since it is a church, the monks follow prayer service seven times a day, and you are expected to keep your voices low. Moreover, you are also expected to wear decent clothes with respect to the church. You are not allowed to take photos with a tripod, lights, or drone. Lastly, you are also not allowed to take photos, videos, and recordings during the church service.
Lavender Fields in Valensole Plateaus, Provence
Lavandes Angelvin
Address: Campagne neuve, 04210 Valensole, France
Among the lavender fields in Provence, Valensole Plateaus is said to be the most beautiful one. Unlike in Luberon, most of the fields in Valensole are more expansive. They are not bounded by churches or other facades. Instead, they criss-cross and ascend to the boundless and steep terrains.
Similar to Les Agnels, Lavandes Angelvin is one of the Lavender distilleries in Provence. It sells various lavender products, including essential oils, soaps, lavender bags, diffusers, and more. When you visit this distillery, you can also join guided tours that will show you the harvesting and distillation process. So, if you found yourself in Valensole Plateaus and you want to learn about the science behind lavenders, this is the perfect place for you!
Lavender Fields with a Stone House
Address: Route de Digne, 04410 Puimoisson, France
While you are traversing Route de Digne, you will see another well-photographed Lavender field in Valensole. If you have checked photos of lavender fields in Provence, you might have probably come across a photo of this. What makes it special is that in the middle of endless tubes of lavender you will see a small stone house. Perhaps, many tourists are attracted to this site because of how peculiar a small stone house stands alone in the middle surrounded by purple gems. Aside from this, there are also ridges stretching behind it that are sometimes snow-capped by winter snow. It's definitely the most friendly photobomber you will ever encounter!
Lavender Fields near Moustiers-Sainte-Marie
Address: D56, 04500 Roumoules, France
Surrounded by verdant greeneries, you will find quiet lavender fields near Moustiers-Sainte-Marie. They have endless rolling fields that incline upward towards the steep terrain. Moreover, these are one of those fields that are not usually teemed with crowds. So, you will be able to take impressive photos freely with unwanted photobombers.
While you are here, you can also take your time and visit the ancient village of Moustiers-Sainte-Marie. It sits within the UNESCO Géoparc de Haute Provence, so you will find numerous geological sites that talk about the stories of Earth in its more than 300 years. Moreover, with its almost 800 residents, you will definitely feel like you are taken back in time just by looking at their laidback lives. Apart from this, it also has cobblestoned streets and stone houses with an enormous cliff standing behind it. A lot of people would agree that these add more character to this charming village.
If you don't agree yet, let the viewpoint do the talk. When you drive up to Route de Sainte-Croix, there are various vantage points that will let you enjoy the postcard-perfect views of the village. With a faraway view, you will appreciate the surreal and enormous cliff that seemed to be guarding the village.

Lavender Fields near Reiez
Address: D11, 04500 Riez, France
These are another lavender fields that will catch your eyes while you are on the road. Elongated rows of lavenders stretch to inclined terrains, making the place so photogenic. However, just make sure to be careful because there are some electric pylons that may cause accidents.
Lavender Fields in Sault, Provence
Chemin des Lavandes
Address: 84390 Sault, France
From a distance, anyone passing by Chemin des Lavandes will be stopped by its impressive fields. Clusters of well-manicured lavender rows criss-cross in the inclined terrains. This makes it easier for most tourists to take photos of this scenic backdrop. But apart from its lavender fields, Chemin des Lavandes is also known as a hiking trail. But don't worry, you don't need poles and hiking boots for this trail! In fact, it will only take you around two hours to traverse the almost six kilometers trail with low-impact inclined terrain.
Lavender Fields with Farm and a Stone House
Address: 2 Route du Ventoux, 84390 Sault, France
As an alternative to the lavender fields with a stone house in Valensole, you can drop by this lavender fields with a farm and stone house in Sault instead. At these fields, you will see inclined rows of purple lavenders and a charming stone house in the middle. The place also has a surrounding farm with animals, which exudes a bucolic ambiance. While you are here, don't forget to go to the aromatic distillery beside it to get your lavender products.
Bories im Lavendelfeld
Address: D189, 26570 Ferrassières, France
While you are driving along Route du Plan, you will be stopped on tracks by these peculiar lavender fields. In the middle of a vast field peppered with purple gems, you will see two ancient bories. Bories, in general, have a long history that can be traced back to the Bronze Age in France. Back in the day, these dried stone huts were used as storage for peasant's tools as well as stables, shops, factories, and houses. So, while you are visiting these lavender fields, take the opportunity to take photos with one of its iconic landmarks. Just be careful because there are some sudden and steep terrains between the road and the field.
Where to Stay near Lavender Fields in France?
Nightly Rate: starts at US$102 for two adults with breakfast
One of the bestsellers in Manosque, Campanile Manosque offers modern yet affordable accommodation near the main lavender fields in France. Since it is located in the middle of Luberon, Valensole Plateau, and Sault, you can access any of the fields within 30 minutes to almost two hours. Their hotel rooms are equipped with high-quality beds and stylish pieces, giving its guests the comfort and style they need while on holiday.
The hotel also has a restaurant and a bar where you can take your breakfast or cap your day. When you book a room, make sure to include your breakfast. Since you will be spending a lot of your time strolling around the lavender fields and other nearby sites, it's a must that you start your day right. So, don't skip breakfast!
At night, you can go to their in-house bar. Here, you can cap your day by watching sports on their wide TV screens. If you're lucky, you can also enjoy salsa evenings, karaoke, or other seasonal events like Halloween.
Nightly Rate: starts at US$295 for two adults
Offering accessibility to the main lavender fields in France, Renaissance Aix-en-Provence Hotel boasts luxurious accommodation. This five-star hotel provides a world-class service parallel to its state-of-the-art facilities. Their rooms feature earth tones that complement the elegance of its ambiance. Their rooms are equipped with typical hotel pieces, but their beds are cushier and the rooms are studded with contemporary statement pieces.
When you book a room here, you can access various hotel amenities, such as a heated indoor pool, sauna, fitness center, as well as a free spa! Renaissance Aix-en-Provence Hotel surely aims to spoil its guests. Also, you may opt to include your breakfast to satisfy your palate before going on your adventure.
Tips to Remember when Visiting the Lavender Fields in France
1. Get Travel Insurance
Just like when you are traveling to other countries, make sure to secure travel insurance before your trip. Since accidents are called accidents because they are unexpected, having travel insurance will let you protect your current financial assets. Never consider travel insurance as an extra cost or an optional add-on to your trip. This is a very important must-have in your trip. There are various travel insurance companies in the U.S. that can assist you with this.
2. Visit the Lavender Fields during the Golden Hours
Aside from buying lavender products, one of the reasons why you are visiting these fields is to take photos. Since your photos will be taken outdoors, you can opt to take photos during sunrise or sunset. During the golden hours, your photos become more saturated and vibrant. This will make it easier for you to update your Instagram feed without too much hassle of editing your photos.

3. Respect the Place
These lavender fields are tended by different people. These are precious plants that they took care of to be the source of their incomes and aesthete. So, whatever situation you encounter in visiting the lavender fields in France, respect the place. Regardless if you are visiting a field with a monastery or those with lone stone houses, each field has its own stories and importance. So, follow the rules and fight all the temptation to pick out some lavenders!
Final Thoughts
Visiting the lavender fields in France is truly an amazing experience. Just make sure to visit them in July to see the fields peppered with fully bloomed lavenders. Also, since most of the fields can be seen while traversing the road, don't overthink much on where to visit. Instead, just make sure to visit your favorite fields during sunrise or sunset. Taking photos during the golden hour will definitely make a huge difference in your photos!