5 Best Portable Solar Panels for Your Next Camping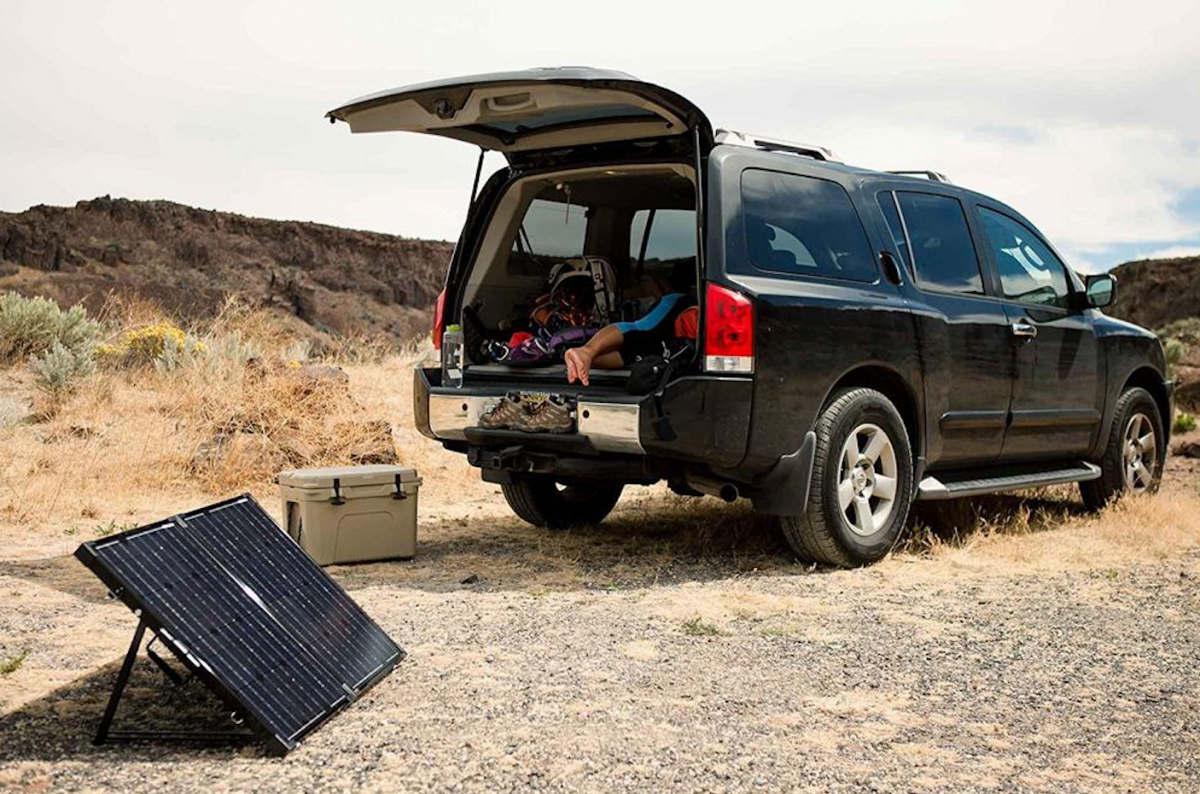 Solar panels are useful for a wide array of reasons. Not only are they able to save the environment by not having to use fossil fuels, but they provide renewable, free energy. The solar panels work by collecting the sunlight in the bank attached to the panel. This is then attached to a power outlet, where an electronic device is plugged into.
What are Portable Solar Panels?
Portable solar panels are essentially small-scale cheap solar panels you can take along with you wherever you go. They have a small panel that sits on the top of the bank. This collects the sunlight and then deposits it into the bank. There are usually outlets for USB ports or two-prong electronic devices that can be used on the bank to charge items using the solar panel battery.
Many people choose to use these portable solar panel kits for a number of reasons. Camping with portable solar panels is always an ideal thing to do. When you're camping with portable solar panels, you easily have the ability to charge and use any electronic device. Connect the solar panel battery and head out.
Those that use these portable solar panels can also benefit from the use of them when you go on any outdoor adventure where you might want to charge your device. Wherever your phone might die or where your laptop needs to be charged, having access to portable solar panels can help.
The Top 5 Best Portable Solar Panels
These top 5 best portable cheap solar panel kits can be found across the web for those that want to use them for the trip that they are going on. Just make sure they come with the solar charger to plug into.
1.
Renogy Starter Kit – 100D

This kit comes with everything you need to get started, plus you can even extend the set to accommodate up to 400 Watts of power. This provides enough electricity for all the devices that you have. Camping with portable solar panels might be the best idea you would have ever had when you have access to this set.
This solar panel kit is also one of the best to have in terms of cheap solar panels, as well as an easy one to put together and use. With features that allow you to customize the panels, you can easily switch out how much power is needed.
Generate up to 500Wh per day when you set it up in the morning and let it run throughout the day. By night, you should have enough power that lasts throughout the night. Set up the solar charger and get powered up with this solar kit.
Renogy Starter Kit is available in Amazon for $170.22.

This is a 35-pound solar panel kit that can easily be used for any camping or hiking adventures. You can connect to the panels in two different ways. This makes it more versatile and easy to use. The solar charger helps to power them all using a solar kit.
It does fold down unlike some of the other portable solar panels available in the market. It also works with both 6 and 12-volt systems to give you more power options on the solar kit and to use it with something that is a bit larger than the norm. Get up to 40 amps of power per day while using this solar panel bank.
Buy Zam Solar Kit on Amazon for $ 777.25.

This is one of the lightest weight portable solar panels in the market. The user can pick it up and place it anywhere needed. It also comes with a solar charger. Simply pick it up, set it down and collect the sunlight with ease. With several features and options on it, this lightweight option is great for so many reasons and provides the essentials that are needed for all trips.
Connect to a solar panel battery with clips easily if you want to charge anything. The solar panel battery can then be removed and used elsewhere. It is resistant to corrosion, so you can set it outside for a long duration. You do not have to worry about damp weather causing any issue while it is out there.
It does fold, and being only 12-pounds, it is easy to bring with you wherever you choose to go or want to go. Just fold it up, set it up, and start getting the streamlined power that it collects from the sun.
Get your Eco-Worthy DC-FP40-1 on Amazon for $89.84.
4.
HQST 100W 12V Polycrystalline Set
Camping with portable solar panels and solar charger is a great way to go when you want something super durable and easy to use. This device simply folds out and sets up. There aren't a lot of wires that have to be added to this solar kit, which makes it ideal for so many reasons.
You can get up to 500 watt-hours with the right day on this portable solar panel kit. The energy is then stored in the banks that the solar panel kit comes with, making it a great choice for any outing where you might need energy. This is also a high pick on the list for those that want a portable solar panel kit that is able to withstand extreme weather. It is also corrosion-resistant.
It is able to last for some time, allowing you to rest easy knowing you've chosen a quality solar panel.
Buy HQST 100W 12V Polycrystalline Set for $152.99 on Amazon.

Much more than a solar panel battery, this little set comes with so many extras that you want to make use of. This is a quality portable cheap solar panel that has chaining technology. This makes charging times much faster than they currently are. You can pair them with any Goal Zero power pack or solar panel charging station. It is easy to fold down and bring with you on the go.
This portable solar panel is simple and effective to use for a number of reasons, making it ideal for everyone that needs to collect solar energy while on the go. Use the device to your advantage and know you're choosing the best solar panel kit to bring along with you for your trip away from home.
Get Goal Zero Nomad 13 from Amazon for $135.00.