20 Best Things to Do in Fethiye, Turkey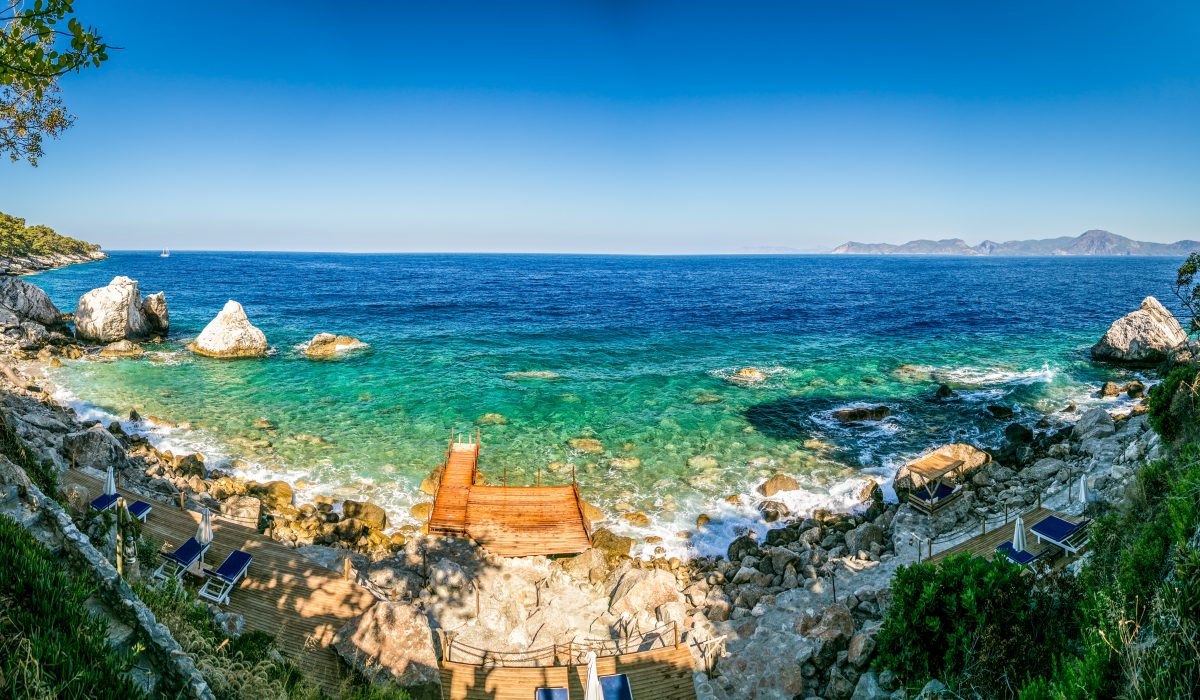 Byzantine churches-turned-mosques, ruins of the ancient cities, and vast azure waters, these are just some of the things you will see in Fethiye, Turkey. While most of the things to do in Istanbul include marveling at the restored ancient monuments, Fethiye exposes its stripped grandeur. From ancient acropolis, agora, Turkish baths, and tombs to blue lagoons, soaring mountains, and placid beaches — Fethiye has it all for you.
So, if exploring ancient tombs and sailing through placid waters sound good to you, let Fethiye, Turkey, welcome you with open arms.
Best time to visit Fethiye, Turkey
With various outdoor activities that Fethiye offers, you should visit this Turkish city in the summer. The best time to visit Fethiye is from May to June and September to October. During these months, the city is sunny yet breezy. Enjoy swimming and sailing in the placid azure waters or comfortably explore ancient cities during your visit.
Take note that there is no airport in Fethiye, and there is no direct flight from the U.S. to the nearest airport, which is the Dalaman Airport. To reach the city, you can book a flight from the U.S. to Istanbul. Then, book another flight from Istanbul to Dalaman Airport and take a bus or taxi to Fethiye, which is about 45-minutes to one-hour ride. The flight from Istanbul to Dalaman Airport starts at around US$30 and will take you an hour and 15 minutes via Turkish Airlines.
But if you're on a budget, you can take the bus from Istanbul to Fethiye for only EUR19.50 or around US$24 per way via Flixbus. However, please note that it will take you around 11 to 13 hours, depending on the schedule you booked. The bus station in Istanbul is at İstanbul Esenler. Other bus companies are Metro Turizm (TL155 or around US$20.43) and Pamukkale (TL165 or around US$22).
Where to stay in Fethiye, Turkey?
Budget: Hotel Feryıl Centrum
Rate: starts at US$19 per night for two adults
Located a minute away on foot to Fethiye Port, Hotel Feryıl Centrum is one of the best budget hotels in Fethiye. Apart from its excellent location, it offers decent accommodation with breakfast for those with a shoestring budget. Their rooms are equipped with air conditioning units and private bathrooms. What's more, you can opt for a buffet or a halal breakfast.
Midrange: Yacht Boheme Hotel
Rate: starts at US$48 per night for two adults
With stunning boho interiors and spacious rooms, Yacht Boheme Hotel is one of the most well-designed hotels in Fethiye. Besides offering a panoramic view of the Fethiye Port, they also offer spa services from their sister hotel, Yacht Classic Hotel. They also offer premier yacht rentals that will allow you to sail through the Aegean Sea. When you book a room here, breakfast is already included and you will be able to access their outdoor pool, game rooms, and the Mandala Snack Bar by the pool.
Luxury: Casa Margot Hotel
Rate: starts at US$207 per night for two adults
Another bestseller in Fethiye, Turkey, Casa Margot Hotel offers you unparalleled luxury. While it has a breathtaking view of the Fethiye Port, they also have spacious rooms designed with classic Turkish style. Their King Suite stretches to 75 square meters and it has a Turkish bath and a jacuzzi with a view. The hotel also has an infinity pool and garden where you can relax over cocktails or yoga. They also have an in-house sauna, restaurant, and bar that will complete your perfect vacation. Most of all, this is an adult-only hotel so this is perfect for honeymooners.
Things to do in Fethiye, Turkey
1. Time travel at Fethiye Museum
Admission Fee: TL10 or around US$1.30
Open Hours: 9:00 to 5:00 PM from Tuesday to Sunday.
Located in a bricked dome cathedral built sometime between the 11th and 12th century, this then-Byzantine Church now houses the Fethiye Mosque and Fethiye Museum. While its imposing brick exterior seemed to showcase its beauty, that's not all of it. Inside, you will marvel at the domes with impressive murals of the 12 prophets, Christ with the Virgin Mary and John the Baptist, and the baptism of Christ. In the museum, you will also see Lycian pieces dating back to the Bronze, Archaic, Hellenistic, Roman, and Byzantine periods. Seeing these will surely help you learn about the different cultural aspects that make up Fethiye, Turkey, today.
If you're a history buff and your itinerary looks like you're going to visit a lot of museums and archeological sites. You can purchase the Museum Pass – Aegean (TL325 or around US$42) that will allow you to visit various museums and archeological sites in İzmir, Aydın, Muğla, Denizli for free for seven days.
2. Shop at Paspatur
Set in the shadows of an ancient castle, you will find Fethiye's Old Town, the Paspatur. It is studded with grand bazaars, hushed restaurants, and spectacular parks furnished with benches and fountains. Numerous bazaars sell traditional carpets, Turkish ceramics, pieces of jewelry, and dried herbs. So this is an ideal place to buy souvenirs or memorabilia. You will also find some aesthetic restaurants where you can rest after a day of shopping. Meanwhile, at night, you can also spot bars where you can gulp down some Efes Pilsen, a Turkish beer.
3. Marvel at the Fethiye Ancient Theatre
In 1993, a ruin of a 5,000-seater ancient theatre was unearthed in Fethiye. It's also made up of more than 20 rows that are almost the same height as a two-story building. In their findings, they found out that it was built by the Romans, repaired during 200 AD, and served as an arena during the Byzantine Period. Today, this discovery beamed light to the opulent and ancient roots of Fethiye.
4. Step into the Past at the Ancient City of Telmessos
Fethiye or the ancient Telmessos has an opulent history as one of the largest cities in the Lycian civilization. Apart from having a highly-secured harbor, it also sits on fertile land, allowing it to sustain lives for a long time. Today, you will see the ancient city of Telmessos on the outskirts of Fethiye. Its enormous mountains are carved with tombs and stands as a towering figure facing the sea.
Nearby, you can also see the grandiose Tomb of King Amyntas. It's impossible for you to not notice them with their two 400-BC columns perfectly carved into the mountains. Although some parts have been dilapidated, you can still see its monumental past.
5. Bike around Şehit Fethi Bey Park
Dubbed as the largest recreation area in the region, Şehit Fethi Bey Park is a playground for both adults and children. Aside from the impressive pathway designs, wavy benches, and remarkable art installations, it's also a great place for outdoor activities. There are running and cycling tracks, as well as a vast playground and a skate park. You can also take a relaxing stroll at the pathway near the harbor where you can sit on the wooden boards to get closer to the water. Visiting this park will surely make you wish you're a local in Fethiye, Turkey.
6. Snorkel at Fethiye Bay
Cost: £29 or around US$39.30
Aside from the ruins, mountains, lagoons, and beaches, Fethiye is also known for its Ultra Blue Bays. There are many tour operators who are offering bay-hopping, but one of the recommended tour operators is Sugar's Boat Tours. Captain Sugar has been in the business for more than two decades, and he can also speak English and German. The tour starts at 9:30 AM and ends at 6 PM. Transfers and food are all included in the tour fees.
During this tour, you will visit three to four crystal clear blue bays. You will have ample time to swim and snorkel in these bays and enjoy the scenery. Perhaps the most awaited bay is the Aquarium Bay, which is known to be the clearest bay. Here, you will be impressed by various types of fish as you snorkel.
7. Watch the sunset at Çalış Beach
Just less than three kilometers away from Fethiye, you will find one of the best beaches in Turkey. The Çalış Beach is a long stretch of dark silted sand. Besides swimming on the beach, you can also recline on the colorful beach lounge chairs along the shore. Alternatively, you can head to any of the restaurants, bars, and stores on the side. Just don't miss out on the sunset watching in one of the promenades. After all, it's one of the things Calis Beach is famous for.
8. Sunbathe at Help Beach
Tucked behind the lush forest, you will find the popular and modest Help Beach. It's located 30 minutes away from Fethiye. Its small shore is cramped with beach lounge chairs and restaurants adorned with dried nipa leaves. Although some people dislike how crowded it is, its idyllic view and pristine waters are worth the trip. Maximize your trip to Help Beach by dining at Help Beach and Yacht Club or renting a yacht to cruise the turquoise waters.
9. See the Kaunos Rock Tombs
Part of the UNESCO Heritage Tentative List, this used to be the capital of the prosperous port city of Kaunos in 10,000 BC. It was the main channel of commercial trade between the Mediterranean and the Aegean Sea. Today, whether you're into archeology or historical sites, you will surely find yourself in awe when you visit the ancient city. Some of the highlights are the 5,000-seater theatre, an ancient Byzantine church, a well-preserved Roman bath and, of course, the majestic rock-carved tombs.
The Ancient City of Kaunos is located about an hour away from Fethiye. But don't worry, because it can be accessed by a car or a boat. There are many boat operators stationed on the waterfront, and they charge TL150 or around US$19.51 for a roundtrip ticket.
10. Have a great time at Ölüdeniz Water World
Entrance fee: £12 or around US$16
A vast fun-filled waterpark in Turkey, Oludeniz Water World is the largest aquapark in Fethiye. Visitors can enjoy a myriad of multi-colored slides that lead to expansive pools. You can also find various restaurants and bars to flare you up through the day. If you forgot to pack your swimwear, don't worry because you can buy it from the park inside.
11. Swim in the Ölüdeniz Blue Lagoon
With its stretch of fine white sands and ombre azure waters, Ölüdeniz Blue Lagoon is a major tourist destination. Aside from swimming, you can also sunbathe in the tongue-shaped sand bar that separates the blue lagoon and the beach. If you're an adventure junkie, this is also the perfect place for paragliding, snorkeling, and paddling a canoe. Meanwhile, if you're into a more laid-back and tranquil vacation, you can head to the Sugar Beach Club. This is a private beach with a restaurant and bar where you can just relax away from the crowd.
Ölüdeniz Blue Lagoon is located around 30 minutes away from Fethiye. You can get there through a dolmuş (minibus) that is stationed at the PO Gaz – Fethiye Ak Petrol. It only costs TL5 or around US$0.65 per way. However, the dolmuş takes a few stops before arriving at the lagoon. If you want more convenient transportation, you can take a cab, which will cost you around TL80 or US$10.45.
12. Get a mesmerizing view of the Butterfly Valley
As you sail from Ölüdeniz to Butterfly Valley, you will be mesmerized by the view of the colossal valley from the vast azure waters. But just when the view is satisfying your aesthete, there is more when you step into its fine sands. By then you will be rewarded with the verdant greeneries, a myriad of colorful butterflies, and the waterfalls tucked in the valley. Most of all, although there are a restaurant and a camping area, it's still considered an off-the-beaten-path. So, you will get to experience a slice of isolation in an untouched place in Fethiye.
Getting to the Butterfly Valley is easy. There are many boats found on the waterfront of Ölüdeniz. Just board the boat with a sign "Butterfly Valley – Shuttle Boat – Kelebekler Vadisi" and pay TL50 or around US$6.53 for a roundtrip ticket. It only has three schedules from Ölüdeniz, so make sure to catch them at 11 AM, 2 PM, and 6 PM. Then, the catch last sail from the Butterfly Valley to Ölüdeniz is at 5 PM. Make sure to board the last sail, or else you will have to take a taxi boat that will cost you at least TL250 or around US$33.
13. Enjoy Paragliding at Mount Babadağ
Cost: starts at £50 or around US$68
Take your sightseeing game to the next level when you paraglide from Mount Babadağ. At 1,960 meters high, you will get an idyllic view of the Ölüdeniz beach and its surrounding mountains. The paragliding will take around 25 to 30 minutes and will include thrilling 360 degrees turns, wingovers, and even thermal flows. But don't worry because there is no rapid decline and you will be in tandem with professional paragliders.
You can book the paragliding activity from any of the authorized tour operators in Ölüdeniz. In Travel to Fethiye, their paragliding activity includes transfers, full insurance, professional pilot, helmet, and flight suit (on request). They conduct tours five times a day.
14. Wander around the ghost town of Kayaköy
Once the home of more than 10,000 Muslims and Christians, today, Kayaköy town is simply a remembrance of its glory days. In the 14th century, the town was forcefully vacated as a result of the Greco-Turkish War. During this war, Greece and Turkey aimed for one major religion and dominant culture for their country. So, all the Muslims in Greece were sent to Turkey, and the Christians in Turkey were sent to Greece. However, some of the Muslims from Greece found the location too remote. Over time, it became abandoned. And in 1957, there was an intense earthquake that crumbled the town more.
The ghost town of Kayaköy was given the museum status of the Turkish Ministry of Culture. Moreover, it was titled by UNESCO as a World Friendship and Peace Village. Either you're an adventure junkie or a history buff, you will surely enjoy wandering around the town. With its more than 500 dilapidated edifices, this town will always serve as a reminder of its peppy past.
15. Explore the Saklıkent National Park
Opened in 1996 as a national park, the Saklıkent National Park is one of the world's deepest canyons. The canyon was naturally sculptured by the sometimes-aggressive Karaçay river, and it stretches to 18 kilometers and 300 meters deep. When you visit this park, you will do a lot of outdoor activities such as hiking, climbing, swimming, and river rafting. But you will also find some restaurants and stores to pamper you after your day.
You can pretty much visit the park any month, except November and March. Although there are concrete pathways, it s during these months when the river can get deeper and more turbulent. So you will not be able to enjoy most of the activities as much as you like.
16. Experience the Tlos Ruins
Entrance Fee: TL5 or around US$0.65
Located almost 40 minutes away from Fethiye, the Tlos Ruins is dubbed as one of the most glamorous metropolis in ancient times. It is believed to be founded in 2000 BC and served as the sports center in 1400 BC. Then, during the Byzantine Period, it was the episcopal center. Most of all, it was able to sustain lives until 1900 AD.
Today, visitors will see the ruins of the theatre, agora, rock tombs, and fortresses. Indeed, exploring the Tlos Ruins will take you back to its ancient and opulent past. Just make sure to bring a bottle of water and an umbrella when you visit because there is no shade here.
17. Visit Gemiler Island
Just less than 20 minutes away from the ghost town of Kayaköy, you will see the historic site of Gemiler Island. Historically, it was believed that Lycians inhabited the island in 1500 BC. Then, sometime between 300-500 A.D., many buildings were erected on the islands. Some of them are the numerous Byzantine churches that have been dilapidated by now. Aside from this, the island is also known as the original burial place of Saint Nicholas, or more popularly known as Santa Claus.
Now, when you visit this island, you will marvel at the numerous churches that seemed to echo its sacred years. When you get to the top of the Processional Walkway, you will get a mesmerizing view of the sea and the ruins.
18. Explore the ruins of Letoön
Part of the UNESCO World Heritage List, Letoön is one of Turkey's notable archeological discoveries. It underwent various excavations since the 1950s that didn't only unravel this ancient city but also found significant relics, including the Trilingual Stele, which is an ancient slab with Greek, Lycian, and Aramaic inscriptions. Today, aside from the ongoing excavations, they have also begun restoring the Temple of Leto. Apart from that, you'll also see the ruins of two other temples, basilica, amphitheater, as well as tombs. You will surely have a hair-raising experience while exploring this magnificent discovery!
From Fethiye, you can get to Letoön through a Kumluova-Karadere dolmuş in an hour. But for a more hassle-free trip, you can join Letoon tours that will take you to Letoön, Xanthos, and Patara. The tour fee usually starts EUR109 or around US$133 per person based on four people, but it can get cheaper if there are more people. Transportation, lunch, and entrance fees are all included in the tour package.
19. Marvel at the Ruins of Xanthos
Dubbed as the world's oldest republic, the Xanthos is the capital of the ancient Lycia and a UNESCO World Heritage site. Although some of its monuments were taken to England in the early 19th century, there are still remarkable edifices left in the city. Some of them are 2,200-capacity theatre, acropolis, tomb, and an agora. You can also see the prevailing Hellenistic and Roman architectural influences as you explore the ancient city.
Xanthos is just 10 minutes away from Letoön, so it's a must to see both when you visit. But for a more hassle-free trip, you can join tours that will take you to Letoön, Xanthos, and Patara. The tour usually starts EUR109 or around US$133 per person based on four people, with transportation, lunch, and entrance fees are all included in the package.
20. Rediscover Kadyanda
Tucked in the lush mountains of the village of Üzümlü, you will discover what seemed to be just a rocky part of the forest. The beginning of Kadyanda can be traced back to 3000 BC, but this is unlike other ancient cities. Here, the ruins are only from 500 AD during the Hellenistic and Roman Period. Also, there are only a few concrete ruins that will not entirely show you how an ancient civilization looks like. Most of them are just protruding from the ground and covered by mounds and leaves. This area is very primitive, as you will not even see interpretive signs of its ancient past. Perhaps, this is also what makes it more enchanting because it allows you to feel like you're rediscovering something very important.
Let's go to Fethiye, Turkey!
Fethiye is definitely one of the gems of Turkey. From ancient sceneries to vast azure waters, this city definitely caters to all types of travelers. Whether you're a history buff or an adventure junkie, Fethiye offers tons of things to do for you. But just like any of your travels, make sure that you plan ahead to lessen the hassle along the way. Most of all, bring an open perspective to enjoy its finest treats!