16 Must-Visit Landmarks in Milwaukee, Wisconsin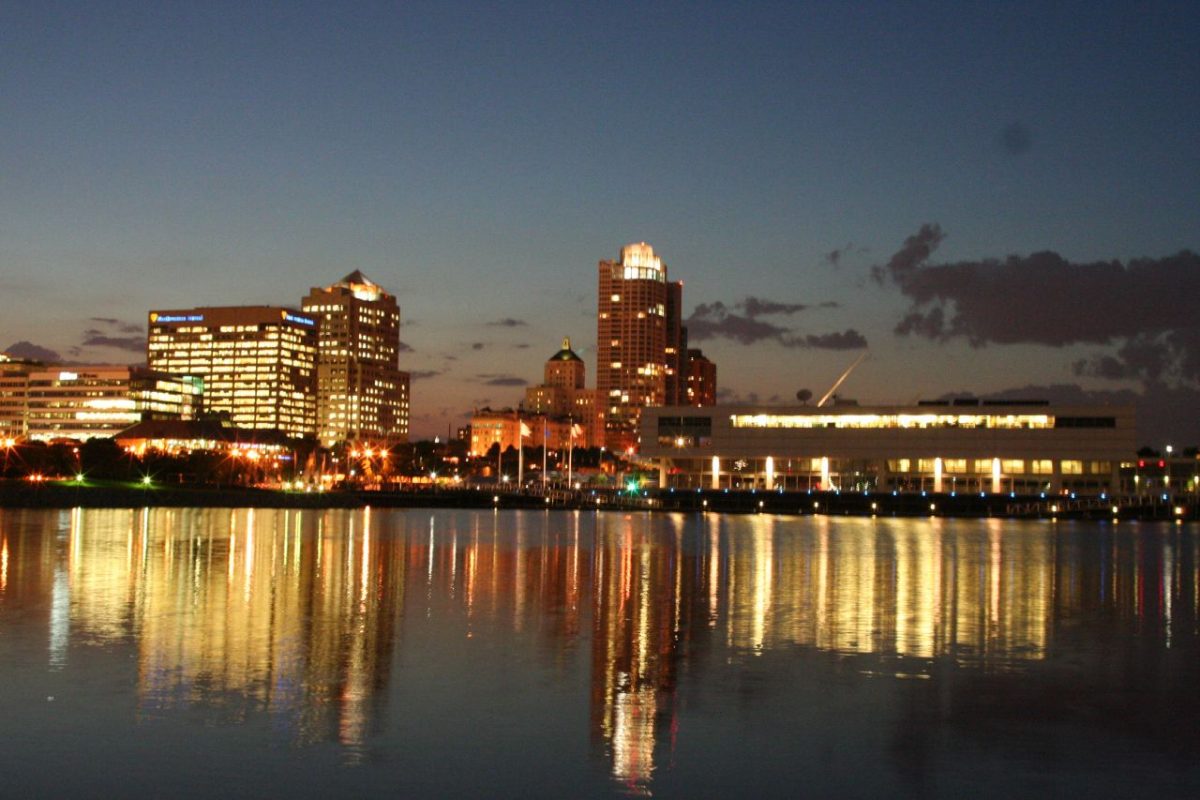 Friendly, welcoming Milwaukee sits proudly on the edge of Lake Michigan. It is rated as one of the most walkable cities in the US, but there is plenty to do here regardless of whether you feel like stretching your legs or not. With its reputation for beer and sport, there are a few obvious attractions that you will want to take in.
However, you might be surprised at the variety that you find when you take a look through this list of the best things to do in Milwaukee to find out what this historic city has to offer you.
1.
Harley-Davidson Museum
Motorbike fans will want to join the estimated 300,000 people who take a trip to the Harley-Davidson Museum in Milwaukee every year. Since its opening in 2008, this collection celebrating over a century of the famous brand has been a smash hit.
It is spread over 3 buildings and some 130,000-square-foot (12,000 m2) running alongside the Menomonee Riverbank. You can see hundreds of thousands of interesting objects here, includes over 450 Harley-Davidson motorcycles.
A visit to the Harley-Davidson Museum is one of the fun things to do in Milwaukee that most visitors really don't want to miss if they can help it. Entry tickets cost between $10 and $20 and admission is free for under 5's. An audio tour costs $4 extra.
The opening hours run from 9 am to 6 pm every day of the week and weekend. You will also find an interesting shop and a restaurant on-site.
There are close to 25,000 different pieces of art to be discovered in this place, making it one of the top Milwaukee attractions for art lovers. The striking Quadracci Pavilion makes this museum instantly recognizable from a distance.
Overall, the exhibits are scattered over four floors and cover a stunning range, running from 15th-century European works through to modern American art. The list of artists featured in their exhibitions covers world-famous names such as Picasso and Warhol through to Wisconsin's own Georgia O'Keeffe.
The Milwaukee Art Museum opening hours are from 10 am-5 pm daily, although it is worth noting that it stays open until 8 pm on Thursdays. If you want to see the iconic "wings" of the building in action then you can see them open up at 10 am, flap at noon, and close at the museum's closing time, provided that there are no adverse weather conditions.
Adults pay $19. Students and senior are charged £27, Children aged 12 and under get in for free. Also, everyone gets free entry on the first Thursday of each month.
The home of the Milwaukee Brewers is the city's big baseball stadium. It is to the southwest of the Interstate 94 intersection with Miller Park Way, so it is easy to get to using different types of transport. Construction work on this stadium was completed at the start of the 21st century. If you visit from 2021 onwards then you will see that the sponsorship has switched from Miller to American Family Insurance.
The building is notable for having the country's only sports stadium with a fan-shaped convertible roof. If you are looking for enjoyable things to do in Milwaukee then it is worth checking whether you can catch a baseball game, soccer match, concert, or another major event here.
Widely described as one of the top brewery tours in the US, this is a chance to enjoy a fascinating visit to an interesting brewery in a cool location on Commerce Street that is easily accessible by taxi. Explore the city's proud brewing heritage on a tasty tour around this place.
Tours start every hour on the hour from mid-day to 8 pm, except Sunday when the last one is at 4pm. Since there is alcohol involved, visitors must be over 21 or accompanied by a legal guardian.
It costs $9 per person from Monday to Thursday and $11 the rest of the week. Expect to spend about an hour here. As you enter the brewery, you are given tokens that you exchange for beers as you progress.
Milwaukee County Zoo is home to over 3,000 different animals of all types, shapes, and sizes. The setting is a woodland zone covering more than 190 acres. Shows, special events, and special attractions all add to the feeling that this is a place that mixes education with entertainment.
This is one of the top Milwaukee tourist attraction for families looking for a relaxing day out. Admission fees and opening times change throughout the year. Adult entrance varies from $13 to $16.25, while children aged from 3 to 12 pay from £10 to $13.25 according to the season.
The zoo is open daily throughout the year, with the opening times varying between 9 am and 9.30 am. Closing time is either 2.30 pm, 4.30 pm, or 5 pm.
6.
Milwaukee Public Museum
This museum has been enthralling visitors with a thirst for knowledge since 1884. You can plan a visit here to see the 4 million objects any day of the week. From Monday to Friday the opening times are 10 am to 5 pm, while Saturdays are 9 am to 5 pm, and on Sundays, 11 am to 5 pm. The first Thursday of each month is a good day for a full-day visit, as it stays open until 8 pm.
The huge number of artifacts here are arranged by department and collection. These include Anthropology, History, Botany, Zoology, and Geology. As an example of the treasures they hold, the Botany department has over a quarter of a million specimens, with more than half of them hailing from Wisconsin. The Zoology section has 800,000 invertebrates and 1.8 million vertebrates in it.
Once you have seen the exhibits that interest you, there is a coffee kiosk, cafe, candy story, and marketplace to keep you occupied a bit longer.
This legendary mansion offers one of the highlights of Milwaukee tourism trips. It is famous for being the ex-home of Captain Frederick Pabst, who founded the Pabst Brewing Company, as well as a number of archbishops. Built in the late 19th century in the Flemish Renaissance Revival, this is an outstanding building that has now been almost completely restored to its past glory.
Pabst Mansion is located on W. Wisconsin Avenue and you can get a guided tour here from 10 am to 3 pm on Mondays to Saturdays. If you visit on a Sunday then the start time is 12 pm. Adults pay $14 and children from 6 to 15 are charged $8.
What better way to view the city than by taking a stroll along this winding pathway? The RiverWalk has become one of Milwaukee's main tourist attractions. It allows you to explore 20 blocks across 3 of the distinct neighborhoods that lie along the riverfront.
This is a fantastic way to explore the range of different things to do in the city, from restaurants to pubs, stores, and more. There is also a selection of outdoor art exhibitions to enjoy as you wander through a mixture of modern and historic areas.
9.
Milwaukee Public Market
A trip to this downtown hotspot is sure to delight your taste buds. The Milwaukee Public Market offers one of the very best things to do in Milwaukee for food lovers. You can eat here in the Palm Garden, take your treats away with you, or even enjoy some cookery classes. The wide variety on display includes artisan and ethnic products, as well as seafood, meat, vegan options, and a lot more.
It is open all year round. The general opening hours are 10 am to 8 pm Monday-Friday, 8 am to 8 pm on Saturdays, and 10 am to 6 pm on Sundays. However, some locals open earlier or stay open until later. If you plan on driving there then you get an hour of free parking at the market when you make a purchase there.
10.
Basilica of St. Josaphat
Located in the Lincoln Village neighborhood, this stunning basilica was founded by Polish immigrants in 1901 and is now listed on the National Register of Historic Places. It is said to be modeled after St Peter's Basilica in Rome.
You will find a well-stocked visitor center that is open from 9 am to 4 pm every day except Sunday. On Sundays, there is a tour offered after the 10am Mass. Inside the Basilica, the art of display includes the iconic 1904 work named The Martyrdom of St. Josaphat, that can be seen behind the altar.
Moving on to another major attraction in Milwaukee, the Wisconsin Center is a giant conference and exhibition space that is renowned for its architectural excellence and use of cutting-edge technology.
Given the variety of events held here — from boxing fights to religious conferences and comic conventions — it is well worth taking a look at the upcoming events when planning a trip to Milwaukee. This center is located on W Wisconsin Ave, with visitor parking available on nearby W Wells Street.
Known locally as The Hop, this is one of the most enjoyable ways of getting around when you visit Milwaukee. This is an electric streetcar system that lets you swish around the city effortlessly. It was formally opened in the summer of 2018 and evokes memories of Milwaukee's previous streetcar system that closed in the mid-20th century.
At the time of writing in June 2019, there is a line that runs for just over 2 miles. It starts at the Milwaukee Intermodal station and heads over to the Downtown, Lower East Side, and Historic Third Ward neighborhoods. There are also plans for an additional half-mile Lakefront stretch that is due to open near the end of 2020.
This museum and event venue sits on Harbor Drive, on a man-made peninsula on the city's lakefront, and is now one of the most interesting Milwaukee tourist attractions. The location on Lake Michigan means that it provides terrific views out over the water and across the city.
Pier Wisconsin is the home of Discovery World, which is a science and technology museum combined with an aquarium, mainly targeted at young visitors. The museum has been open since 2005 and sits in a giant glass and panel building measuring 120,000 square feet.
You can catch an excellent range of events in this newly built, 17,500 capacity arena in the downtown area. The Fiserv Forum was officially opened in 2018 and is home to the NBA team Milwaukee Bucks, as well as the Marquette Golden Eagles basketball team. Ice hockey games and family shows on ice are also held here.
Outside the forum, you will find the popular Deer District plaza where crowds gather to watch major sporting events on television in the restaurants or beer gardens.
This fascinating museum is based part of the Milwaukee School of Engineering and is based on N Broadway. It currently has over 1,400 pieces of art ranging from painting to sculptures. The time period covers the late 16th century to present and has a strong focus on pieces that show people at work in all types of industries.
There is an emphasis on Dutch and German artists in the Grohmann Museum, although a number of other nationalities are also represented. Opening hours are from 9 am to 5 pm Monday to Friday, 12 pm to 5 pm on Saturdays, and 1 pm to 4 pm on Sundays.
The general admission charge is $5, with seniors and students paying $3 and kids under 12 getting in for free.
16.
Henry Maier Festival Park
This festival park is filled with events, concerts, and festivals during the year. These typically include the likes of Germanfest, Festa Italiana, Milwaukee Irish Fest, charity runs, and numerous other special events.
Henry Maier Festival Park is located on N Harbor Drive in the Historic Third Ward. Most weekends have something going on here, with the summer season being a particularly busy time of year.
Which tourist attraction in Milwaukee interests you the most? Let us know in the comments section below!