Top 15 Attractions In Pittsburgh, Pennsylvania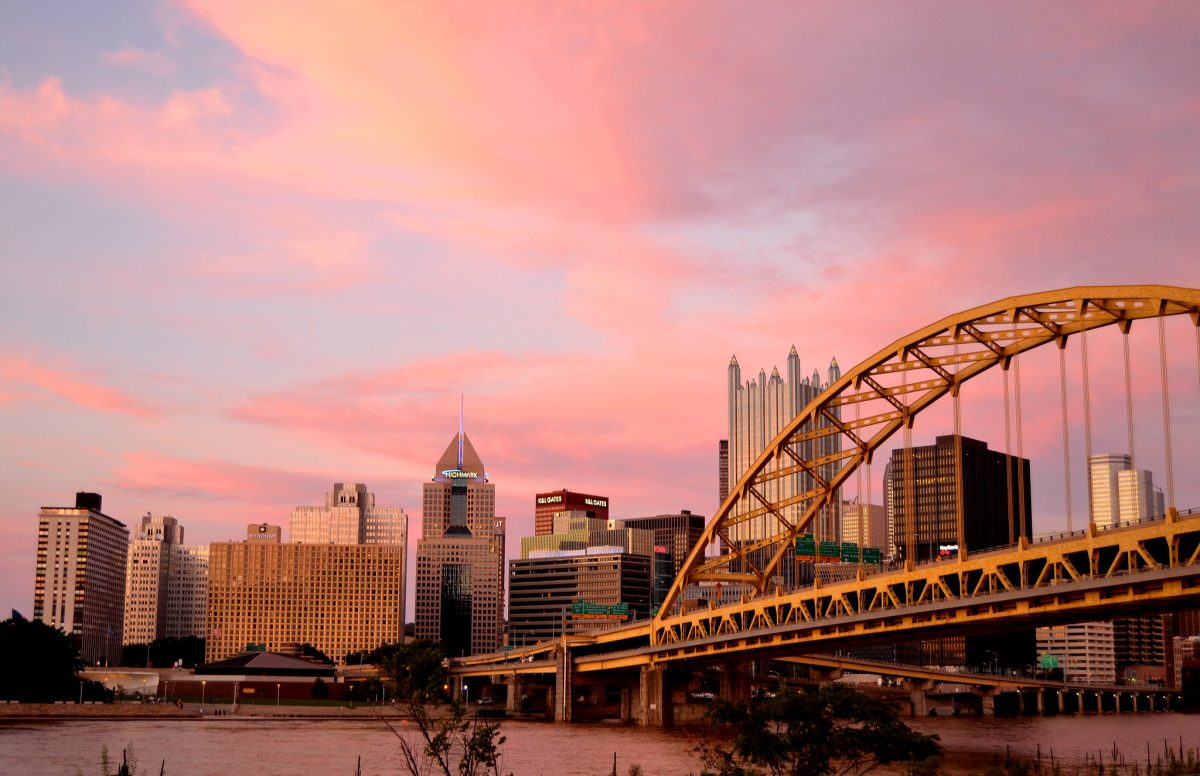 Pittsburgh is home to several famous sports teams such as the Pittsburgh Steelers, Pittsburgh Penguins and the Pittsburgh Pirates. As it once the capital of steelmaking, the city gained its famous nickname, the Steel City. In fact, many famous structures in the United States such as the Brooklyn Bridge and the Empire State Building were built using Pittsburgh steel. Pittsburgh also has bragging rights as the home to Heinz ketchup. Henry John Heinz created the Heinz Company, which has been based in Pittsburgh since 1869.
As you travel through the city, take notice of the hundreds of bridges, in fact, the 450 bridges! There are more bridges in the Steel City than there are in Venice. Some of the bridges were named after some of the city's noteworthy residents like Andy Warhol and Rachel Carson. Pittsburgh is indeed a fascinating city. After visiting these top attractions in the list below, you will be convinced this is indeed a unique city with a lot of offer.
1.
Phipps Conservatory and Botanical Gardens
Phipps Conservatory and Botanical Gardens is a paradise in the middle of Pittsburg. An amazing array of plant collections showcasing permanent collections as well as seasonal flower displays awaits you. You'll delight your senses as you immerse yourself in gardens of rare and unique plants. The Phipps Conservatory also houses numerous historically valuable art pieces which they had inherited. Key pieces of glass art created by internationally renowned glass artists are also on display at the conservatory.
The conservatory is open for you to explore every day from 9.30 am to 5 pm. On Fridays, the gardens will be open until 10 pm. The admission fee is US$17.95 for adults and US$11.95 for children aged 2 to 18. Group discounts are also available. Be sure to check their website for details.
2.
Carnegie Museum of Natural History
One of the top natural history museums in America, Carnegie Museum of Natural History takes artefacts and scientific specimens to inspire, discover and teach. Explore collections of dinosaur fossils and visit the Cretaceous Seaway to discover prehistoric reptiles who lived underwater. Exhibits that showcase geology with gems on display are something that visitors would find fascinating. The museum also has plenty of special events that will satisfy every curious mind, young and old.
Museum hours are between 10 am to 5 pm every day with Saturday closing at 8 pm. You will find the Carnegie Museum of Natural History in the Steel City's East End neighbourhood, Oakland. Admissions fees for Adults is at US$19.95 while it's US$11.95 for Children aged 3 to 18 years. Also note that on weekdays after 3 pm, admission is half price.
3.
Pittsburgh Zoo & PPG Aquarium
Come face to face with animals from all around the world in an atmosphere where respect and appreciation of wildlife are foremost. Covering 77 acres of land in the Steel City, make sure you wear a pair of comfortable shoes when you visit the Pittsburgh Zoo & PPG Aquarium. You can get up and close with animals such as Polar bears, giraffes, flamingos, Philippine crocodiles and clouded leopards. At the zoo, you'll get the chance to feed a giraffe or coast over the jungle on a zipline.
Summer hours are between 9:30 am to 6 pm when the last entry closing at 4:30 pm. General adult admission fee costs US$17.95 while children aged 2 to 13 can enter for US$15.95. Be sure to check their website for more exciting events.
4.
The Andy Warhol Museum
The works of the leading figure in pop art and a native to Pittsburgh is housed at the Andy Warhol Museum. Not only can you learn about the life and art of Andy Warhol at this museum, but you can also make art. This is an educational interactive museum where you can see and touch the exhibits. Understanding the innovative art of Andy Warhol is an essential piece of understanding the Steel City that is Pittsburgh. In addition, don't forget to stop off at the gift shop for Warhol inspired products.
The Andy Warhol Museum is open from 10 am to 5 pm from Tuesday to Sunday, with Friday's closing time extended to 10 pm. The museum is closed on Mondays. General admission for adults is US$20. Students and children aged 3 to 18 can enter for US$10.
5.
Carnegie Museum of Art
The second Carnegie museum in the Steel City, the Carnegie Museum of Art has a vast collection of classical to contemporary art on display. The museum showcases every sort of visual art, as well as film, video and digital imagery. As always exciting rotating exhibitions will be featured so remember to check their website to see what exhibitions are currently showing. The museum is open daily from 10 am to 5 pm, with extended closing times on Thursday and Saturday to 8 pm. Adults admissions are at US$19.95 while students with ID and children aged 3 to 18 can enter for US$11.95. On weekdays after 3 pm, enjoy a 50% discount off regular admissions.
6.
Carnegie Science Center
This huge science center catered towards children is the third museum built by the Carnegie foundation. There is plenty to explore and discover in this vast facility. Visitors can board a real submarine or be awe-struck at the Buhl Planetarium. They can also enjoy a movie on the largest movie screen in Pittsburgh at the Rangos Giant Cinema or burn some energy in Highmark SportsWorks. There is never a dull moment at the Carnegie Science Center and it's no wonder these four levels of fun is the most visited museum in the Steel City.
General admissions are US$19.95 for adults and $11.95 for children. Tickets can be bought online. The science center's opening hours are Monday to Sunday from 10 am to 5 pm. In addition, from the beginning of fall, the science center is closed on Tuesdays until the end of winter.
Get up close and personal with a large variety of birds at the National Aviary. Enhance your experience by going on tour with a guide and visit birds in their different habitats. Such habitats include tropical forests, grasslands, coastal areas and wetlands and it's currently home to many rare and endangered species.
Sharing the same space with birds flying freely above you is quite an experience. Additionally, don't forget to visit the sloths that live here as well! The National Aviary is open daily from 10 am to 5 pm. General admission is US$17 for adults and US$16 for children.
8.
Mattress Factory Museum
If you're looking for something a little out of the ordinary then the Mattress Factory Museum may be able to satisfy you. Unique, thought-provoking and entertaining but also dark, scary and creepy at the same time. Most of the art is interactive and all of it is contemporary and unexpected. All of the art on display is created on the spot, therefore certain galleries will be closed due to new art being created. There are a total of three buildings with three or four floors each.
Opening times from Tuesdays to Sundays are from 10 am to 5 pm with the exception of Wednesdays when it closes at 8 pm. On Mondays, the museum will be closed. Adult general admission is US$15, US$10 for students and children under 6 years old can enter for free.
Come here for an inexpensive laugh. The Arcade Comedy Theatre features at least 6 comedy shows every weekend. An ever-expanding and growing theatre, the Arcade Comedy Theatre offer comedy classes, family shows, workshops, improv class and more. Also, it's important to note that in general, shows are recommended for those aged 16 and up, unless otherwise stated. However, children aged between 5 and 12 can enjoy the Penny Arcade, an improv comedy designed just for them.
General admission tickets range from US$7 to US$20, depending on the show. In addition, BYOB fees for US$5 or US$2 a person if you purchase your tickets in advance. Be sure to check online on their website for BYOB policies. Tickets are available online or at the box office on the day of the show. Please note that tickets guarantee your seats only up until the start of the show. If you are late, you may need to find seating elsewhere.
Steel City happens to be the sanctuary for writers from around the world. The City of Asylum is a unique and cool place that will open your eyes to a world you wouldn't otherwise know about. Find books authored by writers of various ethnic groups and communities that might offer different perspectives and unique viewpoints.
The books on display, music events and performances will introduce you to a world of artists under threat. The City of Asylum provides them with a safe place to express themselves. Be sure to check online for upcoming events and times.
11.
August Wilson Center for African American Culture
The August Wilson Center for African American Culture features amazing art by local, national as well as international artists. Come here and enjoy a dance, a show or a concert and admission free to the public. The facility itself is contemporary, open and refreshing and it houses several galleries, exhibitions, collages and educational spaces.
Meet thousands of talented artists from every age and background. The Gallery is open Wednesday and Thursday from 11 am to 6 pm, Friday and Saturday from 11 am to 8 pm and Sunday from 12 pm to 5 pm. The center closes on Mondays and Tuesdays. Admission in the facility is free but be sure to check online for showtimes and their prices.
The pride and joy of Pittsburgh have to be it's amazing 38,000 seat ballpark. Everything about this park gets raving reviews. The view, the seats, the layout, the skyline, the location and even the concession stand, are all spectacular. Tours are available for US$10 for adults and US$8 for children aged 6 to 14. It lasts about 90 minutes, so be sure to wear comfortable footwear. If the timing works out, watch a Pirates game while you're here.
13.
Senator John Heinz History Center
Who knew that Heinz Co had such a fascinating and significant history? Learn about it at the Senator John Heinz History Center. Fascinating displays dedicated to sports, history, memorabilia and not to mention ketchup can be found at different exhibits. Not limited only to Heinz ketchup, open your eyes to 250 years of history about the Steel City and western Pennsylvania.
Check online for the extensive list of interesting exhibits featured. Admission rates are as follows, US$18 for adults and US$9 for students with ID and children aged 6 to 17. The history center is open daily from 10 am to 5 pm and is located in Pittsburgh's historic Strip District.
Got a thing for bikes? Well even if you don't, you'll find yourself pleasantly surprised at how remarkable a collection of vintage bikes can be. Whether you call it a museum, a garage, or a bike shop, one could easily get lost for hours looking at bikes here. Indulge in some nostalgia by looking for the first bike you ever owned or get your bike serviced here!
While you're here, you can rent a bike or simply take a tour of the world's largest bicycle museum and bike shop. There is no admission fee to tour the museum and it is open 7 days a week from 10 am to 7 pm.
After a visit to the Phipps Conservatory, you will find yourself right in Pittsburgh's Schenley Park. A popular destination for outdoor enthusiasts, this park located in the heart of Steel City's Oakland. Take a hike, go swimming, skate, play golf, walk your dog or play summer sports as you escape the busy city life. Be sure to check out their calendar for upcoming events, camps or currently running programs. The park contains 456 acres of trails, woods and attractions.
The visitor center is open Tuesdays to Sundays from 10 am to 4 pm.