15 Things To Do In Bogotá, Colombia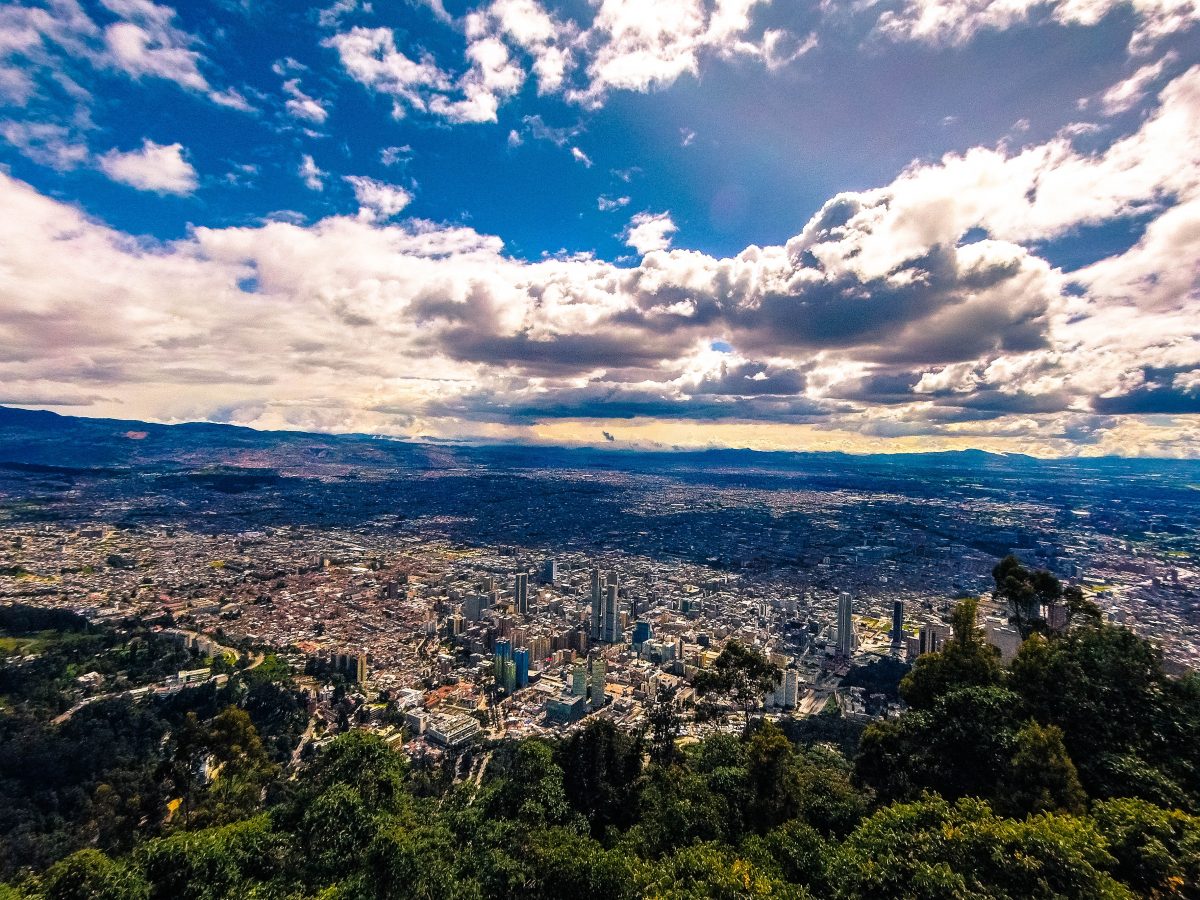 Colombia is one of the liveliest countries in Latin America and Bogotá, it's capital, is a fantastic city to discover. Full of history, Bogotá's streets are the perfect example of how a colonial town founded by the Spaniards has evolved into the modern metropolis that it is today.
Bogotá was founded as the capital of the New Kingdom of Granada by Spanish conquistador Gonzalo Jiménez de Quesda in 1538 once the indigenous people, the Muisa, had been conquered. Its name comes from the Spanish pronunciation of the Muisca word Bacatá which was the name of a nearby settlement at the time.
Spend a few days in Bogotá and you'll experience a city that breathes passion everywhere. Admire its colonial past, contemplate its stunning architecture and dive into its wonderful museums.
Here's a list of 15 things to do in Bogotá.
1.
Plaza Bolívar
Bolivar Square is Bogotá's main square which sits at the heart of the city's historical district. The square was originally named Plaza Mayor and later Plaza de la Constitución until 1846 when the city erects a statue to honour Simón Bolívar thus renaming it as Bolivar Square.
On the Northside of the vast square, you'll find the Palace of Justice and at the South end, the National Capitol. Plaza Bolívar's Westside is occupied by Liévano Palace or Bogotá's City Hall while the East hosts the impressive Cathedral of Bogotá.
The Cathedral was built four times in the same place starting in 1556. Today, the cathedral still houses the remains of Gonzalo Jiménez de Quesada, the founder of Bogotá.
2.
Iglesia de San Francisco
Built in the second half of the 16th century, Iglesia de San Francisco is Bogota's oldest church. An earthquake in 1743 seriously damaged the church and efforts were made to rebuild its tower. For many years, the church was part of a religious complex that included a convent and several cloisters which disappeared when they gave them away to Palacio de San Francisco.
The church has a Mudejar trough and its altarpiece is a great example of Renaissance work in Colombia. San Francisco Church is located in Veracruz district.
One of the most visited sites in Bogotá, the Museum of Gold displays an astonishing collection of pre-Columbian gold and other metals. The museum contains the world's largest collection of gold artefacts.
Museo del Oro has four permanent exhibition galleries and two more for temporary exhibitions. Visitors will learn about mining and manufacturing techniques used by ancient metallurgists. The museum shows how they use metals in the context of political and religious groups, including offering ceremonies, and about mythical themes, shamanism, and the symbology of metals.
Opening hours are from 9 am to 6 pm on Tuesdays to Saturdays and on Sundays from 10 am to 4 pm. Admission Prices for adults are COP 4,000 and its free for children under 12 and adults over 60. The museum is free for everyone on Sundays.
Housed in the former temple of the Real Convento de Santa Clara, built in 1647, the museum gathers an impressive collection of paintings and sculptures from the 17th to the 20th centuries. Many consider this building to be one of the best examples of baroque architecture of the 17th and 18th centuries in Bogotá.
Opening hours are from 9 am to 5 pm from Tuesdays to Thursdays and from 10 am to 4 pm on weekends. For further information, visit the official website.
Monserrate is a hill that dominates Bogota's city centre. It reaches about 3,152 m (10,340 ft) above sea level and offers stunning views of the Colombian capital. On its top, a church dedicated to El Señor Caído (The Fallen Lord) was built during the 17th century. Monserrate Hill was already considered sacred by pre-Columbian cultures such as the Muisca. Its name comes from the Monasterio de Montserrat near Barcelona in Spain.
There are three ways to get to the top of Cerro Monserrate: on foot, by funicular and by cable car. The footpath is open daily except on Tuesdays from 5 am to 1 pm to go up and from 4 pm to descend. Due to its steep ascend, who can only recommend climbing up this hill to only those who are reasonably fit.
The funicular opened in 1929 and it operates on Tuesdays to Sundays from 6.30 am to 11.45 am, until 4 pm on Saturdays and until 6:30 pm on Sundays and Public Holidays. Ticket Prices are COP 10,000 for a one-way trip and it costs COP 6,000 on Sundays.
Monserrate Cable Car opened in 1955 and takes visitors to the top in just 4 minutes. It operates on Mondays from 6.30 am to 12 am, Tuesdays to Saturdays from 12 pm to 12 am and Sundays from 10.30 am to 4.30 pm. Ticket Prices are COP 10,000 for a one-way trip and it costs COP 6,000 on Sundays.
For further information, visit the official website.
Fernando Botero is a painter and sculptor renowned for his large and exaggerated figures. He's without a doubt Colombia's most famous artist. In 2000, the artist donated 208 art pieces, 123 of his own and 85 of other artists, to Banco de la República, which now runs this wonderful museum.
Botero Museum's collection includes paintings, drawings, and sculptures done by Botero during the last 20 years. His version of the Mona Lisa is one of the highlights as well as his first series about violence in Colombia. Exhibits include works of other artists such as Picasso, Renoir, Monet, Dalí, Freud, and Bacon.
Opening hours are from Wednesdays to Saturdays and Mondays from 9 am to 7 pm and Sundays from 10 am to 5 pm. Admission to Museo Botero is free for everyone. For more information, click here.
7.
Santuario Nuestra Señora del Carmen
One of the most impressive churches in Bogotá, Santuario Nuestra Señora del Carmen was consecrated in 1938. Located in La Candelaria district, the church was built in the Florentine Gothic Style with Byzantine and Moorish touches. It's famous for its distinctive facade of red-and-white stripes, a pattern that continues within its interior.
Opening hours are from 10 am to 4 pm on Mondays to Fridays, from 7 am to 7.30 am on Saturdays and from 7 am to 12.30 pm on Sundays.
Lake Guatavita was one of the sacred lakes of the Muisca, the indigenous people and culture of Colombia's Altiplano Cundiboyacense. The legend says the lake is where the Muisca celebrated a ritual in which the Zipa, the local ruler, was covered in gold dust and then dove into the water to wash off the gold. Spanish conquistadores called the Zipa El Dorado or The Golden One thus starting the famous legend that turns Lake Guatavita into a popular tourist destination.
The lake, whose circular surface area is 19.8 hectares, is 57 km (35 miles) northeast of Bogotá. Today, visitors go to the lake to enjoy nature as it has become a popular ecotourism destination. For more information, click here.
La Candelaria is the name of Bogota's historic centre. It's famous for its Spanish Colonial, Baroque, and Art Deco styles of architecture. Plaza del Chorro de Quevedo is the square where Spanish conquistador Gonzalo Jiménez de Quesada founded the city of Bogotá in 1538. Calle del Embudo or Funnel Street is a narrow cobblestone street shaped like a funnel that leads to Plaza del Chorro de Quevedo. It is a very colourful street with street art and graffiti in dazzling colours covering its walls.
Both Botero and Gold Museums are located in La Candelaria as well as many old churches and several universities. Cerro Monserrate is also within the La Candelaria district as is Plaza Bolívar.
10.
Chapinero & Parque 93
The district of Chapinero is home to some of the most exclusive neighbourhoods of Bogotá. Chapinero is a meeting point for musicians and artists and has played an important part in the city's music scene.
Chapinero's most important site is Parque 93 which is a park where you can find many bars, cafés, restaurants and clubs. Because of this, Parque 93 is one of Bogota's main nightlife spots. It is also a shopping area that's very popular with locals and visitors, and many art galleries are also located around the park.
Bogotá's Botanical Garden features plants from every Colombian altitude, climate, and region. It is the only botanical garden in Colombia that specializes in preserving and collecting Andean species of flowers. It spreads over 19.5 acres of land with collections of plants grouped by their original ecosystem.
The symbol of the garden is the Mutisia Clematis flower. It was named after José Celestino Mutis, the garden's founder. Colombia's national plant and flower, the wax tree and the orchid respectively, are very present throughout the garden. There are about over 5,000 species of orchids in total that you can enjoy them during your visit.
Opening hours are from 8 am to 5 pm on Mondays to Fridays and from 9 am to 5 pm on weekends. Admission Prices are COP 3,500 for adults and COP 1,800 for children ages 4 to 12. Admission is free anyone under 3 and over 60 years old. For further information, visit the official website.
Sitting in the north of Bogotá is Usaquén, a district mostly inhabited by upper-middle-class residents. Its colonial quarter includes many interesting buildings built with Spanish colonial-style architecture.
Every Sunday morning, Mercado de las Pulgas or the Flea Market is set up on and around Plaza Usaquén. Very popular amongst locals and tourists, you can find anything here from handicrafts to gourmet food stands. You can also find street entertainment such as music bands, dancers, jugglers, and mime artists.
Usaquén is a trendy hotspot in Bogotá, full of chic bars, cafés and upscale restaurants.
13.
Parque Metropolitano Simón Bolívar
Considered the New York City's Central Park of Bogotá, Simón Bolívar Park is a green space and sports complex in the middle of Colombia's capital. The park's total extension is 113 hectares. It features over 10 miles (16 km) of pedestrian pathways, a lake of 11 hectares where people can rent paddle boats and a large concert space with a capacity for some 140,000 people.
There are 6 cafeterias, three playground areas, a 4km-circuit around the park for cyclists and a 3km-piste for runners. Simón Bolívar Park opens every day from 6 am to 6 pm.
Sometimes a local restaurant becomes one of the main attractions of a city. In Bogotá's case, the legendary steakhouse Andrés Carne de Res is that restaurant. The restaurant was opened by Andrés Jaramillo in 1982 in the Chía district of Northern Bogotá.
Andrés Carne de Res is much more than a restaurant, it's a whole experience that includes not only tasty food but music and dance. Rumba is the local dance that often performed in the restaurant that even waiters take part in during their shift.
The menu is huge as it is everything at this incredible restaurant. The parking, the seating with 11 dining areas for a total of 2,000 customers, two dance floors and several kitchens able to cook from arepas to ceviches as well as all kinds of grilled meat are all within its vicinity.
From Thursdays to Sundays, they serve over 10,000 meals, most of them in the evenings and after dinner, the party goes on well into the night. For further information, visit the official website.
15.
Zipaquira Salt Cathedral
Around 49 km (30 miles) from Bogotá you can find one of the most striking sites in Colombia. The Salt Cathedral of Zipaquira is an underground church that lies within the tunnels of a salt mine.
The halite mines of Zipaquira were already exploited by the Muisca people since the 5th century BCE. Well before the first underground church was built in 1932, miners had carved a sanctuary in the mine as a place for their daily prayers. In 1950, the construction of a bigger project began and the Salt Cathedral was inaugurated in 1954.
The cathedral today is within a larger complex, the Parque de la Sal (Salt Park), which also includes a museum of mining, geology, and natural resources.
Opening hours are from 8 am to 12.30 pm and from 2 pm to 4 pm on Mondays to Fridays and from 9 am to 5.40 pm on Sundays. Admission Prices are COP 57,000 for adults and COP 47,000 for children ages 4 to 12. For further information, visit the official website.
Final Thoughts
Bogotá is one of the most attractive capitals in South America to visit. Colombians are friendly people, vivacious even, with a positive attitude. As a visitor, you'll experience their passion for life as soon as you arrive.
The city offers endless attractions for all tastes. As one of the oldest cities established by the Spaniards in America, Bogotá is rich in history. Walk around the historic centre to appreciate it fully but don't just stay there. Venture yourself to other parts of Bogotá and you'll definitely fall in love with the city even more.