Top 15 Attractions In Hainan Island, China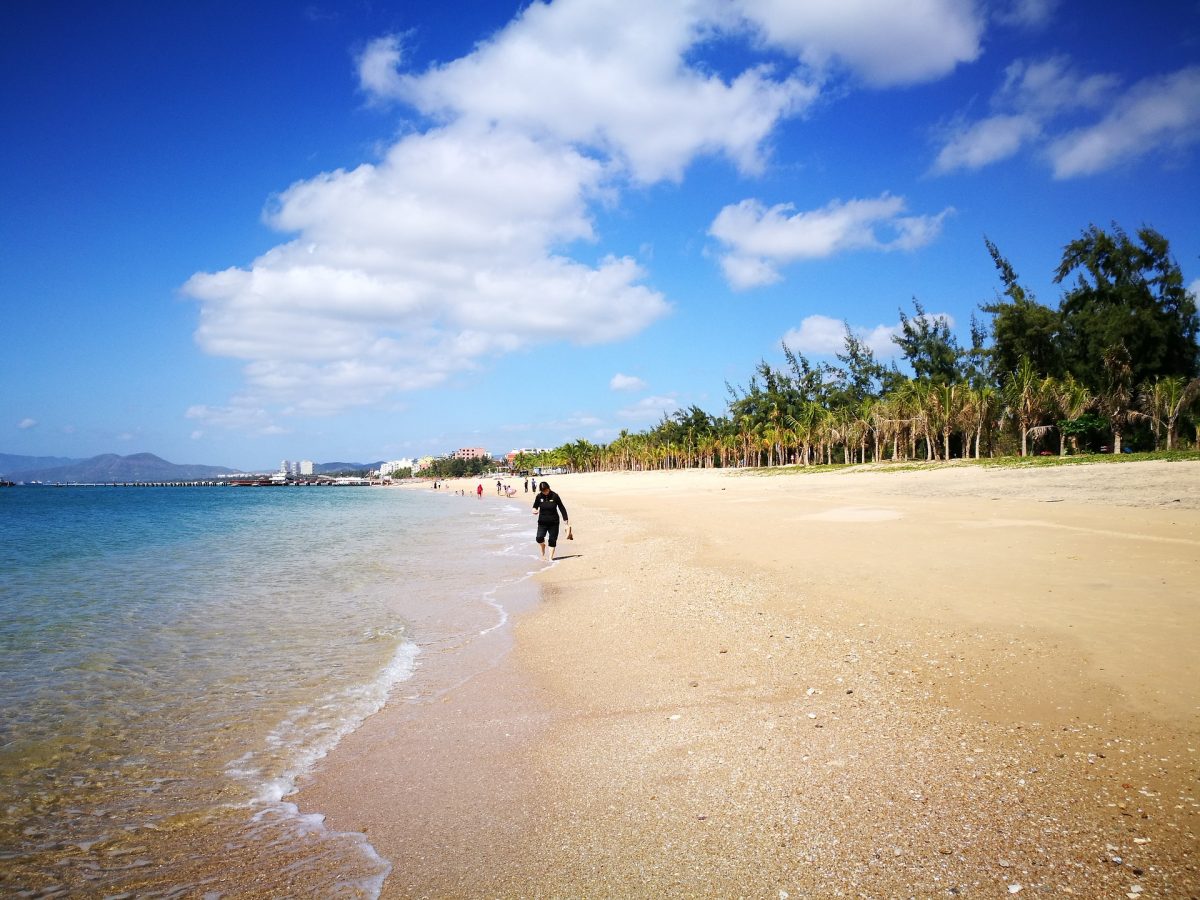 Hainan Island is sometimes referred to as China's Hawaii with good reason, for it is lined with beautiful beaches, clear water and coral reefs. The island is a beautiful little paradise with two main cities, Sanya and Haikou.
Sanya, on the south coast, is famous for its beaches and resorts whereas Haikou on the north coast is the province's capital and is a port city. Both cities can be reached by either plane or train. The travel time between the two cities by high-speed train is usually about 2 hours and costs between 100 to 175 Yuans. The normal train takes about 3 to 3.5 hours and is only slightly cheaper if you book a seat in advance.
Below are some of the main attractions located in Sanya, Haikou and Lingshui County.
Not far from Sanya Bay lies Nanshan temple. The temple is surrounded by a very large park filled with Tang Dynasty architecture, Buddhist statues and images and halls to kneel and pray in. This temple covers a huge area, so make sure you have comfortable walking shoes.
The main attraction is the Guanyin statue. Guanyin is the Goddess of Mercy in Chinese Buddhism. The 3.8-meter high statue is covered in 100 kg of gold and silver and decorated with South African diamonds. It is located 40 km from Sanya City and can be reached by bus.
Admission prices vary depending on the season. During the summer, between May and September, the price is 108 Yuans, and from October to April, it is 129 Yuans. Children under 1.2m can enter the temple for free. Nanshan Temple opens every day from 8 am to 5.30 pm.
2.
Dadonghai Beach, Sanya
Since Hainan is known by some as China's Hawaii, it's only appropriate that one spends time at the beach. Dadonghai Beach is arguably the most famous beach in Hainan. It is particularly beautiful with its long fine white sand coastline. It is near the Sanya City Centre just 3 km away which makes it very convenient.
Enjoy a day here as you listen to the waves crashing into the bay. Water sports are available for those interested. If you are a swimmer, the water is reportedly the clearest in the morning. Also, the long boardwalk makes for a great evening stroll along the beach. In addition, you can drink a can of beer or have dinner at one of the many bars or restaurants along the beach. In conclusion, this public beach is one of the most popular spots in Sanya.
3.
Haikou Volcanic Cluster Global Geopark, Haikou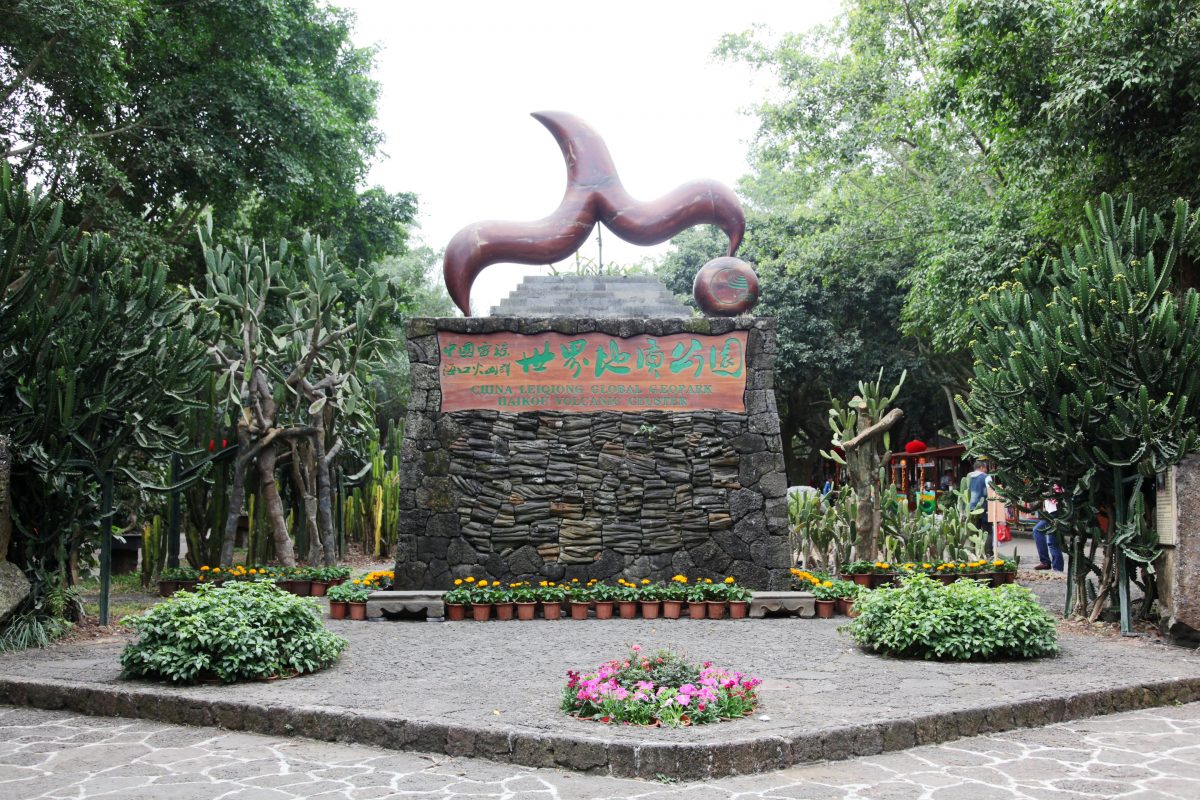 Definitely a unique destination, the Haikou Volcanic Cluster Global Geopark is referred to as a natural geological museum. This park covers a total of 118 square km of land. It includes two major volcanoes and many other protected volcanoes distributed throughout the Geopark.
A highlight of the park is the chance to climb to the top of the crater, and then inside where you will find a little tropical rainforest. Besides the craters, there are other unique landscapes created by flowing lava many years ago. The villages in the Geopark will give you a glimpse of the culture of the volcanic village life. Volcanic Cluster Global Geopark is open daily from 8 am to 6 pm. Tickets cost 65 Yuans for regular admission.
4.
Yanoda Rainforest Cultural Tourism Zone, Sanya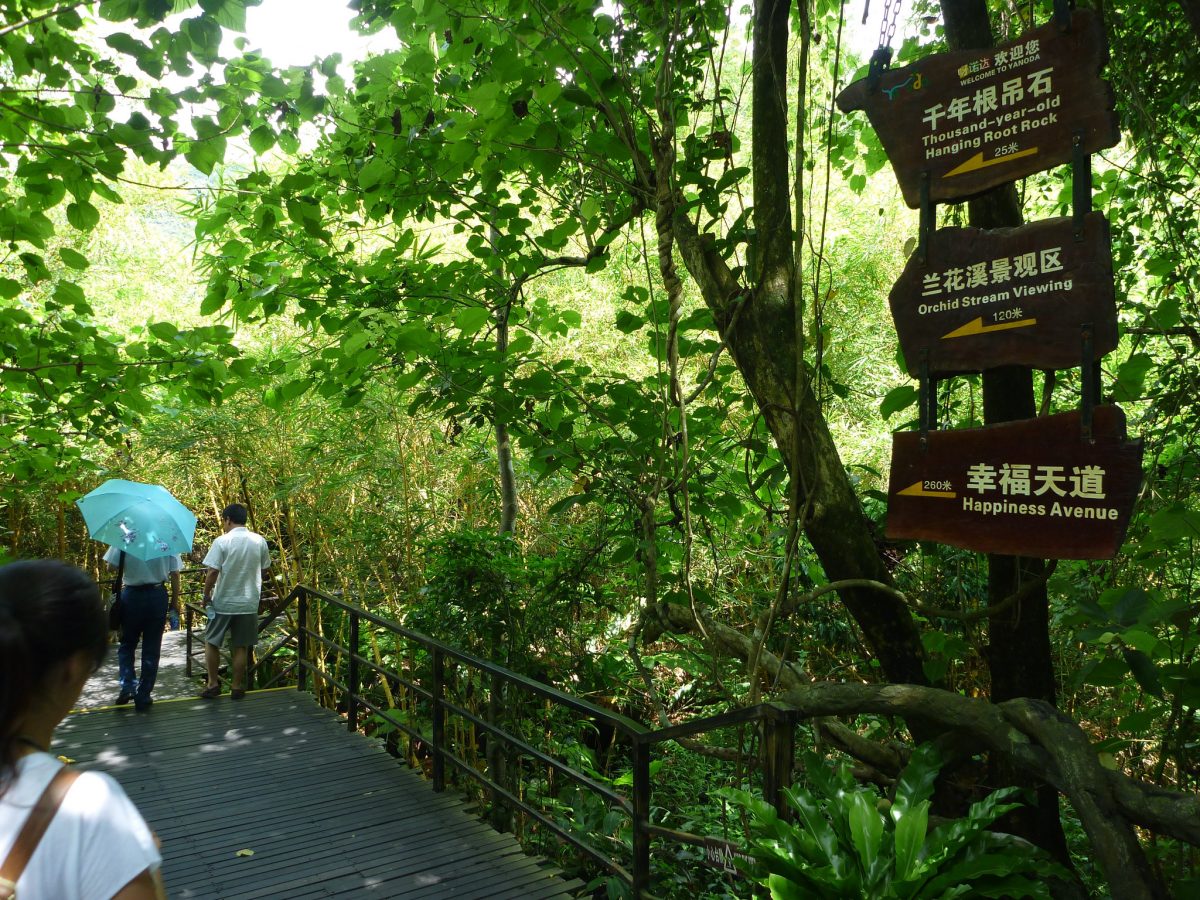 Gorgeous lush green valleys, waterfalls, towering banyans, sugar palms, orchids and more fascinating nature is waiting to be explored at the Yanoda Rainforest Cultural Tourism Zone. The two main valleys in this tourism zone are the Dream Valley and Rainforest Valley.
There are many waterfalls in Dream Valley. Admire the water pouring down the cliffs, or take a hike with your friends along a path over the water and against the pouring waterfall. The Rainforest Valley on Hainan is a lush green escape. Indulge in oxygen, discover flowers, plants and more breathtaking landscapes.
The Yanoda Rainforest is located in Baoting County in Sanya, Hainan Province, about 35 km and 50km away from downtown Sanya and the airport, respectively. Bus lines from four locations downtown will bring you to the park. The admission fee, including the shuttle, is 168 Yuans from October to April and 150 Yuans from May to September. Children below 1.2m can enter for free. For a thorough experience, stay overnight in the zone's hotel or bring your own tent and camping essentials.
5.
Mission Hills Huayi Brothers Feng Movie Town, Haikou
Consisting of three zones, this large movie town is a fun way to spend an afternoon. Each zone features the architectural styles of the time they feature. Some of them are exact replicas of old photographs or movies.
The first zone features replicas of old Nanyang style streets. You'll get to pose as if you are walking the streets in old Shanghai, with colonial houses in the background. The second zone is the 1942 streets where you'll get a glimpse at what life was like during that time. Here you can watch a comedy show at the theatre and enjoy the film museum. Finally, the last zone is the Youth zone which will give you a feel of what it would have been like in a communist army barrack. You can also rent costumes are for picture taking. Other highlights include a typhoon and earthquake simulator.
The combo ticket for all three zones is 198 Yuans. You can also purchase tickets for just one zone if you like. The Movie Town
opens on weekdays from 10 am to 10 pm and on weekends from 8 am to 10 pm. There is a free shuttle bus from various locations in Haikou city and you can ask your hotel for details.
6.
Nanwan Monkey Island, Lingshui County
This state-protected nature reserve is located on the south coast of Hainan, near Sanya. It is home to more than 2500 macaque monkeys who are raised and trained here since 1965.
You can either watch the monkey keepers feed them or bring your own nuts and offer them yourselves. Make sure you make time to watch a comedy show put on by the monkeys.
Just getting to this island is in itself a beautiful trip. You can take a 10-minute cable car ride, which will give you a beautiful view of the ocean. Alternatively, take a boat, then transfer to a shuttle bus. The island is open to visitors every day from 8 am to 5.20 pm. The cost including the boat or cable car round-trip is 160 Yuans.
7.
Xinglong Tropical Botanical Garden, Lingshui County
This comprehensive tropical garden is well-organized and well maintained. With over 1,200 species of plants, there is much to see and admire in Xinglong Tropical Botanical Garden. There are labs that show how chocolate and coffee are produced from their beans. You'll also get to taste these chocolates and coffee for a price.
Indulge in the gorgeous surroundings, with its lakes and lush greenery. You can even enjoy all this while riding a bike as bike rentals are available. Additionally, there is a hotel in the Tropical Botanical Garden, as well as a cafe and restaurant. The garden is open from 7.30 am to 6 pm daily and general admission is 60 Yuans. It is about an hour and a half drive from Sanya and the best way to reach there would be to hire a driver or take a taxi.
8.
The Hainan Museum, Haikou
The Hainan Museum in Haikou is sometimes known as the Hainan Provincial Museum (not to be confused with the Haikou Museum). There are four main permanent exhibits in this museum. These are the Exhibition of Collected Cultural Relics, the Exhibition of History of Hainan, the Exhibition of Minority Nationalities and the Exhibition of Intangible Cultural Heritage in Hainan.
Many signs and descriptions are translated into English. Pleasantly arranged and curated halls make for a beautifully organised museum. Learn about everything from shipwrecks to religion in Hainan. Admission to the museum is free of charge and it opens on Tuesdays to Sundays from 9 am to 5 pm.
9.
Hainan Center for the Performing Arts, Haikou
This very large performing arts centre is the only professional public cultural facility in Hainan. It consists of a theatre and an auxiliary room. The entire area is about 25,000 square meters and the grounds, which covers almost 50,000 square meters of land, consists of a garden, a music fountain and specialized lighting.
Outdoor concerts are often held using the main entrance like a stage. The address for this performing arts centre is the same as the Hainan Museum, but it is located on the other side of the park. Make sure to check for the timing of the performance of your choice before your visit.
10.
Boundary Island, Lingshui County
Boundary Island is a tropical island off the coast of Hainan in Lingshui County. If you're looking for a little isolation, this could be a good retreat. An hour drive and a ten-minute boat ride away from bustling Sanya, Boundary Island hosts a few villas, hotels and restaurants. Enjoy the cliffs and the blue sea from a peak or dive in and swim with the tropical fish. You can also admire the stars at night as you listen to the sound of crashing waves.
The island has two galleries that are worth a visit. One gallery, Salvaged Porcelain Gallery, displays porcelain salvaged from sunken ships and the other is the Coral Gallery, which houses a collection of corals. The marine aquarium, Dolphin Bay is home to many animals including whale sharks, sea turtles and, of course, dolphins. The island also offer plenty of water activities for you to take part in.
A free shuttle bus runs daily from Sanya Century Palace Hotel and it's best to call ahead to reserve seats. Admission fee including the ferry ticket from May to September is 132 Yuans and from October to April is 127 Yuans. Children below 1.2m are allowed on the island for free. The first ferry departs to the island at 8 am and the last ferry departs the island at 6 pm.
11.
Sanya Romance Park, Sanya
Sanya Romance Park is an enjoyable place for everyone. This park is built with both Li and Miao style architecture. The main attraction of the park is the performances. One of them, tells the story of the history of Sanya with trapeze artists, acrobats and dancers performing amidst special water effects. There are also daily performances of traditional music and dance and there are other performances as well.
In addition, throughout the park, there are authentic food stalls, souvenir shops, street performances, a small zoo, some small temples and more. The park opens daily from 11 am to 9.30 pm. Admission price is 280 Yuans per person.
For panoramic views of both the Sanya landscape and Phoenix Island, head to Luhuitou Park. It is an ideal spot to take pictures or just to relax and enjoy the view with an especially stunning sunset that completes the picture.
A little further than the bus stop is a statue that the park is named after. The statue is a deer looking back and is based on a local legend. Also worth mentioning is the Observation Station for Halley's Comet, among other attractions in the park.
Luhuitou Park is open daily from 7.30 am to 9 pm. The ticket fees are 35 Yuans for the park's entrance and 15 Yuans for the round trip on the tourist bus. Take the bus to Luhuitou Peninsula and then to Luhuitou Peninsula Scenic Area, which will take you up the hill.
13.
Yalong Bay Tropical Paradise Forest Park, Sanya
Yalong Bay Tropical Paradise Forest Park is a great place for those who love to explore. Here you can enjoy sights, sounds and smells that are unique only to a tropical forest. Teeming with wildlife, from tropical plants to insects and reptiles, this park is indeed a paradise.
There are plenty of options for exploration. Visitors can cross rope or glass bridges, climb up to peaks or see incredible views from platforms.
The park is about 15-20 minutes away from downtown Sanya. From the entrance, yellow buses wind up the road to the highest point of the park. It is open daily from 7.30 am to 6.30 pm. Ticket price is 140 Yuans during the low season and is 158 Yuans during the high season.
14.
WuZhiZhou Coral Island, Sanya
For very white, very fine and very soft sand, WuZhiZhou Coral Island is your destination. In addition to its beautiful sands, the water is also very clear and is perfect for diving. Naturally, a destination like this can also get very crowded which is why entrance fees are not cheap. It's still worth it for its gorgeous sceneries.
Located south of Sanya, the 50-minute boat round trip costs 144 Yuans from May to September and costs 136 Yuans from October to Apri. Children under 1.2m can enter the boat for free. Opening hours are from 8:30 am to 5:30 pm. For those who want to stay on the island, there is one hotel.
15.
Qilou Old Street, Haikou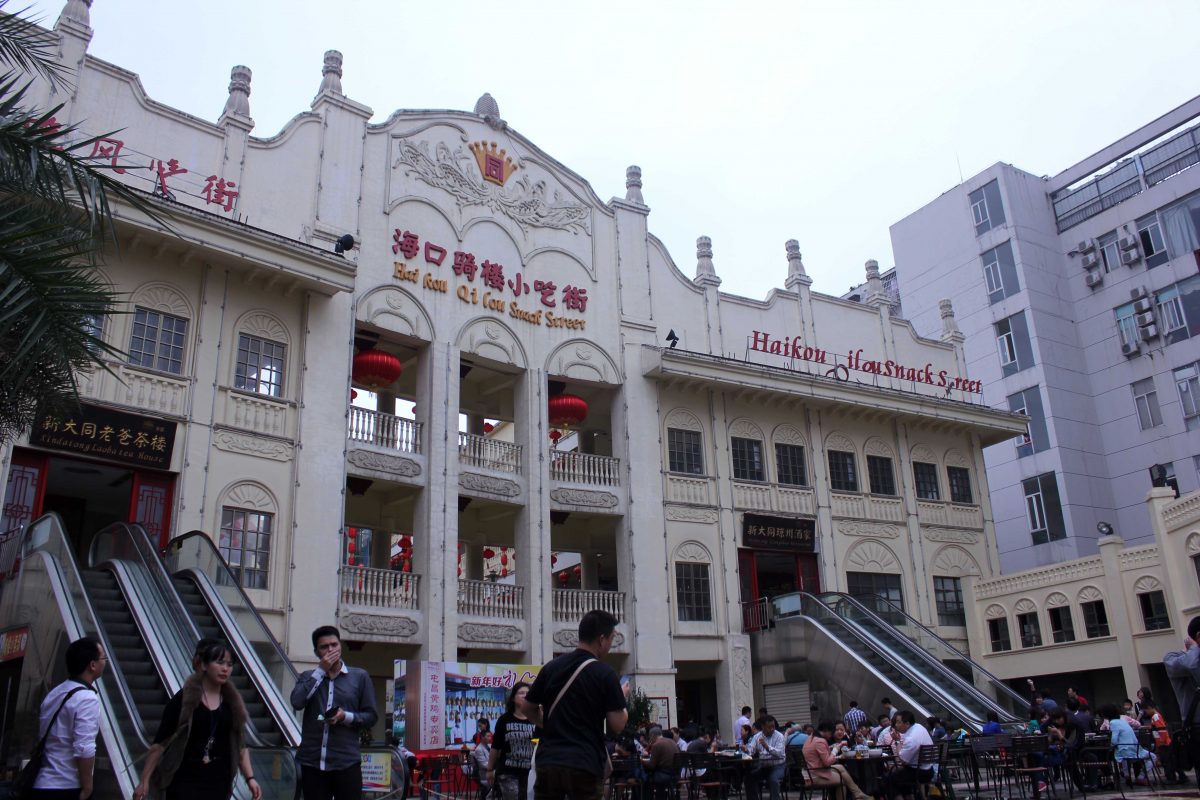 Compared by some with the old streets in Malaysia and Indonesia, this unique old street is lined with beautiful buildings that are characterised by a mix of European and Asian architectural styles. The interesting history coupled with the cute restaurants and vendors makes this street worth a visit.
The first of these "European-Asian" buildings in Haikou was built in 1894 at Sipailou Street. The street is short, so take your time and treat yourself at a traditional dessert shop. You can also visit the little shops or step into the local museum and learn about the history of Haikou City. The street is open at all times, though shops and restaurants open at different times. It can be reached by taking a public bus to Zhonglou station.