11 Best Things To Do In Glenwood Springs, Colorado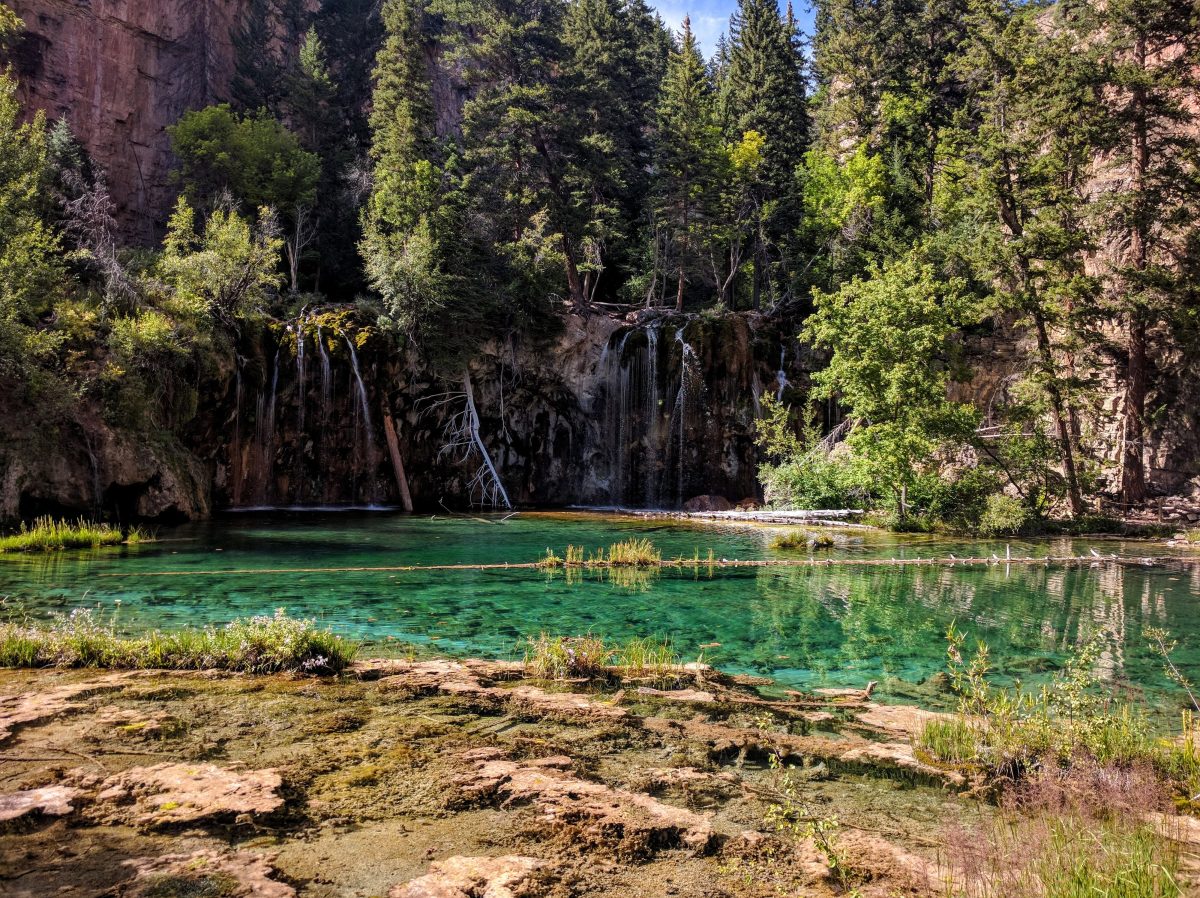 If you're looking for a fun and adventurous destination to go to, Glenwood Springs at the heart of Colorado Rocky Mountains is your perfect choice. Whether you're travelling alone or together with the family, Glenwood Springs has plenty of activities for you. Dive in for more on what to do in the beautiful Glenwood Springs.
1.
Relax At Glenwood Hot Springs
First and foremost, Glenwood is famous for its natural hot springs. Its location in the middle of the magnificent Rocky Mountains provides some of nature's best gift: geothermal.
Have a dip in the world's largest hot spring pool located at the Glenwood Hot Spring Resort. This enormous pool is 405 feet long and 100 feet wide. You'll have no problem finding a spot here! The holiday season is the time to relax, and no better place than to unwind in a giant hot tub. What's better, the pool is surrounded by beautiful views of the Rocky Mountains. The Glenwood hot springs have been around for a long time. It is said that the place has opened up its door to visitors since 1888.
Did you know that the water from natural hot spring is good for you? You heard that right. It contains 15 minerals that have benefits for your skin and general health. The local nomadic Ute tribe first was the first to realize the healthy aspect of the natural springs and named it "Yampah," which translates to "Big Medicine."
Glenwood hot spring resort is a good place to start your journey here at Glenwood springs. The pool is open every day.
2.
Take The Challenge Hiking The Hanging Lake Trail
With the beautiful nature that Glenwood springs have, it would be wrong not to go and explore it! The area is teeming with gorgeous hiking trails waiting to be explored. One of the most popular ones is the 3.2-mile Hanging Lake Trail located in the heart of Glenwood Springs canyon. This trail is one of Glenwood Springs' toughest one.
There will be steep and rigorous climbs, so be ready for a real workout. Don't forget to wear your best hiking shoes and bring plenty of water. The awe-inspiring view of the surroundings will motivate you to keep going! You'll pass many charming streams, and small falls with crystal clear water, along with colorful wildflowers. It's truly worth the hard work because you'll be rewarded with spectacular views of Colorado waterfalls and other natural beauty.
To get to the start of the trail, you'll have to take the shuttle provided by the park. Ticket cost US$12.00 per person. The bus runs every 45 minutes.
3.
Have Fun At Glenwood Springs Caverns Adventure Park
Didn't we mention that Glenwood springs have everything for everyone? That's right! Here is the Glenwood Springs Caverns Adventure Park, a family amusement park located at the top of Iron Mountain. What can be better than an amusement park located amid the beautiful nature with stunning sceneries?
There are many attractions here from rides that give you the view of the Colorado River to 4D Motion Theater. Moreover, there are other unique activities here, such as the tour of the Glenwood Caverns, where you'll explore million years old underground landscape. Don't forget to experience the most highly decorated cave room in Colorado, the King's Row. The Glenwood Caverns is a 40-minute walking tour perfect for all ages! So bring all your family members and learn all about Glenwood Springs' magnificent landscape.
Important information: Most attractions at the amusement park are seasonal. Check with the Glenwood Park personnel for more details.
4.
Ride The Bike on Glenwood Springs Canyon Trail
If you're more into exploring the area by bike, no worries, Glenwood Canyon also has a beautiful bike trail for you. This popular trail is 14 miles long and is considered a relaxed one since the road is paved and there are many rest areas where you can do a picnic and even fishing! Going to Glenwood Canyon Trail could easily be a one whole day activity.
The Glenwood Canyon trail is arguably one of the most beautiful bike trails out there! You'll ride with amazing natural sceneries surrounding you, and if you're lucky enough, you'll spot the Canyon's wildlife residents! Soak up the moment and don't forget to get some snaps of this beautiful place.
The Glenwood Canyon Trail is ideal for all ages, so bring along your family with you.
There are many bike rental shops around which offer drop-off services, so you don't have to worry about getting back the other direction.
5.
Rafting and Kayaking on The Beautiful Colorado River
Are you planning to visit Glenwood Springs in the summertime? Then you shouldn't miss these two exciting activities. The mighty Colorado River that passes Glenwood canyon is one of the best spots for river rafting and kayaking trips. It offers dramatic settings of cliffs on both sides and waters flowing through the canyon. Rafting trips here provides more than just an exciting ride. You'll have pit stops in between at riverside hot springs, where you can take a rest and have a swim.
If you're an experienced rafter, you can navigate the river on your own. On the other hand, if you're not an expert, you'll have to hire a guide. There is a big plus in hiring an experienced guide. Besides knowing how to ride safely, they have the local knowledge–the ins and outs of the place. Ask for exciting stories about the area.
Similarly, kayaking is also a popular activity here at Glenwood Springs. The Colorado Rivers offer visitors all kind of water conditions for beginners to experts.
6.
Unwind At Glenwood Springs' Historic Underground Spa
The Yampah Spa and Vapor Caves are one of the few natural vapor caves in North America, making it one of the most unique attractions that Glenwood Springs has to offer! The vapor caves were originally used by the Ute Indians Tribe for rituals and healing. It offers natural therapeutic steam that is not only healthy for you but also gives a calming effect. You'll go down through several partitions before finding the caverns with three areas where you can relax and inhale the steam. The cave temperatures are between 43°C – 44°C (110°F – 112°F).
If it gets too warm and you need to cool off, there are buckets of water available for you to use. What's better, you can even go outside at the outdoor area for a little bit and get back in. The cave pass allows visitors to enter as often as you like.
There are also reading materials, relaxing music, and lounge chairs available at the spa's solarium. Furthermore, if you're looking for the ultimate spa experience, try on their other health and beauty treatments such as massage, facials, and herbal body treatments.
They are open every day (except on public holidays) from 9:00 to 21:00.
7.
Explore The Grizzly Creek Trail
Here is another beautiful hiking trail that is easier than the Hanging Lake trail. The Grizzly Creek trail at Glenwood Springs is 3.4 miles long and offer visitors a pleasant and peaceful walking experience amidst stunning surroundings. The trail is located along the river, so you'll hear the natural sound of the water flowing. A great way to escape the bustling city life!
There are some picnic tables located throughout the trail. Bring some food and drinks and have a little picnic getaway here! You'll find many wildflowers and berries, as well as pine and spruce trees. Also, good news for dog lovers. You can bring your four-legged companion along with you as long as it's on a leash.
Be advised that the river flows can be high and fast depending on the season. If you have children with you, please be careful.
The trail is open from April until November.
8.
Visit Glenwood Canyon Brewery
Located at the first floor of the historic Hotel Denver, The Glenwood Canyon Brewery offers local hand-crafted beers and other delightful fresh menu items. After a long day of exploring the city, why not take a rest here with your family.
Glenwood Canyon Brewery has won several award-winning beers and if you're over 21 years old, sampling their different types of beers is a must. They have a variety of seasonal beers and specialty brews.
The pub is not only famous for the great beers, but also the food! They have complete choices from soups and salads to pasta and sandwiches, to specialty desserts.
The Glenwood Canyon Brewery is no doubt one of the local's as well as tourists' favorite pub and restaurant around.
The pub opens daily from 11:00 to 22:00. Don't miss out on their happy hour, which runs daily from 16:00 to 18:00.
9.
Do Some Shopping At The City Of Glenwood Springs
Don't forget to bring back some memories to remind you of the best times you had at Glenwood Springs!
You've probably not heard about Glenwood Springs shopping, but it's one of the must-visit places for visitors. Are you looking to add some beautiful decors for your home? Or are you wanting to taste some local sweets made from homemade fudge? Spending a day or a night at Glenwood shopping district will be an interesting time for everyone even if you're not into shopping because it offers much more than that! Eat at one of the charming outdoor restaurants and visit the art galleries that feature Glenwood's own local artists.
For a shopping spree, head down to Glenwood shopping district at Grand Copper avenues and 7th and 11th streets. You'll find a wide variety of items from home decors, outdoor gears, to fashion trends, to books and much more!
You'll find many locally-owned shops, boutiques, and the beautiful Glenwood Meadows mall.
Glenwood Springs is also a heaven for winter sports enthusiasts. After all, it's located in the middle of the majestic Rocky Mountain. So, if you're looking to come during the winter season, Glenwood Springs has a variety of winter activities for all ages and levels including snowboarding, skiing, snowshoeing, ice skating, and one you've probably never heard of: fat biking.
You're probably thinking, how can we bike in the snow? Believe it or not, you can. The sport known as fat biking has actually been around for a decade. The trick to the sport is that the bikes are modified using wide rims and extra-large tires that can go through soft surfaces like the snow. You'll feel like biking on a regular bike trail! Weird huh?
For snowboarding and skiing, Glenwood springs boast many of the world-class spots. For a fun and friendly ski time, head over to one of the few independent ski areas, The Sunlight Mountain Resort. Moreover, within a 40-minute ride, you can find the most recognizable spots in the sport, Aspen.
For the adrenaline junkies, Glenwood Springs is known to have the best downhills in the state of Colorado. Test your skills and get your adrenaline pumping!
11.
See Glenwood Springs From High Above
The list of fun things to do in Glenwood Springs goes on. Here is one for the thrill-seekers. Take on the challenge of Glenwood Springs' aerial adventures and enjoy the most beautiful view of the city from high above. There are three activities to choose from: skydiving, zip-lining, and paragliding. All have one thing in common: it will surely be a once in a lifetime thrill. Are you up for it?
If you don't want to do it alone, they also have tandems as an option. Go on the tandem skydiving and share the precious experience with your loved one. Are you afraid of heights? If you are, then maybe this isn't for you. However, if you are ready to face your fear of heights, this is the best place to do it!
Experienced guides are going to provide you with all the essential information and of course, will be there with you in all activities. So what are you waiting for? Strap in and get ready to have some fun!
Important to note that all aerial activities run depending on the weather.