10 Amazing Things To Do In Jeonju, South Korea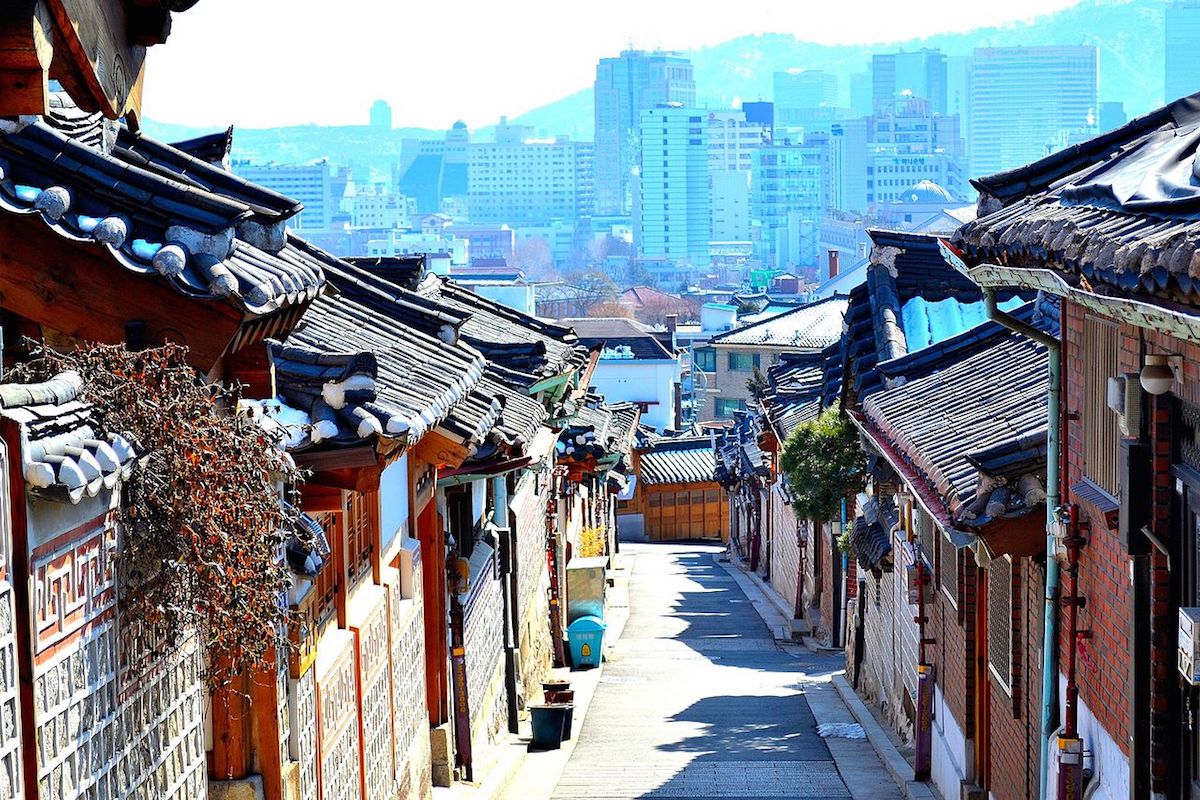 There's more to Korea than its largest city, Seoul. Somewhere in the southwestern of the country is a gem neatly tucked away — Jeonju. As the 16th largest city in South Korea, Jeonju has a lot to offer to both locals and tourists. The charming city has a great mix of urban and rural attractions, giving you plenty of room to explore.
If you're planning to visit this side of the country, here are 10 amazing things to do in Jeonju Korea.
1.
Feel Like A Local At Jeonju Hanok Village
Nothing feels more authentic than staying in a traditional Korean house, the hanok. This is one of the amazing things to experience in Jeonju. The city houses the largest collection of these traditional houses in its Hanok Village. With just 15-20 minutes from the Jeonju Train Station, you get to enjoy an authentic Korean experience.
What To Do And What To Enjoy
Most of these hanok houses are now cafes, tea houses, museums, and boutiques. This gives you more reasons to enjoy a day or two in the village. Aside from that, visitors will be happy to know that many of these houses are now guest houses. This means you can take in the beauty and enjoy the experience for more than one day.
The beauty of the hanok house doesn't end with its architecture style designed to maintain balance with the environment. The specific elements that make up the house make them very interesting. From the long curved roofs, wood and stone materials, to maru and ondol floors, the Hanok Village is a must-visit.
To fully enjoy the experience, consider staying overnight in a hanok guesthouse. Bukchon Maru Guesthouse is a great choice. If you want something more luxurious, Rakkojae is an excellent pick.
2.
Take A Stroll At Deokjin Park
Deokjin Park is one of the most picturesque views in Jeonju Korea. The lush greenery and serenity the park offers are enough to make you stay the whole day. It's an excellent Jeonju day trip option to take a break from the city. It is a wonderland for photographers, too.
What To Do And What To Enjoy
Entering the park, you'll immediately be greeted by a huge pond coated in tightly packed Lotus Plants. The greenery of the plants covers half of the pond and is very refreshing to look at. You can also see turtles, ducks, and fish swimming across the pond. Bisecting the waters is a wooden bridge, while a pagoda sits out in the middle. Crossing the bridge is a great way to move around the park and take in all the beauty.
Aside from a good walk and excellent photo takings, you can enjoy a mini-cruise from the many paddle boats available. This allows you to enjoy the park from a different perspective.
3.
Visit Cheongpyongsa Temple
A 10-minute ferry ride from Soyang Lake will take you to the charming temple of Cheongpyeongsa. This beautiful temple in Jeonju sits peacefully on the misty slopes of Mountain Obongsan. The view is a vacation in itself.
What To Do And What To Enjoy
Cheongpyeongsa Temple is nestled in a valley in between two mountains. Aside from the beautiful and ancient structure of the temple, the boat trip to the temple is worth looking forward to. The trip to the temple offers a scenic view of some of Korea's most beautiful mountains and forests. It's a great break from the busy city life or from the tiring activities on your itinerary. Hiking up the mountain, meanwhile, gives you a better view of the town.
There's a man-made lake nearby called Yeongji, which makes the view from the top worth the hike. Aside from that, near the temple is Cheongpyeongsa Valley. The valley is most known for its pristine water and Guseong Waterfall. What makes this waterfall special is how it's known to make nine different sounds.
Aside from natural beauties, Cheongpyeong Temple boasts several national treasures. Among the famous ones is the temple's "Revolving Door," which is a symbol for the spirits moving to the afterlife. Another interesting aspect of the temple is its colors. Cheongpyeong Temple is one of the most colorful temples in all of Korea.
4.
Find Street Art In Jaman Mural Village
Some of the underserved neighborhoods in South Korea are experiencing a makeover through the form of murals. This initiative is to beautify the streets with vibrantly-colored and artistically painted murals on the walls, fences, or houses.
What To Do And What to Enjoy
There are a number of charming mural villages that dot South Korea, such as Ihwa Maeul, Haenggung-dong Mural Village, and Ji-dong. Meanwhile, in Jeonju, the Jaman Mural Village awaits the art lovers. This mural village is not very crowded, which gives you more space and time to look around and enjoy the street art.
Some of the murals in Jaman Village go beyond the houses, alleyways, and restaurants. They flow seamlessly, which is very interesting to look at. The colorful murals showcase various subjects, from animals, people, to anime characters and famous movies. Visitors will have a grand time taking photos as every spot and corner is picture-perfect.
After spending time walking along the streets and taking photos, you can relax and dine in the nearby cafes or restaurants.
5.
Shop To Your Heart's Content
Jeonju isn't just home to temples, shrines, and parks, it also offers great shopping experience. For one, Jeonju is famous for its traditional crafts, particularly fans and mulberry paper fans. For tourists, these are great additions to their things to buy in Korea. Aside from that, there's more to go crazy shopping for in Jeonju.
What To Do And What To Enjoy
For higher-end crafts, head to the Crafts Exhibition Center. This center helps promote traditional Korean crafts. Visitors are also allowed to create their own or simply observe how the artists do it. Of course, you can shop souvenirs from master artisans.
For other shopping needs, the best place to visit is Nambu Night Market. This market is the number one traditional market in Jeonju Korea. With this title under its belt, expect to enjoy shopping experience to its fullest. From exotic food stalls, clothing, accessories, to furniture, Nambu has it all. With over 800 stores to explore, perhaps a day is not enough to shop to your heart's content.
Being a major market in Jeonju Korea, Nambu Market offers an abundant supply of both exotic and Korean food. Some of the must-try local delicacies here are blood sausage hot-pot, moju, (sweet rice wine), makkollo (rice wine), and baekban (traditional Korean meal table).
Moving to the second floor of Nambu Market, you'll find Cheongnyeon Mall (Youth Mall). As the name suggests, this mall aims to foster younger entrepreneurs. Here, you'll be treated to cafes, handicraft stores, exotic foods, and a lot more.
Meanwhile, for some upscale shopping, visit the Core Department Store. Across Jeonju Stream, you can find Lotte Department Store that offers hundreds of Korean brand names and imported labels.
6.
Search For The Best Bibimbap
In case you haven't heard yet, Jeonju is the home of bibimbap. If you want to try this famous Korean dish of rice, beef, and vegetables, you've come to the right place. Jeonju bibimbap is one of the city's pride and one of the amazing things you must try here.
What makes Jeonju bibimbap stand out isn't just the fresh ingredients but the cooking process as well. Instead of cooking the rice in water, they cook it in beef broth, which greatly adds flavor. The city prides itself in carefully preparing and cooking their bibimbap. Jeonju's delicious cuisine has gained so much attention. In fact, UNESCO named it the City of Gastronomy in 2012 and is labeled as a food country by many.
Of course, while you're here, grab the chance to try other delicious Korean dishes aside from the Bibimbap.
Best Places to Eat Bibimbap
Hangook Jib: If you want the pioneer in Jeonju bibimbap, head to Hanokjib in Jeonju. This is the first restaurant to sell bibimbap.
Gogung: Gogung is one of the most famous Jeonju restaurants that serves bibimbap. If it's your first time in the city, this is the safest place to try a bowl. Gogung serves in the most traditional manner, making your experience all the more authentic.
Gajok Hwegwan: This Jeonju restaurant sits very conveniently in the heart of the downtown area close to Hanok Village. They make one of the best-tasting bibimbap and the location is perfect for tourists.
Myeong Seong Ok: Myeong Seong Ok may be small, but it guarantees authenticity and quality. This is evident in how taxi drivers and locals frequent this restaurant.
Seong Mi Dang: Another excellent choice when it comes to Jeonju bibimbap is Seong Mi Dang. It's less crowded, which means you enjoy more space and privacy.
7.
Swing By Jeonju National Museum
Another amazing thing to do in Jeonju is to immerse yourself in the city's history at Jeonju National Museum. There are over 40,000 artifacts in the museum for research, exhibition, and preservation purposes.
What To Do And What To Enjoy
A few hours in the museum is a great Jeonju day trip option for history buffs. The museum houses five exhibition halls for your amusement. The Ancient Culture Room has relics from the Prehistoric Age. The Fine Arts Room, meanwhile, showcases over 350 relics from the Jeonbuk area. These include a Bronze Buddha during the Three Kingdoms Period, works by local artists, and others. Moving to the Folklore Room, you'll find more than 300 folklore and local craftsmanship items.
In addition, Jeonju National Museum serves as a venue for many educational and cultural activities in Jeonju. This is a great opportunity for visitors to better understand Korea's history. There's also a gift shop to muse over and purchase souvenirs.
8.
Enjoy A Kettle Of Makgeolli
Aside from your quest to find the best bibimbap, another must-try in Jeojun is their makgeolli. Makgeolli is a traditional fermented rice liquor that's high in amino acids, protein, and Vitamin B complex. An order of a makgeolli kettle comes with a vast array of side dishes to enjoy. The best part is when you order a second round, you're also served with different dishes.
Where To Enjoy Makgeolli
Jeojun is home to three different makgeolli: clear (malgeunju/cheongju), chestnut (albamju), and dark (takju). The clear kind is filtered for a long time. Today, makgeolli makers have become more creative, thus you can find different flavors to enjoy. They have rice wine and cream cheese, rice wine and banana, and rice wine and citron among others.
To find and enjoy a kettle of makgeolli, head to either the Samchundong district or the Seosindong district. These two are well-known for their "makgeolli alley." Samchundong District serves more of the traditional dishes, while Seosindong offers younger dishes.
Hanbok best represents South Korea. This traditional attire is mostly worn during festivals, ceremonies, and different occasions. When in Jeonju Korea, you get to experience wearing the hanbok, walk around the streets, and feel like a local. The traditional hanboks are available for rent for both women and men and usually come as a pair.
Where To Rent A Hanbok
Make your Jeonju day trip even memorable by renting a traditional hanbok. The best place to rent one is at Hanboknam Shop in Jeonju Hanok Village.
Aside from wearing the costume, you also get to enjoy free hairstyling services to complement your look. Pick from either a plain or everyday hanbok or a more elaborate one. The shop has over 100 sets of hanbok to choose from so there's one perfect for you.
10.
Experience The Jeonju Nightlife
Jeonju is not one to be left behind when it comes to nightlife. The city has some areas perfect for drinks and to unwind and have a good time. Nearby Jeonbuk National University, mostly known as the Old Gate, there are restaurants and bars catering to a younger crowd. Sinsigaji is another popular area to hang out and have a few drinks. It's a newly developed district with a variety of bars and clubs dotting the area.
Where To Experience Jeonju Nightlife
Deepin is Jeonju's pioneer expat hang-out area since the 1990s. It's perhaps the best westerner bar in Jeonju and can be quite packed on weekends. Deepin is a great place to enjoy Jeonju night and meet a mix of locals and tourists. Another western-style bar is called Tombstone 1. The bar has frequent fire and juggling shows for your amusement.
Meanwhile, if you want a mix of western and Korean music, Music Bank is an excellent choice. Tu-Pak is another great choice if you want to be treated to various in-house DJs while enjoying a drink.
Going Around Jeonju
Going to Jeonju from any other city in South Korea can be done via plane, bus, or train. The fastest is via plane. If you're coming from Seoul, the plane ride is about 55 minutes to Jeonju Airport.
Meanwhile, if you opt for the train, the Jeonju Station has extensive services to major centers in South Korea. The Intercity Bus Terminal of Jeonju connects the city to other major South Korea centers. The bus trip gives you amazing mountain views along the way. Moving around Jeonju is a breeze via taxis or car rentals.
Best Time To Visit Jeonju Korea
To fully enjoy your visit, it pays to know about Jeonju weather. The warmest months to visit are June, July, and August with the latter being the hottest. Spring is an excellent time to visit Jeonju, which is in April, or autumn in September.
Meanwhile, the busiest month in Jeonju is January, as well as May and April. During these months, tourism is high so expect hotel and flight prices to be high as well. December is a low season in Jeonju and the least expensive month.
Jeonju Korea Is More Than Just a Stopover
Just like the other cities in South Korea, Jeonju holds a significant role in preserving and showcasing the best of Korea. Hailed as a food capital, Jeonju is home to delicious cuisine and meticulous meal preparations. Aside from that, there are many other interesting sights to see and things to try in this charming city.
So next time you're in South Korea, consider visiting Jeonju and let the city convince you that it's more than just a stopover.