Your Complete Guide to Tennessee Aquarium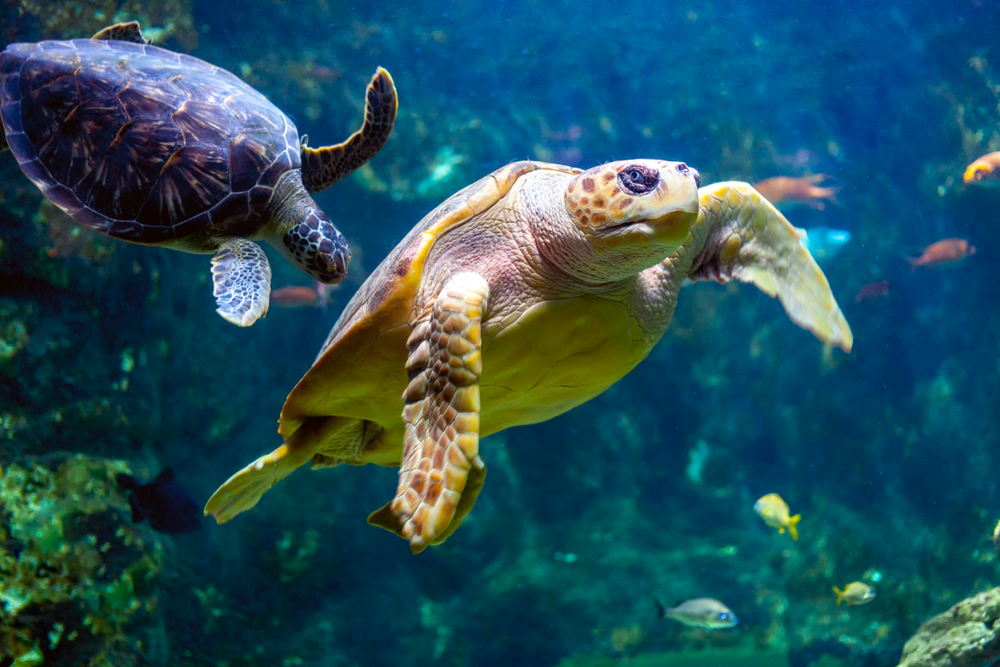 For about 10,000 marine creatures and animals, the Tennessee Aquarium is a place they call home.
Located in downtown Chattanooga, Tennessee, the aquarium is made up of two buildings and an IMAX® 3D Theater which is housed in a separate building. Because of drawing hundreds of visitors daily, it is rated one of the Top 10 Best Aquariums in the United States on TripAdvisor.
Read on for everything you need to know before planning a visit to the Tennessee Aquarium.
Main Attractions & Exhibits
The two buildings of the aquarium – namely River Journey and Ocean Journey. They both feature different habitats and exhibits to explore. The Tennessee Aquarium offers an up-close look at the habitats as you journey through the exhibits.
River Journey
Inside the River Journey building, visitors are greeted by the Appalachian Cove Forest, which was created to mimic the mountain source of the Tennessee River. Inside, you can gaze upon feisty river otters, colourful frogs, and amazing turtles. You can also see freshwater fish species such as beautiful trout, giant catfish and prehistoric-looking sturgeon as you are surrounded by the sounds of waterfalls and chirping birds.
Then, you can move on to the Discovery Hall where you can explore the humid, damp habitats of the Southeast region. The hall is filled with sunfish, an ancient-looking lake sturgeon, baby alligators, and the country's largest salamander. After that, proceed to the Mississippi Delta which is home to 13 American alligators. Because of this, visitors can learn more about the swamp ecosystem.
In collaboration with National Geographic, the River Giants exhibit showcases creatures such as the powerful Arapaima, bizarre-looking Wallago Catfish and giant freshwater stingrays, to teach a powerful lesson in conservation.
Ocean Journey
After seeing the river, go to the ocean. The Tropical Cove is a cool, tropical rainforest experience filled with vibrant blossoms, lush greenery, the echoing cries of lemurs and a unique touch station for you to explore as you learn about exotic tropical ecosystems.
If you are lucky enough, you might just spot an endangered lemur in the Lemur Forest as they clamour high up the trees above. Both the young and old can delight in touching different shark and stingray species in Stingray Bay as aquarium experts share more about these gentle creatures.
Exploring the other exhibits in Ocean Journey will bring you face to face with hundreds of free-flying jewel-toned butterflies, playful penguins. It also has the Secret Reef where you can watch jaw-dropping 10-foot sharks and sea turtles glide amongst thousands of colourful reef fish.
IMAX® 3D Theater
Travel to underwater reefs filled with marine creatures or explore exotic islands around the world in this huge six-storey theatre. Watch the screen as 3D images come to life and get immersed in the ultimate theatre experience.
In the IMAX Lobby, there is also a new virtual reality experience called the Prehistoric Dive. Participants are placed in the digital boots of a team of explorers who are mysteriously catapulted through time into the harrowing waters of a primordial ocean.
It makes for a thrilling adventure not to be missed! The headsets transmit realistic 3D imagery that changes based on where guests are looking and the platform on which they are seated moves in response to the onscreen action.
Tip: Download the free Tennessee Aquarium app from the iTunes Store or Google Play to make the most of your trip. Use the app to plan your visit, check IMAX showtimes and to see the complete schedule of more than two dozen animal programs offered free with Aquarium admission each day.
Tennessee Aquarium Operating Hours
| | | |
| --- | --- | --- |
| Aquarium | Mon – Sun | 10 am – 7.30 pm* |
| Gift Shop | Mon – Sun | 10 am – 6.30 pm |
*Last entry into the aquarium is at 6 pm.
Do note that the Tennessee Aquarium is closed on Thanksgiving and Christmas Day.
Ticketing information
Ticket purchases cover the entire day, which means you can re-enter within the same day. Your admission ticket also covers both buildings (Ocean Journey and River Journey), allowing you to learn more about your favourite aquatic wildlife in an immersive environment.
Adult

Child (3 – 12 years)

Child (Under 3 years)

Tennessee Aquarium

US$ 34.95

US$ 21.95

Free

IMAX 3D Theater – 45 min film

US$ 11.95

US$ 9.95

Tennessee Aquarium & IMAX Combo

US$ 42.95

US$ 29.95
There is also an additional Backstage Pass that can be purchased at $17 at the aquarium. This grants you access to be up close and personal with the animals, allowing you to feed as well as touch them. Do note that this pass is a top-up on top of the standard aquarium admission ticket.
The Tennessee Aquarium also conducts two of these backstage tours daily – River Journey at 11.15 am and Ocean Journey at 2.30 pm, each lasting around 45 minutes. Due to safety concerns, children under 6 years old are not permitted for the tours.
Click here to purchase tickets from their official website.
Chattanooga Hotel Packages
The Tennessee Aquarium also partners with some of the best hotels in Chattanooga to offer you special deals and experiences in the city. Hotels include The Westin Chattanooga, Chattanooga Marriott Downtown, Embassy Suites Hamilton Place, and many more.
Find out more here on what each package has to offer for a fun-filled holiday!
Directions & Parking at Tennessee Aquarium
Due to construction on U.S. 27 North in Chattanooga, the following routes are recommended:
From I-24 Westbound
Take exit 178, then turn right onto North Market Street.
Drive approximately 2 miles to Aquarium Way, then turn left on Aquarium Way.
Go one block and you'll see the aquarium on the right.
From I-24 Eastbound
Take exit 178, turning right onto North Broad Street.
Drive approximately 2 miles to Aquarium Way.
The aquarium is located at Broad Street & Aquarium Way.
If travelling on U.S. 27 North
Drivers are encouraged to use Exit 1B to MLK Blvd.
Turn right on MLK Blvd then travel two blocks and turn left on Broad Street.
Drive seven blocks to Aquarium Way, and the aquarium is located at Broad Street & Aquarium Way.
Parking
There are several paid parking spots near the Tennessee Aquarium and IMAX Theater.
However, if you don't want to drive, a free shuttle bus operates daily from downtown Chattanooga.
Food & Beverage Options
Feeling hungry after all that exploring? Here are some places you can grab a bite nearby Tennessee Aquarium.
The Blue Plate
This modern diner places focus on local flavours and ingredients, all from local bakeries, farms, and ice-cream shops. Here, they serve up all-day breakfast plates, open-face sandwiches, burgers, fried chicken, soups, and salads.
This is the perfect place to grave some grub before or after a day at the aquarium because it is located conveniently behind the Tennessee Aquarium and along the riverfront.
Mellow Mushroom
Despite sounding like a vegetarian restaurant, Mellow Mushroom is actually a fun art-filled pizzeria. They offer small bites like garlic cheese bread and pretzels, to highlights like their freshly stuffed calzones and speciality pizzas, and even sweets like brownies and cookies. Pizzas can even be made gluten-free!
Even if you're too lazy to eat out, you can still enjoy their signature pizzas from the comforts of your accommodation because they do deliveries!
Other Popular Tourist Destinations In Chattanooga
These attractions are all near to the Tennessee Aquarium, perfect for a day's excursion!
Blue Heaven River Tours
Located just a short walk from the Tennesse Aquarium, this newly relocated attraction in downtown Chattanooga provides boat tours that show off all that the beautiful waterfront has to offer. Not only you will see beautiful scenery, but also learn about its history.
The tour then takes you through the Chicamauga Lock where you can visit Lake Chicamauga and enjoy all the gorgeous coves, rolling hills, and beautiful homes or choose to cruise to the beautiful River Gorge, where the locals term it as the Little Grand Canyon! You can even choose to enter the water and frolic around with floats that are provided.
You can even rent your own private yacht, complete with all the amenities and facilities you require, as well as a designated captain that will bring you to different spots to enjoy.
Hunter Museum of American Art
This museum is located in the Bluff View Art District, a historic neighbourhood that specializes in the visual, culinary and landscape arts. And It's just walking distance from downtown Chattanooga.
The museum's collections include works representing the Hudson River School, 19th century genre painting, and American Impressionism. Aside from that, they have the Ashcan School, early modernism, regionalism, and post World War II modern and contemporary art. Because it's filled with permanent as well as travelling exhibitions, there is no shortage of gorgeous art here.
After that, pop into River Gallery, which showcases quality art and crafts from local and international artists that you can bring home. Then, explore cafes, bakeries, and restaurants in the area to wind down for the day.
There's So Much To Explore In Chattanooga
With the Tennessee River flowing through the city, the riverfront is the place to stay, play, and eat – perfect for a holiday for the whole family. To sum up, adults and kids alike are sure to delight in the Tennessee Aquarium because of all the marine life and ecosystems it has to offer.