Everything You Need To Know About The Carnival Breeze Cruise Ship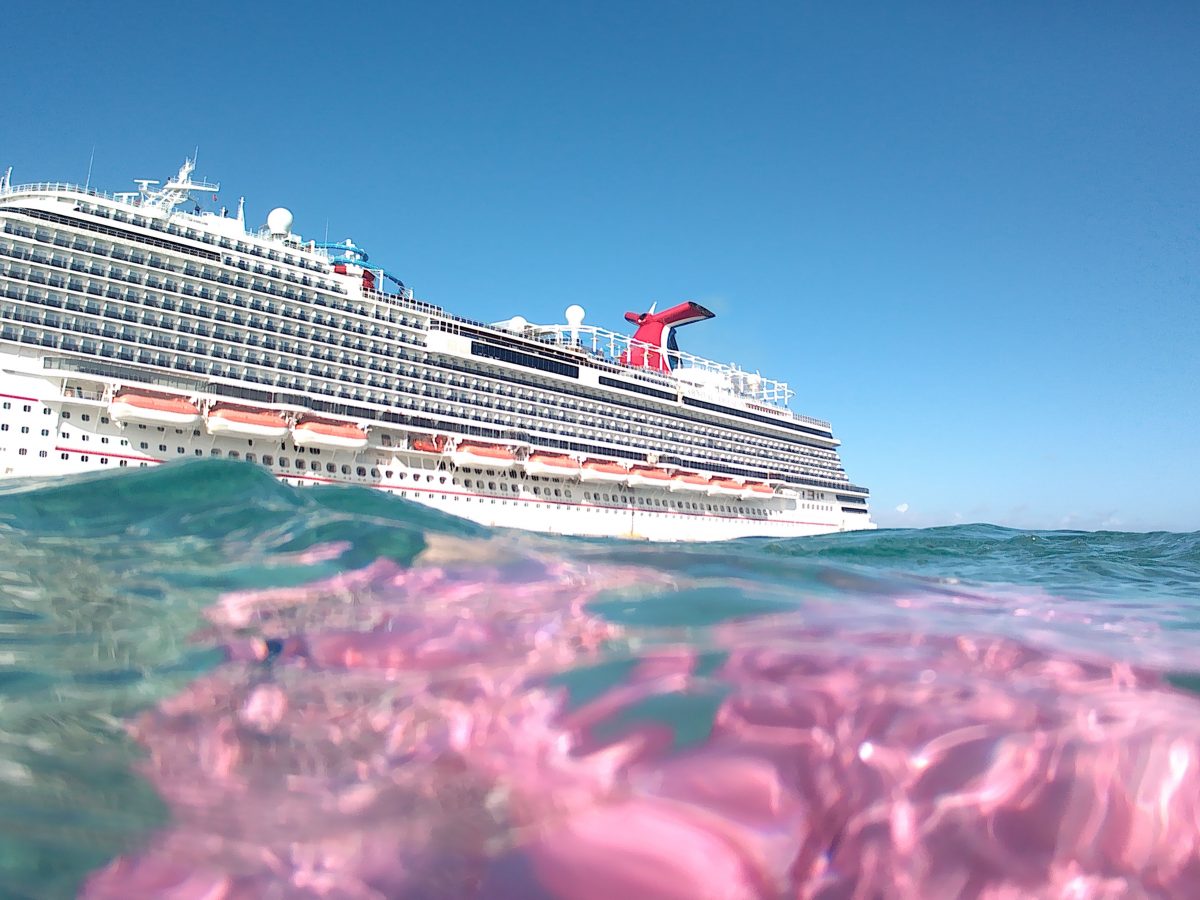 Carnival Breeze, a Dreams-class cruiser by Carnival Cruise Line, is a floating party hub. Sailing the Caribbean Sea, Carnival Breeze takes its passengers to cruises typically lasting between six and eight days. Unless you have serious work commitments, consider booking a 14-day trip to the Southern Caribbean Sea.
Moreover, you probably won't get much sleep on board the Carnival Breeze. Known as the Fun Ship, the cruise liner is a sailing amusement park, nightclub, and a comedy club. So, make sure you catch up on your sleep so as to prepare for a never-ending party aboard the Carnival Breeze.
1.
Accommodation Onboard the Carnival Breeze Cruise Ship
The Carnival Breeze cruiser has various staterooms, each with an assigned attendant and room steward. Rooms with ocean views or with a private balcony and suites are accommodation facilities available onboard Carnival Breeze.
Additionally, passengers traveling with their better halves could do with Interior or Balcony Staterooms which are about 17m2/185ft2 big. If your party counts up to four people, book a Grand Penthouse (32m2/345ft2), or a Junior/Ocean Suite (up to 42m2/450ft2).
Meanwhile, travelers who wake up early or go to bed late should think about securing a balcony cabin to relish the Caribbean sunrises.
2.
Having Fun And Dining On Board Carnival Breeze
As pointed out, there won't be a lack of entertainment opportunities on the Carnival Breeze cruise ship. That is to say, you can expect 30-minute shows, audience-participation activities, musicals, comedies, and dancing performances which are as good as guaranteed to blow you away.
Additionally, if you have ever dreamed of taking part in a movie, the Thrill Theatre stages multidimensional shows suitable for kids, grannies and everyone in between.
Alternatively, check out WaterWorks, the ship's aqua park, which features amazing water slides, water cannons, and fountains for a wet day out. To access the water slides, the minimum height for both children and adults is 107cm/42in.
If parents decide to spend some time on their own, Circle C and Club O2 are the best places for younger (12-14) and older teenagers (15-17). Furthermore, the Children's Camp Ocean fills its ranks with penguins (kids aged between 2 and 5), stingrays (6-8), and sharks (9-11). There, the little ones can participate in various programs.
After that, you can check out Carnival Breeze's culinary scene. It doesn't matter what your personal preference is — Carnival Breeze has you covered from Michelin-star dining to simple, fresh salads. Think burritos, pizzas, burgers, and Mongolian Wok. There's no limit on the Carnival Breeze.
3.
Sailing On Board Fun Ship With Kiddos
Families cruising with their little angels (or devils) certainly won't have a hard time finding suitable activities on their sailing trip. For instance, the SkyCourse is a network of ropes and platforms hanging over the deck, allowing you to put your balance and dexterity to the test. However, be cautious when approaching the edge of Carnival Breeze to avoid falling overboard the ship.
Additionally, you can entertain yourself at the Video Arcade which is open 24/7. Prices depend on the game genre ($0.75-$2), but most of them cost $1. However, if you somehow manage to forget that you are on the cruise, a daily limit of up to $100 per person is allowed. This can also be decreased if you want to prevent yourself from overspending.
Alternatively, Build-a-Bear Workshops allow kiddos to make a bear, shark, bunny, or any other souvenir that will remind them of the Carnival Breeze cruise.
4.
Carnival Breeze Ports Of Call
Carnival's Fun Ship departs from the ports of Port Canaveral near Orlando, and Fort Lauderdale which is a stone's throw away from Miami. The Carnival Breeze Cruise liner is currently touring the eastern, western, and southern Caribbean as well as the Bermuda Islands.
Ports of call on the Eastern Caribbean cruises are Half-Moon Cay, Nassau, Grand Turk, St. Maarten, St. Kitts, San Juan, Saint Thomas, and Amber Cove. Western Caribbean destinations are Cozumel, Mahogany Bay, Belize, and Costa Maya. The Bermuda itinerary introduces Bermuda and Grand Turk.
The Southern Caribbean ports of call are Half-Moon Cay, Grand Turk, Bonaire, Aruba, La Romana, and Curacao for the eight-day cruise. During the 14-day voyage, Carnival Breeze may additionally anchor in St. Croix, Barbados, Saint Lucia, St. Maarten, Grenada, Martinique, and Tortola.
5.
Carnival Breeze's Itineraries
Six, seven, eight, and fourteen-day itineraries are currently available for a trip on board one of the biggest party ships cruising the Caribbean Sea and beyond.
Six-day Eastern Caribbean Cruise From Fort Lauderdale:
On the first cruise, spend the second day in Half-Moon Cay, the fourth in Amber Cove, and the fifth on Grand Turk while taking a break from partying. The second itinerary allows you to exchange Half-Moon Cay for Nassau if the former pirate nest is more appealing to you.
The third and fourth itineraries take you to the same places as the first, just in a different order. As for the fifth, it tours the ports of call introduced in the second itinerary, only with the reversed order.
The Seven-day Bermuda cruise itinerary features three days at sea, with an overnight stay on Bermuda on the third night and a day visit to Grand Turk on the sixth day.
Seven-day Western Caribbean Cruise:
Spend the third day on pristine Cozumel Island and the sixth on Mexican Costa Maya. The only difference is whether you visit Belize on the fourth and Mahogany Bay on the fifth day or vice versa.
The eight-day Eastern Caribbean itinerary leaves you enough time to recover from partying since you'll spend three full days at sea. In the meantime, explore St. Maarten on the fourth, St. Kitts on the fifth, San Juan on the sixth, and Grand Turk on the seventh day.
In addition, ports of call on the seven-day Eastern Caribbean cruise are Amber Cove on the third day, St. Thomas on the fourth, San Juan on the fifth, and Grand Turk on the sixth day.
Eight-day Southern Caribbean:
This route introduces Half-Moon Cay on the second day, Grand Turk on the third, and Aruba and Bonaire on the fifth and sixth day or the other way around. On the other three cruises, Carnival Breeze visits Grand Turk on the third and La Romana on the fourth day. Further destinations are Aruba and Curacao, Aruba and Bonaire and Curacao and Aruba on the fifth and sixth day.
Finally, the first itinerary of the 14-day Southern Caribbean cruise takes you to St. Croix (fourth day), Aruba (sixth), Curacao (seventh), Barbados (ninth), Saint Lucia (tenth), St. Kitts (11th), San Juan (12th), and Amber Cove (13th). The alternative itinerary introduces St. Croix (fourth day), St. Maarten (fifth), Grenada (seventh), Martinique (eight), Barbados (ninth), St. Kitts (tenth), Tortola (11th), and San Juan (12th).
6.
Deals And schedules Of Carnival Breeze's Cruises
You will be pleased to know that you don't need to have a rich aunt to give you money to cruise on board Fun Ship. Since prices are quite affordable, you are free to splurge onboard Carnival Breeze.
First of all, fares for six-day Eastern Caribbean cruises start at $329 for interior staterooms, rising up to $1699 for suites. At present, the earliest departures that aren't fully booked take place in October 2020. The next available seven-day cruises to Bermuda leave Florida's ports on September 7th, 14th, and 21st, 2019. Prices vary from $479 to $1,684.
The next seven-day Western Caribbean cruises with available slots depart on August 3rd and December 21st, 2019. The lowest available fares at the moment are $849.
The next available eight-day Eastern Caribbean cruises depart on October 10th, November 7th, and December 5th, 2020. Furthermore, deals start at $499. If you decide to take the seven-day Eastern Caribbean cruise on July 27th, 2019, you may still need a wealthy aunt for the lowest price is $1,009. To save money, wait for the departure on August 10th, 2019 (starting at $829) or September 12th, 2020 ($529).
The earliest available eight-day Southern Caribbean cruises depart from Florida by the end of 2020. Fares for a cruise scheduled on October 24th start at $559. For Carnival Breeze cruises on November 21st and December 19th, you'll need to reach deeper in your pocket since fares are $649 and $899 respectively.
If you want a long break from work, book a slot on the next available 14-day Southern Caribbean cruises on the Fun Ship either on November 2nd, 2019 and January 11th, 2020. Deals start at $1,169 and $1,179 respectively.
7.
Things You Get For The Price Of A Cruise
For the price of the cruise onboard Carnival Breeze, you dine in the main dining rooms, buffet, and other specified eateries. Drinks included in the price are water, teas, coffee, and specified juices.
Because of all that partying, you will probably add inches to your waist. So, it might be a good idea to spend some time on the ropes course, in the gym, or at the water park. However, if you feel a tad lazy, go to the mini-golf course or attend the many shows featured aboard.
The dress code on the Carnival Breeze cruise ship is lax. But if you feel more comfortable in a suit with a tie, that's no problem at all. However, one obvious downside of joining this cruise is the crowded pools. However, with other assets on the Caribbean cruise by Carnival Breeze, including friendly crew and sociable guests, not to mention heavenly beaches, you won't mind that at all.
Looking to spend a little bit more time in the Caribbean? Perhaps you should spend some time in Cancun!