A Tourist's Guide to Driving in California and the USA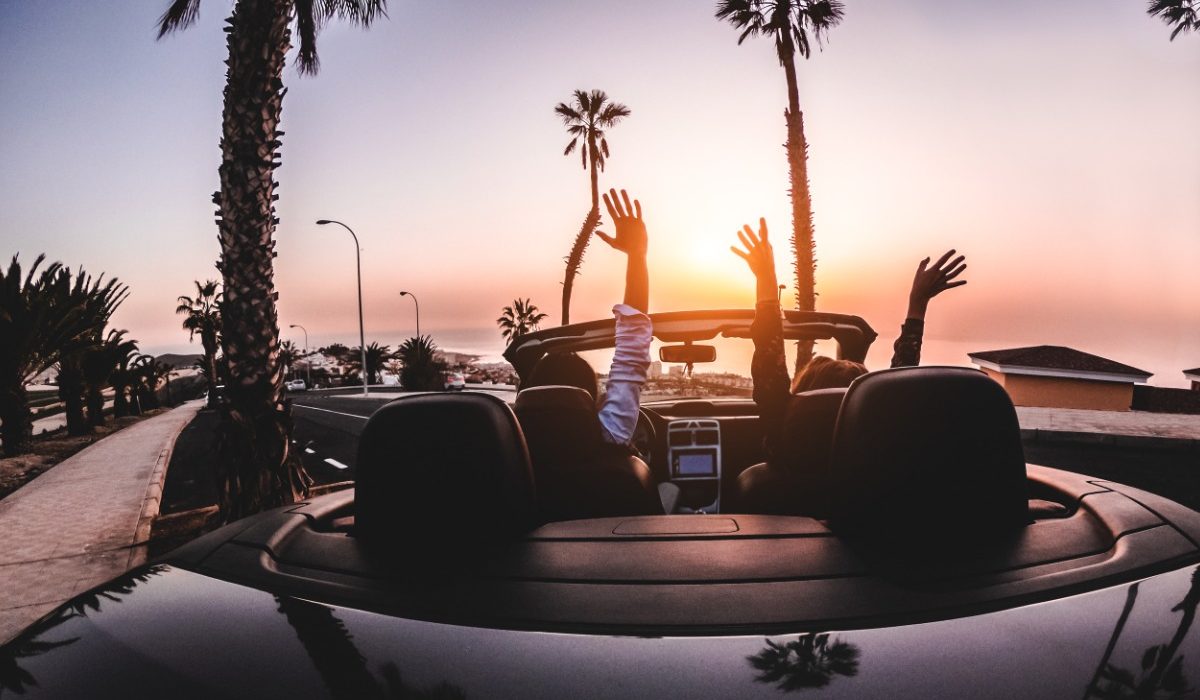 So, you're coming to the USA on vacation! Whether you're driving from state to state or just renting a car for a road trip visiting national parks in California, you should know a few things about driving in the USA as a tourist. Here are some tips and tricks for making your journey as smooth as possible.
Each State Holds Different Regulations
California is one of the most popular states for visitors from overseas, and we welcome you to the wonders of the West Coast. However, we should mention that each state has individual regulations around international drivers and the length of time you spend in the country with your international driver's license. Additionally, you may need to take out special car insurance to protect yourself and your rental while you're here. To find the best car insurance companies for vacationing drivers, contact your car rental agency, or ask your travel specialist for assistance.
Here are the best car rental companies in the US you can choose from.
Get Your International Driver's Permit Before You Go
If you're planning on driving while in the USA, you first need to get an International Driver's Permit (IDP). An IDP is an official translation of your native driver's license recognized by most US states. Without one, you may have difficulty renting a car or getting insurance. You can apply for an IDP through your local automobile association.
Stick to the Right Side of the Road… Literally
In the USA, we drive on the right side of the road—that much should be obvious. But what might not be so apparent is that our cars are made for right-hand drive. That means that all of the controls (i.e., windshield wipers, turn signals, etc.) are on the right side of the car's passenger compartment instead of the left. So, when driving in the USA, remember to keep your hands on the steering wheel and take some time to familiarize yourself with the location of the controls in your rental car!
Yield to Pedestrians and Bicyclists
This one might seem like a no-brainer, but it bears repeating because it's essential: always yield to pedestrians, even if they don't have the right of way. In many US states, it's actually against the law to not yield to pedestrians—so save yourself a potential ticket and always give pedestrians the right of way.
Jay Walking is a term most Americans don't understand because most states don't prosecute them for crossing the road outside of the crosswalk. Additionally, many US communities value the bicyclist community very highly. While bicyclists are taught to obey traffic laws as though they are driving a car, they have additional right-of-way rulings. Pay special attention to those sharing the road with you. Trust us, they'll appreciate it.
Don't Drink and Drive—Not Even a Sip
We all know that drinking and driving is a bad idea—but it bears repeating because it's such an important rule to follow, especially when you're in an unfamiliar place. If you plan on drinking while on vacation, take public transportation or hail a taxi, Uber, or Lyft instead of getting behind the wheel yourself.
Not only is it illegal to drink and drive in most US states, but it's also hazardous for you and other people on the road. The US already sees an average of 29 Driver Under the Influence (DUI)-related deaths daily. According to the CDC, that's roughly one death every 50 minutes across the country. Please don't add to those statistics.
Know Where You're Going
Last but not least, one of the most essential tips for driving in California (or anywhere else in the USA) as a tourist is to know where you're going before you start driving! Even if you don't memorize your map, remember to download the GPS directions and read them before you depart. When you're already in an unfamiliar automobile setup, it's easy to get overwhelmed by a missed turn.
In California and any large metro area, it's a good idea to keep your fuel tank filled to at least half a tank so that if you miss a turn and have to follow the highways for several miles before you can reroute, you won't be stuck on the side of the road. If you find yourself stranded, contact the insurance company you set up for your rental to get roadside assistance.
With GPS built into almost every smartphone these days, there's no excuse for getting hopelessly lost—but even GPS can fail sometimes. So before you start your journey, map out your route and plan for any potential road closures or detours that might come up along the way. You can sit back and enjoy the ride without worrying about getting lost!
Traveling Flexibility
One of the best parts of a road trip is finding new adventures you didn't realize were on your route. California brings the majority of its tourists through the fame of its theme parks, but there are more than a few parks that don't tend to hit the top 20 list of theme parks in California. That doesn't mean they aren't worth the visit.
California has plenty of impressive stops to explore that aren't full of spendy food and rollercoasters; much of the west coast is proud of its natural beauty outside the major cities. California beaches are warm and laid back, carrying a near-island aura and welcoming visitors with open arms. We have a few fabulous suggestions to check out while you're here.
Glass Beach at Fort Bragg
Glass Beach in Fort Bragg, California, is a must-see for anyone who loves the sea and all its quirks. As the title suggests, the beach is covered in colorful glass polished by years of being in the ocean.
The best thing about this beach (aside from the gorgeous view) is that it's relatively unknown, so you won't have to deal with large crowds. If you're looking for a place to relax and enjoy peace and quiet, this is the spot for you. Just be sure to bring plenty of sunscreen and water – it can get pretty warm in California!
Point Lobos
Point Lobos is one of the world's most beautiful and secluded nature preserves. Located along the Northern edge of Big Sur, this park is home to an incredible variety of plant and animal life. Originally purchased by a local engineer in 1933, Point Lobos was intended to be a testament to nature's beauty. However, this stretch of beach was in danger of being developed for urban expansion.
Fortunately, the resident outdoor enthusiast with the extra cash and big dreams purchased it to halt the advancement of humans into the wild places. Today, Point Lobos is a haven for hikers, birdwatchers, and nature lovers worldwide. Bring hiking boots, a good camera, plenty of water, and a hearty dose of curiosity for this adventure.
Franceschi Park
This Santa Barbara Riviera Park was named for an Italian horticulturist who loved to grow beautiful, unique plants from all over the world. The park sits atop a hill with stunning views of the city and the open sea.
It's a quiet, peaceful place with nearly perfect weather year-round. The flowers and trees are always blooming, and they're gorgeous. It's a great place to relax and enjoy the beauty of nature. Further, if you also enjoy the intricacies and science of plant life, hundreds of rare and unique specimens are not found anywhere else in the country.
Badwater Basin
The Badwater Basin is one of the most exciting places in the world. If you're a fan of the Mad Max aesthetic, you'll find a special joy in exploring this strange place. The water in the basin is so full of sulfates that it is undrinkable.
It is the lowest physical point in the entire country. The basin is also partially sealed into the hole by a thin white crust of sodium. This crust is made up of tiny glass-like shards. If you walked on it, it would feel like fragile broken glass. Visitors are warned against walking on the surface, as the crust is fragile and delicate.
Despite these strange features, the Badwater Basin is a beautiful place. The colorful rocks and white salt flats make it a truly unique landscape. The surrounding lakebed is scarred with the geometric cracks of evaporative action in the waterless desert.
Pescadero
If you're looking for a break from the hustle and bustle of San Diego or Anaheim, look no further than Pescadero. This small village is nestled between Half Moon Bay, a nature reserve, Pescadero Meadow, and Pescadero Canyon.
It's the perfect place to enjoy some nature time, with plenty of hiking and biking trails, beach combing opportunities, and delicious local food. The community is welcoming, the businesses are all local mom & pop-style shops, and there's plenty to do, making Pescadero the perfect place to relax and recharge during your visit to California.
Winchester Mystery House
The Sarah Winchester House is a sprawling, Victorian-style mansion in San Jose, California. The house was built by Sarah Winchester, the wife of gun magnate William Wirt Winchester. According to local legend, Sarah Winchester believed that the spirits of those killed by her husband's firearms were haunting her.
To appease these spirits, she began construction on the house in 1884 and continued building for 38 years until her death in 1922. As a result, the house is full of surprises, with secret passages, hidden rooms, and strange amenities like a Tiffany skylight and a seven-story tower.
Today, the Winchester Mystery House is open to the public for tours. So if you're interested in exploring one of the most eccentric homes in America, be sure to add it to your list!
Enjoy Your Adventure and Be Safe
Whether you're here for the beaches, the natural landscapes, or just trying to experience something different on your trip across North America, California has plenty to offer. From spectacular beaches and stunning nature preserves, there's something for everyone. So get out there and explore this beautiful state!
The above simple tips and tricks will help ensure your journey is smooth sailing from start to finish! Remember: get your International Driver's Permit before you go; stick to the right side of the road; yield to pedestrians; don't drink and drive, and know where you're going before you start driving! Don't hold rigidly to your itinerary because California offers many lesser-known attractions to fill your schedule. Bon, voyage!